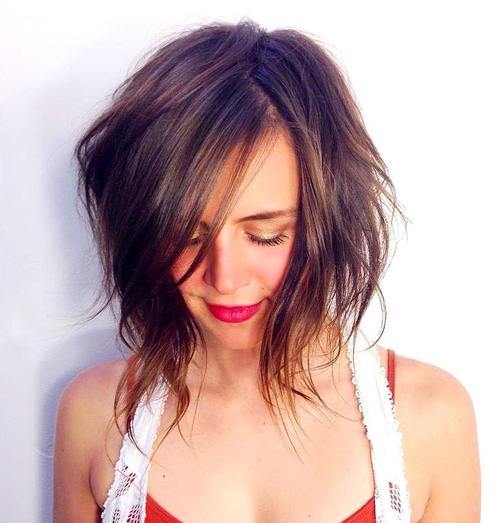 Whether you're considering chopping your lengthy locks or have already delve into the world of shorter hair, these choppy bob hairstyle ideas are sure to leave you craving a new adorable and trendy look!
Lengthy Red and Blonde Layers
Side view of blonde bob haircut with layers. A choppy bob doesn't mean you have to complete desecrate your long hair! Her shoulder length bob leaves plenty of room for styling, her her lengthy layers add some refreshing bounce and dimension to her look. Finish off your perky style with a lovely red and blonde combo, a diverse yet feminine blend that delivers texture and style.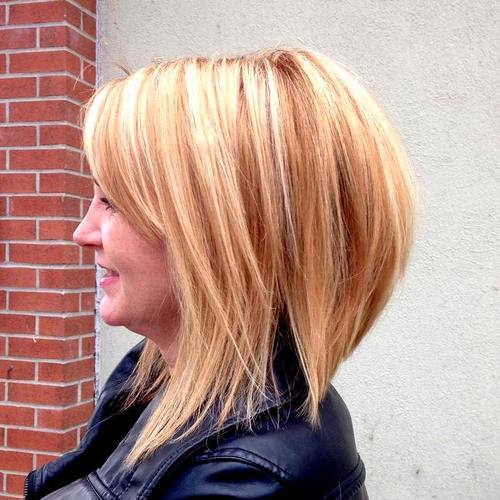 Super Choppy Graduated Bob
There's the classic choppy bob hairstyle, and then there's this- the "Queen of the Choppy bobs", if you will. This trendy style is loaded front to back with a collection of layers in all shapes and sizes, really diversifying this haircut and adding tons of textured bulk and dimension. The collection of natural highlights and lowlights only adds to this dimensional 'do, and makes for one fun and effortless finish.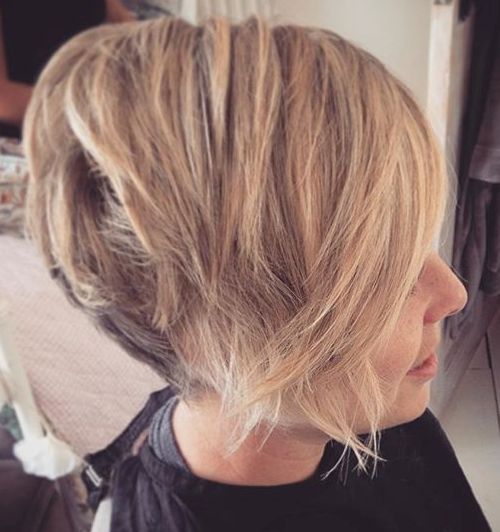 Wavy A-line
A-line bob haircuts are undoubtedly one of the hottest hairstyle options when it comes to shorter manes, but this a-like takes the cake! Her delightful waves can easily be played up with jewels and an elegant dress or played down for a flirty fall finish with a cardigan and skinnies. It's all in the ensemble when it comes to this lovely look! If you love her ombre hair, and here is the latest hottest red ombre hair!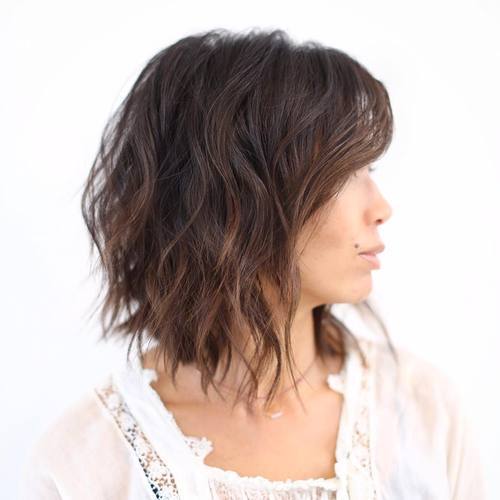 Curled Tops – Choppy Balayage Bob Haircut
This chick certainly knows how to add some height to her mane- with curls, of course! Her cool look has some sultry ringlets up top, with just some subtle waves underneath for a dimensional duo that's elegant yet fun. Start off with tons of layers to complete this funky yet stylish 'do!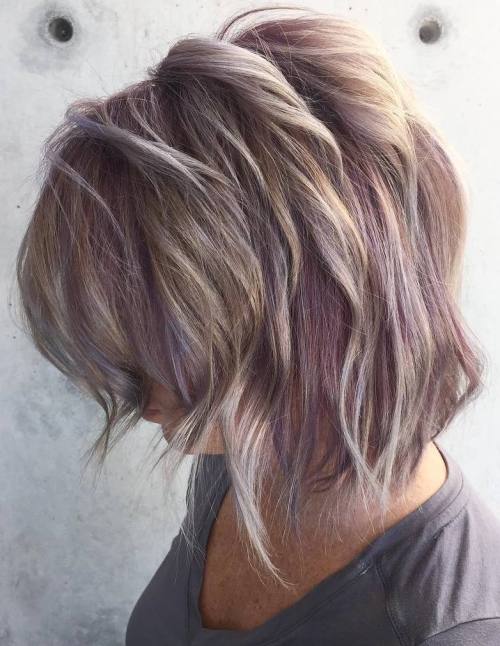 Chic Choppy Bob Haircut for short hair
Edgy and undeniably chic, this graduated bob haircut features an assortment of layers and blunt ends for a fierce style that takes the show. Her assortment of light blonde hues against chocolate brown tresses creates defined texture, while a touch of gloss brings these tresses to life. A simple style that's anything but simple.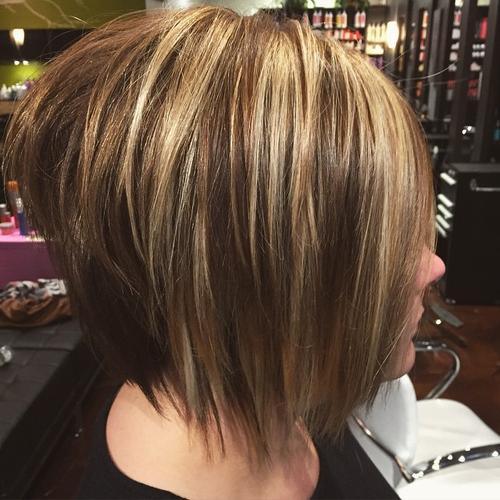 Soft Wavy Lob
For the ladies who prefer a little extra length, a lob – or long bob – is the perfect choice. Her lovely bob has a subtle cut from front to back, leaving plenty of length for styling. Her soft waves are frisky and flirty, tousled up just a tad for that easy, breezy, casual finish.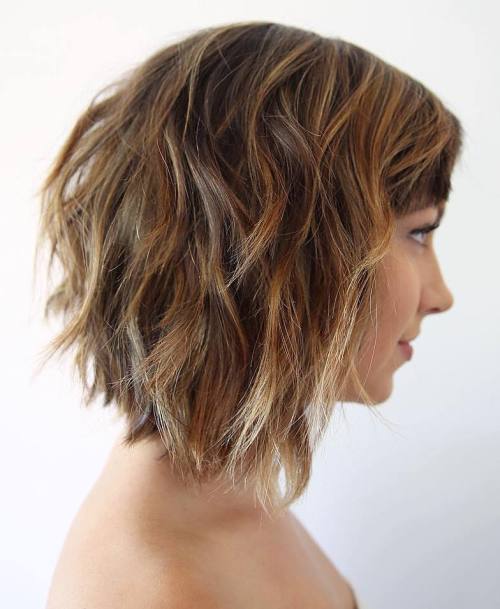 Tousled with Blunt Bangs
The perfect combo of textures, this choppy bob haircut has tons of layers throughout to bring plenty of body while the ends are kept fierce and blunt. The contrast is fascinating and a set of blunt bangs up front contrast against a flowy mane beautifully. Tousle up your locks a tad for a casual, full-bodied look that's great for everyday wear.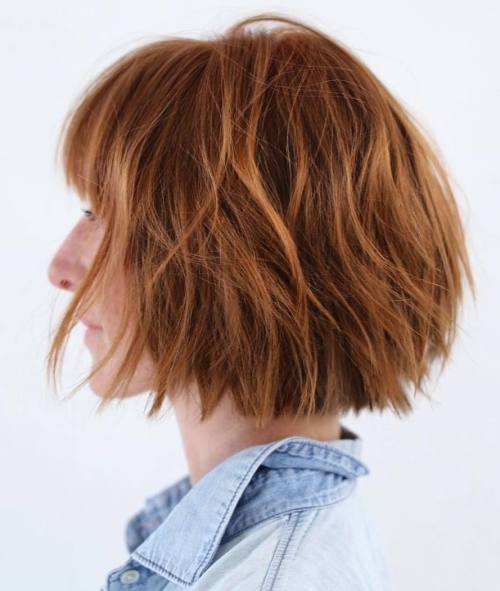 Simple Layered Lob
If you're struggling with thin locks, consider a lob like this one! The layers of all different sizes instantly add some volume and bounce to her tresses, her beautiful blonde lob kept stick straight with a slight under curl to really make those locks pop with energy. A gorgeous style for women of all ages who crave subtlety and volume.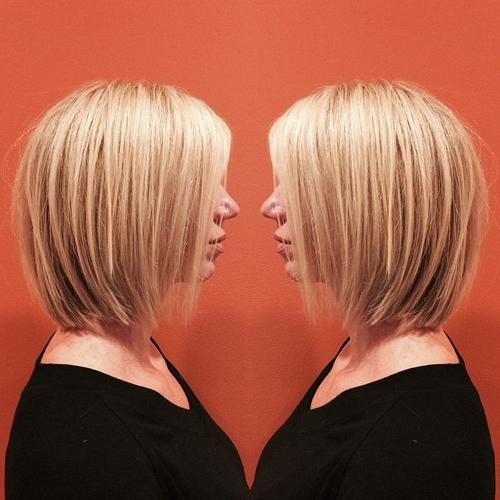 Vibrant Blue Ringlets
Exotic, vibrant, look-at-me blue locks are brought to life with a set of intriguing ringlets that are both alluring and sexy. For the lady who loves attention and desires a trendy, striking style, consider this hairstyle.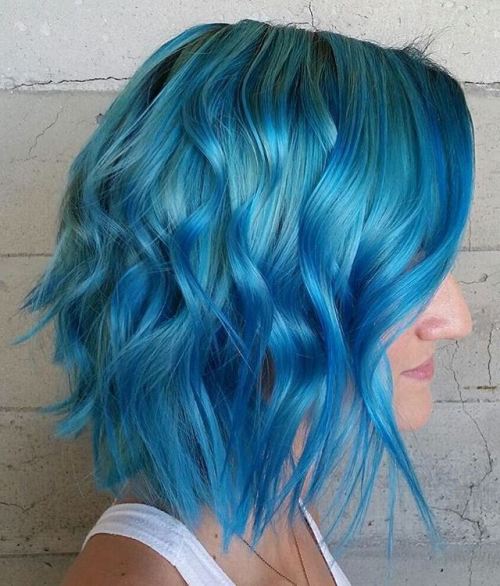 Dramatically Angled Stacked Bob
For the ladies who desire a dramatic entrance, this stacked bob is key. The dramatic angle from front to back makes a bold, voluminous statement. She backcombs the back of her stacked bob for some added body while playful lengthy side bangs wisp gracefully back to soften her look. Looks fierce with a red pout!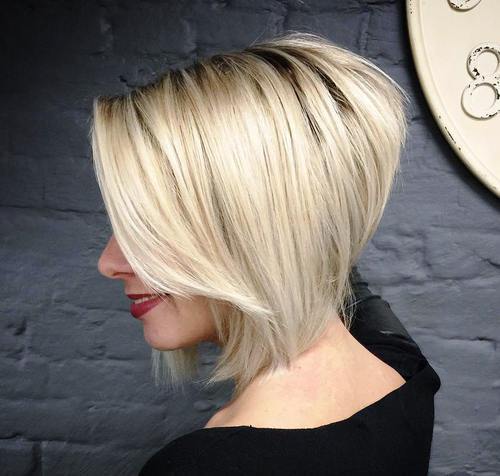 Tousled Waves
A short bob like this one may look a little plain Jane when left stick straight, so give your locks some flirty volume with tousled waves. A deep side part adds a touch of trend with wispy side bangs that cross playfully over one eye for a chic, coy finish. Toss one side of your mane behind the ear for a refreshing, ultra-feminine appearance that blends majestically with soft makeup shades.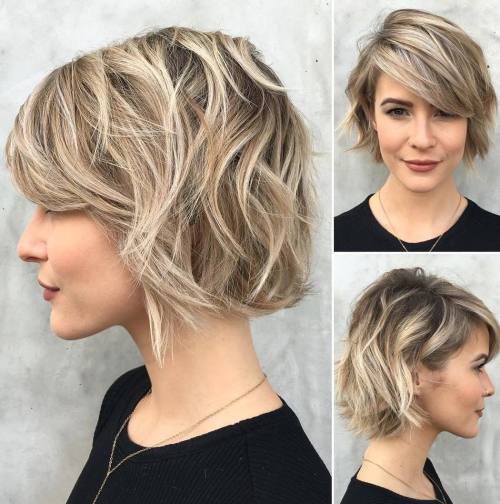 Wild Tousle
Shampoo, condition, dry, and TOUSLE! This effortless look has 'bed head' written all over it! It's a cinch to put together and the wild tousle creates a fun and free look that pairs well with her exotic white locks.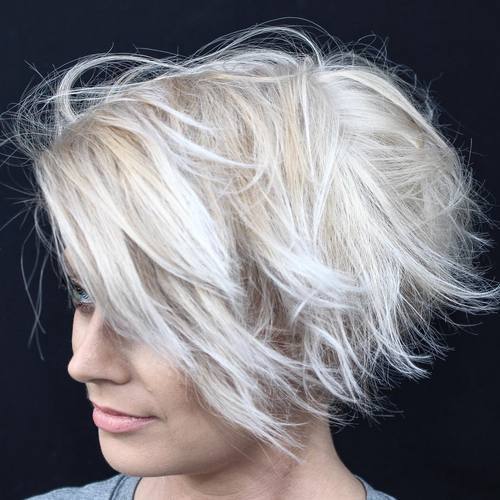 Loose Curls
A deep shade of black with hints of purples and blues throughout creates a mysterious, sultry style that can only be combined with striking red lips. Soften this look and indulge in an alluring, elegant appearance by tousling up your tresses with some delightful loose curls. Consider a pair of short side swept bangs to frame the face and let those eyes shine bright.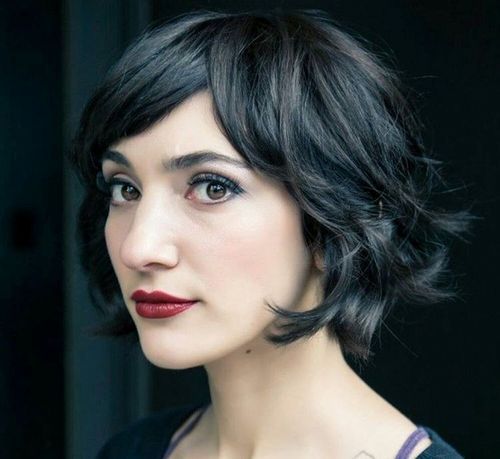 Curled Ends
Achieving elegance and glamour is a cinch with a short choppy bob! She starts her look with a trendy stacked bob, with lengthy wispy side bangs that are piecy and feminine. She creates a stunning look with curled ends, adding some sophisticated volume that looks glamorous against her light blonde bayalage hues.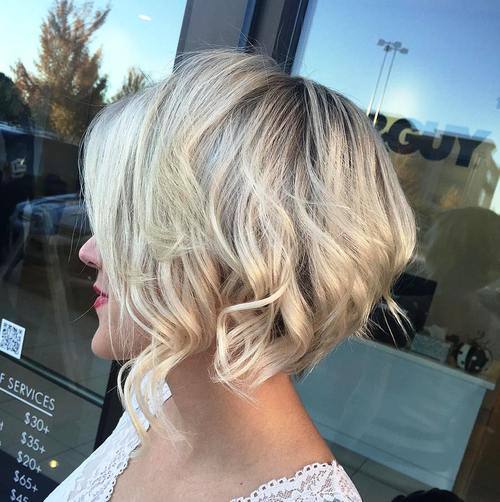 Wispy Waves
Thinner locks need a little bit of texture to give them some body, and this is an easy way to do it! Her gorgeous dark brown mane is tousled up with some loose waves, using a bit of texturing product to really define those loose waves. Wispy side bangs are delicately tossed to the side for a feminine, stylish look.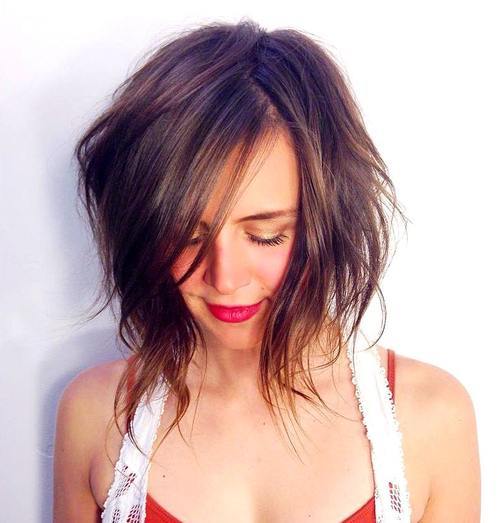 Asymmetrical Short Bob
A bob haircut can be given a funky makeover with plenty of blunt layers of all shapes and sizes and some piecy bangs to match. Her style is cute and effortless, a free style that's perfect for everyday looks. Toss your locks over to the side and let your mane play in the wind!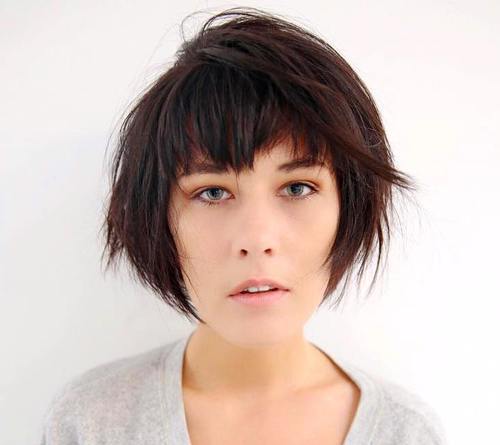 Vibrant Purple Hues
Screaming with trend and oozing with vibrant hues, this textured and fascinating style is a hot look for this year. It's got everything you'd ever want from a funky and cute style: a bold, yet oober-stylish purple hue with hints of blue throughout, and tousled curls that are free and quirky. This tousled look is great for all seasons!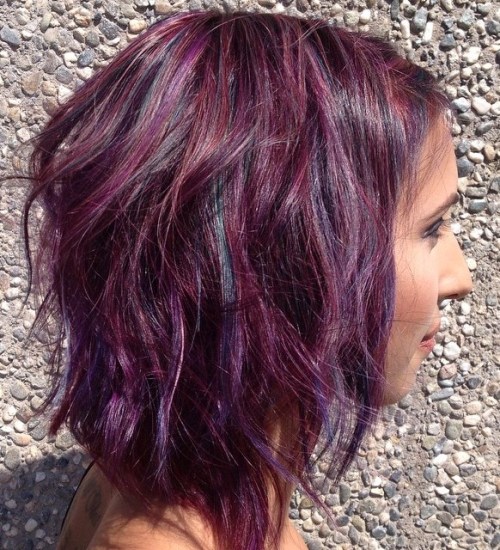 Simple Red-Hot Bob
An extra short bob haircut can quickly be amplified with some sweet, lengthy layers and some red-hot hair coloring for a striking finish. We're loving her loose curled bob, defining her locks with plenty of glamorous body. Curl your side bangs back to open the face and let your cheek bones come to life.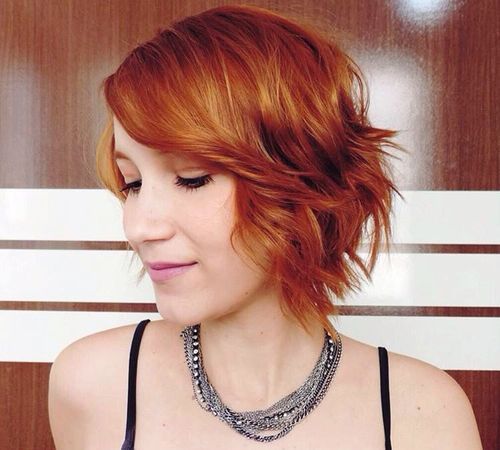 Soft Brown with Soft Curls
A gorgeous, perfectly cut lob is a delicate take on the classic choppy hairstyle. This beautiful model creates a soft appearance using some lighter and warm shades of brown, with delightfully gray-tinted tips that really brighten her complexion. By adding soft curls throughout her mane, she promotes a beautiful and feminine look that is downright dainty.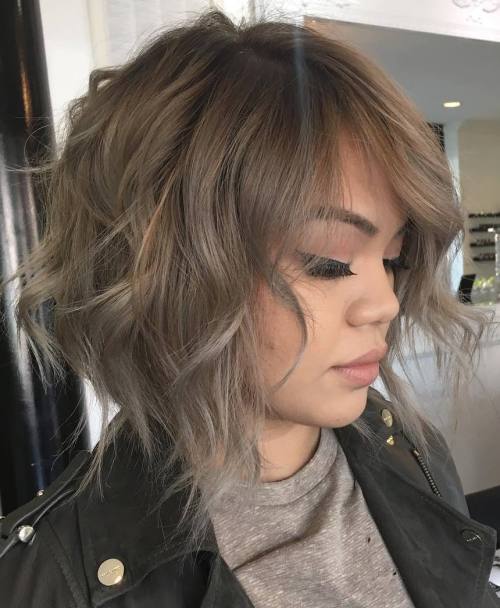 Punk Rock Red
Chic punk rocker meets wild biker chick in this rockin' style! Her sultry red locks are chopped bluntly from front to back, creating an effortlessly bold hairstyle that can be textured in a matter of minutes.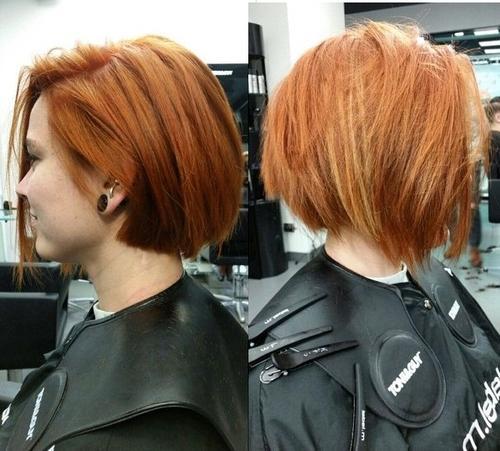 Elegant Bayalage Brown Textures
Lengthy bobs are trendy and beautiful, but they're even more glamorous when paired with soft brown hues. Her lovely brown mane is two-toned with light and dark shades of brown, a dimensional blend that's simply flawless. Bring these delightful dimensions to life with some tousled waves and curls for added flirty volume. Soft lips pair well with this high-class 'do!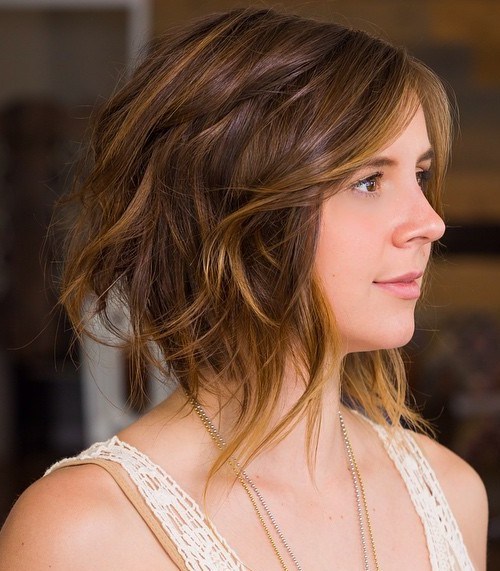 Blunt Ends
Sultry waves against her sunkissed blonde hair provokes an all-natural, delightful style that's perfect for spring and summer. Lengthy layers play well with the blunt ends, a dimensional duo that's striking and fun.