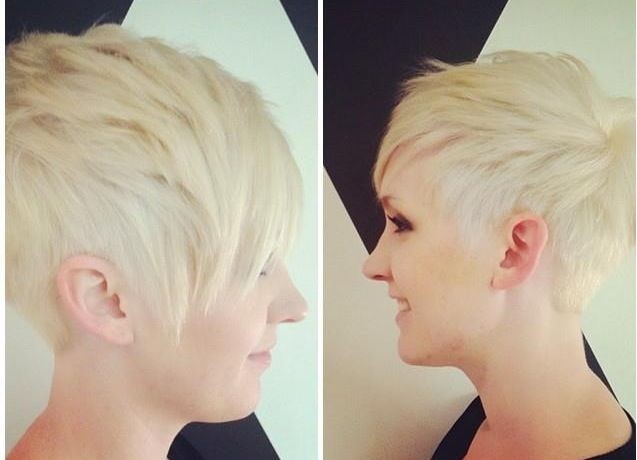 Stylish feminine blonde straight haircut for short fine hair
This cut is hot in recent months, celebrity like Miley Cyrus is wearing this 'boy-cut', diagonally-styled across her face right now, so it's set to be very popular this year! The forward combed look is a change from the punk-rock, spiked-up top. In this new short style, the hair is highly textured with a matte finish for a trendy rebel-girl look.
This is a new spin on similar 'Mod' haircuts from the 1960's, when being a 'Mod' meant sassy, short haircuts for young women who wore the latest fashions and Mary Quant brand make-up. In platinum blonde, the look is both feminine and flirty, with the asymmetry that shows no signs of waning this year.
It's a great style for the young and the not-so-young as well. As the new face of L'Oreal hair colours, gorgeous Dame Helen Mirren says, don't wear the same style all your life. Look around you at what's currently fashionable and then adjust it to suit your face and style!
So if platinum is a little too harsh for your skin-tone, keep the style but change the colour, so it's the perfect short haircut for you!
Do you like this short pixie cut? If not, how about the classic bob cuts?  Find out more popular hairstyles on hairstyles weekly.