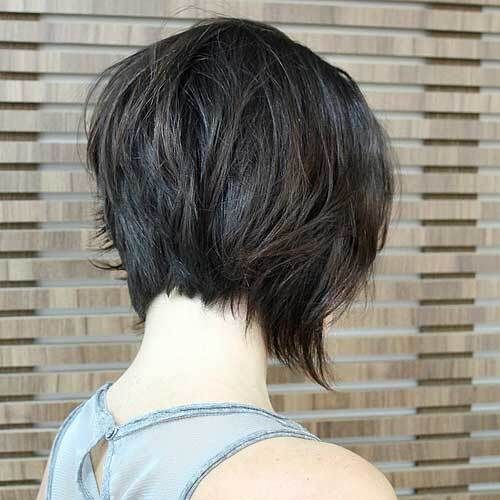 Not only are stacked haircut unbelievably trendy, there's also easy to work with- making it a two-in-one winning style for women of all ages. Here you will find a huge collection of stacked haircut ideas from sweet and sassy to bold and beautiful.
Purple Highlighted Pixie Stacked Cut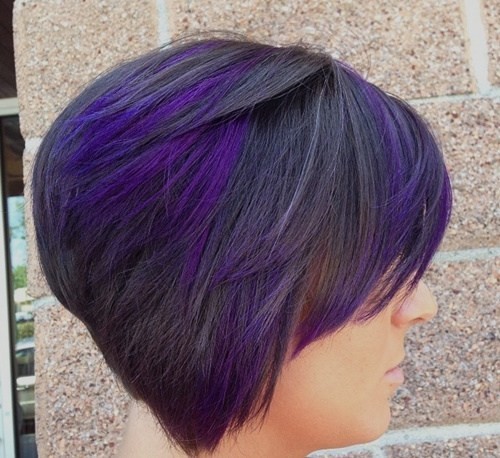 With purple being all the rage right now, there's no better time to add in some purple highlights- especially on a jet black platform. Purple and black naturally blend together beautifully, and the highlights really showcase that cool, asymmetrical cut of the pixie. Overwhelmingly stylish for the younger crowd!
Side Shave Stacked Haircut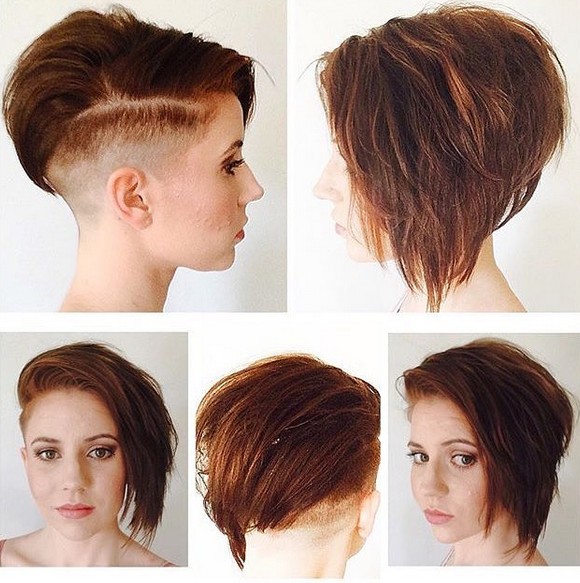 If superb edginess is your goal, you've got to try out this haircut that really 'goes for it'. This knockout style is sure to steal the crowd with its super edgy side cut, shaved down to the crown with just a bit of hair left on top. The rest of her mane is tousled and loaded with body thanks to the unique collection of long layers. Overall, this haircut is a stand-out style that's quirky and fun. микрозаймы онлайн быстро
Stacked Natural Wavy Bob haistyle for women over 60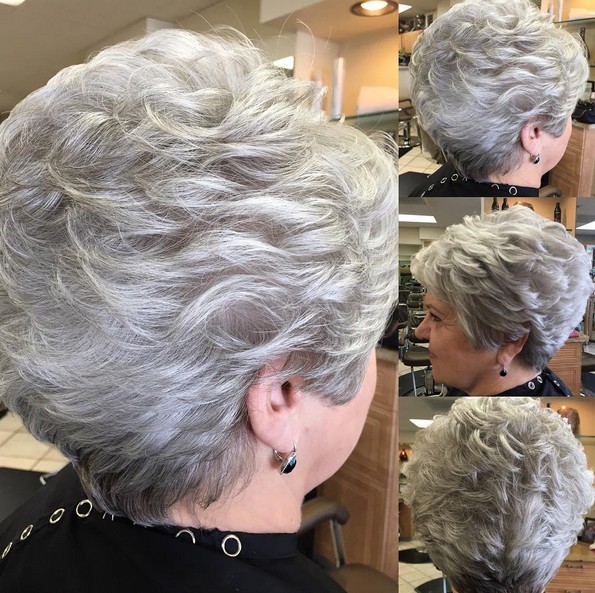 Older women who need a style that's manageable and professional should opt for this super short pixie stacked haircut. She leaves her mane naturally gray for a mature effect, while subtle waves tossed back and away from the face create some sophisticated body that's suitable for the office.
Purple Mahogany Ringlets – wavy curly bob hair style for women over 40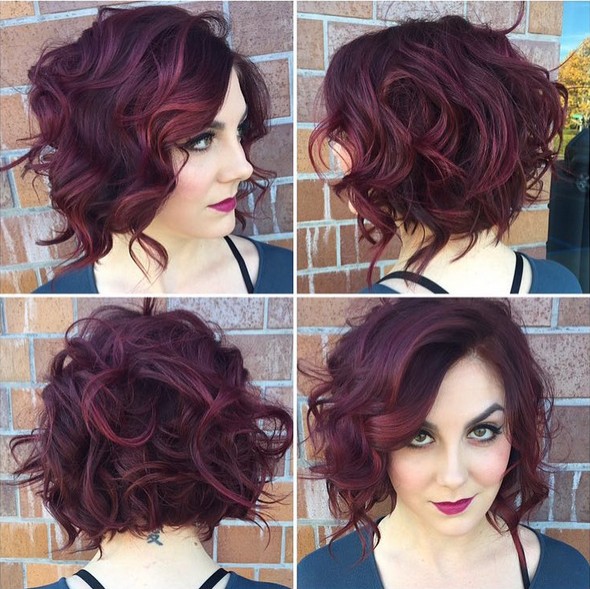 When left alone, a stacked haircut has that chic and polished design that's fitted for the finest ladies. But even a stacked bob can be glamorized with some enticing ringlets! These luscious, rich mahogany tresses get a fancy makeover with some loose, voluminous ringlets. Naturally this flawless style needs a pair of dark lips and smoky eyes to match!
Pastel Highlighted Wavy Bob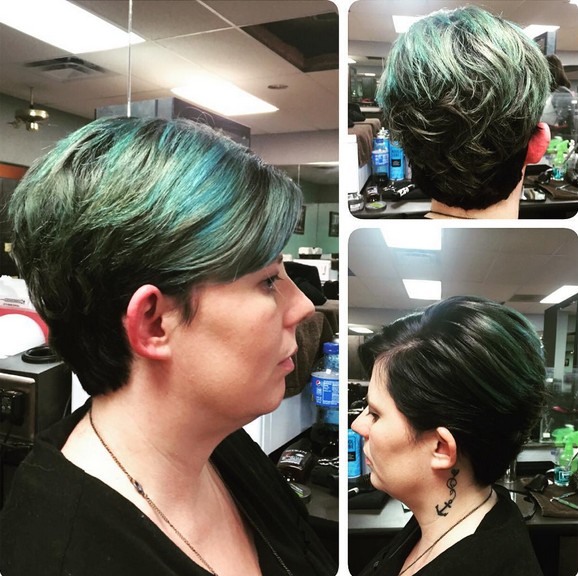 Black and pastel shades of blues and greens go together perfectly in a whimsical, fun manner that can't be ignored. Ensure these colors are bouncy and sophisticated with a subtle wave throughout.
Major-Height Stacked Haircut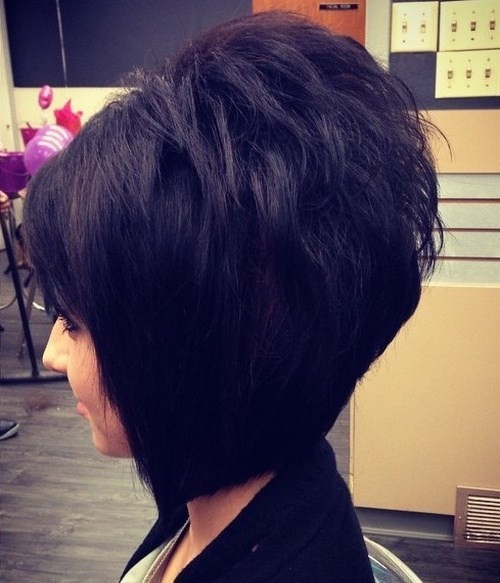 Your stacked haircut may be a bit boring at times, but you can break out from your routine by loading up the volume up top. This sassy and sexy look says 'Look at me!' from across the room.
Baby Bangs and Quirky Stack – Chic stacked bob haircut for short hair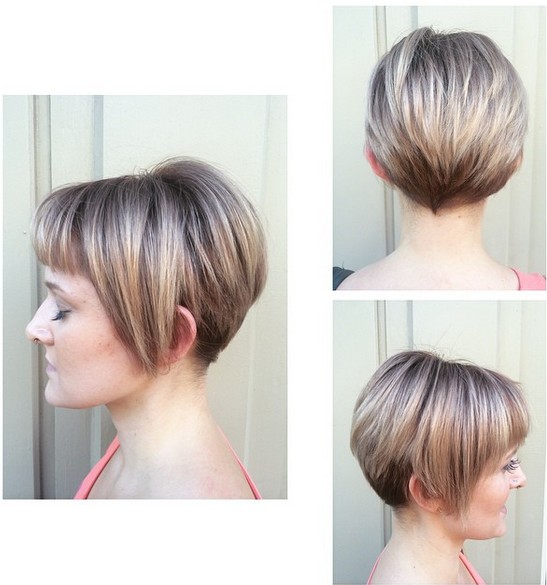 Getting tired of the same old same old? Want to switch things up? Then really take on a quirky hair masterpiece with this ultra-unique style. There's baby bangs up front, followed by a few lengthy pieces on the side. The back is left super short for easy maintenance. This is undoubtedly one of the simplest hairstyles you'll ever wear, but you wouldn't guess it from all the craft cutting.
Long Curly Stacked Haircut with Bangs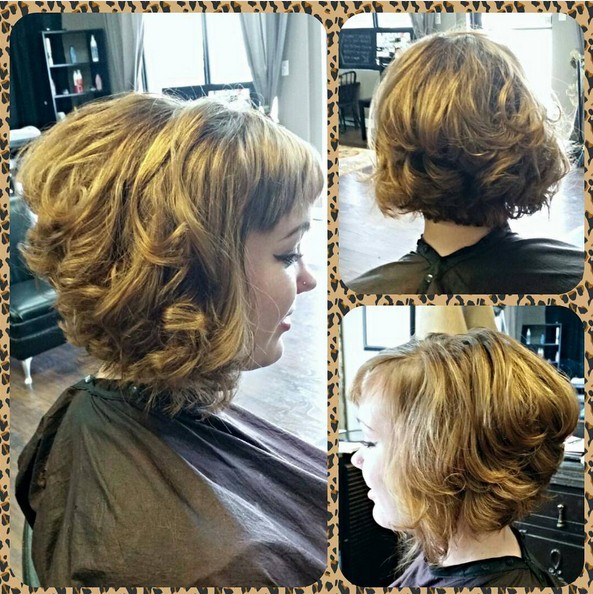 The great thing about short hair is it's SO easy to style! So before you go to your next upscale event, load up your stacked haircut with voluminous curls. Tease the crown for added fullness. We're also loving her shorter bangs up front, contrasting the lengthier stacked haircut style.
Lengthy Stacked Haircut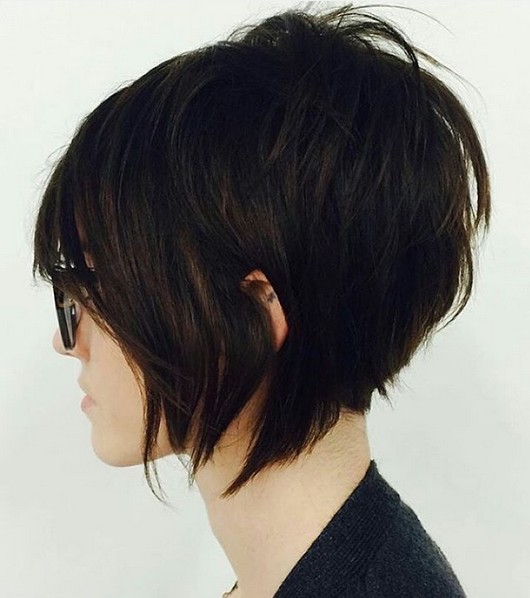 Create some fluidity and volume with this lengthy stacked haircut. There's loads of lengthy layers from front to back, with an extra short razor cut in the back to add a twinge of effortless height. This look has that 'geek chic' appeal everyone's been looking for!
Blonde with Red Highlights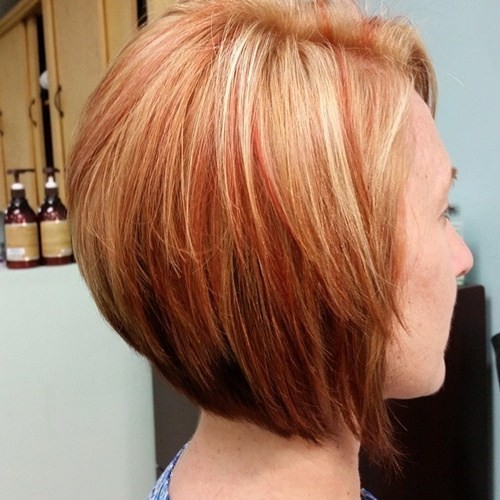 Blonde is certainly cute and sassy, but one way to take your stacked haircut from cute and innocent to fiery and fierce is to throw in some sexy red highlights. This bright firecracker red hue is the perfect way to enhance your locks!