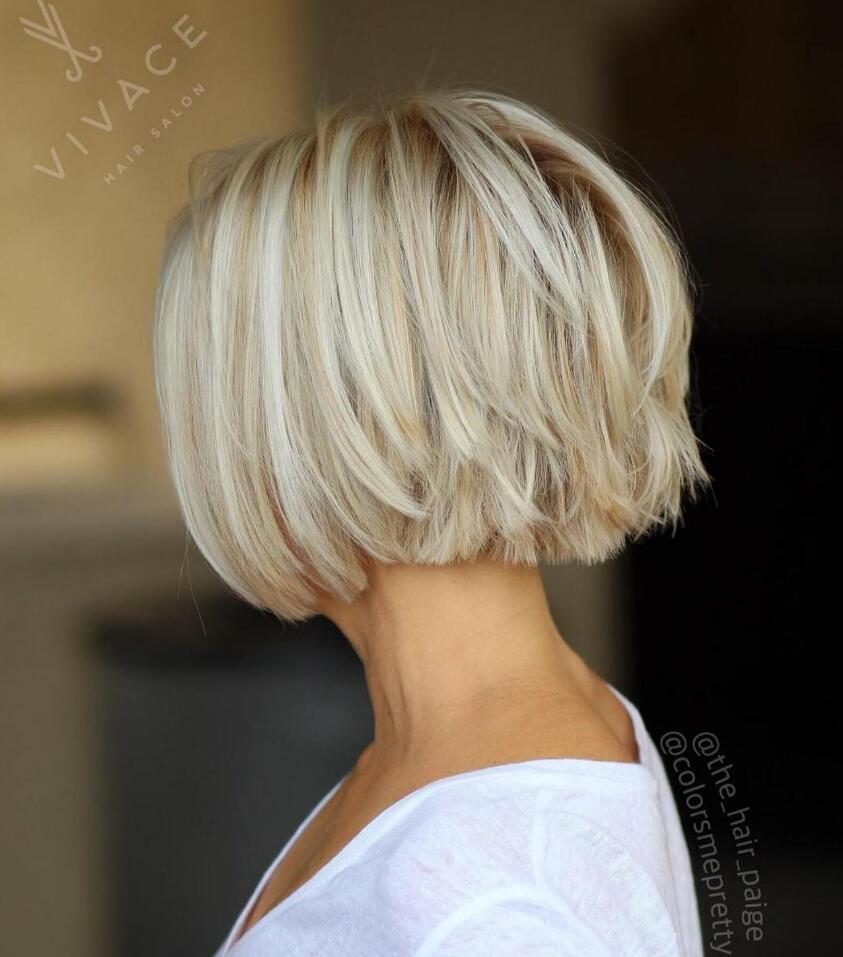 The latest trend for lovely layered looks is one of the best for hairstyles for fine hair. Women who struggle with hairstyles for fine hair cut all-one length, just need to get some layered texture and movement in their hair to boost volume and create a thicker look.
Choppy layers in fine hair
The exciting choppy layered hairstyles for fine hair are body-boosting and trendy! The texture you get from choppy, almost 'ragged' layering is incredible and creates the visual illusion of more depth in your chosen style.
Choppy layers may sound a bit daunting, but you can get a lovely soft look if that's what you prefer, so don't be frightened of asking for this fab new look.  Ask your stylist to cut layers that flatter your face shape and you can have a smooth fringe, contrasting with choppy sides or vice-versa – as all contrasts add 'thickening' texture!
Haircuts for fine hair with a mix of smooth layers and asymmetrical chops create a youthful and trendy look for women (and men) of all ages!
Asymmetric cuts
Anything that breaks the 'smooth' flat line seen in old-fashioned hairstyles for fine hair for women is what you should be asking for.  So asymmetric bobs with a short back and longer front or one side short and the other profile longer take attention away from the fine texture and add lots of extra interest.
Coppery-red bob hairstyles for fine hair
Women with naturally red hair have the hair type with the fewest hairs per square centimetre, so it can look quite fine and thin.  Add extra thickness over the top of your head with a trendy side-parting and a long fringe swept to one side.
And if you're not a natural red-head, you can add extra emphasis to fine hair by having it tinted a rich copper or warm red shade all over!
Highlights in hairstyles for fine hair
The clever way to highlight hairstyles for fine hair, women should be choosing this year, is balayage highlights in two different shades to harmonise subtly with your base colour.
And this is a hair-thickening trick that can also be done for men with fine hair, keeping the two shades slightly lighter and slightly darker than the base for a discreet finish.
Wavy hairstyles for fine hair
Women who like to be trendy, but sometimes find their fine hair isn't thick enough for the latest look, are in luck this year! Waves and curls of all types are a major trend and they've always been one of the best ways to add some glamorous volume to any hairstyles for fine hair!
So if you're ready for a marvellous makeover, browse our latest hair style galleries of volume-boosting hairstyles for fine hair and book a salon visit today!