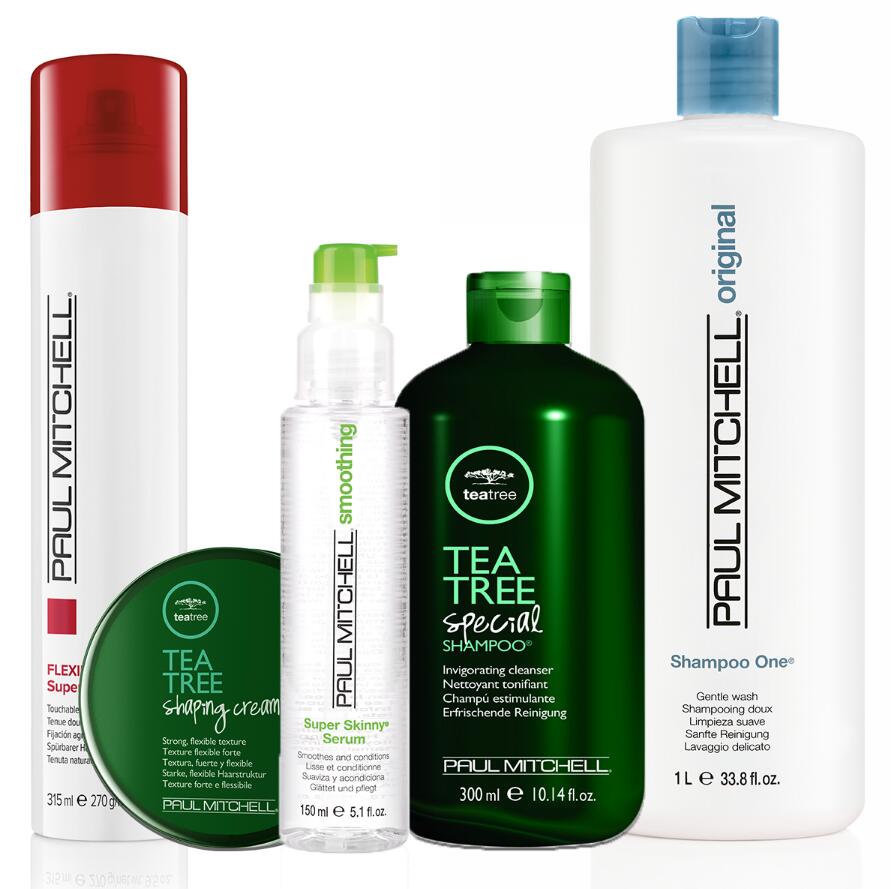 What's the first name you think of when it comes to salon hair care? For many of us, the answer is simple: Paul Mitchell.  And it's easy to see why. In their 30+ years as an industry leader, the team at Paul Mitchell has blazed a trail when it comes to incredible products, loyal customers, giving back, going green, and educating an amazing legion of hairstylists.
We couldn't have been happier when our friends at Paul Mitchell sent over a big ol' box for products for team to try. From straight and fine to coarse and curly, our team covers the hair type and texture spectrum. Read up on what we tried and loved… then pick up some Paul Mitchell hair products for yourself. Thank us later!
Ashley
Hair Type + Texture: Fine, thin, and slightly balding from postpartum hormones
Usual Routine: I'm a fan of trying the top knot, styled side ponytail, or an up-do style for weddings and huge work functions. If nothing else, I'll still do my default style with down, straight, and extra volume. A few times I've managed to curl my hair, which is a major accomplishment in my world!
Product Picks: I'm a bit of a product junkie! I use about five or six each day. If I'm doing my hair for an event, I'll use even more!
Biggest Hair Gripe: I recently had a baby, so I am balding like you wouldn't believe! I've always had fine, thin hair, but recently my bangs have thinned out SO much. I used to have thick, luscious bangs…and now they are a gappy, thin, and more greasy. I'm thinking about making a switch to swoopy bangs until my hair strengthens.
Paul Mitchell Products Tested: Super Skinny Serum, Neuro Smooth, Dry Wash
Here's What Ashley Said: My hairstylist works in a salon that's 100% Paul Mitchell, so she really got me hooked on the brand. And let me tell you, I'm a Paul Mitchell fan for life. I love how the products make my hair look, feel, and smell. Most importantly, the products – specifically the shampoo, conditioner, and seurms have helped repair my hair.
This was my first time trying Paul Mitchell tools. I've had some straighteners that seem to take forever to get hot. I love how quickly the straightener gets up to speed – it really does reach 450 degrees in 30 seconds!
To get the most out of my straightening, I uses the Super Skinny Serum before getting started.  The texture is great! Obviously this is a serum so it's meant to be a little thicker, but it doesn't weigh down my hair. The serum goes on smooth and absorbs quickly without making my hair greasy. Paul Mitchell hair care products never let me down!
Samantha
Hair Type + Texture: Thick, curly, dry
Usual Routine: As you'll see in my tutorials, I love to experiment with my hair! My day to day routine is all about ponytails and afros, but I'm all about a fun updo for a night out.
Product Picks: A deep conditioner is important to me because my hair can get really dry. Though I was very rarely, I condition daily. I also love to finish my look with a shine spray.
Biggest Hair Gripe: Finding products that help with moisture
Paul Mitchell Products Tested: Lavender Mint Shampoo and Conditioner, Tea Tree Hair and Body Moisturizer
Here's What Samantha Said: Paul Mitchell's Tea Tree product line is one my new favorites! I loved the Paul Mitchell Lavender Mint Conditioner and Tea Tree Hair and Body Moisturizer, and this Paul Mitchell shampoo is to die for! The conditioner stood out in comparison to other products I have used because it has a nice creamy base and moisturizes very well. I'll definitely be using it on my wash days. The Paul Mitchell Tea Tree Body Wash is the perfect daily moisturizer.
Brendon
Hair Type + Texture: Short, thick, and ultra-curly hair.
Usual Routine: I generally always wear my hair with a part in it, but the type of product I use determines the style of part. On a normal work day I will use a light hold crème or lotion so that I have some product in my hair, but not a whole lot of effort. When going out for a night on the town, I will break out the gel and comb and push my hair over to make sure the gel is spread evenly throughout. Then, I will tussle the top while keeping the sides flat. For fancy evenings, I use my pomade and slick it down and back. A strong hold keeps my hair from moving about and allows for a carefree night. I keep it very simple.
My Product Picks: I used to only incorporate one product during the day, but recently I have found that I really enjoy trying out different hair cocktails when attempting a style.
Biggest Hair Gripe: One of my biggest gripes about products is the crunch factor with gel and waxes. Another thing that really upsets me is a product that will dry your hair out.
Paul Mitchell Products Tested: Double Hitter, Construction Paste, Tea Tree Shaping Cream
Here's What Brendon Said: Paul Mitchell is a great product line. I thoroughly enjoyed these products because the way they took regular products and really gave something different.
The shampoo and conditioner combo of the Double Hitter makes it a great grab-and-go product, perfect for camping, traveling, or your gym bag. The texture of the product felt like a conditioner, but then would lather like a shampoo. As a curly guy, I need more moisture on my wash days, but I'd definitely recommend Double Hitter to my buddies who have less textured hair.
I like a lot of shine with my styles. The Construction Paste gave me a lot of shine and really strong hold. This Paul Mitchell hair product is one I'd recommend for a night out when you know you'll need a long-lasting style.
The Tea Tree Shaping Cream was my favorite of the products that I tried. This is definitely a product I will continue to use. The product gives your hair the flexibility I require for my curly hair. (Note: For a similar product with stronger hold, check out Tea Tree Styling Wax.)
Megan
Hair Type + Texture: fine, curly
Usual Routine: I typically wear my hair curly with a little bit of volume and down. I rarely wear my hair up, unless for special occasion.
Product Picks: I have three go-to products: conditioner, argan oil or serum (sometimes switch this up with a heat protectant spray), a volumizing mousse or cream mostly all formulated for curly hair
Biggest Hair Gripe: Frizziness
Paul Mitchell Products Tested: Extra Body Sculpting Foam, Twirl Around, Neuro Dry
Here's What Megan Said: I LOVE the texture of Twirl Around, which is a crème and gel based-product. When applying this product, it feels more like a crème product, which is one of my favorite types of products to defrizz my curly hair. Overall, I would add this to my top products for curly hair, especially because I love crème products. I think it's best feature is the ability to define the curls and it lasts all day.
Hannah
Hair Type + Texture: On the thin-ish side, layered, colored, tends to get damaged easily due to styling if I don't stay up with regular trims.
Usual Routine: I usually wear my hair down and straight or heat-curled (curling iron or flat iron).
Product Picks: I love to experiment and try new products. My usual routine consists of a damage therapy leave-in treatment, root pump spray, heat protectant spray, and hairspray. I use Aveda fairly often, but am really loving Paul Mitchell after trying these products!
Biggest Hair Gripe: Definitely dryness and static for me. My hair is on the thinner side so static gets cray cray!
Paul Mitchell Products Tested: Forever Blonde Shampoo and Conditioner, Forever Blonde Dramatic Repair
Here's What Hannah Said: The Forever Blonde Shampoo and Conditioner are both great textures – not too thick, not too thin. The shampoo lathers great without needing a ton of water, and a little goes a long way (hellooooo, more bang for your buck!). The conditioner also goes on very smoothly.
These products all leave my hair feeling soft and smooth, and I do feel like they have helped make my ends look less frayed/damaged after I used the products for an extended period of time. It's hard to find products that cater to blondes, and as we're prone to more damage, I feel like these products really help fight/protect against damage on light-toned hair. Because it caters to multiple properties of my hair, it means I don't have to use 80 separate products to get the results I want.