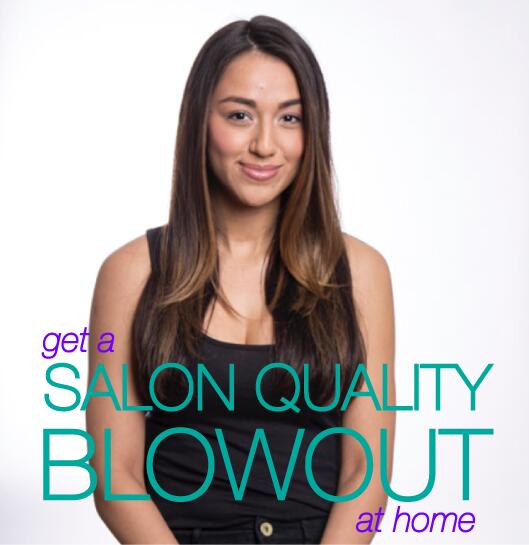 We all crave smooth, voluminous hair that moves just right. Salon quality blowouts are hard to achieve if you don't have the right tools and know-how. That's why we asked hairstylist, Teddi Bickers, how to get a salon quality blowout at home so that you can perfect your at home blowout.

Start by detangling damp hair with a comb or a Wet Brush. Make sure hair isn't sopping wet by gently squeezing it with a towel.
Work a blowout cream, such as Joico's Heat Set Blowout Perfecting Cream, from midshaft through ends. For longer, thicker hair use a quarter size, for medium to shorter lenghts use less. You can always add more if needed. A blowout cream will smooth your hair and protect your hair from heat damage.
Use a volumizing spray at roots, such as Sebastian's Volupt Spray.
Comb product through hair to ensure it's well distributed.
Rough dry your hair with either your hands or a paddle brush until 85% dry.
Grab your round brush (we love Olivia Garden's NanoThermic line), and section off hair starting with the layers underneath.
With your concentrator nozzle attached to your blow dryer, direct the air in a downward stream to avoid frizz.
When sections are finished drying, hit them with a bit of cool air to give added shine and close cuticles. Use a smoothing oil, such as The Oil from AG Hair, to finish your look if desired.
Pro Tips:
Holding your round brush in a more vertical fashion will avoid flips in shorter hair.
Define your part prior to blow drying your top section.
Pull hair up when you start blow drying your crown. This will amp up your volume.
Use a shine spray, such as Rusk Shining Sheen & Movement Myst, to tame flyaways.
End with a finishing mist or hair spray, such as Sebastian Reshaper, to keep your look in place all day.