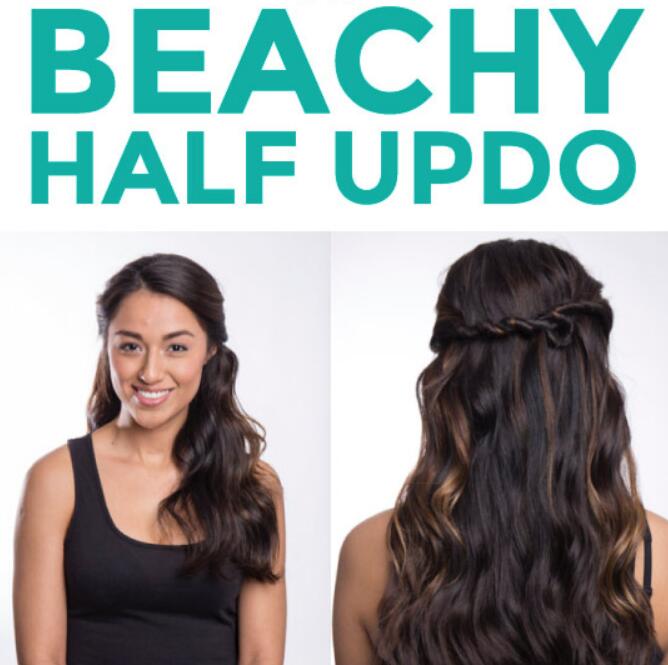 Channel your inner mermaid with this easy beachy half updo. Hairstylist Teddi Bickers of Ado Hair Design in Indianapolis shares her tricks on getting this adorable look.
Begin by sectioning your hair into top and bottom sections.
Spray a silkening mist, such as Kenra's Platinum Silkening Mist, to provide thermal protection and eliminate frizz.
To create beachy waves, grab your styling wand (we like Paul Mitchell's Neuro Unclipped 1") and wrap 1 ½" sections of hair, moving away from the face, around barrel. Hold barrel vertically to create loose waves.
When you feel the hair on the outside getting hot, let go of the curl.
Continue the process on each section of your hair. When you reach the top section, make sure to elevate the hair when curling as to provide more volume.
Use an argan oil, such as AG Hair's The Oil, to shake curls out with fingers. Apply oil to both sides of hand to get maximum coverage.
Grab a 2" square section of hair above ear, and clip it for marking. Repeat on other side.
Remove first clip and twist section tight.
Bring over to the other side, and pin with bobby pin. Repeat on other side.
To create a more intricate look, you can weave the second twist in and out of the one that is already pinned.
Finish with a finishing spray such as Joico's Flip Turn Volumizing Finishing Spray.

Pro tips:
The more hair you take, the larger the wave.
You can re-enforce the curl shape as it cools by twisting it.
If you've made a curl you aren't happy with, use a round brush and blow dryer to work out the kink.
Use higher heats for thicker, coarser hair, and lower heats for hair that's fine.
Longer barrels are better for long hair.
Add volume and grip to your crown with a texture powder such as Schwarzkopf OSiS+ Dust It Mattifying Powder.
When using bobby pins, pin in upwards direction first to avoid drooping.