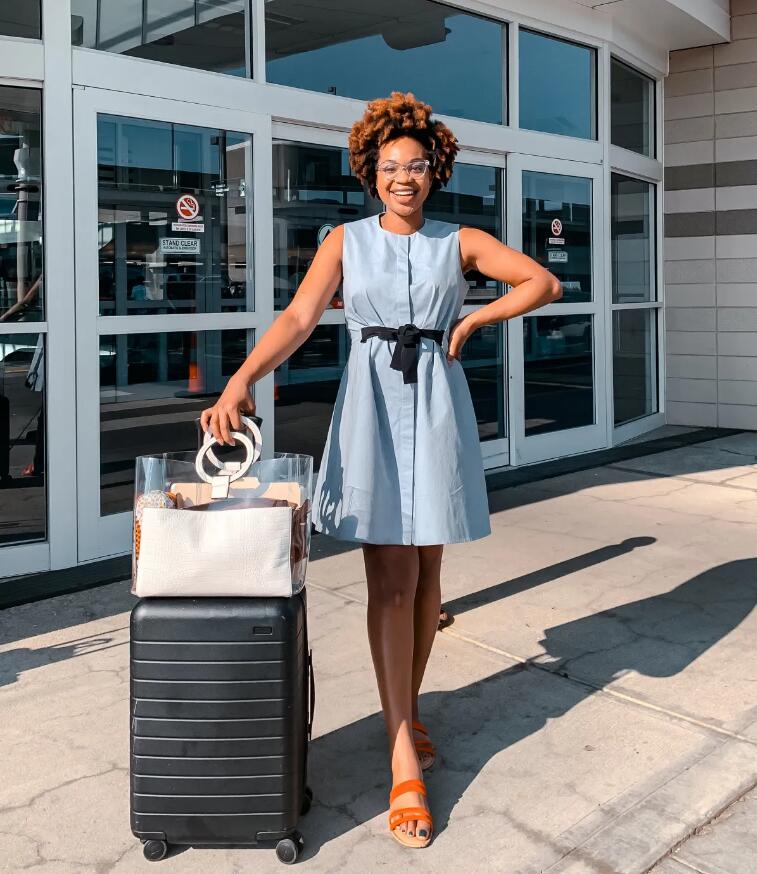 Finally, your flight is almost over. No more screaming baby from aisle 13 and no more feet in your back from the person sitting behind you. You're finally at your destination or back home! You take one last trip to the bathroom and you're horrified at the reflection. You need to improve your appearance and FAST. So what do you do? I'll tell you.
We're going to focus on 5 tips to make sure you look fab after a long flight. And the best part? These products are all TSA safe. Happy travels!
Eyes: Sorme Anti-Puff Brightening Eye Gel
You'd be hard pressed to find someone that is able to get a decent amount of sleep while on an airplane. The side effect? Bloodshot eyes with a side of dark circles. I'm all for using the occasional concealer to cover dark circles under the eyes from lack of sleep, but then I got to thinking…what if I could find something that hides the circles AND prevents future circles from forming?
Sorme Anti-Puff Brightening Eye Gel reduces puffiness and under eye circles, plus it's a steal at $34. Other eye creams can retail for around $80 and that's not always easy on the pocketbook. It's also ideal for any skin type. Pick some up and take it with you on your next flight. Your eyes will thank you later.
Cheeks/Lips: theBalm Staniac Lip & Cheek Stain
The dry and recycled air in airplanes can wreak serious havoc on the appearance of your face. And if you're like me, you don't like to travel with a ton of pre-applied makeup as to avoid it smearing and clogging your pores. Stains are the answer to this problem. They help me look rejuvenated and fresh with a pop of color for added flirtation. Staniac Lip & Cheek Stain in Beauty Queen from theBalm is the perfect pink to take with you. This stuff is amazing and so compact it can fit in your pocket if need be. You don't even need a brush to apply. Plus, it doubles as a lip color too!
Hair: Schwarzkopf OSiS+ Dust It Mattifying Powder
I've definitely talked this product up before because of its amazing capability to transform my hair from drab to FAB! And when thinking through my favorite products to take on a long flight with me, I couldn't think of a better product for airplane hair.
Schwarzkopf's OSiS+ Dust It absorbs oil and imparts volume. The biggest issue I find with my hair after a long flight is just overall flatness and a sense of oil. Instead of covering up my hair with a hat or scarf, I just carry this powder with me. I literally only need a pinch of powder onto my roots and my hair gets instant volume. Oil? Gone. Volume? Hi. Small enough to take on an airplane or long trip? Yep! Not convinced yet? You can also use it back home as a dry shampoo. Let your hair loose and walk through that terminal like it's your own personal runway.
Grooming: Lil' Wet Brush
Speaking of freshening up your hair, you'll most likely want to run a brush through it. The Lil' Wet Brush is perfect for traveling because it's compact and will brush through tangles without ripping your hair. Plus, isn't it just the cutest?
Body: Cuccio Papaya & Guava Butter Baby
Unfortunately, TSA rules prevent you from bringing your favorite bottle of perfume with you to use for freshening up after a long flight. But, never fear! Why not double up with a light fragrance while hydrating parched skin? Cuccio's Papaya & Guava Butter Baby is great because it's light (never greasy) and gives you a fresh scent that'll last.
So there you have it- 5 products and tricks that will help you look amazing after a long flight. What are your favorite tips for getting off the plane looking fresh?