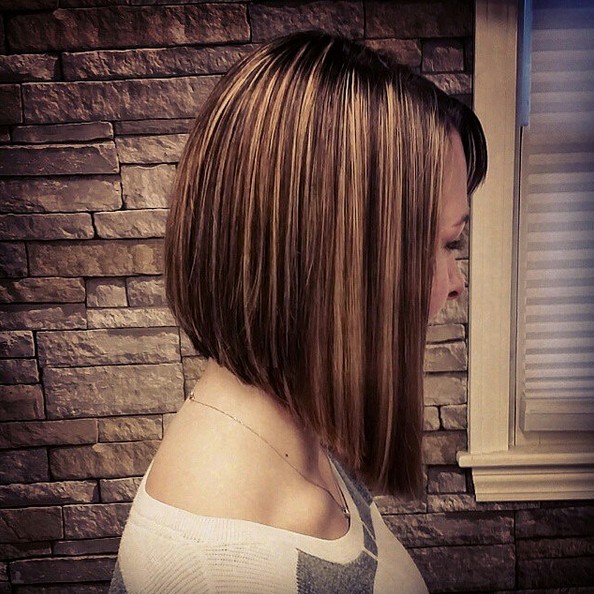 Why are the inverted bob hairstyles of the 1960's still hugely popular?  Well, bob hairstyles always look stylish and cool and they flatter the widest range of face shapes, so they're never totally 'out'.  Moreover, they're really easy, medium-short haircuts to manage.  And if that wasn't enough, here's a whole range of exciting new hair color ideas to adorn your fabulous bob hairstyles!
Smooth inverted bob hairstyles with bangs for round/heart faces
Bob hairstyles are great for showing off shiny, healthy hair in a beautifully-cut style that's full of swing and swish!  This inverted bob surprises and delights with a daring black ombré that creates a fantastic border around the sides and along the fringe, too!  Black is a good shade to really bring out the copper tones in chestnut hair or any other warm base color.  So why not try something completely different like this youthful inverted bob hairstyles' idea, that's the perfect face-flattering shape for round or heart faces!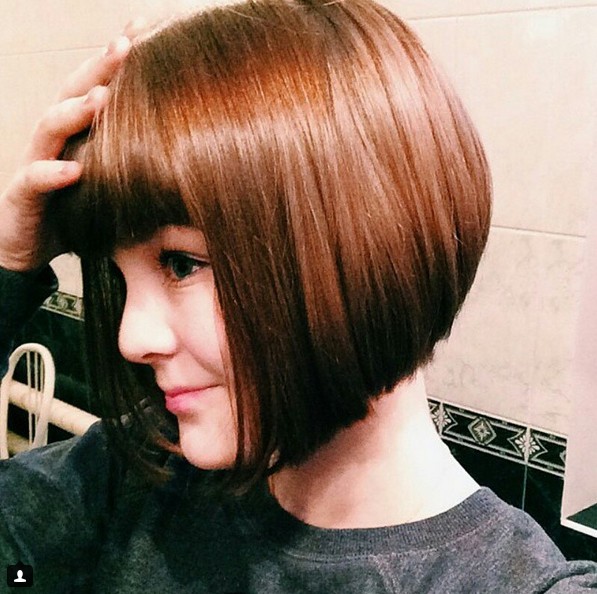 Inverted bob blonde balayage
This is one of the most popular layered balayage bob hairstyle for women this spring!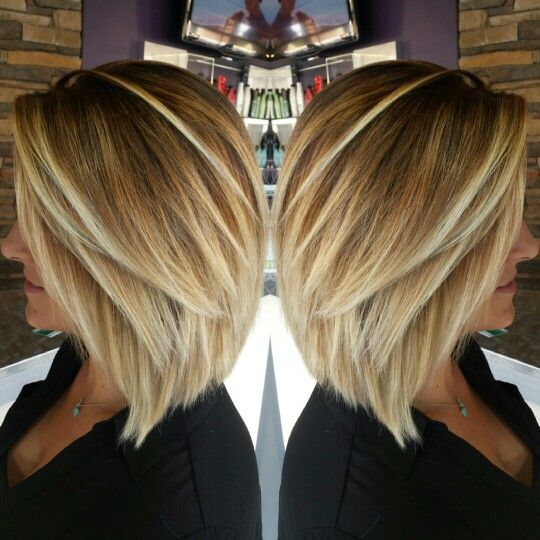 Avant-garde extreme inverted bob hairstyles in dove-gray with mink lowlights!
Thick hair is perfect for sculpting into an extremely steep inverted bob, as the stacked-back requires a number of closely set layers to form the beautiful bump of volume that's so cute.  If you're someone who wants to make an impression, try this avant-garde hair color idea with a light-gray base and mink lowlights!  The profile is absolutely stunning, showing the layers graduated down to collar-bone length and then moving up in shorter layers to join the long, sexy side-swept bangs!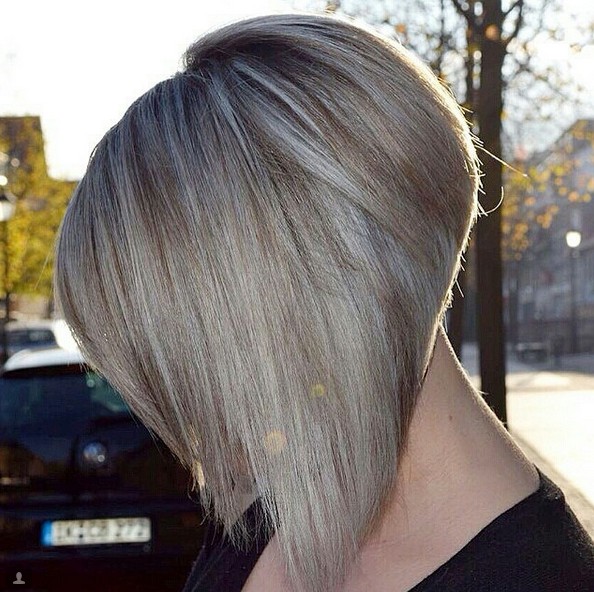 Chic bouffant-bob short haircuts with subtle blonde & pink highlights over brunette base
This fabulous inverted bob hairstyles idea has a stacked back and a lovely bouffant curve at the back, expertly graduated down to form a smooth line above the nape.  Instead of having a blonde base with dark accents at the back, this style 'inverts' that concept with a top layer of blonde and pink vertical highlights spread over a brunette base!  The clever highlighting really accentuates the lines of this trendy short haircuts' option and the disconnected layers at the front add extra edge to a fabulous high-fashion bob hairstyle!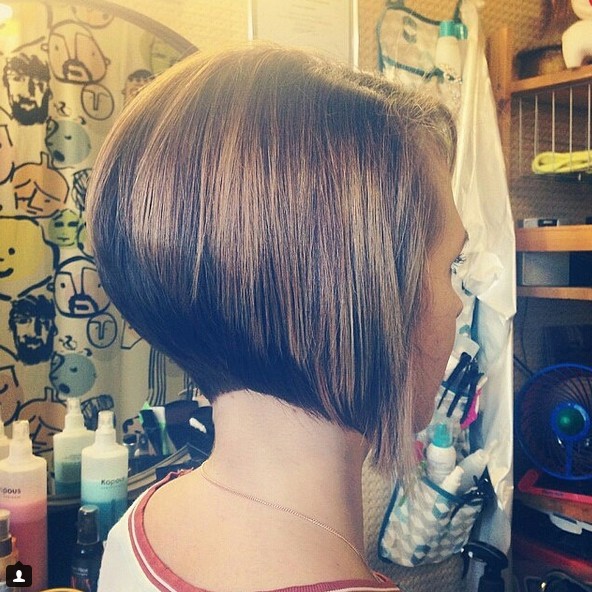 Sporty/Trendy razor-cut inverted bob hairstyles with long bangs
This snazzy look will take you to work, the gym and on to a night out with the girls – without causing you a single moment of 'hair anxiety'!  It's the perfect not-too-short hairstyles' cut for thick, straight hair and a very face-flattering look for a round, oval or heart face!  The strong lines are created with special vertical layering, that coaxes hair into a fabulous natural curve.  Sharp points at the sides and a long, half-fringe are excellent tips to 'play down' roundness in the face.  This sporty/trendy look is easily adjusted to suit a long face with long asymmetric bangs, or add full bangs to conceal a wide forehead on a heart face!
Elegant long bob hairstyles with caramel-blonde highlights on brunette base
Lots of celebs are cutting their long hair in favor of contemporary straight bob hairstyles for spring and summer and they look fantastic!  Long, loose hair is lovely, but after a certain point it can be ageing. Moreover, inverted bob hairstyles have far more style, adding polish to your image.  This elegant bob curves down beautifully from the back to hang loose around the collar-bone, where it swings and sways attractively as the head moves!  The warm cocoa-brown base looks amazing 'shot-through' with luscious caramel highlights, creating light-reflecting texture and a gorgeous, gleaming curtain of beautiful hair!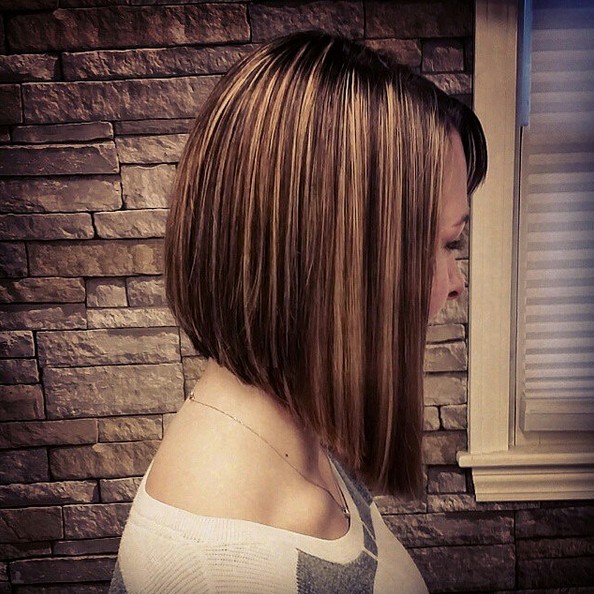 Super-steep angled bob hairstyles in blonde with copper under-layers for thick hair
Super-trendy, steep, inverted bob hairstyles are a great way to show your fashion credentials.   Not to mention being one solution to the 'short or long' dilemma – being both at the same time! The back volume and signature shape of inverted bob hairstyles is made by cutting lots of narrow layers, so the hair stacks up and out at the ends.  'Sliced layers' are also used on thick hair to remove density and shape the ends into tapering tips, with attractive texture seen in the lightly tousled profile below.  With a warm, coppery shade accentuating the stacked back and a strongly graduated profile, this high-fashion bob hairstyles' idea will guarantee you always get a second glance!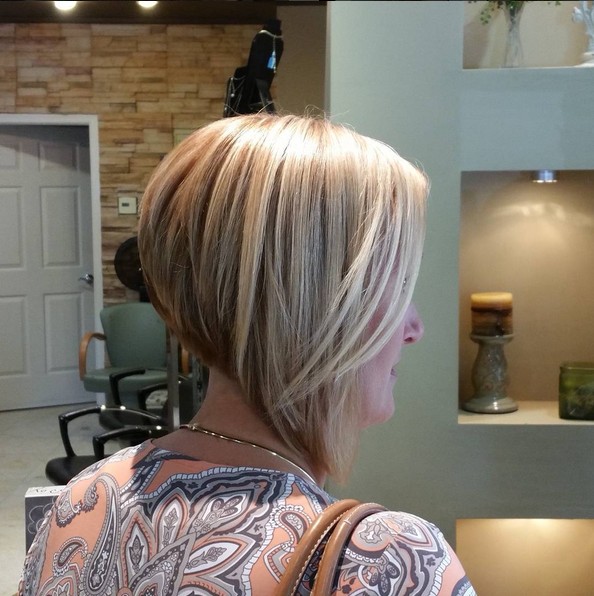 Best edgy blonde-bob short haircuts for spring and summer
Long faces can be brought closer to the oval ideal by keeping the focus on the face, with chin-length bob hairstyles and a long, asymmetric fringe.  It's such an easy correction to make and yet some famous celebs and actresses insist on wearing long hair and a bare forehead, which only emphasises the length of their face!  This bob is layered and textured at the tips to give a slightly ragged effect around the bottom edge, which contrasts nicely with the smooth curves above!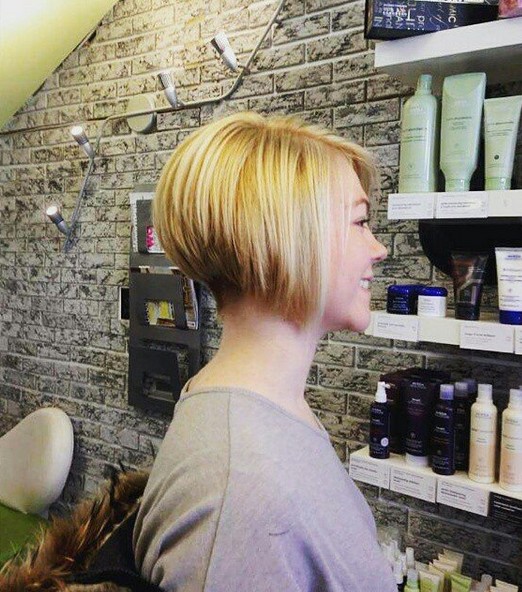 Edgy wedge inverted bob on cute brunette base with coral-pink highlights
With the latest cutting techniques and hair products, contemporary inverted bob hairstyles can have impressive shapes at the back, without any 60's back-combing/teasing.  Strong straight hair looks neat and edgy in this highly stylish medium-short hairstyles' design featuring a wedge-shaped back and a perfectly curved neck line!  The sides have 'sliced' layers, carefully razored into textured, raggy tips to contrast with the smooth styling. Warm cocoa vertical highlights emphasise the movement down to wispy, shaggy tips in a hot contemporary look for round, heart, square and oval faces!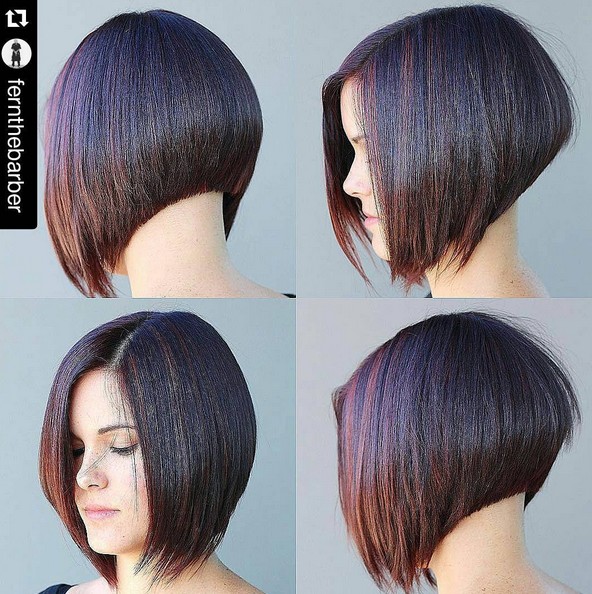 Yikes!  Hot pink straight bob hairstyles for fun-loving party animals
Fuchsia-pink with purple roots marks this amazing hair design as one of the latest fantasy short bob hairstyles!  If you're not able to wear this vibrant colour combo at your place of work, consider a cute wig like this and give your fun side total freedom whenever you're in a party mood!  The hair has been cut in 'sliced' layers that create lots of vertical movement from root to tapered tips, with volume around the top trimmed to lie beautifully smooth at the ends!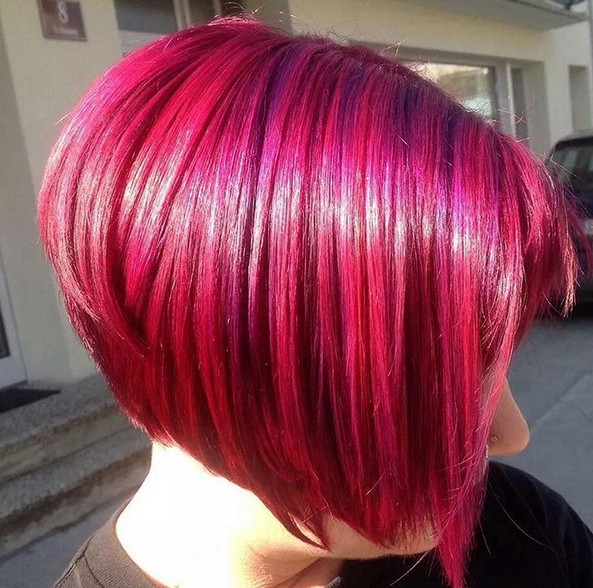 Fresh straight bob hairstyles with bangs in cute caramel with neutral-blonde ombré
This cute straight bob hairstyles' design has attractive bangs that increase the focus on the eyes-to-chin facial area, making it a good style to break the circle of a round face and chubby cheeks!  Morevoer, this caramel hair color idea is a fresh look for anyone with mousey, dark-blonde hair who doesn't want the expense or the bother of keeping up blonde streaks, which have become a bit of a hair-color cliché anyway.  This very light brown shade is warm and flattering to paler skin tones and with a gentle neutral-blonde ombré, this look is far more stylish than those stale blonde streaks!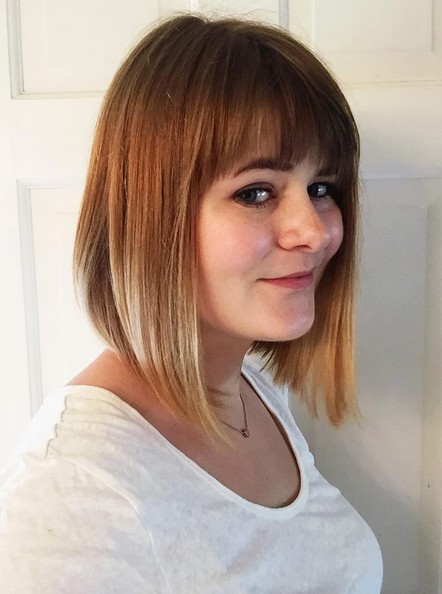 Racy blonde razored-bob with sage-green, pretty-pink and coffee-brown roots
The innovative color-blends and style variations on bob hairstyles are getting more adventurous and stylish all the time, making the short haircuts for spring and summer truly unique.  This blonde inverted bob has a clear, side-parting to create a strong diagonal line across the face, in the long fringe.  See how the model's deep blue eyes are 'spotlighted' against the smooth styling, whilst asymmetric sides with heavily textured tips add extra edge.  The brown, green and a hint of pink color highlights alongside the parting add that extra-special detail that shows you're definitely a one-of-a-kind gal!  This style suits long faces, as well as round and heart shapes, too.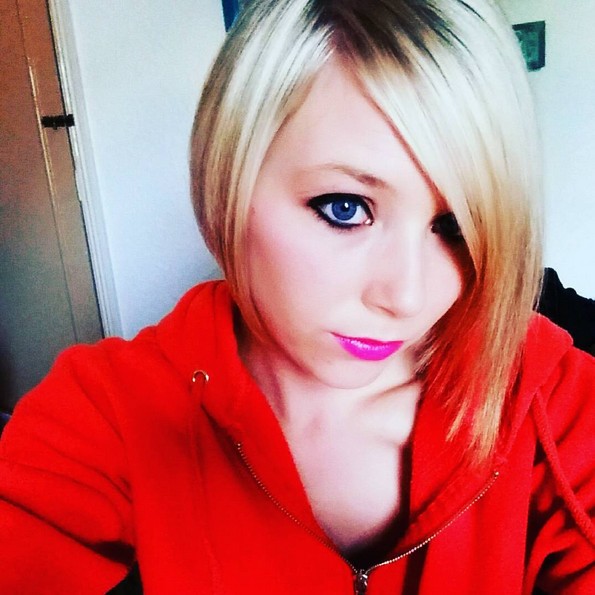 Nifty natural-look light beige-brown straight bob hairstyles
Not everyone wants or needs fancy hair color ideas to perk up their look!  Here's a great example of natural-looking light-brown hair, cut into a voluminous medium-long inverted bob hairstyles' option.  No-one ever seems to write about the attractions of having light-brown hair, but it's just as attractive as any other shade!  This color has neutral undertones, which suggests it's been tweaked with a subtle touch of beige to make it fit perfectly with this season's fashionable neutral blondes and ash-browns.  The sliced layers on this model's shiny, thick hair are very lightly highlighted to produce a trendy, but altogether natural look!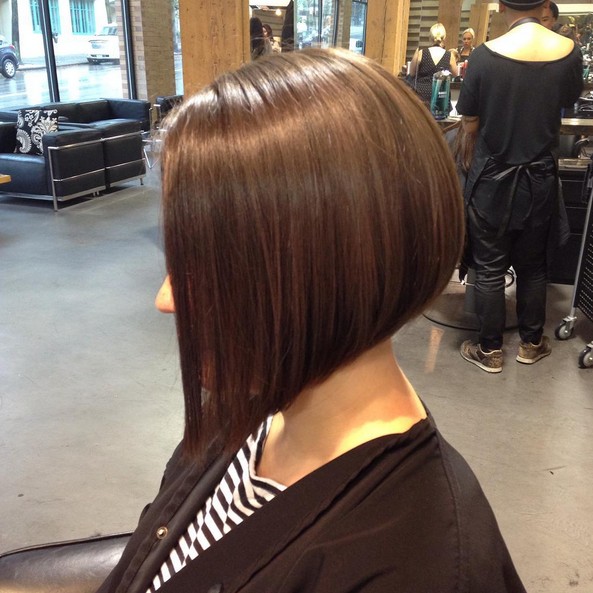 Fab French chic inverted bobs for brides & wedding guests
This photo focuses attention on the beautiful sweep of hair in this short haircut, with an elegantly curved back falling softly below the chin.  It's a simple, but very chic, bob hairstyles' idea that would be perfect for a bride (or wedding guest) of any age to wear on her wedding day.  It's special and classy, won't look dated in wedding photos, and suits most face shapes!  There's a charming touch of vulnerability about the bare neck and oodles of style from the cute 'floating' earrings.  Just add your hair color idea, to complete this gently rounded short bob that's the epitome of French chic! And you can find more similar haircuts on hairstylesweekly.com!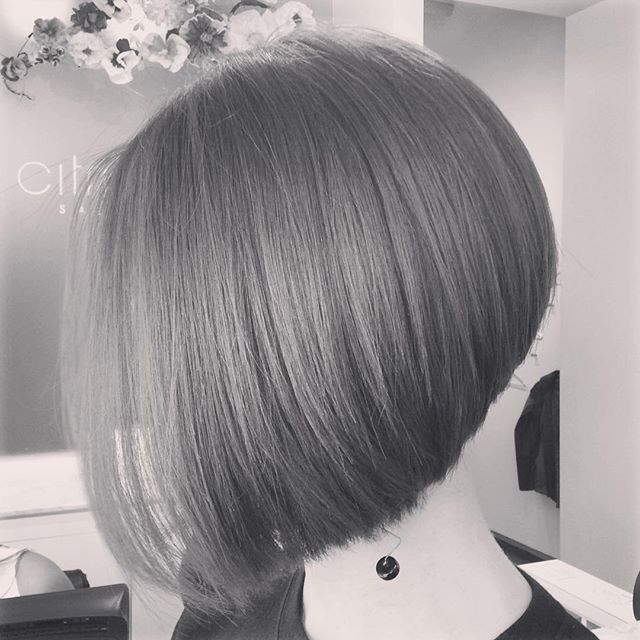 'Cool' choppy angled bob hairstyles with attitude
Not a fan of the perfectly 'done' inverted bob hairstyles? Never mind, there are plenty of choppy and shaggy straight bob hairstyles for spring and summer, so you're bound to find short haircuts that reflect your rebellious side!  Take this choppy layered bob, for example, it's just right for anyone who considers 'styling' a bore and just wants to run their fingers through their hair to create a relaxed, 'undone' look.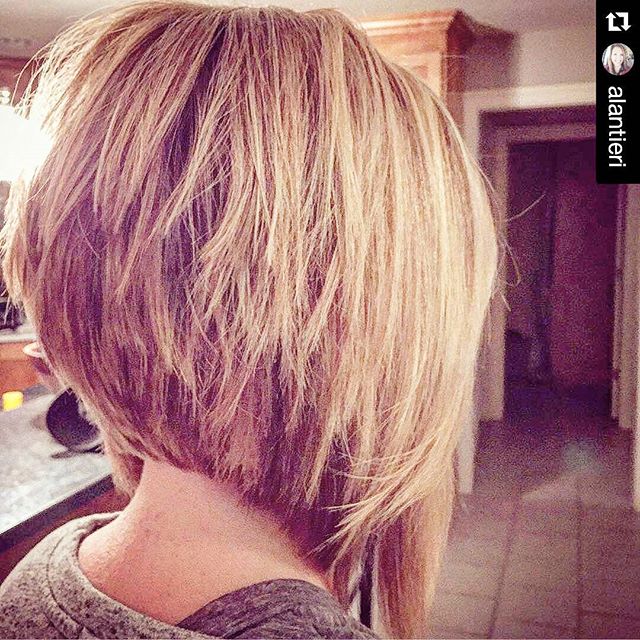 Shiny straight bob hairstyles for silky-fine hair
Just as thick hair is great for multi-layered stacked bob hairstyles, fine hair with its silky texture and swishy movement looks fabulous in longer bob haircuts.  Coarse hair is always trying to stick out, but fine hair is quite happy to drape vertically creating a glossy curtain that shows off a contemporary hair color idea.  Iced chestnut is a cool medium-brown shade with almost mirror-finish reflections that follow the latest trend towards light-ash tones.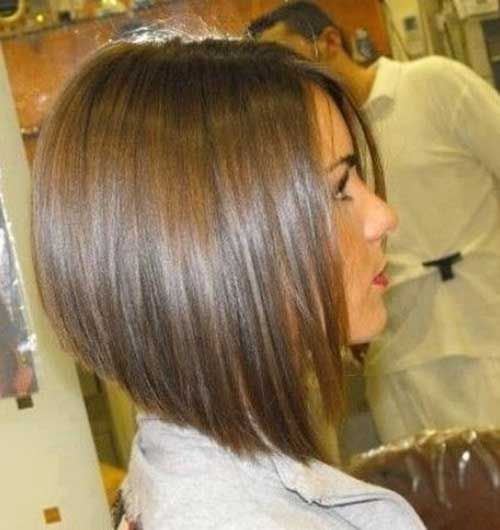 Funky mahogany-red bob hairstyles with black ombré
Olive skin tones are not flattered by pink/lavender colors, but they do look fabulous framed by darker red shades, like this rich mahogany hair color idea.  This straight bob hairstyles option has gently flattering lines and a 'knockout' deep mahogany-red with funky black ombré at the tips! This is a fab short hairstyles' idea for oval faces, with a center-parting and tapered sides that cover the outer edges of the face.  Thick hair is layered to create a high curve at the back, with curved-under sloping sides adding yet another attractive curve around the chin.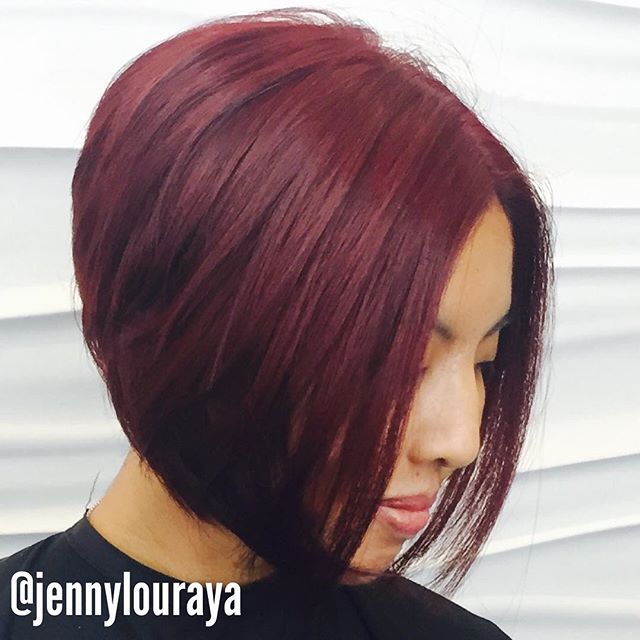 Fab fantasy short haircuts – pink roots on white blonde hair color
Ideas for stunning short hairstyles for party, prom or wedding events are more daring than ever this season!  The most popular inverted bobs and short hairstyles are flaunting fab futuristic colors copied from favorite online gaming characters.  Casual medium-short haircuts may seem a bit 'safe', but only until you've added a white-blonde and raspberry-pink hair color idea that subverts the 'dark roots urban chic' look! Fantasy color short haircuts are gaining ground with each new season and it won't be long before they're totally mainstream!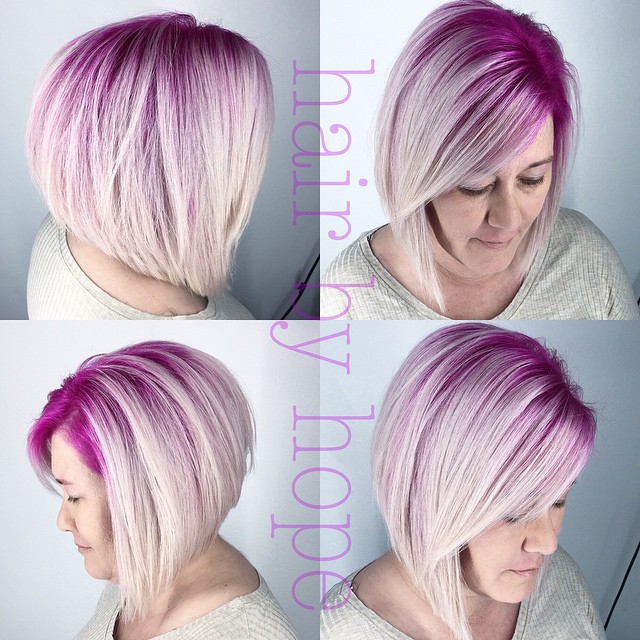 Beautiful bronde hair color ideas for straight bob hairstyles
Here's a groovy new hair color idea that looks amazing on long bob hairstyles!  On medium or fine hair that ripples with movement as you move your head, this expertly-blended mix of blonde and brown shades creates a shimmering curtain of hair in the latest, bronde hair color.  If you agree that this contemporary bronde, straight bob hairstyles' idea is far more alluring than shapeless long hair, phone your stylist today and transform yourself from a run-of-the-mill moth into a beautiful, stylish butterfly!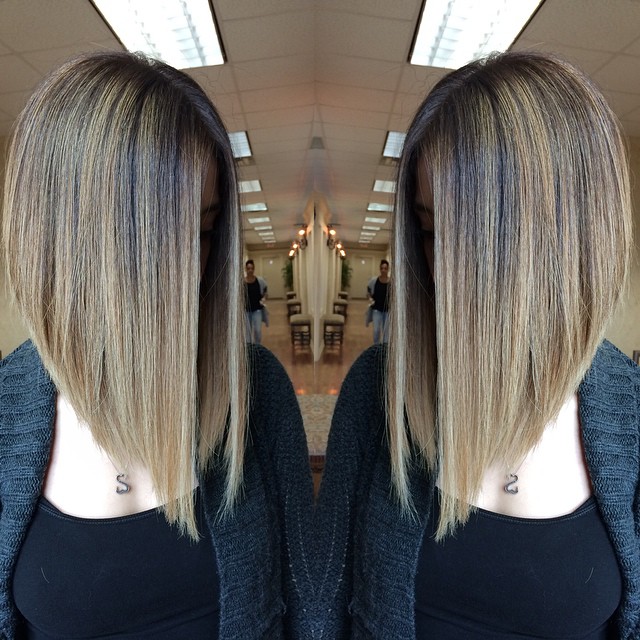 Back view of inverted messy bob cut for short hair
If you're going to cut your hair short this summer, why not consider this cut?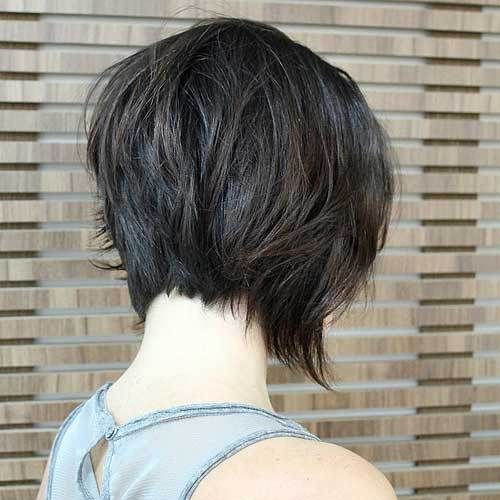 Dramatic & ragged straight bob hairstyles that slim wide faces & cover a strong jaw
With well-defined regular features, you can go for a really dramatic short haircut like this ragged bob hairstyles' innovation.  This is another of the amazing new, short haircuts for thick, dark hair that slims round faces and will conceal a strong jaw.  Strong lines that control how much of the face is shown, are great for minimising chubby cheeks. You can keep the focus on a narrow vertical section of the face that draws the eye down to trendy, ragged tips just brushing the collar-bone. This trendy, easy-care short haircuts idea elongates a wide face beautifully and really shows-off brows, eyes and full, red lips!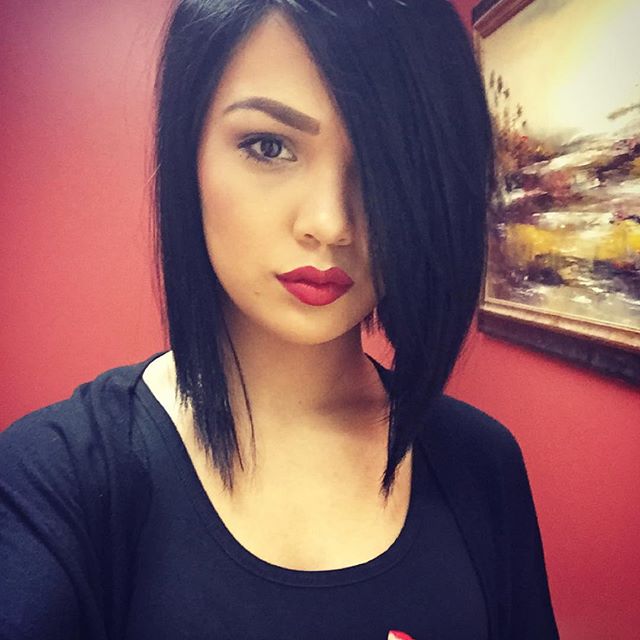 Modern straight bob hairstyles makeovers to 'perk-up' long hair
This is a great makeover haircut for anyone wanting to look more mature and elegant, maybe getting ready for a professional career.  College students often find that a style makeover, from girlish long locks to a 'well-groomed' and contemporary image, is helpful when interviewing for corporate jobs.  In fact, this naturally styled look is one of the most popular inverted bob hairstyles for spring and summer.  It's a very versatile length that can be worn smooth for work, in a swishy ponytail for leisure or a sophisticated upstyle for formal events!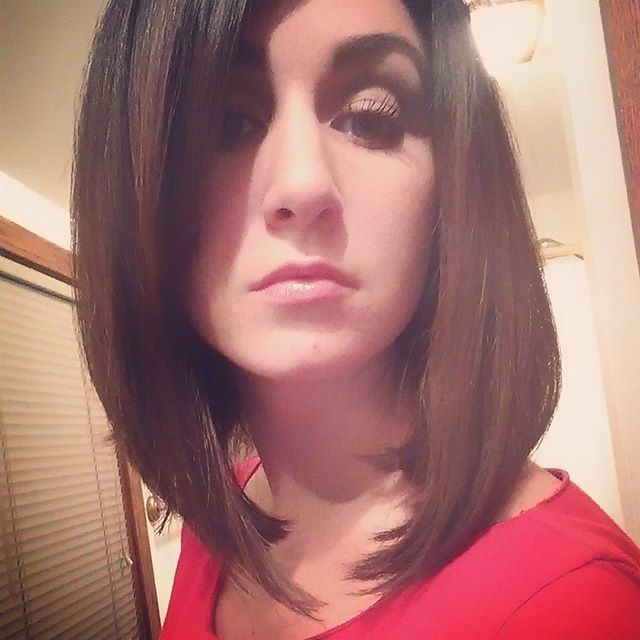 Urban-trendy wavy bronde inverted bob short hairstyles
Bouncy bob hairstyles, like the highly stylish look below, can inject new life into your beauty image and really boost your self-confidence!  On fine or medium textured hair this combination of waves and blonde streaks will add the necessary volume to create a trendy, urban-chic hairdo.  We love this unusual wavy bob, which creates the perfect image for a creative, imaginative woman, who's very capable of independent thinking!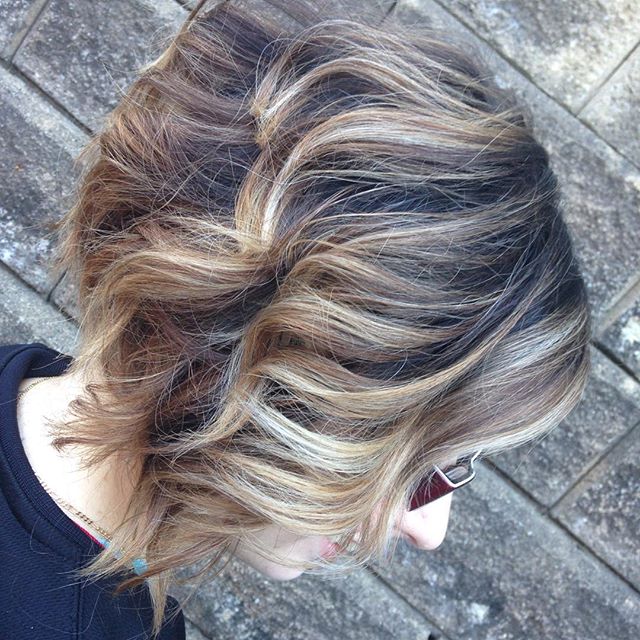 Gloriously cute purple wavy bob hairstyles for medium/fine hair
Perfect with this season's stylish, gray fashion wardrobe, this wavy purple inverted bob hairstyles' idea is a truly eye-catching look!  We love the subtle differences in color moving from purple-blue at the back to pinky-purple at the sides.  Best of all, the waves add lots of extra volume to fine hair that's not thick enough for a geometric inverted bob.  Hairstyles that end around chin-length, with wavy volume at the sides, are great for balancing out thin and long faces.  And this stunning, swishy hairdo will ensure you always look as cute as a cup-cake!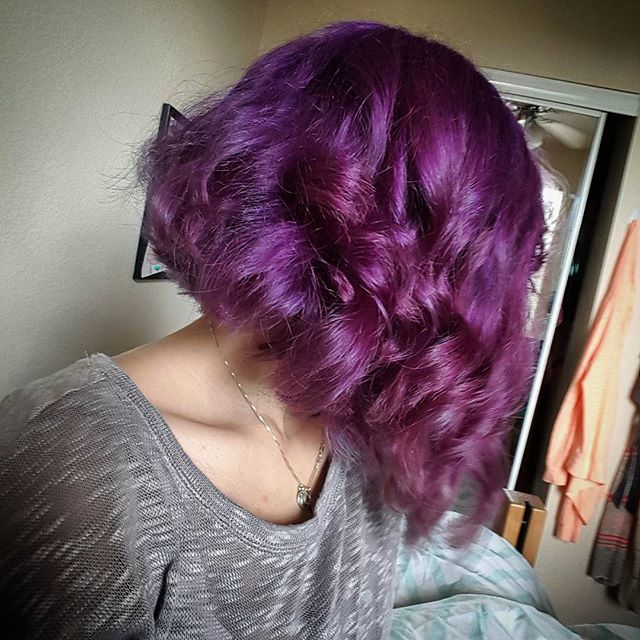 I hope you've found lots of up-to-the-minute inspiration in this varied gallery of the latest, cute inverted bob hairstyles!  With many of the old hair color ideas and short haircut 'rules' now consigned to the re-cycling bin, let your imagination run riot when choosing face-flattering, curly or straight bob hairstyles! After all, the original bob hairstyles were an incredibly important sign of women's independence!