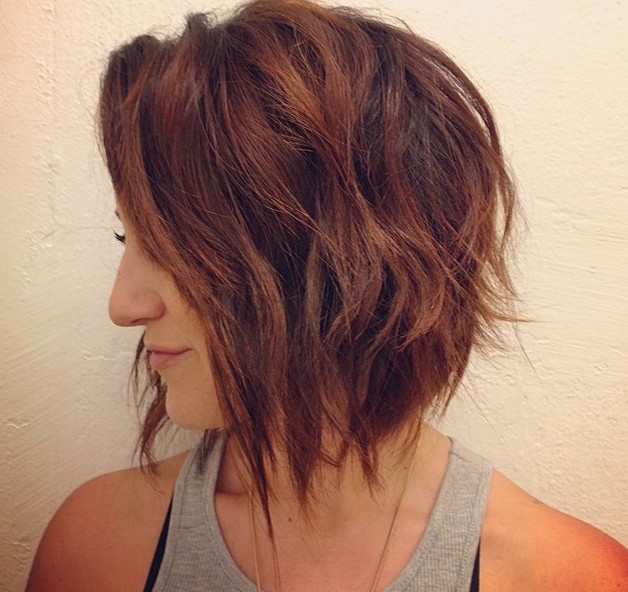 This week's best A-line graduated bob hairstyles are chic and elegant, featuring softly rounded curves.  A-line bob haircuts are extremely popular hairstyles right now that let you change from long or short hairstyles into layered bobs, without that awkward in-between look!  And, as you'll see in this gorgeous selection, they make the perfect base for this season's seductively subtle or beautifully bright new hair color ideas!
Short & sweet A-line bob haircuts with dark chocolate and caramel color blend
One of the benefits of short A-line bob haircuts is that they look good on fine hair, as well as medium or thick hair textures!  Fine hair bob hairstyles with a variety of medium and long layers create lovely texture and make it easier to get sufficient volume to achieve lovely, smooth curves. Blunt cutting adds a thicker look to the ends of fine hair, as you can see in the nape and profile view of this classy short hairstyles' option. This subtle hair color idea adds lots of 3-D dimension and texture in a beautiful blend of dark chocolate and caramel!  Suits round, heart and oval faces.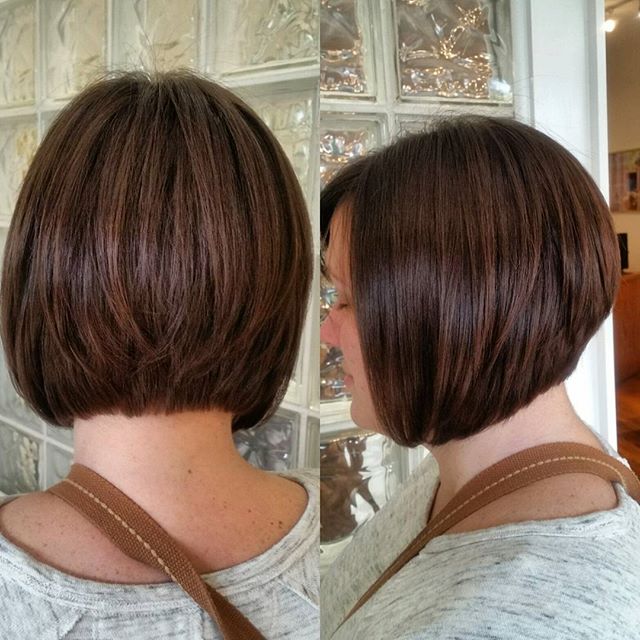 Classic chic ash-blonde bob short hairstyles' ideas
I love these short, round, ash-blonde bob hairstyles – they always remind me of a pretty dandelion puff-ball in summer!  There's something very attractive about neatly combed bobs that makes them popular hairstyles with well-organised professional women.  Not only are they fashionable and  easy hairstyles, they're also perfect for wearing in a striking color or with hot highlights from the hair color ideas for spring and summer 2016!  This style is best for medium or thick hair with natural volume that just needs some concave layering at the ends to create the smoothly curved line.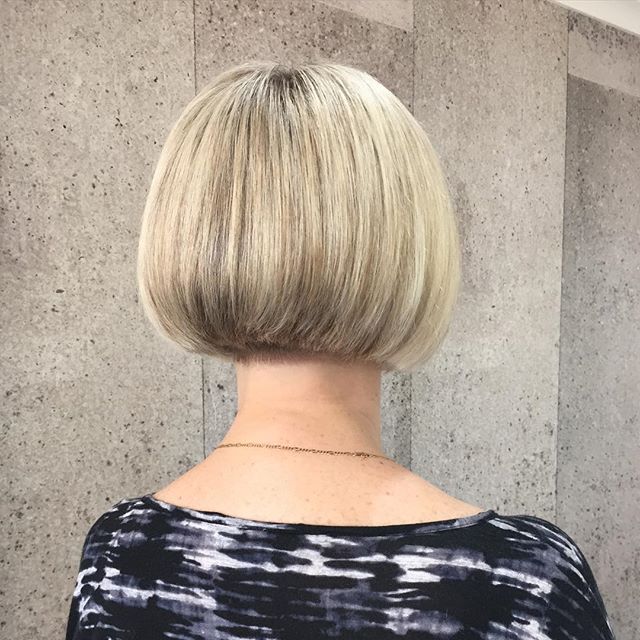 Trendy boho graduated bob hairstyles in plum red & hot pink highlights
Short hair color ideas for women: This gorgeous plum colored A-line bob haircut's got a clever secret!  The section between the crown and the nape, which appears to be reflecting so much light that it looks pink, is actually a pink section.  It's an amazing trick-of-the-eye technique, using a harmonised lighter tone to exaggerate the curved, stacked back of A-line bob haircuts!  Suitable for thick and medium textured hair, (or fine hair set on extra-large rollers to get sufficient volume), this plum and pink bob hairstyle's a lovely boho variation on blonde or brown hair color ideas.  Not sure what shade of plum is right for you?  Ask your colorist to suggest a shade that will suit your skin-tone exactly.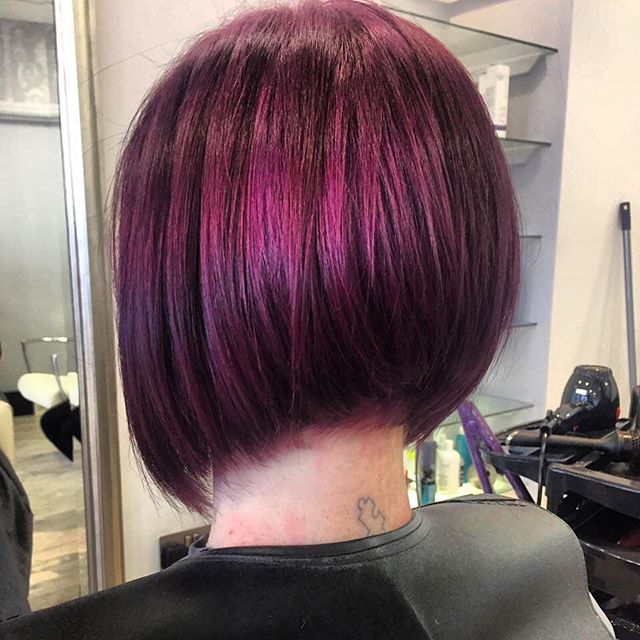 High-fashion big-hair copper layered bob hairstyles with blonde highlighting
Back view of graduated bob haircut: Bob hairstyles are great for showing-off your back view!  This rich copper A-line bob haircut's definitely worth a second glance to admire that lovely, exaggerated bump of volume!  Shorter layered bob hairstyles like this are better for getting volume on fine and medium textured hair and this beautifully graduated bob hairstyle is accentuated by an exciting new hair color idea, too.  The layers around the crown are highlighted in blonde, above an amazing band of copper-red that becomes a deep copper brown shade at the ends! It's another great example of  the new way of applying color in bands to create a tromp l'oeil effect, tricking the eye into seeing an even more exaggerated bump of volume at the back!  Suits round, oval and heart faces.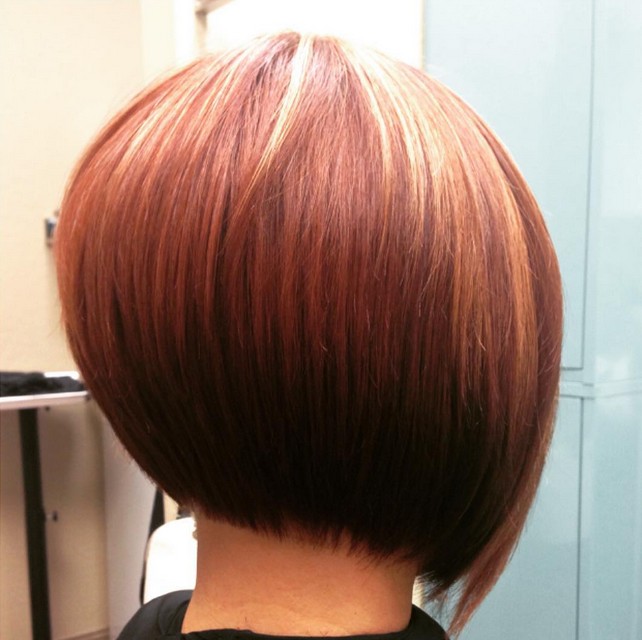 Messy medium A-line bob haircuts with apricot & strawberry hair color ideas
If you prefer a more casual look,  here's a fabulous messy bob to inspire your next visit to the salon! The A-line is still evident, but there's more focus on the uneven finish that creates super texture along the lower edge. The two colors are quite different, but together they produce a lovely Boho look that adds dimension and depth to the hair.  This harmonious combination of apricot and strawberry hair color ideas is subtle enough to be acceptable in any workplace, but you can also get the same look with a temporary wash-in, wash-out pink hair color.  This layered bob hairstyles' idea is suitable for thick or medium hair, as sharply textured tips in graduated bob hairstyles totally prevent the bulky look that thick hair can have when the ends haven't been thinned-out correctly!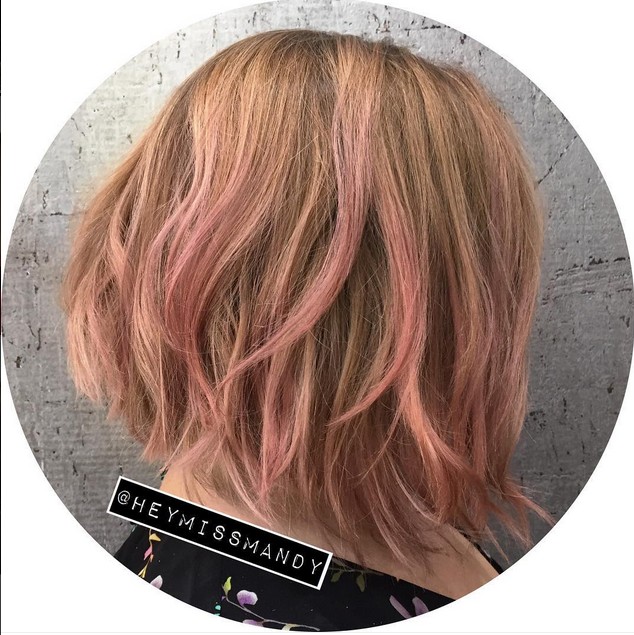 Edgy extreme short hairstyles & hair color ideas in blonde/grey/yellow/red
Edgy and highly original, this is a youthful style that projects an image of creativity and confidence.  As graduated bob hairstyles go, this has to be one of the most stylish and original we've seen for a while.  Best on thick hair, the layers begin about half-way down the head and thin the lower lengths to make a natural curve into the neck.  Instead of having the sides long and graduated to fall on either side of the face, this bob hairstyle has long, deep bangs on one side flicked back to meet the asymmetrical long section that covers the ear and an inch or so of the back. The unusual color combination of gray under dual highlights of neutral blonde and yellow, is perfectly balanced with scarlet balayage on one side of the head in this casual and quirky new look!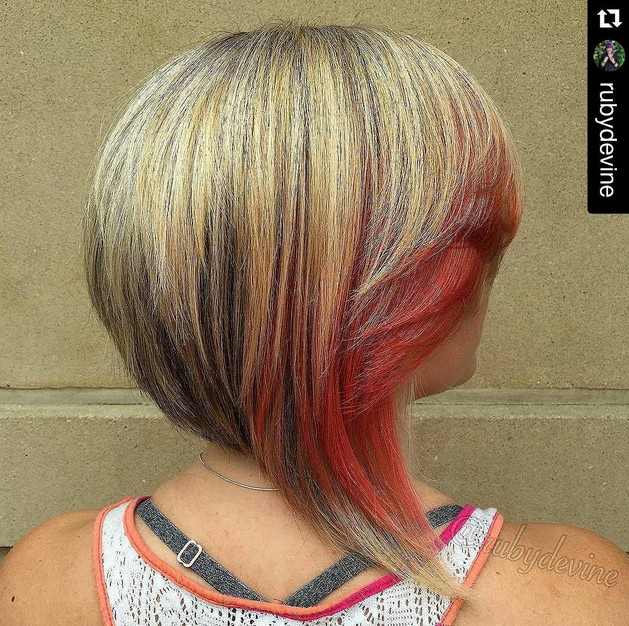 Rich copper hair color ideas on spiky messy layered bob hairstyles for thick hair
Short messy hairstyle for summer: Bob hairstyles with added waves can soften a square face by covering-up a strong jawline and drawing the eye down to those sharply textured tips on either side of the chin. And long side-swept bangs can 'cut-off' the corners of a wide forehead, or break the circular symmetry of a round face.  Thick hair is needed for this edgy A-line bob haircut, which has thinned-out tips and tons of movement in trendy, casually styled with broken waves.  This beautiful, copper-brown shade is one of the most popular all-over hair color ideas this season, livening up all shades of brunette/dark-blonde/mousey hair into a really eye-catching color!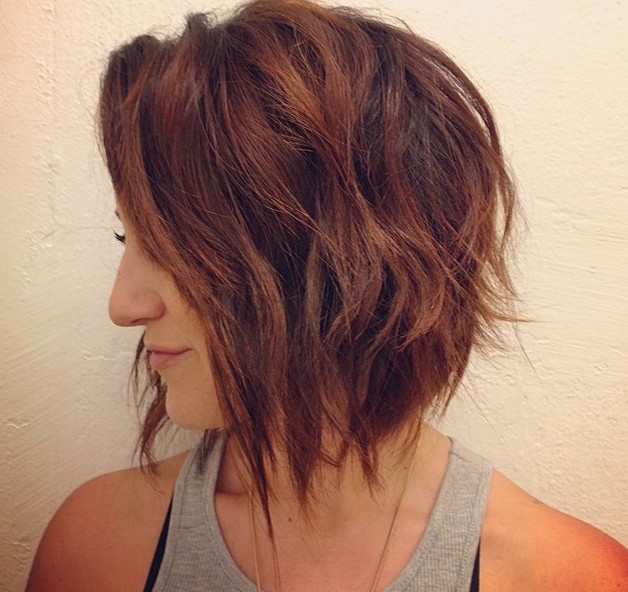 Cute curly short hairstyles on deep-purple/black hair with dainty blonde highlights and stacked back
Layered bob haircuts are a great way to show off naturally curly hair, as they create lots of texture and natural volume in the fluffy back layers.  This cute bob shows that short hairstyles can be extremely feminine and attractive, especially with a V-line finishing in a soft point above the nape.  Adding fine blonde highlights to black hair ensures the lovely, curly texture is clearly defined and it's a great way to disguise unwelcome gray hairs!  This chic A-line bob haircut's delicate highlights accentuate the soft texture and lively movement, on black hair that's been prettily perked up with a hint of deep purple!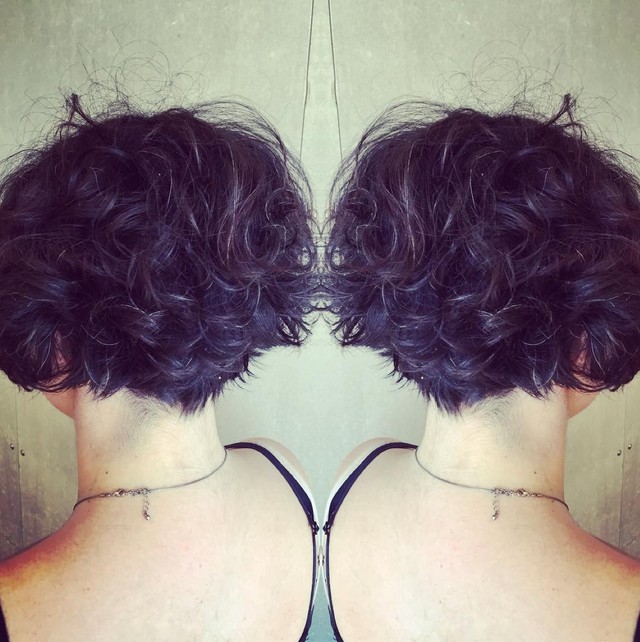 Easy & casual messy bob hairstyles for thick hair in soft honey-blonde shades
Messy graduated bob hairstyles will keep you smiling all day, as you never need to check the mirror to see if your hair's tidy!  Thick hair is perfect for graduated bob hairstyles with just a hint of wave to add texture and attractive movement around the head.  The tapering, sharp tips add edge and avoid the problem of bulky ends that plagues those with thick hair.  In a soft blonde shade with some warm, but subtle caramel lowlights, this is a very flattering mid-blonde shade for most women, on a messy short hairstyles' idea that has a relaxed and youthful image (even if you're not relaxed or youthful!).  Suitable for most face shapes and ages!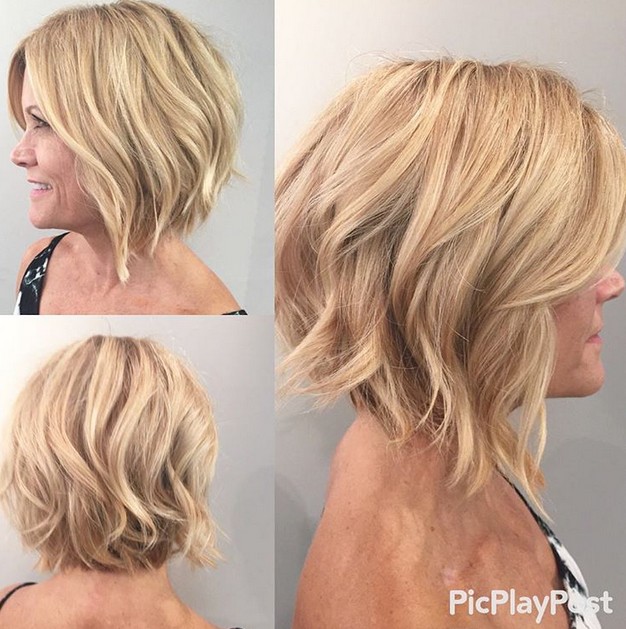 Lovely long choppy & asymmetric layered bob hairstyles for thick hair and round faces
Layered graduated bob hairstyle: Don't complain about the thickness of your long hair, take advantage of it to wear this very contemporary layered bob! Hairstyles with choppy texture and a combination of waves and straight sections, look fantastic with a touch of highlighting to accentuate the different textures.  Spiky tips make a trendy, edgy outline when added to A-line bob haircuts and asymmetrical long, layered bob hairstyles are much more interesting and stylish than ordinary long, straight hair!  Asymmetric, choppy layered bob hairstyles are great for round, heart and oval faces.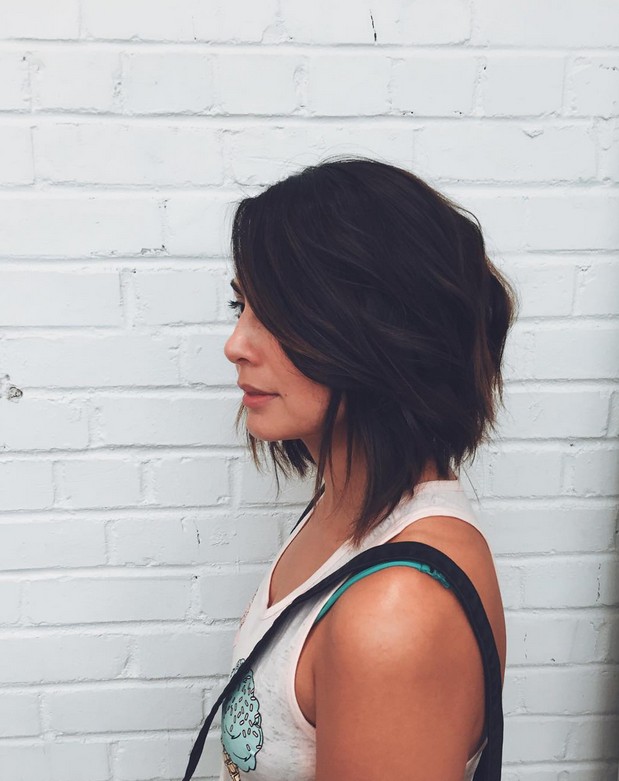 Cute short oat-blonde A-line bob haircuts with yummy dark-chocolate detail
If you like a neat shape to your hair, but don't want to look too 'perfect', here's a cute compromise to consider!  The perfectly shaped oat-blonde top layers are undercut by warm chocolate-brown color accents along the nape and the sides.  This adds a touch of the 'unexpected' to graduated bob hairstyles and when the hair is slightly tousled, the brown tresses show through – adding lovely 3-D dimension and texture to any short hairstyles.  I love the contrast in this cute, well-groomed bob hairstyles' idea, so if you'd like to project the image of a well-organised woman with intriguing hidden depths – give it a go!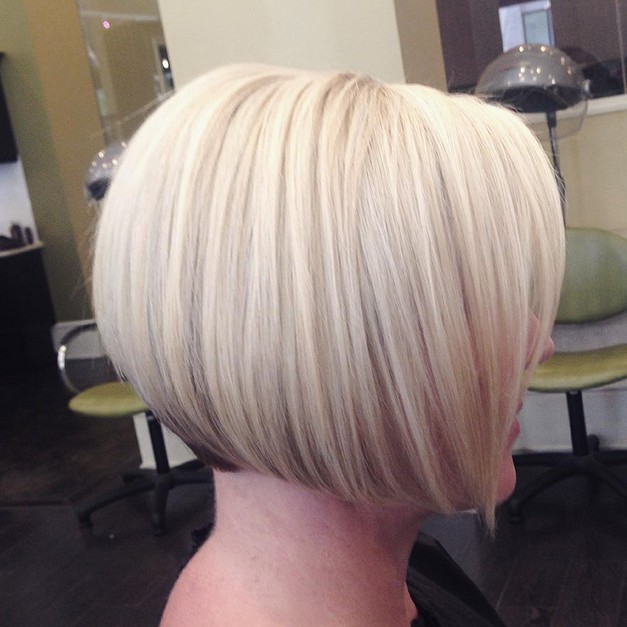 Pretty short hairstyles with metallic gold hair color ideas on bouffant A-line bob
Haircuts are getting more daring in their colors every week!  Here's a very pretty graduated bob hairstyles' idea with silver-gray roots showing under glossy metallic gold, to create a beautiful new color combo.  Lightly waved bouffant layered bob hairstyles like this are great for medium and fine hair types.  It's easier to achieve volume-dependent bob hairstyles on fine hair,  if you ask for plenty of layers like this attractive graduated bob hairstyles' option.  Waves are another way of adding texture and volume to fine hair and you can always give the top layers of short hairstyles a quick boost with jumbo rollers and hairspray!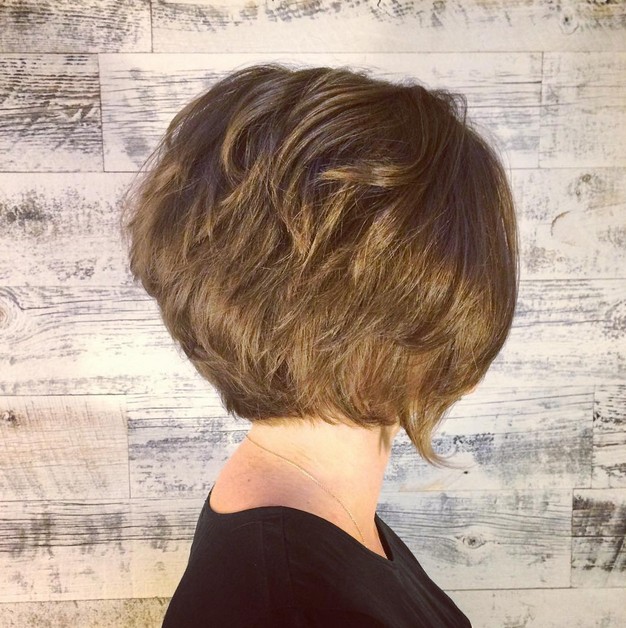 High-fashion blonde/black color contrast on smooth bob hairstyles with A-line
Short bob hairstyle idea: Bob haircuts are so versatile, you can add lots of different hair color ideas to add individuality or ring the changes on your favorite A-line bob haircuts!  Take a look at the way 3 colors have been used to add even more eye-catching glamor to this trendy graduated bob. Hairstyles with a sharply stacked back can be beautifully accentuated with a dark shade at the back and sides to contrast with a lovely blend of golden-blonde/golden-brown highlighting around the top.  Steeply stacked A-line bob haircuts work best on thick hair cut in sliced layers, which have been individually defined by the highlighting in this super-stylish bob hairstyle!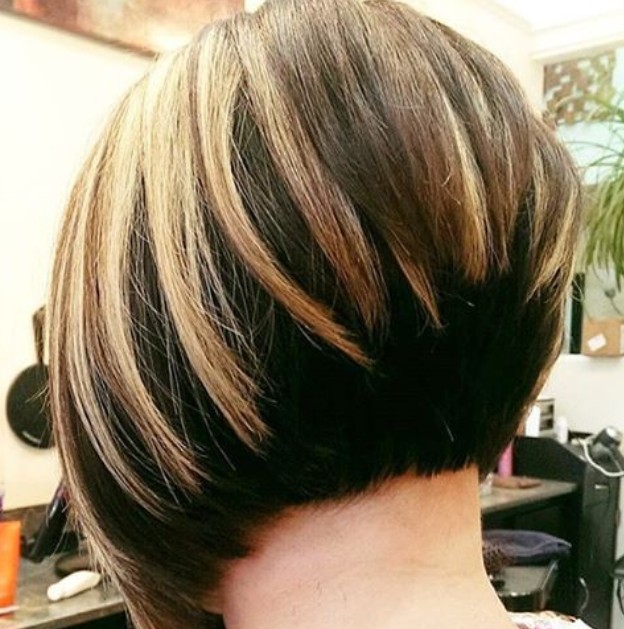 Bold & bright copper hair & extra-steep stacked bob hairstyles for thick hair
This is one of my favorites – both for the bright copper hair color idea and the extreme stacked layers at the back!  Fabulous!  Unfortunately, I have fine hair :( but for anyone with thick hair this is a super-hot short hairstyles' idea, that's also an easy hairstyle.  The closely stacked layers create a sculpted shape to thick hair, with finely textured tips making even coarse hair lie in a smoothly curved line.  See how the texture contrast, between the smooth top and the stacked layers, creates the illusion of 3 different shades of copper, too!  Copper is a great color to glamorise dark-blonde hair and on head-turning, graduated bob hairstyles will definitely get you up there on every man's radar!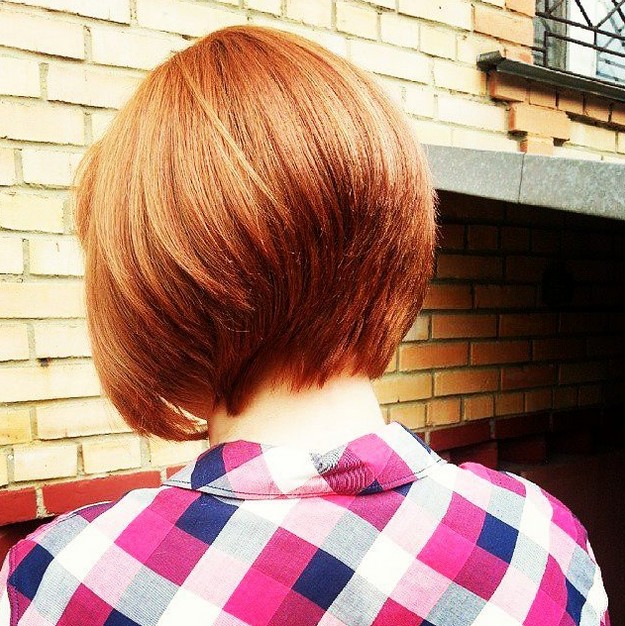 Perky precise bob hairstyles with bangs & light ombré on dark-blonde base
Expertly graduated bob hairstyles are a great way to make thick hair behave and create fabulous geometric shapes that you just can't get on fine hair.  This razored A-line bob is perfectly curved, with long, sides finishing in a sassy sharp point an inch or so below the chin.  With a side-parting, the long angled fringe has been styled playfully over the face to emphasise the precise, razored tips.  Shorter layers at jaw level soften the lines of layered bob hairstyles that are a flattering choice for round and heart faces. And doesn't the neutral-blonde ombré and cheeky hint of pink do wonders to perk-up this model's dark-blonde hair!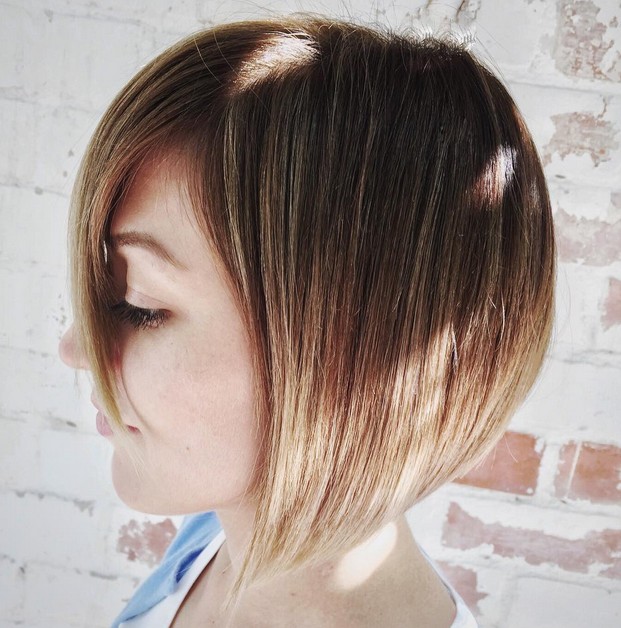 Stunning sunset orange/bright copper hair color ideas on chic A-line bob
Side view of graduated bob hairstyle: Haircuts like this feature in US comedy movies of the late '60's, worn by extremely glamorous Italian movie starlets being closely pursued by rich businessmen! So they've got a strong connection with vintage Hollywood glamor that's perfect for spring and summer.  Lovely layered bob hairstyles like this need some teasing and hairspray to get the bouffant curve and stop it falling flat, but it's worth it for a drop-dead gorgeous look that's perfect for a special event.  Updated with a modern hair color idea that moves from brown roots through burnt-orange and sunset copper-blonde, this ultra-chic look will have men falling over themselves to get your attention!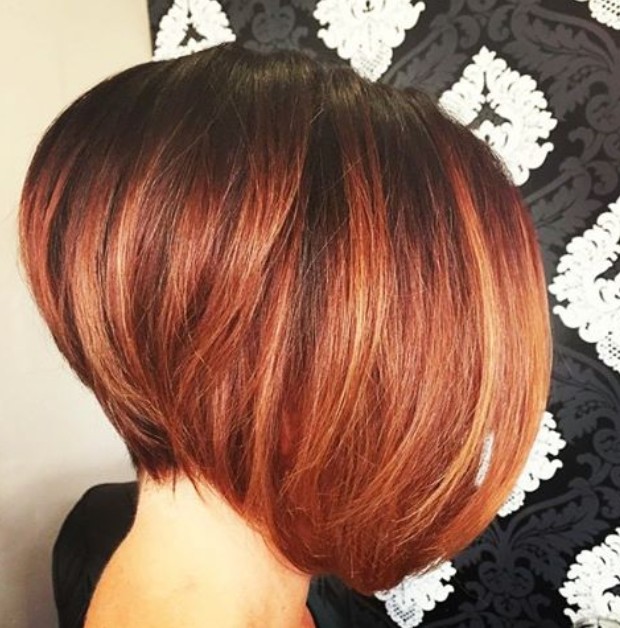 Trendy vintage 60's authentic graduated bob hairstyles for brunettes plus subtle highlights
Along with the cute, flipped up black eye-liner, this style is an authentic copy of the most popular A-line bob haircuts of the U.K.'s Swinging 60's!  There's a nice modern twist in the subtle highlighting, which is a gentle version of the latest 'band' pattern.  So you have the darker roots of the model's natural hair color and then the curved middle section is highlighted with a subtle blonde shade to emphasise the curved shape and finally, there's a subtle pinky shade at the tips!  This gorgeous contemporary style is best on thick or medium-texture hair and suits round, oval and heart faces.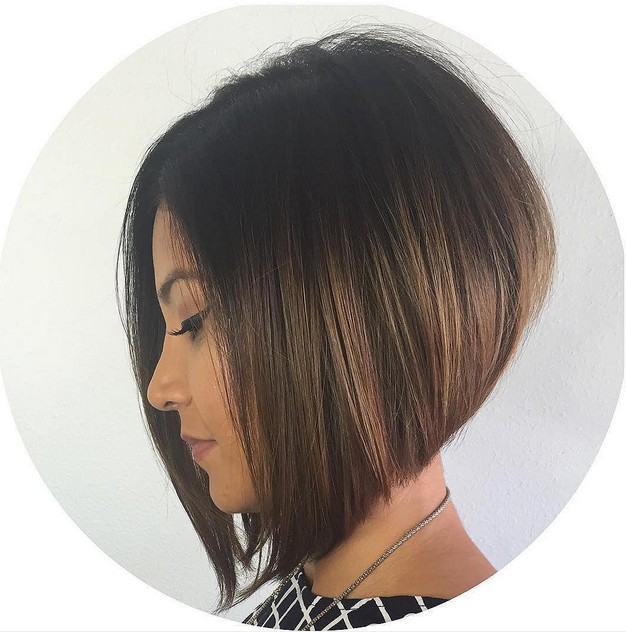 Chic boho bob hairstyles with bangs for round/heart/oval/long faces and thick black hair
Here's a great short hairstyle to try if you're a stylish type, who appreciates simplicity over novelty!  The full, straight-across bangs are great for round and heart-shaped faces and the fairly sleek sides will also help to minimise a wide face.  This short hairstyle is only angled very slightly into an A-line bob haircut shape, making this a suitable bob for fine, medium and thick straight hair.  On fine hair, the layers are long with blunt-cut tips to add thickness around the bottom line, but on thicker hair ask for concave layers just above the tips to create a natural curve.  Chin-length layered bob hairstyles are a flattering choice for long faces, too, with a longer side-swept fringe and extra volume at the sides to complete the look.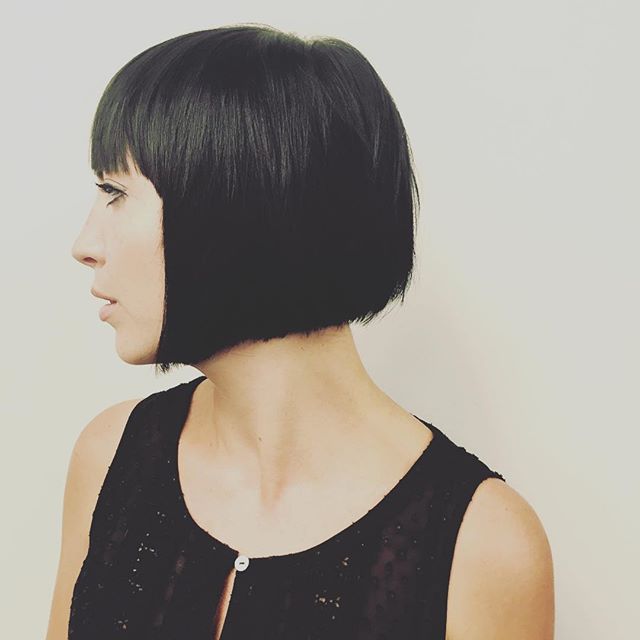 Relaxed waves & subtle honey-blonde ombré on long messy A-line bob
Casual, messy long A-line bob haircuts are very popular hairstyles for spring and summer, having taken over from many long, shapeless styles.  This layered bob hairstyles' idea has a steep angle from back to front, with the hair falling just past the shoulder blades, so you still 'feel' as if you have long hair!  And you can make some fabulously fresh upstyles with long A-line bob haircuts, too.  This season, wavy 'bands' are being used to make a cute textured section between the roots and the straight tips and along with the flattering, warm honey-blonde shade and slightly lighter ombré, it all adds up to a relaxed, easy-care bob hairstyle that's a very attractive look!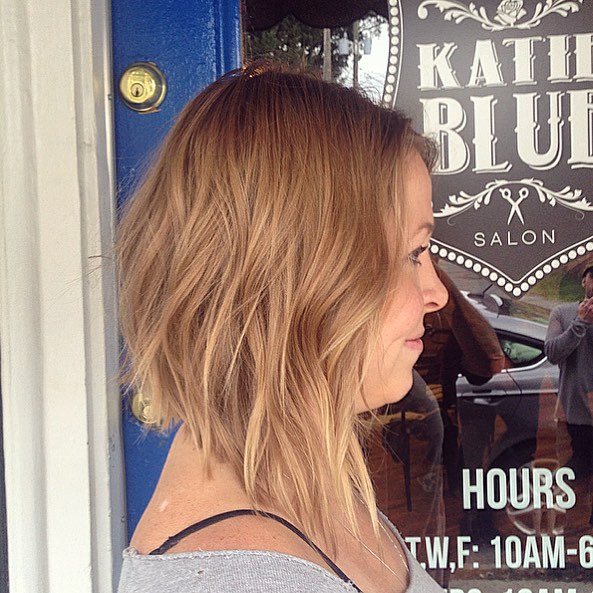 Adorable graduated bob hairstyles with extra-long bangs in pale-blonde with golden-blonde lowlights
Blue eyes look fabulous against a neutral-blonde background, as you can see on the model below!  And this contemporary, layered bob hairstyles' option is short enough to be achieve on fine, medium and thick hair.  The 'back-to-front' angle of A-line bobs for fine hair is less pronounced than on denser hair types and this short hairstyles' idea makes up for that by styling the back layers towards the front, to emphasise the layering.  The darker roots in this blonde bob are actually a pretty golden shade, which keeps the look soft and gentle.  This adorable bob has trendy, extra-long side-swept bangs, with flicked-up tips drawing attention to the model's bright blue eyes and soft-pink lips!  Totally yummy!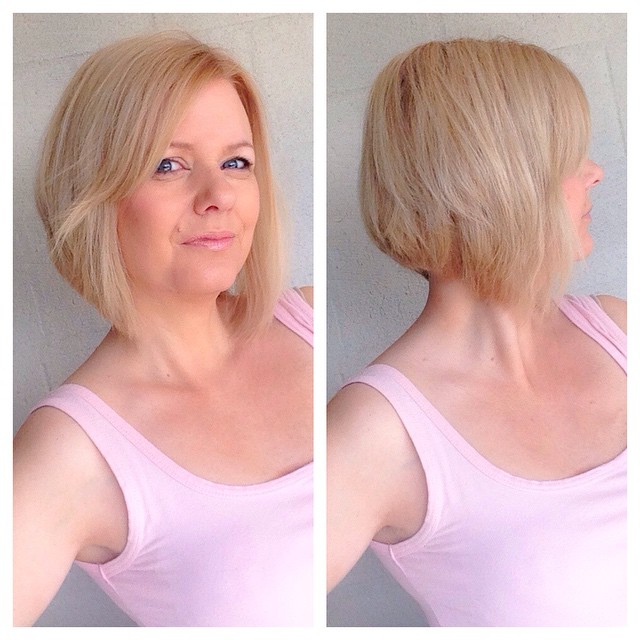 Flattering face-framing waves on elegant medium bob hairstyles with center-parting for oval face
If you have an oval face and a fairly smooth forehead, this gorgeous, classic look will show off your lovely face perfectly!  It's a great graduated bob hairstyles' idea for thick/medium hair, that's cut in long lengths with layering just above the ends to create the curved-under style.  To show-off an oval face, the hair is parted in the center to make a cute pair of soft waves.  The flattering waves lightly cover the outer-edge of the eyes, drawing attention to them (whilst also covering any inconvenient wrinkles), before finishing in a pretty curve to accentuate the lips.  At a length that drapes just an inch or two below the chin, this lovely, layered bob hairstyles' continues to be one of the most elegant and ageless bob hairstyles for oval faces shapes!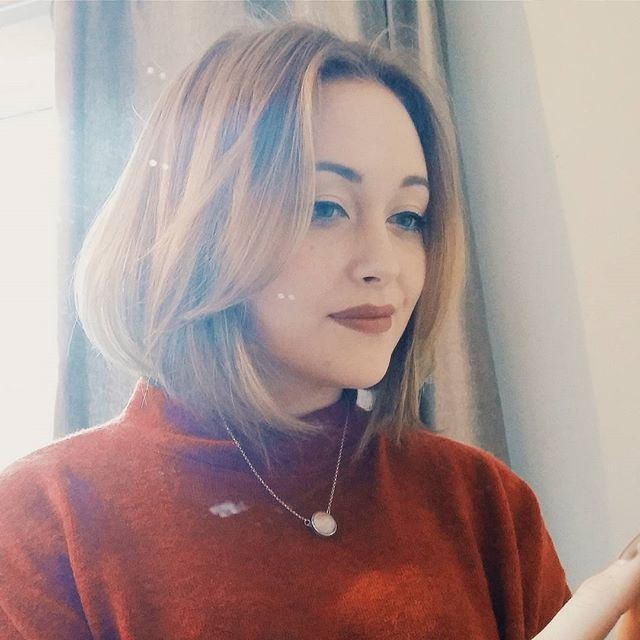 Classy baby-blonde with honey-blonde roots on softly angled bob hairstyles for fine hair
Natural blondes and fair-haired individuals tend to have finer, thinner hair than the vigorous manes of brunettes and look better with shorter layered bob hairstyles.  This is the perfect example of one of the best A-line bob haircuts for fine hair, as the angle is very slight and the hair is layered from about two-inches above the tips, to create a light, natural curve into the nape. If you prefer a softer beauty look than the edgy white blondes with dark roots, this short hairstyles' hair color idea is definitely the trendy choice for spring and summer!  Honey-blonde roots and lower layers beneath a baby-blonde top layer create a lovely 3-D colour depth and texture in these smoothly styled curves.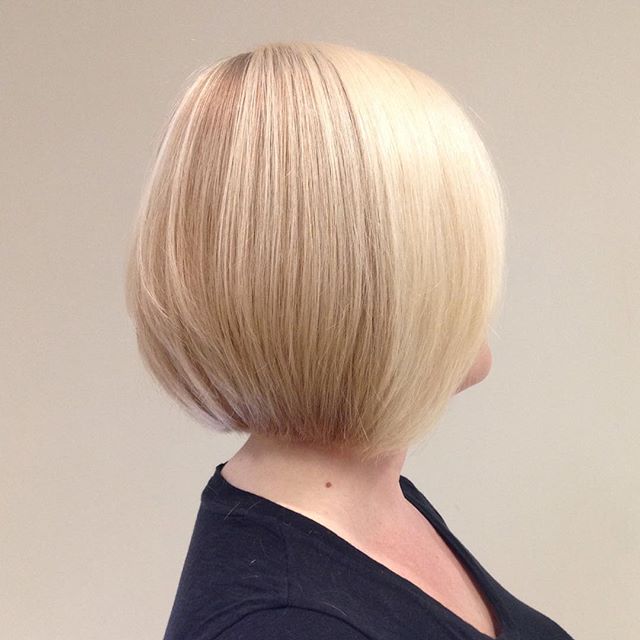 Have you chosen your favorite graduated bob hairstyles' makeover yet?  It's not easy, I know, with so many gorgeous new bob hairstyles and fresh hair color ideas to choose from!  In this gallery, the emphasis is on high-class hairstyles for professional women – and anyone who wants to project a well-groomed and modern image – from busy home-and-kids-managers to dedicated night-clubbers!  We all judge the people around us by how they present themselves and these fashionable, easy-care A-line bob haircuts come with an incredibly high stylishness score! Win-win!
Find more hairstyles on hairstylesweekly.com!