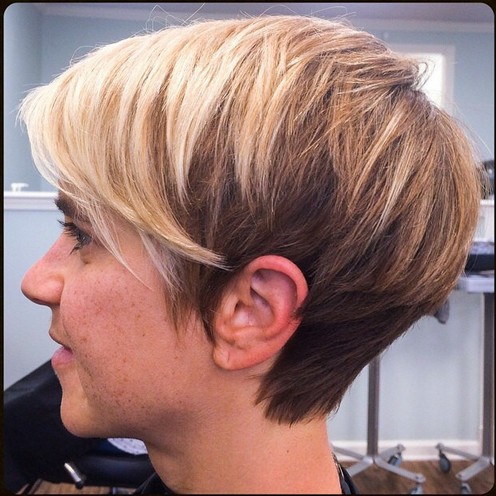 Dual colour in contrasting shades means you don't need to grapple with complicated styling every morning! The look is created by clever cutting and the daring contrast of colour, so you can just wash and go with this short, snazzy hairstyle.
This modern look is great for medium and fine hair types. Fine hair benefits from being lightened to a bright blonde colour, as the process makes hair shafts thicker and this adds body to limp hair types.
The fringe is long and swept casually to one side accentuating the eyes and softening the profile. This ma
kes a great creative contrast with the sharp side-points and the graduated back that hugs the contours of the head at the back. Around the crown a third shade is added to the lightly tousled finish softening the transition from brown to blonde with a light touch of coppery-blonde highlights.
Short styles can be varied, too, and the long fringe can be worn straight, cute and curly, plaited around the forehead to make a frame for the face or styled up and back into a pompadour wave! This short cut is perfect for oval, round faces.
Find more latest hairstyles on hairstyles weekly!