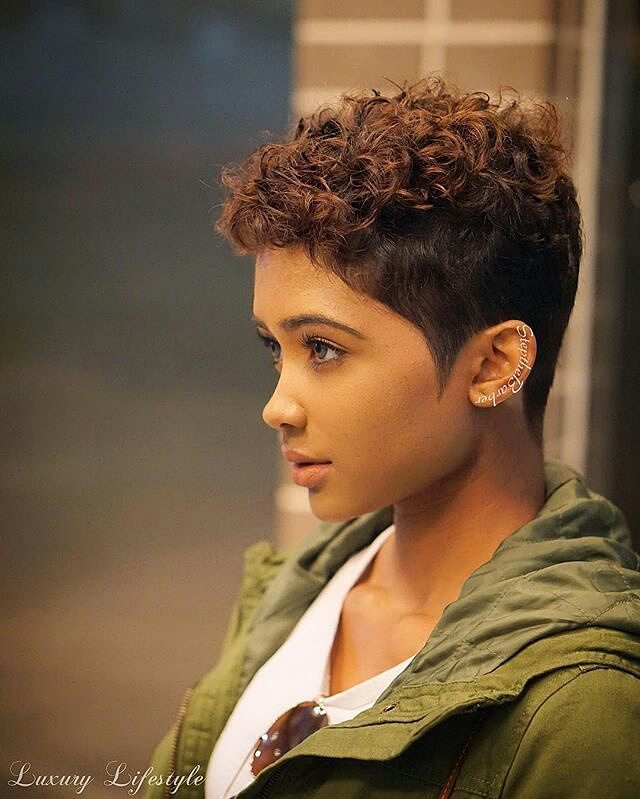 And who isn't always looking for a new cut and color!  The sheer range of color options never ceases to amaze and when you're wearing a pixie cut, it's a great opportunity to show your personality with a trendy or quirky new color!  Plunge into this set of exciting pixie cuts and see the fashionable, new details that are changing last year's pixies into even more stylish pixie haircuts for today!
Gorgeous beige-ash-blonde pixie-cut with cool dove-gray back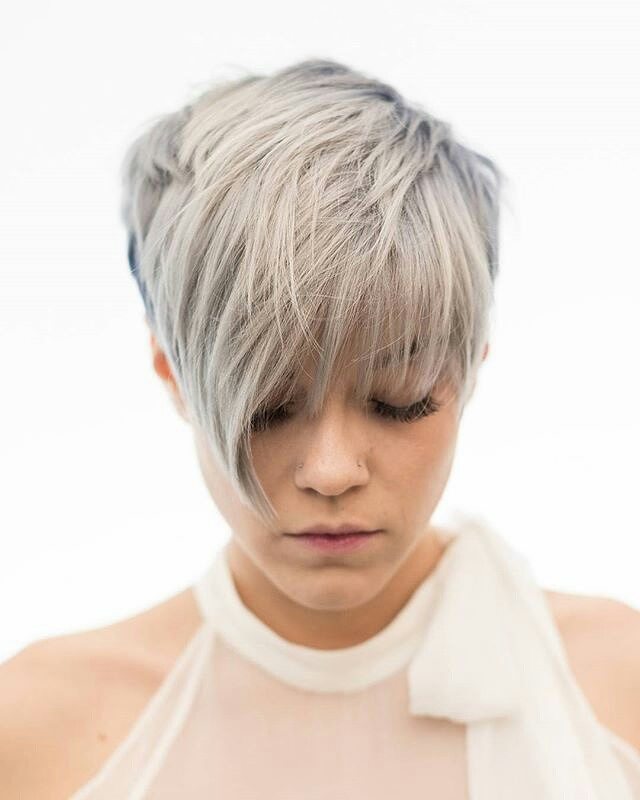 What a fabulous mix of gray-, beige- and ash-blonde in one super-hip, pixie cut!  But with so many gorgeous, new shades I'm struggling to find the words to describe them all.  New brown and blonde blends are 'bronde', so should this beige- and ash-blonde mix be called 'greige'?  Arrrgh! It's impossible to pronounce – but it's definitely a great new hair-color!
Pretty champagne-blonde pixie cut with gold tones for fine hair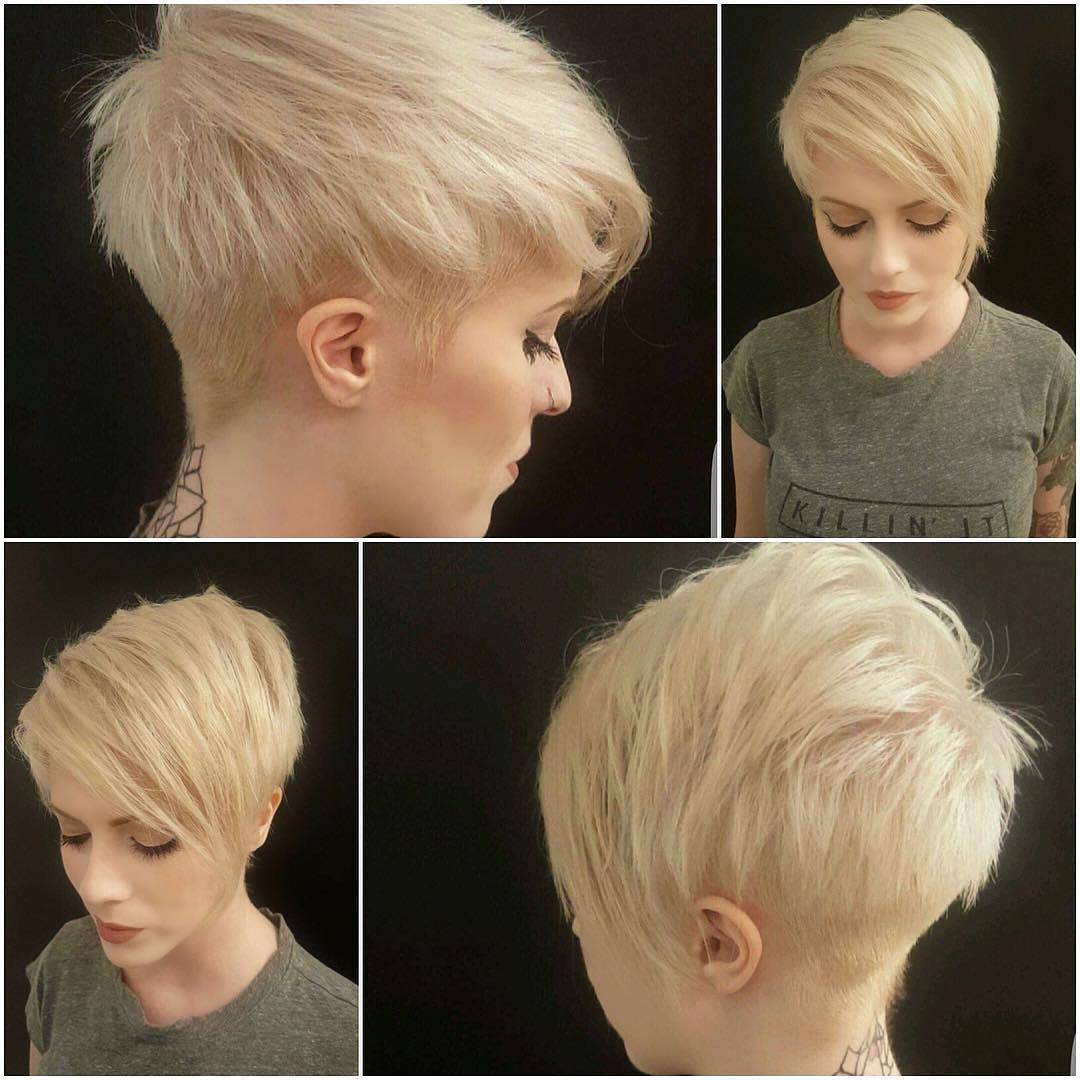 This is how to get an easy-care, trendy look on fine hair that in a longer style would be difficult to manage!  Pale-blonde avoids the harsh look of platinum with a touch of gold and a hint of pink toner in the mix.  As neck tattoos are there to be seen, a shaved back highlights the gentle curve of the model's neck and focuses attention on the hip ink decoration below!
Hip beige-blonde buzzed pixie hairstyle with ash-purple tone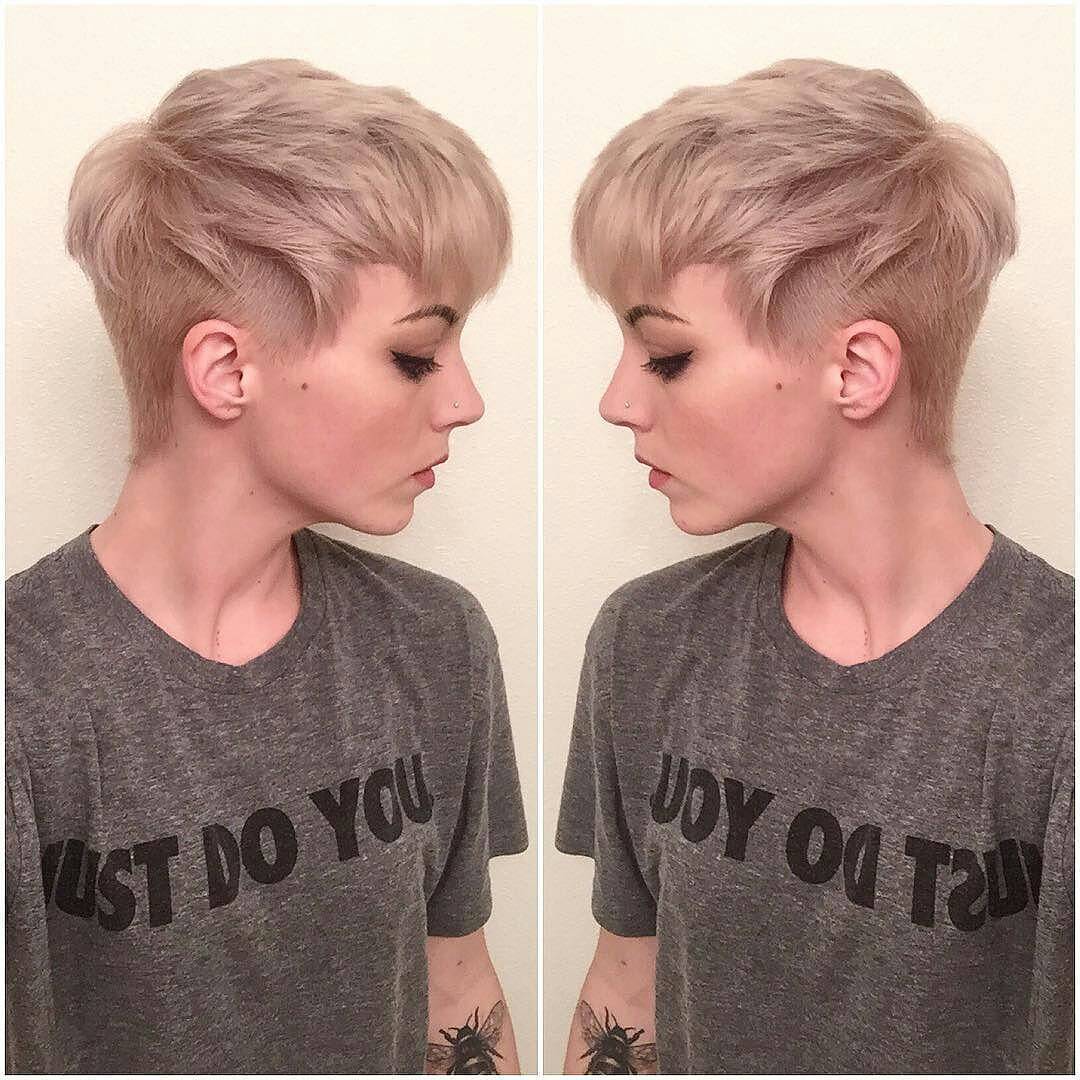 The combed forward short-back-and-sides is one of this year's signature short haircuts and perfect for straight, fine or medium hair.  And making this look even more fashionable is the beige-blonde all-over color with a hint of purple toner.  I'm tempted to call this shade burple, but I'm not sure it would catch-on! Compare the blonde shades here and in the last image to see how beige blonde can be adjusted to suit individual skin-tones perfectly!
Racy 'go faster' red streaks give pixie haircuts added sex-appeal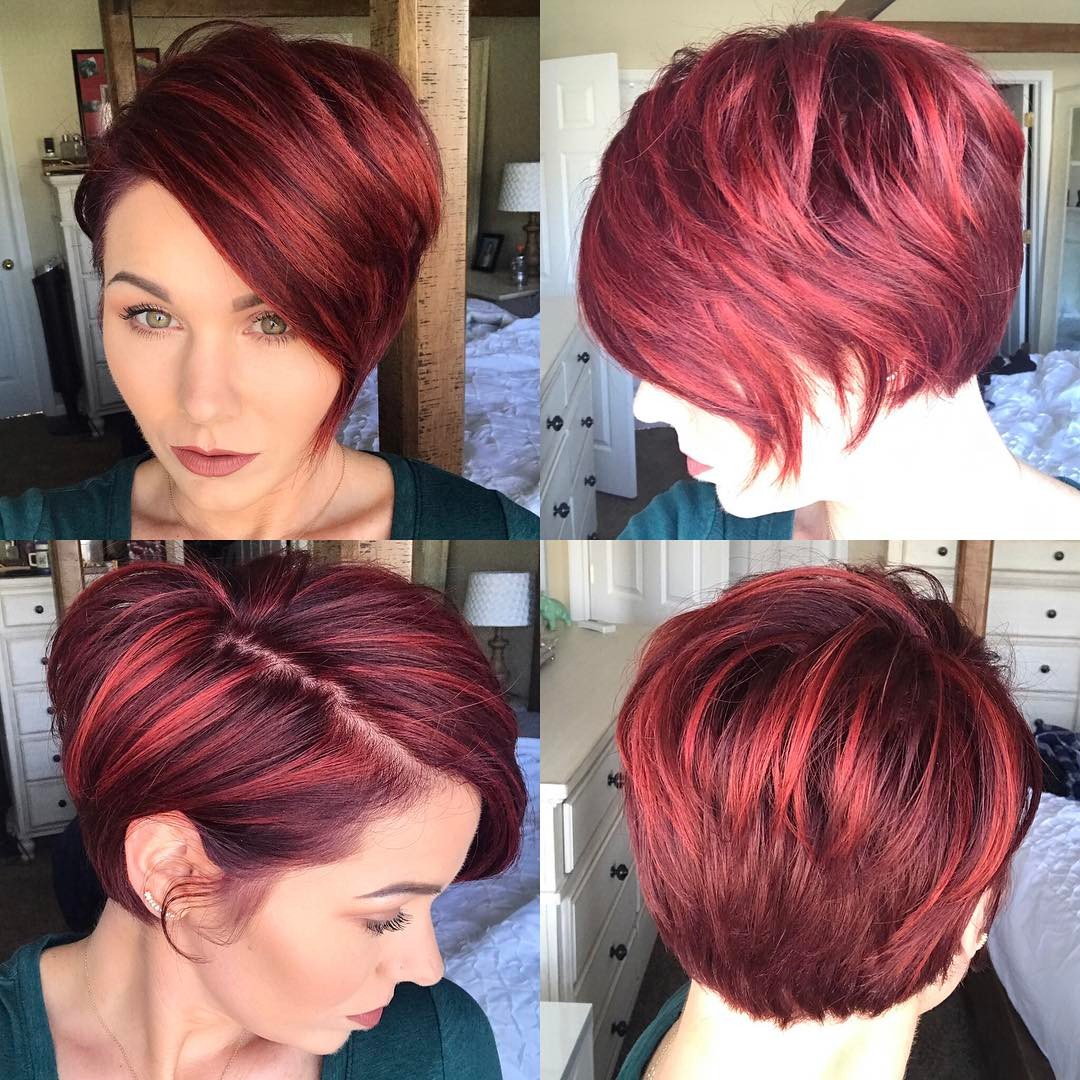 Of course, beige- and ash-blonde aren't the only new colors to grace the best pixie-cuts this season!  Here's a color design that's eye-catching and easy-care,  which also adds a warm and sexy vibe to your image.  The base color is a lovely red-brown with lighter red highlights adding tons of texture and movement to a very stylish short cut.  This is a purple-red color that suits skin with cool undertones.
Amazing artistic color splashes on white-ash blonde longer pixie cut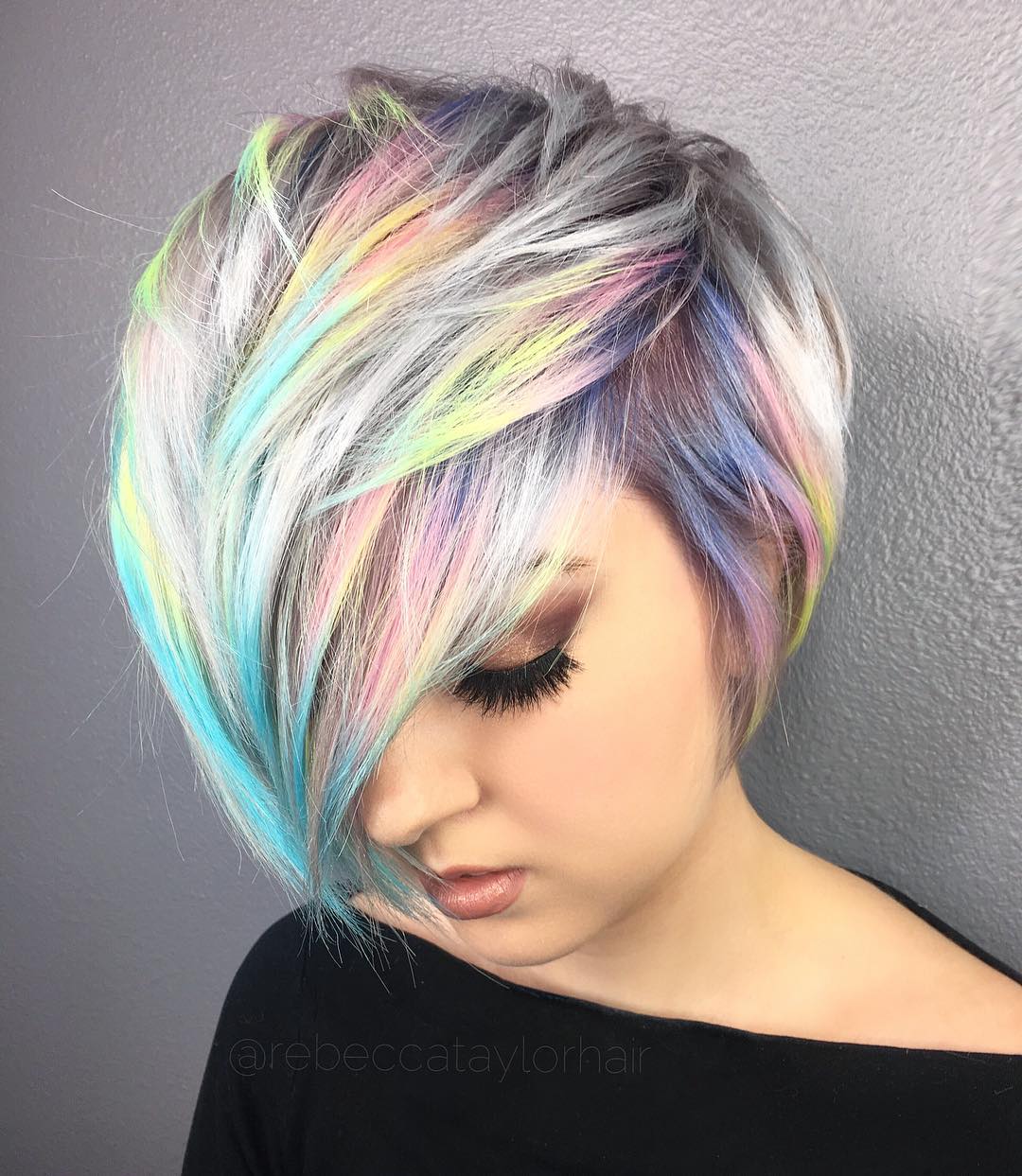 Someone's been showing-off their amazing color technique on this stunning, chin-length bob! I wouldn't be at all surprised if this was the winner of a colorist's competition at a high-end, hair-fashion convention.  The special points to notice are that the colors aren't just random, they've been carefully chosen to complement each other.  And the color-finish is super-crisp, with no blurring!
Severe but sexy blonde bowl-cut pixie plus red lipstick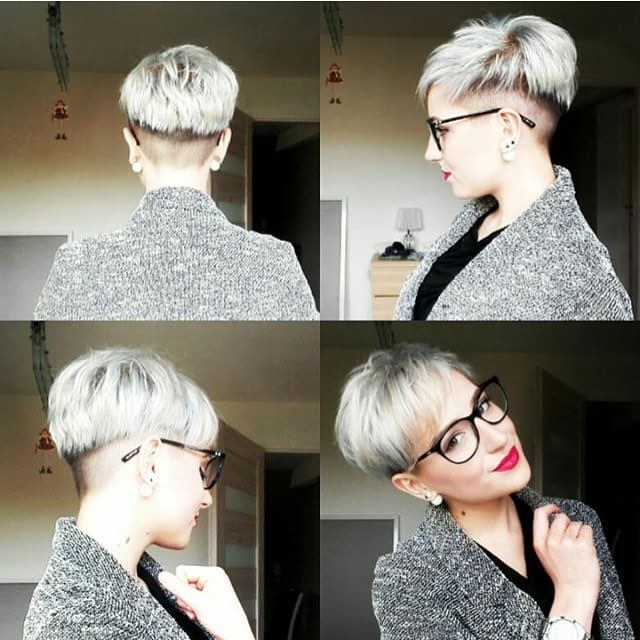 Here's another personality-packed variation on the popular pixie-cut! The shape is provided by the traditional 'basin-cut', but added details make this a chic, urban style.  The buzzed short-back-and-sides add edge and the neutral-blonde color is a totally hot shade this year.  The face is softened by lightly-curved bangs and with a bright lip-color this is a real, alpha-female look!
Edgy blonde pixie cut – 'shorten' a long face & show-off vivid eye-color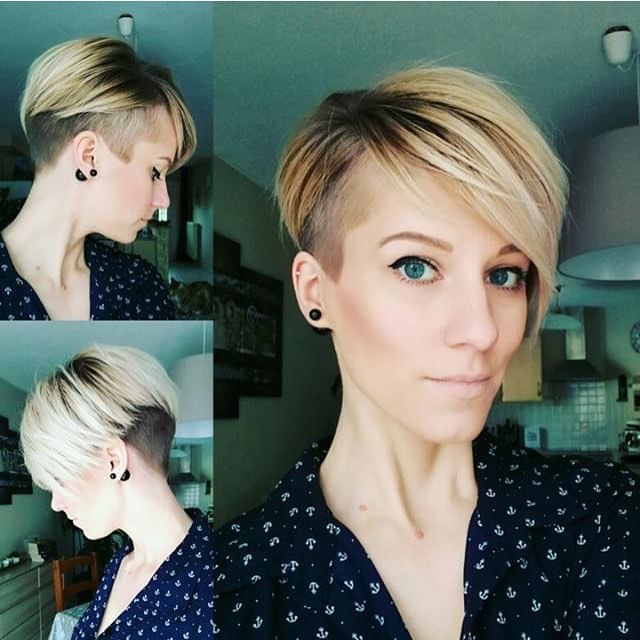 When you've got a vivid eye-color, it makes sense to wear a hairstyle that draws attention to your eyes.  So the shaved back/sides of this edgy, two-toned pixie follow the hairline, ending on one side with a short side-point next to eye-level.  The longer side has an asymmetrical fringe that also frames the centre of the face, making this is a great style to 'shorten' a long face shape!
High-fashion lavender-gray pixie-cut idea for over-40's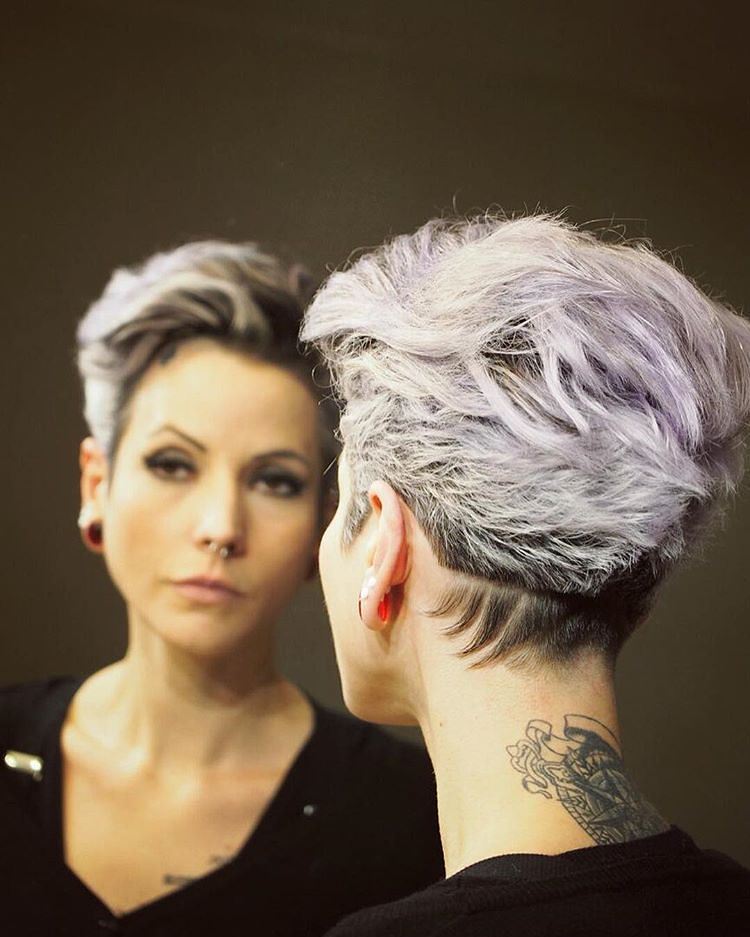 This highly stylish pixie haircut is a fabulous way to incorporate naturally gray or white strands into an attractive color makeover!  The brushed back pixie style is super-easy to do at home and can be varied with bangs whenever you want.  White or gray hair looks youthful and trendy with touch of lavender balayage. And this pixie also has snazzy details at the nape to complete the individual look.
Ruffled pink & red texture on chic pixie-cut with straight-across bangs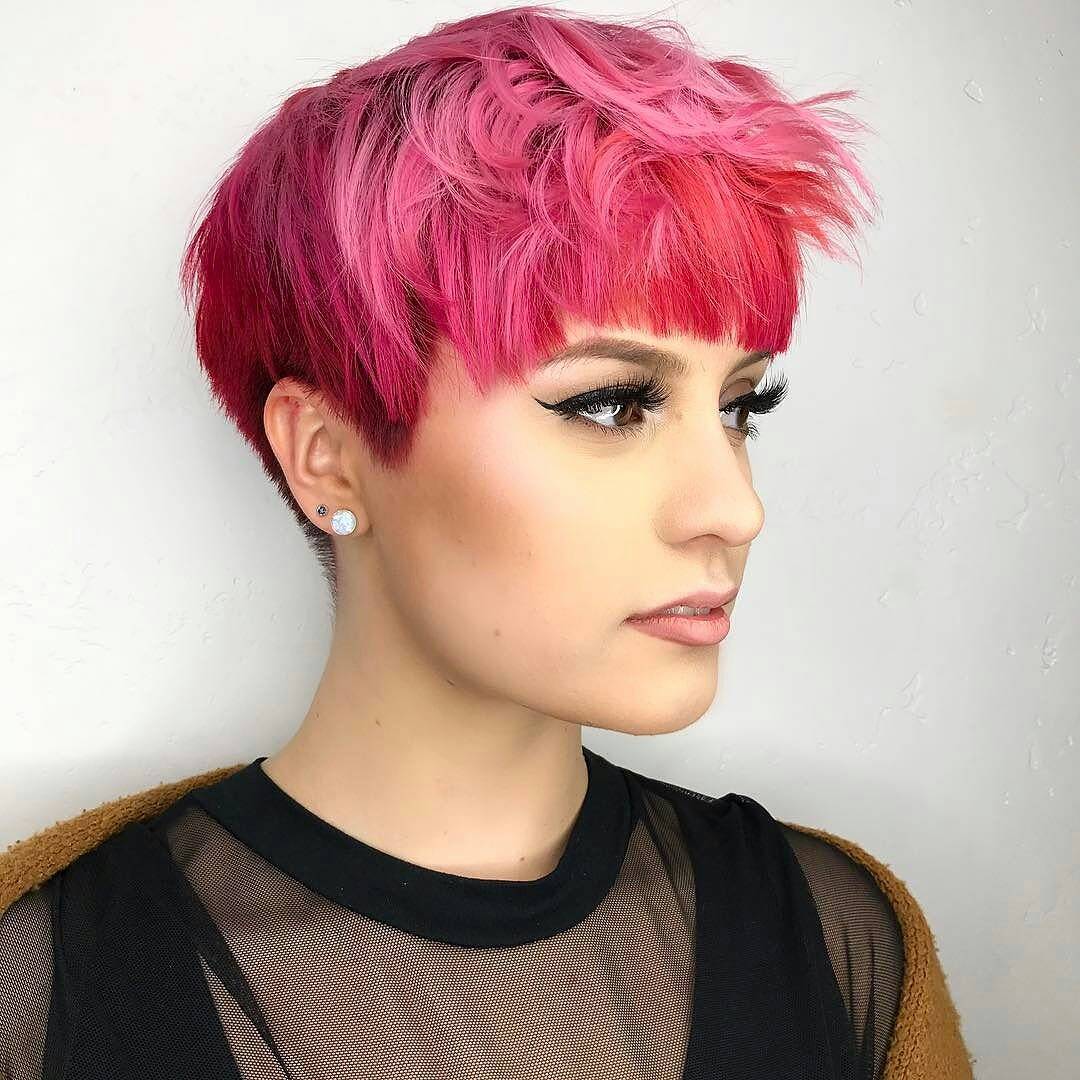 Fantasy colors have moved on from quirky, summer-holiday experiments and been promoted to the heads of some very stylish women!  This stunning, urban-chic pixie not only brings out the rich brown eyes of the model, but also looks great against a little, black dress.  There are 3 main colors starting with a deep-pink, which becomes a paler shade on top and there are orange tones in the fringe!
Cute permed curls on short pixie-cut for teens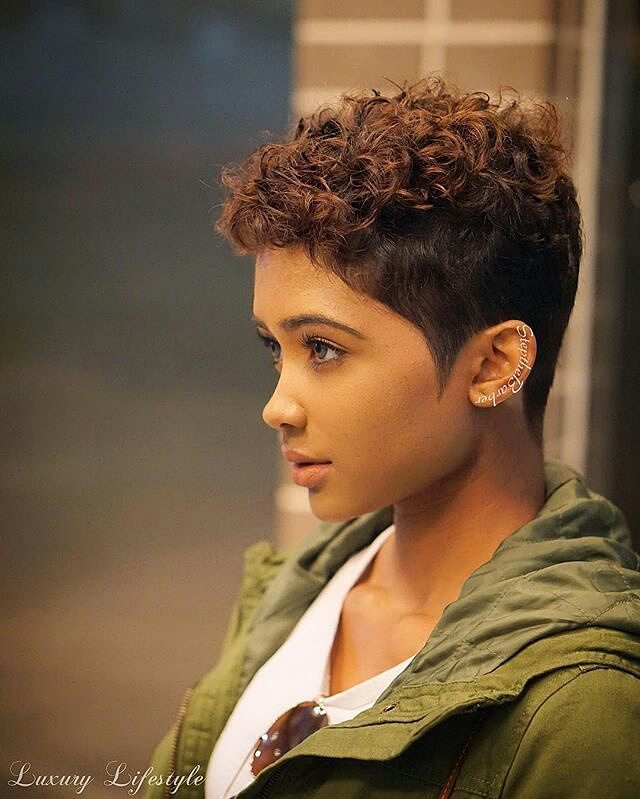 Bubbly curls on top balance the buzzed short-back-and-sides and sharp side-points of this cute pixie perfectly!  And on fine hair, having a curly perm on top can be the best way to get added volume without ever needing lots of complicated styling.  For a cute teenager wanting an edgy pixie – that's different from her friends, but not too boyish – this option totally fits the bill!