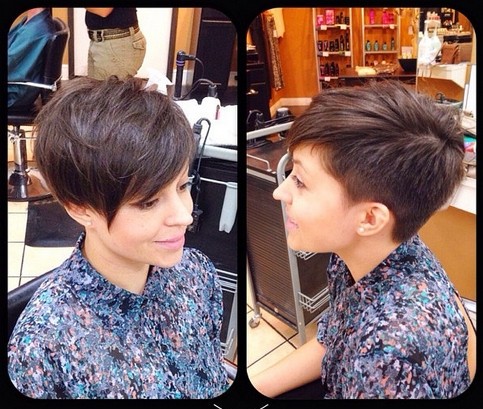 Latest hairstyle for women – the chic pixie cut
What are we going to do with all the spare time we now have since pretty pixie cuts arrived on the scene! And what a relief it is to be able to wash your hair and dry it without applying a whole range of expensive specialist hair products, too.
Without hair extensions pulling at our poor hair shafts, there's been a noticeable rise in the health of women's hair and this cute, youthful short haircut is one that looks great on all ages. The new short styles look smart and have a nice clear profile that always adds a touch of chic, whatever you're wearing.
This short hair style in the photo has a natural look that's very fashionable and can be adjusted to flatter any face shape. The deep side-parting and asymmetric sides are the basis of this popular new cut and the longer top can be styled smooth or, as in the picture, with a lightly tousled finish.
This short haircut is suitable for both fine and medium-textured straight hair and you can wear it with added highlights to create more depth and colour dimension to fine tresses.
Find more latest hairstyles on Hairstyles Weekly!