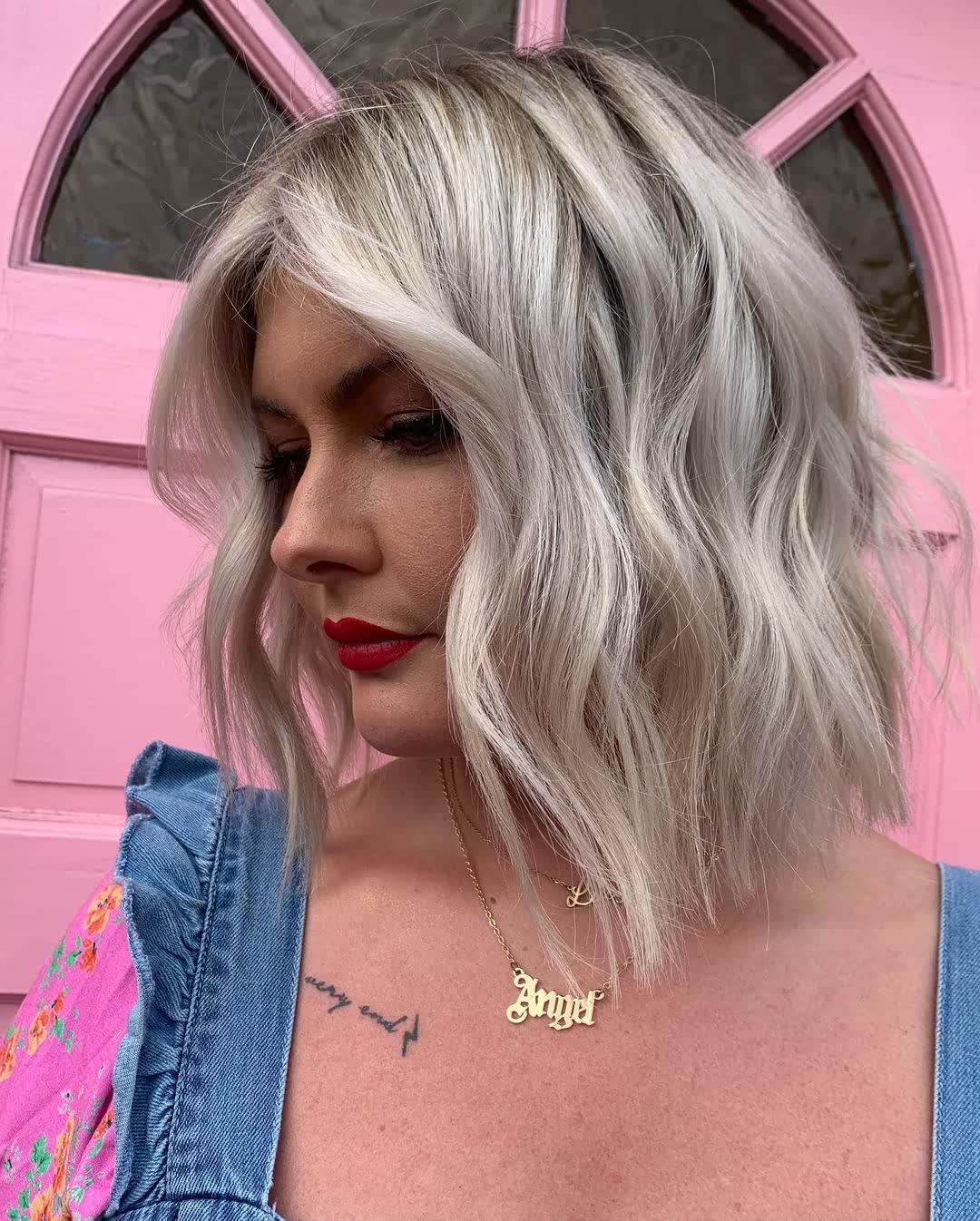 Take a look at these hot new short haircuts for women who know how to stay stylish! When you're busy it's easy to get left behind by fashion, until you attend a wedding or other get-together, and suddenly feel old-fashioned.  Don't wait until you get that odd-one-out feeling before you give your hairdo a style and color refurb!  Take five right now as you browse all the hottest new trends in sweet, sophisticated, sexy and just plain sassy short hair cuts for stylish women!
Trendy short wavy bob cut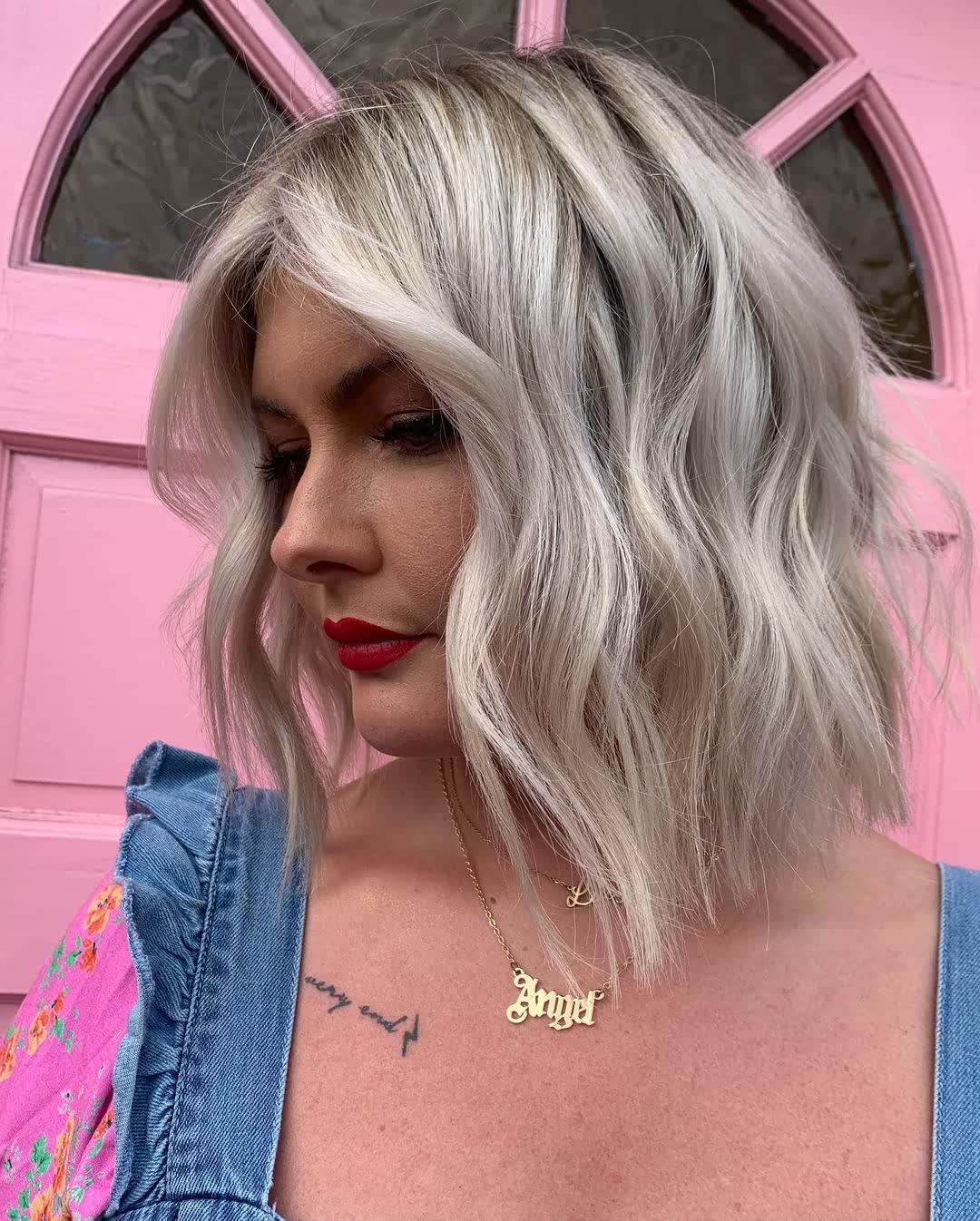 Chic & stylish auburn wavy bob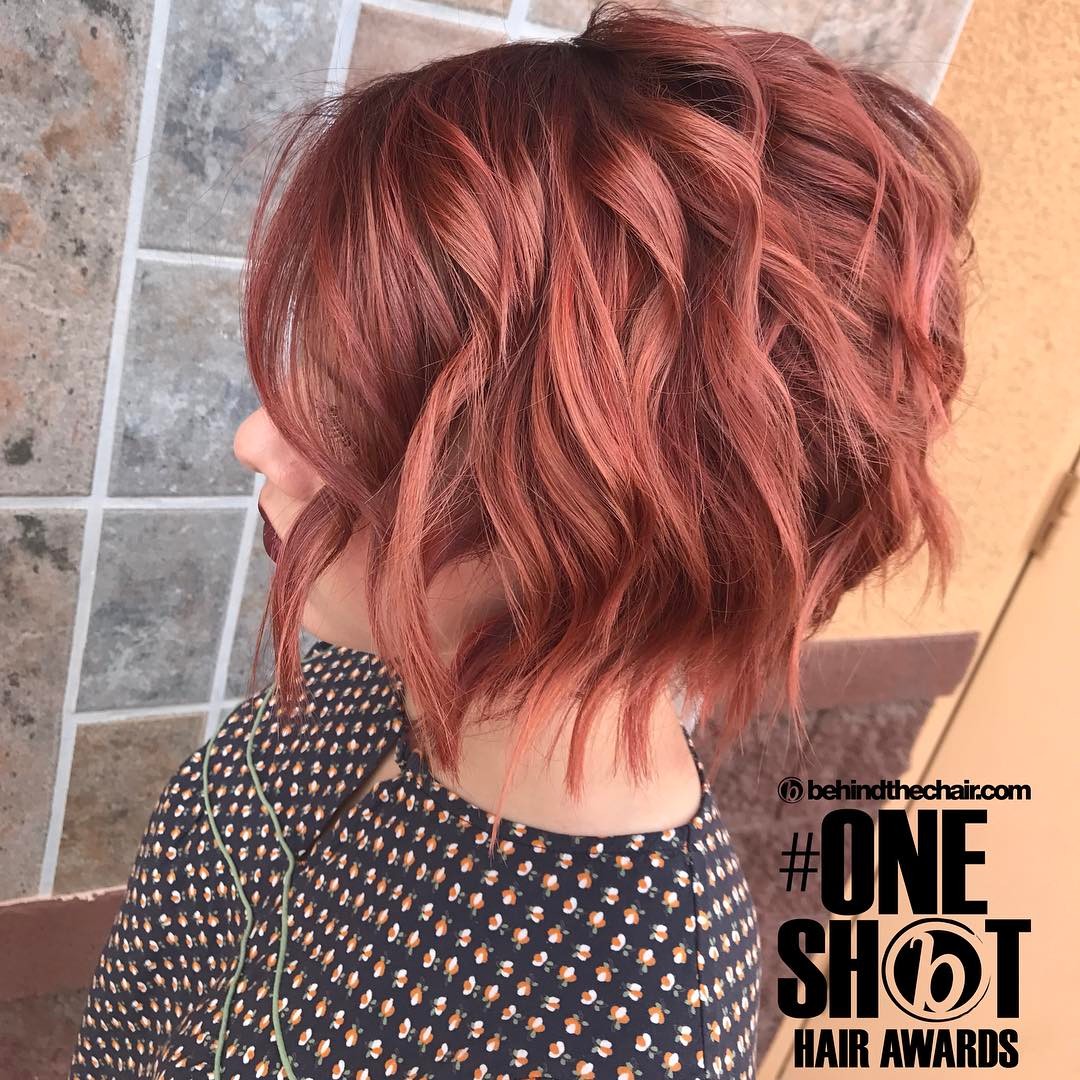 This red shade is muted by adding a touch of beige to soften the brash effect of some shades of red.  Adding a beige color-conditioner to your red hair at home is also an easy way to tone down your hair and produce a softer, new look.   This inverted bob with broken waves and straightened tips is a very chic and sophisticated look that's easy to style with hot tongs on medium or fine hair.
Sexy silver fox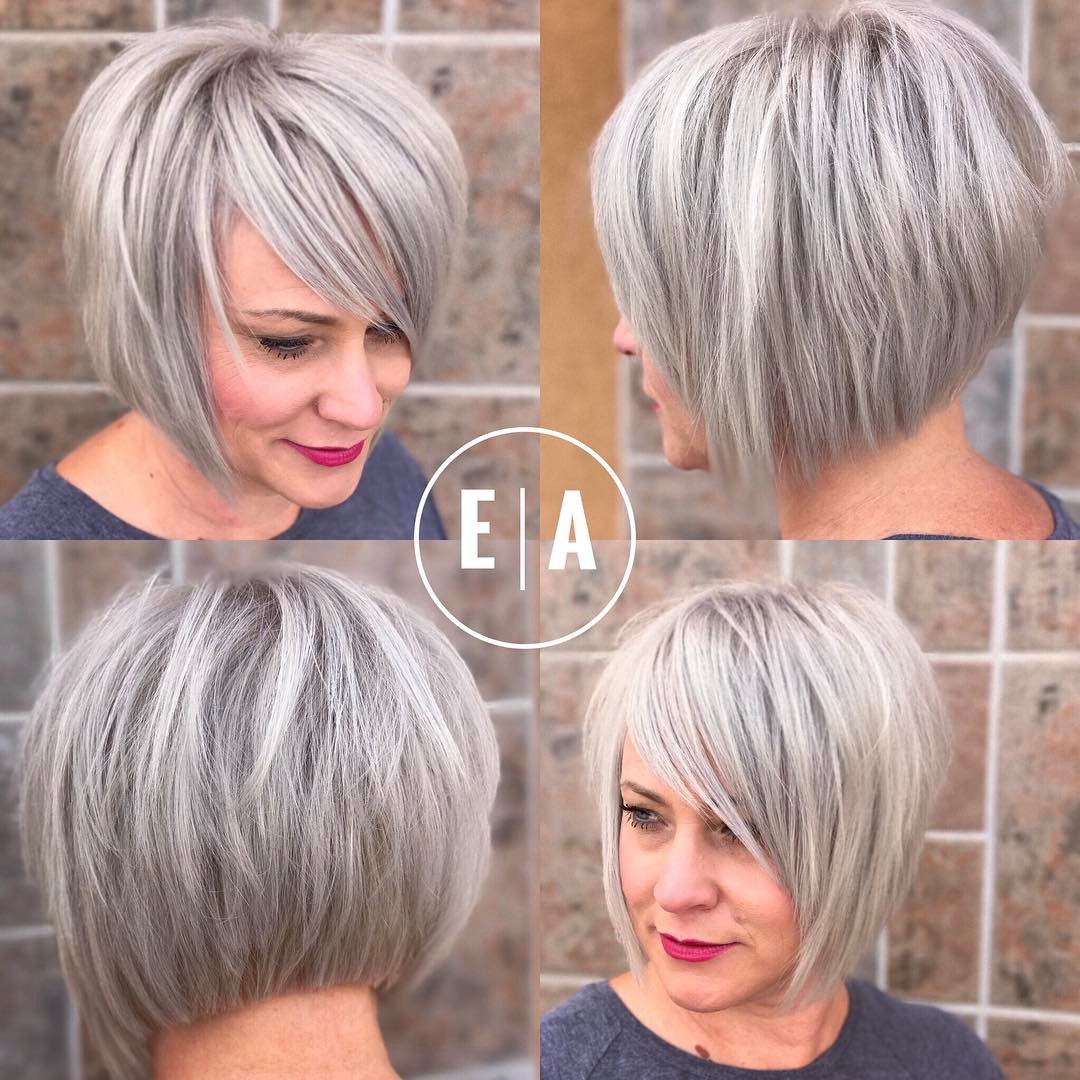 If you're already blonde, or maybe tired of fighting the natural gray in your hair – why not become a sexy, silver fox?  It's a super-trendy hair color and an attractive way for confident, mature women to make a strong fashion statement.  This short cut is easy-care and styled to flatter a long face shape.  Just remember to add a bright lipstick, so there's plenty of attention focused on your kissable lips!
Hi-fashion gray & blonde add style to a straight bob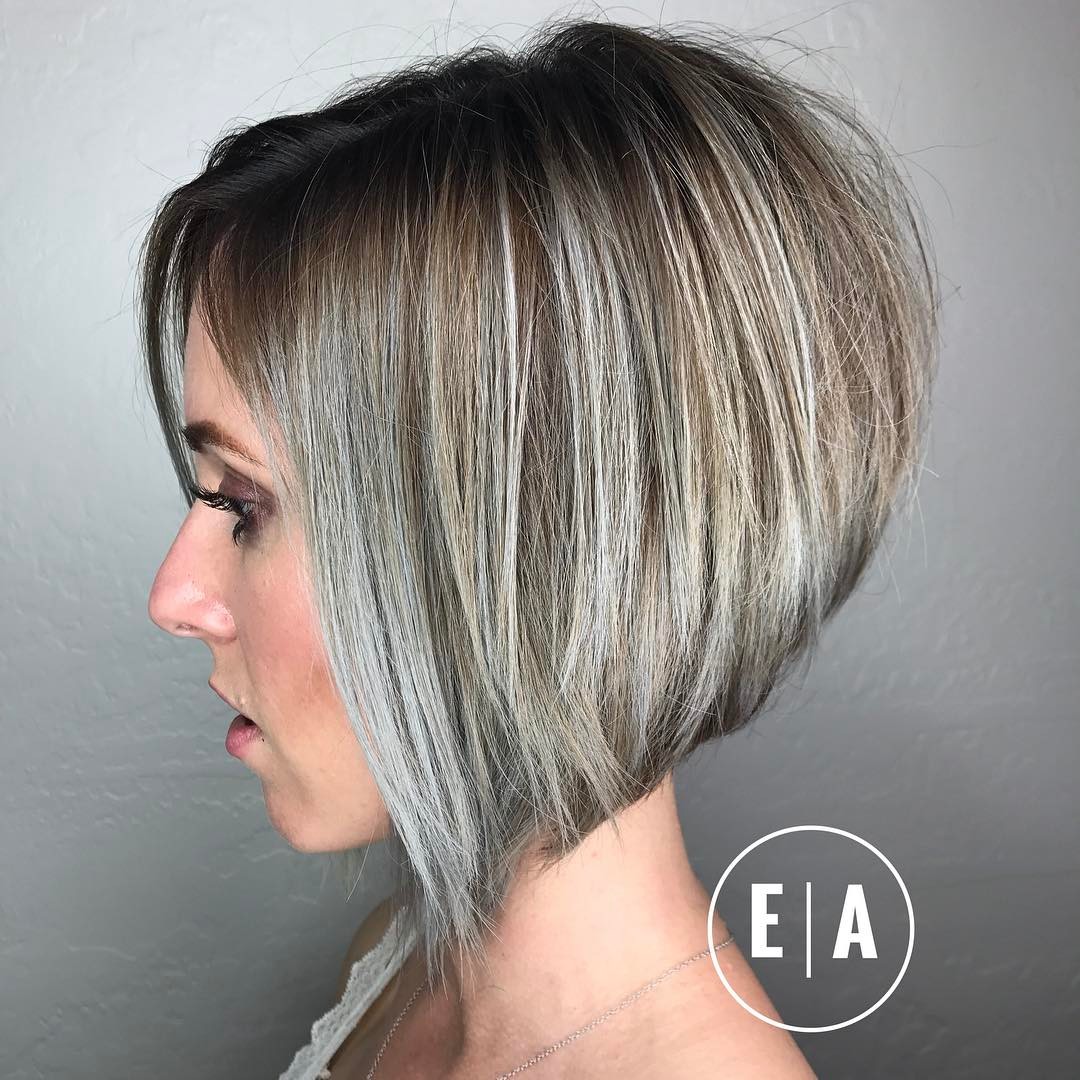 Fine hair in a straight bob can easily fall flat and look thin.  But the latest 3-D hair coloring techniques are combining balayage and ombre to give a light-reflecting lift that makes fine hair appear thicker.  Over light brown roots, this is a great way to add a touch of trendy color-chic to a mousey/dark-blonde bob-cut. Notice the faded quality of this color design – it's one of the hottest trends for this summer.
Wild & wavy movement in sharply cut inverted bob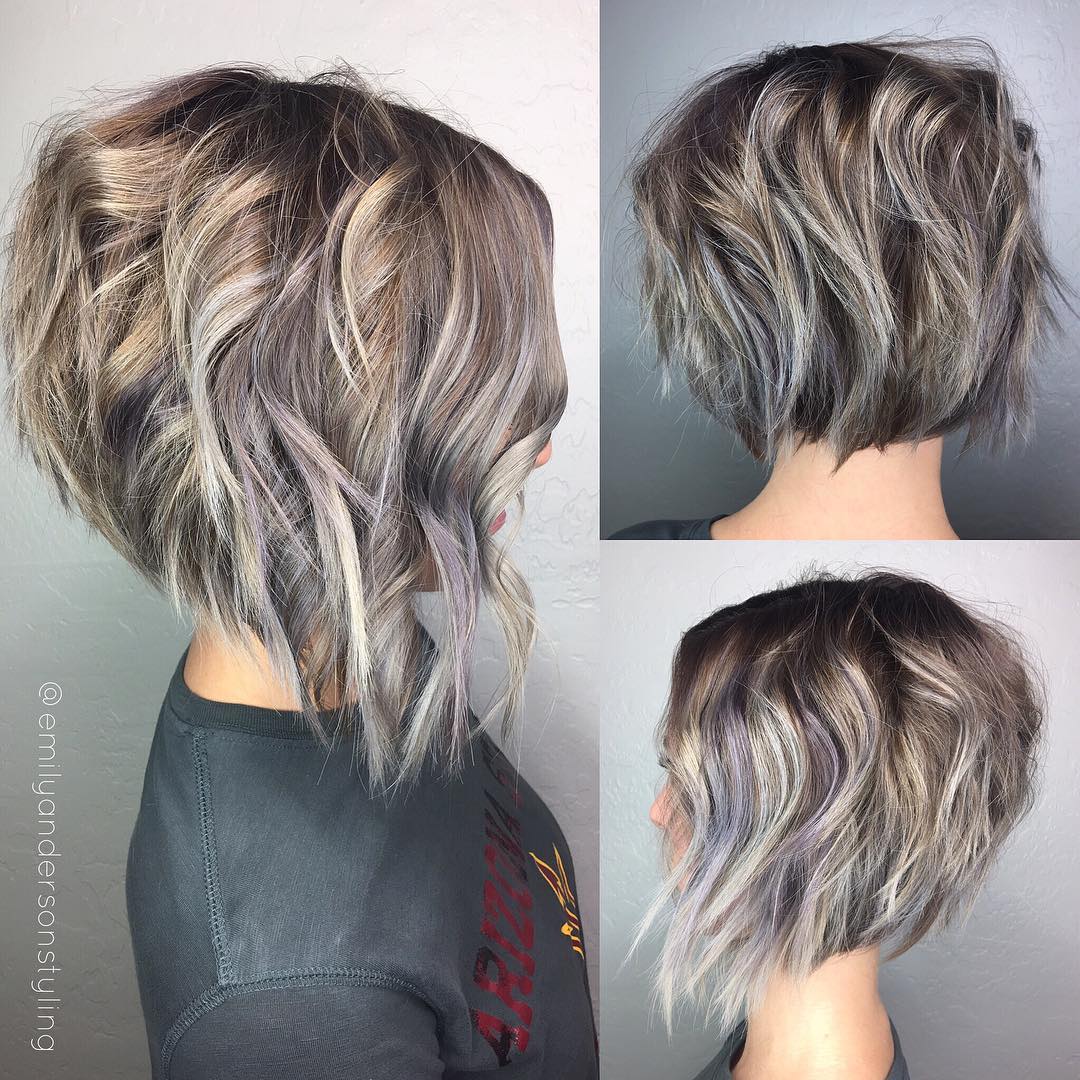 This trendy style for high-fashion fans showcases every new idea about waves, styling and color!  And the result is a fresh new look full of interesting features. Color-wise there's beige-blonde over mid-brown roots, with white- and lavender-blonde balayage. And why not?  The strong waves, rounded back and shaggy layers around the face deserve to be highlighted in this super-modern twist on the popular inverted bob!
Show off your neck tattoo in forward styled boy-cut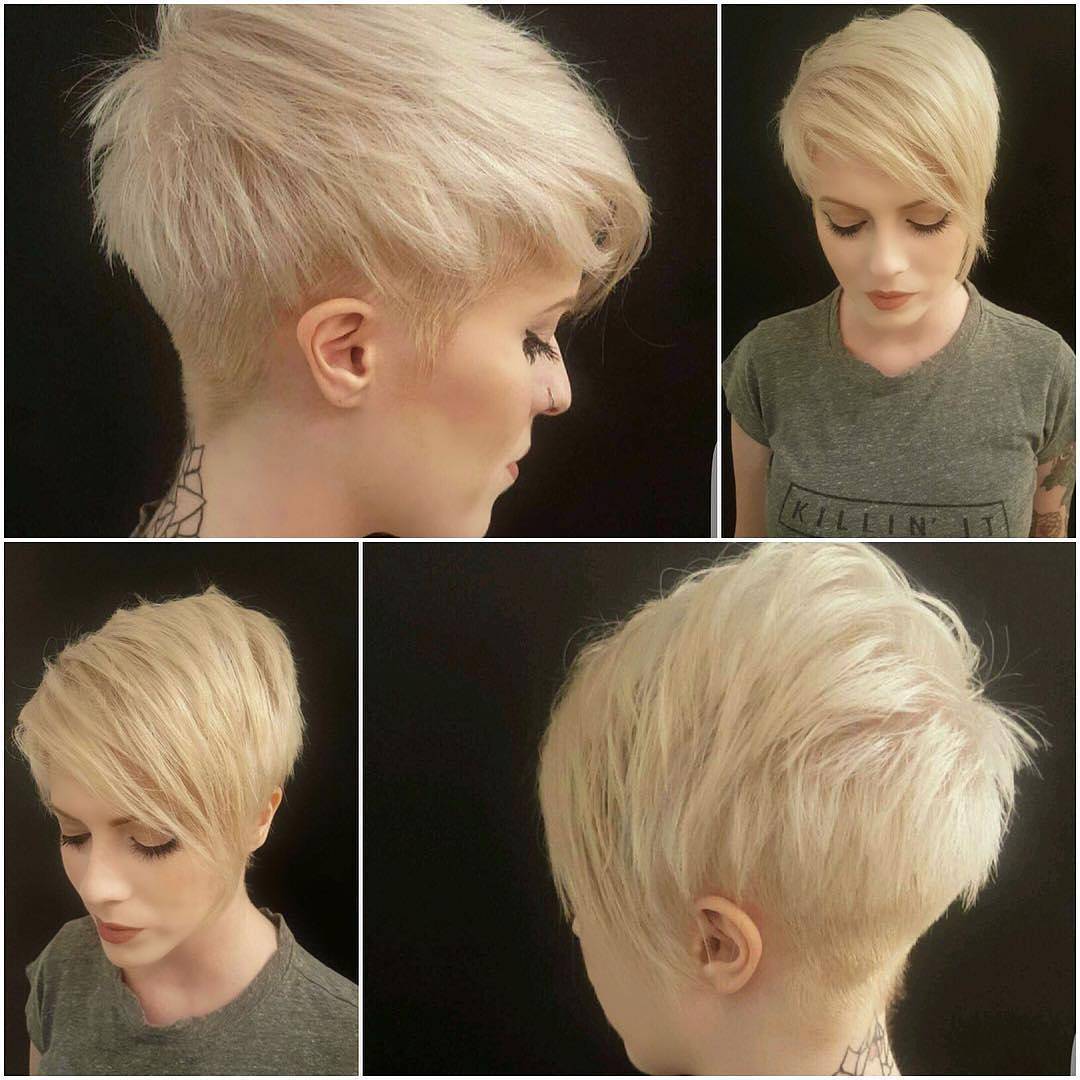 The blonde, Eton-crop has been a classic, short cut for stylish women for decades.  And every new version of the original, regulation haircut for boys at Eton College has something fresh to offer.  Right now, it's fashionable to show-off your nape tattoo in an edgy, short cut. On fine hair the lowered crown allows extra volume from swept-forward layers and a lightly fluffed out finish!
Stunningly stylish brunette boy-cut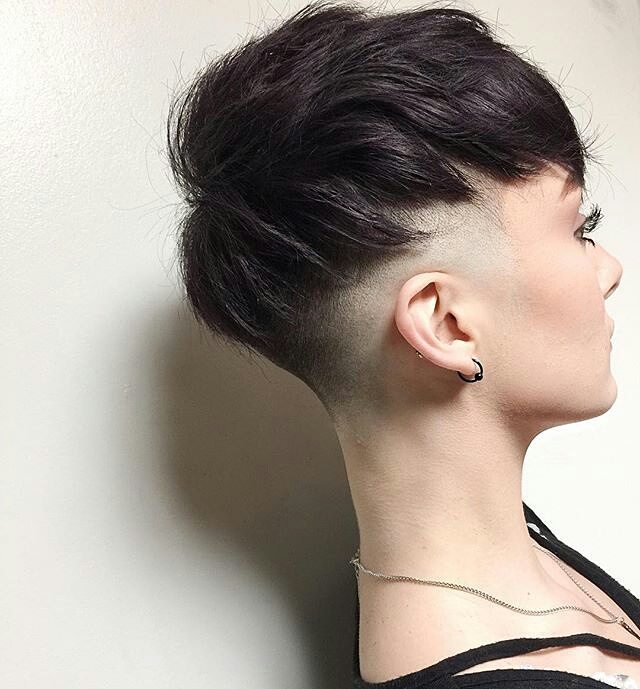 Here's a very sophisticated twist on the Eton-crop, with shaved back and sides and beautifully styled forward movement.  The silhouette shows a sharply-defined line that displays the curve of the head as it joins the neck.  Cleanly styled, defined sections create a lovely sweep of movement to the face.  Dainty blonde highlights accentuate the curves on dark hair with a deep purple sheen.
Wavy glamor on black, gray & purple short-back-and-sides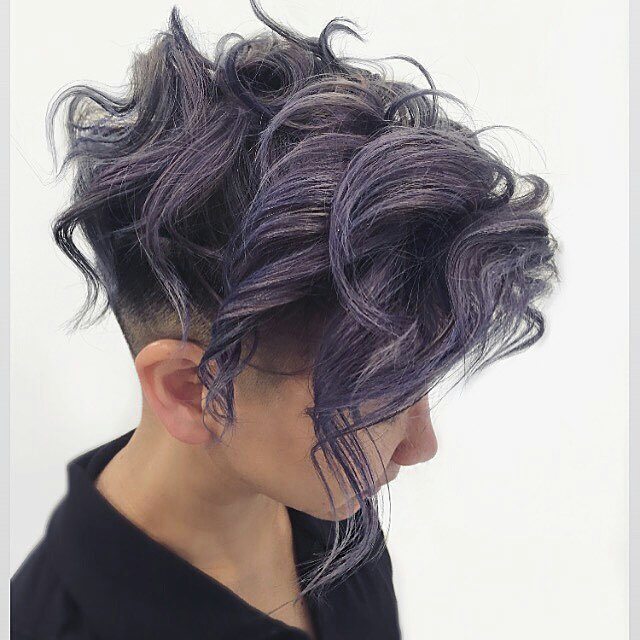 Here's a super idea to add edgy glamor to any trendy, long-top short haircut.  The barrel waves have been lightly flattened to avoid any round/softness that wouldn't match with the edgy, shaved undercut.  And high fashion, gray and purple hair colors are rich and attractive, with straight tips just touched with white-blonde to give fabulous 3-D depth!
Quirky touch from notched layers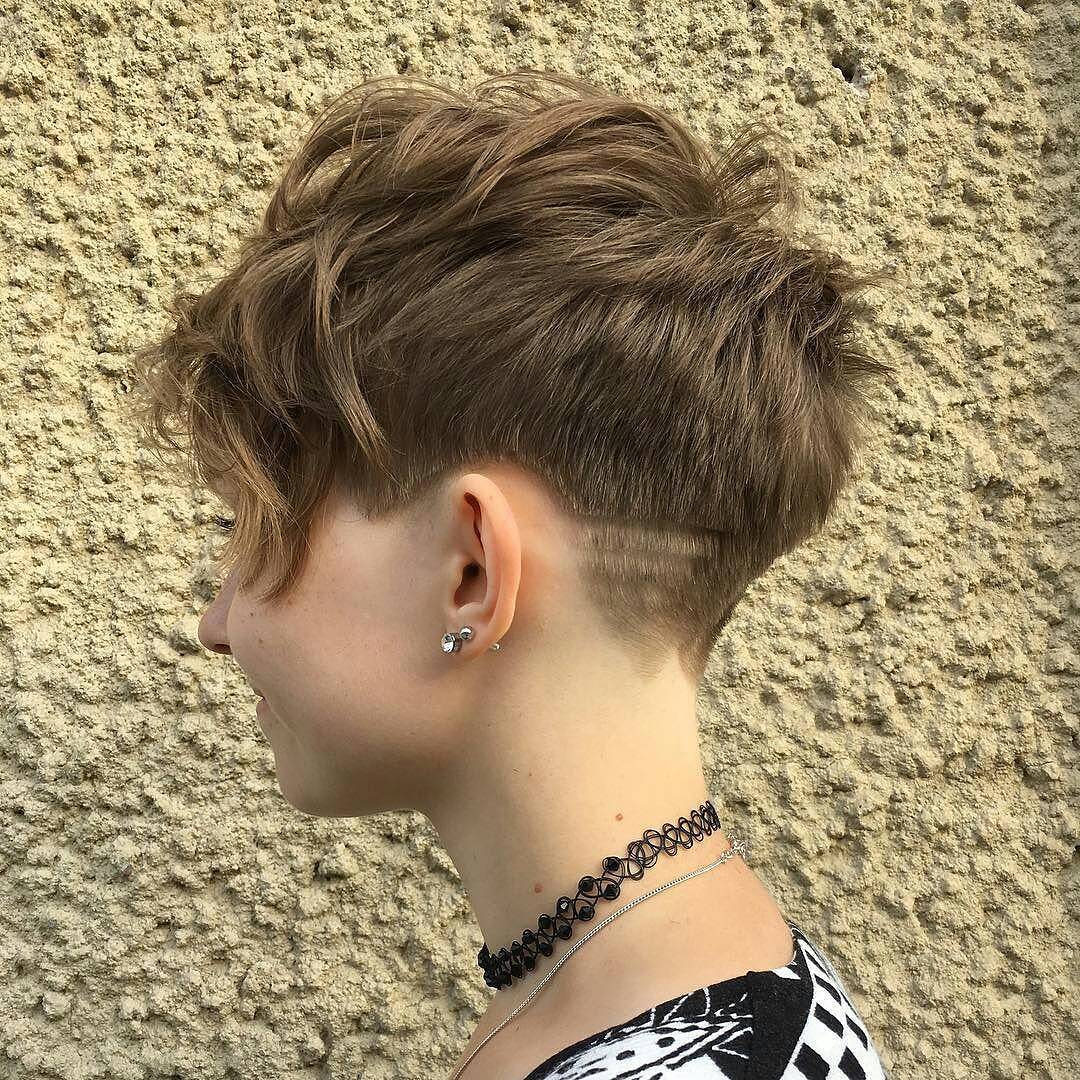 The forward styled short haircut is one of those popular cuts that suits all age groups.  This teen model shows how easy it is to add your own personal twist for an individualised haircut.  The strong line cut around the ear with a short, blunt side-point is an edgy touch, complementing the quirky 'notched' layers at the back!
Hot red balayage on cute casual curls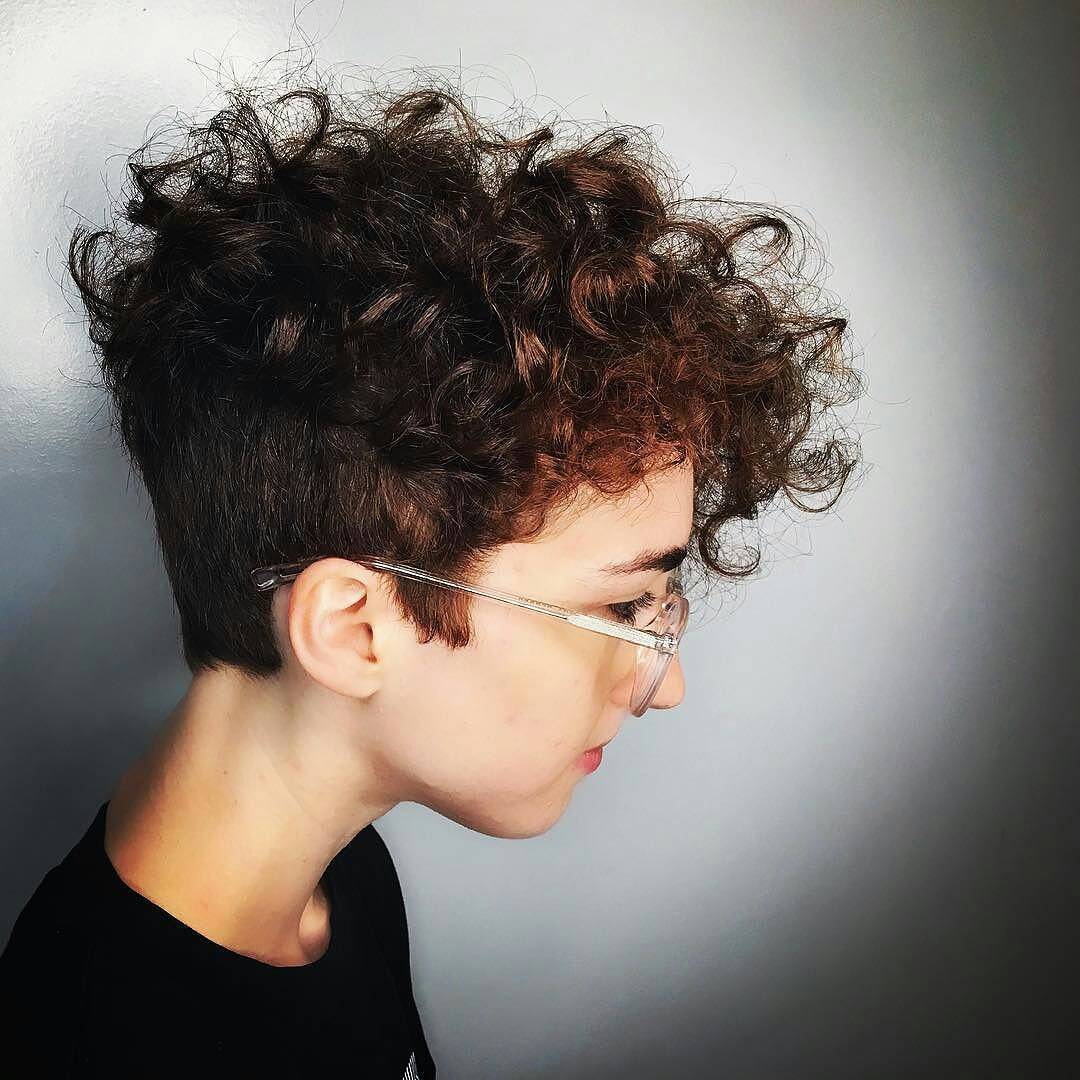 This gorgeously curly short haircut combines a super-straight section above the nape with mischievous curls on top.  I love the unruly look of those tousled curls that create attractive volume from below the crown and down to the eyebrows at the front!  Adding copper-red balayage was an absolutely inspired way to complete this full-of-lively-personality look and one that's so easy for the rest of us to copy!
Soft beige-blonde looks great on warm, pale skin-tones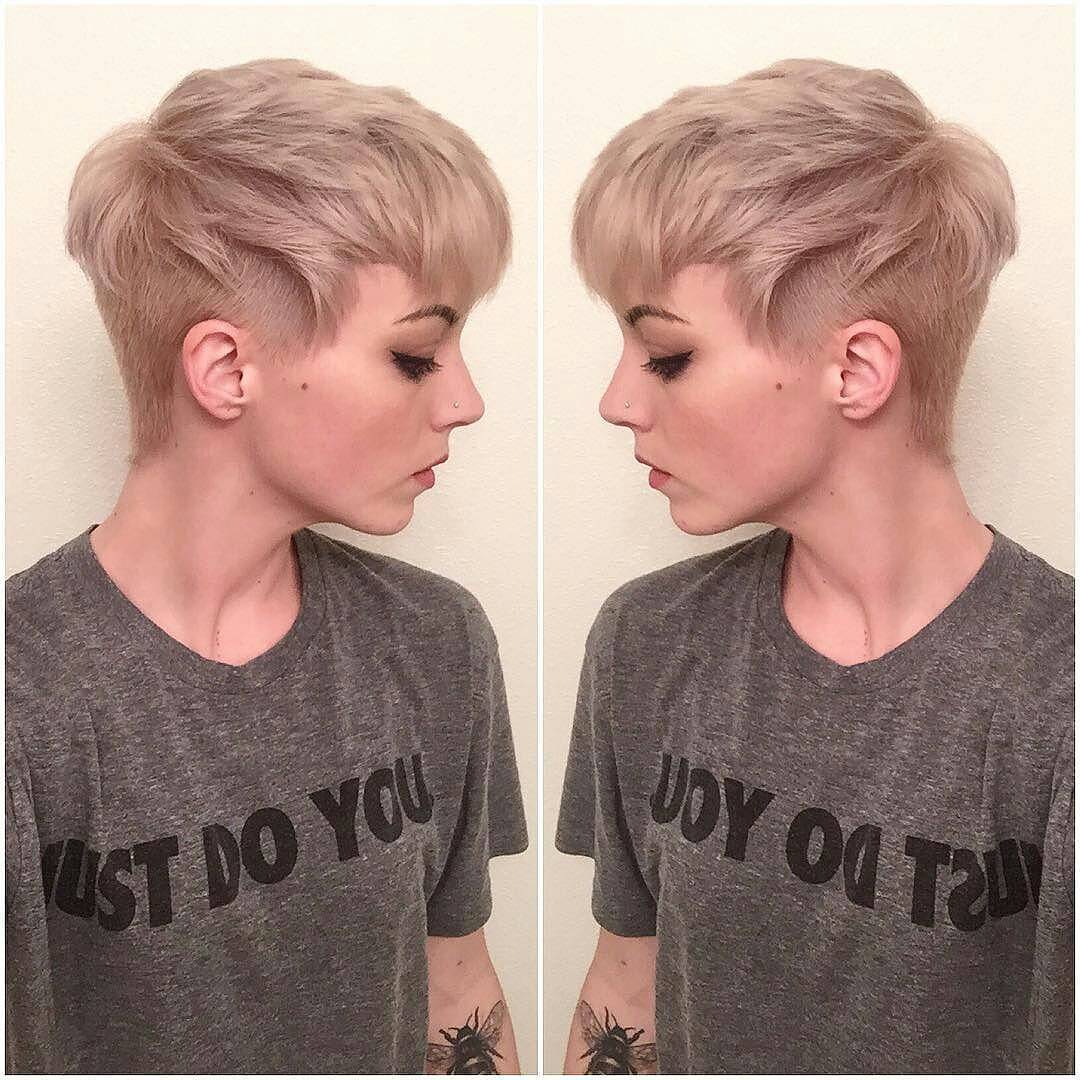 Soft beige is another popular blonde shade this year.  This shade includes a hint of lavender-pink, which flatters a warm, pale complexion.  However, remember to adjust your make-up to ensure the overall effect isn't too non-descript.  This model has it just right with mid-brown brow definition, a touch of brown shadow, dark eyeliner and mascara and a natural, soft-red lip color!