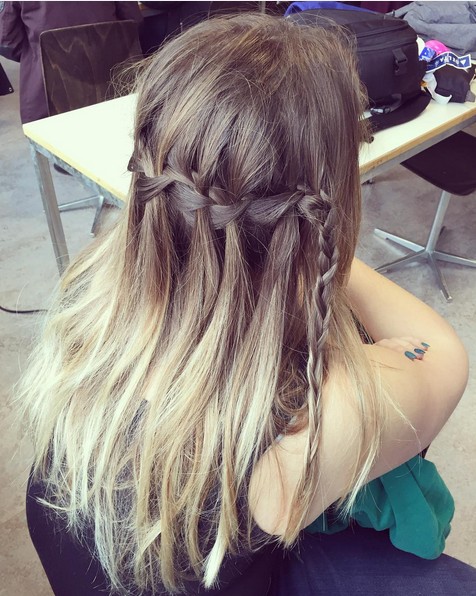 Here's a preview of the most popular waterfall braid hair styles this year, with lots of romantic, sophisticated and casual new looks! There are also super-cute waterfall braid hair styles for girls to wear for special occasions and trendy, casual summer hairstyles.  Discover the trend for mixing different braid styles with chic chignons and amazing new hair color ideas creating beautiful patterns!
Hi-fashion blonde ombre on light brown waterfall braid hair styles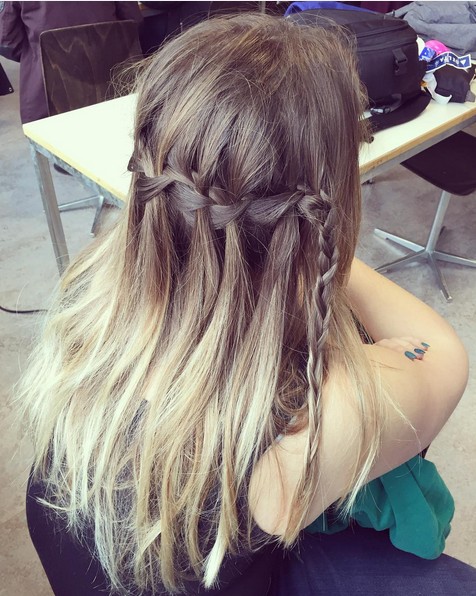 This trendy look has straight sides with the waterfall braid used to decorate the back of the head.  A different pattern in the vertical plait shows it's a great waterfall braid hair styles' option.  The hair color idea moves from dark-blonde roots to a fashionable blonde ombré. And I love how the back braid accentuates the beginning of the ombré!
Romantic triple braid waterfall hairstyles with varied braids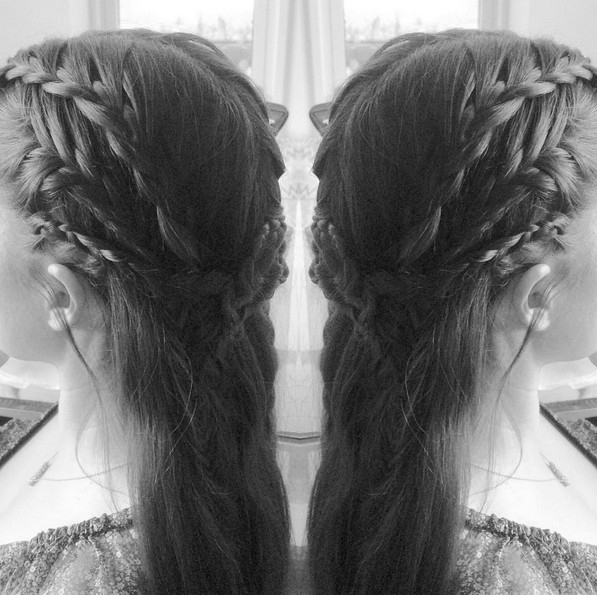 This is such a lovely, romantic waterfall braid hairstyle for long straight hair.  Three waterfall braids decorate each side, flowing down to join together just above the nape.  The braids become one fish-tail braid and join the rest of the hair hanging prettily down the back.
Stunning prom & party waterfall braid hairstyles on matte blonde hair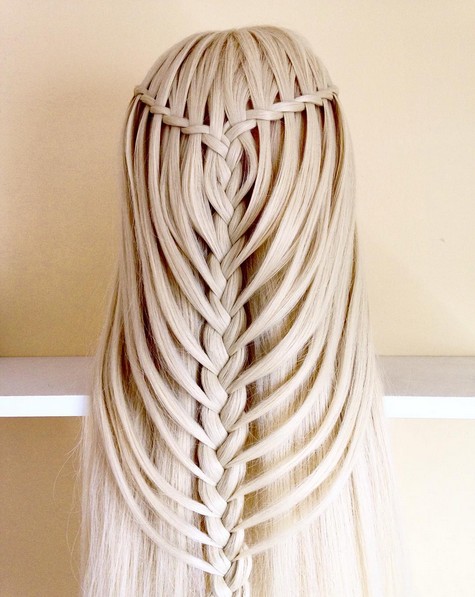 All-over blonde can sometimes seem flat and lacking texture, but this party-look waterfall braid hair style's full of quirky movement and texture!  The precise waterfall braid has a matte-finish to add stunning definition and a subtle blonde ombré adds brightness.
Stylish circlet waterfall braid with blonde ombré and darker roots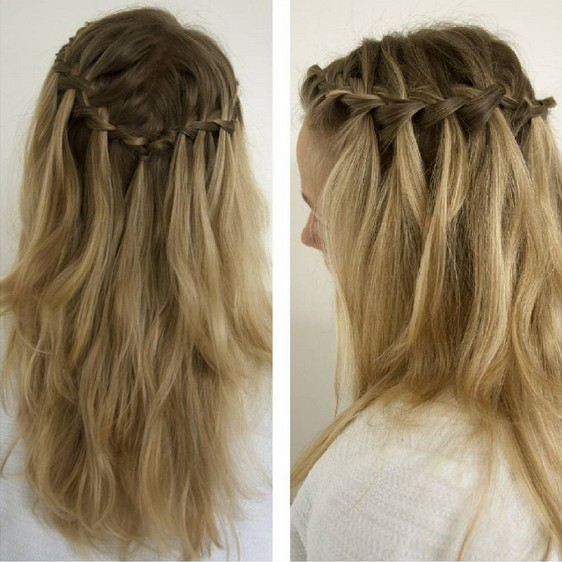 Perk up dark-blonde/mousey hair with this delightful golden blonde ombré that adds a touch of summer/party hairstyle to this long layered look with natural waves.  This is a popular hairstyles choice for summer when the warm weather makes us all feel more casual and relaxed!
Fab party-look medium bob waterfall braid hairstyles with waves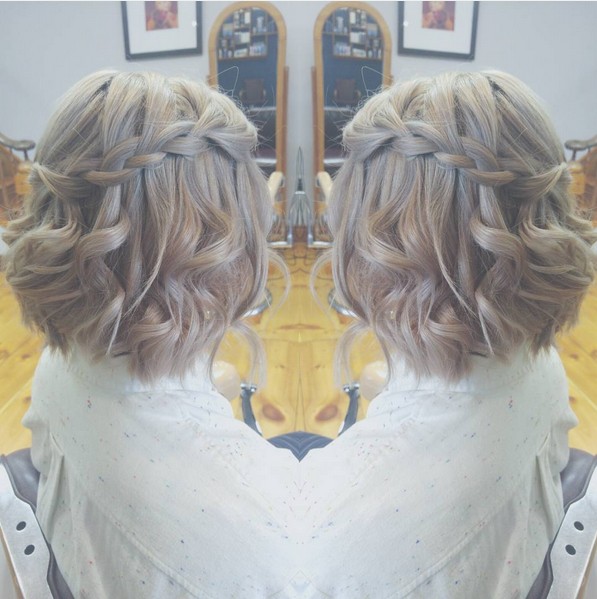 Waterfall Braid for Short hair: Here's another great waterfall hair styles idea for parties, dances and weddings.  On a medium inverted bob the front sections are braided loosely into a waterfall, with the vertical sections waved above trendy textured, straight tips.  There's also a nice creative contrast between the slightly blue-blonde top and the warmer golden waves!
Sun-kissed chestnut-brown hair with cute V-shaped head braid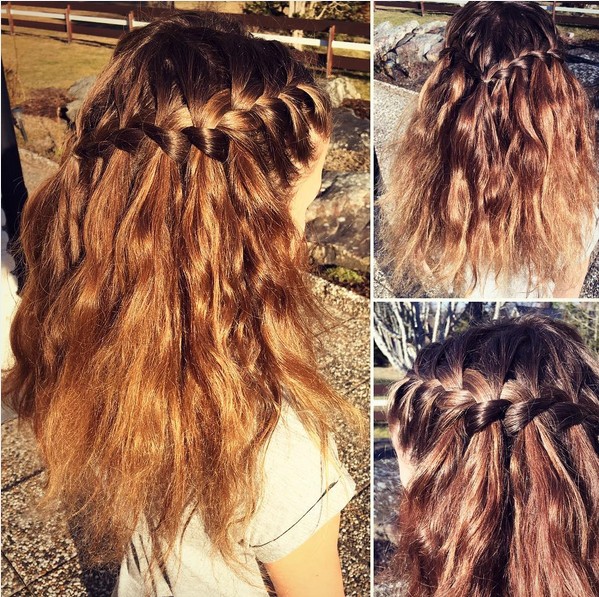 Flat head braids gently pulled out to be wide rather than bulky are the trendiest head braids for summery waterfall braid hairstyles.  The beautiful chestnut hair color has lots of coppery highlights creating pretty patterns and 3-D texture in the braided top section.  Long layers encourage natural waves in lovely girls' popular hairstyles for casual or formal wear.
3-D blonde highlights for fine hair on circlet waterfall braid styles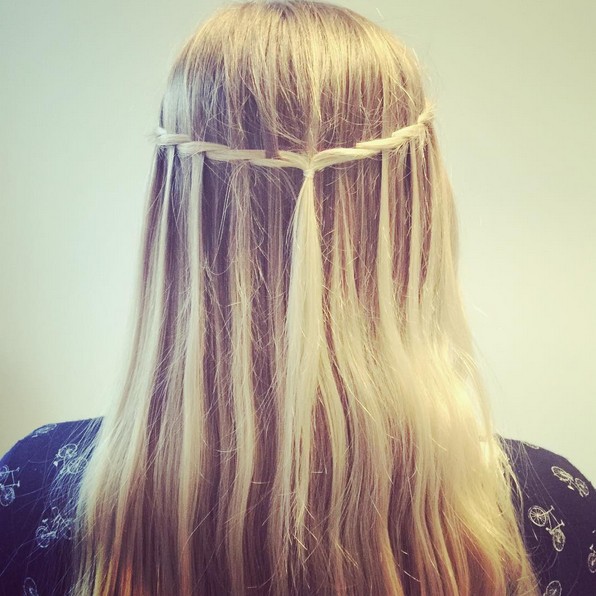 If your long, blonde hair is fine, try using vertical highlighting and waterfall braid hair styles to create the illusion of more density.  The delicate braid circlet looks pretty in pale blonde down to the roots.  This matches the 'stripes' of blonde highlighting and creates amazing 3-D color depth and interesting texture!
Spectacular charcoal roots with blue highlights on dove-grey hair color ideas on waterfall braid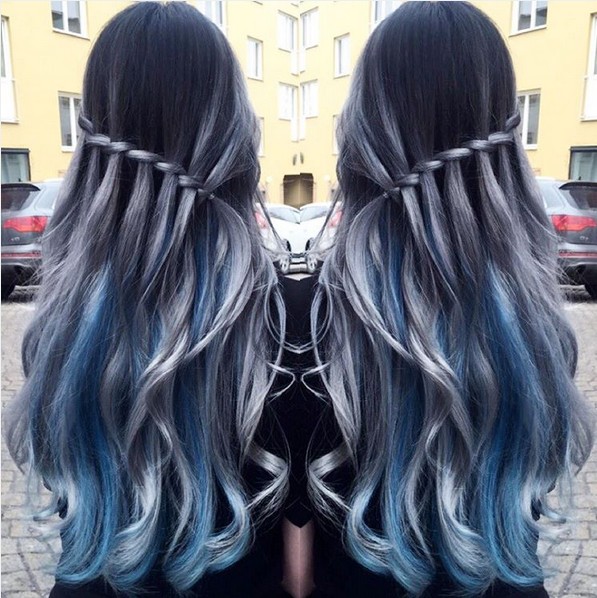 Here's how to use the grey hair color trend to add drama to popular hairstyles. On a charcoal base, the metallic silver-grey hair color looks almost 'painted' on to this models long, thick hair, like art by Van Gogh! The diagonal waterfall braid marks the change of color and lovely wavy lengths are generously accentuated by rich blue tones.
Black & gold waterfall braid updo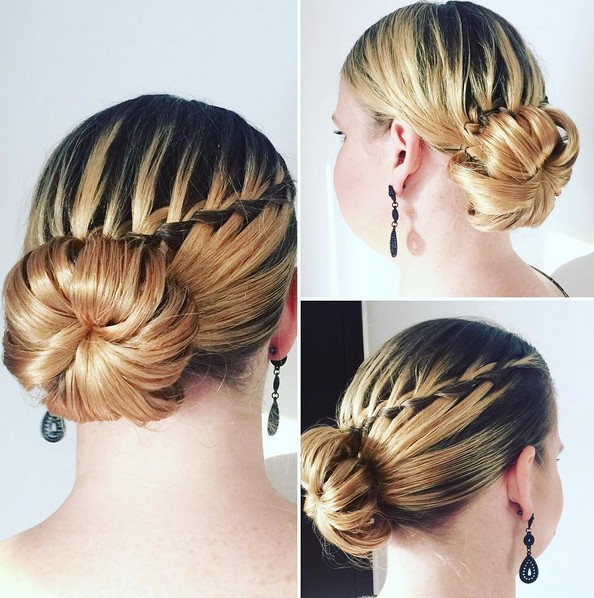 Here's a great new way to wear the classic chignon for a party, wedding or prom hairstyles.  Black roots under medium golden blonde hair color ideas create wonderful patterns when braided in asymmetrical waterfall braid hair styles!  The braid moves diagonally down to a cute textured chignon.
Asymmetrical waterfall braid on wheat-blonde long hair with textured tips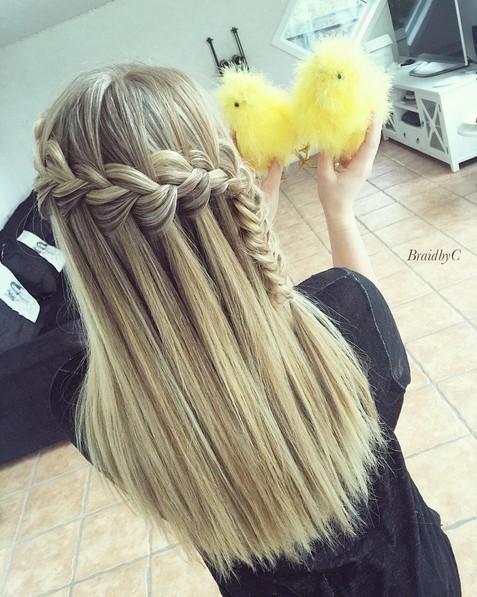 Waterfall Braid for long straight hair. Here's a trendy wheat-blonde hair color idea that shows off the beige roots to perfection!  Flat head braids and switching to another braid pattern, like the fish-tail on one side, are super-fashionable right now.  And edgy shaggy, textured tips complete this up-to-the-minute waterfall braid hair style.
Sweet & natural waterfall braid hair styles for girls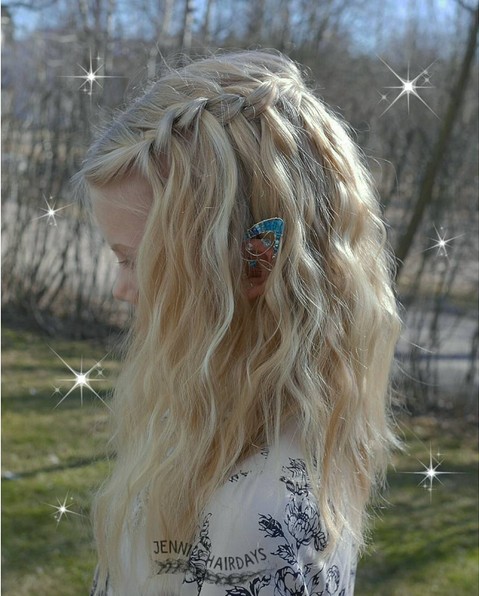 With a center parting and hair drawn back to show off a perfect complexion, classic waterfall braid hair styles look so cute! And to keep the look totally up-to-date and trendy, there's just a hint of blue highlighting accentuating the pretty natural waves in this long, layered look.
Lovely looped waterfall braid hair styles on long hair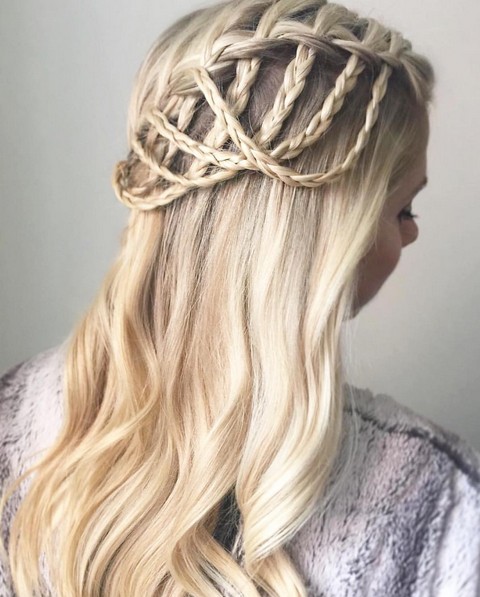 This half-up waterfall braid creates fabulous pattern and texture with looped, overlapping braids moving diagonally down from the forehead.  It's a trendy, asymmetrical look with 3 shades of soft neutral-blonde and smooth waves flowing down the back.
Trendy flat-braid circlet above waterfall braid on neutral blonde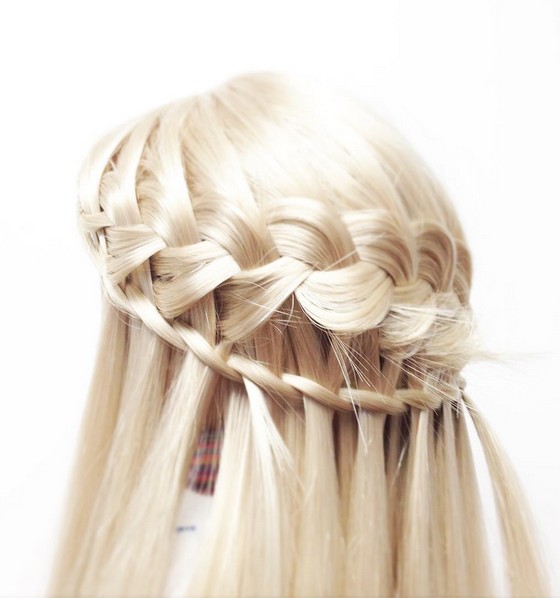 This close-up of a waterfall braid hair style allows us to appreciate the lovely patterns made by hair color and different textures.  Flat head braids are one of the most popular hairstyles for summer 2016, and make fine-hair braids appear bigger.  Add a contrast braid underneath and you've got a stylish summer look for work and play!
Elegant braided bridal upstyle with asymmetrical sides and chignon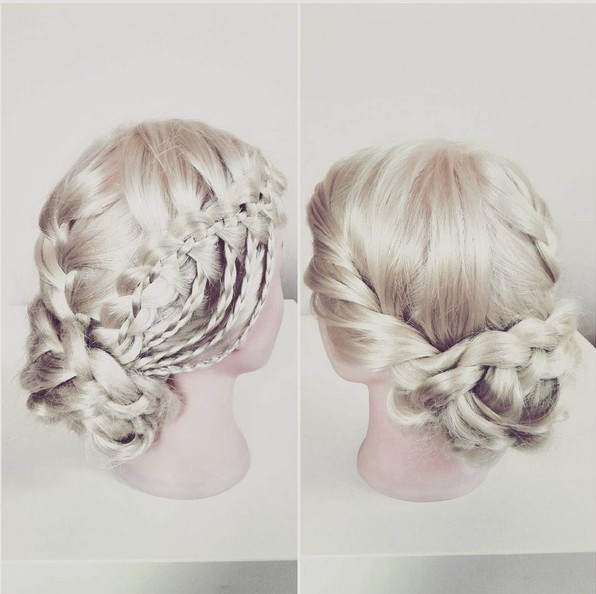 This is a fabulous bridal hairstyle idea that's trendy, classic and original!  It has trendy asymmetry with one side woven into four separate braids and the other having an attractive twist of hair.  And the classic chignon pulls the whole look together into a neat hair knot surrounded by a lovely thick braid!
Dynamic diagonal flat waterfall braid with hot pink detail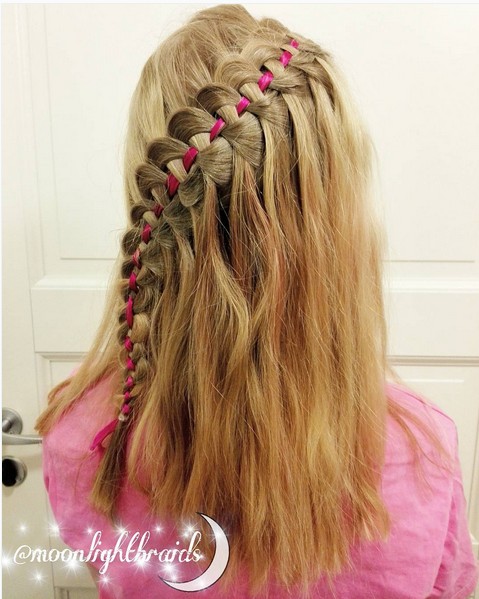 Waterfall Braid for girls: The pretty waterfall braid has added zest from the hot pink cord threaded through the center! There's also a dual-blonde hair color idea, with the top section in trendy neutral-blonde shade above long, flowing lengths of copper-blonde.  Flat waterfall braids make a bigger, broader line across the head making then popular hairstyles for long, fine hair 2016.
Cute half-up coffee & cream waterfall braid with braided rose detail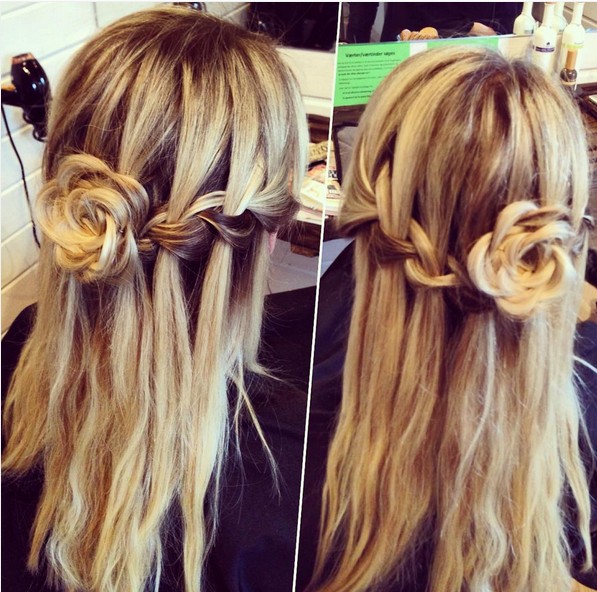 This is another successful 'fusion' style, which is full of contrasts which hang together really well!  The dark roots and blonde highlighting create fabulous 3-D texture and color dimension and the rose braid is amazing!  The lower lengths are left in casual beach-waves making the look relaxed and casual!
Super-romantic waves on layered long blonde hair with high circlet waterfall braid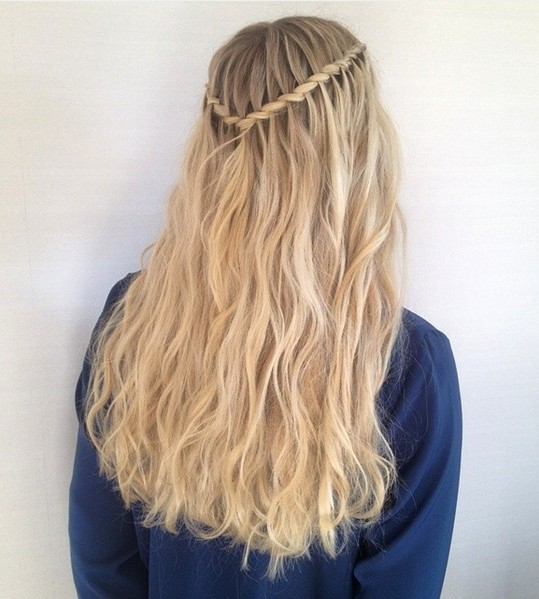 Waterfall Braid for long hair – You really can't beat a cascade of long, blonde wavy hair for softly romantic waterfall braid hair styles!  The contemporary twist on this pretty circlet braid is that it's a new type of braid resembling twisted strands.  The slightly darker roots create a cute 'cap' effect with a lovely textured 3-D pattern.
Beautiful bridal waterfall braid & ringlet waves on dual-blonde hair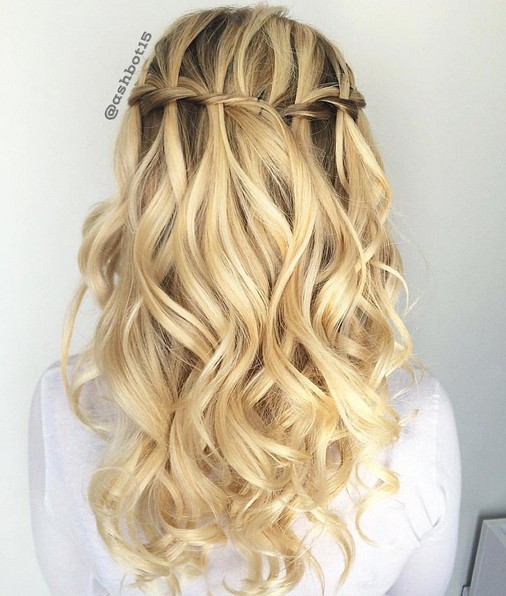 Waterfall Braid with Curls. This cascading waterfall braid hairstyle is perfect for brides or bridesmaids, who like a mix of contemporary and classic features.  The contemporary hair color idea of neutral brown roots looks great under classical golden blonde hair.  And the medieval circlet braid is a very traditional look for an informal wedding!
Sophisticated soft raspberry tips on fantastic trendy blonde waterfall braid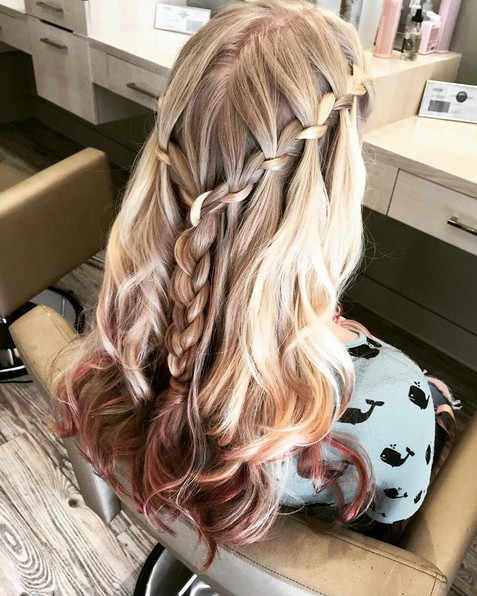 Light neutral brown is mingled with shades of neutral blonde in this sophisticated hair color idea with lovely raspberry pink tips.  The waterfall braids create an attractive V-shaped pattern at the back, before joining to make a thick braid that's full of beautiful blonde and soft pink tones.
Love these braids? Here is Cascade Waterfall Braid & Waterfall Braid Tutorial, check it out here.
So if you're looking for fresh and stylish popular hairstyles for brides, flower-girls and summer events, I hope today's trendy gallery of waterfall braid hair styles and hair color ideas has totally inspired you!