20 Easy Daily Graduated Bob Haircuts for Short Hair
Trend-setting graduated bobs can be geometric and edgy with a fabulously stacked-back on thick hair.  But there are also plenty of A-line bob styles for fine hair that are edgy and asymmetrical or soft and curvy!  Today's new gallery of style ideas has a huge range of haircuts and the latest hair color trends, including pale neutral blondes, beige-blonde, yellow highlights and a stunning dark-brown bob with fabulous orange highlights! So why not take a look right now!
Warm golden brown medium bob with blonde highlights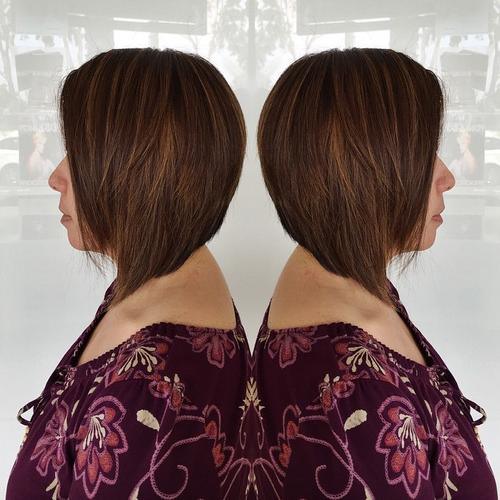 Golden-brown is a rich, medium-brown color that's making a come-back in the latest hair color trends.  It's a lovely shade that suits a wide range of skin-tones and makes a great warm-brown alternative to copper-reds.  As a gray-covering color, golden brown is a face-softening choice for hair that used to be natural dark-coffee.