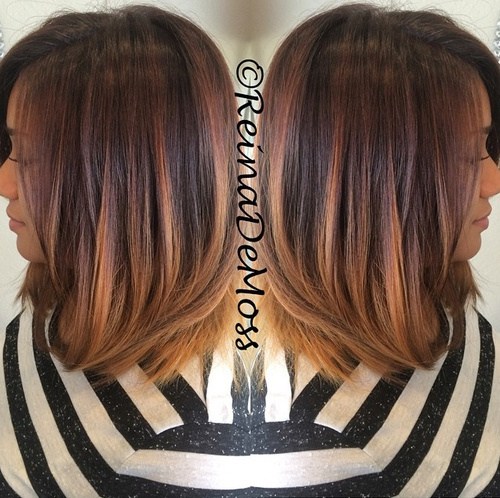 Ombre is undoubtedly among the hottest hair trends for this year, and everyone's indulging in this fabulous color blending style. These ombre hair colors are downright beautiful, whether you stick to natural blends of browns or fiery collections of bold colors.
Brunette Ombre for Long Straight Hair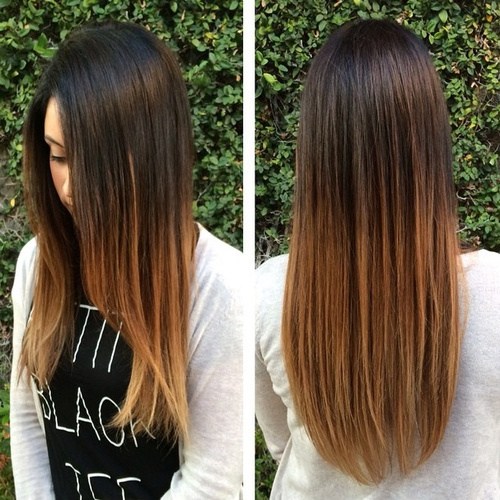 If you've been blessed with naturally dark chocolate brown hair, you probably don't want to cover it all up- and if that's the case, let your warmer brunette hue be the star of the show, but brighten it gracefully with some light brown ends.
Mahogany and Black Flips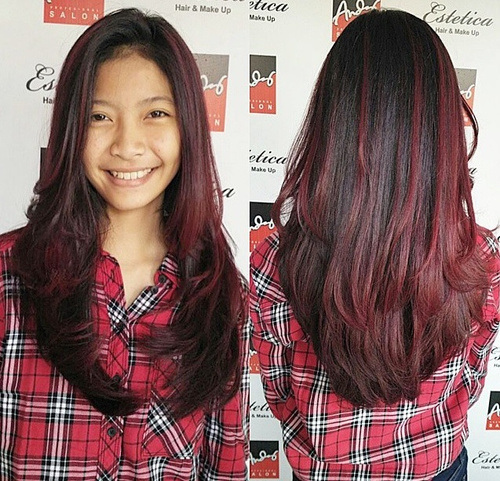 Mahogany and black is such an enticing and sultry blend: it's trendy enough to be seen on the Runway but warm enough for winter seasons. The deeper hues work beautifully together, and flipping her ends inwards creates some alluring bounce and body.
Subtle Brown Ombre Hair for Medium Hair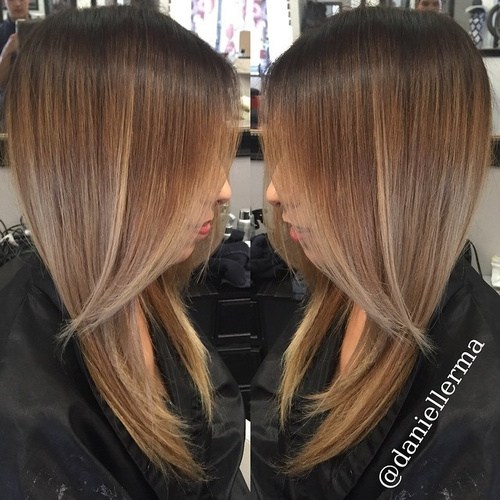 With just a hint of highlights spaced throughout this look and darker roots, this finish is as natural as it gets. It looks as though the sun has hit her fabulous brown mane perfectly, brightening her tresses for a fabulous finish.
Subtle Brown Balayage for Medium Hair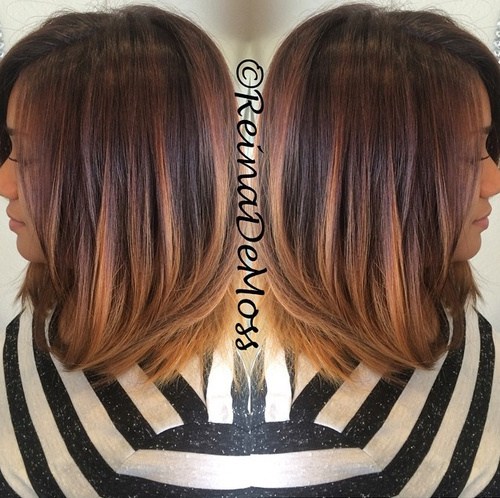 Her look is so fabulously natural, it almost looks as if she never stepped foot into a salon. Her lob is an awesome cut for thicker hair types, and the subtle highlights of light brown against darker brown is natural and illluminating. And you can find more choppy bob haircuts here.
Red Hot Ombre Hairstyle for Long Hair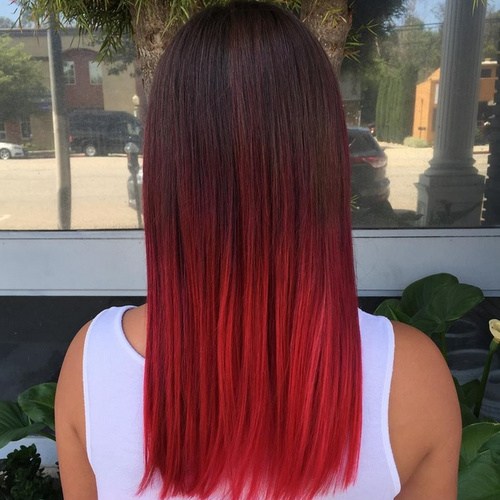 Getting bored with your dark mane? Spice it up with a fierce red lower half! The end result is feisty and enticing, definitely something you will have to get used to after staring at a jet black hue for so long.
Greens and Blues!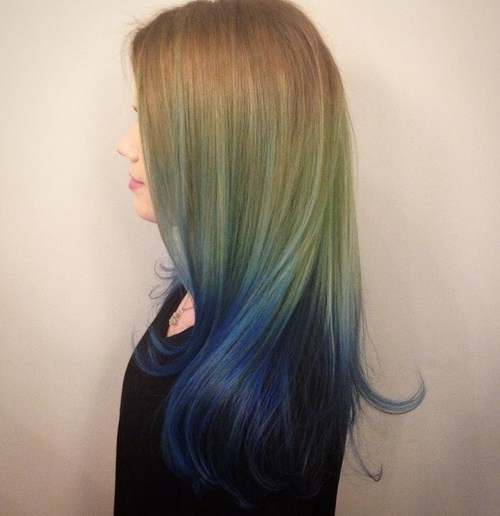 Ombre coloring doesn't have to be limited to just two shades, so if you just can't decide on your favorite colors, go for THREE! This hot look features blond roots, a sea foam middle, and midnight blue ends. It's exotic, it's trendy, and perfect for long hair- after all, you need plenty of room to stack up three glorious colors!
Brown Balayage Lob for Black Women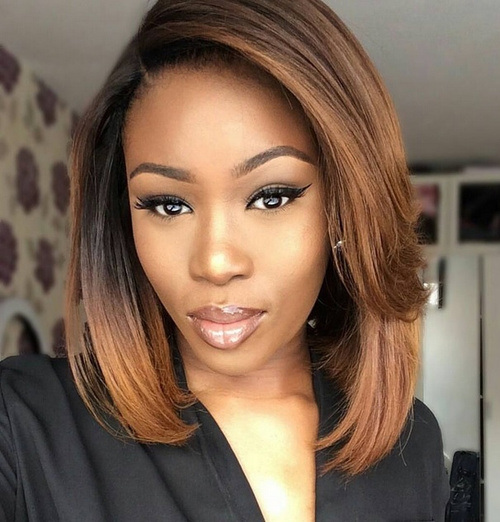 Her look is oozing with sophistication and pure beauty! Her lob cut is adorable, perfect for her heart shaped face. But what really makes this look dazzle is the highlighted brown balayage against black roots, a stunning brown shade that brightens her complexion magnificently.
More Light than Dark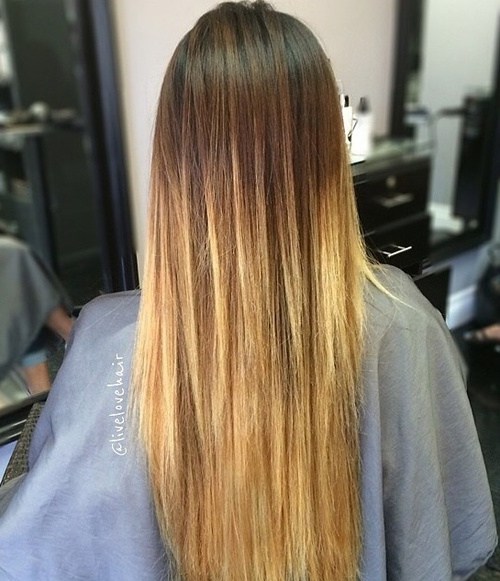 An ombre like this one clearly lets the lower half of the mane have the most coloring! Instead of doing a simple half n half ombre, do a more abrupt and seriously stylish ombre by leaving 1/4 of your hair a darker shade while the remaining 3/4 is a brighter, perkier shade.
Balayage A-line Bob for Summer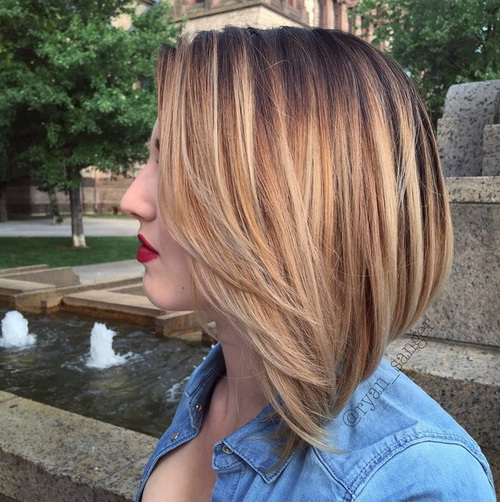 If two-tone ombre is too drastic for you, consider a subtler form of ombre otherwise known as balayage. Balayage focuses on creating an all natural style with freehand highlights, as you can clearly see on this trendy a-line. Her cuts adorable and flipping her blonde highlighted locks back and away from the face showcases her bone structure. Here are more bob hairstyles for you to choose from.
Golden Ombre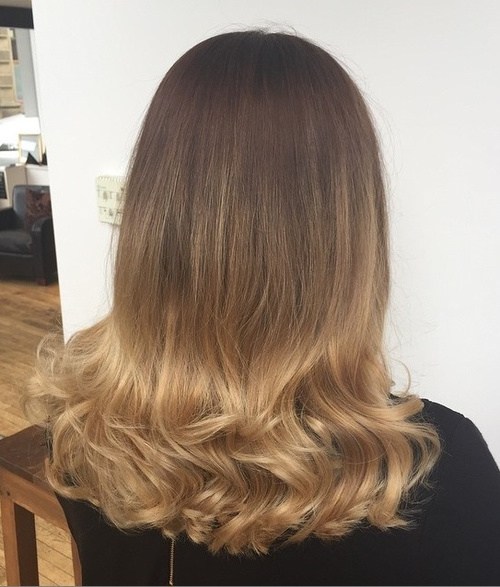 For the gals out there who love to glam it up in a sexy, subtle manner, this is a wonderful choice. A darker golden hue up top leads to shimmery light golden ends, a blend of golds that are stunning like gold itself. With just a touch of curl on the ends, her look is a perfect mix of sophistication and elegance.
Dark Brown Ombre for Long Soft Wavy Hair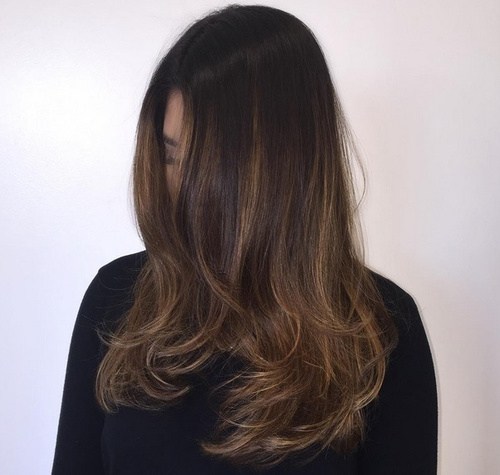 Dark brown hair is so lovely, but adding some subtle highlights really brightens and glams up the whole look. Her big, voluptuous curls add to her dainty, sultry appearance easily. Wear this look anywhere- it cane quickly be dressed up or down.
Blonde Ombre Hair for Long Straight Hair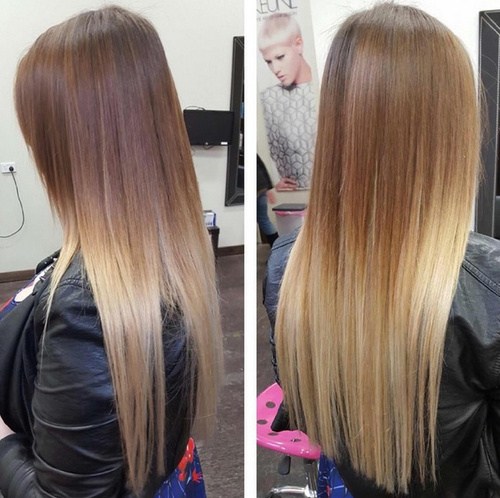 For my blonde ladies out there, don't leave your dirty blonde roots go without some serious highlighting. The platinum ends give this mane some perky, bright depth that plays naturally off the brone upper half. Here are more stunning blonde balayage hair color ideas for you to choose from.
Black and Neon Purple Ombre Hair for Long Hair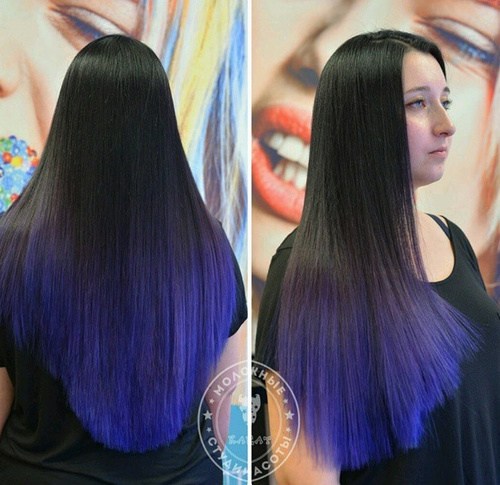 Neon purple anything is SO trendy right now, from hair to nails, clothes to shoes. But if you're looking for that ultra-trendy knockout style that holds a bit of mystery and attitude, consider this striking black and neon purple ombre collection.
Purple and Pink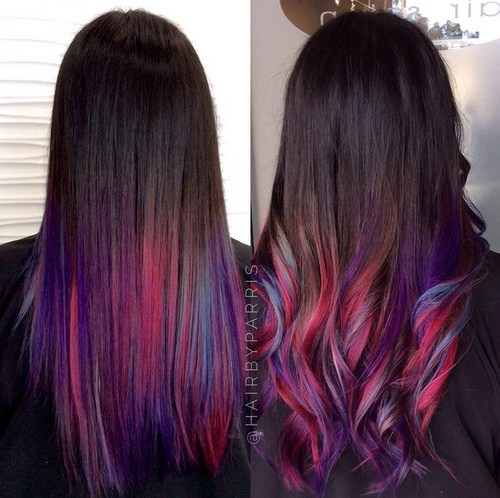 Oh so girly, and oh so pleasing to the eye! This ombre is oozing with magnificent colors, both shades of deep pink and midnight purple playing off the black upper half in a majestic manner that's perfect for the extra girly girls out there who love some chic, colorful attitude.
Fierce Color Trio – Red Ombre Hair for Long Hair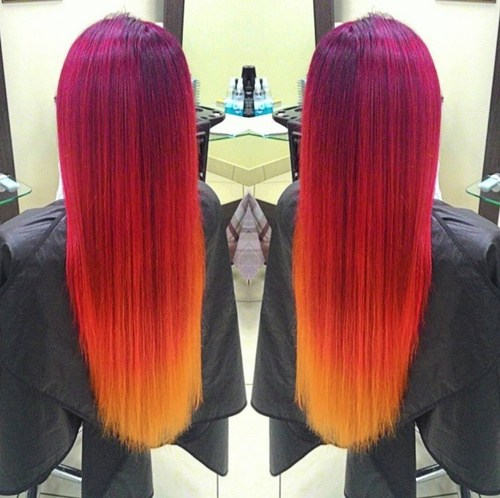 Looking to take the spotlight wherever you go? A fierce look like this is reserved for the edgy gal out there that loves to be the center of attention. A seriously bright and eye-catching trio of colors is found in this mane, with a delightful purple up top, a fiery red down the middle, and lightened with some funky yellow tips. Find more red ombre hairstyles here.
Black to Blonde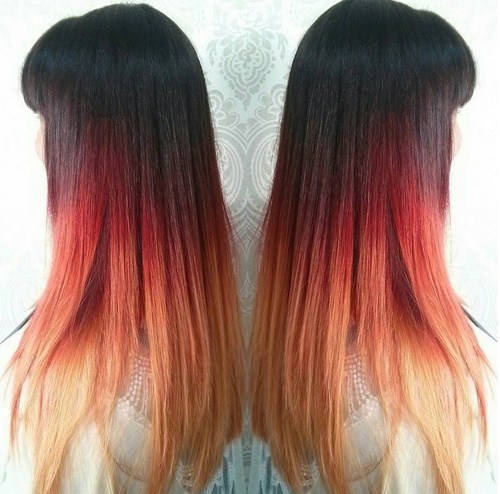 Black and blonde is always an enticing and striking combo, but when you add fire engine red in between the two, you create a seriously hot style that's sure to turn heads.
Obvious Brown/Black Contrast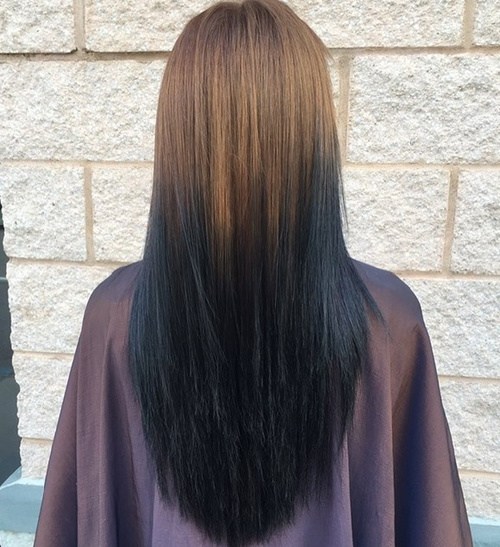 If you want your brown and black strands to really POP, consider a striking contrasting ombre like this one. She leaves her top half a charming light brown shade, while the lower half is died jet black for a really obvious and eye-catching tone. Leave your locks stick straight to showcase the contrast!
Pink Highlighted Shoulder-Length Cut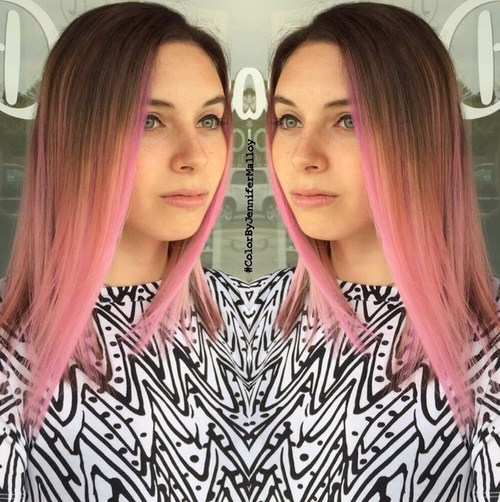 Should length cuts are bouncy and youthful as is, but adding a dose of light pink to the ends and around the face enhances the girly glow of this refreshing look.
Black and Gray Lengthy Ombre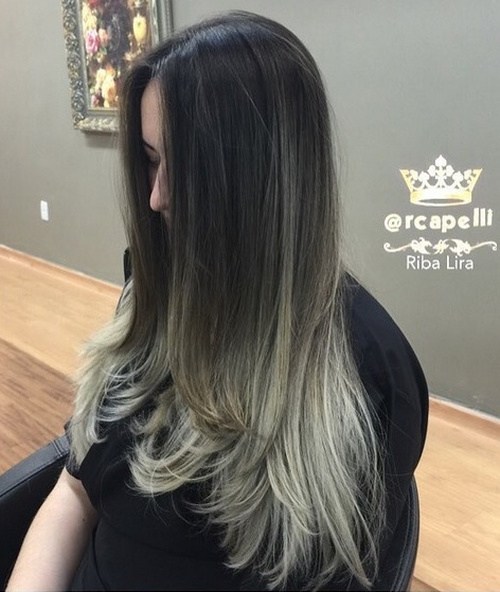 Gothic inspired and strikingly sexy, this ombre blend is a majesty to look at. The gothic theme is strong here, with a jet black base highlighted wonderfully by a grey lower half. A middle part and tons of lengthy layers adds to the mystery and depth of this enticing style.
Lengthy Flipped Back Brown Ombre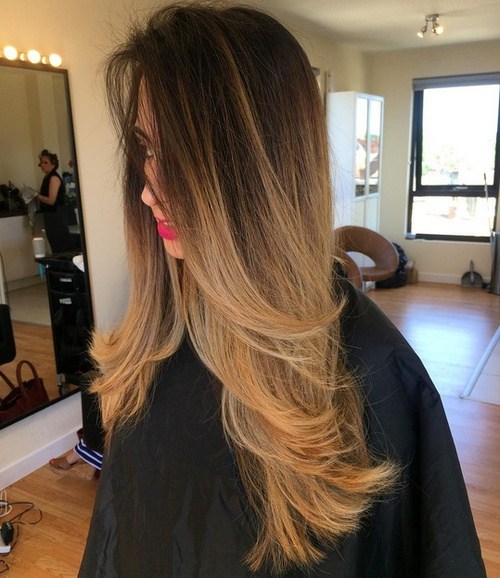 Long locks are the perfect base for ombre, as the length can clearly show the gorgeous contrast of colors beautifully. Her brown ombre is delicate and natural-looking, with darker brown roots leading down to a stunning light caramel shade of brown. The blend is sexy and sultry, with the ends flipped back for a flirty finish.