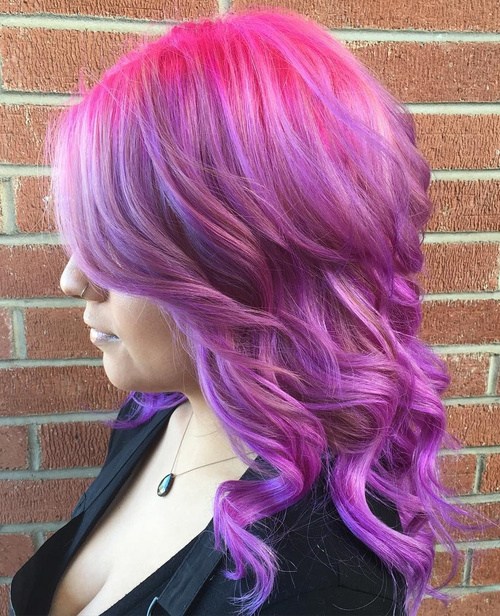 Purple hair is undoubtedly one of the hottest trends for this season. Indulge in this unique hair trend with one of these ravishing lavender ombre hair ideas. You will find everything from deep, sultry purple and black blends to simple brown with purple tipped combos.
Lavender Grey Updo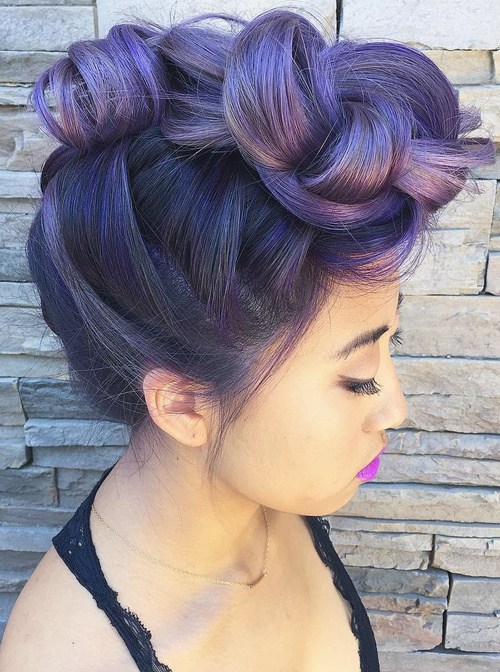 This may not be 50 Shades of Gray, but this hair color certainly has a delightful blend of grays throughout a sharp lavender hue, creating one fascinating finish. She really makes her unique color the star of the show by embracing these colors into a bold, braided Updo placed right on top of her crown. Elegance is key here and makes a great choice for high-class events.
Trio Shade Ombre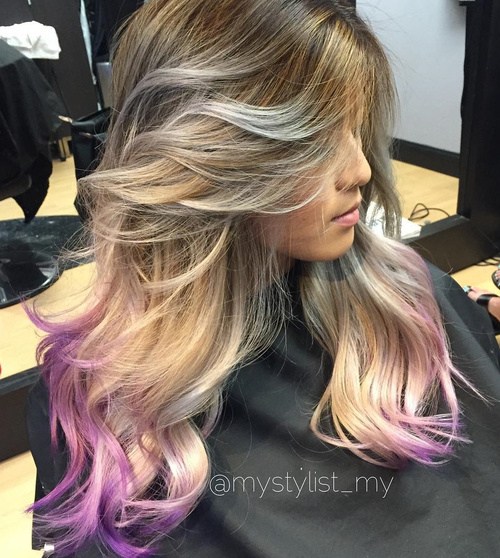 Don't settle for less when it comes to ombré hair coloring, kick it up a notch and add some vibrant shades! You don't have to go overboard either- some lovely lavender tips add depth and uniqueness to this look, and she makes these exotic ends stand out with some voluminous swept back waves.
Neon Pink and Purple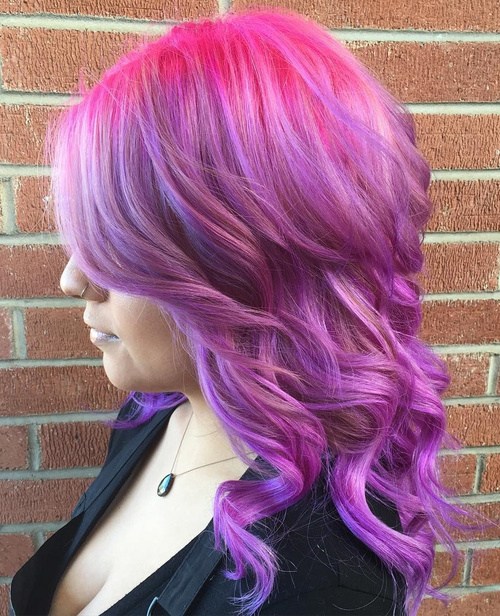 You're a walking glow stick; and we're in love with it. This vibrant, show-stopping color combo features neon hot pink roots leading down to a really rockin' shade of neon purple. If that wasn't enough, she throws on some ringlets and adds a little teasing at the crown for added volume. Seriously, we love this bright, look-at-me hairstyle!
Blue/Purple and Gray for fine hair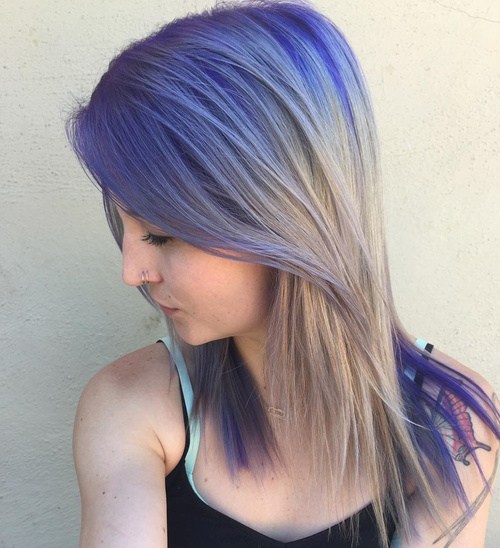 The fashion world has been very loud and clear this year: it's all about the purples, blues, and grays; and this look has ALL three. An on-trend look that's intriguing and fascinating, and looks great on lengthier locks so you can really see the bold contrast from dark to light.
Dark Purple Ends for long wavy hair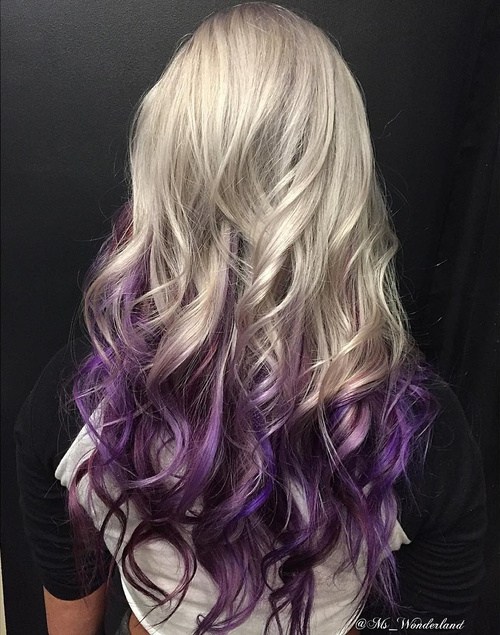 Classic ombre: light on top, dark on the bottom; but this look is seriously vibrant and cool, taking the typical ombre styling to the next level. Those deep, mysterious hues of purple are played off beautifully by the dazzling platinum blonde up top, a combination that's downright striking.
Brown and Lavender Hairstyle for Long Straight Hair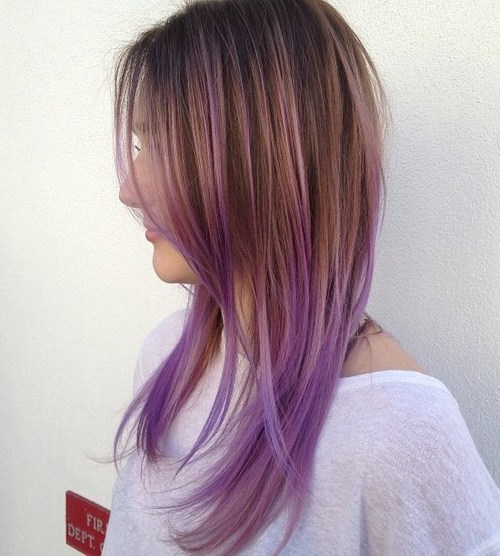 Brown and lavender looks SO lovely together. It's certainly a daintier take on the whole purple hair thing, but we've in love with it.
Half Up Half Down Black and Purple Updo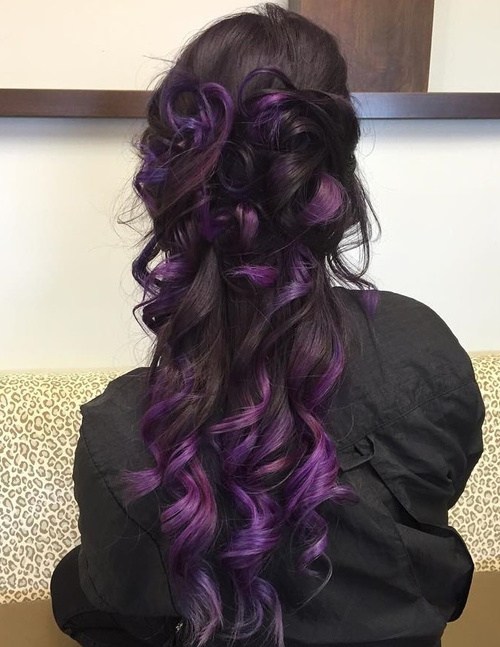 Lengthy hair that's styled into glamorous ringlets is undoubtedly one of the most gorgeous, polished looks in the fashion world. But why settle for a one-toned curled updo when you can really make those dark, sultry locks POP! We're loving the addition of deep purple throughout her mane, amplifying that mysterious and gorgeous hairstyle wonderfully.
Dark Neon Purple Bob Hairstyle for Short Hair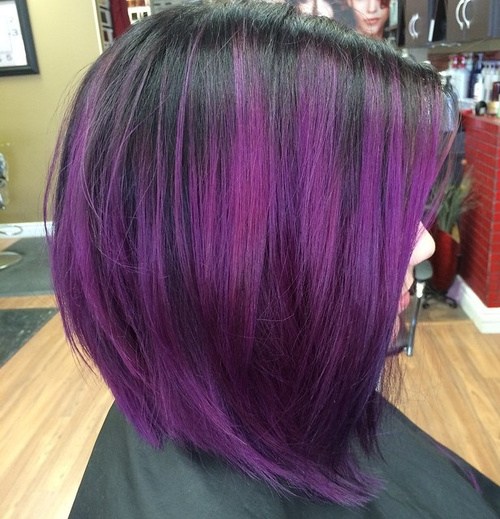 Light up the night with this vibrant shade! Purple neon is so exotic and exciting, the perfect pairing for a black base. To keep things extra fresh and bouncy, try out a short bob cut with plenty of layers.
Subtle Lavender Ends for Shoulder Length Hair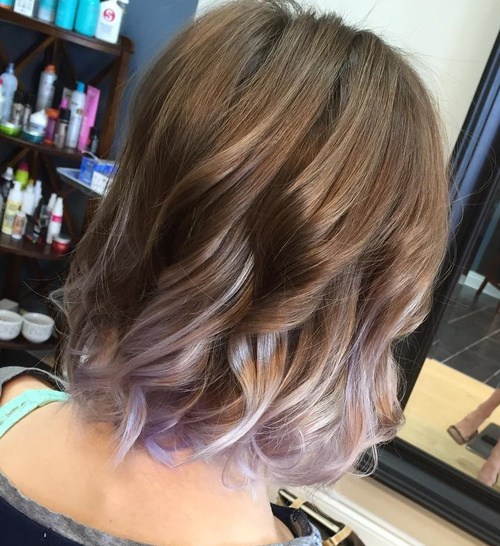 Sexy medium hairstyle for summer – If you love the lavender hair trend but it's too risky to douse your locks in this lovable shade, consider throwing a few hints of lavender on the ends of your hair. Not only is lavender a feminine and dainty shade any woman can adore, it's also an excellent complementary shade for mousy brown locks. This medium bob hairstyle is SO lovely and the gracefulness is amplified with tousled ringlets.
Balayage Deep Purple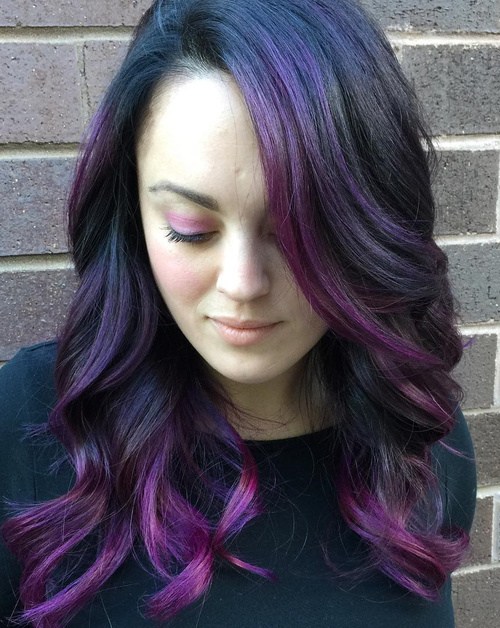 Balayage is the newest way to sport an ombre hair coloring, with highlights that appear more natural and flowing than bold and choppy. This deep purple shade is highlighted throughout her black mane, giving her locks an edge of vibrant color that's eye-catching and sultry. Elegant waves create depth as well as beauty, making this hairstyle a wonderful choice for important occasions. And here are some great blonde balayage hair color ideas for you to choose from.
Black and Deep Purple Loose Curls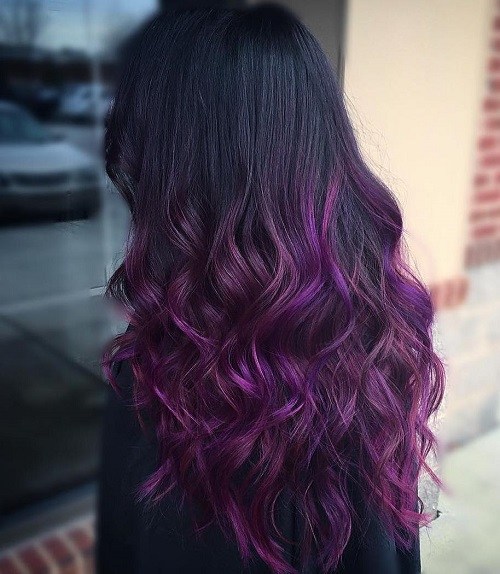 Black and purple is a fascinating combination, isn't? The deep hue of this enchanting purple adds a dose of mystery and sultry attitude to a black base, and those charming loose curls are downright elegant. We're thinking this is an awesome choice for the warmer seasons when rocking darker shades is a must.
Black and Blue/Purple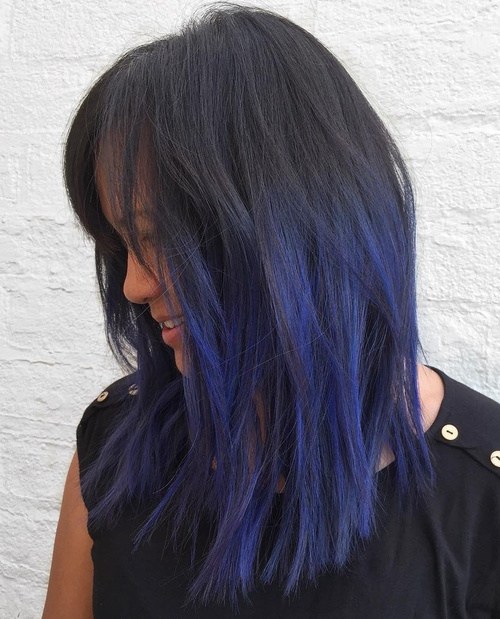 If you're a lover of all things purple and blue, consider an alluring combination of the two. Black roots lead down to a stunning shade of purple with hints of blue scattered throughout. This dreamy shade plays well with medium-length locks that are chopped with plenty of layers.
Purple Bangs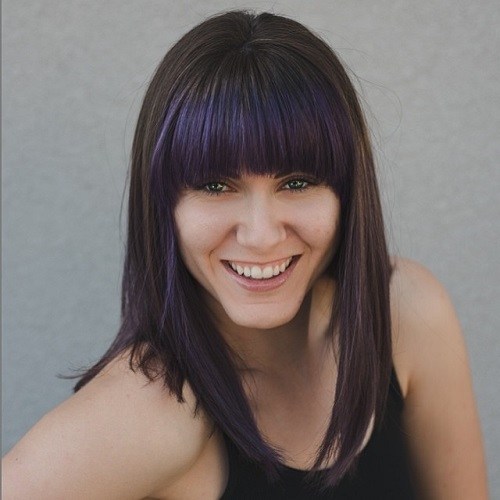 Sporting an Ombre style doesn't have to mean changing half your mane into a different shade; sometimes it just means adding some unique color to your bangs. Her luscious dark shade of purple is placed throughout her trendy thick cut bangs, creating some unique color around the face and making those rich brown eyes glisten.
Red/Purple Highlights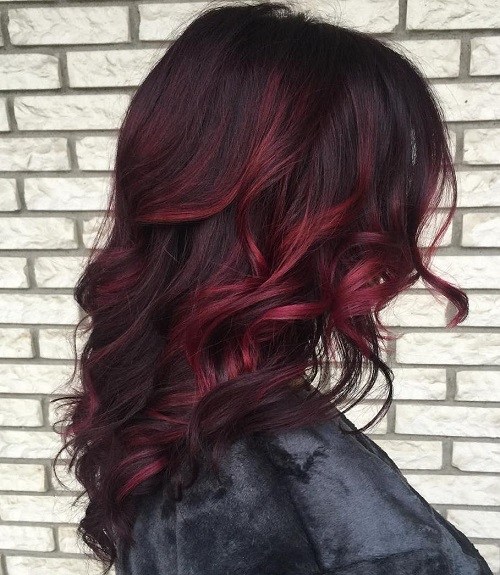 Purple is sexy, red is fierce; combine the two and you have one intoxicating color that's sure to stop the show. Her purple/red highlights are simply stunning, taking her dark brown mane to an all new alluring level. Make these sultry hues pop with some lovely ringlets. Run a brush gently through your ringlets to tousle them up a bit for more unkempt curls.
Almost All Lavender Curls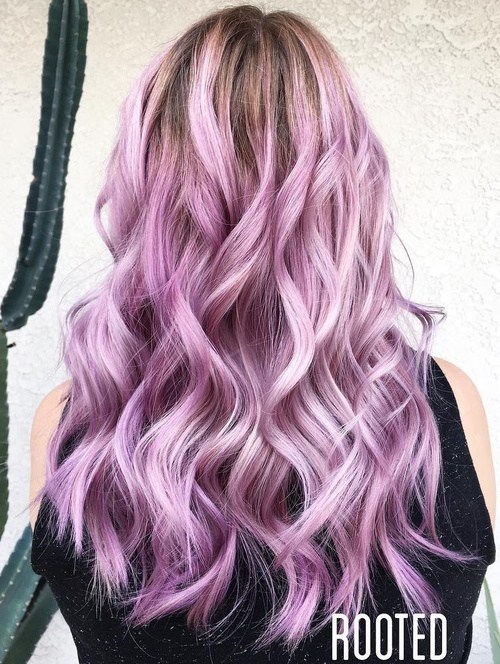 If you want lavender to be the main event in your tresses, then leave a little space at the roots for natural coloring before dousing your locks in a lovely light lavender hue. The lavender is played off beautifully with some striking icy white highlights, the two bright shades dancing together in streams of luscious waves. Great look for ladies with longer manes.
Wild Colors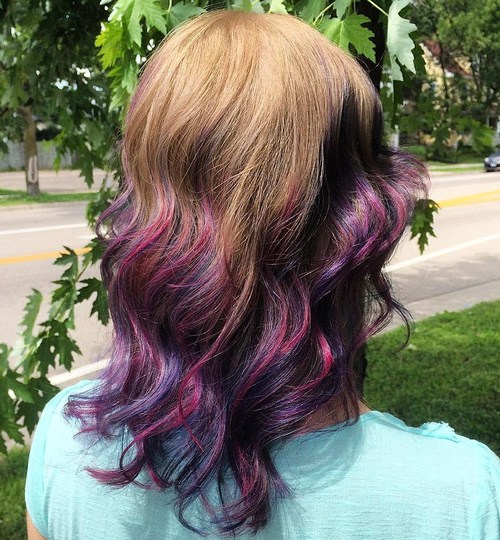 This look is ANYTHING but natural looking; but wow is it cool! Let loose your inner rocker and indulge in this awesome 'do. She leaves her roots a natural bronde shade, with the rest of her mane highlight with deep purples, blues, and pinks, for one crazy ending.
White and Lavender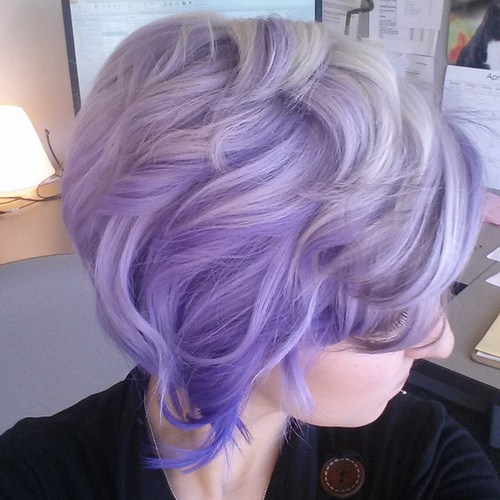 With a pixie haircut that's chopped with contrasting layers of all different shapes and sizes, there's only one way to complement it: with some vibrant hair coloring! Her dashing hairstyle brings those layers to life, with white/gray roots and a perfect assortment of lavenders from dark to light.
Dirty Blonde and Purple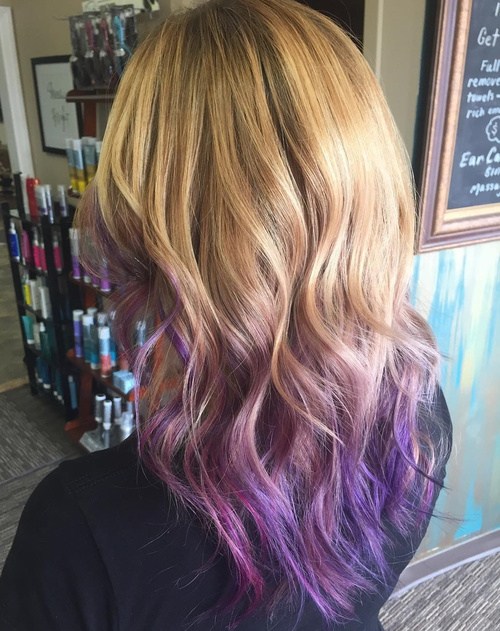 Natural blondes 'naturally' love their hair color; it's something you can't get out of a bottle too easily, right? Well, for my blondes out there who don't want to knockout their lovely dirty blonde coloring completely. consider adding just a splash of deep purple coloring down below.
Platinum and Lavender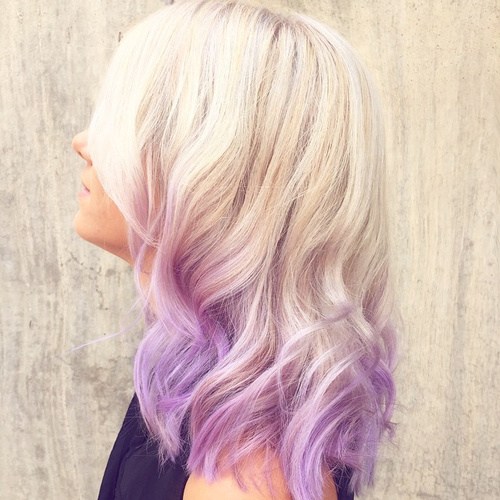 Is she a princess? Is she a fairy? Is she a little bit of both? Of course she is! Platinum blonde and light lavender is undoubtedly one of the most popular purple ombre hair color styles, and we can clearly see why. It's got a bright, feminine, fairy-like appeal that a lot of younger women will adore. Add to the cutesy appearance with some tousled, voluminous curls.
Quad Colors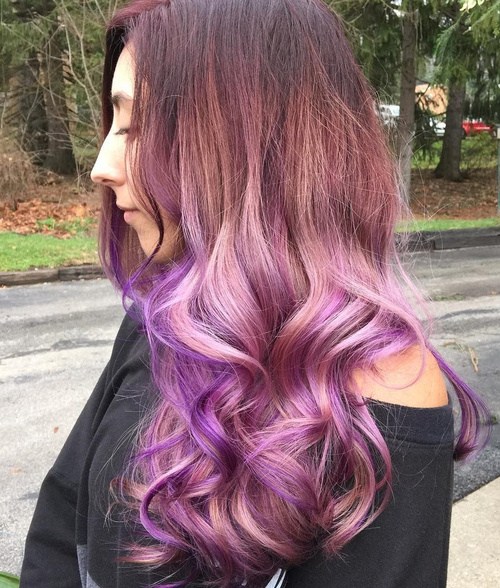 We're not going to sugar coat anything here: there is A LOT of colors going on in this look; but we LOVE it. Up top you'll find a dark chocolate shade, followed by a mahogany middle, finishing off with a charming and exotic blend of purples, pinks, and whites. The contrast is STUNNING! Works well with longer hair, where you can have some choppy, bold color combos and view them easily.
Natural Red and Purple Ends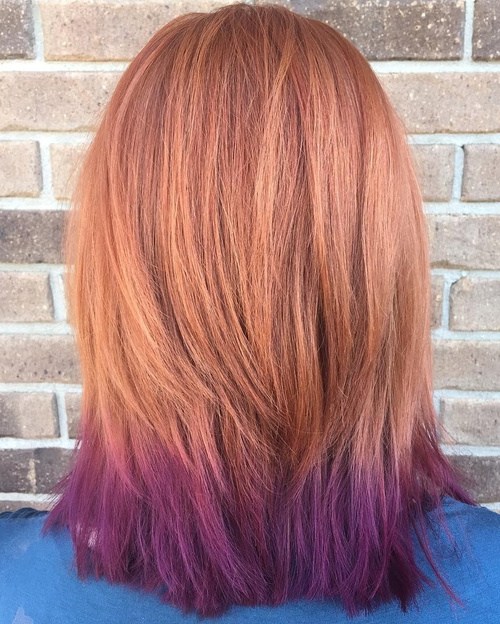 For my natural redheads out there, don't feel like you have to stay away from purple; red and purple works well together! Don't hide those red-hot roots, though, and keep things simple yet stunning with some deep purple ends.
Dark to Light Purple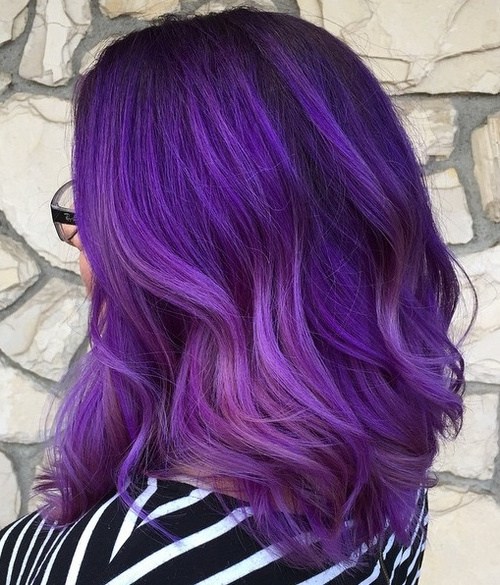 Most ombre hairstyles have the darker shade on the bottom. Well, break away from the mold and switch things up a bit with a reversed ombre! Deep, luxurious shades of purple are lightened on the ends with a charming dark lavender hue. These enchanting tresses are given a dainty edge with some very loose waves. Use your fingers to tousle them up a bit for a natural style that's really anything but natural!
Do you love these colored hairstyles? Find more trendy hairstyles on tricksmag.com!