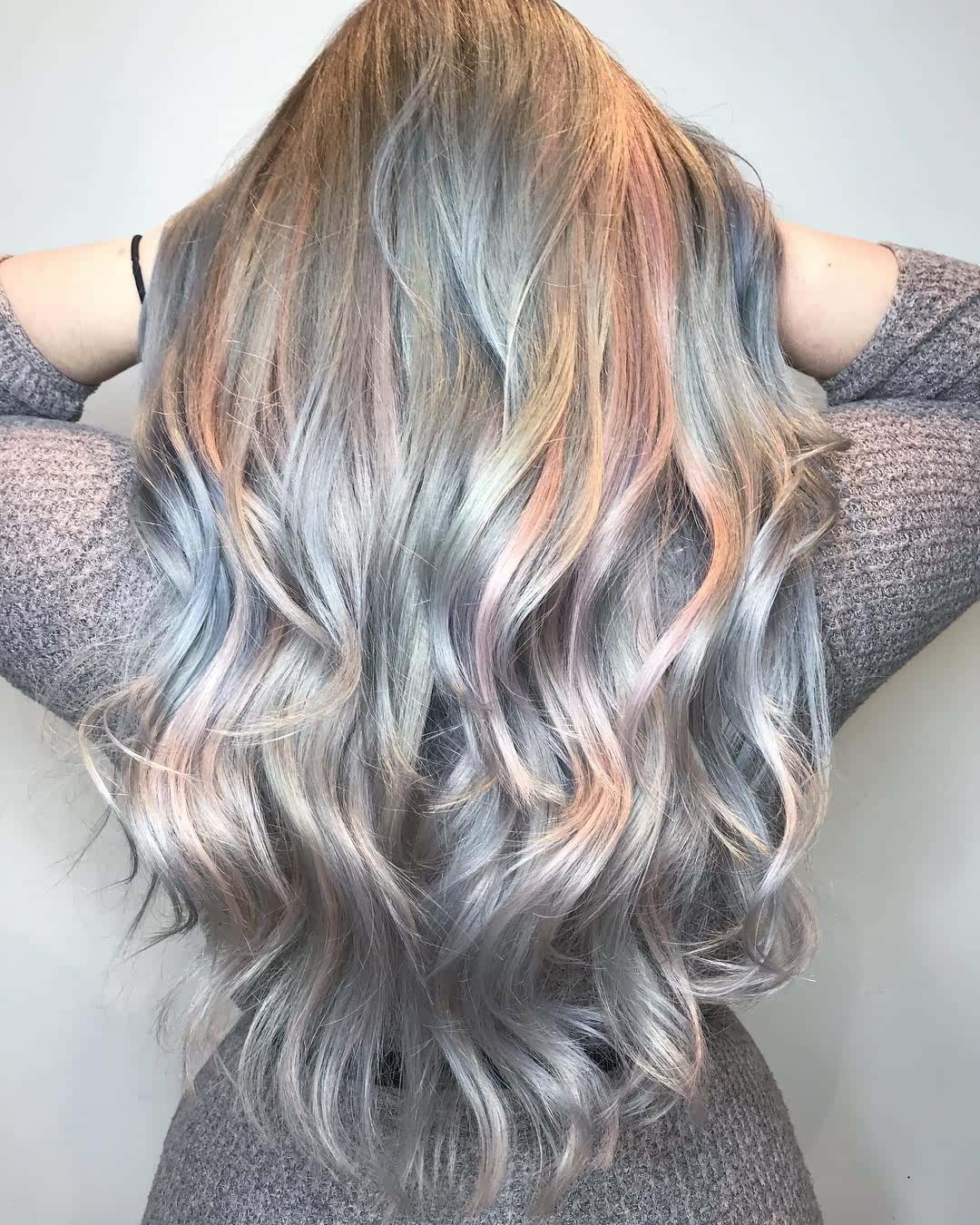 Look super-cool this season wearing iced beach wave hairstyles! Iced hair colors create a fabulous contemporary twist to long hair, and give a sophisticated style update. And this year talented colorists are creating hair color makeovers that mix cool and warm colors! So see what's new – and gorgeous – in trendy salons now:
1. Chic silver & iced rainbow colors – beach wave hair balayage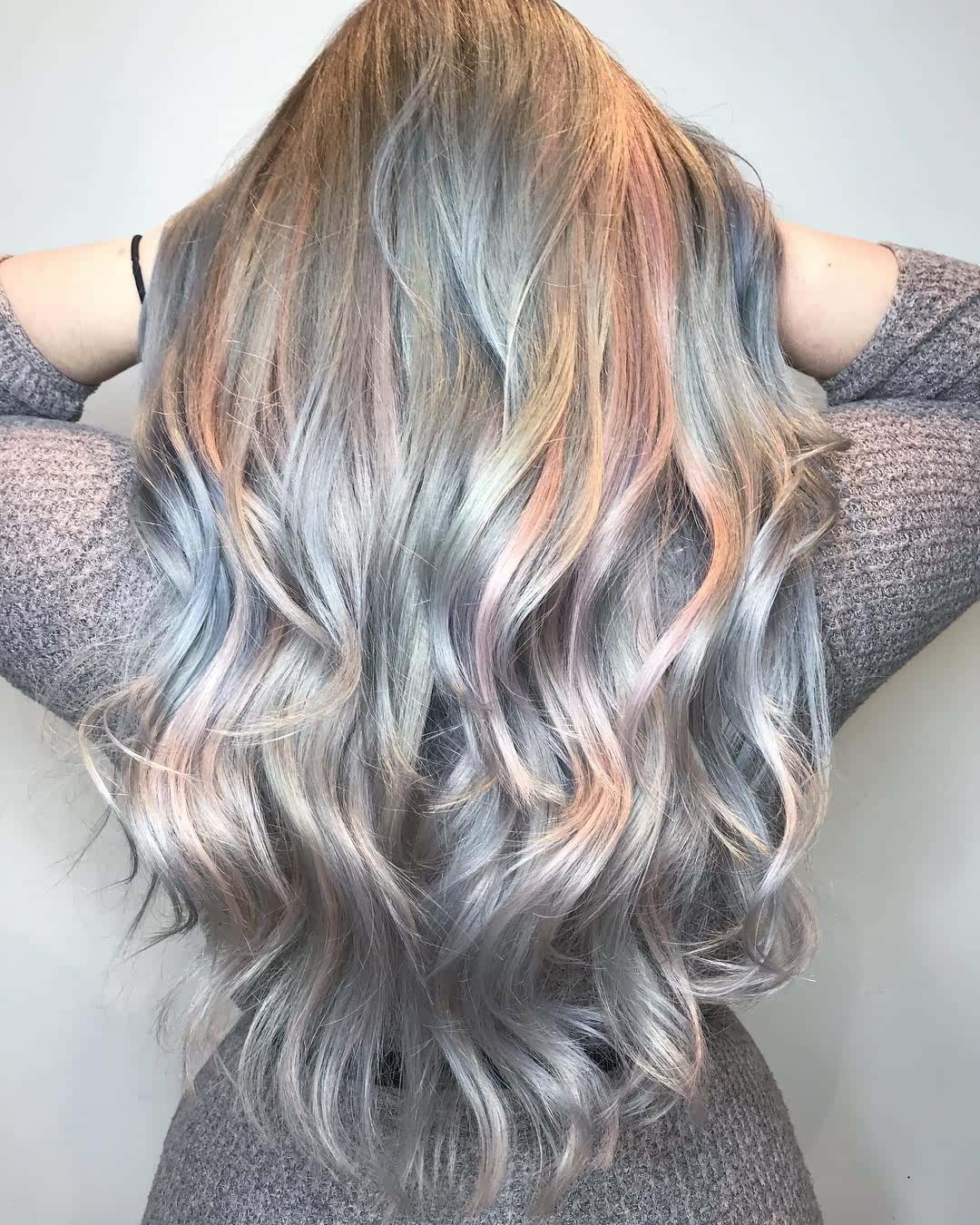 Waist-length hair offers a huge 'canvas' for a talented colorist to show their creativity! And this splendid hair color design is really a joy to behold. The main silver-gray blonde color looks marvellous with artistic balayage highlights in pink, orange and yellow. This really is a 'don't try this at home' hair design that requires a color expert to mix and match cool and warm hair colors – so beautifully!
2. Light-blonde with golden-beige roots – beach wave hair balayage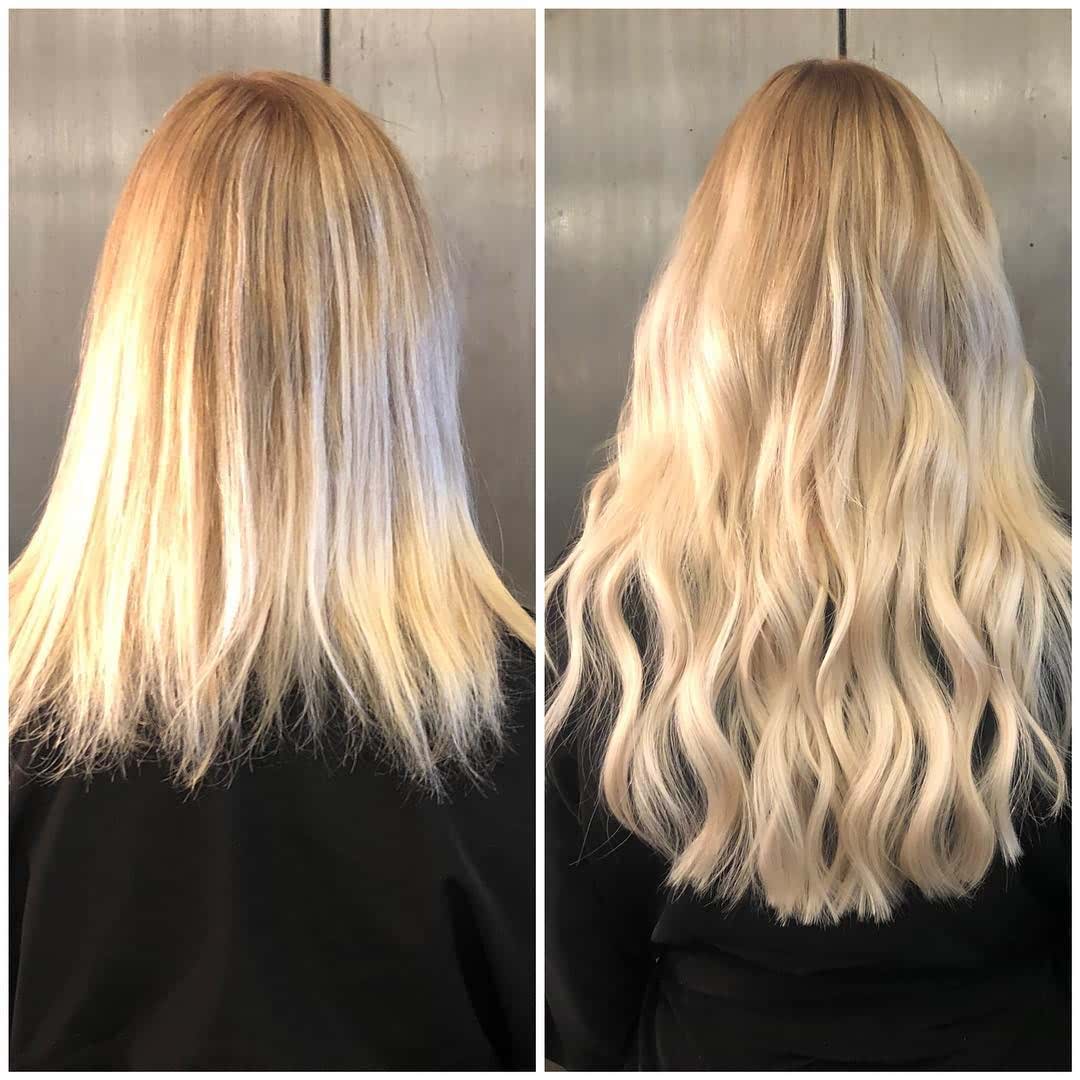 Here are two of the latest techniques for adding interest and bulk at the tips of long hair. The first image shows heavy texture-cutting in the last inch of hair. So, no, the model hasn't got terrible split ends, it's a new trend for long hair! Making the tips look wispy and fluffy is a contrast to the choppy tips shown in the second image. Both light-blonde hairstyles have a touch of fashionable yellow balayage, too. The first hairstyle has yellow highlights just above the tips. And the second image has a lovely horizontal band of yellow, half-way down! Fabulous!
3. Color makeover from brown-black to iced chestnut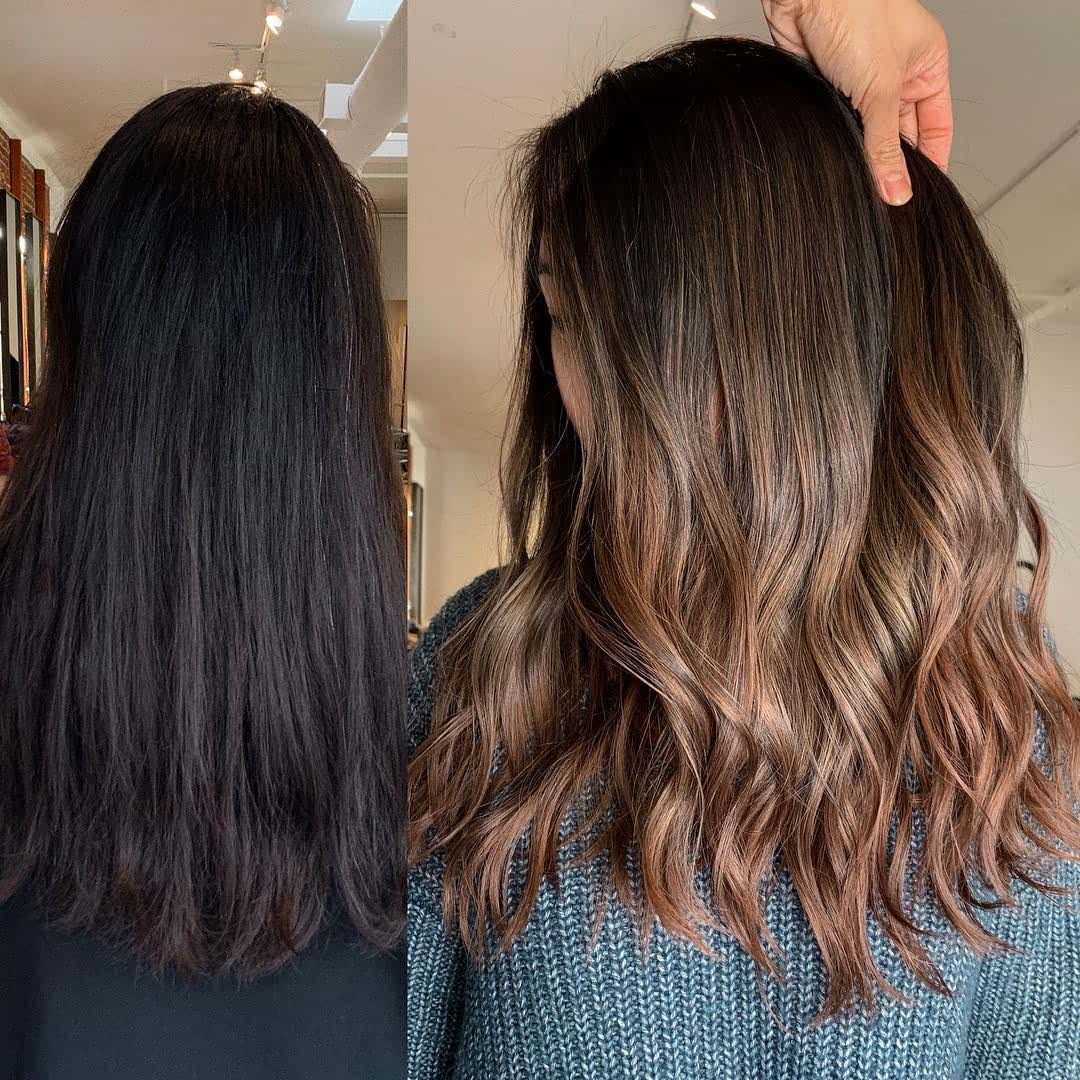 Silver threads tend to show up far too much on dark-brown and black hair. So as soon as they begin, nip the problem in the bud by going a few shades lighter. This gorgeous iced chestnut ombré starts high-up near the roots and creates a warmer look on dark hair. It's a clever way to introduce face-softening color and cover those early white hairs, with a trendy youthful look! Absolutely brilliant!
4. Beige-blonde ombré-balayage on long waves – beach wave hair balayage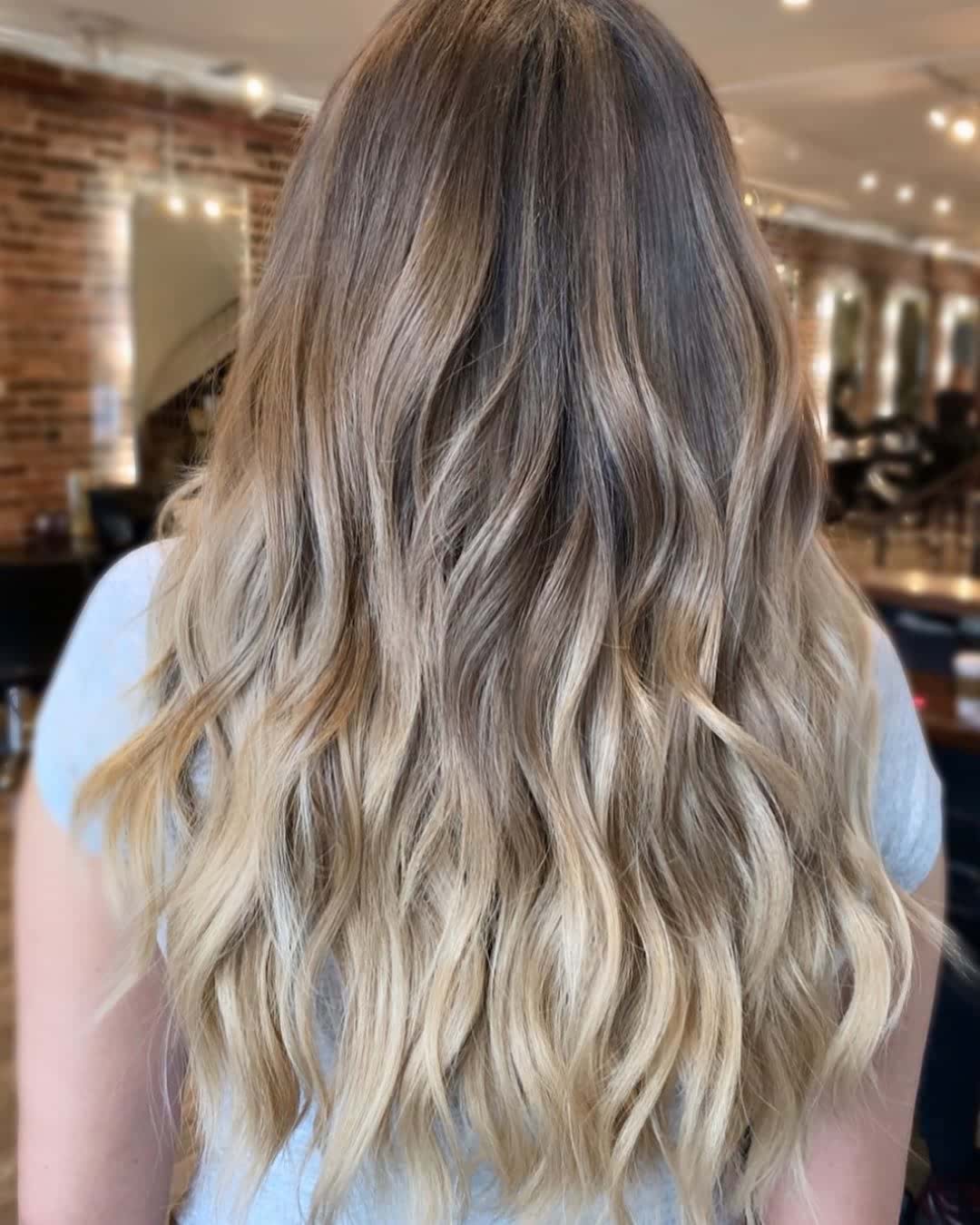 Classic long, blonde waves look very sophisticated in this season's new neutral blonde colors.  There's a classy vibe on light-brown roots, graduated gently through muted ash, honey, gold and oatmeal blonde balayage. These defined waves show off the delicate blending of colors and create extra 3-D dimension in a beautifully-judged ombré balayage. This is a great choice for anyone with cool undertones in their natural skin tone!
5. Dark-blonde long waves with subtle golden balayage-ombré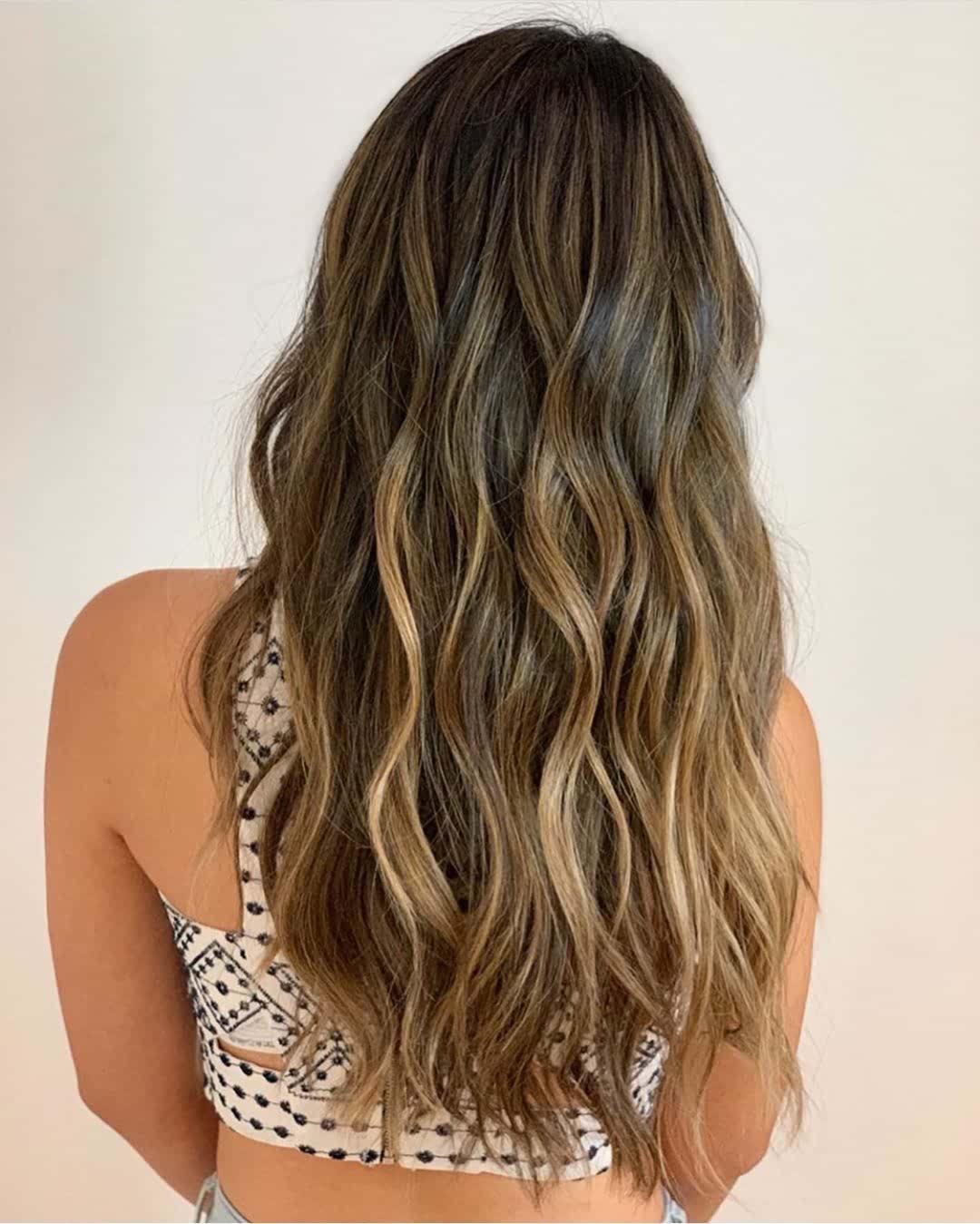 Medium skin, with warm or neutral undertones looks fantastic with golden-blonde shades. The top looks absolutely natural with medium-brown roots that are delicately highlighted to produce a fabulous balayage-ombré.  And with such subtle blending of muted golden colors, you completely avoid the 'brassy' look. Chic shades of light-brown create a great backdrop for inspired balayage highlights that accentuate these lovely, long, loose waves!
6. Beige & oat-blonde on long waves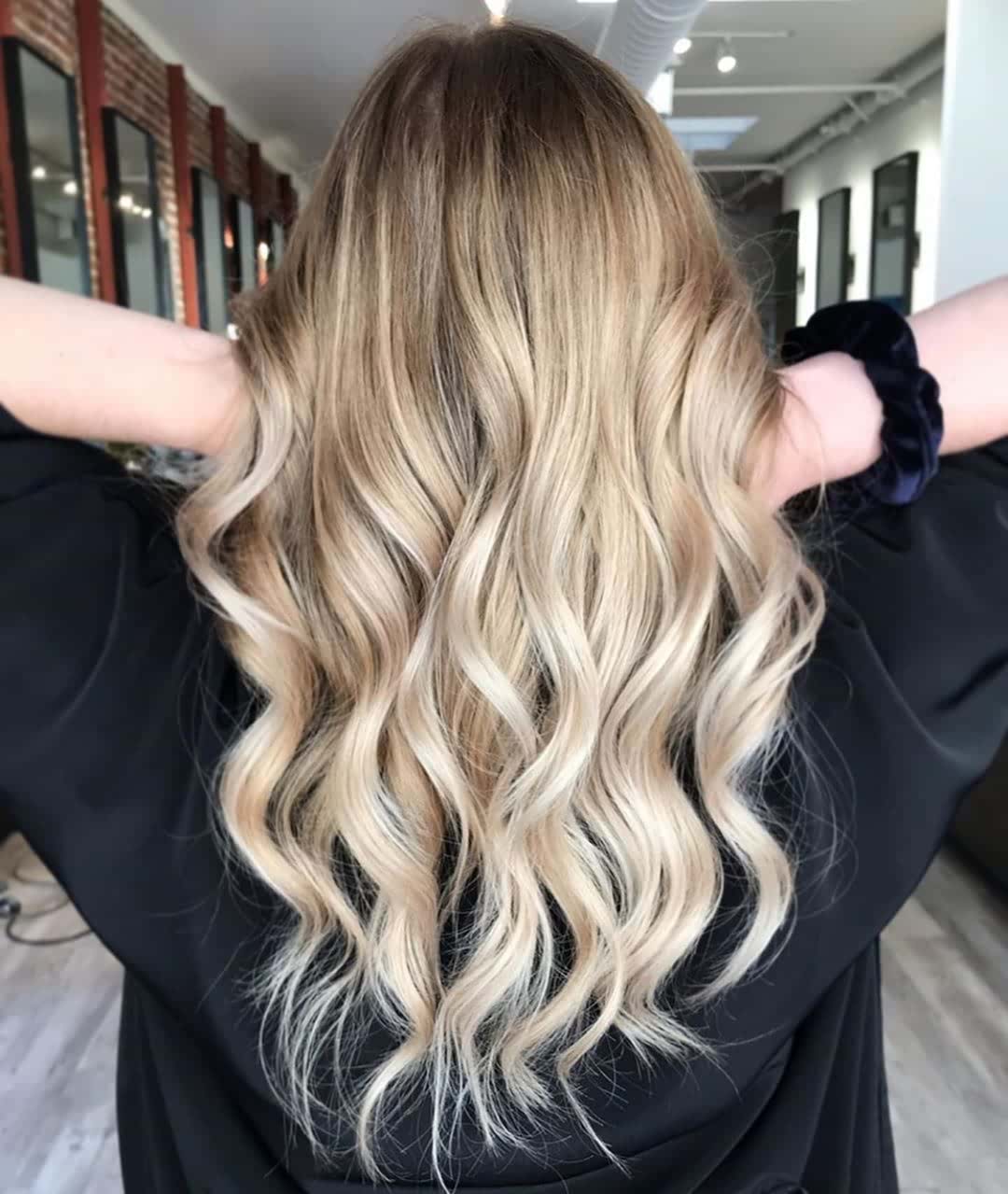 Here's another cool set of blonde shades, that will suit skin with cool or neutral undertones. And with so many different shades artfully blended into the model's long hair, the effect is natural and very attractive. Can you see delicate touches of the new season's signature look? The expert colorist has mixed in yellow, white and honey-blonde tones to create lots of extra volume and style. These subtle and super-classy beach waves are fit for any occasion!
7.  New amber-blonde long wavy haircuts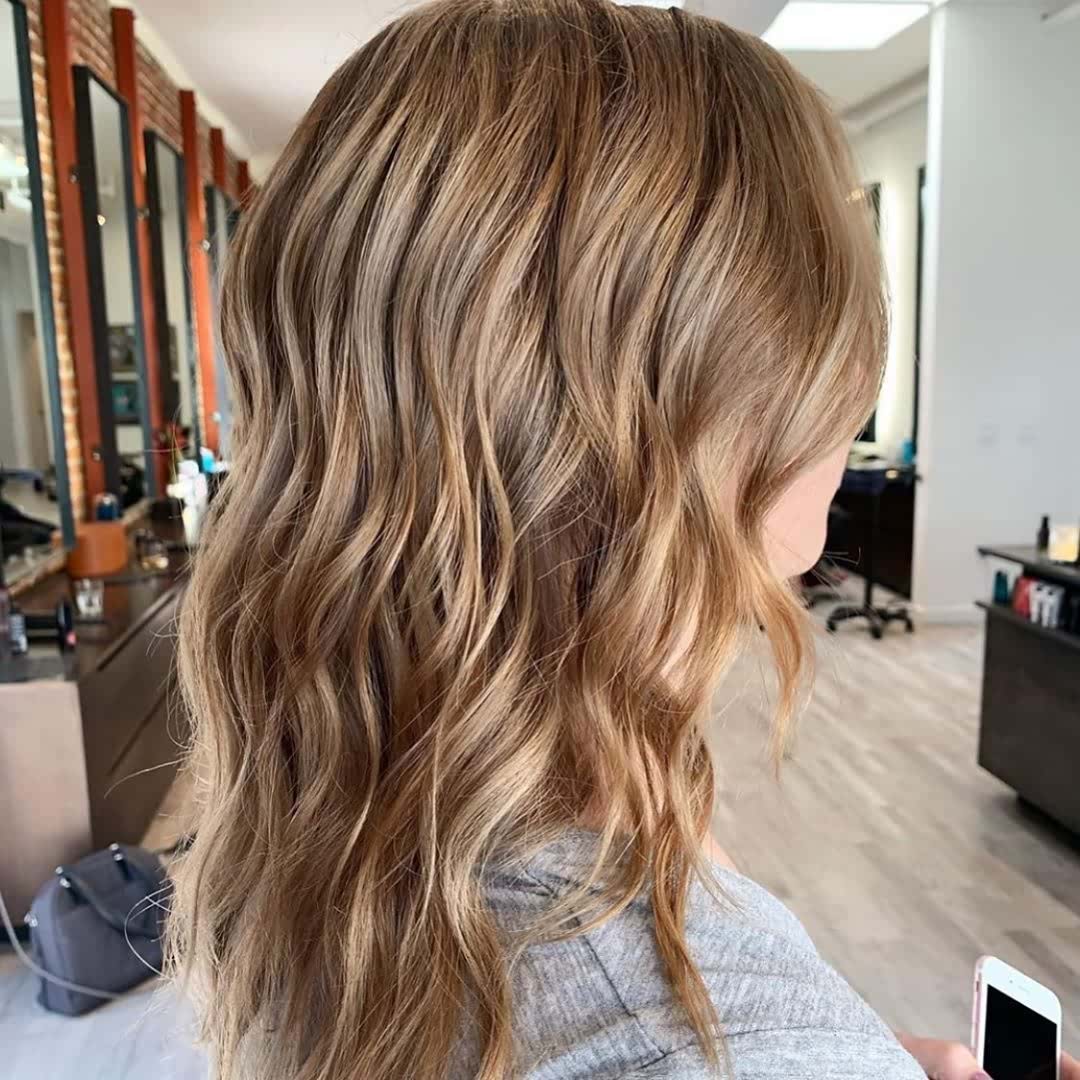 Soft amber is one of the most popular new blonde shades this season. It's a very appealing new color, which creates a lovely, natural blonde wavy look. This long haircut combines warm, cool and neutral balayage highlights that are very closely blended. And the absence of darker roots adds to the natural-blonde effect. Flatter, looser waves create a relaxed look that will take you anywhere with an adorable style!
9. Beautiful bronde long waves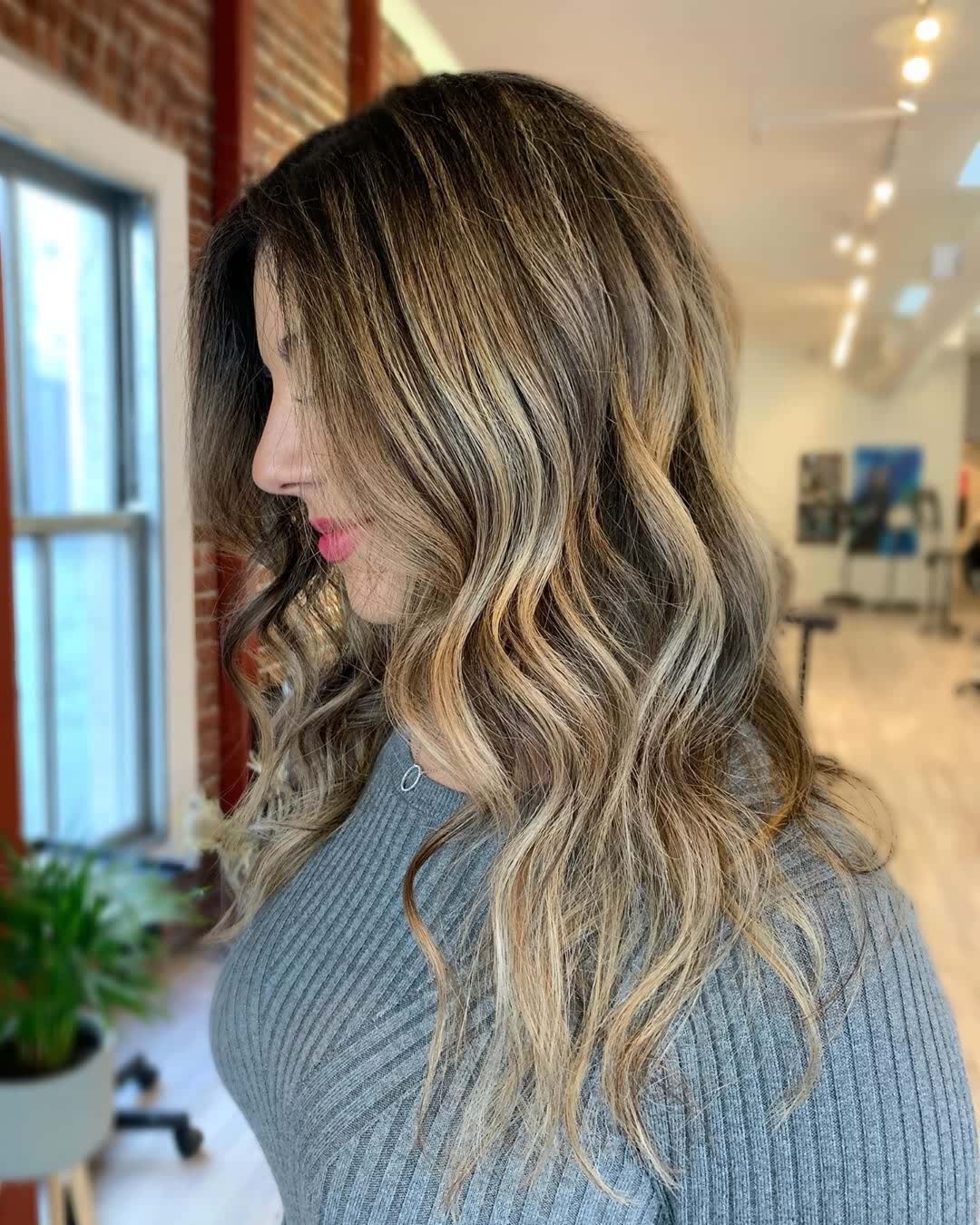 Fine, close blonde highlights are the best way to switch up a brunette color to a naturally glamorous mid-blonde style! Old-gold blonde tones with oat highlights and darker lowlights complement medium skin with warm or neutral undertones. And on soft waves the reflected light creates fabulous color depth, texture and movement. Tapered tips soften the bottom edge for a super-fashionable, bronde hairstyle!
9. Makeover cut & color in soft beige blonde on long hair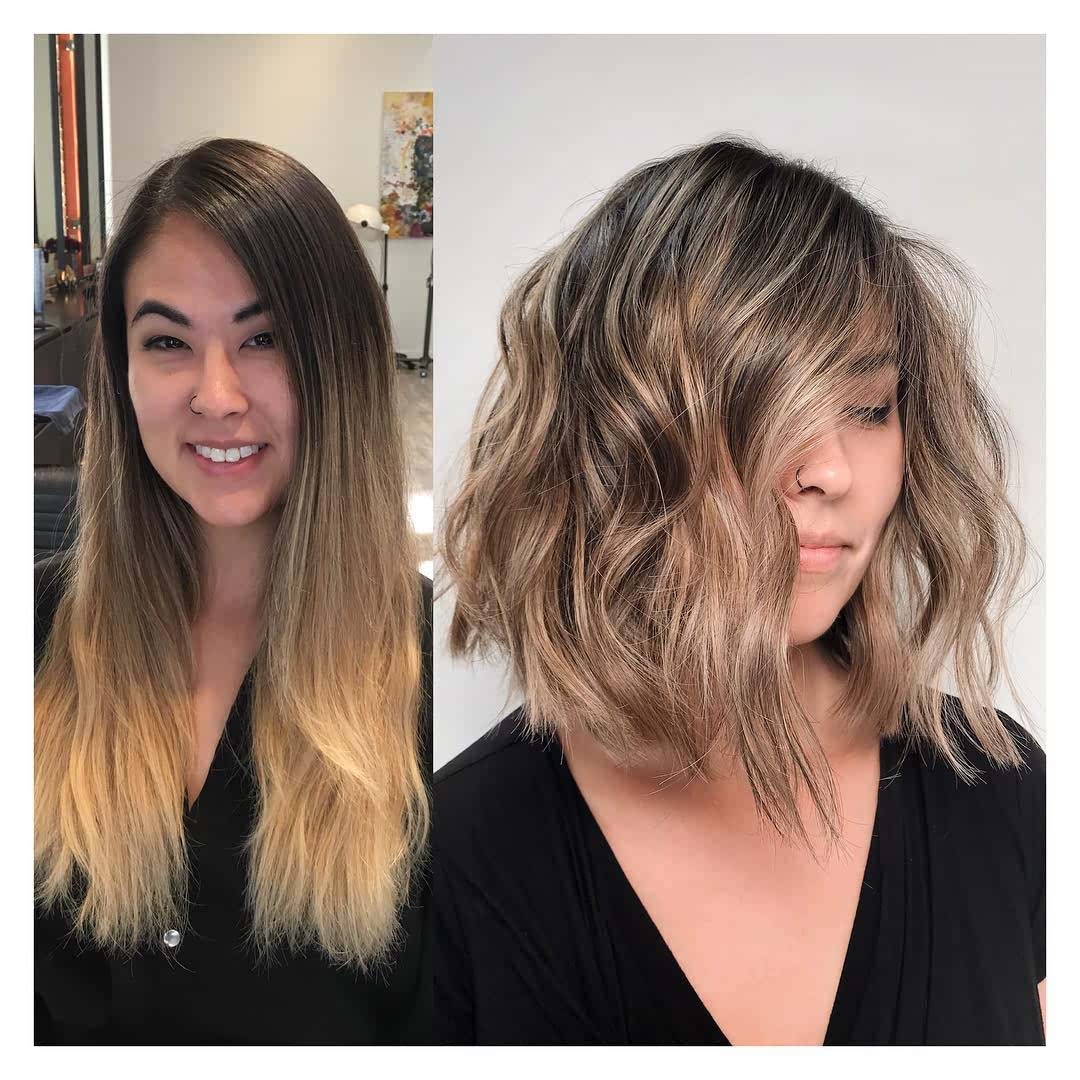 At the end of a warm season, your beachy wave ombré may have spent a little too much time at the beach! And we all know that can play havoc with the color and condition of long hair. But that's okay, because you just need to get a chic, shorter, makeover hairstyle. The model's long hair looks more sophisticated in a long bob, or Lob, haircut. And soft ash-brown, blended with chic beige-blonde totally transforms this model's image from beach to boardroom!
10. Soft beige and iced mid-blonde shades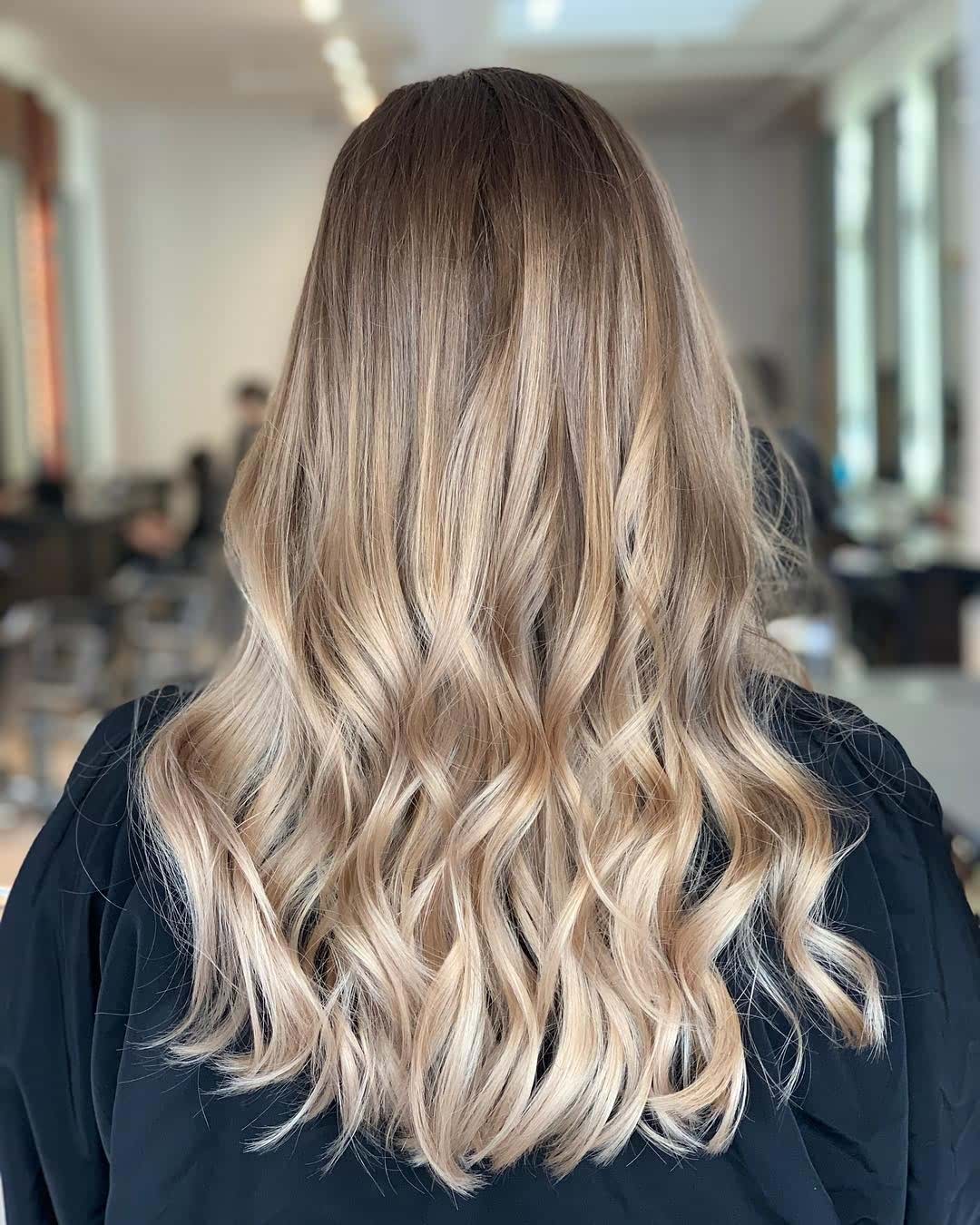 Here's another impressive balayage which harmonises natural blonde shades for a gorgeous effect. Honey, old-gold and wheat-blonde tones create a lovely shimmering gloss on long, loosely tousled waves. And cool, iced tones highlight these tousled, defined waves in a classy long, blonde hairstyle that will show-off your excellent taste and style!
Styles: PATRICK EVAN SALON
Address: 55 Grant Ave. level 4 San Francisco Ca. 94108
Phone: 415.421.1111