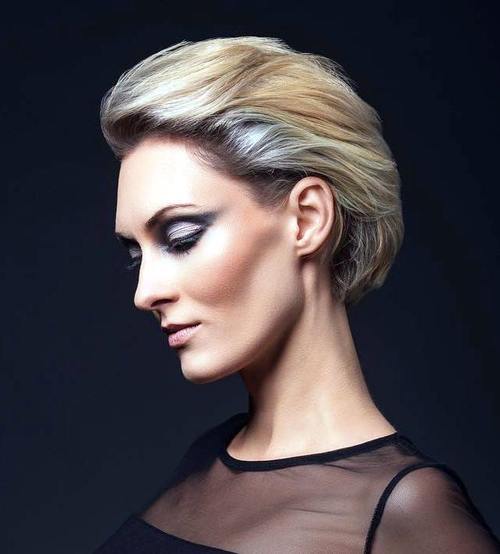 Have you seen these 20 ideas for silver and white highlighted hair yet? No matter how many new hair color ideas come into fashion, we're always excited to see another gorgeous 'new look'!  Admire and enjoy this fresh batch of popular hair styles featuring grey, silver and white highlighted hairstyles that are  the height of chic, boho and sophisticated summer hair fashion!
Silver highlights at the temples on short bob hairstyles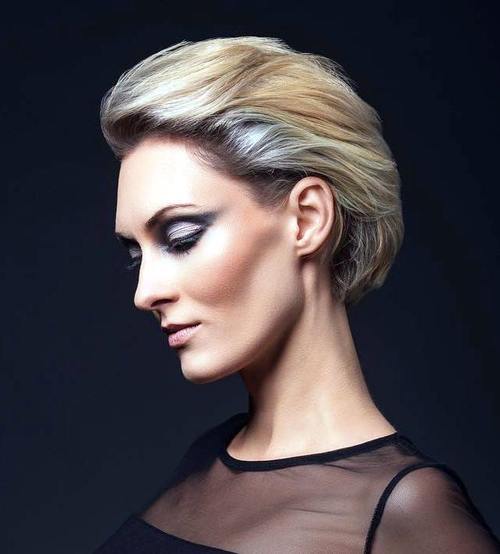 Why should it just be men who look 'distinguished' with lightly greying temples?  Women can ease into their greying hair by adding silver highlights to golden blonde hair.  Worn with an LBD, this flash of silver is a very chic hair color idea adding an elegant vibe to a textured short bob haircut.
Edgy chic black & white short dramatic unequal hairstyles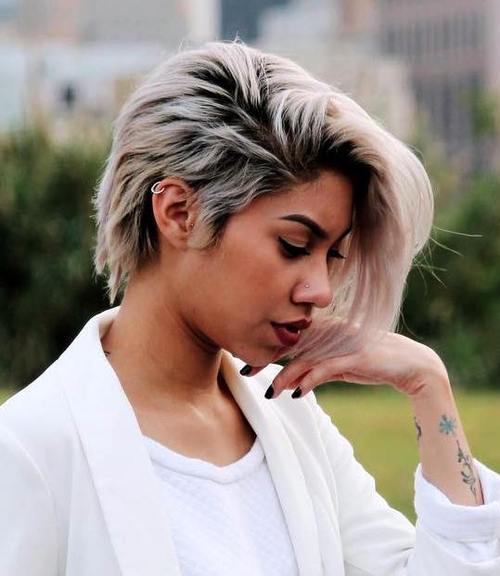 And if you prefer something edgy, try this dramatic up-to-the-minute black and white hairstyle!  It's a clever optical illusion that actually adds length to a low forehead, as the eye is drawn upward to the white section above the black roots.  White highlights suit pink, olive and dark skin tones best.
Elegant medium bob with silver streaks & purple tones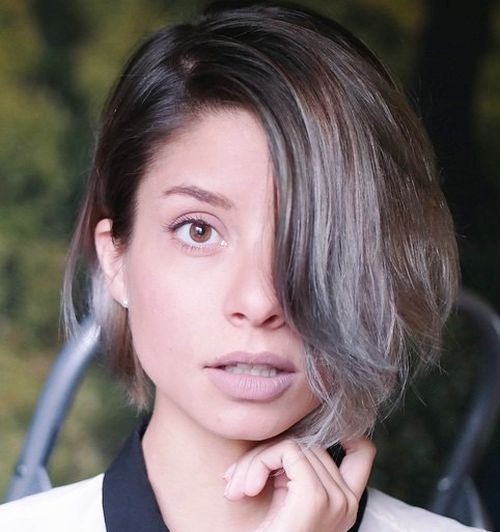 Silver and white highlights can be worn on lots of different hair colors. Usually highlights emphasize the natural tones in hair, but hair fashion rules were made to be broken! Silver-gray-lavender streaks look fabulous against this model's pink skin tones and brown eyes. Experiment at home with instant metallic-silver powder highlights you can wash out easily!
3-D silver & white highlights 'thicken' long fine hair with waves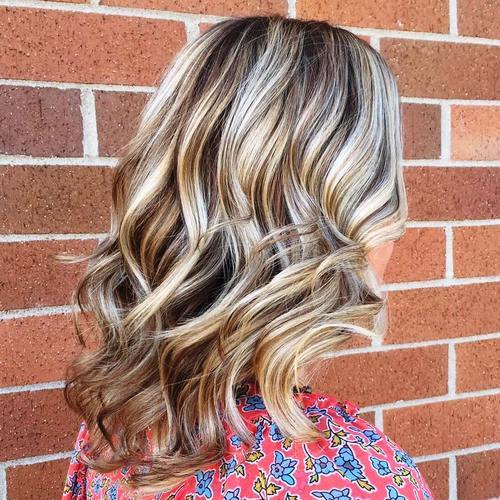 This long, wavy hairstyle's perfect for fine hair.  The range of colors in the hair is wide, from coffee brown to white, but beautifully blended lines create a 3-dimensional effect.  White always seems closer to the eye and dark colors recede, so hair looks thicker with silver and white highlighting.
Trendy medium bob with bangs & silver highlights on tips for round/heart face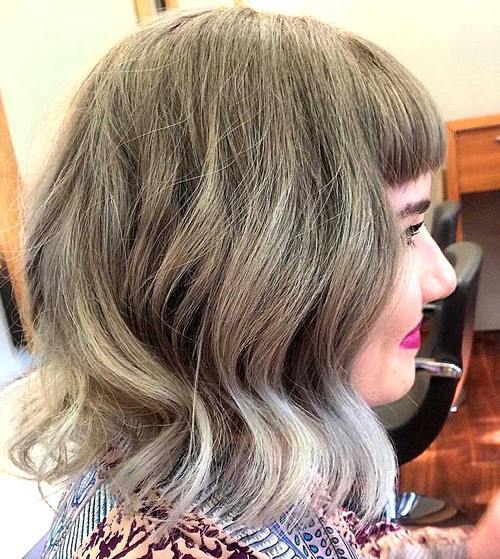 On mousy brown hair, disguise salt and pepper gray strands with light golden blonde top layers for modern 'bronde' hair color ideas. On a heart-shaped face, this bob with bangs helps balance a wide forehead and trendy silver or white highlights at the tips add width either side of a pointed chin.
Long silver & white-blonde bombshell hairstyles with center-parting for oval faces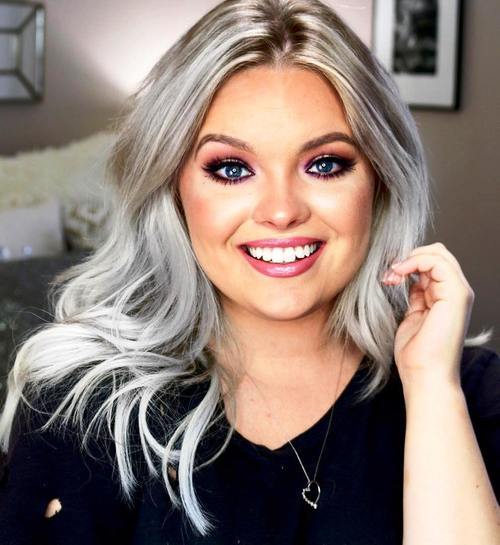 Long blonde hair can be difficult to maintain on brown hair. But if life gives you graying hair – turn it into a super-glamorous silver bombshell hair color idea!  This fabulous, long silver hairstyle has a center parting, suitable for an oval face, but you can adjust it to suit other face shapes.
Elegant long silver hairstyles with gold highlights & defined waves at the back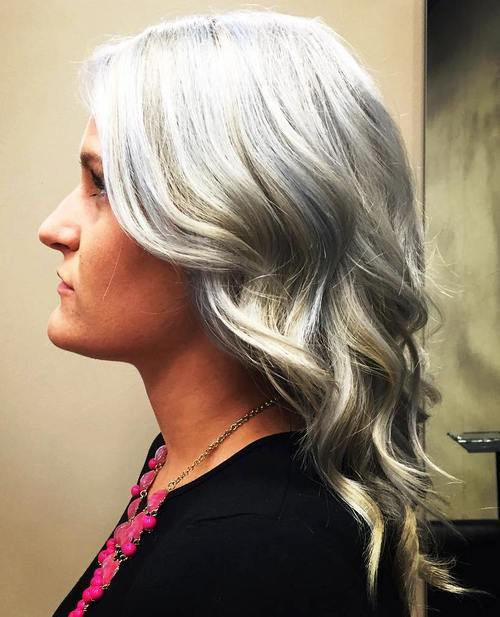 The mix of golden blonde with silver highlighting in the top layers adds lots of texture to this cute wavy long hairstyle. And this lovely long wavy hairstyle is suitable for women of any age, as it leaves the face and profile open with elegant defined waves at the back!
Natural glamor of long auburn hair with white-blonde ombre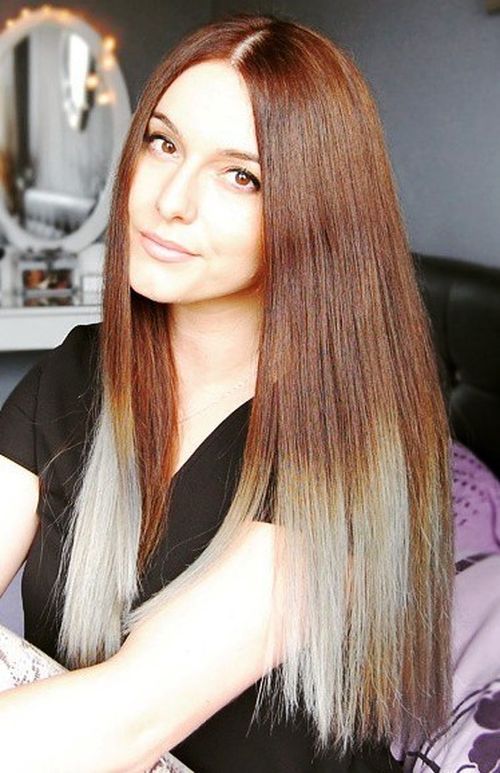 Add even more glamor to long, auburn hair with a white-blonde ombre creating an eye-catching contrast at the ends! Pale skin tones can look washed out against white hair, so add silver and white highlights lower down to avoid this!
Gorgeous gold & silver highlights on medium bob hairstyle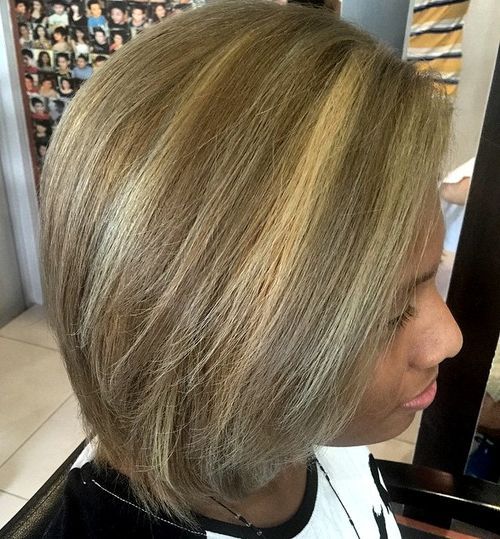 This smooth bob hairstyle's got lots of added texture from the expertly blended vertical highlights.  The shades range through neutral blonde hair color ideas and feature a broad gold streak at the side.  There's just a hint of metallic silver next to the face to present a soft, contemporary hair color trend perfectly!
Grunge hair color ideas with silver-gray, green & a hint of lavender on choppy long hair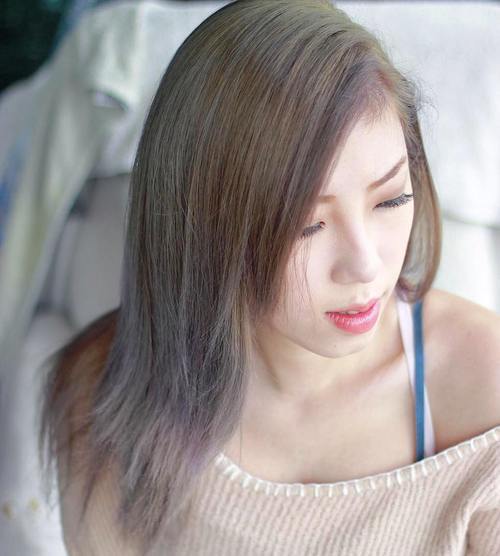 This is a grungy look with a choppy, uneven and unconventional cut on long hair.  The light brown hair has a subtle ombre turning the hair lavender-gray and green, with the slightest touch of pink in raggy textured tips!
Sexy silvery-pink shimmer on rich auburn long hair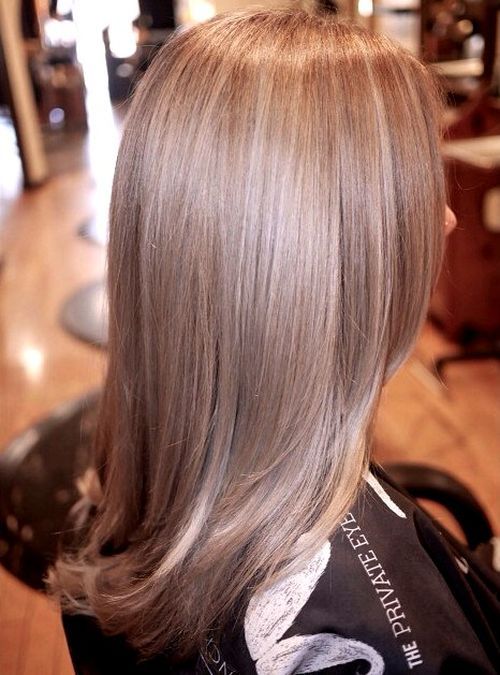 What a fantastic hair color idea for long brown hair!  It's a look that will give long, blonde hair plenty of competition with a softly shimmering silvery gloss.  The silver and white highlighted hair color trend's infinitely variable as this sexy and sophisticated style shows!
3-D pale blonde hair color trends light up mousey hair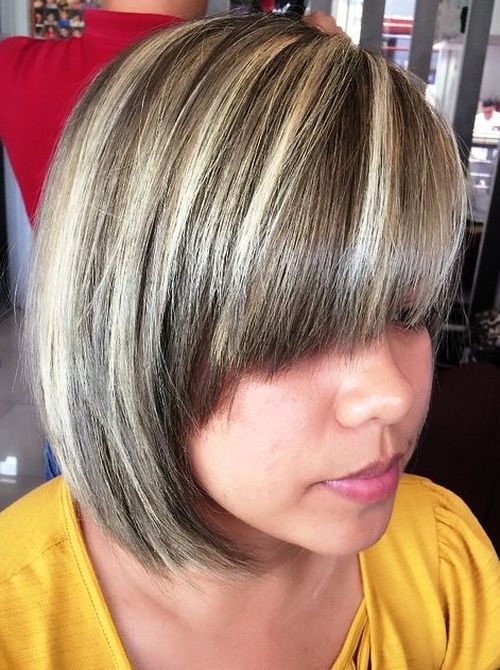 Mousy brown hair can be made sensational with the right blonde highlights!  On this easy-care, trendy, bob haircut for thick hair, bold blonde highlights add loads of high fashion style.  With full bangs and a lovely curve in the textured tips – this style looks well-groomed 24/7!
Beautiful blend of 3 trendy blonde highlight shades on long wavy hairstyles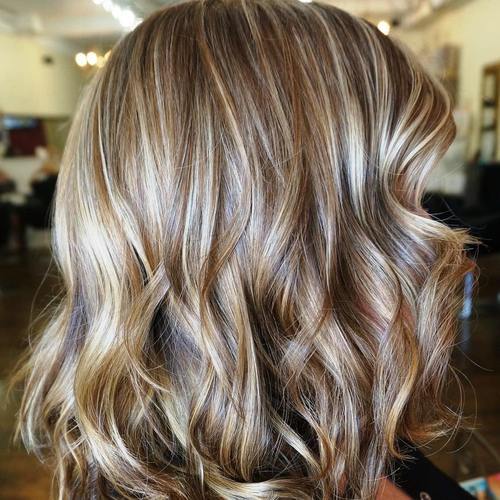 Trendy but subtle blonde shades create a fabulous 'silvery-bronde' look for summer 2016.  This very attractive, long, wavy and feminine style is modern and relaxed, so it can take a bit of blowing about outdoors and stay looking fabulous all day/night long!
Bold blue-silver highlights & ombré on long, brown wavy hair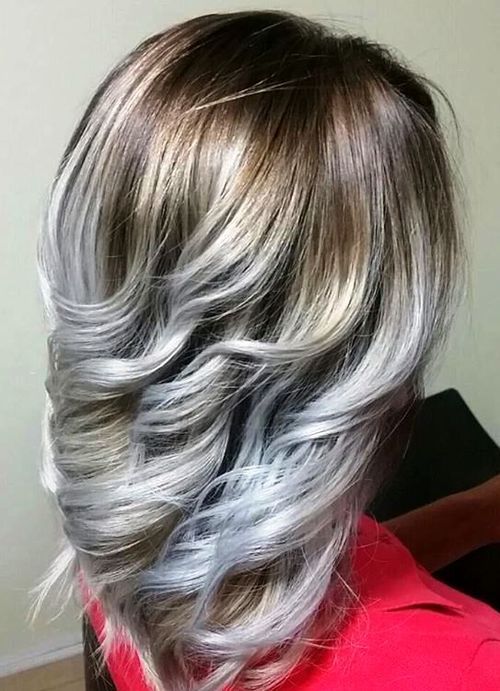 If you want to go bold, go silver this summer!  Rainbow hair color ideas are great, but for sheer elegance silver and white highlighted hair color idea wins hands down! And, of course, this is a very chic way to transform graying hair to 'trending hair'!
Young & bold gray, silver and lavender over brown roots on long wavy hair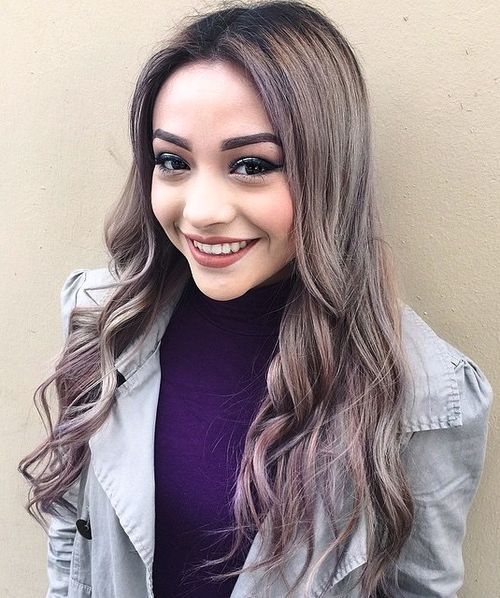 Extra-long hair allows you to create several subtle shade changes.  Brown roots add color dimension making hair look thicker and pink-lavender touches around the face and ends accentuate the eyes and chest!  This youthful center parted style suits oval faces, but you can adjust the parting to flatter any face shape.
Sophisticated silver & gold ombre on long mid-brown hair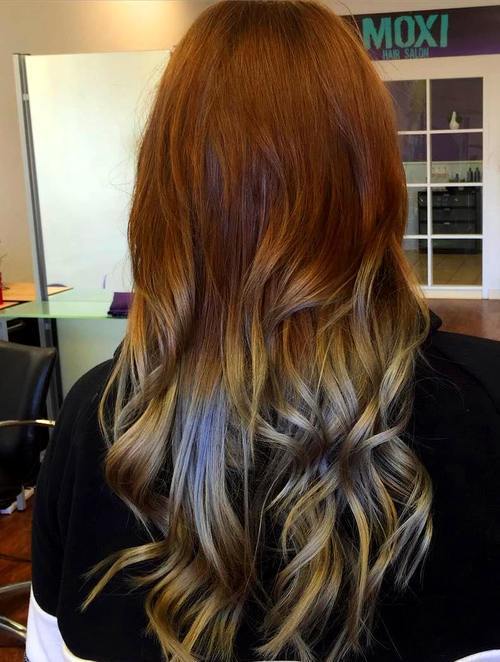 The hair color trend for a wide horizontal band of contrasting blonde hair keeps popping up in the most contemporary and futuristic hairstyles.  We absolutely love this silver highlighted band with a quirky purple flash! Coppery hair becomes golden, then silver and back to gold at the tips.
Black & white striped highlights on long wavy hair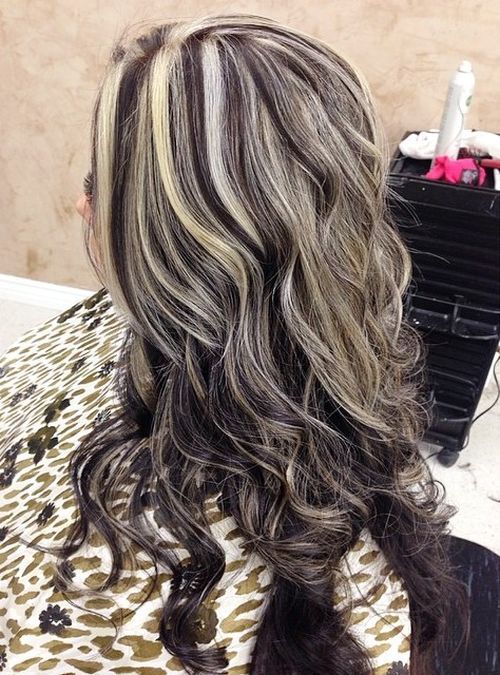 Hair color ideas for long hair: Black hair does tend to go gray earlier than lighter hair colors and it shows up more! But you can make your early gray strands disappear with funky white-striped highlights, accentuating the lovely movement and texture of long, loose wavy hairstyles.
Lively curly hairstyles with champagne/white highlighted medium hair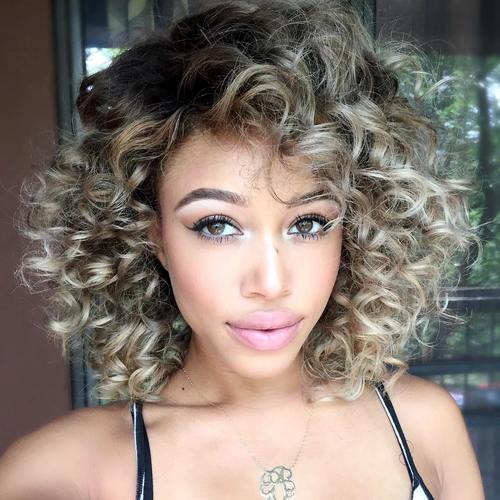 This young woman simply radiates a lively personality and that's owed in part to the halo of perfect curls bubbling like champagne around her face. This is also a great hairstyle idea for a long face shape.  Long faces are 'shortened' by a chin-level cut and asymmetrical bangs.  White highlighted hair in voluminous curls at the sides also adds the width long faces lack!
Straight medium bob with blonde, silver-blue and white highlights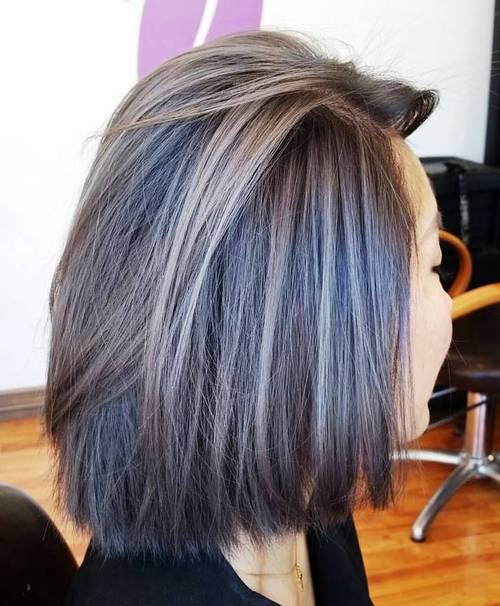 This medium bob with heavily textured tips is perfect for thick hair.  The easy-care style has a contemporary look from the carefully blended soft blue-gray, pink and blonde tones.  Grey tones suit pink, olive and dark skin tones.
Glamorous long white-blonde wavy look with trendy silver highlights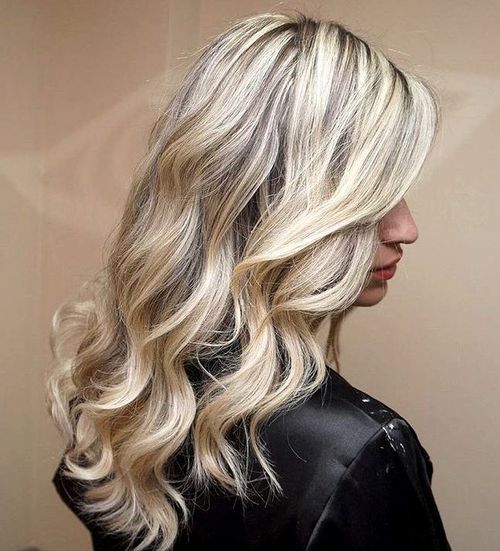 And finally, here's a glamorous pale-blonde hairstyle with gorgeous silver and white highlights.  The contrast between brown roots and white highlights adds 3-D color depth that makes hair appear thicker.  And blonde waves cascading over a black leather jacket are still a 'super-cool' man-magnet!
As you can see, silver and white highlights can be added to any hair color for a hairstyle update to a modern look!  And if your silver or white highlighted hair tends to go yellow between treatments, just use a violet-based hair shampoo or gloss to fix it at home.