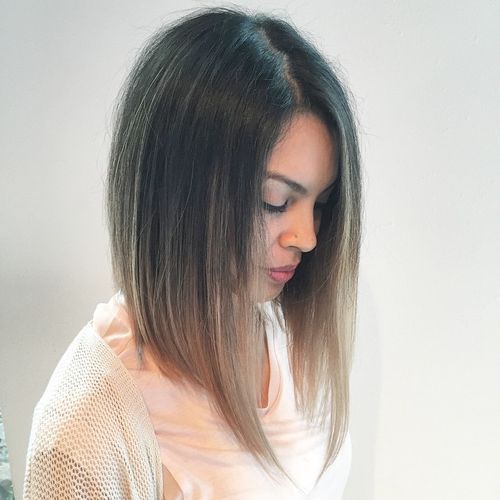 Are you looking for your next hairstyle? Want to switch it up a bit? Then you've come to the right place. Blonde is a hair color that truly never goes out of style, but silver and grey is the new and hot thing to do. How can you get the best of both worlds, or combine one of these hues with another color to look fabulous?
On this list you will find everything from subtle transitions that look all natural to seriously bold statements that will be the talk of every party. Whether you're sporting a cute pixie or lovely lengthy tresses, these on-trend color combinations will have you running to your stylist for some new hues.
Black to Platinum Transition with Voluminous Waves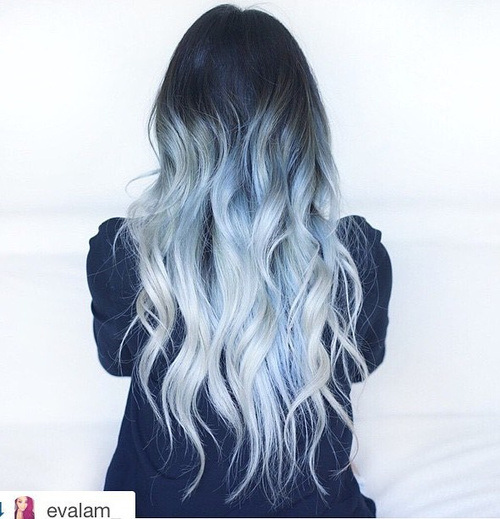 Exotic, enlightening, and downright vibrant to the eye, this black to platinum blonde transition is about as enticing as it can get. Black roots on top lead down to grey middle pieces, platinum blonde finishing off this 'do on the ends. Truly an exotic hairstyle that's made extra delightful and bold with voluminous waves.
Grey-Silver Ombre with Vintage Waves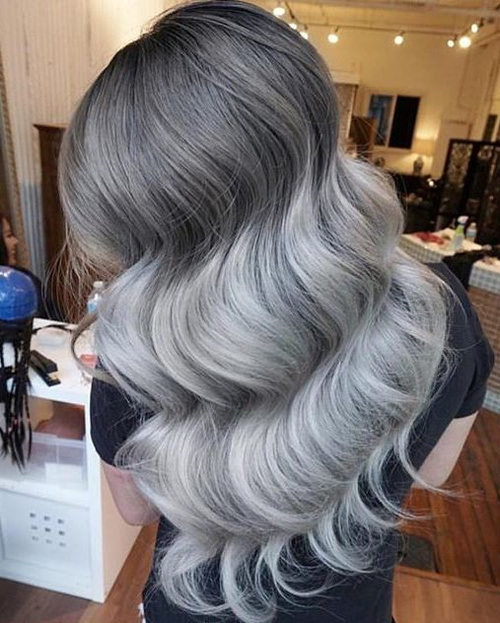 Vintage waves are a must-have for fancy events when you want to look your best, with a flashback flirty style; but bring this retro look into the 2000's by indulging in a gorgeous grey-silver ombre mix.
Indigo Moon Waves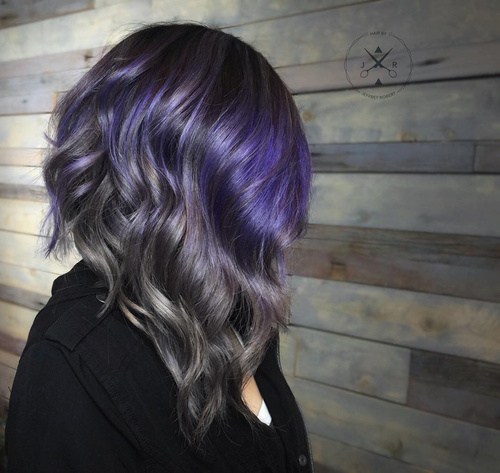 They call this color 'indigo moon'. Why? Because the indigo pieces are strategically placed inside this deep, exotic shade of grayish black. An illusion that's full of mystery and sexy attitude, the perfect place for a lengthy bob that's glorified with waves, if you love this style, find more wavy bob hairstyles here.
Silver Undertones with Ringlets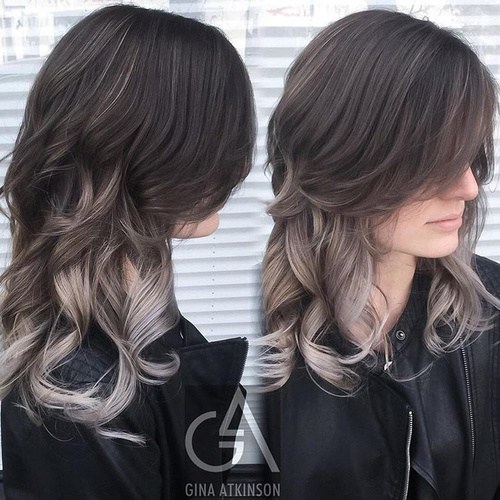 Dark brown + silver = a smoky effect that's unbelievably charming. Give your look a bit more trend and attraction with silver undertones, and style them up into some delightful ringlets for some flirty volume.
Grey-Blonde Ombre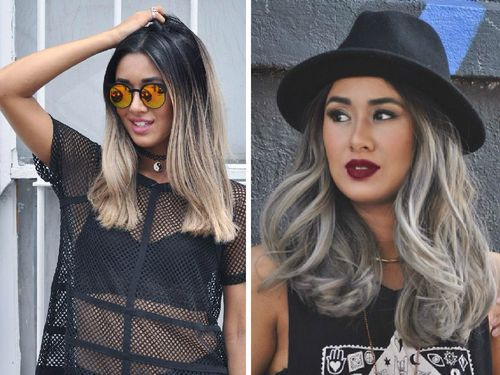 A sweet blend of greys and blondes are perfectly placed on the bottom half of this black-haired beauty. Try on a hat and some deep red lips for a very exotic, sexy style you can wear all day.
Black-Silver Ombre with Long Curls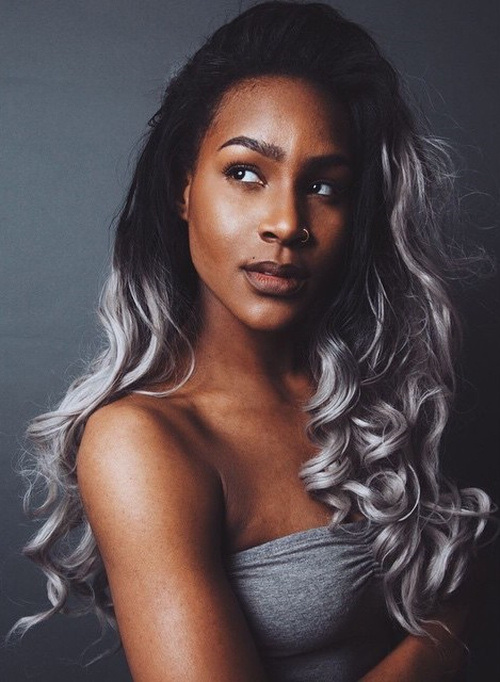 Long hair is the perfect base for some rich, contrasting colors, as both colors get to shine in their own place. Her long, luscious locks are given a bright and exciting lower half with a bright silvery hue, a perfect match for darker roots for a very enticing appearance. Curl up your hair into some gorgeous ringlets for a very flashy and sexy finish.
Simple Tousled Ash Blonde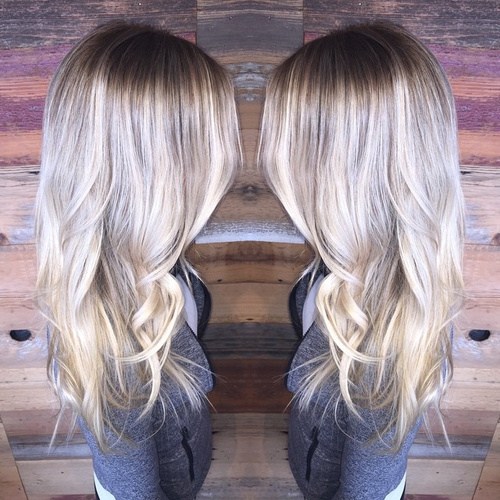 For a style that has a natural appeal, consider ash blonde. It has hints of blonde lowlights and highlights for a variety of hues that look all-natural and clean. A simple touch of tousling ensures you can wear this look around the clock.
Silver Ended Ringlets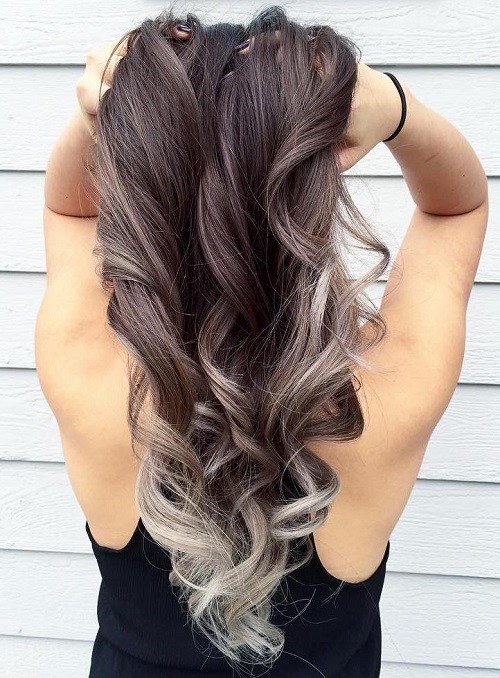 Tossing a hint of silver highlights throughout rich chocolate brunette locks is an exciting way to perk things up a bit with shiny colors. Flow these highlights into some vibrant silver ends for a shocking finish that looks extra stylish with ultra-large ringlets.
Platinum Balayage Waves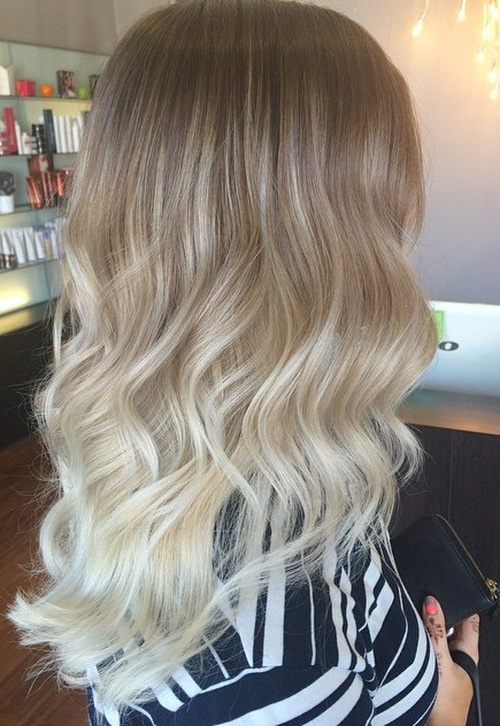 Going platinum blonde can be a bit too bold for some, and it can also lack dimension and contrast. If you want to dip your toes into the platinum water without being too extreme, simply dip your ENDS in this striking hue, leaving the rest of your mane a sandy blonde color. The ombre technique is the best way to show off all shades of blonde for a lovely, summery style- complete with waves of course.
Ash Blonde Ombre Ringlets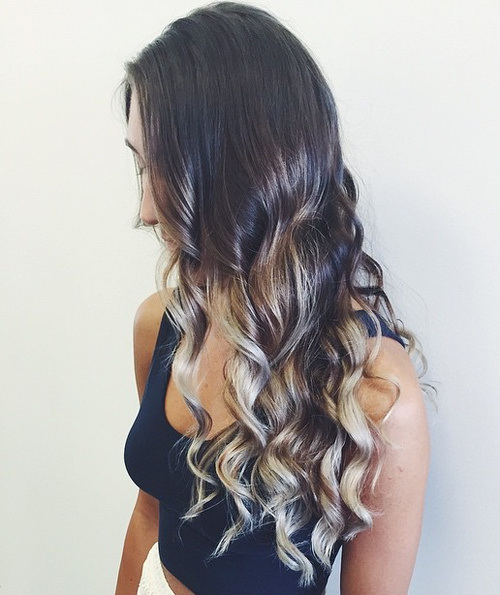 Stunning dark locks like these shouldn't be hidden behind dyes and bleach; but if you want to lighten up your dark strands a bit, consider using the ombre technique. This bright and stylish ash blonde is a great pairing, and when you have small-sized ringlets like these, the colors are able to meddle together in a soft and desirable way.
Straight Silver Ombre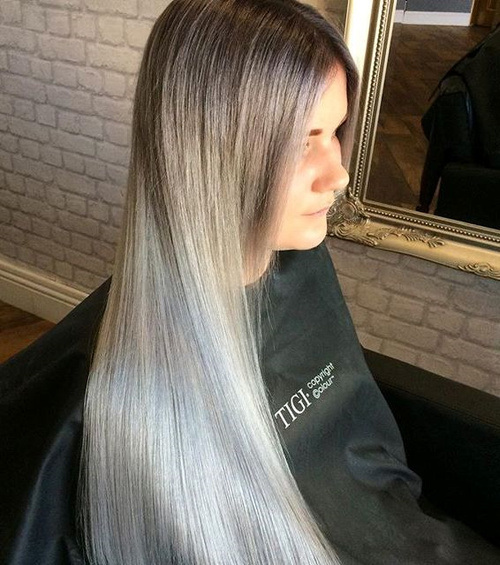 With beautiful long silver locks like these, the best thing you can do is straighten them! Straightening silver strands really brings out the glossy effect of this bright and sparkly color for a very lovely finish.
Simple Tousled Grey Ombre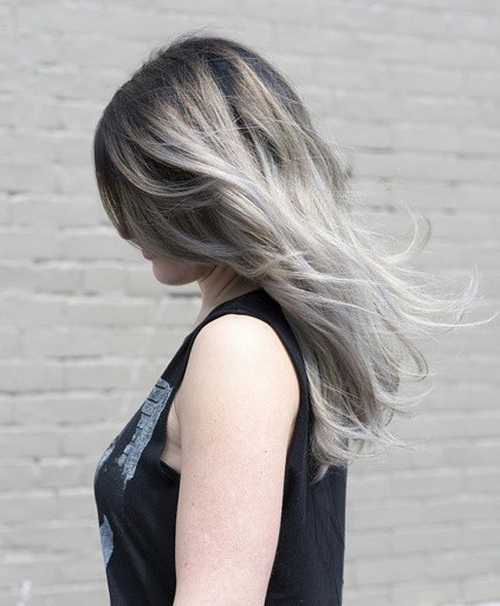 A few years back you couldn't pay a woman to grow out her grey hair; but now, it's a fashion statement. If you're naturally going grey, let them shine through, but lighten up the lower half with silvery hues. This will allow for a natural, super trendy style that's anything but mundane or 'old'.
Straight Dark Brown to Dark Grey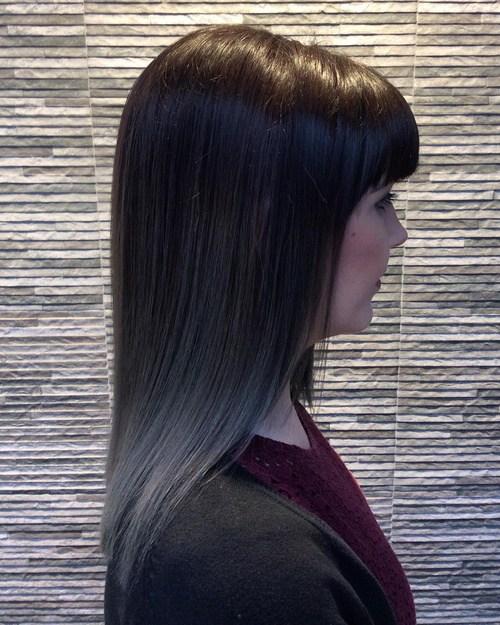 Go on the darker side of the spectrum and indulge in a hairstyle that's regal and seductive. A charming dark brown and dark grey combo creates a seriously luscious vibe that can easily be worn straight like this, or plaited into a cute braid, or of course made into some glamorous ringlets.
Tousled Ash Blonde Ombre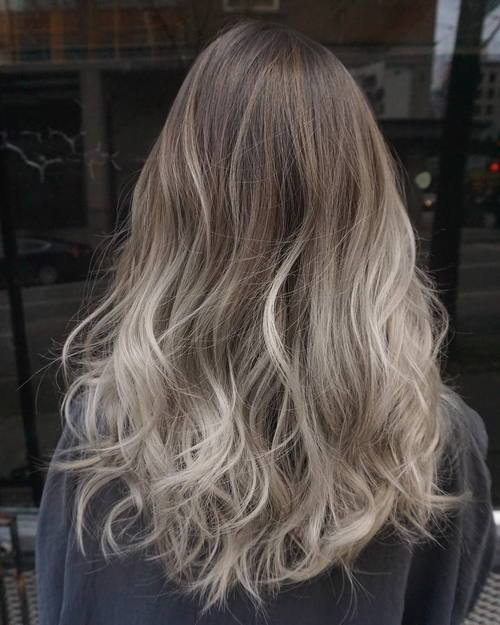 Brown and ash blonde go together like milk and cookies! The transition isn't obnoxious- it is incredibly pleasing to the eye and has a subtle, natural appeal to it. This tame 'do deserves a little bit of styling, so keep it rockin' with a simple tousle before you head out the door.
Soft Brown to Pale Ash Ombre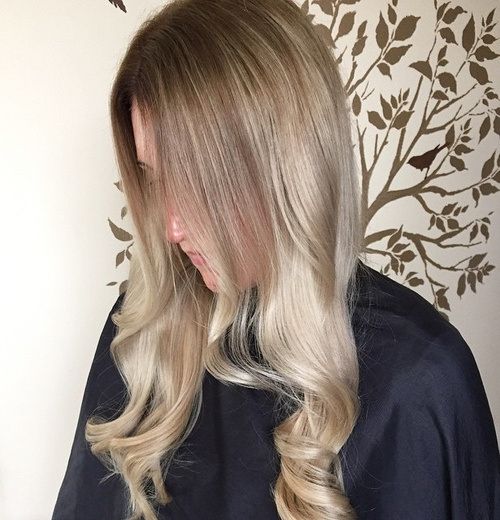 Soft brown notes are delicately enhanced with a pale ash blonde below, a look that's sun-kissed and natural looking. Create an angelic appearance by adding just a hint of curls to the ends of your gorgeous locks.
Metallic Curls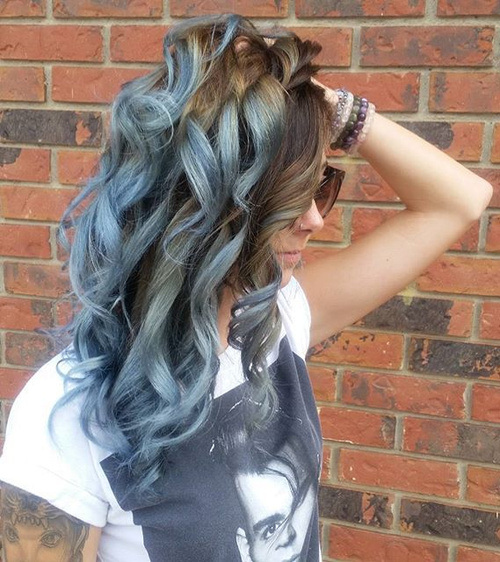 Metallic isn't a color for everyone; it's set aside for the rockin' ladies who want a hairstyle that's as spunky and edgy as they are. Her metallic-tinted curls are striking with subtle hints of blue infused throughout the grey, a look that pairs well with your leather jacket and leather boots with ease.
Long Silver Ombre Waves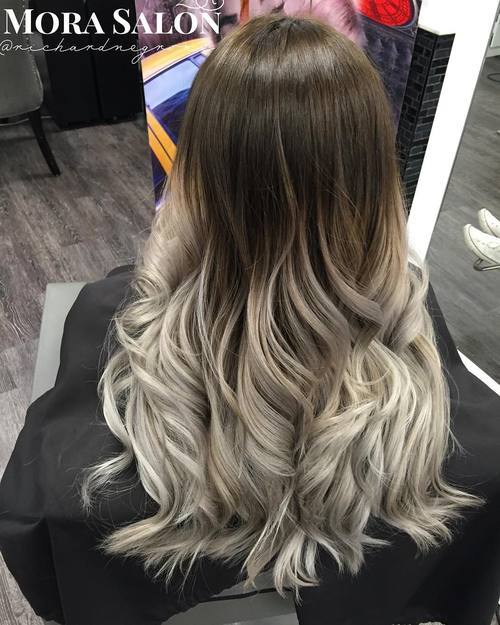 Thick, long hair like this needs a little contrast to give it that 'oomph'. Pairing your brunette roots with a soft silver color like this brightens the overall look, while luscious voluminous waves ensures there's plenty of divine body.
Earth-Toned Ombre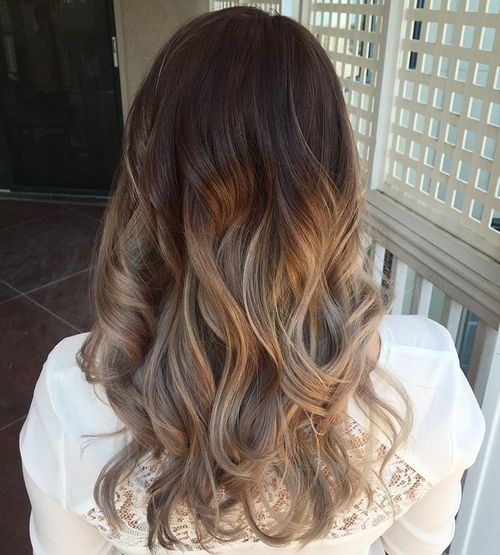 An all-natural style can work year-round and ALWAYS looks fabulous. It's a subtle, tame hairstyle that's still boasting with beautiful flavors of browns and blondes. Style it any way you want, but make sure you leave your makeup to earthy tones as well to complete this lovely, graceful appearance.
Face Framing Blonde Ombre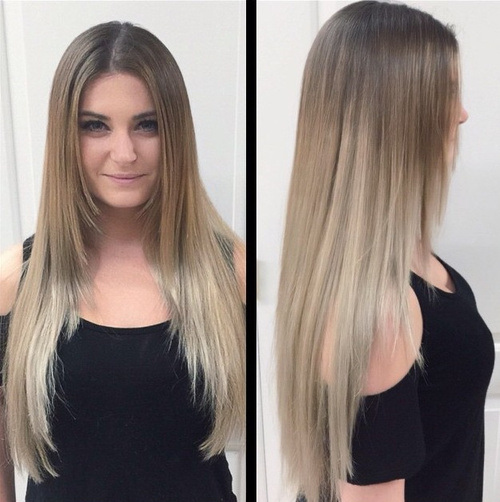 As far as haircuts go, this long hair is perfect! Layers around the face ensure her face is being framed perfectly, while a blonde ombre hair coloring keeps her look refreshing and on-trend.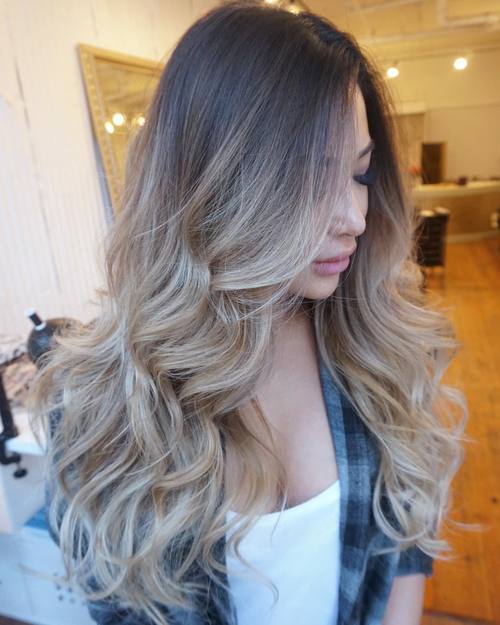 Subtle Dark Ash Blonde Ombre – long bob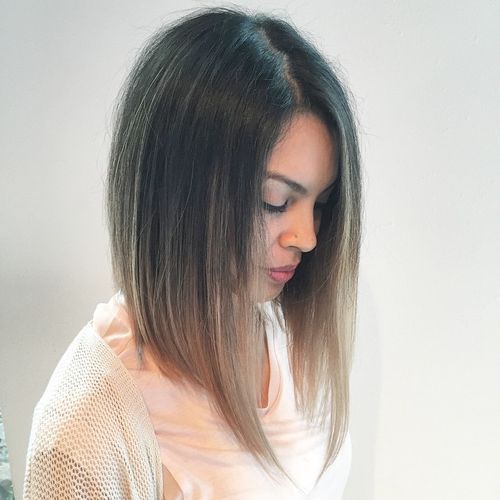 Some women prefer a more subtle look when it comes to ombre hairstyling, and this is an excellent choice. Her look is tamed down yet still very lovely and on-trend, with a very discrete dark ash lower half that plays off her darker roots beautifully. Perfect for the businesswoman or school girl who wants a professional, but lightened hairstyle.
Grey-Ash Ombre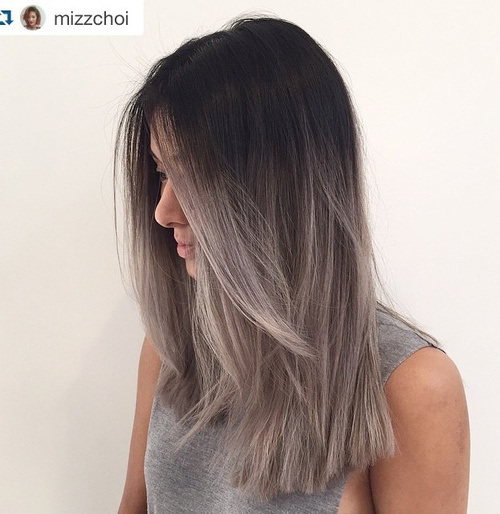 Simplicity is key for some women, and this is the ideal simple ombre hairstyle. Her darker roots are dipped into a dark ash blonde with hints of gray infused for an on-trend style that looks great, even when left straight like this.
Auburn to Silver Straight Ombre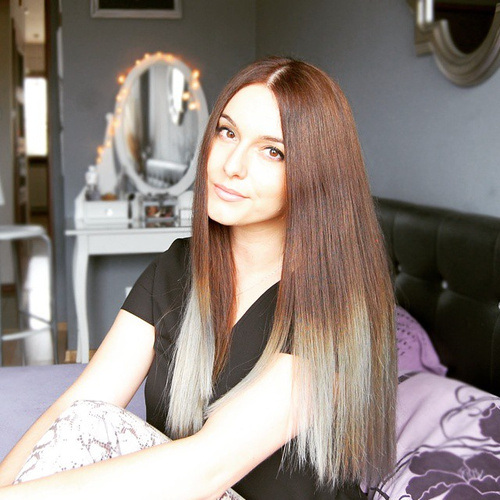 Super long locks like these that are left one color may be rather dull, but you can make a sexy and sleek statement by dipping your chestnut tresses into a silvery hue. The dip-dye effect is certainly striking and you won't need anything more than a straightener to make a standout statement.
Ash Blonde Balayage Ombre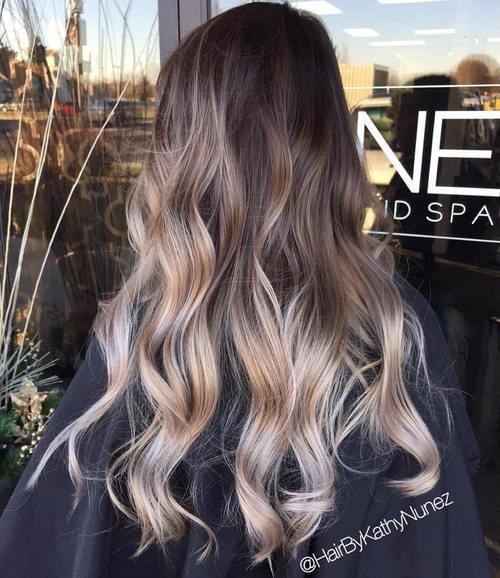 Your ombre hair doesn't have to be a two-toned masterpiece; if you want a more natural transition, consider adding in some balayage highlights up top leading down to the ombre lower half.
Chunky Brown Highlights with Blonde Ombre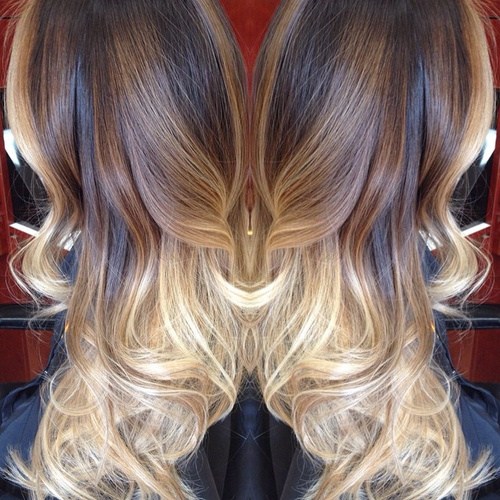 Ombre is great and everything, but if you want to give your hair a more unique twist, try adding in some brown highlights, letting your black roots play peek-a-boo with the colors. A striking blonde lower half offsets the darker upper half for a very contrasting and appealing combination.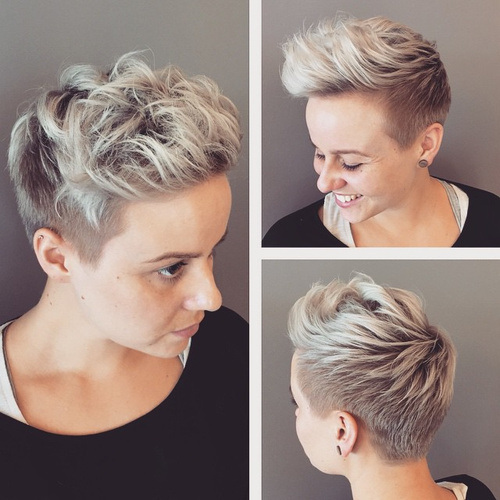 Ombre can look great on any hairstyle, whether you have hair down to your ankles or super short tresses like these. Her pixie is certainly an edgy move, loaded with layers and tousled up to perfection. But to ensure her pixie is loaded with diversity and dimension, she opts for a sexy and complementary ash blonde ombre.
Black, Brown, Ash Brown, and Silver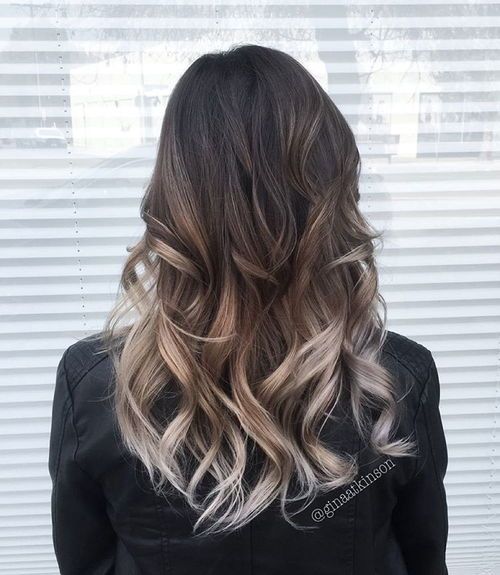 There may be an influx of colors bunched up into this hair, but they all meddle together wonderfully for a natural style; who said multiple colors had to be wild, anyways? Subtle hints of silver tossed in with ash blonde is a great way to blend with a darker schemed upper half. Give your hair some very loose and tousled curls and wear this look to the office or dinner date with ease.
Hints of Dark Charcoal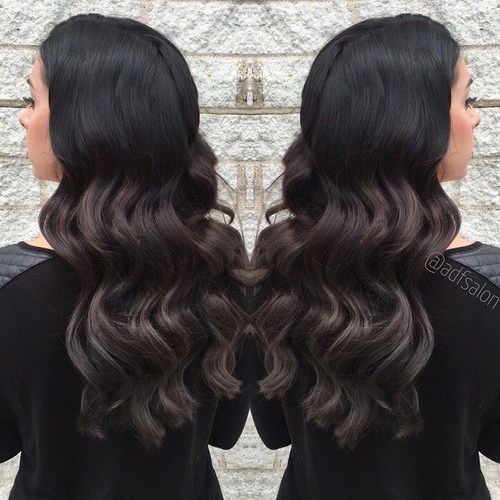 Gorgeous raven black locks like these shouldn't be tainted with too extreme of a color; if you want a soft, seductive appearance, opt for a color that's tame and close to your natural color. These dark charcoal highlights create some luscious contrast without going overboard. Make it even sexier with some huge waves.
Pitch Black Roots Light Ash Blonde Pixie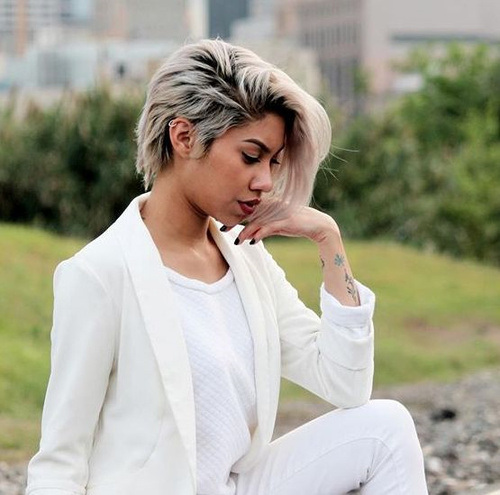 A chic, contemporary grown out pixie like this is the perfect base to make a bold statement: die your hair a striking light ash blonde hue and leave your jet black roots showing for a very impacting look to go with your edgy cut.
Ash Silver Ended Shag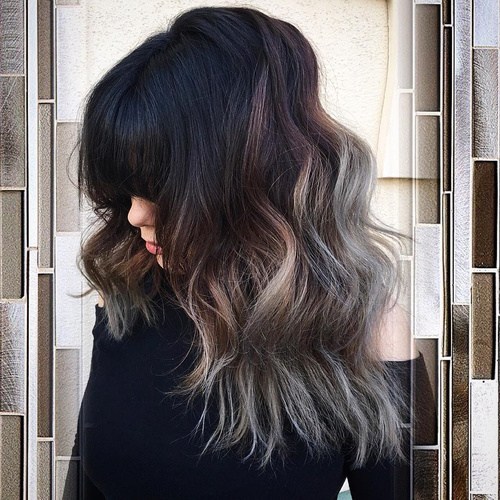 Shag haircuts are effortless and cool, so they require colors that are just as casual and laidback. And while you want to keep your look low-key, that doesn't mean you can't add a little pizazz! Tossing on some ash silver ends lightens up your look in a tame and totally cool way to complement your darker roots and shaggy look.
Ash Blonde and Silver Waves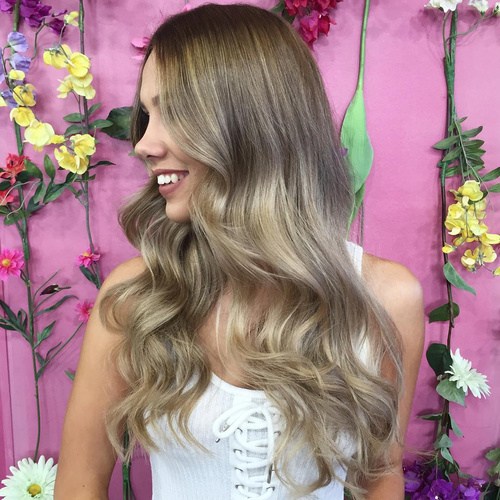 Just a hint of silver is a great way to enhance the look of your ash blonde roots without going overboard. The two color blend together beautifully and naturally, and you can accentuate your sex appeal with some big waves like these. So cute, so flawless!
Simple Ash Blonde Ombre with Loose Curls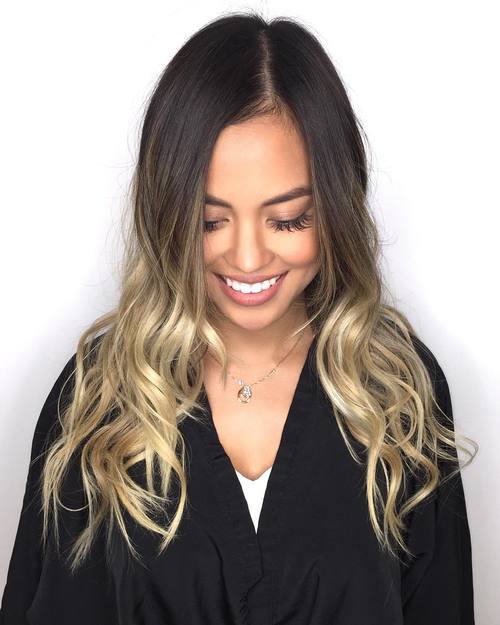 Cute and flirty, this gal knows how to keep things simple while still looking fabulous! This look is great for the woman who wants some lighter hues in her hair without doing anything flashy. Some cute loose curls on the ends is the perfect match for a big smile for a very coy appearance.
Golden and Ash Blonde Balayage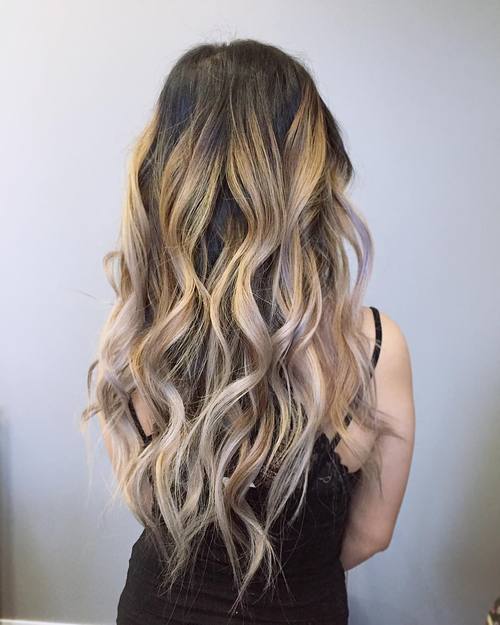 Blondes have more fun, right? So then why settle for just one tone of blonde when you can amplify your locks with TWO? Opt for a mix of gold and ash highlights for a really wonderful, bright blend that will glisten in the sunlight. Check out these fabulous balayage hairstyles here.
Faded Blonde Lob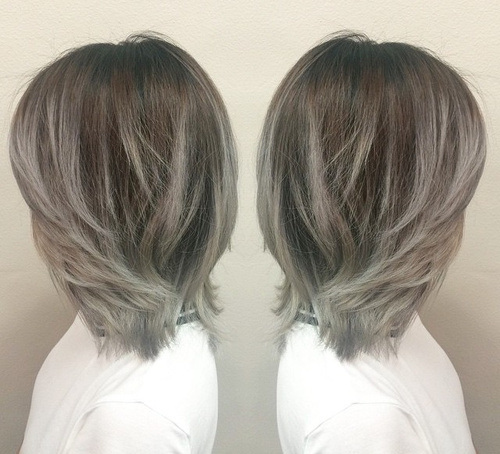 The great thing about opting for ombre hair color is that you don't need to keep heading to the stylist for more color. As you can see on this lovely woman, her hair has grown out a lot into a shaggy lob, but the color scheme is still noticeable and fabulous.
Subtle Grey Highlighted Lob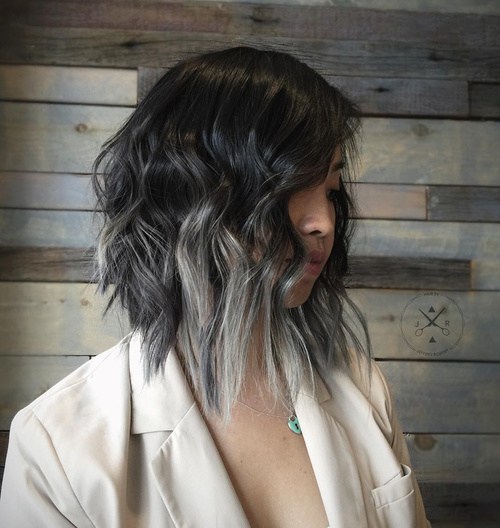 Just a hint of grey is all you need to enhance your locks and give it some of that trendy appeal. It looks flawless subtly inserted into her dark block lob, those waves creating a lovely flow that's balanced and chic.
Dark Ash Blonde Pixie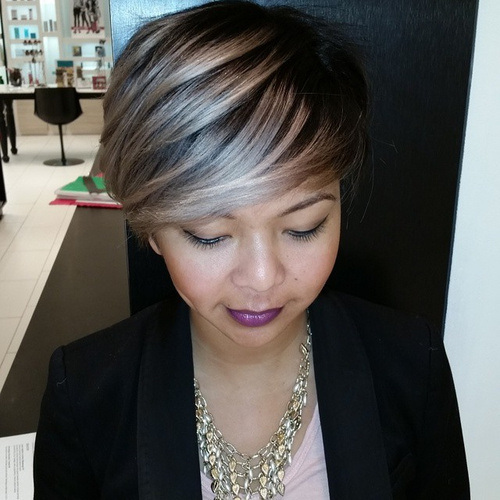 An adorable pixie haircut like this needs some extra color to really make it pop! You'll already look like a cutie with this cut, but the dark ash blonde highlights strategically placed throughout this 'do causes a fun, playful effect that's sure to bounce with every step.
Straightened Ash Ombre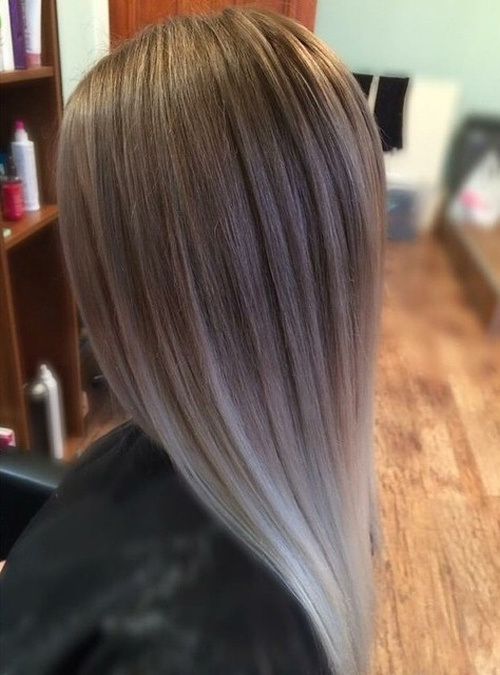 This subtle, tamed down ombre hairstyle has a very beautiful blend of lighter brown pieces on top with an icy finish down below. It's a balance that is refreshing and not too bold, the perfect choice for ladies who need a style to wear to work or school.
Blonde to Copper Reverse Ombre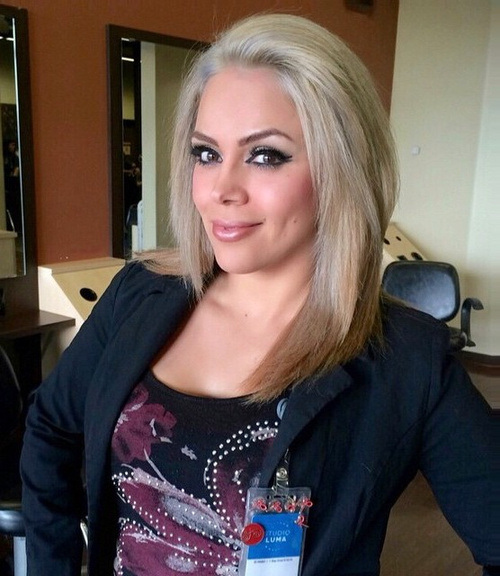 Typically, ombre uses lighter tones at the bottom with darker roots; but we're going to shake things up a bit here. She leaves her ash blonde color on top leading down to some copper ends. It's a bold look that defies the rules of ombre, but we're LOVING it- especially on this sassy lob haircut!
Dramatic Platinum to Toffee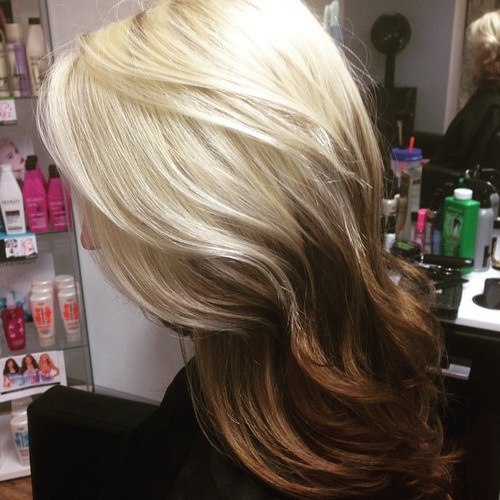 Now it's time to be DARING! If your goal is to make a statement, you will do it in a flash with this exciting combination. Platinum to toffee is an exotic, out-there combination that's full of youthfulness and vibrancy. Let your personality loose and do something bold with this crazy blend.
White Silver Ombre Curls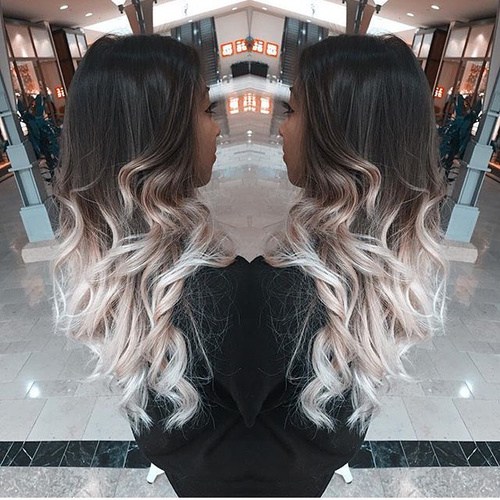 Make a BOLD statement with a striking 'do like this! Dark chocolate brown roots are swiftly contrasted by a bright, look-at-me white silver hue. It's outstanding and BRIGHT, a hairstyle that's bound to turn heads wherever it goes.