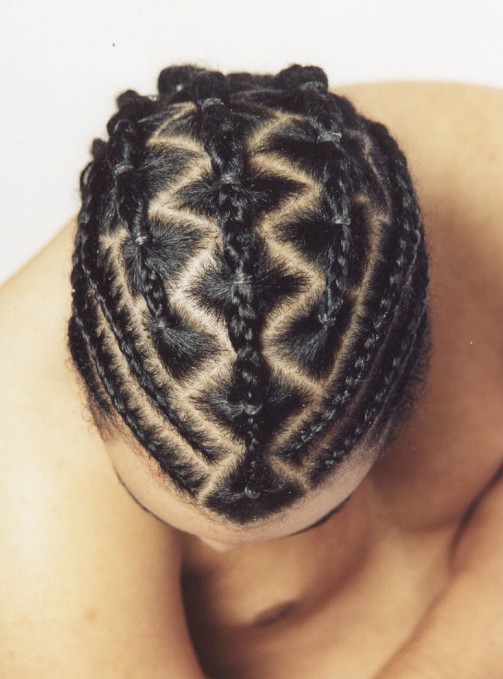 If you are looking to dress up your Cornrows for the office or for a special occasion, this is one of the most popular African American hairstyles, we have the tips and suggestions for you here!

These cornrow hair styles assume you already have Cornrows and are just looking for a different way to style them-here are some ideas for Up dos, Ponytail and Half up Half down. Of course, always follow the advice of your Hairdresser as to care and upkeep of your hair, making especially sure to keep your locks well moisturized to prevent breakage. Also, for best results, avoid sleeping on a cotton pillowcase; opt instead for silk or satin as these fabrics help to protect the hair from damage-as Cornrows can be hard on your hair because of the tension that is necessary to create them.
First photo above left is a French twist with ends wrapped into a bun on top of head. To do this, gather your Cornrows over to one side, and begin twisting and tucking inward pinning as you go. You will begin to see a "roll" start to form, continue on up the head until you run out of room to twist and style excess into a bun and pin on top of head. The style in the last photo is done much the same way, only the ends are tucked as opposed to having the bun.
The second photo is the Half up Half down, and is literally that, only half of the hair is Cornrowed and the other half is loose for a very elegant party or formal look. As seen in the photo above, the Cornrows- as well as the rest of the hair, lay loosely over to the right side in an Over the Shoulder Ponytail and the ends curled and fluffed.
The fourth picture from left above is a simple Ponytail-just pull your Cornrows back and tie at whatever point you desire in the back. A low or "nape" Ponytail is pictured.
Don't forget the shiny things! Hair Jewelry, such as jeweled combs, pins, decorative chopsticks, flowers etc. will be all the rage for 2013, so have a ball with it!
Here are more Cornrows for women, enjoy:)