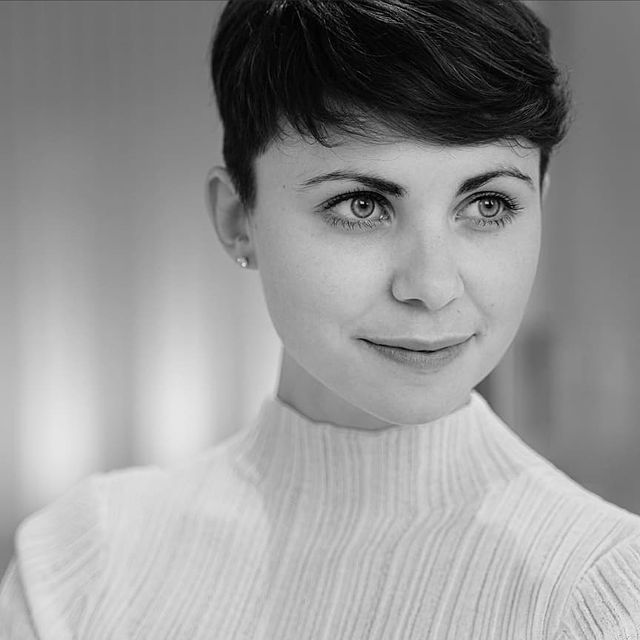 If you like to follow the hair trends, but aren't sure about the new pixie cut and your round face, read these guidelines to find the perfect pixie for a round face.
Pixie Haircuts for Round Faces: Angles
Look for pixie haircuts which incorporate angles, definite lines and uneven lines as these will balance out the roundness in your cheeks.
Pixie Cuts for Round Faces: Volume on top
In addition, limit the amount of volume at the sides of the head and opt for a style that will elongate the visual appearance of your face. For example, a pixie that reveals the forehead will add length, to balance out too much facial width.
And if you have volume around the crown and on the top of a pixie cut, you'll see how well this creates a longer silhouette and draws attention away from full cheeks.
Pixie Haircuts for Round Faces: Texture
Texture needs to be considered when choosing the best pixie cut for you, as fine hair and coarse hair will behave in completely different ways when cut short. Thick hair can be razor cut and sculpted into a strong shape, for example, such as Rihanna has worn this year.
This type of pixie cut is easy to adapt to a round face, as the thickness automatically creates volume on top and the sides should be thinned and trimmed into long, tapering side points. Long, narrow side-points are very effective in creating the illusion of a longer, slimmer face.
Pixie Haircuts for Round Face Shapes: Fine Hair
If you have fine hair, you may find it more difficult to create lasting volume on top, although you can do a lot with the addition of styling mousse. For a pixie on fine hair that also minimises a round face, think about having a few curls on the top which will create the added height you need.
Or if you don't want the bother of curls and trying to keep volume in your fine hair, just go for a pixie with a trendy asymmetrical side parting and a strongly angled, side-swept fringe.
Pixie Haircuts for Round Faces: Colour Accents
Consult your colorist too, because balayage highlighting can create visual illusions that help balance out your rounded face and make it look longer and slimmer. For example, lighter colours on top will accentuate the height and darker colouring at the sides will do the opposite, and minimise the width in your face.
Pixie Cuts for Round Faces: Go spiky
So the main things to discuss with your stylist are asymmetry and a side-swept fringe, to add angles that combat roundness, choppy layers for an ultra-modern pixie look, long tapering side-burns and an off the forehead quiff, curls or spiky volume on the top!
Pixie Haircuts for Round Faces: Longer Version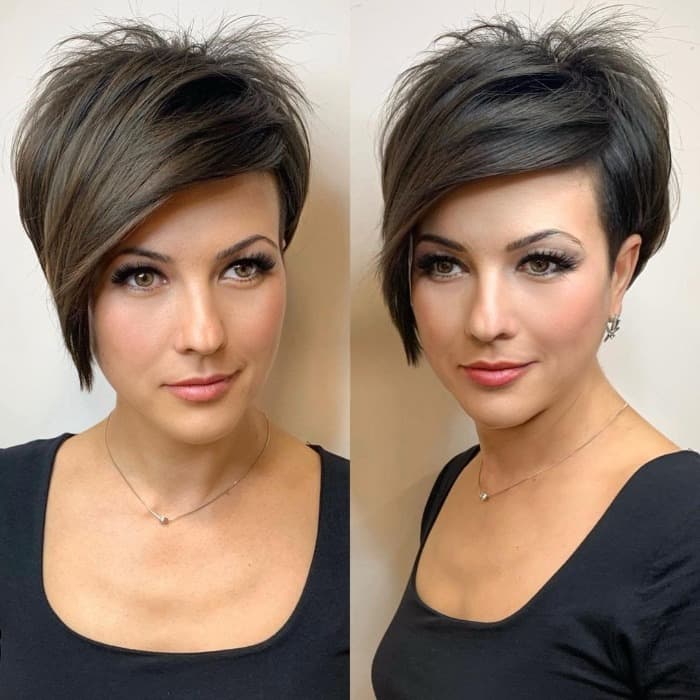 Have you considered the long pixie?  Pixie cut makeovers are everywhere at present and with the angle created by side-swept fringe, and the sharp, disconnected look at the sides, you'll be amazed at the way this fixes your round face shape!
Problem solved!
Looking for more styles for round face shapes? Check out more pixie cuts and these bobs.