Sassy means lively, bold, full of spirit and cheeky, so expect to see innovative, daring and edgy ways to cut, color and style your inverted bob.
Renowned hairstylist Chris McMillan, famed for creating some of the most iconic celebrity hairstyles, has often emphasized the inverted bob's appeal. "What's incredible about the inverted bob is its transformative power," he says. "It's a hairstyle that can instantly make you look chic and modern, while offering various styling options to suit your mood and the occasion. Plus, it's just as striking in monochrome as it is in balayage or ombre."
Beyond its celebrity endorsements, the inverted bob has stood the test of time as one of the most versatile, transformative hairstyles. Whether you're seeking a sassy, lively vibe or a more subdued, professional look, the inverted bob has you covered. Its adaptability extends not only to different personalities and facial shapes but also to an array of color choices—from platinum blonde to deep brunette to multi-tonal hues. This hairstyle truly offers a canvas for self-expression like no other.
Today's gallery of bobs includes disconnected layers, new blonde shades including white, neutral and ash-blonde gray colors, plus warmer colors like red, copper and muted orange on brunette bobs in a range of different lengths. If you haven't tried a sassy look before, now's a great time to switch your look to something bolder and get a trendy, confident image!
1. Neck-hugging layers & shaggy tips
Instead of a shaved line below a strongly stacked back, try this beautifully tapered shape for medium and thick hair. Attractive volume at the crown curves into vertical, sliced layers with tapered ends for a slightly shaggy finish. The mix of curves and spiky tips continues in disconnected layers at the sides.
2. Max-impact party balayage on wavy bob
This eye-catching hairstyle is totally unique and a very intricate and beautiful piece of art! Long hair is arranged in lovely, large waves along the sides ending in perfect ringlets, and beautifully highlighted in orange-gold-blonde! The roots and front layers are tinted medium-brown, in this unforgettable, maximum-impact bob!
3. Short Inverted Bob Hairstyle
Moving on to edgy, easy-care daily hairstyles we have this severe boy-cut that's suitable for medium to thick hair. The shaved back/sides and sliced top layers with sharply textured tips project a go-getting, energetic image and the gorgeous copper-red also commands attention. Suits round faces perfectly!
4. Feminine softly curved medium-brown bob
This trendy angled bob is the opposite of the boy-cut above and projects a softly feminine image. It's suitable for medium to thick hair with enough natural volume to create the lovely rounded volume at the back. Lightly stacked layers create lively texture and fine bangs focus attention on the eyes in a smooth, well-groomed look.
5. Disconnected layers & bright white balayage
This year's hair color options for dark-blonde/mousey hair are incredibly creative!  This simple bob becomes edgier with long disconnected layers on one side.  And lightening mousey-brown hair to gleaming medium-golden blonde is a brilliant way to look more attractive.  With white balayage you can reflect lots of flattering light and focus on your eyes!
Read more:
Hair Color Trends: Celebrity-Inspired Alluring Shades
6. Hip shaggy bob with silvery-gray & faded beige-pink balayage
Whip your lovely thick hair into an easy-care, shaggy bob that needs very little styling! This inverted bob finishes at chin-level, making it a good length for almost all face shapes. Silver-gray and faded-pink-beige balayage create a sassy, unconventional vibe and heavily textured spiky tips show you're chic, but still 'wild at heart'!
7. Neutral blonde over dark roots
Fine hair types sometimes lack enough density for an edgy stacked back bob, but that doesn't mean you can't have a sassy bob! Tousled waves are the best way to add volume and a strong contrast between dark roots and light neutral blonde is another edgy way to make hair appear denser!
8. Romantic wispy bob
This is another inverted bob that's given volume through tousled, wavy hair and blurred edges. The angle down from the back is emphasized by trendy disconnected layers at the side and the silhouette has a soft, wispy look. Rippled texture and lively movement are accentuated by blonde balayage in a flattering style for angular faces.
9. Circular styling line on asymmetrical bob
This is a fun look for thick hair in an asymmetrical bob. The hidden shorter side is styled away from the face and the fluid line continues around the head, so you have forward movement on the longer side! Sliced layers with tapered tips accentuate this trendy look that suits long, oval, heart and round faces.
10. Smooth & steep inverted bob
The exaggerated long line of this bob is a great way to make your face appear longer and slimmer. Curling the ends under is the perfect way to add extra volume and shape to fine hair and a little blonde balayage draws attention to the shorter layers at the back of this highly fashionable look!
11. Chic high-fashion cut & color
This bob has a beautifully tapered center-back, which drops dramatically down in a disconnected layer. The curved volume at the back is echoed in the sides with blunt curved tips facing forwards. Add in gray-blonde and a touch of golden balayage for a very chic style for oval, round and heart faces!
12. Generous curves & sassy bangs
The warm medium-brown color of this bouffant bob complements the model's skin-tone perfectly and the teased bouffant silhouette creates a smooth, elegant look. Very straight, long bangs add a touch of edge, along with subtle balayage and lightly tousled sections for a casually trendy look!
13. Futurist severe choppy bob
Choppy bobs seem futuristic because of similar 'anti-pretty' styles worn by Milla Jovovich in her sci-fi movies! There's a sort of trashed doll/rogue android vibe to these short, precise styles that's incredibly urban-chic in style! With short straight-across bangs and strong lines, this ultra-stylish style suits round and long faces.
15. Sleek styling for straight hair with contrasting balayage
If you have naturally straight hair and a long or heart face, this sleek bob has diagonal bangs to minimize the forehead and divide a long face. It avoids added height on top and keeps the curved back volume sleek for an easy-care, streamlined bob with cute neutral blonde highlights.
16. Easy-care natural look with trendy layers
This lovely rounded bob tapered beautifully into the neck, is a fashionable look you can wear for any occasion. It's an easy-style haircut for medium and thick hair, with edgy disconnected layers on either side of the chin. Notice that the line actually goes up between the lively disconnected layers for extra style impact!
17. Black & copper balayage
This stunning balayage on thick hair contrasts black roots with a carefully graduated ombre moving through muted copper to dark copper at the tips. Forward styling creates attractive texture and forward movement and a nicely tapered shape in the profile view!
18. Really red ombre on medium-length black hair
There is something truly sassy about wearing rainbow colors on your hair, as it confuses the new people you meet! This lightly inverted bob haircut uses the natural volume of thick, coarse hair to create volume around the nape and chin, which suits heart faces by adding width to a narrow chin.
19. Sharp black bob
I love this strong, chic look which shows that women in glasses are at least as attractive as those who don't! Thick straight hair is cut with an off-centre or side parting, with a little extra height on top and razor-cut tapered sides ending at the chin for a flattering style for round faces.
20. Twisty & spiky texture
I love the multi-tone and multi-texture effect of this young, lively style! The chin-length bob suits lots of different faces and side volume flatters thin/heart face shapes in particular. This radical permed hairstyle, with loose wavy movement on selected sections and long, textured tips 'bent' at 45º, has lots of edgy volume!
21. Copper & neutral-brown shadow-effect dual hair color
Is this a neutral-brown ombré on a naturally copper base – or a two-tone hair color idea? I don't know! But it's an amazing new look using brown to accentuate the angled bob with an optical illusion shadow-effect. This very fashionable sliced layer haircut suits thick hair with natural volume.
22. Bold copper-red bob with single-point back
Here's a simple bob cut that has enormous style and color impact! It's suitable for thick hair and is a super-trendy hairstyle and a long-time classic cut at the same time! This bold red version has a cute single point at the nape emphasizing a slender neck and is an easy-care daily hairstyle that always looks special!
23. Retro 80's vertical balayage in contemporary orange shade
This classic bob for round faces is the perfect background for some nifty hair color ideas. The striped vertical highlighting is vintage – but the muted orange-blonde shade is totally up-to-the-minute for brunette hair! Varied width lines of color break the uniform pattern for a contemporary finish.
24. Straight Inverted Bob
Radiating modern sophistication, this straight inverted bob features a blonde canvas that fades subtly into dark roots. The cut is sleek, center-parted, and precisely angled to accentuate the jawline. The darker roots offer depth, making the blonde tones pop even more. This style screams high-fashion, making it the perfect look for someone who wants to keep things both edgy and refined.
25. Ash Grey Inverted Bob
Tailored for women over 50, this ash grey inverted bob is the epitome of classic elegance. The cut is on the shorter side, making it easy to manage and ideal for fine or thinning hair. The soft, ashy hue emanates maturity while still maintaining a fashionable edge. It's an elegant choice for the woman who wants to age gracefully while making a modern statement.
26. Inverted A-line Bob
This hairstyle is a spectacle of layers and movement, designed specifically for those with thick hair. The blonde layering works magic, creating an A-line shape that is fuller at the back and narrows toward the front. The result is a dynamism that makes your hair look like it's in perpetual motion, full of life and volume.
27. Short Layered Inverted Bob Cut
Here's an inverted bob that provides a side-view showcase of artful layering. This cut is a perfect pick for ladies with thick hair who want to add extra dimensions to their locks. With a blonde balayage highlighting the various layers, this hairstyle looks like a cascading waterfall of color and texture, making it a showstopper from any angle. Want to cut your hair a little shorter, why not try these cute pixie cuts?
28. Inverted Wavy Bob Cut
For those who prefer a softer, more romantic look, this inverted wavy bob is the perfect choice. The silver balayage illuminates each individual wave, while the layers add complexity and movement to the style. Despite its short length, the cut offers a wealth of styling options. Whether you want to keep it casual or dress it up, this wavy bob is flexible enough to suit any occasion.
29. Short Inverted Bob Cut with bangs
Sporting an energetic copper hue, this short inverted bob comes complete with playful bangs that hover right above the eyebrows. The cut is chin-length, making it adorable and easy to maintain. It's the quintessential style for those seeking to inject a sense of youthful exuberance into their look. The bright color amplifies its cuteness, making it hard to resist.
30. Silver Side Parting Inverted Bob Cut
Geared towards women over 50 with thin hair, this bob combines elegance and ease. Soft waves gently frame the face, while the silver color projects a sense of maturity and grace. The side part adds an element of sophistication to the overall style, making it a versatile option that works just as well for formal events as it does for casual outings.
31. Inverted undercut aline bob cut
This edgy hairstyle combines several daring elements: a vibrant red color, a pronounced A-line shape, and a bold undercut. Despite its short length, it makes a big statement. This cut is for the woman who isn't afraid to stand out in a crowd and wants her hair to be as expressive and vibrant as her personality.
32. Inverted Angled Bob Cut
Effortless chic is the theme of this inverted bob. With a balayage that adds an extra layer of depth to the straight locks, this cut is remarkably easy to style. The angle of the cut frames the face, making it both flattering and practical. It's the ideal choice for someone who wants a low-maintenance yet stylish look.
33. Inverted Wavy A-line bob cut
This cut is all about dimension and texture. With a blonde balayage that brings attention to the soft curls, the style also features a stacked, angled cut that adds a lot of volume to the back. Multiple layers give this bob a textured, complex look without complicating your styling routine. It's an ultra-feminine, beachy style that can effortlessly transition from day to night.
34. Chic Short Cut
Perfect for women over 20 with thick hair, this very short, sleek, and angled inverted bob is a timeless classic. The short haircut incorporates soft layers that create a flattering shape, emphasizing your facial features. What's more, its graduated shape serves as an ideal platform for showcasing this season's trending hair colors, adding another layer of chic to your overall look.
35. Textured Wavy Bob
This textured bob offers the best of both worlds—straight hair with soft waves at the tips, emphasized by a radiant blonde balayage. The transformation is dramatic; she cut off a whole 8 inches before coloring and another 5 inches afterward. The full highlight and toning create an incredibly dimensional look that's perfect for the summer season.
36. Inverted Shag Bob
For those who love a casual, tousled look, this inverted shag bob is your go-to. Featuring blonde, messy, textured locks enhanced by a balayage, this bob comes to life with its tousled and textured waves. The added volume takes this hairstyle from simple to sprightly, ensuring you stand out.
37. Gentle Graduation Bob
The beauty of this inverted bob lies in its subtlety. Light ash blonde highlights work seamlessly with the gently graduated cut to create a hairstyle with incredible depth and dimension. It's a classic yet fresh look that works well for a variety of occasions.
38. Red Asymmetric Bob
Step up your inverted bob game with a splash of red and an asymmetrical cut. One side is longer than the other, making it a fresh and modern take on the classic bob. It's an edgy, yet entirely wearable style that transitions effortlessly from day to night.
39. Inverted Bob with a Fringe
Who says you can't combine a fringe with an inverted bob? This hairstyle proves you can have the best of both worlds. Featuring a cute, rounded bob that's both layered and textured, the look is enhanced by a slightly shorter fringe. The contrast between the fringe and the longer length adds an intriguing element that's hard to resist.
40. Side Parted Rose Pink
One glance at this dreamy pastel pink bob, and you're instantly captivated. But it's not just the pink hue that stands out; it's the side parting and the textured waves that make this chin-length cut incredibly flattering. This layered masterpiece goes from a dark root to copper in the middle, finally transitioning to that entrancing rose pink at the tips. A head-turner for sure.
41. Inverted lob with beachy waves
This brunette balayage is a textured triumph. Crafted in a salon environment with Redken products, this long bob offers hair transformation at its best. The beachy waves provide an added level of depth and dimension, making the cut both casual and stylish. You can find more shoulder length hair styles here.
42. Textured wavy bob cut
Expertly crafted by hair stylist Robyn, this bob is a textured wonder. The blonde highlights bring light and dimension to the look. If you were wondering, yes, inverted bob hairstyles look absolutely stunning with tousled and textured waves. The waves bring in an extra layer of volume, achieving that coveted lived-in look.
And here are more styles for you to choose from.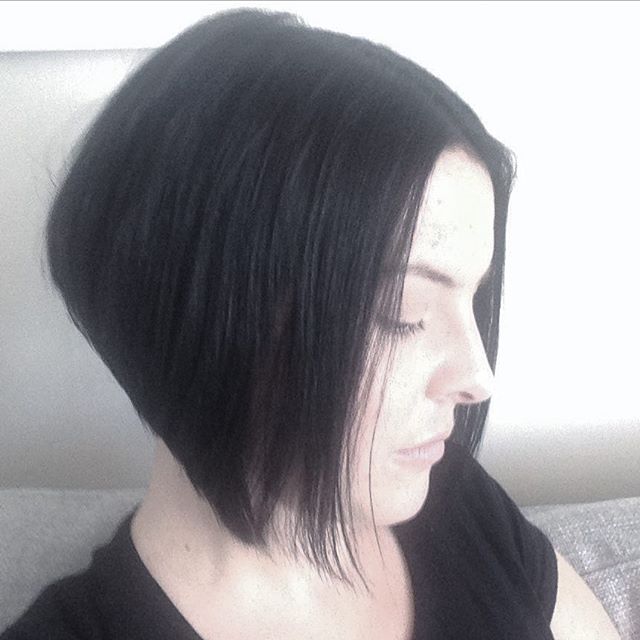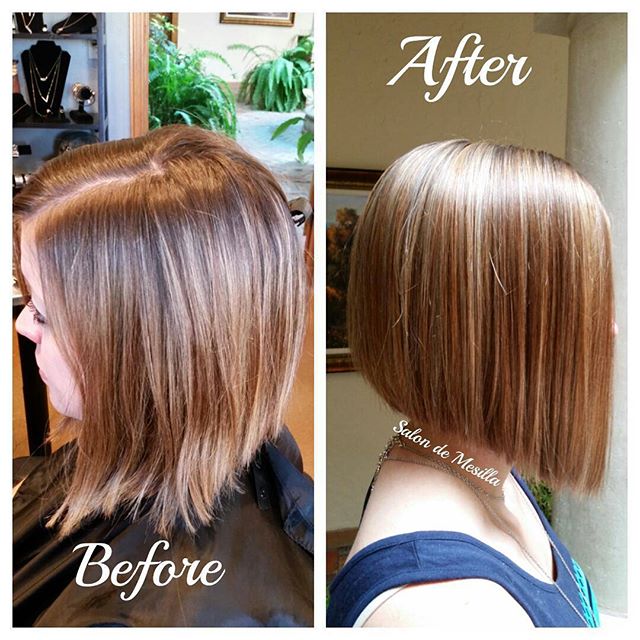 Inverted bob hairstyles offer endless opportunities for personalization and flair, easily adapting to your own unique style and hair texture. Whether you're drawn to the sophisticated chic of a sleek, short cut or the casual allure of beachy waves, there's an inverted bob that's perfect for you. Adding creative elements like dramatic color, asymmetry, or textured waves allows you to make a personal style statement. From the salon chair to everyday wear, the inverted bob is more than just a haircut; it's a fashion statement that's as bold and individual as you are. So, are you ready to take the plunge?