18 Simple Easy Short Pixie Cuts for Oval Faces
From daily hairstyles to party and wedding styles, the choice of easy short pixie cuts for oval faces is wide.  Oval faces are more or less the same shape as an egg held with the wider part at the top.  Your forehead will be slightly wider than your lightly rounded chin and overall your face will be a tiny bit longer than the width. Here are this week's best, new pixie cuts for oval faces to keep you up to date and looking great!
Party pixie cut in pale plum with shaggy edge
Get a hot, space-age look for a special event with this party pixie-cut that signals, 'I'm a fun-to-be-with, high-fashion fan!'  This new colour is a mix of pale lavender and pink, giving it extra edge to match the messy finish.  The sides are cut in sliced layers emphasising the vertical movement of the strands down to the sharp side-points.  The short, full fringe is shorter in the middle, curving down to the sides in a flattering shape for oval faces. The mix of shaggy sections with the curved fringe and pinky-purple pastel colour creates a cute, young and futuristic party hairstyle!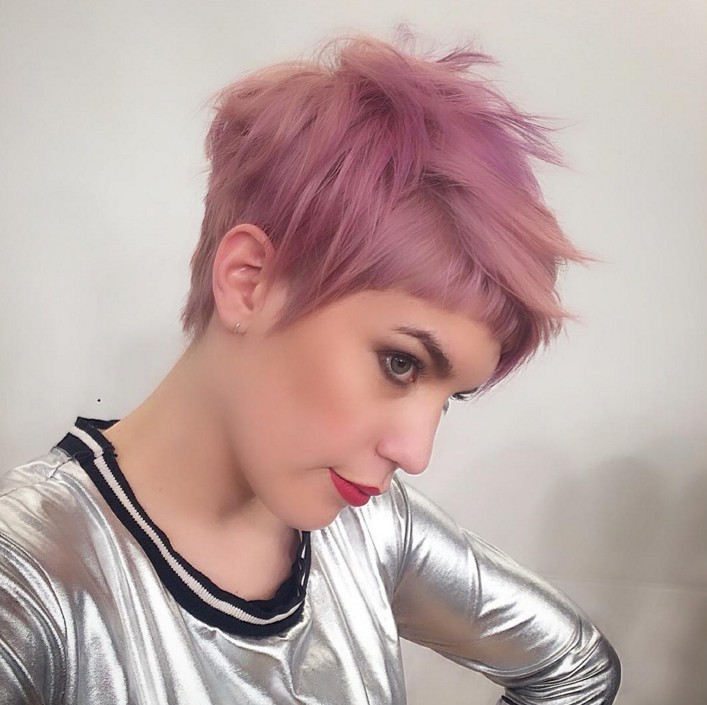 Clean-cut pixie on dark-blonde with dainty blonde highlights
This clean-cut pixie is one of the most popular hairstyles this season, combining a very stylish outline with a lightly tousled finish.  The profile of clean-cut, short hairstyles on oval face shapes looks so perfect. Adding height around the crown exaggerates the shape a little and shows off a well-shaped head. The fine, blonde highlights on dirty-blonde hair transform this simple hairstyle into a cute natural pixie-cut! This chic, contemporary short hairstyle is suitable for medium and fine hair, as the dense layering and highlighting creates lots of natural volume, texture and movement.