25 Simple Easy Pixie Haircuts for Round Faces – Short Hairstyles 2018
Updated: Easy short hairstyles, like these cute pixie haircuts for round faces, make you look younger and save hours of hair-fiddling to achieve cute daily hairstyles! I'm convinced that easy short hairstyles reduce our 'grooming anxiety' and keep our faces wrinkle-free for longer!  Since I cut my hair short a couple of years ago, I've definitely gained a couple of leisure hours a day!
Women with round faces can wear a wide range of pixie cuts and short bob hairstyles, so here are the best short hairstyles for round faces right now:
Easy blonde pixie cut with long fringe & brushed back long sides
There is something very youthful about fine blonde hair cut in a soft pixie style on a round face.  And I've finally put my finger on why that is – it's the first hairstyle babies and toddlers wear when their hair is just starting to grow!  It's a cute look for a round face shape, because the long fringe breaks the circle, there's tousled height on top and the sides are kept close to the head. With short layers around the crown gradually lengthened into a trendy long fringe and long sides, you can wear it casually brushed back or tucked behind the ears.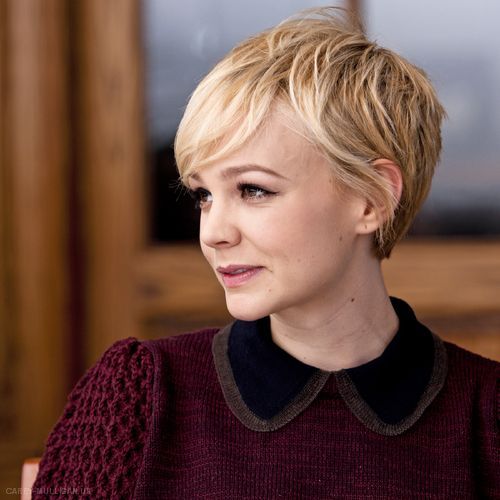 Cute copper short hairstyle with cropped back and sides
Hair color ideas for short pixie cut: This red pixie cut is perfect for showing off beautifully coloured hair and a stunning sense of fashion.  The strong lines of geometric cuts make great pixie haircuts for round faces.  In this easy short hairstyle, the back is closely cropped and graduated upwards to just below the crown.  The length is tousled to create that beautiful colour texture and volume and the sides have short, blunt side-burns that keep the focus on the eyes and upper face. Do you love this color? Find more hair color ideas here.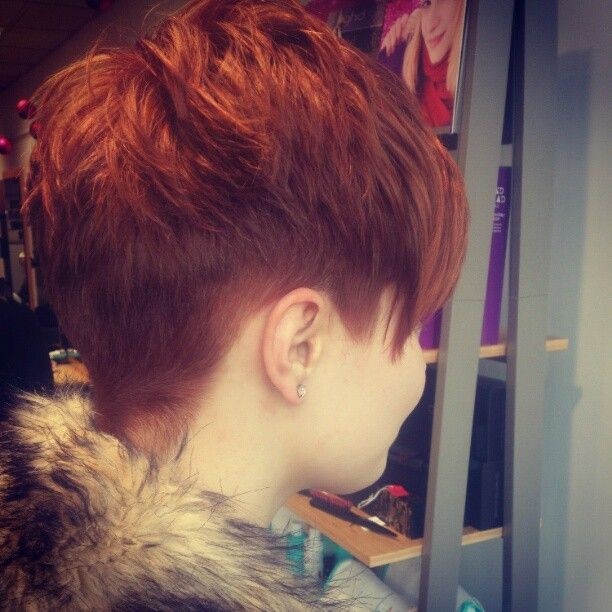 Stylish forward-combed pixie cut on straight black hair
At home, you can do easy, short hairstyles for round faces, such as this one, in a few minutes.  And that gives you a super-hot look, that's also a convenient daily hairstyle!  This pixie cut works on medium and thick hair, as the strong shape and precision cutting rely on dense hair texture to create shaggy volume on top.  The sides are closely clipped and shaped around the ear, with forward movement in the sharp side-burns.  The shaggy outline in the top, sides and fringe breaks up the circular form of a round face in a flattering short hairstyle that's a stylish, high-fashion look.