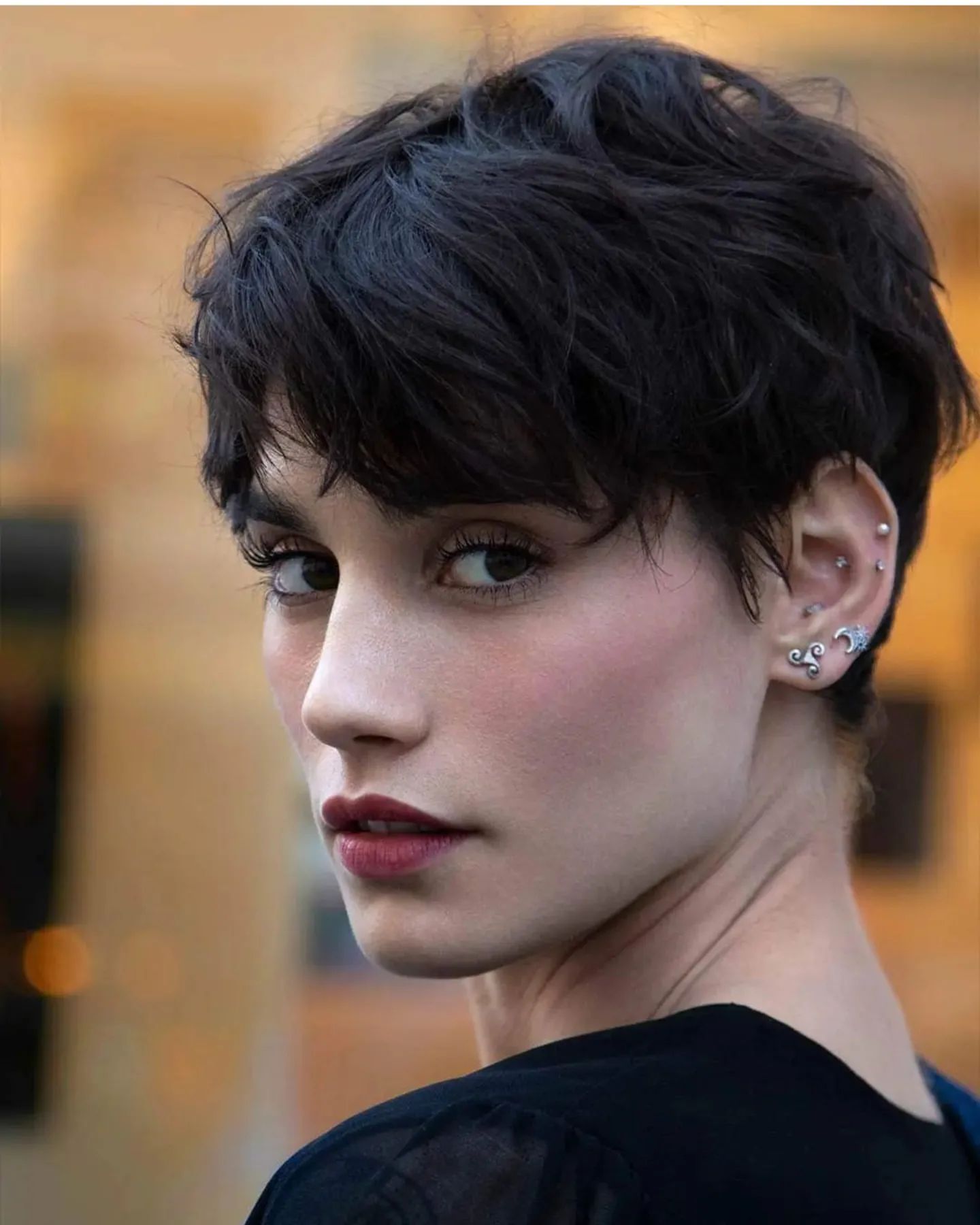 We love our flattering cute pixie cuts! I know because my salon's always full of excited clients wanting the latest wavy and curly pixie cuts and daring new colours! So get yourself a coffee or a cup of green tea and cast your eyes over these delicious new wavy and curly pixie-cuties!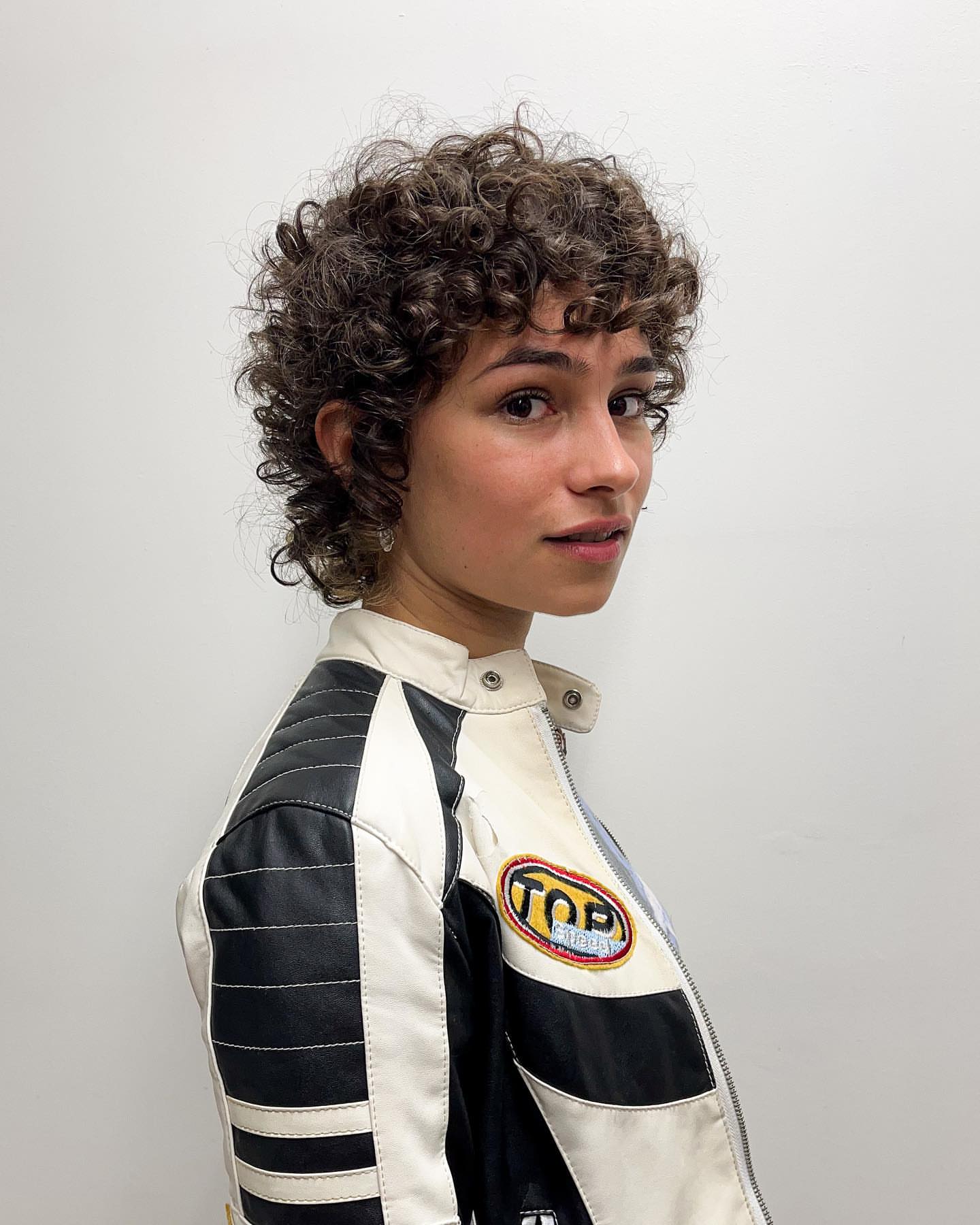 Flaming copper fringe on cute curly pixie cut
Attention-grabbing and full of pretty, feminine curls, this fab example of the latest pixie cuts is pretty hot stuff! The sides of this confident, short hairstyle are enhanced with neat rows of curls that contrast with the longer, ruffled pin-curls on top! Color-wise the flame-colored front quiff moves through a beautifully-judged color-fade of yellow, gold and brown – down to natural black! It's the perfect way to update your look this time and a really lively, new look in wavy and curly pixie hairstyles.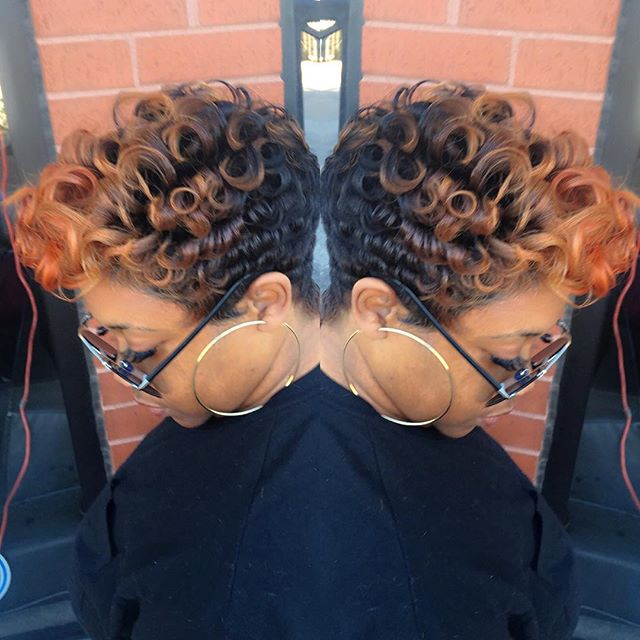 Pixie-cut with quiff for black women with natural hair
If full-on orange in your black hair is too bright for your taste, why not just add a few light coppery highlights to accentuate the movement? Not sure? Well take a look at this cute pixie style that's perfect for a round face! This trendy, forward brushed pixie takes advantage of strong, black curly hair to produce a sculpted quiff. Smooth waves hug the sides above a reverse pin-curl in front of each ear. With extra height on top to lengthen your face and flat, waved texture at the sides to minimise facial width – you'll love this flattering hairstyle! Find more African American hair ideas here.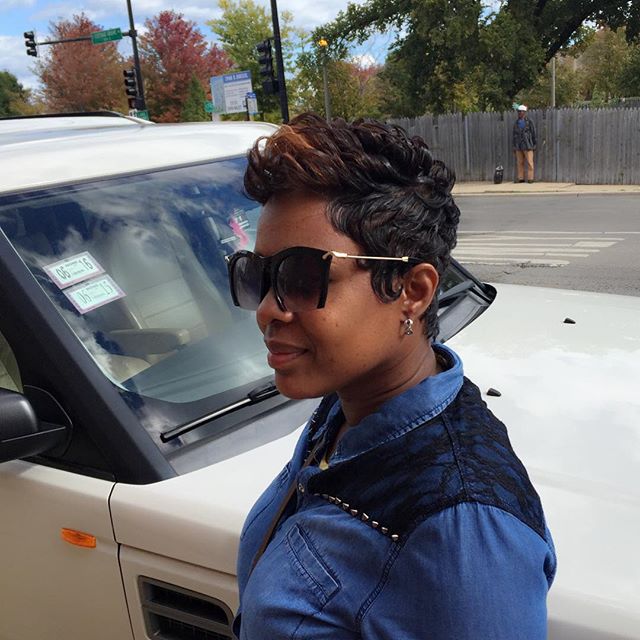 Pixie cut for straight hair with feature-wave above side-swept fringe
Pixie cut with bangs: If your hair is medium or thick texture, with some natural body, then you don't need to add waves and curls to create an attractive shape. This medium-length pixie-hairstyle is a very elegant style that relies on the movement and texture to accentuate an excellent professional look. This style suits round faces and heart-shaped faces like the model above. The side-swept fringe covers up a broad forehead and the high wave adds height that makes the face appear longer. With asymmetrical profiles and a neatly highlighted back view, this pixie-cut is full of modern style!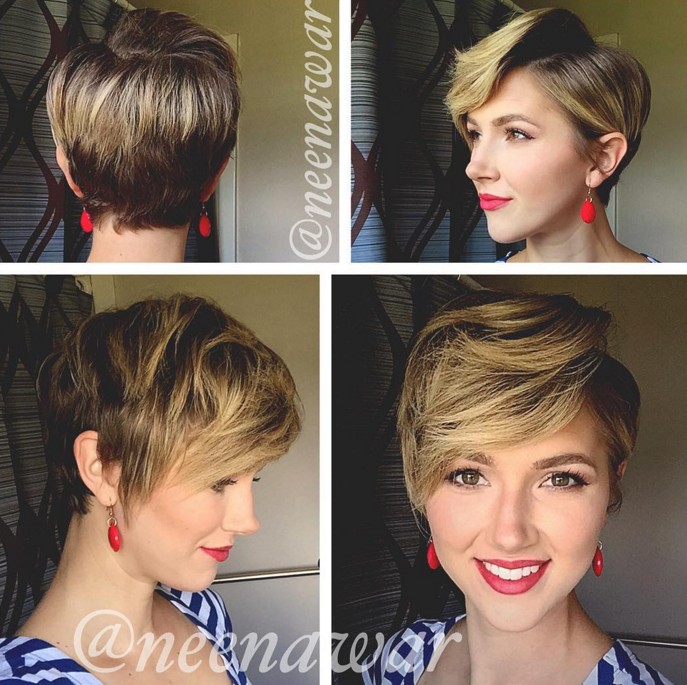 Fab pixie haircut for relaxed black hair in loose, barrel curls and waves
We love the flat, head waves you can get on black women's hairstyles, especially the latest pixie haircuts! Both profiles of this alluring wavy and curly pixie hairstyle have lovely curves framing the forehead and making pretty 'pin-curls' in front of the ears, highlighting the cheekbones! Short hair can be very romantic when the layers fall in natural waves and the cute, tousled fringe falling casually over the forehead completes the face-softening look! This pixie cut is perfect for oval faces.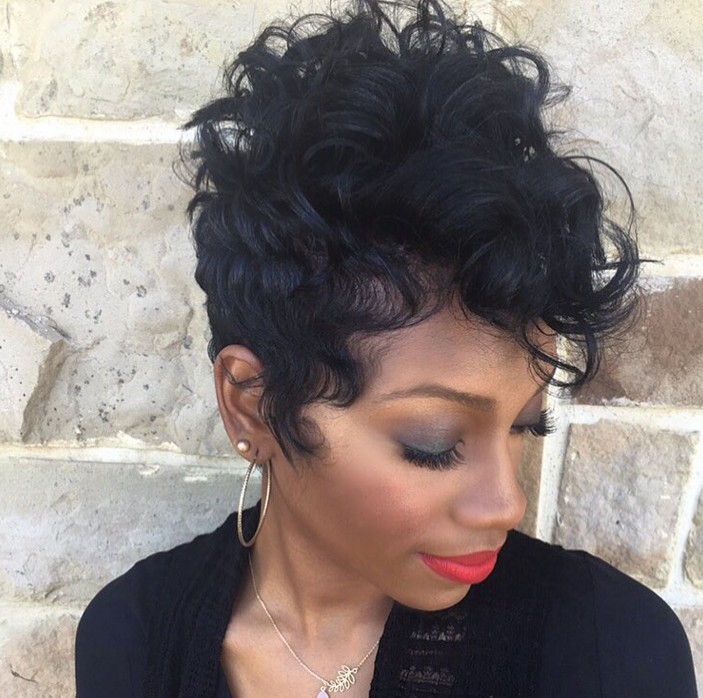 Short, sharp pixie cut for brunettes with dainty highlights
For an edgier look, go for this beautifully sculpted layered cut that's great for medium textured hair. Fine hair is perfect for pixie cuts as the multitude of layers adds the volume and texture that's often missing in silky-smooth hair types. This great pixie hairstyle features a cute, zig-zag line on one side of a blurred parting, in a neat style that's combed forwards and across the forehead. The tousled, long fringe has a flattering, modern look and the lightly tousled curls at the crown add attractive shaping. The cute golden-blonde highlights are kept delicate and emphasise the movement beautifully!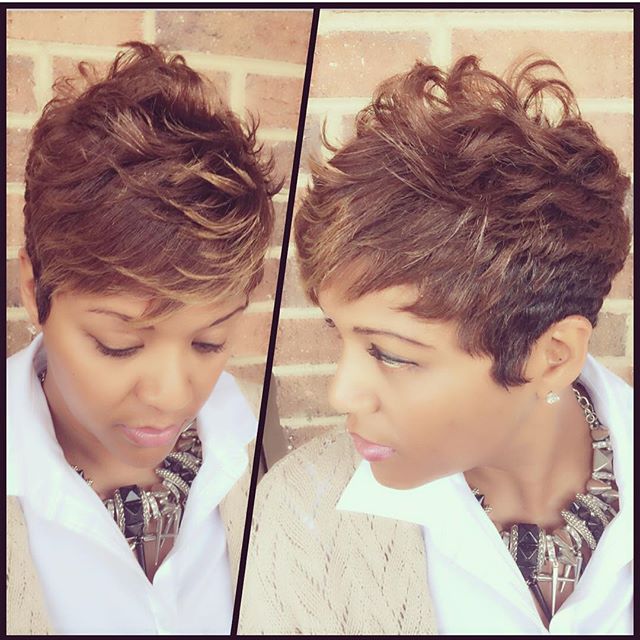 Platinum-blonde curly pixie with flicked back fringe
This platinum-blonde wavy and curly pixie-haircut has a lovely bunch of curls falling over the forehead and 4 beautiful viewpoints! It's a great way to soften the look from urban-edge to urban-chic. Harsh blonde shades and lots of black mascara are fine for teens, but can look unflattering on anyone over 20. Soften a square forehead or an angular face by framing it with tumbling curls and a blurred side-parting. Showing the centre of the forehead helps lengthen the face and the rolled-back fringe is new for spring/summer!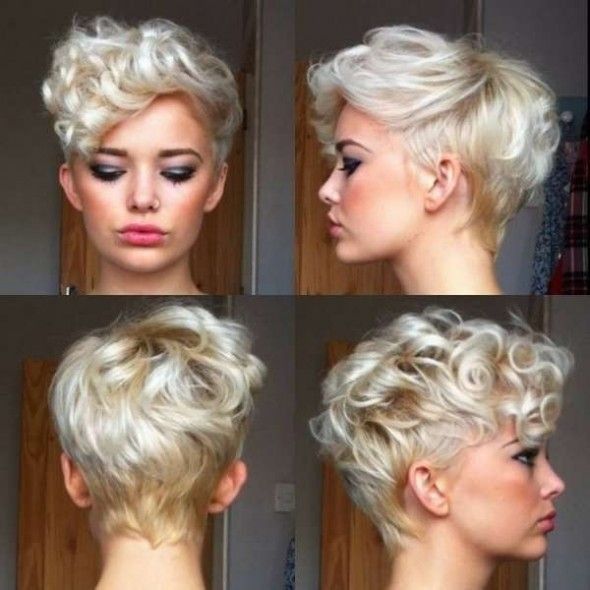 Rich copper pixie-hairstyle with long waved fringe and highlights
Pale-skinned red-heads are bang in fashion with copper pixie-cuts for summer, so that's great 'cos I have this look myself! This medium-length red-head pixie haircut is full of innovative styling and the forward-combed front is starting to grow out, so the latest thing is to use your styling tongs to make it into a couple of back-facing waves! Keep it lightly tousled and imperfect, of course, and get your stylist to give you cute, wispy tips and copper-blonde highlights to soften the edge. (This style has a blurred side parting on the other side, in case you were wondering, and suits medium-fine hair!)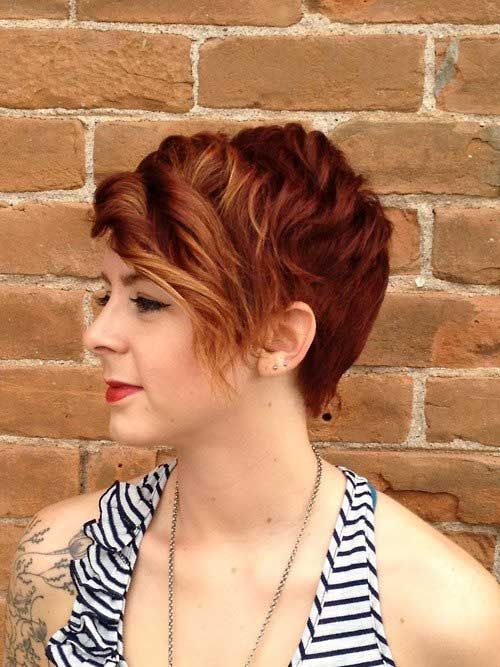 Easy-style blonde layered pixie haircut for fine hair
If you've ever had problems getting enough volume into your fine, silky hair the solution may be staring you in the face (see below)! Short, layered pixie-haircuts are the fine-haired lady's best friend and with a little dry-shampoo spray, or Schwarzkopf's marvellous Got2b Powderful volumizing styling powder, you'll never have flat hair again! This lively look has the sides cut short around the ears, but with longish side-burns and a long fringe to keep the look contemporary and stylish. The deep side-parting and textured, tousled tresses, (NO curls), makes this a great look for round faces and heart-faces, too!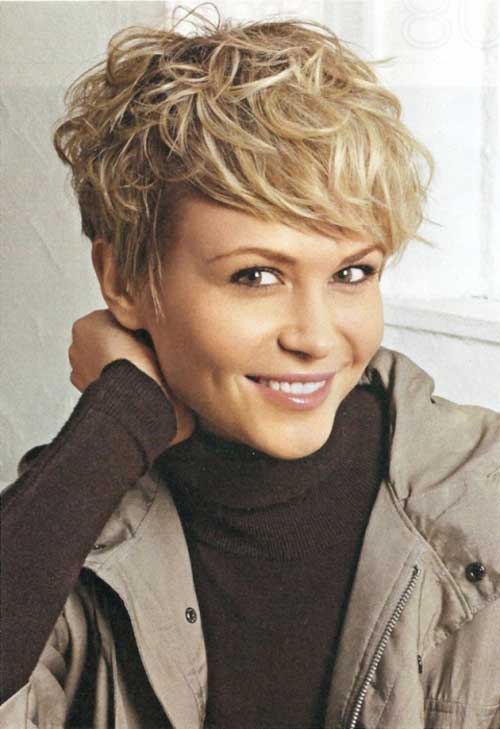 Medium wavy pixie-hairstyle on black hair
This is a great style for medium-thick hair with a little natural wave, as it virtually styles itself! It's a medium-length pixie cut with soft lines and a lovely, wavy texture that just falls into place after washing. It's soft lines will balance an angular face or minimise a pointed chin, such as in a heart-shaped face. The style has forward movement and no particular parting, with the fringe graduated down to give a seamless join to the sides. The hair is left a little longer at the ears, allowing it to be casually brushed back to half-cover the ears and accentuate a pair of dainty earrings!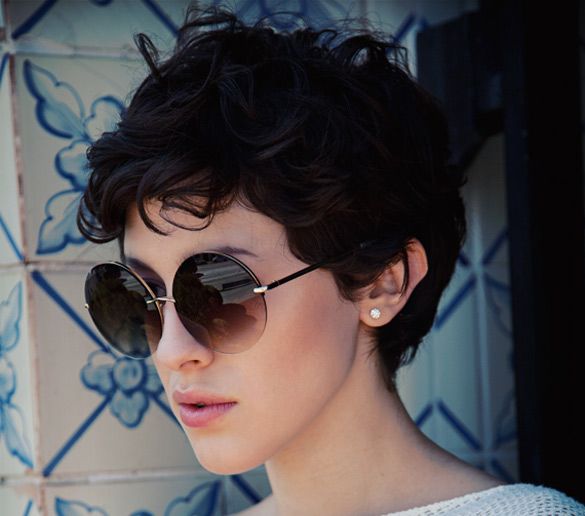 Great pixie-cut for thick, black curly hair
Short dark pixie cut for round faces. Naturally curly hair can be thick and hard to control, but here's how to take advantage of your curls. This softly wavy and curly pixie-style is cut to flatter the face beautifully and be super-easy to style. Use a good conditioner for dry hair and brush through in the morning, and it stays stylish and cute all day long. This pixie cut has a shorter fringe and pretty, reverse pin-curls over the ears, making it suitable for oval face shapes or to soften any hard angles like a square forehead!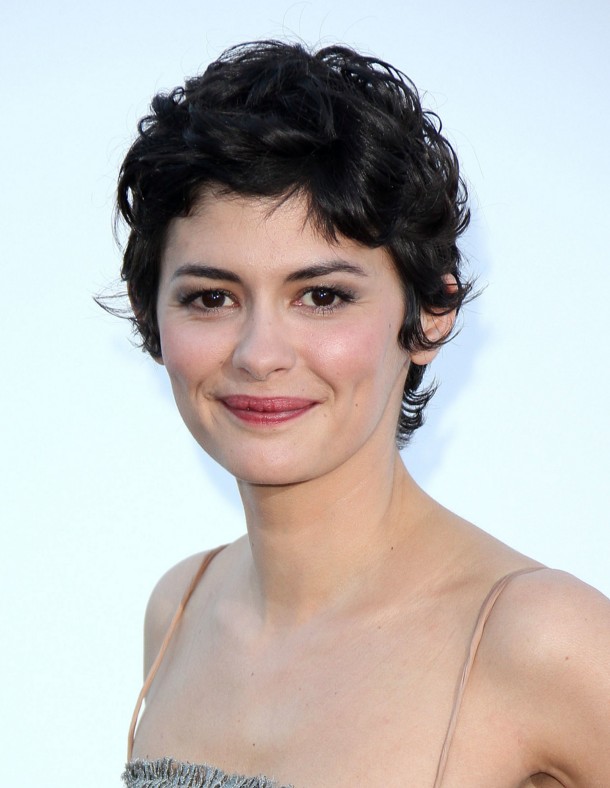 White-blonde edgy choppy pixie with matte finish
Looking for something truly 'unruly'? If you're an independent fashion-leader, take a look at this white-blonde pixie-cut with dark roots and a matte finish. It's an easy pixie as you don't brush to style – just put a little styling clay on your fingertips and run them through your hair. By twisting random sections to make some casual waves, you can produce a totally individual look!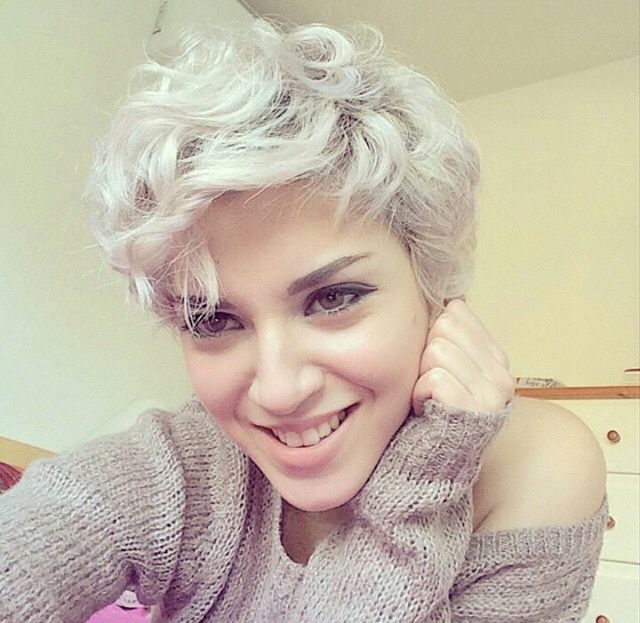 Pixie haircut with sides and back focus
Lots of pixie haircuts just have closely tapered backs, which makes them easy to style, of course. However, you can get a medium-length pixie hairstyle with added interest in a longer cut, with tousled volume around the back. You need hair with natural body and wave to get this style and it works well on medium-textured hair or fine hair with a light 'body' perm. This lovely style has a long, side-swept fringe and longer side-sections, creating a casual tucked-behind-the-ears vibe, that's a softer look than a short pixie cut around the ears.
Pixie cut with longer back and sides
This is an easy style to wear on thick hair that's naturally wavy or on fine hair with a body perm. Soft perms are coming back into the spotlight this time, to give a softly waved base for those of us with fine hair that goes flat at the first whiff of damp in the air!
Shapely wavy medium-short pixie cut on black hair
This medium-length pixie hairstyle is flattering to anyone with round or oval face, as it has extra volume around the top of the head and no width below cheek-level. The lines are soft and full, making it suitable for anyone who isn't ready for a short-cropped look. The off-centre parting reveals a little of the forehead to elongate the face shape and the softly waved full fringe is lightly swept across the face almost covering one eye.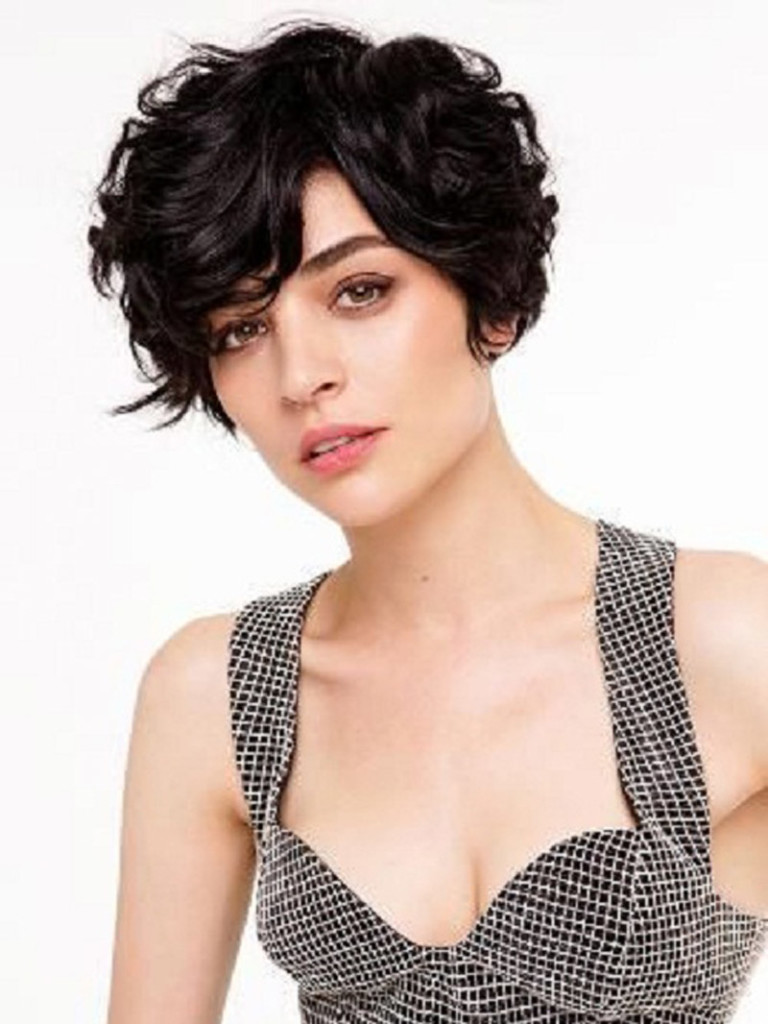 Funky pixie-cut for kinky natural black hair
Hair color ideas for short curly pixie cut. This style is good for black women with 'natural' curly or kinky hair, who prefer to keep it chemical-free and healthy. It's a new version of the popular 'mohawk' look and relies on the beautiful curly texture to create a lovely soft and pretty, short cut at the sides! The high 'mohawk' section along the top can be created with straightening tongs for a night out and allowed to revert to curls on other occasions, to vary your look. Copper is one of the big highlighting trends for Spring/Summer and you have to admit it – it looks fabulous on short, black pixie mohawks!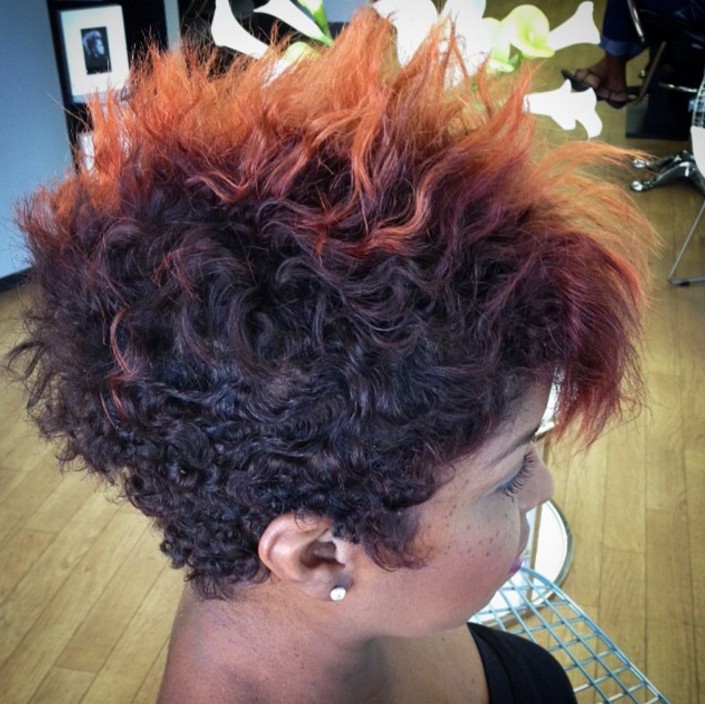 Credit /pinterest
Lively blonde wavy and curly pixie-cut with buzzed sides and waved quiff
Here's a lively look that has 4 different asymmetric viewpoints, making it a popular pixie hairstyle with creative young women who like to stand out from the crowd. Buzz-cut sides and back look best on a softly curved face without too many angles, so this is an excellent style for an oval or round face shape. It has high waves in the mohawk quiff and no added width at the sides, which helps balance out chubby cheeks. Highlighted with a cool blonde shade that harmonises with your natural, darker hair produces an attractive contrast and super-cute blonde tips as your hair grows out!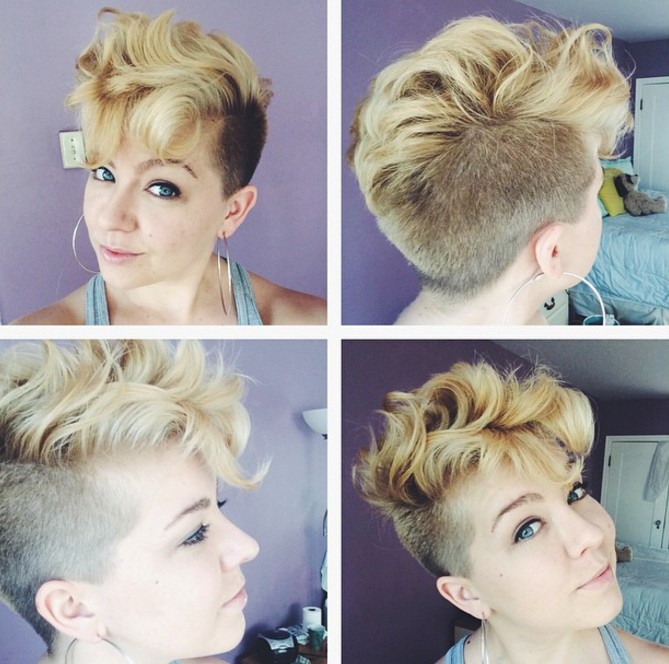 Smooth forward pixie-haircut with cute headband on light-brown hair with beige highlights
This versatile, medium-long pixie-hairstyle is suitable for straight hair or hair with a little natural wave. It works best on medium or thick hair, as forward-swept crown height on fine hair is difficult. We love the asymmetrical touches in this pixie-cut with pretty hairband. One side shows the band moving over the cute, side-swept fringe and the other side features tousled curves with a contrasting backwards movement. This style would be great for a bride or bridesmaids or for a party. In fact, this pixie style can be infinitely varied – with a Boho silk scarf, a row of daisies, a chain, ribbon . . .
Ruffled black pixie cut for thick strong hair
This attractive ruffled texture is easy to get on straightish, short black haircuts and one of the advantages of having thick, naturally curly locks! The fringe is combed forwards to just cover the eye-brows and lightly waved above an off-centre or side-parting, to continue the soft lines of this cute pixie-cut. Reversed pin-curls accentuate the cheekbones. The top is softly tousled to add forward moving height around the crown that balances this hairstyle. But it's the cheeky flicked-up tips above the nape, that give this particular pixie-haircut for black women an extra touch of style and charm!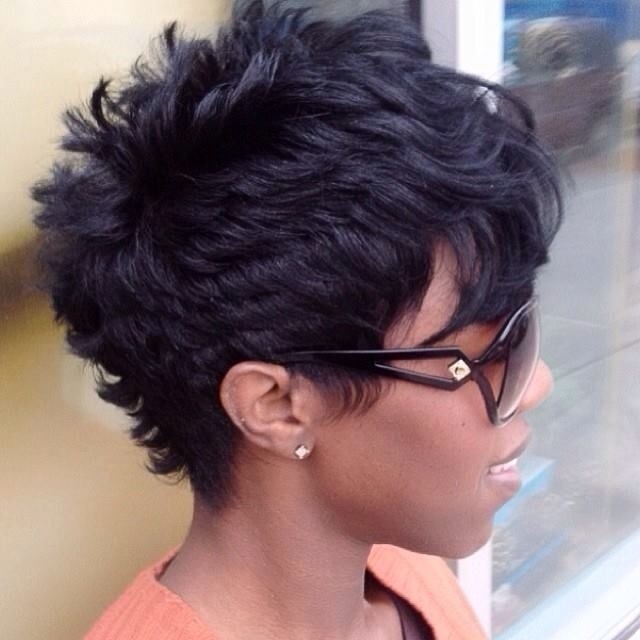 Head-hugging flat waves on cute vintage pixie-cut for black women
Remember that a good pixie-haircut can highlight a beautifully shaped head and neck like the lovely curve of this model's head, neck and shoulders. This pixie hairstyle for black women has relaxed texture formed into softly arranged head-waves with a lightly curled section adding flattering shape around the crown. I am sooo envious of this model's lovely, wavy hairline and side-points, shown in this profile view! This sophisticated wavy and curly pixie style for black women is incredibly romantic and very classy!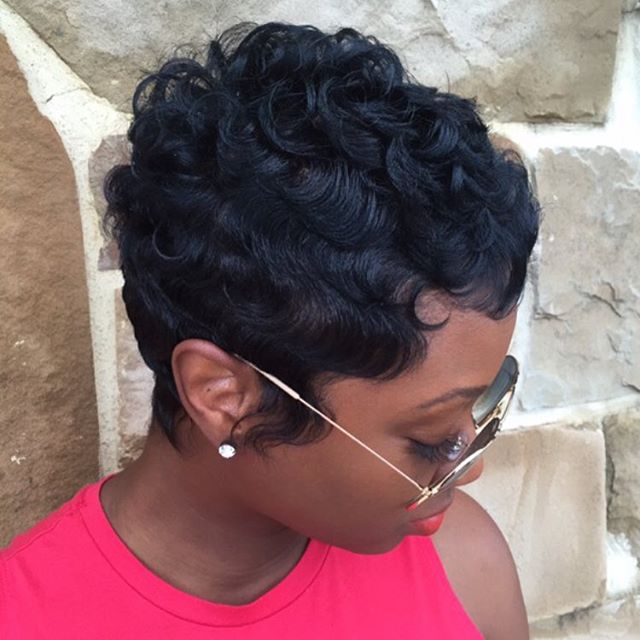 I hope this new batch of wavy and curly pixie hairstyles has inspired you to find a fresh and flattering look for your next visit to the hair salon. What would we do without our stylists and colorists – always ready to make us feel 'brand new' and beautiful again!
Do you love these short haircuts? If you don't like to cut your hair too short, why not try these bobs? Find more latest popular bob hairstyles on hairstylesweekly.com!