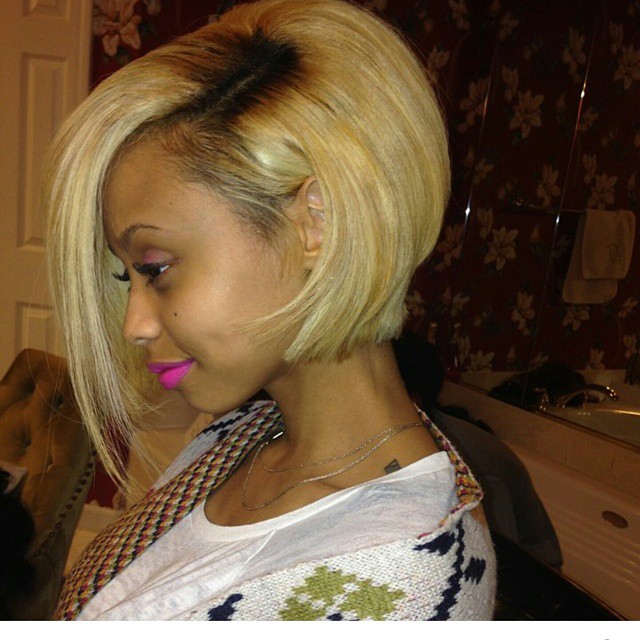 Take a look at these trendy bob hairstyles for black women and see how rainbow colours are being used in mainstream popular hairstyles.  Asymmetrical bobs make great African American hairstyles for thick, straight or curly locks and there's a trendy bob cut to flatter every face shape!  This fresh gallery of gorgeous African American bob hairstyles shows the latest cuts and some truly fabulous new colour ideas!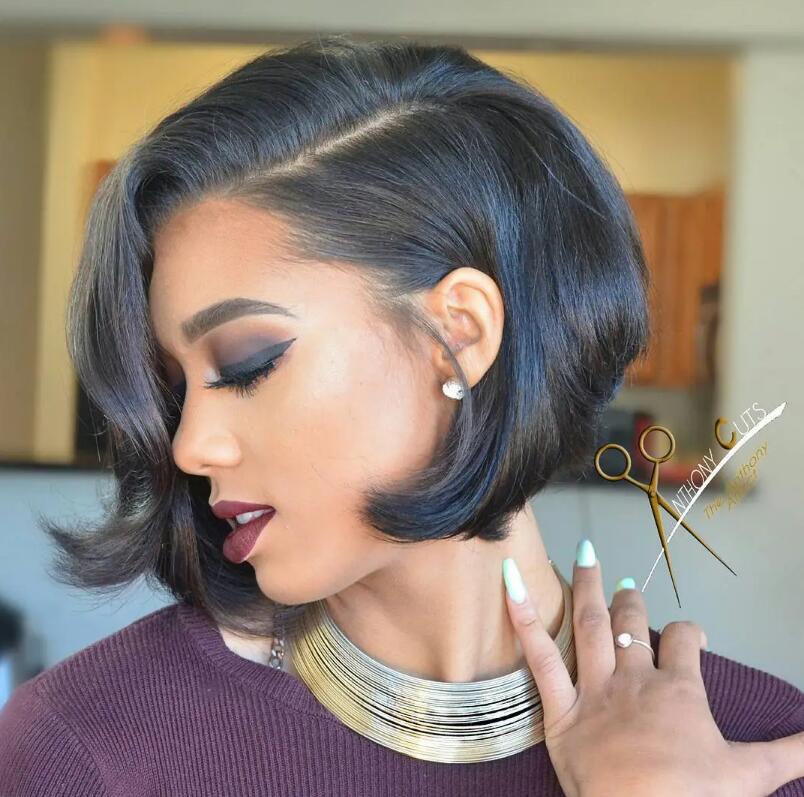 Long straight blue African American hairstyles
Bob hairstyles have been with us for a couple of years now, so what can you do to add some extra razzamatazz to your smooth, chic bob hairstyles?  Well, you can dye any hairstyles for black women royal blue to get you started!  The asymmetrical long bob is of the most popular hairstyles right now and the haircut below flatters a round or oval face shape. 
The long, sleek lines are gently curved in to avoid the stick-straight look of yesteryear and the rich blue around the top is gently faded into a sea-green ombré at the ends. The 'curtain' of hair drapes down from the forehead to create a long, sleek oval face-frame that will break-up the circle in a round face and slim down cheeks.  The centre parting is only suitable for faces that are naturally oval, on other face shapes an off-centre of deep side-parting will give you a flattering finish!
Chic straight bob hairstyles with purple tones on black hair
The latest African American hairstyles are full of lively colour ideas and this super-shiny medium bob is a fabulous choice for a sophisticated, woman-about-town! The hair is cut in sliced, vertical layers and carefully shaped to curve under at the blunt-cut ends, with a strong, solid outline. This is one of the new African American hairstyles that suits oval, round and square faces as the hair hangs over the sides of the face to cover a strong jaw. And finally, to achieve this fantastic purple shimmer through the hair, long sections have been lightened and tinted soft lavender. Blue and purple tones suit cool complexions. We love this strong, but gentle bob hairstyles idea for black women!
Coffee-brown African American bob hairstyles with ash-blonde stripes
This trendy bob is one of the popular hairstyles for gals who like a well-organised and neatly styled look! It's a medium-long asymmetrical bob on cool coffee-brown hair featuring a lovely precision cut. The strong angle from a short, stacked-back to below the chin is perfectly accentuated by the contrasting ash-blonde stripes . This is another of the African American hairstyles that's great for thick, straight hair with natural volume. Side partings like this are suitable for round, oval and square face shapes; notice the shorter strands cleverly added around the face to soften the line. Stylish, easy bob hairstyles for black women will be very popular again for spring/summer , freshened up by the new trend for ash-blonde and ash-brown highlights!
Bobylicious blonde African American bob hairstyles with 60's vibe
Suitable for straight, thick hair this is another of the mainstream popular hairstyles for spring/summer. The fashion shops are full of 50's and 60's vintage clothing and this back-combed (teased) version of asymmetric hairstyles for black women is perfect to complete your look! The all-over blonde in white-gold blonde is a good choice for warm skin tones and the dark roots will add edgy contrast as the hair grows. Chin-length bob hairstyles hover around the jawline and suit almost all face shapes. This bright blonde version also features a side parting and extremely long, peek-a-boo bangs over one side of the face. It's is a sophisticated, semi-formal bob hairstyles' option that you can wear for work and with a cocktail dress for formal events or girly nights out!
Straight bob hairstyles for black women with honey-gold tones
Colored mob hairstyle for African American ladies. These well-controlled bob haircuts for thick hair are perfect hairstyles for black women with straight hair. They're also one of the most popular hairstyles for flattering a range of face shapes, including round, square and long! And once you've got the bob cut, the shape will fall into place after washing ready to be blown-dry. The shape is beautifully curved from the stacked-back bump of volume at the back to the sexy peek-a-boo side-swept bangs. Medium bob hairstyles let us play around with bright highlights – end-trims every 6 weeks stop the worry of dry, long hair. This asymmetric bob is a gorgeous blend of warm honey, gold and caramel highlights in the front and sides contrasting with the deep coffee shade at the back! Deeelicious!
Sea-green African American hairstyles on long bob cut
One of the most flattering colours to bring out the colour in brown eyes is sea-green! In the past, brown-eyed gals often wore just a touch of green eye-shadow to accentuate their eye-colour – but things are different now. If you want to make a real fashion splash, you need to get some striking colour in your hair! The long, blonde hair with green tips mermaid look is set to be big for summer. So if you can't beat 'em, join 'em with a striking ocean-green ombré on stylish African American bob hairstyles like this! Suits oval and heart-shaped faces – just look at those dark, sultry, unfathomable eyes! This lob is perfect for medium to thick hair.
Blonde bob African American hairstyles
I love the way that straight hair is being cut into curved shapes in the latest bob hairstyles for spring/summer . I hated the stick-straight, flat head styles because they could be so hard and unflattering. Curls don't suit everyone either, but asymmetric bobs with curved shaping make everyone look great! The choppy curvy bob is one of the most popular hairstyles for women with round faces, as a side-parting, thick bangs and chin-length make round faces more oval. On long faces, chin-length bob hairstyles focus the attention up and styled with more volume at the sides, add width to balance long or thin face shapes. This confident blonde colour harmonises perfectly with the model's cool skin-tone. Love the DA detail at the nape!
Extreme cuts for straight African American hairstyles
Here's a natural black version of the extreme, uneven bob hairstyles for thick hair shown above. It suits oval faces and, if your face is round, this style will suit you by minimising breaking the curved lines of a circular face shape. The black hair colour really accentuates the strong lines of this geometric bob hairstyle, with downward movement at chin level to give the impression of a longer face. With just a touch of textured pattern at the tips, it's a chic, classy version of popular bob hairstyles for black women and easy to style, too!
Long bob hairstyles copper ombré on coffee-brown hair
Lob for fine thin hair. Simple bob hairstyles like this long, straight cut can be very striking on an oval-shaped face – although not recommended for round, angular or square-faces. Popular hairstyles are designed to bring your face shape back to the oval 'ideal', but if your face is already a perfect oval – you can choose simplicity! To add style to otherwise plain hairstyles for black women, add a pale paprika or copper ombré from eye-level to the ends. Carefully matched to suit your skin-tone, this really accentuates the eyes, lips and jawline.
Dove-grey & purple bob hairstyles on coffee-brown base
Ooh! Colour me cool as ice in this formal bob hairstyle for black women with a taste for high-fashion! It's another innovative colour design transforming a smoothly curved bob into a beautiful, show-stopping coiffure featuring dove-grey and purple highlights! The result is a very classy A-line bob with an off-centre parting and long bangs draped seductively over one eye. This African American hairstyles' option for a special occasion suits thick straight hair and most face shapes. The gentle, lavender-grey tint creates a softer face frame than a brunette shade and the purple underlayers draw attention to a good bone-structure and chin! Fantastic! Don't like this cut? Try the pixie haircuts!
Curly long bob with centre parting on black hair
One woman's bad hair day is another one's fabulously casual, curly bob! And I say that as someone who always dreamed of having hair that 'flows like an ebony cloud' around my shoulders! This is currently one of our favourite daily African American hairstyles, as it's young, natural and an easy hairstyle to tousle in the mornings. A centre parting only suits oval faces, but if do you have an oval face, it's a very trendy look! Get this naturally popular hairstyles' choice with a long-layered bob and textured tips for a soft and feathery outline.
Geometric African American hairstyles on straight black hair
This precision-cut geometric bob hairstyle is a good choice for anyone with a long face. The deep side-parting and swept-forward full bangs are a really effective way of minimising the length. Then if you keep the bob to chin-length, all the focus remains on the face creating a beautifully-balanced shape. The back is stack-cut to take advantage of the model's thick hair and don't miss that fab strongly-angled back, borrowed from high-fashion Japanese haircuts. With the popularity of neck tattoos, short bob hairstyles with a stacked section above the nape are the perfect way to show them off!
Casual blonde long bob hairstyles with loose wave for oval faces
Here's another of the popular hairstyles for black women who like a casual look. This medium-blonde long bob is a flattering shade for black women who have golden or olive in their skin-tone and it harmonises perfectly with brown eyes. The model has an oval face, so she can wear a centre parting with curves that gently cover the corners of the forehead. If you have a round or heart-shaped face, this loosely waved bob will suit you, if you change to an off-centre or deep side-parting. The hair twists into the wave pattern at eye-level, accentuating the eyes and cheek-bones, and wavy movement away from the face can add width around a pointed chin.
Wavy bob hairstyles on black hair with copper and gold sections
This bold balayage colour design is one of the colour trends for spring/summer, we'll be seeing a lot more of! It's a confident look with large sections of hair tinted in gold and copper shades to create a fresh alternative to dip-dye and ombré colour patterns. The hair is cut in long layers ending a couple of inches below the collar-bone and then big, bouncy waves are added. This creates the side-volume, texture and sheer, swishy gorgeousness of the latest, classy bob hairstyles for black women! Suitable for a long face shape, the 'flat' top, side parting and diagonal bangs minimise the length and the side-volume is a great way to add width.
Messy casual bob hairstyles with centre parting for oval face
This is one of the popular hairstyles favoured by off-duty fashion models, who have an oval face shape and can carry off the centre-parting. It works well on medium – thick hair that's straight or with a slight wave, with shaggy layers starting about half-way down the hair length. The tips are textured to create a slightly ragged, messy bob hairstyles' outline and the back is slightly shorter, so you get a shaggy angle down to the front in the profile. Although this is a straight, African American bob hairstyle, the long sliced layers create an attractive curved outline and you'll get more focus on your eyes if you style it back from the face!
Curly long bob hairstyles with blonde highlights on black hair
Looking out for high-impact African American hairstyles to wear at a special event or as a chic daily hairstyles choice? Take a look at this super-cute bob with lots of asymmetry and a stunning yellow-blonde- on-black contrast. It's high on our list of popular hairstyles for spring/summer, as a totally fresh bob cut and colour. It's suitable for straightened hair, cut with a stacked back flowing down in a steep angle to finish in cute, ringlety curls just past shoulder level. The side-parting creates a lovely wave around the hairline in this feminine African American hairstyles' stunner that suits oval, square, heart and thin faces!
Curly bob hairstyles and blonde highlights on black hair
And my final Trendy Bob Hairstyles for Black Women of the week is this magnificient, asymmetrical bob haircut shown in profile view! It's another lovely version of the black-and-blonde, extreme asymmetry bob hairstyles for black women. Look at the adorable ringlets hanging on either side of the neck and the crisp, contrast between the two colours creating fabulous 3-D colour depth and texture! Full of lively movement, contrasting textures and colour this gorgeous African American hairstyles' design suits oval, square, thin and heart shaped faces! (But not round faces, like mine, unfortunately!)
So now all you have to do is decide which of these high-fashion, trendy bob hairstyles for black women who enjoy looking good – to get on your next trip to the salon!