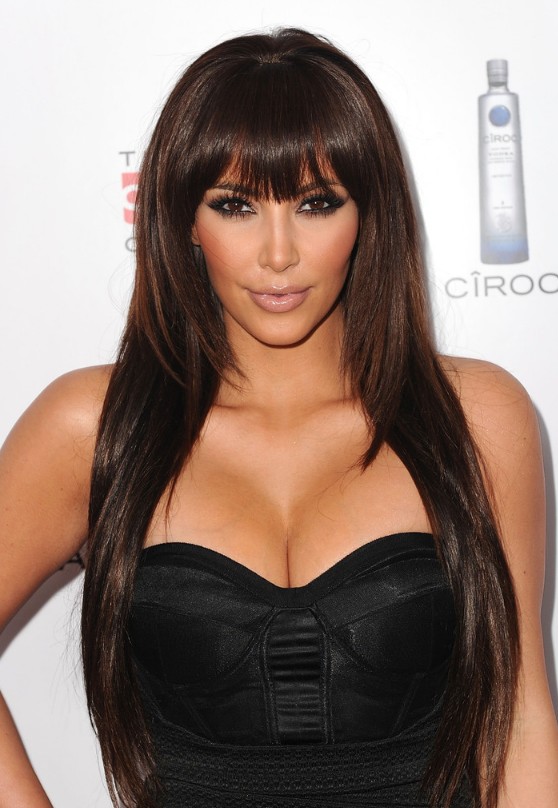 Most women are envious of other women who have long hair, and men love seeing long hair on a woman. If you are looking for the latest new long hair trends, here are some great celebrity long straight hair styles for you to choose from, find your favorite hairstyles here.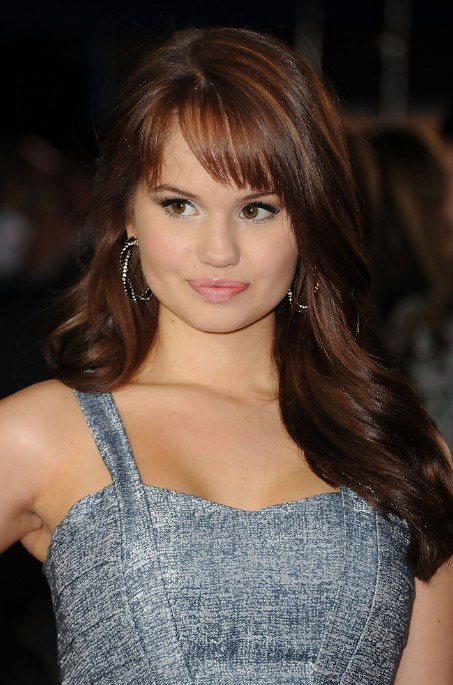 This is really a cute long straight hair style from Debby Ryan. She framed her heart shaped face with long layered locks and wispy bangs.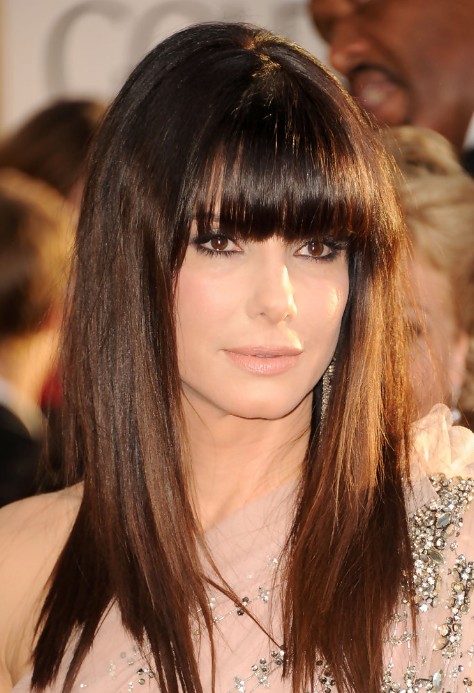 Sexy long sleek hair style from Sandra Bullock. She kept her makeup natural with a nude lip and lightly lined eyes. The bangs are blow-waved smooth to frame the top of the face and completes over-all style perfectly. This is a great long hair style for Round, Oval, Heart, Diamond, and Triangular face shapes.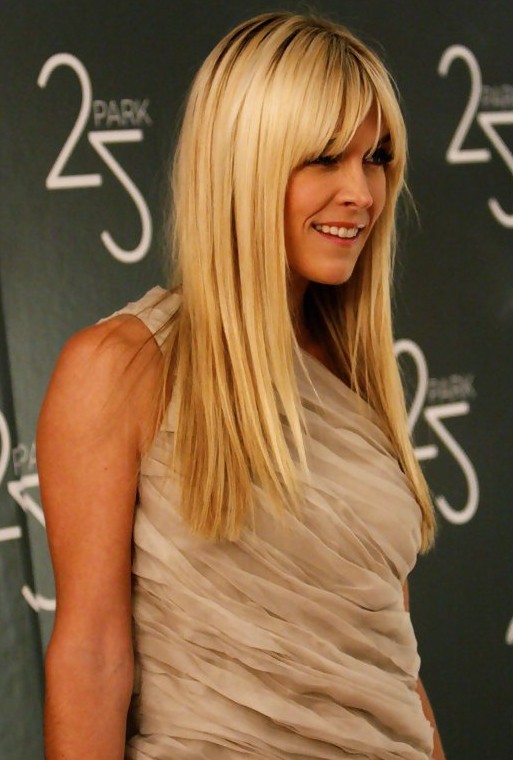 2013 long hairstyles for women: Tinsley Mortimer sported a beautiful long sleek hair style. And her bangs looked great on her. Fringe hairstyles or hairstyles with bangs have always been popular and they are more so in 2013 with many celebrities and top models sporting this style.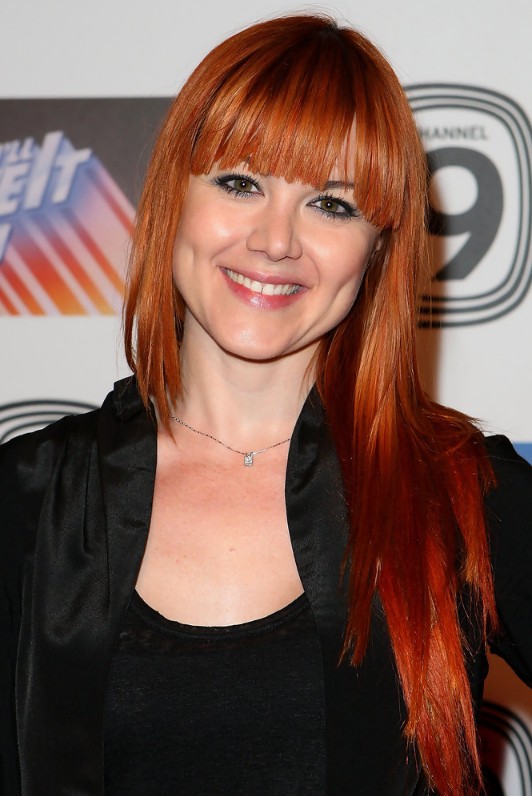 Smooth, Asymmetric, Red is the main idea for this hairstyle. This is really a stylish asymmetric long straight hair style in red. The Asymmetric hairstyle is popular in bobs, but there are few for long hair, however Vanessa Amorosi sports a stylish red asymmetric long hairstyle, and she looked gorgeous!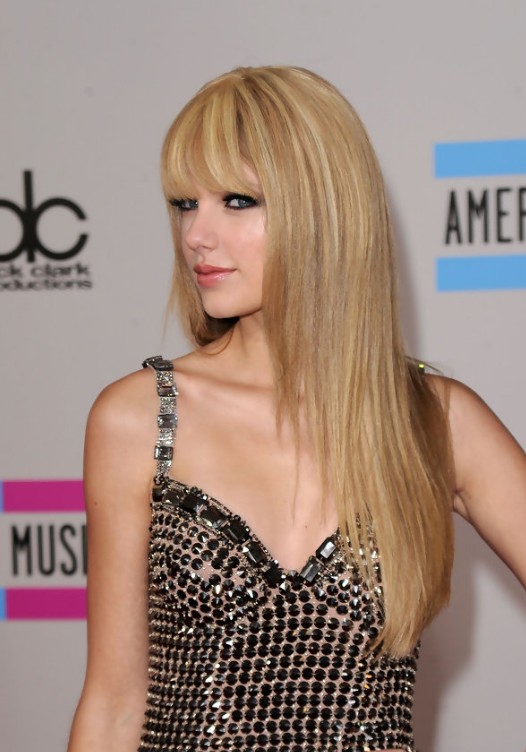 Long hairstyles for 2013:These light blonde locks are blow-waved straight from root to tip giving the over-all style a slick look and feel. This style is great for long, medium and short hair! The fringes looked great! Fringe hairstyles have been made popular by celebrities like Tyra Banks, Hilary Duff, Jennifer Lopez and Christina Ricci.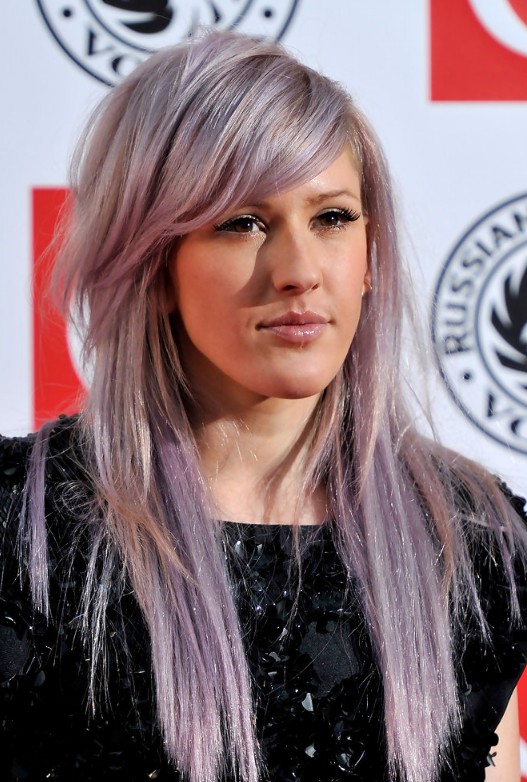 Real for wigs? No matter what, this is a great purple hair style for long hair, however, you can dye your medium or short hair in purple if you like.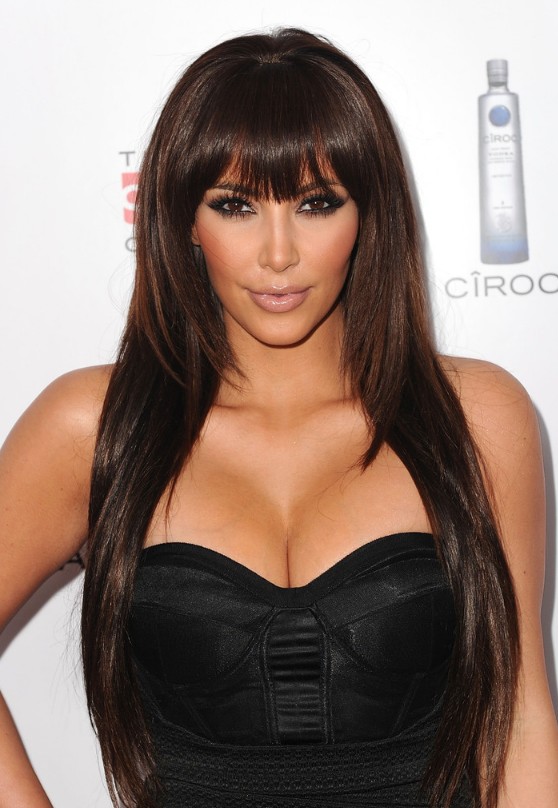 Straight Fringe Hairstyle: Here is a classic long sleek hair style from female celebrity Kim Kardashian, she sports a sexy smooth long radiant brunette hairstyle with bangs. This hairstyle is ideal for an evening out. To add more oomph to this look, you can use bejeweled hairpins instead of bobby pins.
Looks like Kelly Osbourne has spawned a purple hair trend.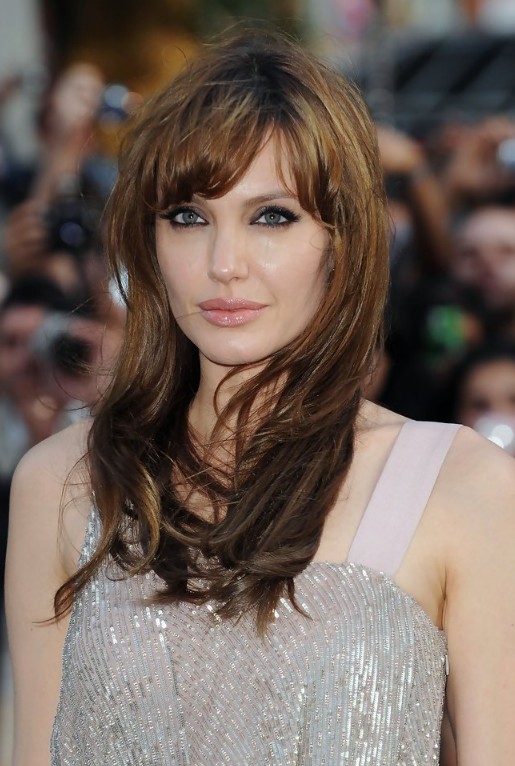 Celebrity long beach wavy hairstyle from Angelina Jolie, she showed off her long hairstyle and blunt cut bangs.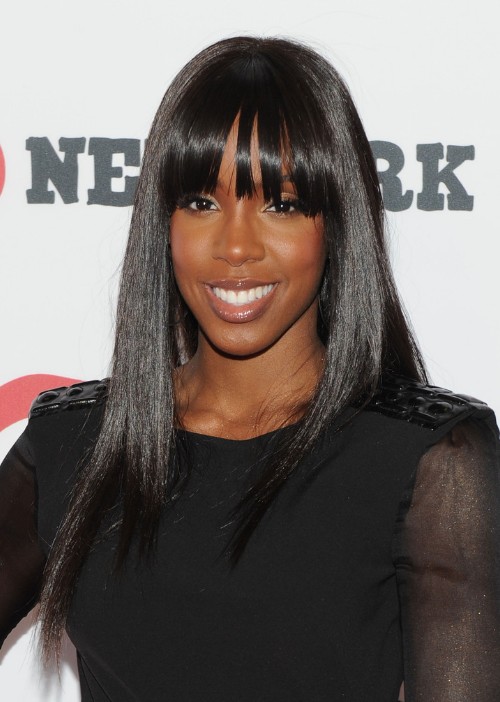 Long straight hairstyles for 2013: This is a popular long smooth hairstyle with blunt bangs. If you are tired of the waves and curls, why not try the sleek hairstyles instead in this year? If you have naturally straight hair, then just get some layers done in your hair. However, those with wavy or curly hair will have to use a straightening iron.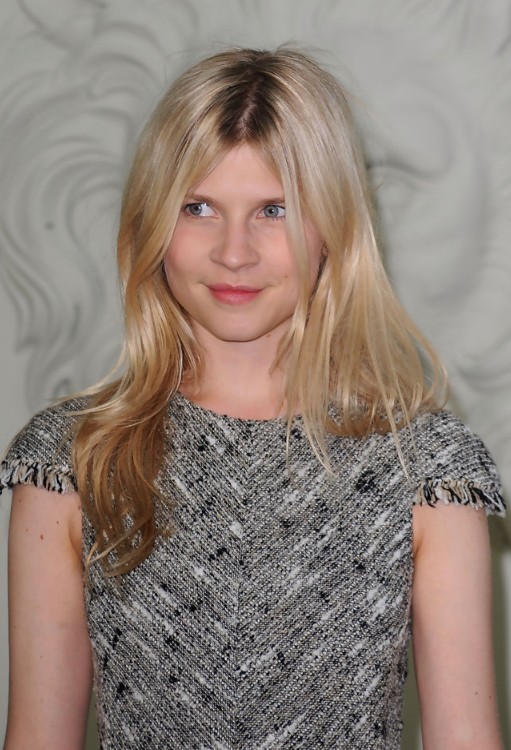 Clemence Poesy hairstyle: This is a great simple long sleek hair style for students, no matter you're a junior or senior or college students, you can wear this simple sleek hairstyle. The hair color looks great!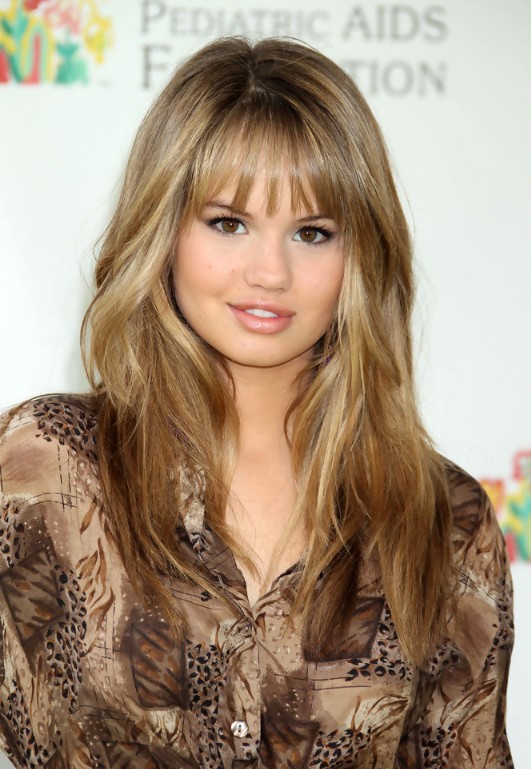 Debby Ryan Long Hairstyle: Her honey highlighted locks were the perfect complement for her glowing skin. This is a great hair style for young ladies.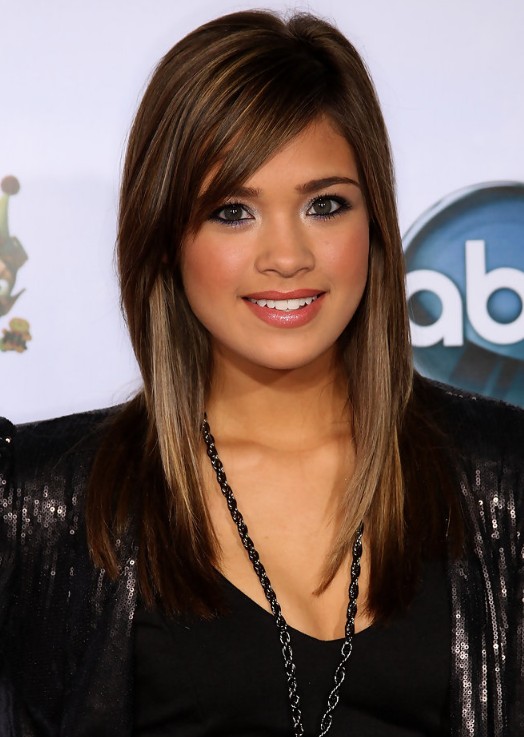 Side Swept Fringe Hairstyle: Here is a long sleek hair style with side swept bangs from Nicole Anderson. Smooth and simple is the main aim for this luscious look, if you are going to get a new fresh long sleek hair style, why not try this style?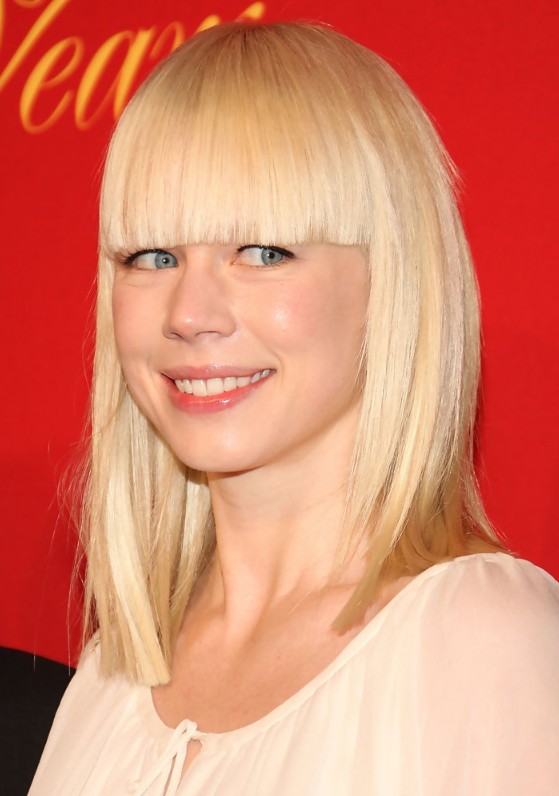 This is really a stylish long blonde blunt hair style! I love this cool style very much. If you're a fan of long bob, you can try this cut.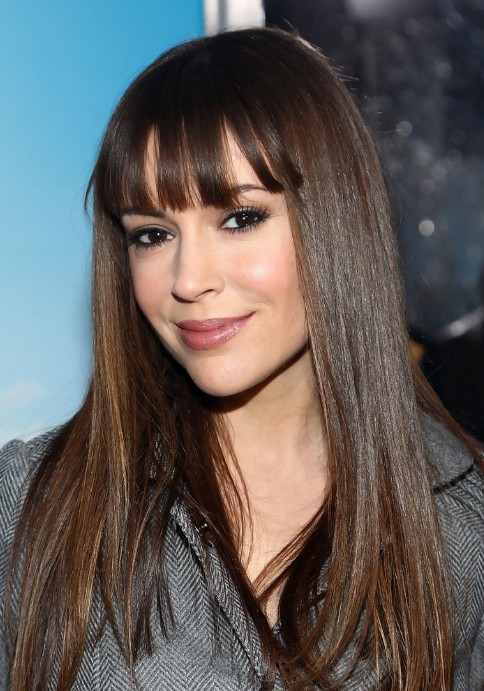 Alyssa Milano Long Straight Cut with Bangs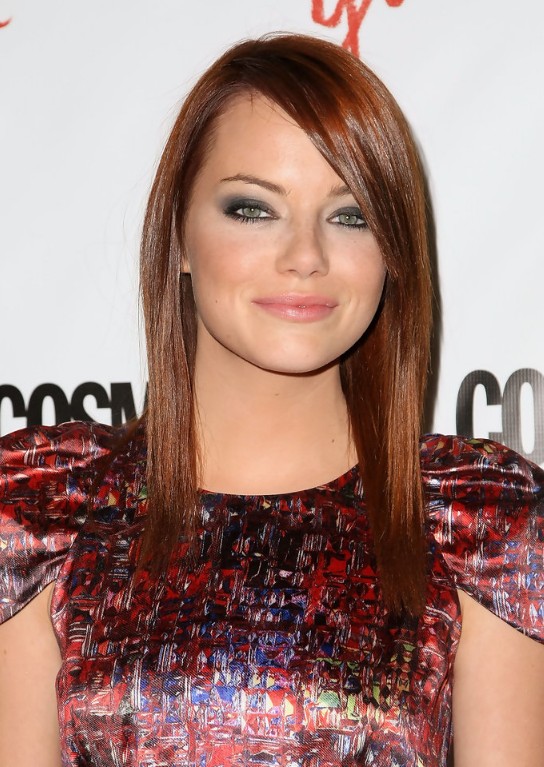 2013 Celebrity Casual long straight hairstyle trends: This is a super sleek long hair style from Emma Stone. It was pinned back on one side to create a sensational unbalanced effect.
Have you found your favorite hairstyles? If you love these styles, why not like it on facebook and Pin it on Pinterest, share with your friends!
If you don't like these styles, why not browse our site hairstylesweekly.com to find more latest new hairstyles?