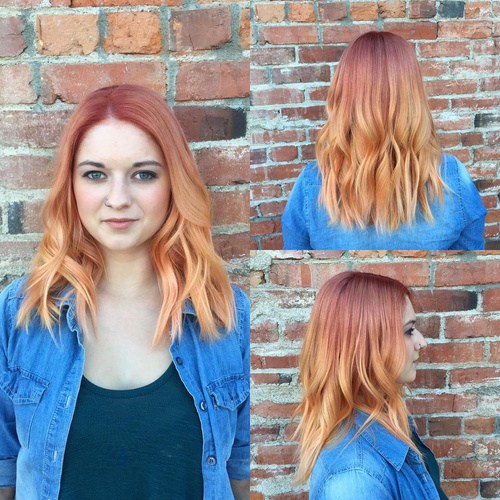 Whatever your base color is there's a beautiful new balayage or ombré color just waiting to make it richer, trendier and more face-flattering!  Updating your beauty look can be as simple as asking your colorist for advice on the best ombré shade to suit your current skin-tone.  It's not true that the hair color you're born with is the most flattering one for you, as anyone with dirty-blonde, early gray or mousey-brown hair will know!  So take inspiration from these 20 gorgeous ombré hairstyles and freshen up your new season look!
Cool brown & blonde on long waves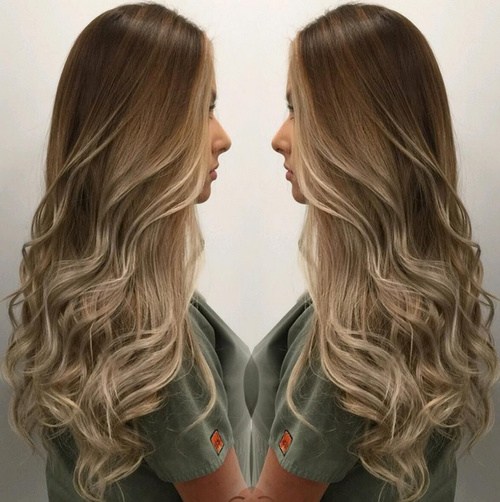 This model is wearing a faded green top, reminding us that the fashion for fading hair colors is part of a bigger fashion trend.  This wonderfully 3-dimensional effect is achieved with a creative mix of golden-blonde, ash-blonde and white balayage.  No wonder the gorgeous rippling waves are full of attractive texture!
Natural roots with pale-blonde ombré – ombre hairstyles for girls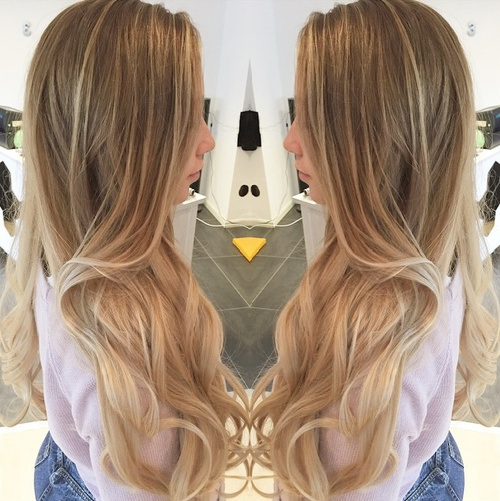 Cool medium-beige gains added depth from vertical blonde highlights that become a fashionable neutral-blonde ombré from shoulder-length to the tips. Remember that if your blonde ombré starts looking yellow, you can buy violet-tinted, corrective shampoo products to counteract brassy tones.
Sophisticated ombré on casual chic hairstyle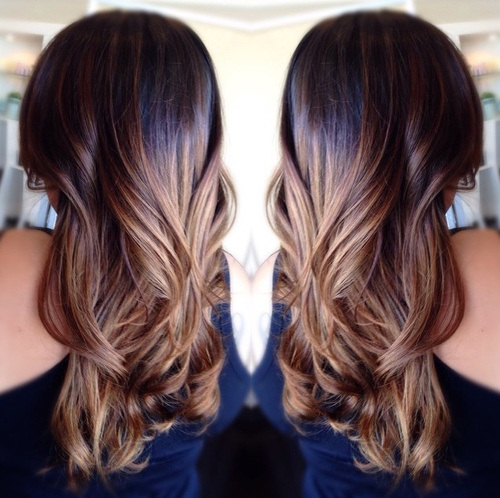 This high-end hairstyle has inspired color features that make it a unique look.  The brunette top section has a flash of indigo-blue at the back, which at first glance looks like a shadow!  Brown/purple colors combined with warm-beige blonde create a softly appealing vibe that adds lots of class to contemporary hairstyles!
Flattering mid-blonde with beige-pink tips – ombre hair for medium thick hair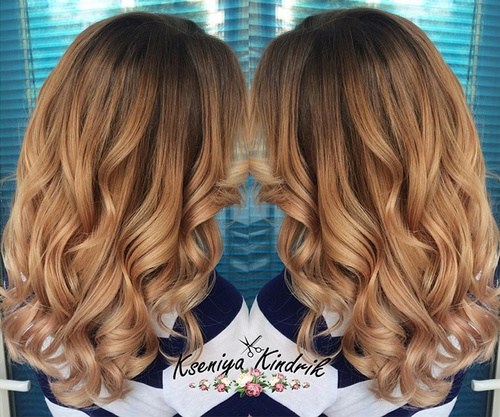 If you're not completely sure which blonde shade is best for you, bear in mind that medium golden-blonde is the most 'forgiving' blonde color.  This style has darker roots on top, blended into warm-blonde around the face, with trendy pinky-beige-blonde on the tips.
Subtle honey-beige balayage-ombré – ombre hairstyle for shoulder length hair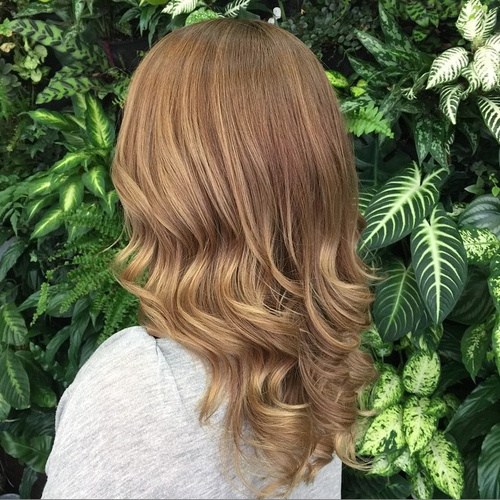 Lots of women are choosing natural-look ombré this season with dual-balayage and ombré that's just a couple of tones darker and lighter than the base.  This honey-colored long style has fantastic 3-D color depth from well-placed blonde highlights that really focus attention on the lovely waves!
Bright contrast blonde on brown – brunette to blonde ombre hairstyle for long hair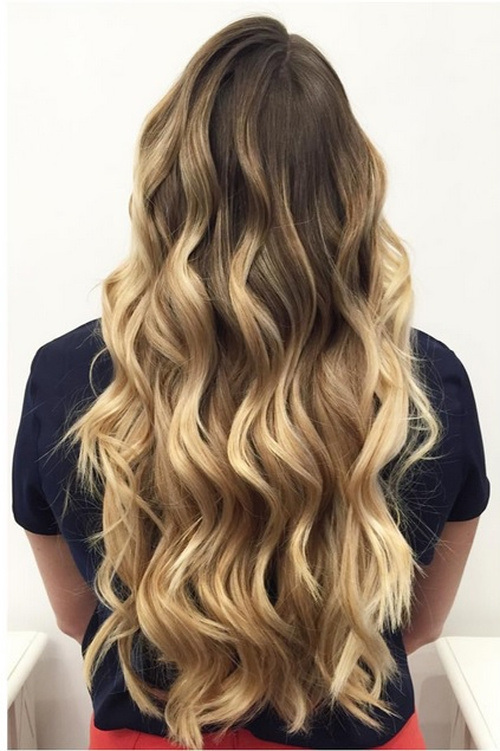 Long hair looks thicker when dual-blonde highlighting is applied, especially over extra-large, wiggly waves like these.  The roots are dark-blonde/mousey-brown with medium neutral brown lowlights down to the ends, making the blonde balayage really 'jump out' in this appealing, high-fashion look.
Glamorous waves & pearly ombré hair for women over 30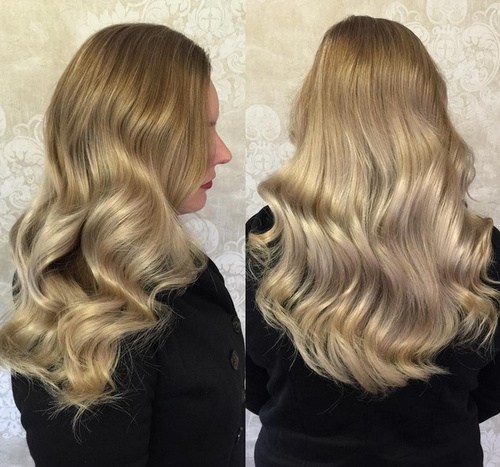 This glossy blonde, wavy style evokes the peek-a-boo Veronica Lake look from glamorous Hollywood film-stars of the 1940's!  It's a classic look brought up-to-date with the pearly-blonde ombré and extra-large wave pattern creating loads of adorable movement and texture!
Trendy mahogany with soft orange balayage for long straight hair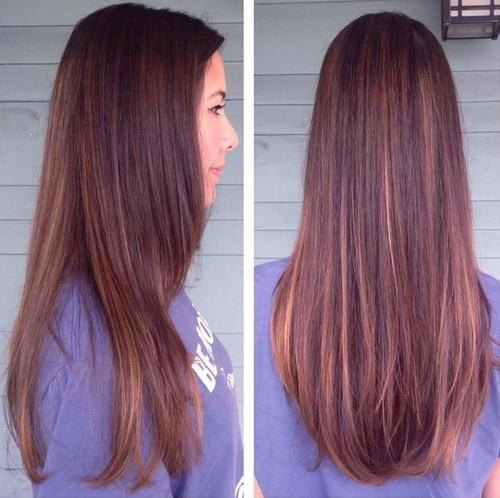 Orange and purple are complementary colors and there's a huge new trend for adding muted orange balayage to brown hair to create a softer, warmer look.  If you prefer to wear your hair in a simple style adding a trendy balayage-ombré could be all you need to get a trendy hairstyle up-to-date!
Grungy gray ombré fade – easy daily ombre medium length hairstyle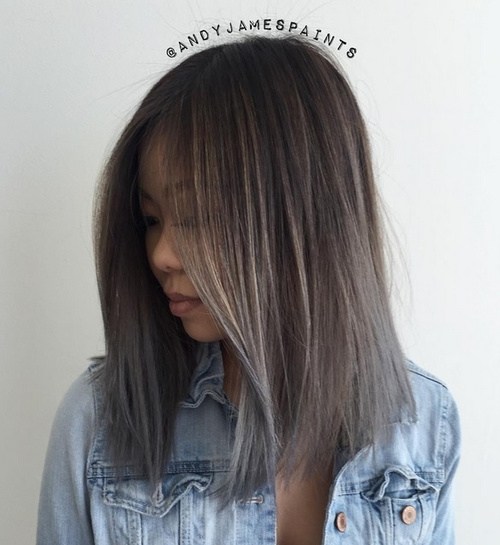 Soften your straight, jet-black hair with a high-fashion faded ombre, which echoes the fashion for faded denim.  There are three different shades of gray with blonde balayage framing the face in a casual, grungy look.  The center parting suits oval faces.
Lovely light-brown with neutral ombré – super straight ombre hair for girls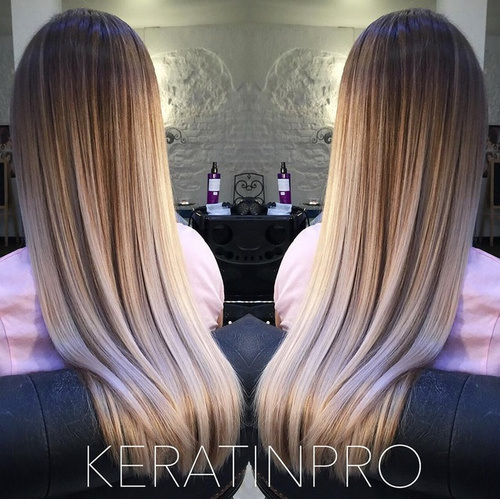 This neutral-blonde ombré is combined with a dual-blonde balayage and darker roots.  It's a long process, but worth it to create defined vertical lines in long, straight hair.  Beige-blonde is a very new and exciting shade that bridges the gap between cool and warm shades with a gentler finish!
Soft & fashionable beige-blonde ombré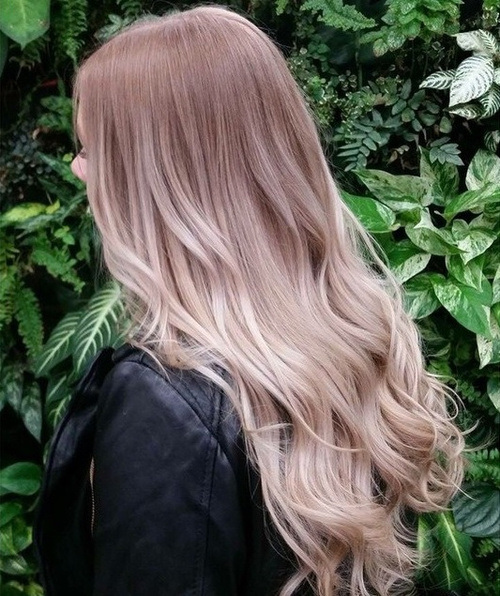 This beige-blonde ombré starts high allowing the blonde waves to fall next to the face and reflect flattering light onto the complexion.  The medium-beige roots change very subtly into the ombré shade which is only a few tones lighter, giving this long wavy style a softly romantic look.
Natural-look blonde ombré on light-brown hair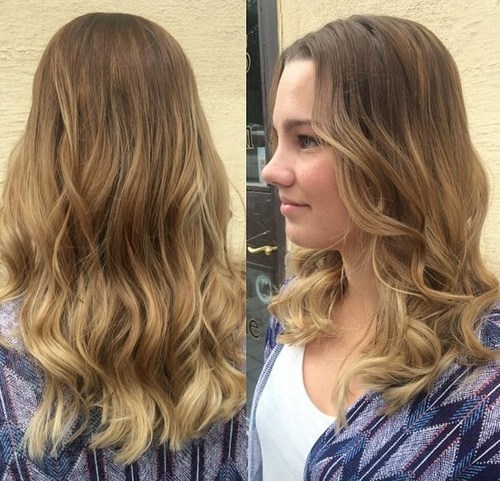 The colorist has created a very natural looking blonde ombré in this casual look on a young model.  There are two shades of blonde in the softly-waved ombré and lighter tips mimic the naturally sun-bleached look in a very convincing way!
Wonderfully warm mahogany & soft copper ombre hair for shoulder length hair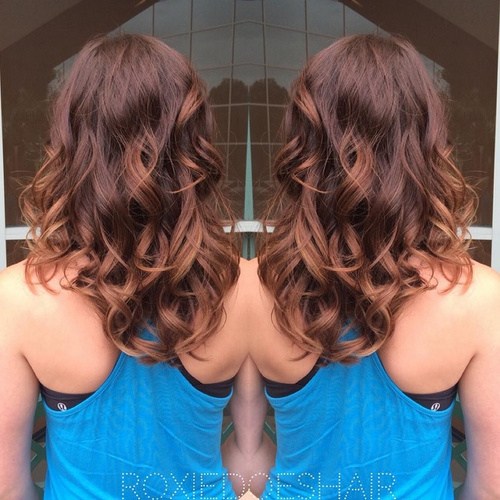 The trend for muted orange highlights on brunette and black hair is one of my favorites right now.  It warms up the hair without any 'red' tones and creates incredibly soft and flattering color schemes.  This tousled, wavy hair design in copper shades is a young, casual look.
Amazing asymmetrical waves with white highlights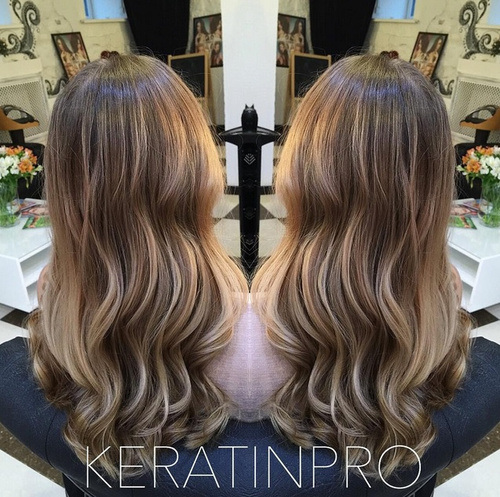 I can't remember a time when there were so many different shapes and sizes of waves available to us!  This ombré style is a chic look with the root color only slightly darker.  The white-blonde ombré highlights have been painted onto the edges of the wide waves and creating 3-D color depth and lovely texture!
Luscious light chestnut with dual-blonde ombré hair for long thick hair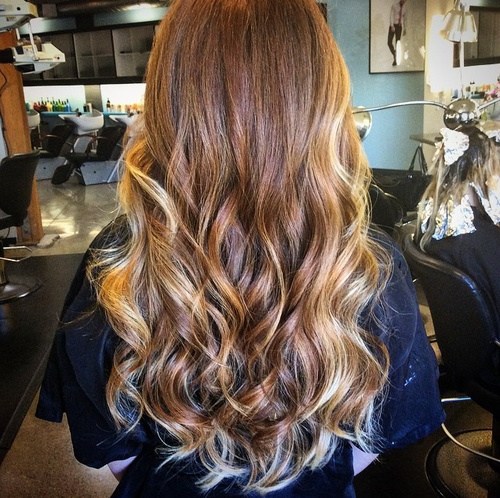 The gentle colors in this fashionable ombré scheme are beautifully blended in complementary tones.  The main shade is light-chestnut with golden-blonde balayage creating flattering, face-framing strands.  Final touches of cool, white-blonde give a creative contrast emphasizing the warm ombré.
Peek-a-boo wave & gorgeous gold-brown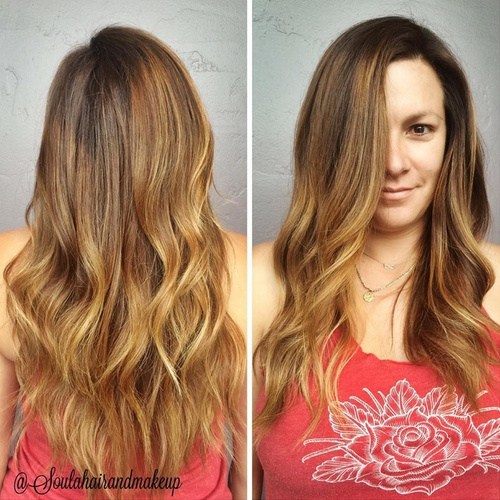 Golden-brown has been absent from hair color trends for ages, but it's back in fashion this year in lots of different variations.  It's also a convenient way to go blonde in a natural-looking stages for anyone with light-brown hair.  Gold glints really emphasize this model's brown eyes and loose waves keep it casual but trendy!
Divine white-blonde with gray roots & pearly finish – ombre hair for girls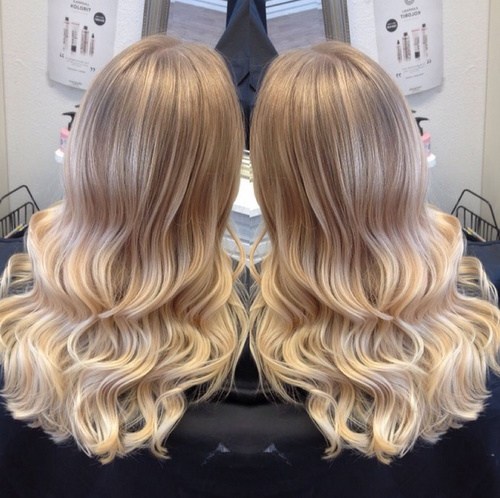 Here's a stunning hair color idea with soft, gray roots and medium-blonde tones creating loads of attractive texture around the head.  There's a touch of pink gloss taking the chill off the vanilla-ice ombré, which also has subtle beige low-lights in this divine blonde ombré!
Girly prom/party ringlets on medium-blonde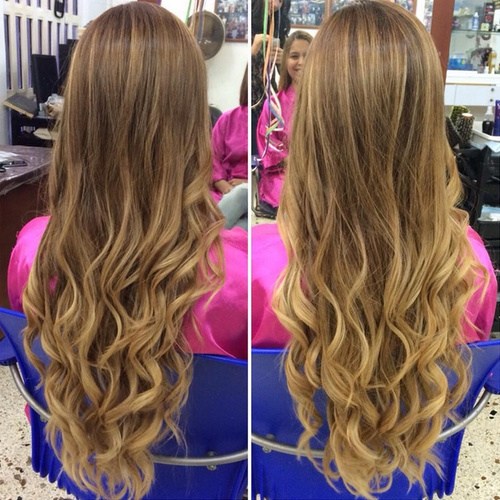 With dark-blonde roots brightened up with lighter balayage and a subtle ombré, this carefully waved hairstyle is ready for a prom, party or special date.  This is a low-key color-scheme with three highlight shades kept within 2 or 3 tones of the base in a natural look suitable for teens!
Stunning subtle metallic-gold on light-brown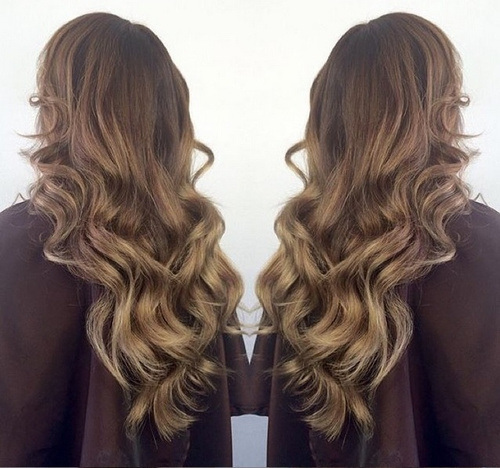 This is another gorgeously unusual look in which metallic-gold ombré creates a gleaming finish to wide, deep waves.  The ends have been straightened to create a spiky outline, contrasting with beautifully flowing, defined waves at the sides.  The outline is graduated to a V-shaped back.
Edgy soft orange with red roots & broken waves – red ombre hair for medium hair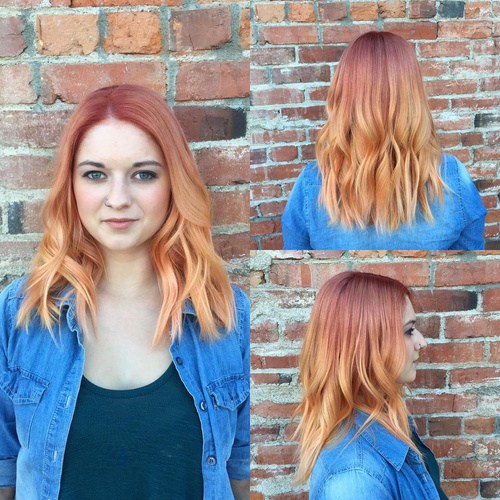 It's no accident this denim-clad model with blue eyes looks great with orange hair, as blue's a complementary color to orange.  This colorful orange style has muted red roots and balayage on broken waves.  So altogether it's perfect as an edgy, eye-catching and modern look! And a great option for natural red-heads, too!
Along with eye-catching exceptions, there are several natural-look ombré ideas which are especially suitable for teens.  So you can let your daughter/s have a trendy (but subtle) ombré, without it making them look older than their real age! And before choosing a new hair color, remember to check the main colors in your wardrobe to ensure you create a harmonious clothes and hair-color scheme.