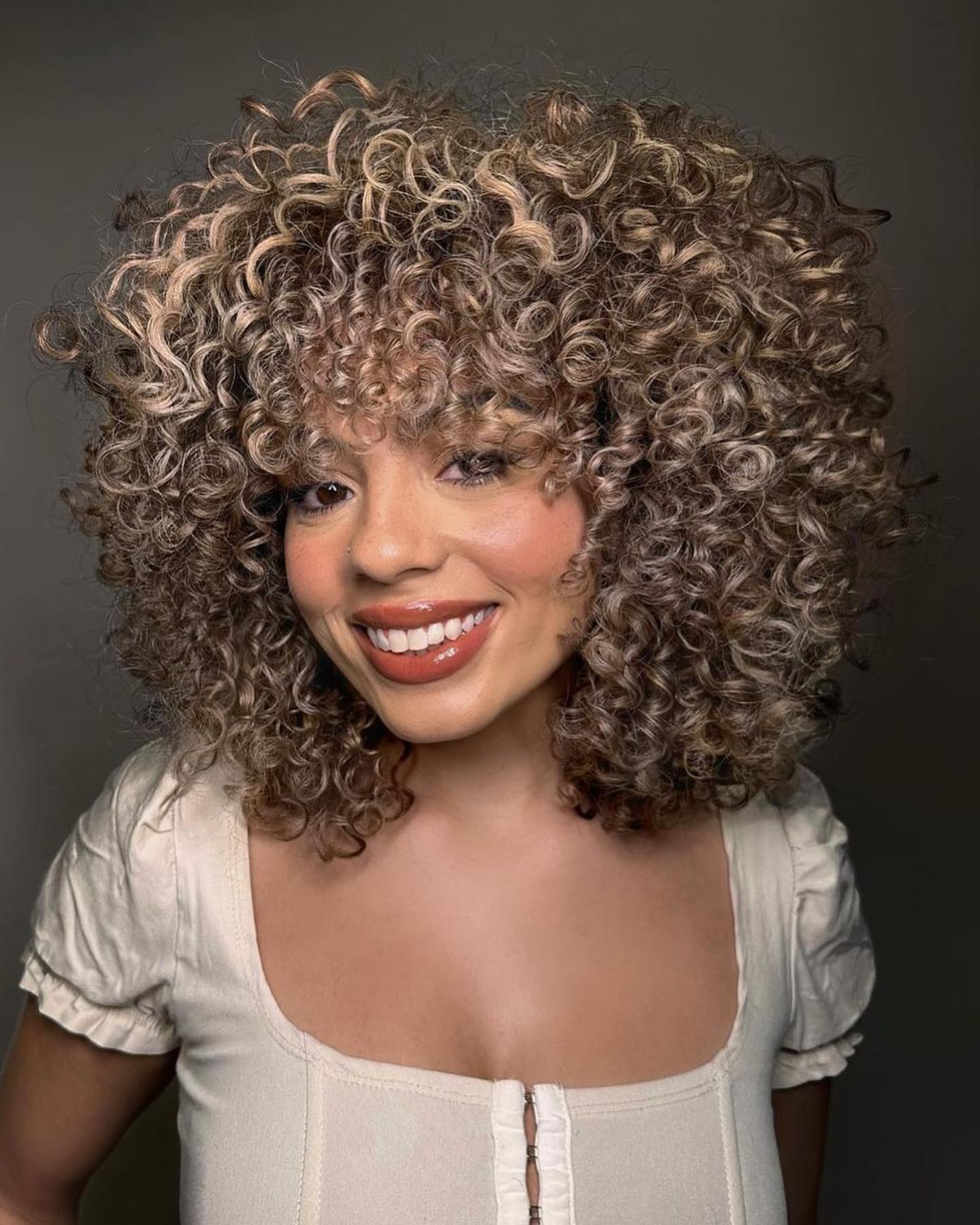 Embrace Your Curls and Waves: A Comprehensive Guide to Curly and Wavy Hairstyles
Curly and wavy hairstyles have been a timeless favorite for people of all ages, genders, and hair types. These hairstyles not only embrace the natural beauty of textured hair but also offer a wide range of versatility, making them suitable for any occasion. In this article, we will explore various curly and wavy hairstyles, providing inspiration and guidance to help you find the perfect look that highlights your unique curls and waves.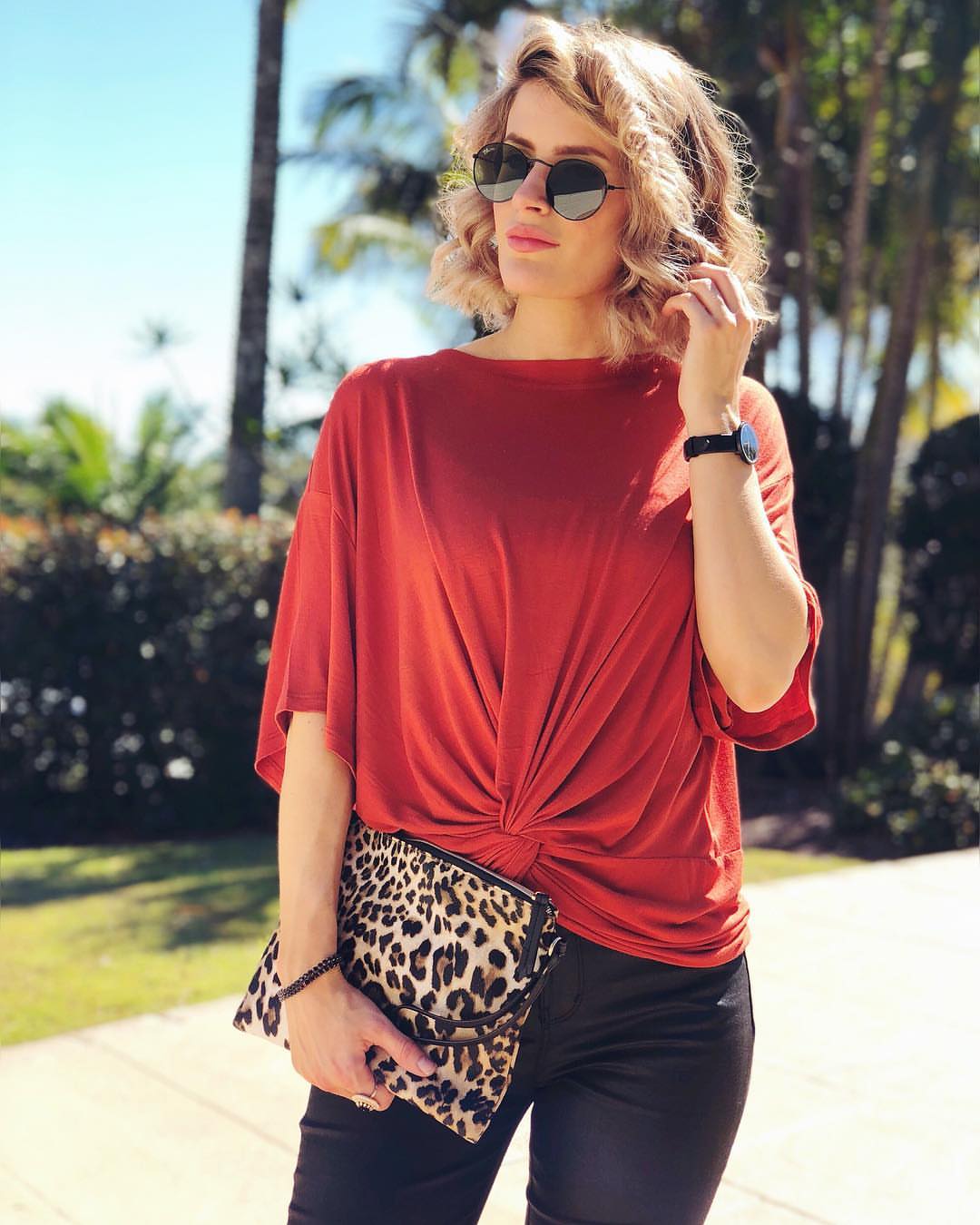 Section 1: Understanding Your Curl Type
Before delving into specific hairstyles, it's essential to understand your curl type. Hair is typically classified into four main types, with each type having three subcategories:
Type 1: Straight hair
Type 2: Wavy hair
a. 2A: Slight wave
b. 2B: More defined wave
c. 2C: Wavy with some curl
Type 3: Curly hair
a. 3A: Loose curls
b. 3B: Tighter curls
c. 3C: Corkscrew curls
Type 4: Coily hair
a. 4A: Tight coils
b. 4B: Z-shaped coils
c. 4C: Extremely tight coils
Understanding your hair type allows you to choose the most suitable hairstyles and haircare practices for your unique texture.
Section 2: Curly Hairstyles
Long, Layered Curls: Long layers help to add shape and definition to curly hair, reducing bulkiness and enhancing natural curl patterns. This hairstyle works well for those with looser curls (3A-3B).
Short Curly Bob: A short bob with curls adds volume and bounce while framing the face beautifully. This style suits those with tighter curls (3B-3C).
Curly Shag: A modern take on the classic shag haircut, the curly shag incorporates layers to create a textured, edgy look. This style works well for all curl types.
Curly Pixie Cut: A bold and chic hairstyle, the curly pixie cut works well for tighter curls (3C-4A) and highlights facial features.
Pineapple Updo: This high, loose ponytail is perfect for keeping curls out of your face while showcasing your curl pattern. It works well for all curl types.
Section 3: Wavy Hairstyles
Beachy Waves: This casual, tousled look can be achieved with sea salt spray or a curling wand, creating effortless, textured waves. Suitable for Type 2 hair.
Wavy Lob (Long Bob): A popular choice, the wavy lob is a mid-length, layered cut that adds movement and body to wavy hair. Suitable for Type 2A-2B hair.
Soft Waves with Side-Swept Bangs: This romantic hairstyle features soft waves paired with side-swept bangs, framing the face and creating a flattering silhouette. Suitable for Type 2A-2C hair.
S-Wave: This classic, vintage-inspired style features deep, defined waves that add glamour and elegance to any look. Suitable for Type 2B-2C hair.
Braided Wavy Hairstyles: Braids, such as fishtail, French, or Dutch braids, can enhance wavy hair's natural texture and add a bohemian touch. Suitable for all Type 2 hair.
The best curly hairstyles will be styles that suit you and your personal style! Discover our pick of the best curly wavy hairstyles for this year for different face shapes, hair types and fashion styles here!
1. Best curly hairstyles – long layered flick-up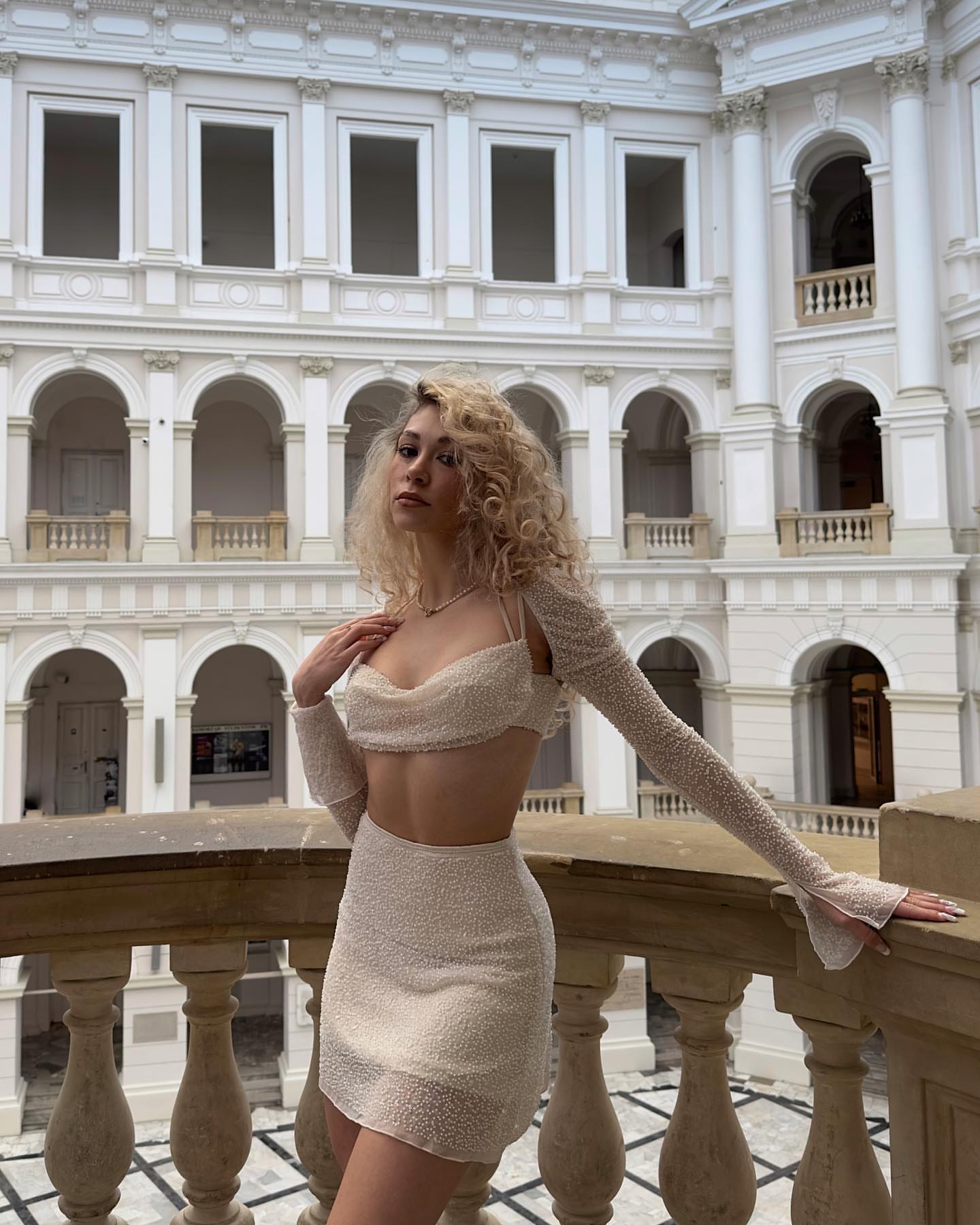 For those who love long hair, but don't want the hassle of curling it all the time, try a just past shoulder-length style with long, choppy layers. Then you can just flick-out the ends of the layers with a round-brush as you dry it for smooth width and movement, without actually having full curls!
2. 'Party-ready' long wavy raspberry ombré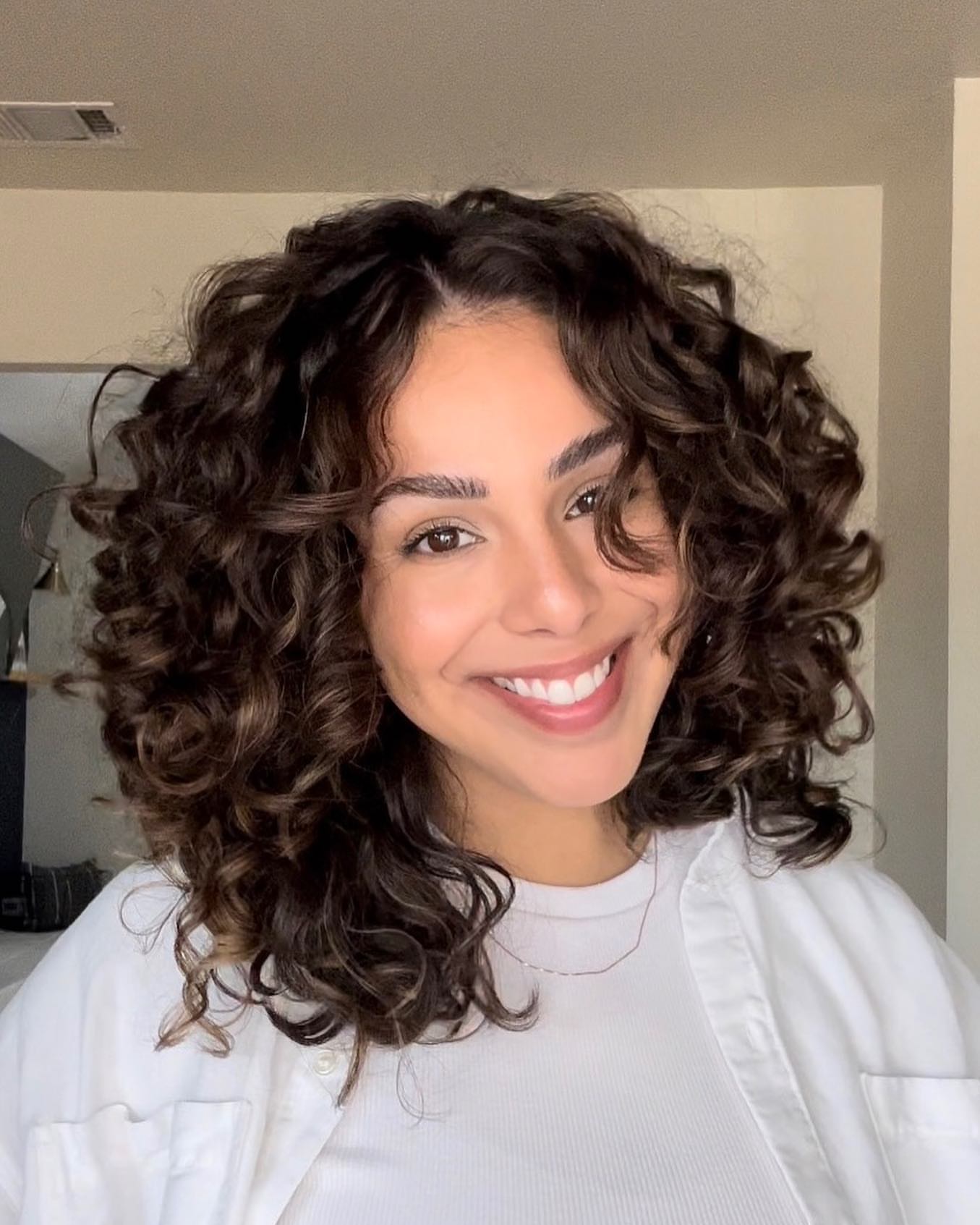 Change your asymmetrical swept-across fringe to a horizontal fringe – wispy if your hair is thick, but deep and blunt cut for fine hair. Then add loose, windswept waves in the lower lengths highlighted with a raspberry shade to be all ready for the party season to come!
Ombré colors for spring are going to be ash-blonde and ash-brown shades, so the best curly hairstyles for this spring season will be 'cool' in every sense of the word!
3. Best curly hairstyles – heart shaped faces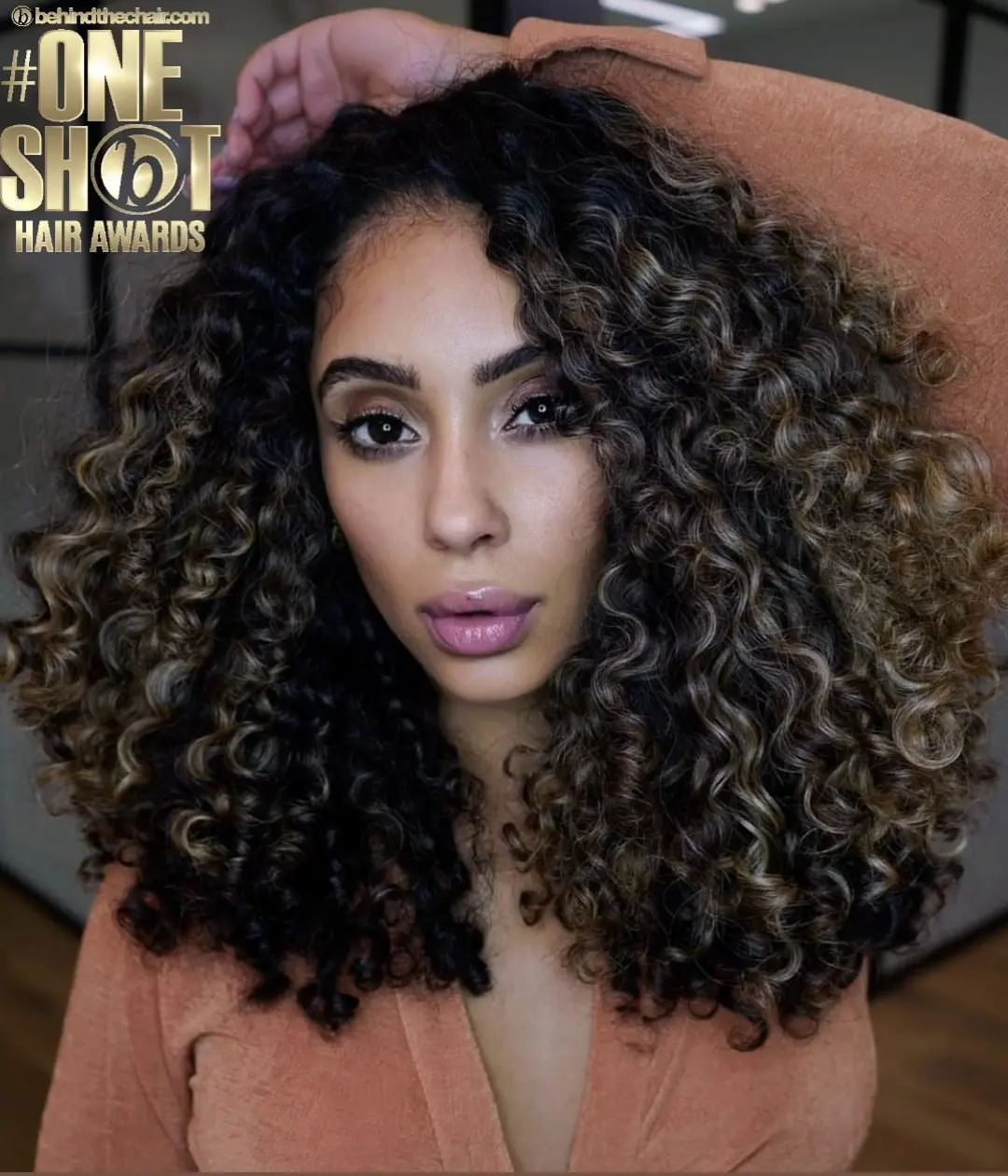 Try a jazzy layered bob, cut with 'jagged-tipped' point-cutting around the outline to give a strong shape, whilst lightening the look of the overall silhouette!
The fringe is the new deep, full fringe cut horizontally and long enough to hang over the eye on one side. The parting is just off-center and the fringe should be slightly parted on the other side, leaving casual defined strands.
The ends curve in delicately at the jaw-line, with a little extra width achieved by flicking out the tips further back. This is one of the super-trendy versatile looks that can be worn straight or curly and just needs a little fluffing up with the fingers to create the casual, finished look!
4. Best curly hairstyles – quirky bouffant bob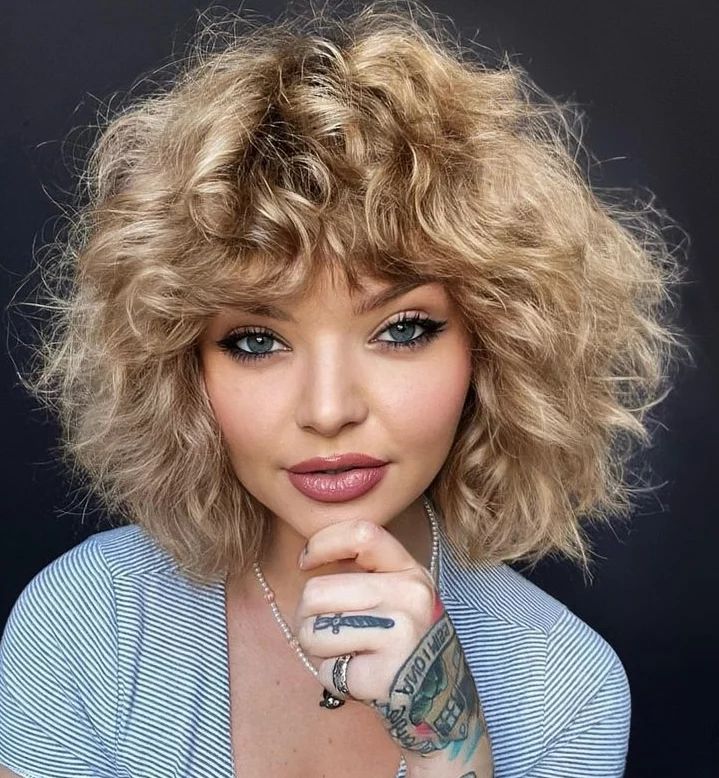 For a quirky individual look, consider the medium-length bouffant pink curly bob! It works on naturally curly hair, straight hair and fine/thin hair and is initially cut to a couple of inches below the chin.
The hair around the head is lightly back-combed to give lots of contemporary, windswept volume and movement. The curls are 'broken spirals' at the ends, to ensure the overall look isn't too sugary!
The tousled, bouffant vibe adds texture and volume to anyone with thin hair, without looking like a headful of bubble curls! If your hair is thick – you don't need to back-comb it much – just enough to suggest the original early-1960's look that inspired it.
In pink or whatever colour you fancy, this style projects relaxed fashion flair and suits most face shapes!
Here we have collected the latest most popular curly hair styles for you to choose from!
5. Juno Temple blonde curly hairstyle for long hair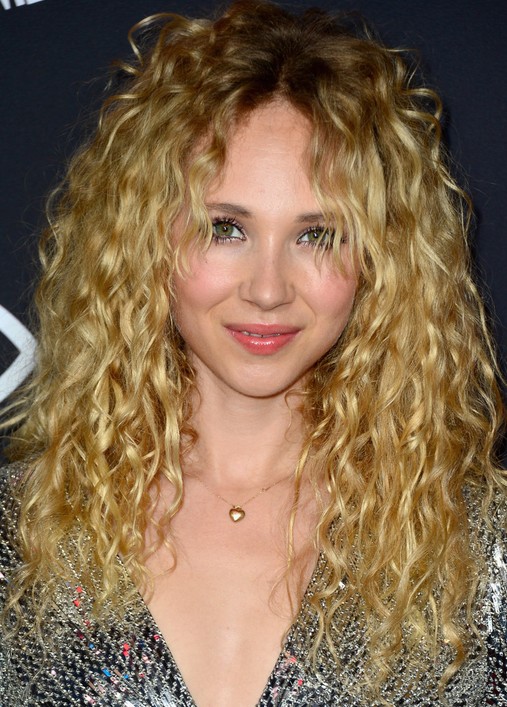 Juno Temple was wildly coiffed with big curls at the 'Sin City: A Dame to Kill For' premiere.
6. Jazz Long Brunette Curly Hairstyle for Prom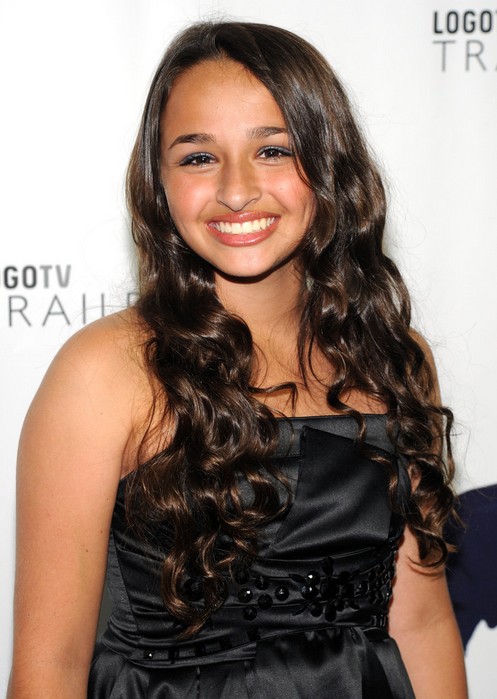 Prom hairstyle ideas: the elegant long brunette curly hair from Jazz! Jazz attended the Logo TV Trailblazers event wearing her hair in a cascade of curls. This soft curly hairstyle is perfect for oval, round, square face shapes.
7. Jamie-Lynn Sigler Long Dark to Brunette Ombre Curly Hairstyle for Women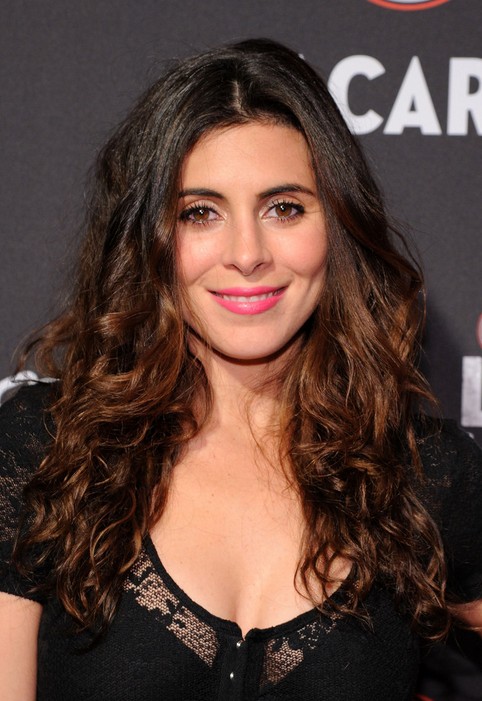 A fabulous curly prom hair style for girls. Jamie-Lynn Sigler styled her hair with messy-chic curls for the Cuban Independence Day celebration, she finished off her look in sweet style with a pretty pink lip color. This long ombre hair is perfect for fat faces.
8. Minnie Driver Long Curly Hairstyles for Women Over 40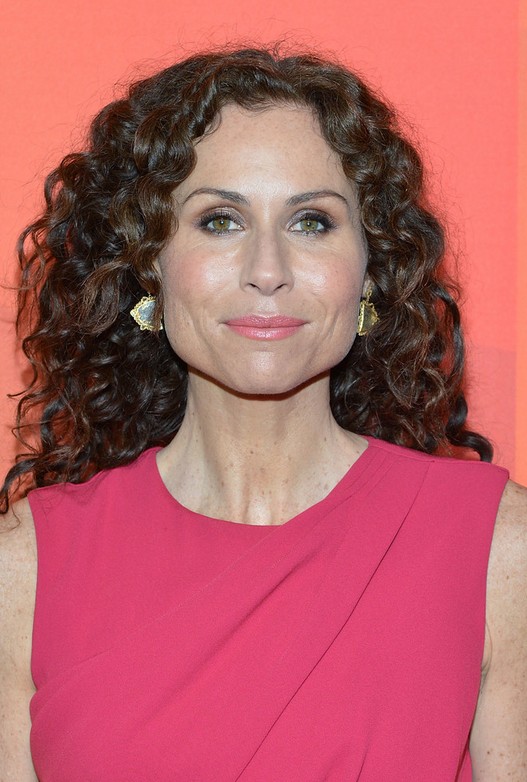 Latest popular long curly hairstyle for middle aged women – the soft curly hairstyle. Minnie Driver attended the NBC Upfront Presentation wearing her hair in bouncy curls. This curly hairstyle is great for oval, round, square face shapes. If you're looking for a great daily curly hairstyle, consider this one.
9. Girls ombre curly hairstyle for long hair – Selena Gomez long hairstyles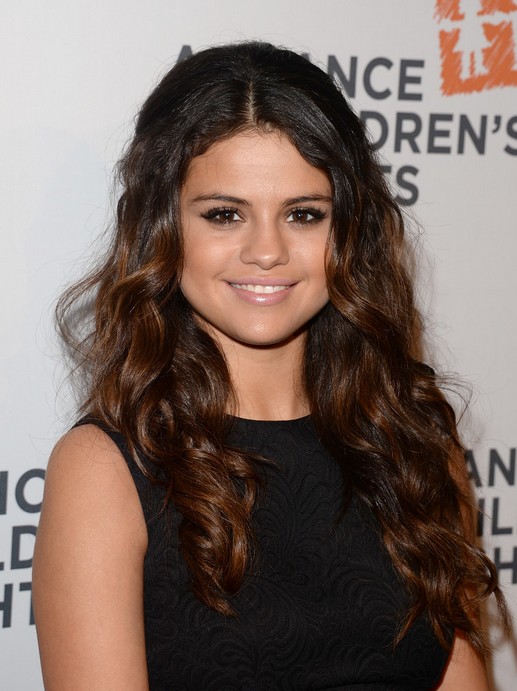 The ombre hair is really popular these days, no matter you wear short hair or long hair, you can dye your hair in your favorite colors. Here is a chic dark to brunette ombre hair with curls from Selena, she looked cute wearing boho-chic center-parted curls at the Alliance for Children's Rights dinner. Do you like this style?
This ombre curly hairstyle is perfect for oval, square and round faces.
10. Jillian Rose Reed Long Red Curly Hairstyle for Women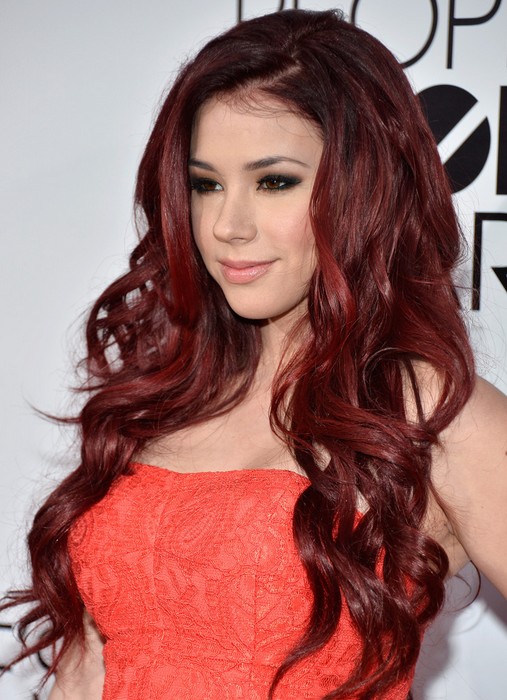 Actress and producer Jillian Rose Reed shows off her latest hair style at the People's Choice Awards, she was a head turner with her long, sculpted curls! This hair color is really hot recently. Pair your wine red hair with soft gold and crimson eye shadow, plum lips, and flawless dewy skin for a glamorous and romantic final look.
11. Paulina Rubio Sexy Long Blonde Curly Hairstyle for Women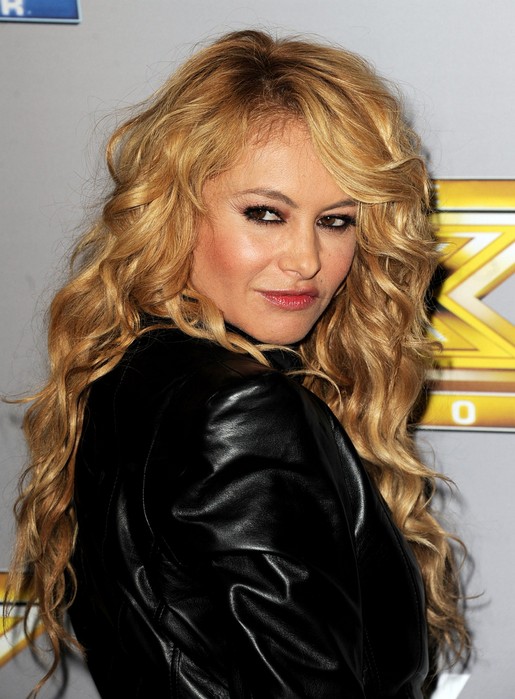 Looking for curly hairstyles for school? Here is a great one from Paulina Rubio, she looked oh-so-sexy with her long, lush curls! If you wear long, thick/medium hair, and want these curls, try this one this time!
12. Sheryl Crow Soft Curly Hairstyle without Bangs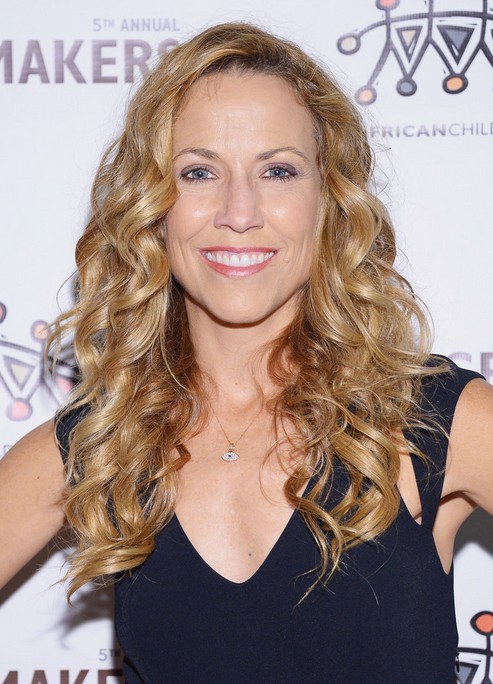 Simple easy daily hair style for women – Sheryl Crow went for an ultra-feminine vibe with this long curly 'do at the African Children's Choir Gala.This soft long curly hair style is perfect for oval, diamond, square faces.
13. African American curly hairstyles – Chaley Rose Curly Hairstyles for Black Women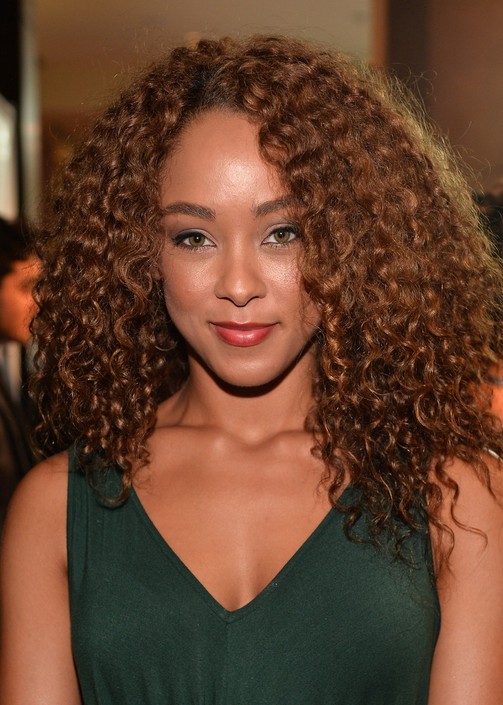 African American daily hairstyles – the brunette curly hair! I love Chaley Rose's soft curls! This sexy brunette curly hairstyle is perfect for thick, natural curls as it shows off your locks whilst taming them and keeping them out of your face. To style your hair in a half-up do, take thick sections of hair from just above your temples and pull them back to secure them behind your head. Leave a curl or two loose for a romantic touch.
14. Christiane Seidel Red Curly Hairstyle for Long Hair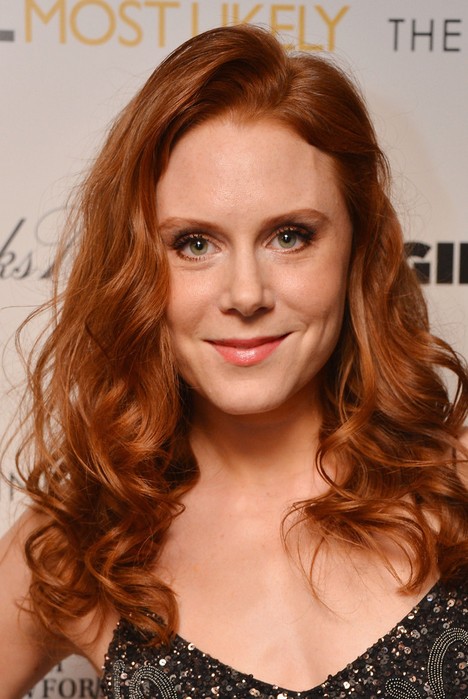 Hair color ideas – Sexy red curly hairstyle for women – Christiane Seidel's fiery red locks looked totally red carpet red with big, bouncy curls. Coloring naturally curly hair can dry it out, causing unnecessary damage, so make sure that you take good care of your hair by investing in hydrating color protection hair products, this color is really popular in this year, if you love this look, why not have a try?
15. African American dark curly hairstyle for black women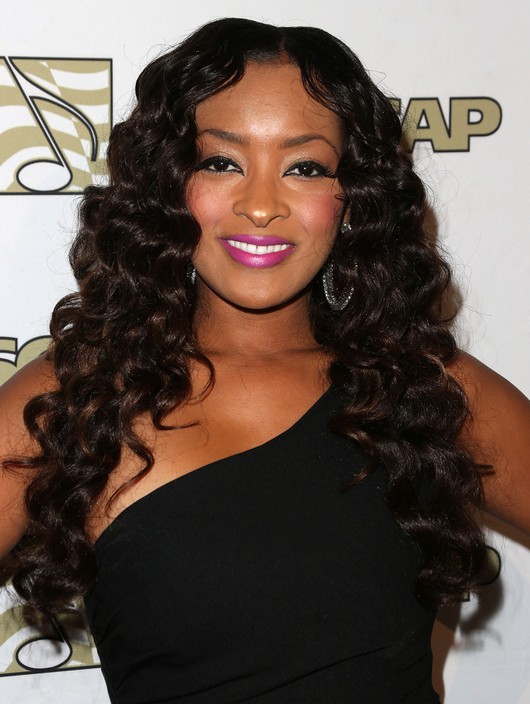 Jennia's long chocolate curls were bouncy and full of life at the ASCAP Rhythm & Soul Music Awards, she added a pop of color to her look by swiping on a light grape lip color. To style your hair in a half-up do, take thick sections of hair from just above your temples and pull them back to secure them behind your head. Leave a curl or two loose for a romantic touch.
16. Jurnee Smollett-Bell Curly Hairstyles for Women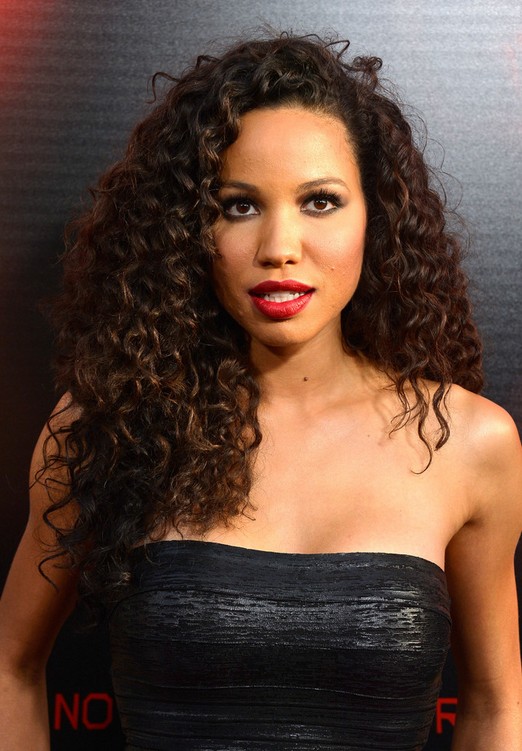 Latest celebrity hairstyles for women – the trendy soft curly hair style for thick hair. Jurnee Smollett-Bell may have some of the best curls in the business! Wear your natural curls in a trendy side-swept style for some contemporary glamour, or curl your straight/wavy hair for an eye-catching change. For tight, bouncy corkscrew curls, use a thin barreled curling iron and wrap sections of hair tightly around it for extra definition.
17. Nicki Minaj Blonde Curly Hairstyle with Dark Roots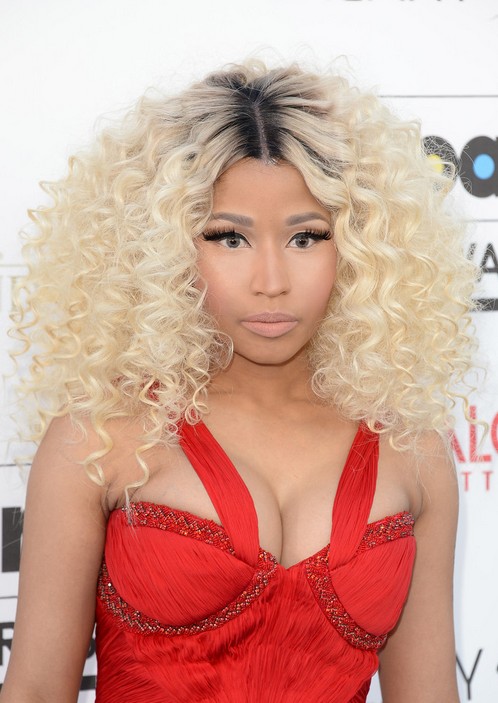 Nicki Minaj's latest hairstyle – the trendy curly hair! Her platinum curls looked totally voluminous and gorgeous at the Billboard Music Awards. I'm totally envious of Nicki Minaj's long and bold lashes. Naturally curly hair is prone to dryness and frizz, so take extra care of your curls. Condition your hair regularly, and use silicone free hair products, as silicone can weigh down hair and make it look greasy. Also, invest in a special de-tangling brush to avoid unnecessary hair breakage.
18. Prom hairstyle ideas: Molly Sims Elegant Side Sweep Curly Hairstyle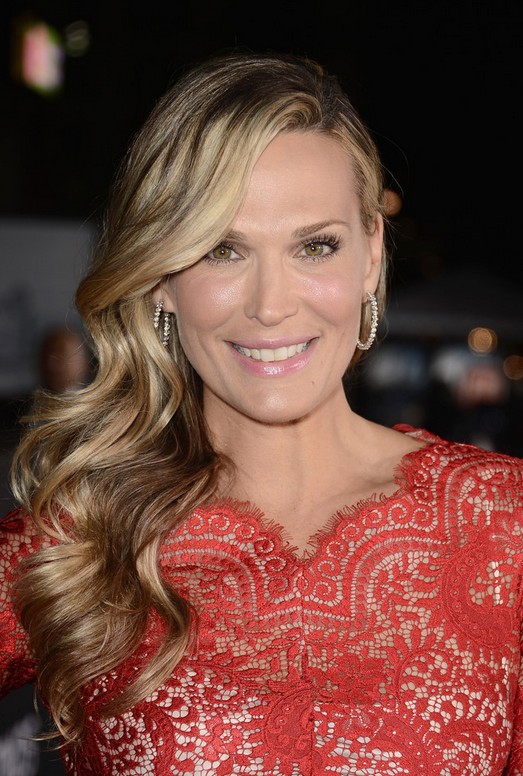 Molly Sims brushed her hair back behind her ear for retro-glam curls, this is a great long curly hair style which is perfect for prom, homecoming, and wedding!
19. Darby Stanchfield Layered Red Curly Hairstyle for Women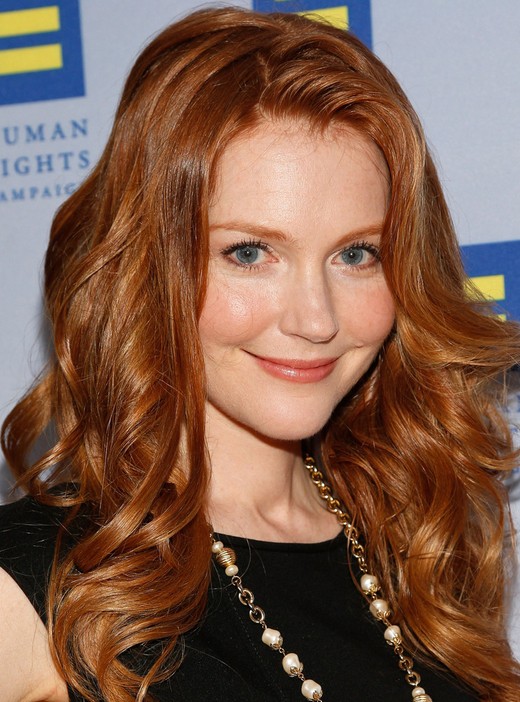 Latest hairstyles – Darby Stanchfield's strawberry locks looked shiny and bright when styled into voluminous, bouncy curls. Her beauty look was soft and feminine, especially with this pink lip gloss. To recreate the hairstyle at home, start by using volume boosting hair care products and blow-drying your hair in rollers. Use a curling wand on a few sections of hair for romantic, defined curls.
20. Julia Garner Short Curly Hairstyles for Women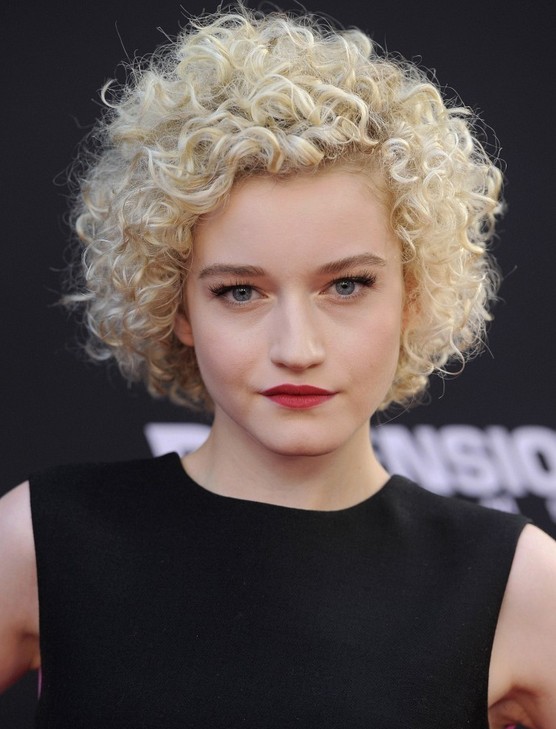 Latest most popular curly hairstyle for short hair. Julia Garner looked oh-so-cute with her short, high-volume curls at the 'Sin City: A Dame to Kill For' premiere. This chic blonde curly hair style is perfect for oval, round, oblong faces.
21. Ines de la Fressange Short Curly Hairstyle with Bangs for Women Over 50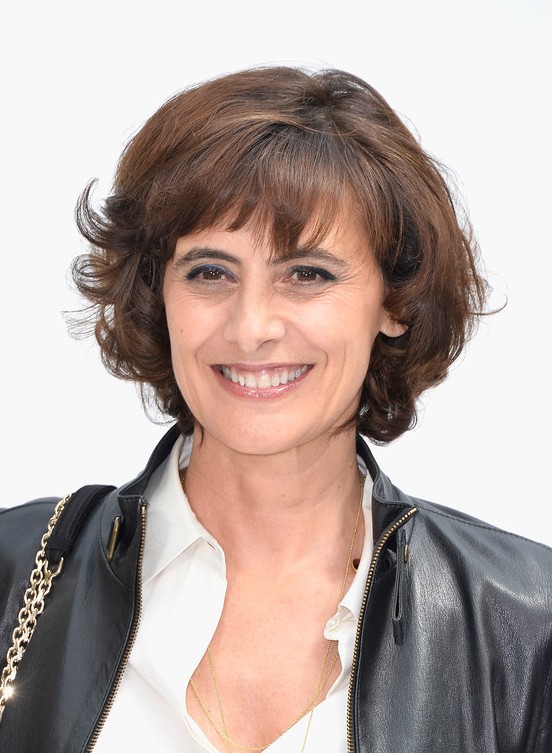 Looking for a cute short curly hairstyle for mature women age over 50? Here is a perfect one from Ines de la Fressange! She looked darling with her short curls and wispy bangs at the Chanel Couture fashion show. For soft and romantic hair texture like her, skip the anti-frizz serum and work some texturizing spray into your hair with your fingertips. Let a few flyaway hairs stay loose for a finishing touch.
22. Wanda Sykes Short Dreadlocks for Black Women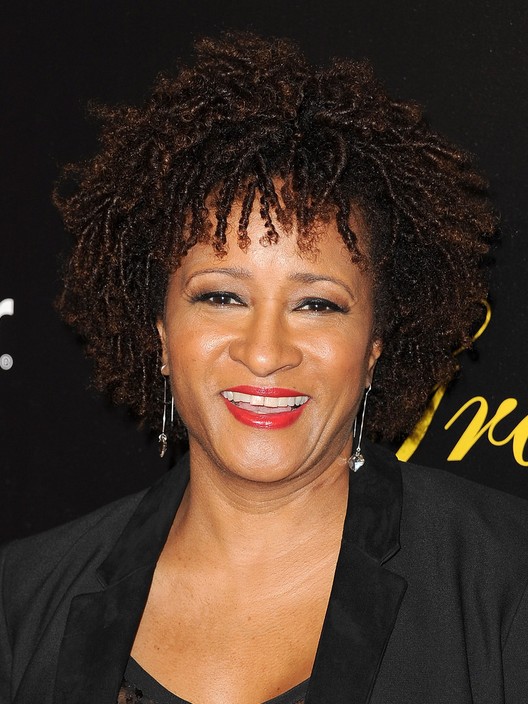 Classic curly hairstyles for naturally curly hair – Wanda Sykes rocked short dreadlocks at the Gracie Awards.
23. Alfre Woodard Daily Curly Hairstyle for Black Women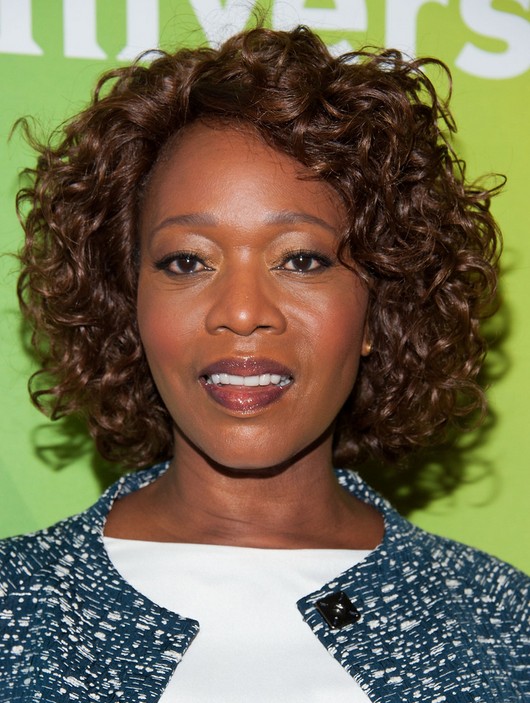 Short naturally curly hairstyle for African American Women – Alfre Woodard wore her hair in neat, bouncy curls during NBCUniversal's Summer TCA Tour. You can glam up your simple curly hair style with pretty hair accessories like headbands, clips, slides, and even flowers.
24. Prom hairstyles for short curly hair – Charlize Theron's elegant short cut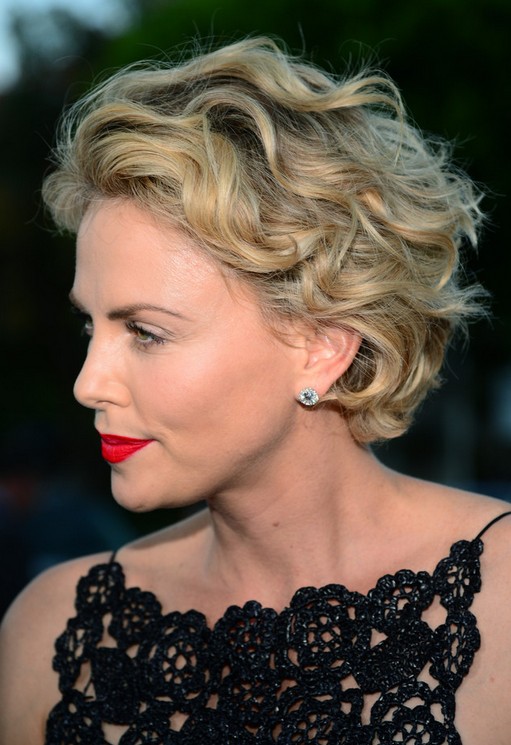 Charlize Theron styled her short hair with windblown curls for the premiere of 'A Million Ways to Die in the West.' She looks stunning with her short, curled bob and some bright coral lippy. And I love her vibrant red lip color. This short curly bob haircut is perfect for prom, homecoming and wedding!
25. Ombre Curly Hairstyle for short hair – Keltie Knight's hairstyles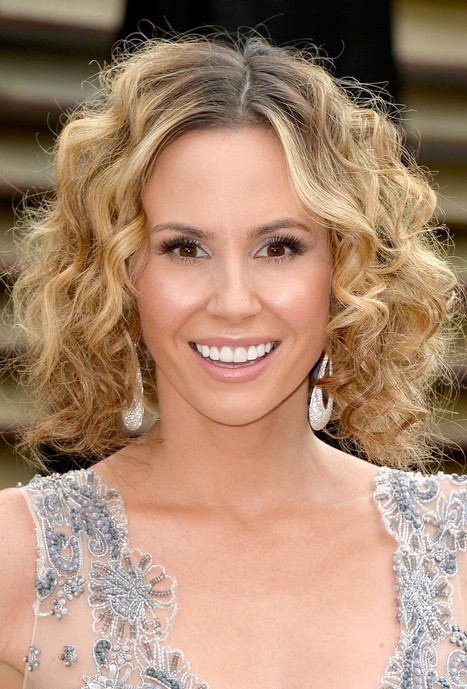 Looking for a trendy simple easy daily hair style with curls? Here is Keltie Knight's latest short curly hair style, she looked darling at the Vanity Fair Oscar party with her short, tight curls. Keep your makeup fresh and natural for a gorgeous finishing touch.
26. Judith Hoag Short Red Curly Hairstyle for Women Over 40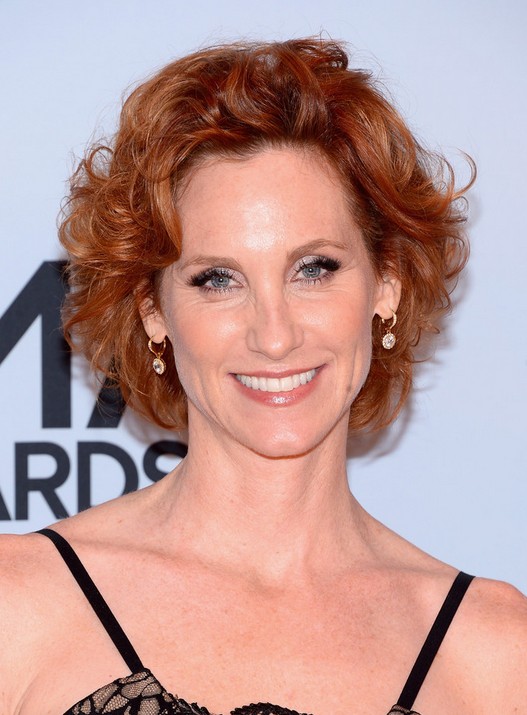 Latest trendy short hairstyles for women age voe 40 – the red soft wavy curly hairstyle! Judith Hoag sported a classic short curly 'do at the CMA Awards. Here she looks gorgeous with her curly, wispy bob in a rich shade of red. Ask your stylist to feather the ends of your hair for a super-soft finish.
27. Adrienne Bailon Elegant Short Curly Hairstyle for Prom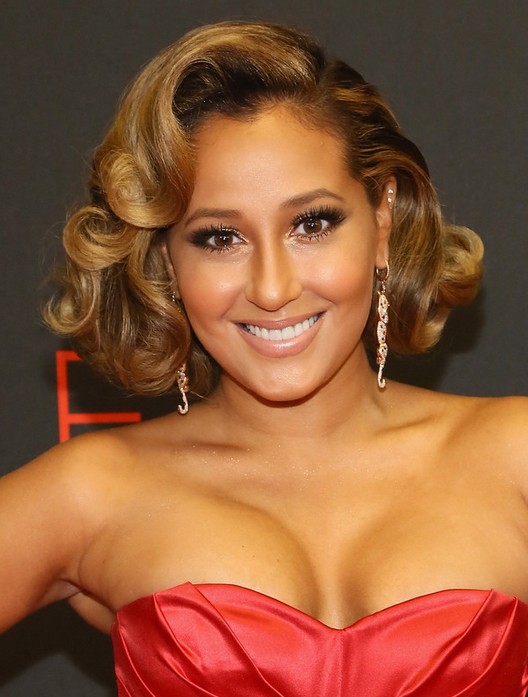 Prom hair ideas for short curly hair – Adrienne Bailon was fabulously coiffed with sculpted curls when she attended the Style Awards. Her glossy raven ringlets are worn loose with a shallow side-parting, with a few wayward curls to frame her face. Use a high-quality anti-frizz serum to keep your curls smooth and glossy. This elegant short curly hair style is perfect for wedding, homecoming and prom!
28. Nathalie Emmanuel Naturally Curly Hairstyle for Short Hair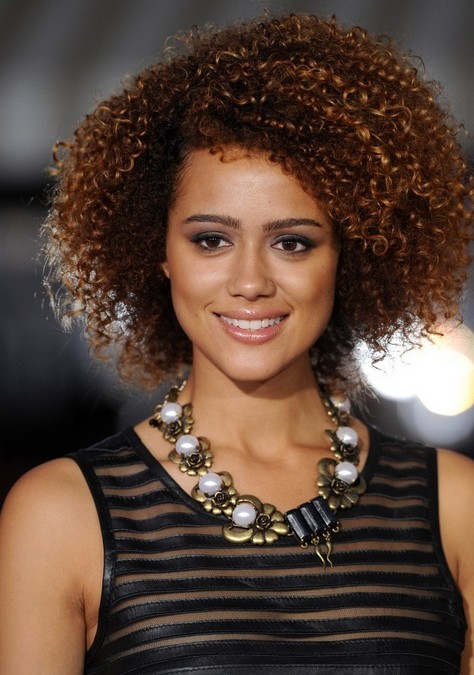 Trendy African American short curly hairstyles – Nathalie let her auburn curls flow free at the 'Riddick' premiere in California. Nathalie certainly knows how to make a style statement. If you're keen to dye your naturally curly hair, bear in mind that color treatments can be drying and damaging for your hair. Invest in some color protection hair care products, and treat your locks to a nourishing hair mask once a week.
29. Violante Placido Short Ombre Curly Hairstyle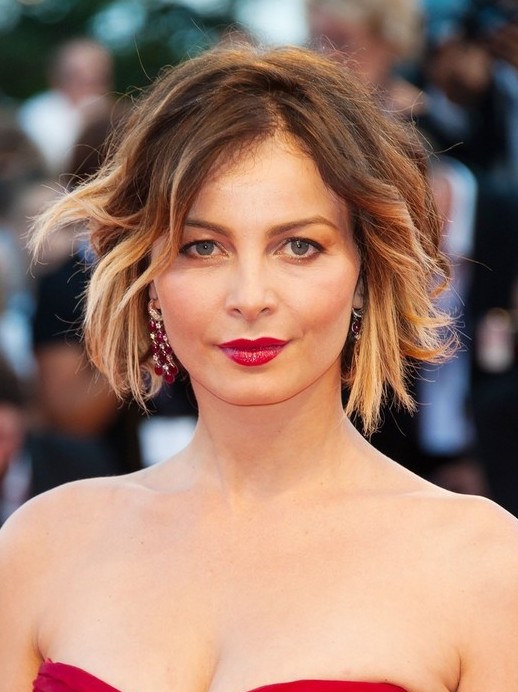 Latest trendy short hairstyles for women – the sexy layered brunette to blonde ombre hair wavy curly hair: I love the ombre sun-kissed spiral curls Violante wore to the Venice Film Festival. This simple easy hairstyle is perfect for oval, heart, round faces. Do you like this curly bob hairstyle? Find more bob haircuts here.
30. Penelope Ann Miller Short Blonde Curly Hairstyle for Women Over 50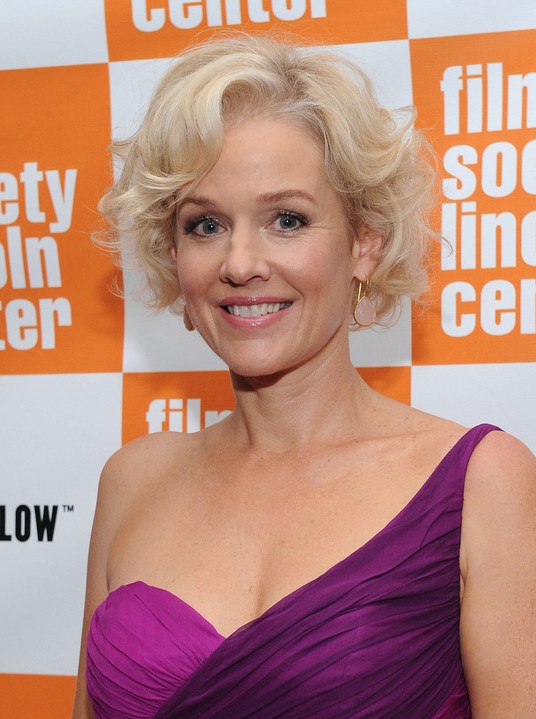 Elegant blonde curly hairstyle for older women age over 50 – Penelope Ann Miller wore her hair a la Marilyn Monroe at a screening of 'The Artist.' She created an ultra glamorous look pairing her platinum tresses with a sexy violet and fuchsia dress one-shoulder dress. For soft hair texture like Penelope 's, skip the anti-frizz serum and work some texturizing spray into your hair with your fingertips. Let a few flyaway hairs stay loose for a finishing touch. Find more short hairstyles here!
31. Gretchen Mol Short Blonde Curly Hairstyle for Oval Faces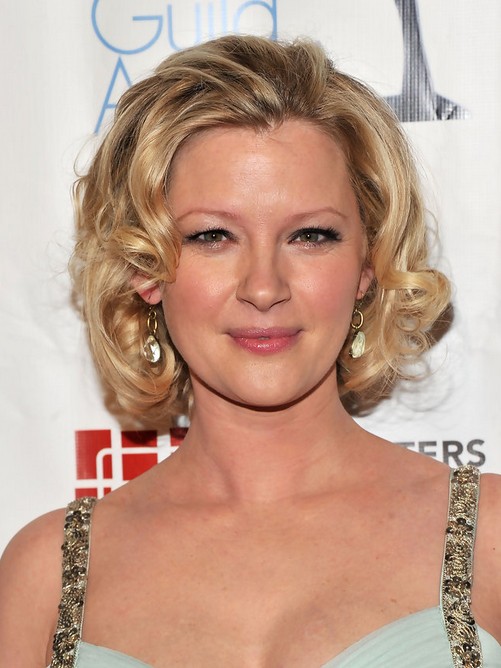 Gretchen Moi looked ultra-glam with short blond curls. Her tresses gave her the ultimate soft touch. Take inspiration from Gretchen and get a few highlights in your curly hair to brighten up your complexion.
32. Dascha Polanco Medium Curly Hairstyles for Women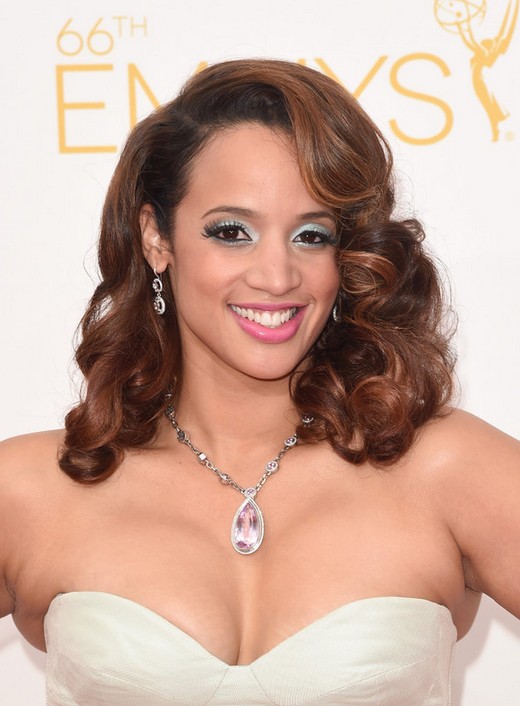 Latest most popular shoulder legnth hairstyle with curls – Dascha Polanco complemented her strapless gown with bouncy curls for an ultra-feminine Emmys look, she played up her eyes with lots of shimmery blue shadow, and she finished off her colorful beauty look with a pretty pink lip. To recreate Dascha Polanco's luscious curly hairstyle, start off by pumping your hair full of volume. Use volume boosting shampoo, conditioner, and mousse, and then blow-dry your hair with a round brush before curling.
33. Patricia Clarkson Medium Curly Hairstyle for Older Women Over 50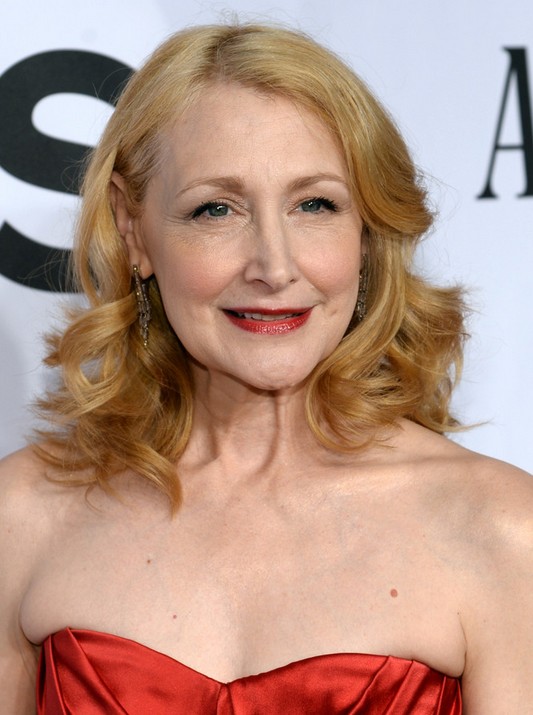 Latest most popular shoulder length hairstyle with curls for older women age over 50 – Patricia Clarkson styled her hair with soft, spiral curls for the Tony Awards. This hairstyle works well with fine/thin hair, as the curls and the natural texture create the illusion of fuller, thicker locks. Twirl each curl around your fingers while styling to give them extra definition and texture.
34. Arizona Muse Curly Hairstyles: Medium hair with side swept bangs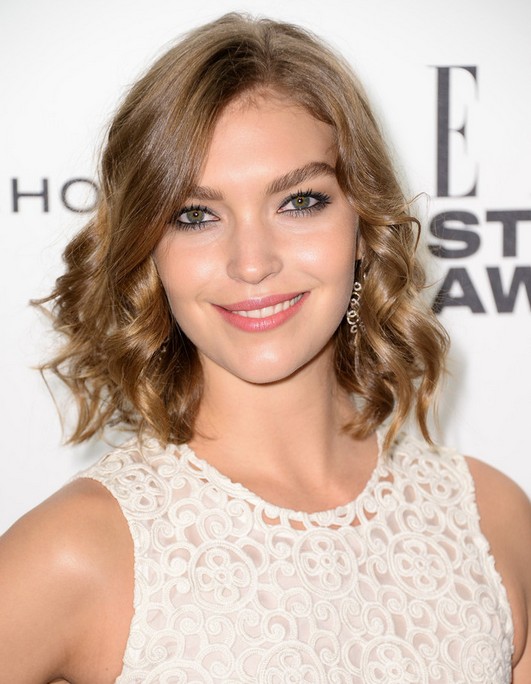 Arizona Muse sported ultra-feminine spiral curls at the Elle Style Awards. To get Arizona Muse's soft, sexy curls, use a thin barreled curling iron on low heat, and a light (non-greasy!) hairspray to keep your locks in place.
35. Oprah Winfrey Latest Curly Hairstyle: sexy soft curly hairstyle with highlights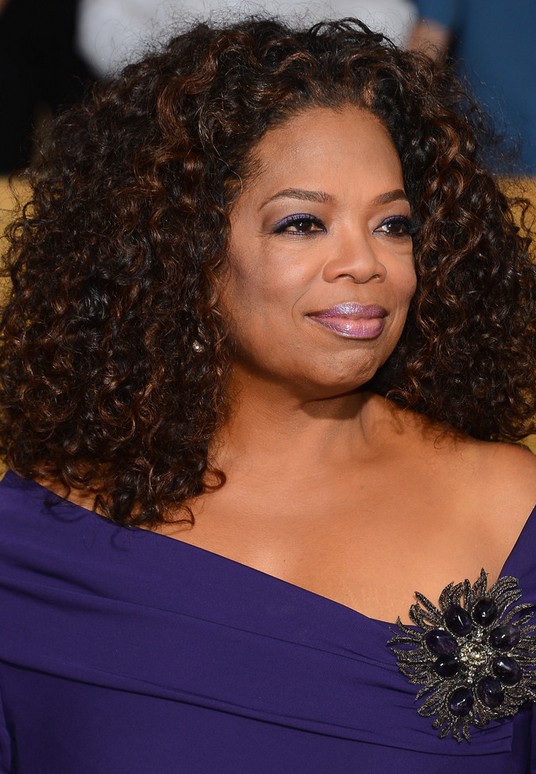 Latest African American medium curly hairstyles – Oprah Winfrey rocked a massive curly hairdo at the SAG Awards. This curly hairstyle is perfect for oval, round faces.
36. The Allure of Center-Parted Waves for Heart-Shaped Faces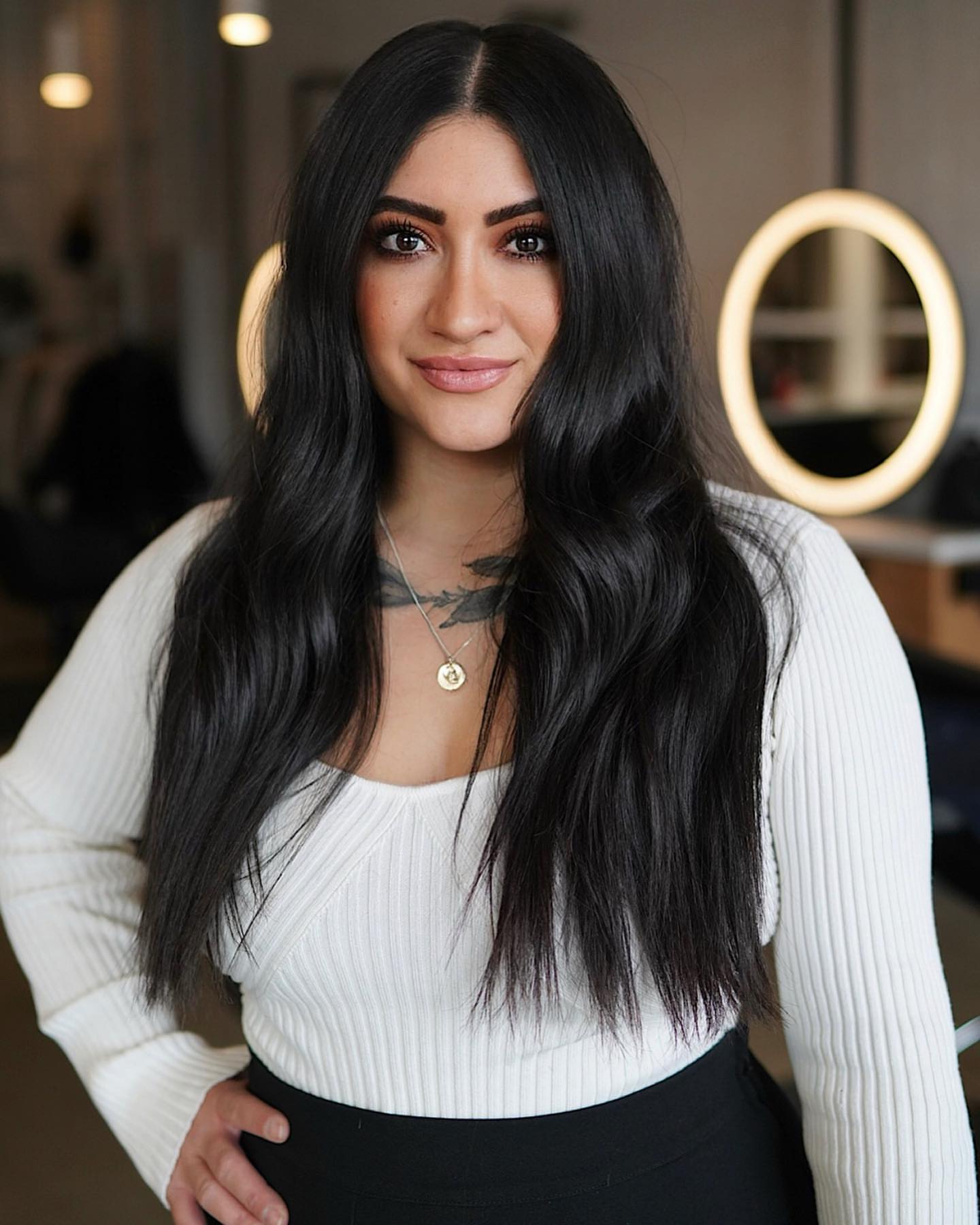 If you have a heart-shaped face, big eyes, and long, black, wavy hair, you have a unique and striking combination of features that are classic and versatile, which can be accentuated beautifully with a center-parted hairstyle.
A center part gives a balanced, symmetrical look, emphasizing the heart-shaped face's distinctive features – wide forehead and cheekbones, tapering to a small, delicate chin. This kind of partition brings attention to the middle of the face, where the eyes, nose, and lips form a central point of focus. For someone with big eyes, this is an excellent way to let those eyes shine and become the center of attention.
The long, black hair adds an element of mystery and elegance. When styled with soft waves, it introduces a touch of romantic allure and softens the look, adding volume and movement that beautifully frames your face. The waves start mid-length and cascade down, creating a wonderful contrast to the straight, sleek hair at the top.
The dark hue of your hair enhances the depth and dimension of the waves, creating a visual spectacle that's hard to ignore. The deep, dark black is a classic color that works well with all skin tones, reflecting light and adding a glossy, healthy shine to your hair.
37. Chic wavy bob with lavender-gray highlights on black hair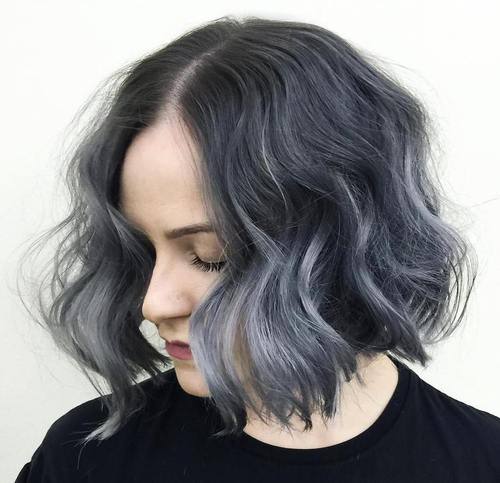 Here's a brilliant way to cover early gray hairs that plague a lot of women with black hair. Silver-lavender highlights cover obviously 'graying' hairs, soften the face with lighter color and are totally hot right now, too! So win-win-win situation! This casual chin-length bob suits all faces and ages, (especially thin or long, angular faces) and it's so chic!
Find more latest hairstyles on hairstylesweekly.com!