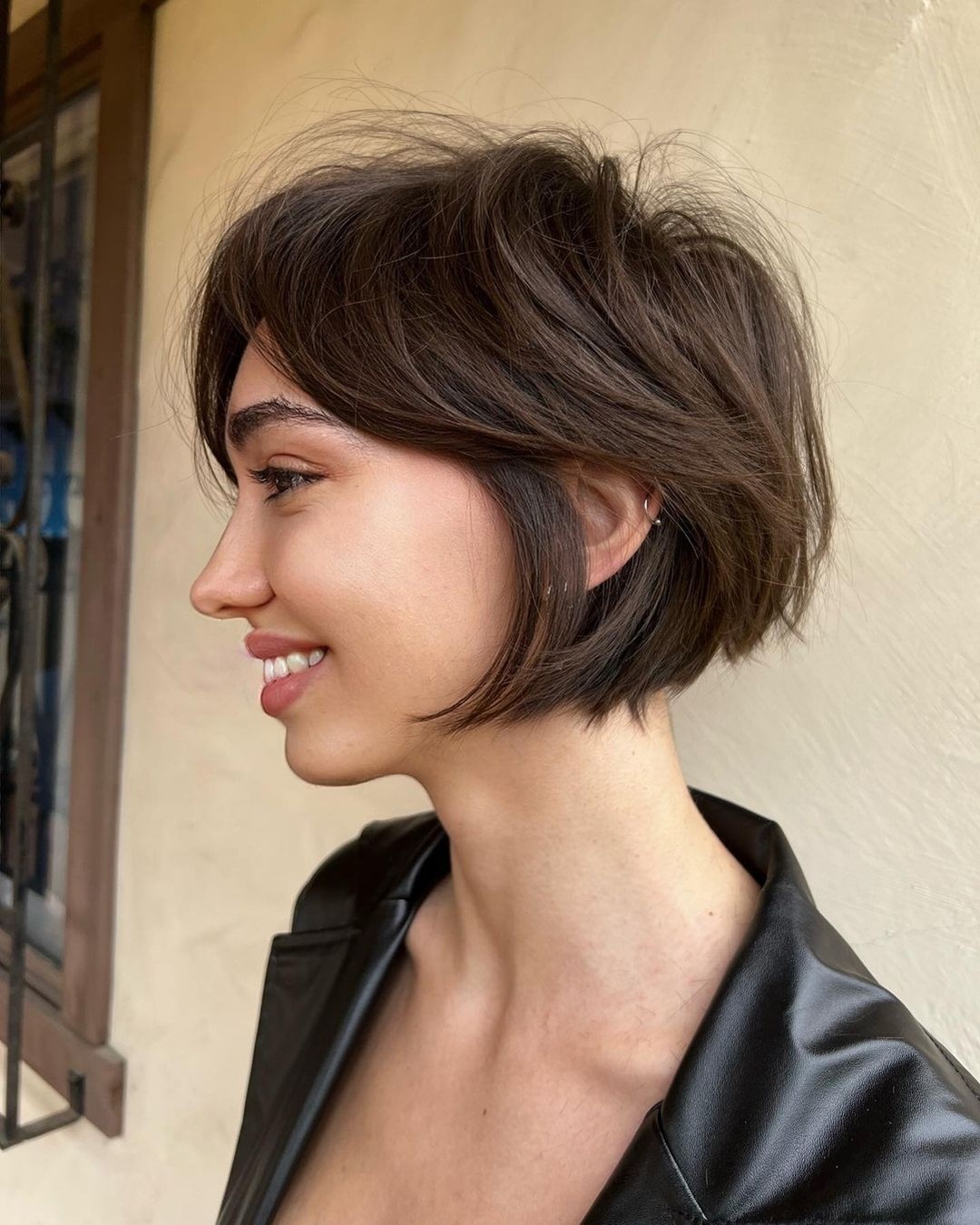 Today's hairstyle trends appear to be riding a wave of fusion cuts. From the versatile lob – a lengthier version of the bob, to the intriguing wolf cut – a stylish amalgamation of the shag and the mullet, we've seen an array of blended styles. Among these, the Bixie Cut, an enchanting mix of the bob and the pixie, has captured our hearts and heads.
For the millennial cohort and the older generation, the Bixie Cut may feel like a delightful blast from the past. The style's roots trace back to the 1990s, a time when Hollywood darlings like Drew Barrymore, Halle Berry, and Wynona Ryder rocked the Bixie Cut with flair. However, in recent times, the Bixie Cut has experienced a resurgence. A renewed fascination from celebrities and their hairdressers has catapulted this classic cut back into the limelight, making it the most sought-after hairstyle of the season.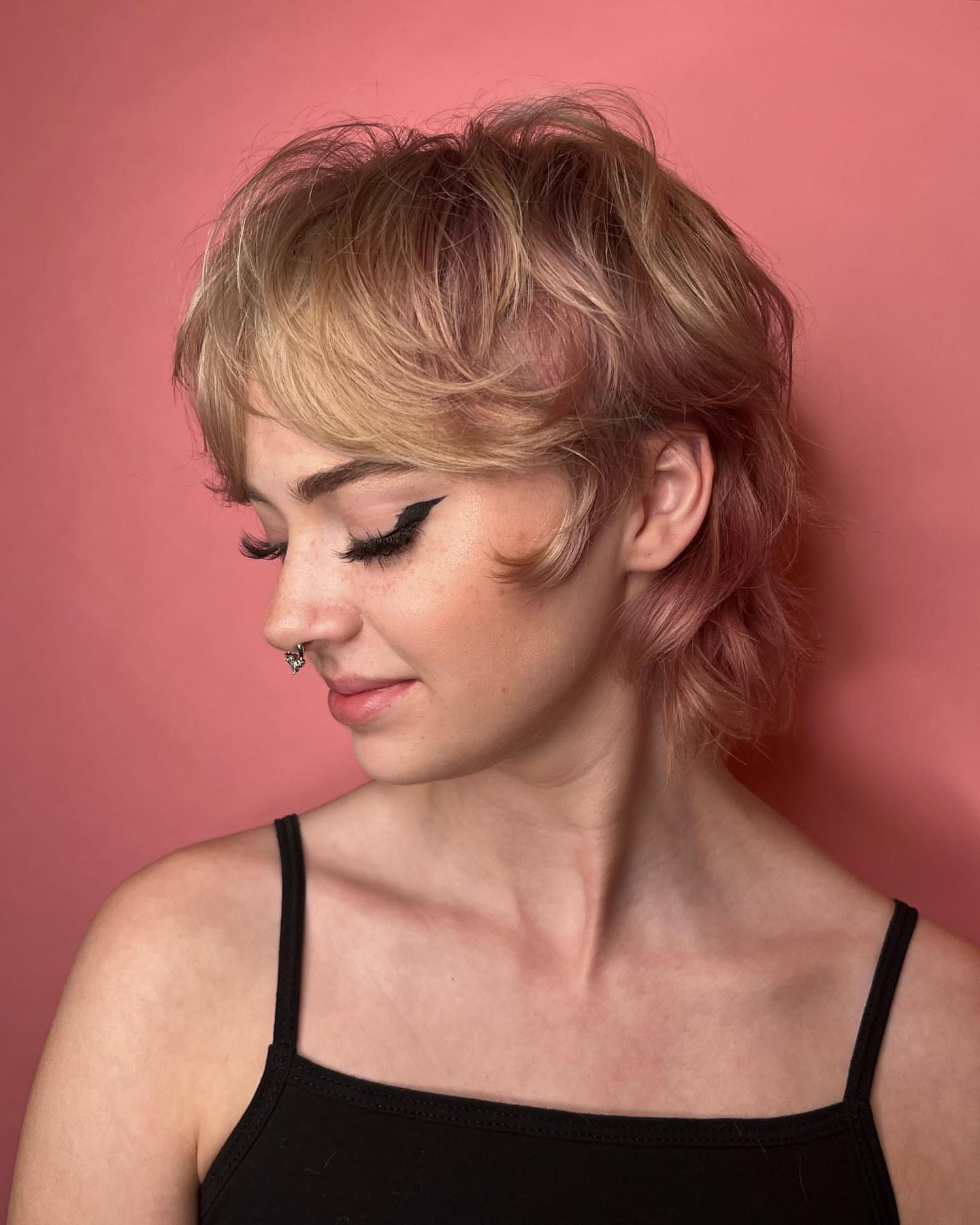 The Bixie Cut, characterized by its blend of feminine pixie and bob styles, offers a versatile and appealing hairstyle that can be worn in various ways, fitting for both formal and casual occasions. The chicness of a bob, combined with the effortless charm of a pixie, the Bixie Cut delivers an edgy, modern look that is as easy to maintain as it is stylish.
What is a Bixie Cut?
A Bixie Cut, in essence, is a hybrid between the traditional bob and pixie hairstyles. It borrows the best of both worlds, merging the length and volume of a bob with the daring shortness and playful texture of a pixie. This innovative cut typically falls somewhere around the jawline, making it longer than a conventional pixie but shorter than a traditional bob.
The Bixie Cut distinguishes itself from standard short or long hairstyles through its inherent duality. It creates an ideal balance between long and short, affording its wearers the freedom to experiment with a wider range of styles and accessories. This adaptability is partly why the Bixie Cut has quickly risen in popularity and why it continues to make waves in the hairstyling world.
1. Layered Bixie Cut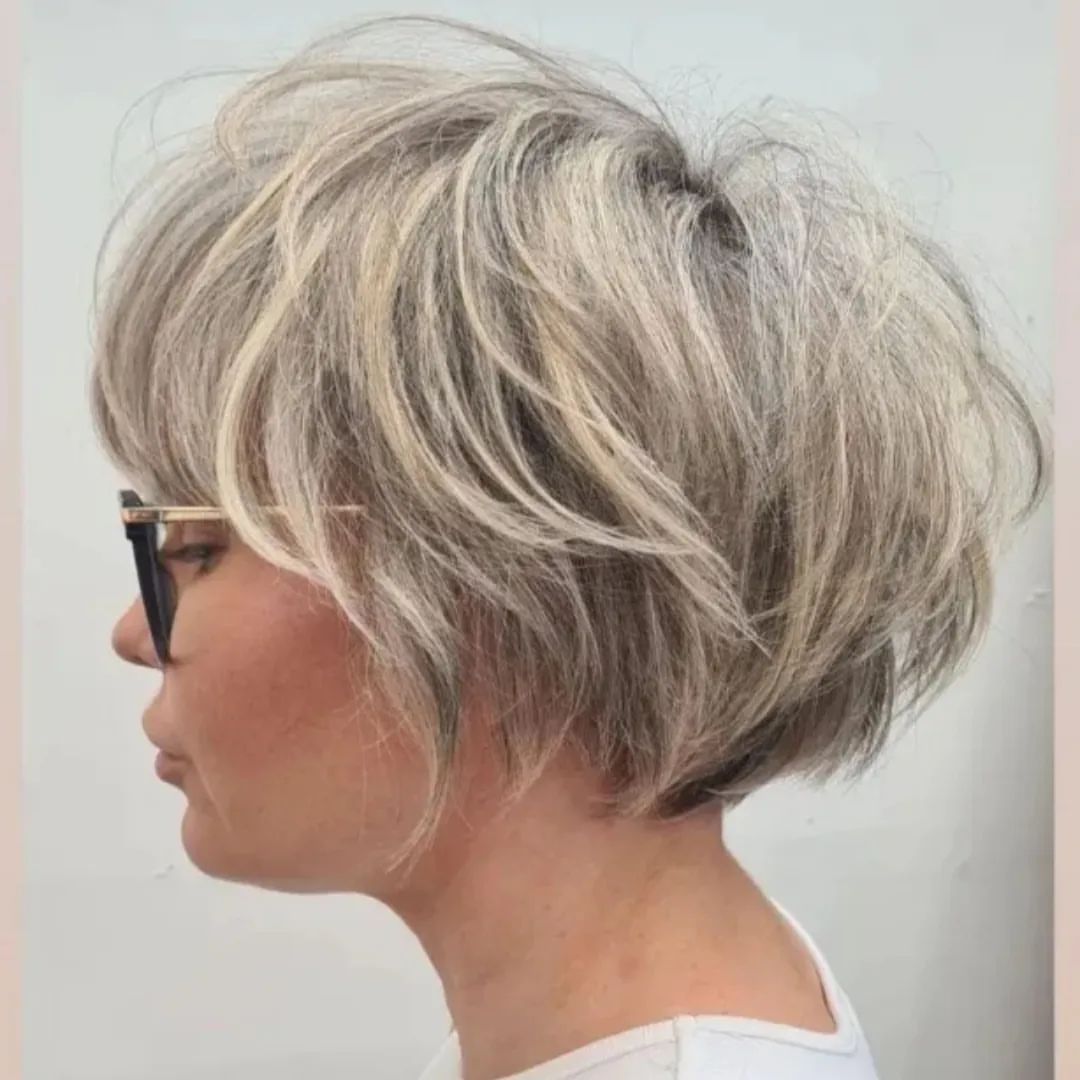 Hey, glam squad! If you're flirting with the idea of a haircut that packs both drama and versatility, say hello to the Layered Bixie Cut. Picture this: a dash of pixie magic blended with the timeless allure of a bob. We're talking full bangs and layers upon layers, hun! This one's a game-changer that will make heads turn, no matter your face shape, hair type, or personal style. The layers add this incredible movement and volume, transforming your locks into a cascading waterfall of pure chicness. So, let's kick that 'only certain people can pull off layers' myth to the curb, shall we?
2. Two Tone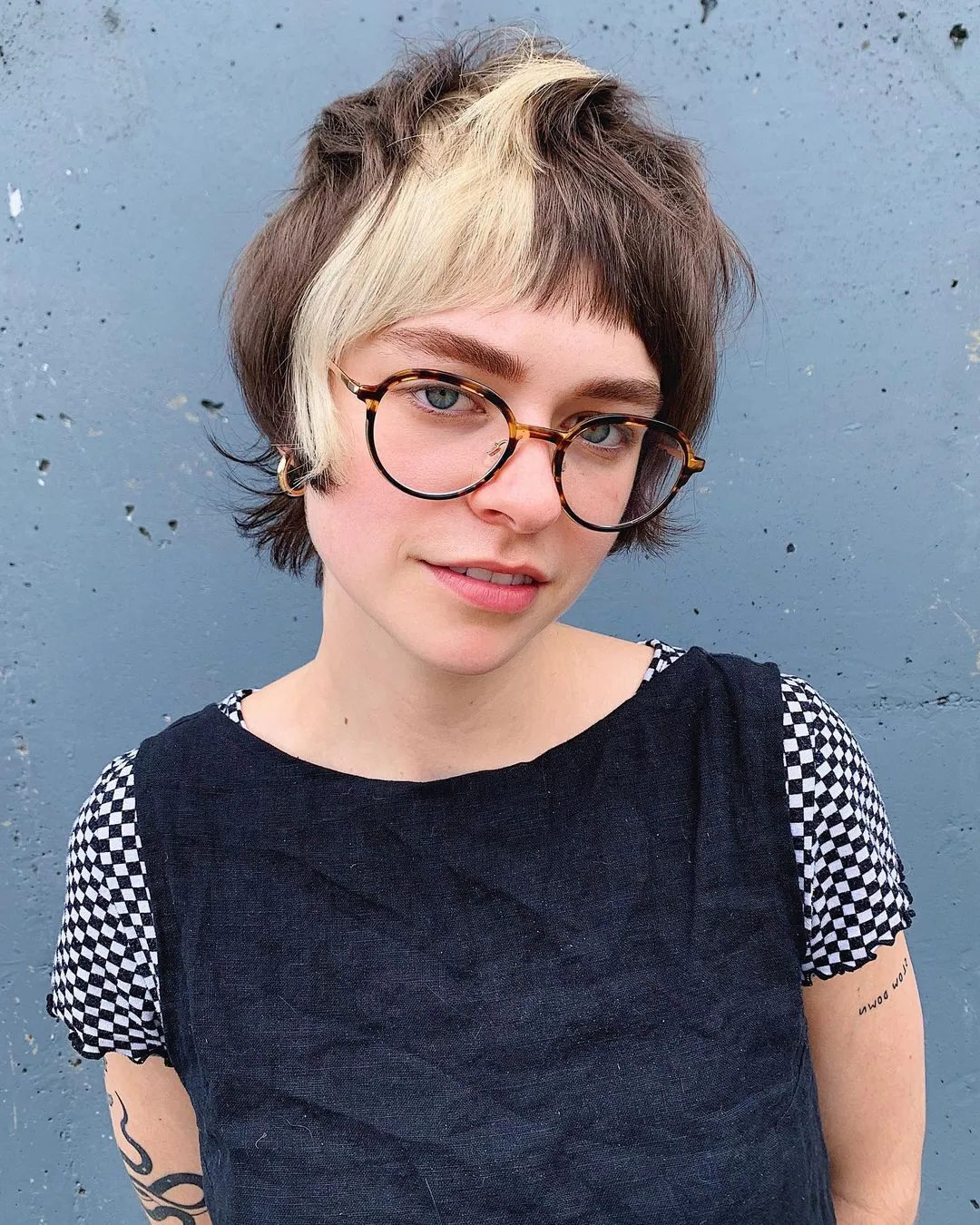 Ready to level up your hair game? Meet the Two-Tone Bixie. This is where your bob and pixie fantasy meets an electrifying twist of color. Imagine choppy bangs set against a gorgeous palette of blonde and brunette! Yeah, we're talking that dual-color charisma that practically shouts "I woke up fabulous!" It's the ultimate "I-can't-decide-so-I-choose-both" haircut, and trust me, it's more than just a statement; it's an entire mood!
3. Short Copper Bixie Cut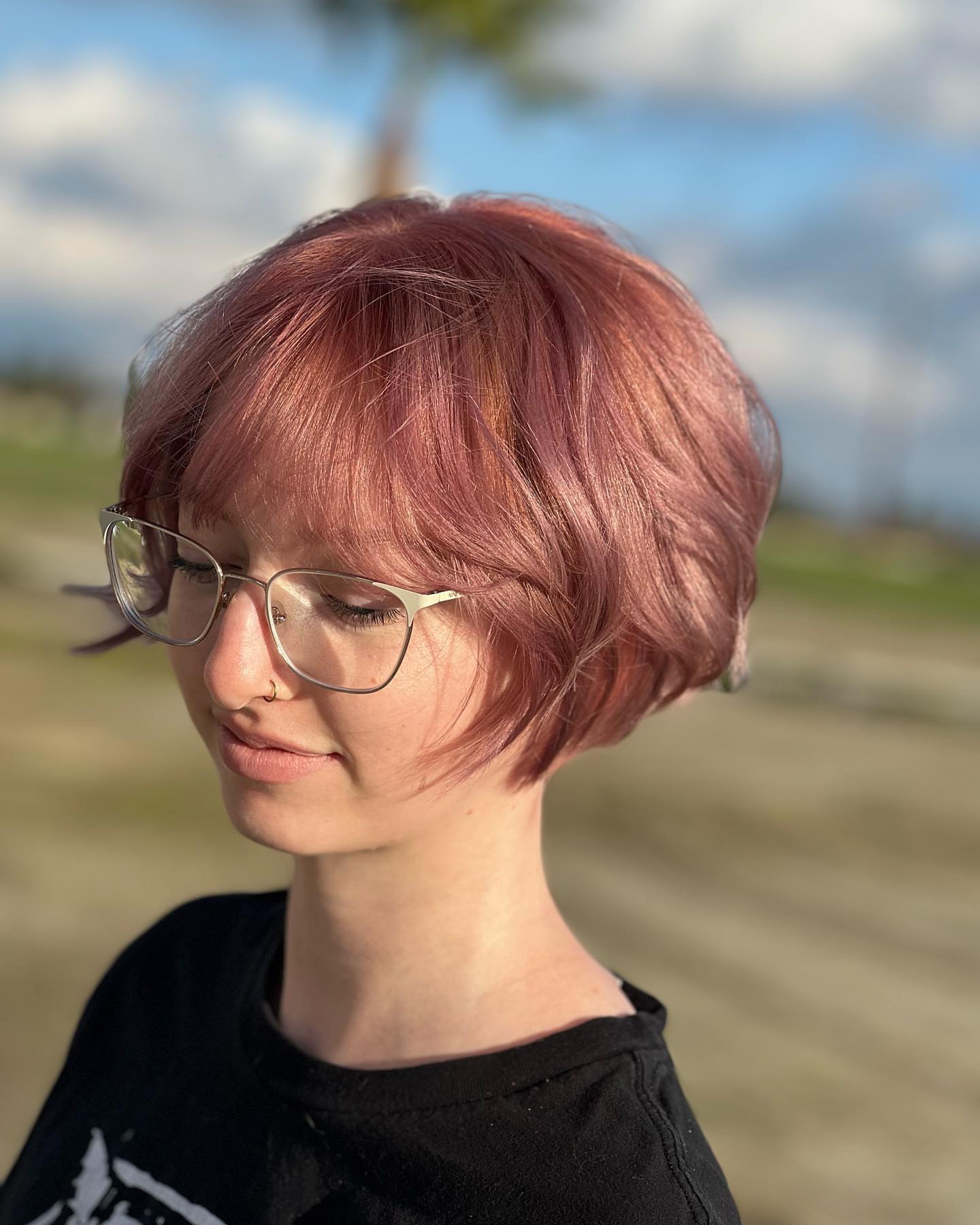 Ever thought about how a metallic hue can make your whole look pop? The Copper Bixie Cut is where your geek-chic glasses find their soulmate in a luminous bob-pixie blend. This look screams sophistication with a side of spunk. The warm copper tones illuminate your face while the glasses highlight your intellectual flair. What's not to love? It's like a tech conference just met the red carpet, and they got along splendidly.
4. Tousled Bixie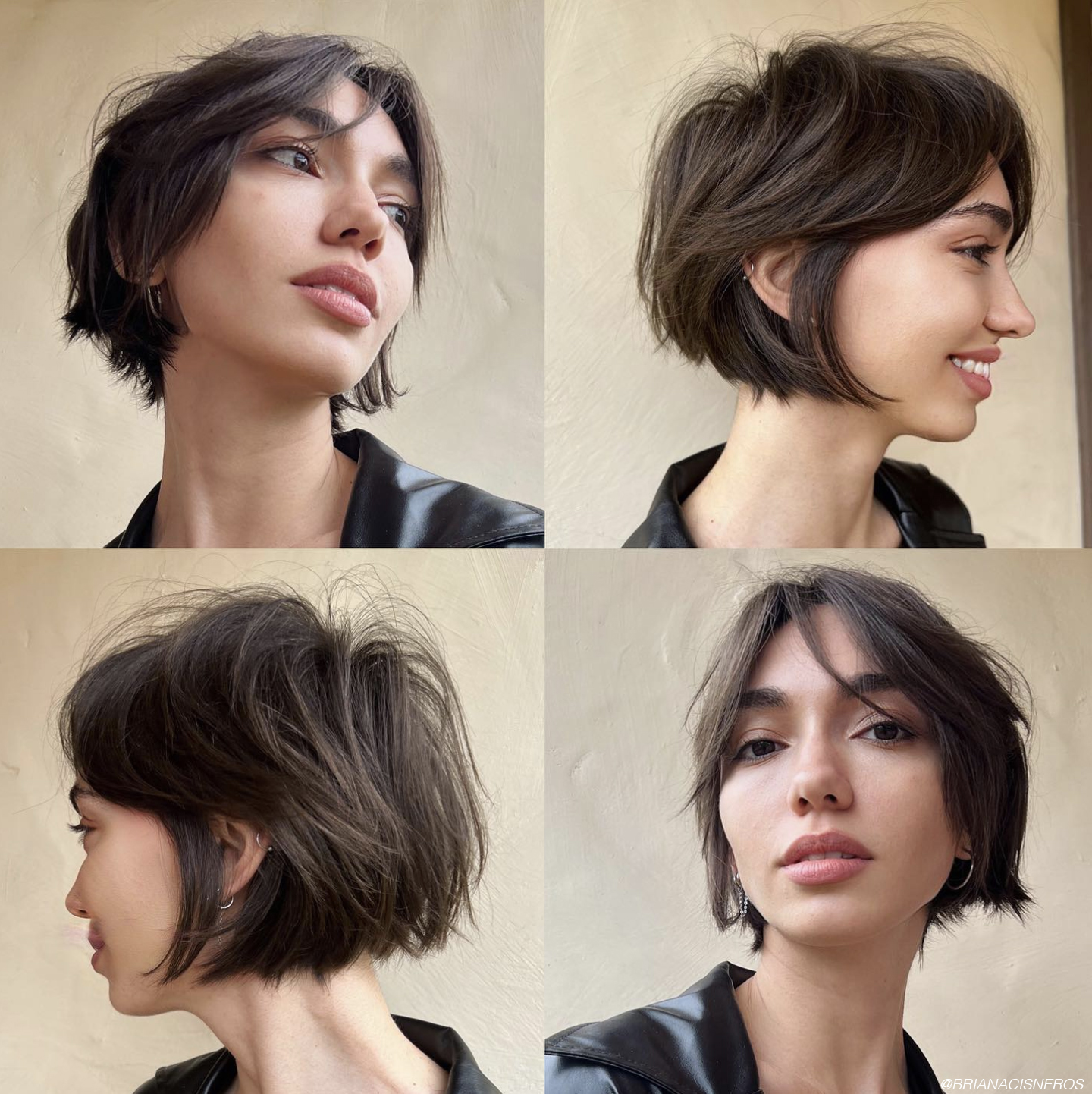 Can we talk about how a 'just-rolled-out-of-bed' look has never been this stylish? The Tousled Bixie is the epitome of casual glam, but don't be fooled—this effortless style has got layers of technique behind it. This cut has a lived-in, edgy feel that is all about rocking your natural texture. With subtle tousles, it's like your hair is constantly dancing, even when you're standing still. So go ahead, let those locks breathe and boogie!
5. Curly Bixie Cut with Bangs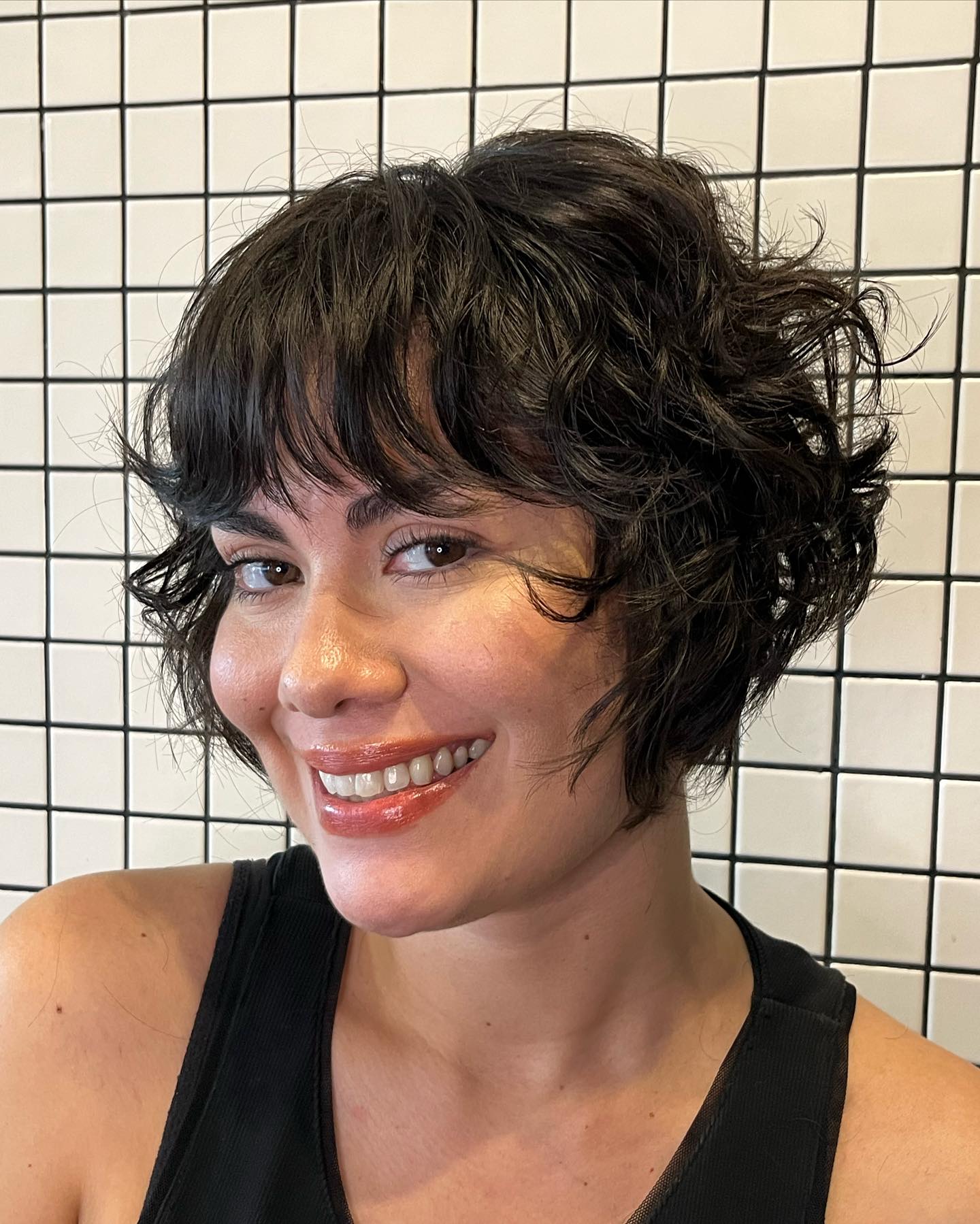 Okay, my curly queens, listen up! If you think you can't join the Bixie brigade because of those gorgeous curls, think again. Introducing the Curly Bixie Cut, your new go-to for a sassy, coiled look. Imagine your curls elegantly framing your face like a royal crown. This look pairs especially well with rounded shapes, and let's not forget those adorable curly bangs. It's the epitome of "I woke up like this" royalty.
6. Pastel Bixie Cut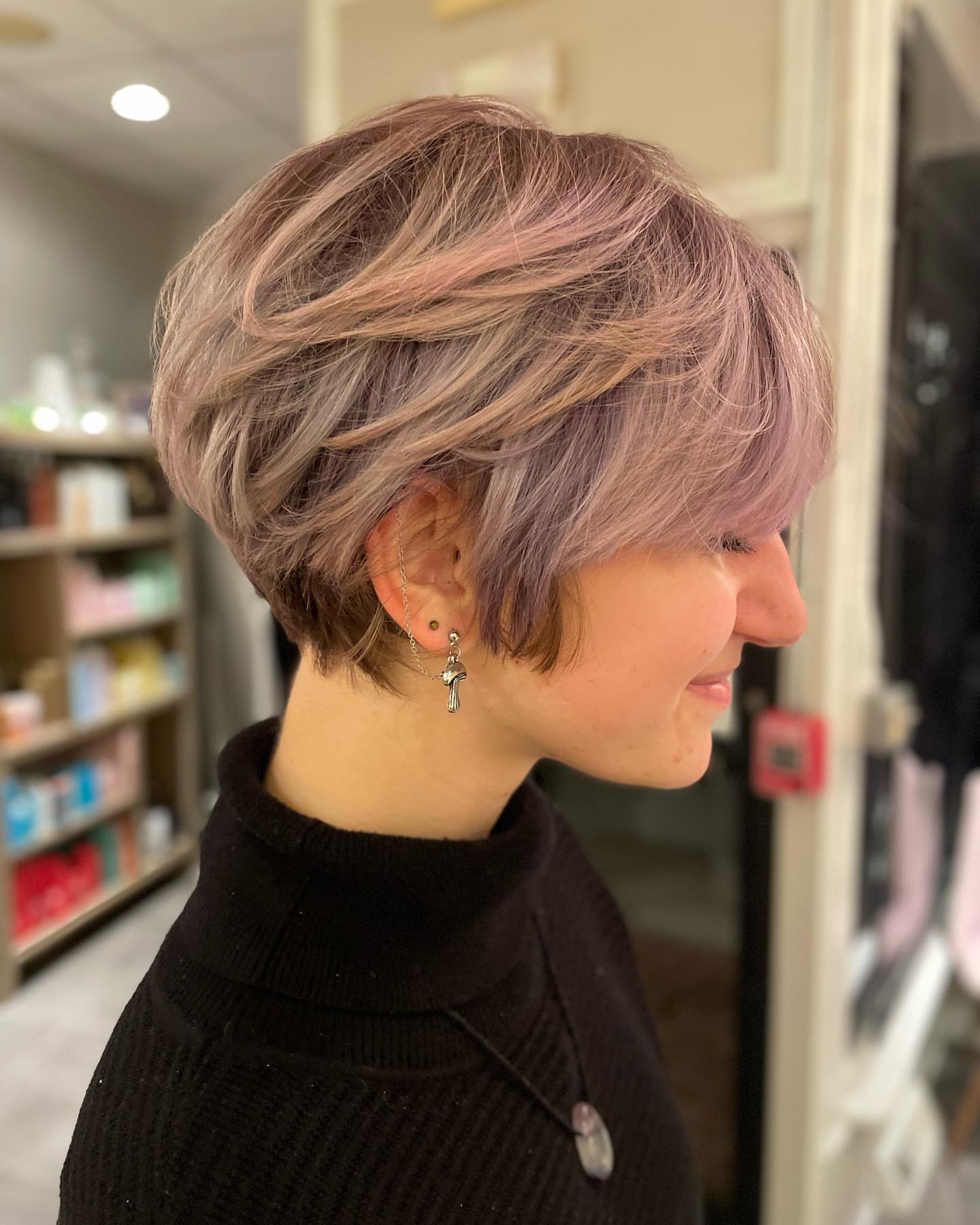 Ever wondered what it would be like to step out of a fairy tale and into the real world? The Pastel Bixie Cut might be your one-way ticket! The blending of soft pinks and purples creates an ethereal canvas, giving your layered bob-pixie cut a whimsical touch. If you've got thick hair, this one's for you—the pastel hues illuminate your strands, while the intricate layers allow your texture to shine. It's like having a dash of unicorn in every strand!
7. Platinum Bixie Cut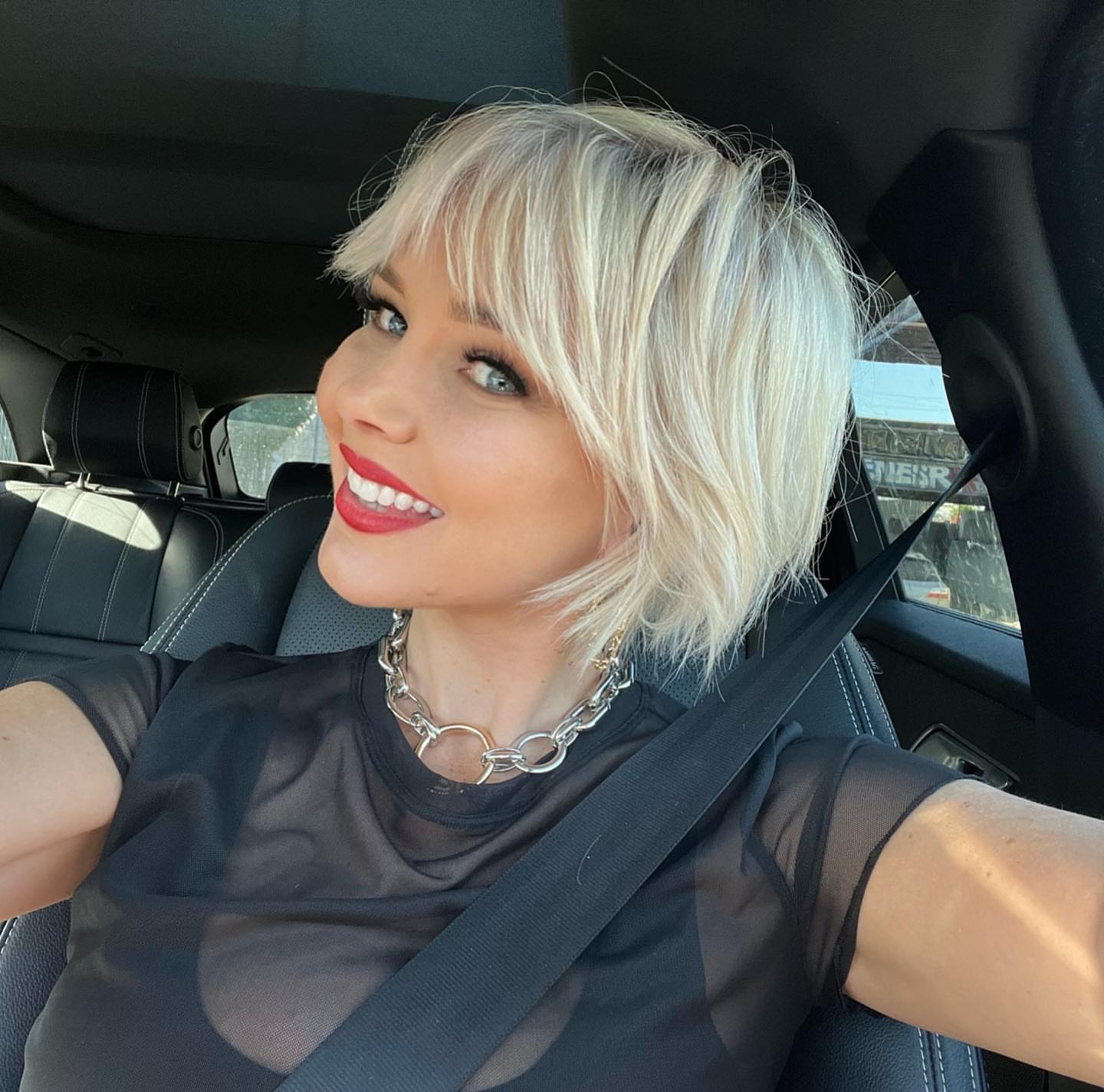 Okay, but can we have a moment for Platinum? A Platinum Bixie Cut is the epitome of high glamour wrapped in a modern, edgy package. The silver glow frames your face like a halo, and those soft, wispy bangs? They add just the right amount of delicate charm. If you're looking to transform your look, a dash of platinum can turn a girl-next-door into a runway diva, no sweat.
8. Short Red Bixie Cut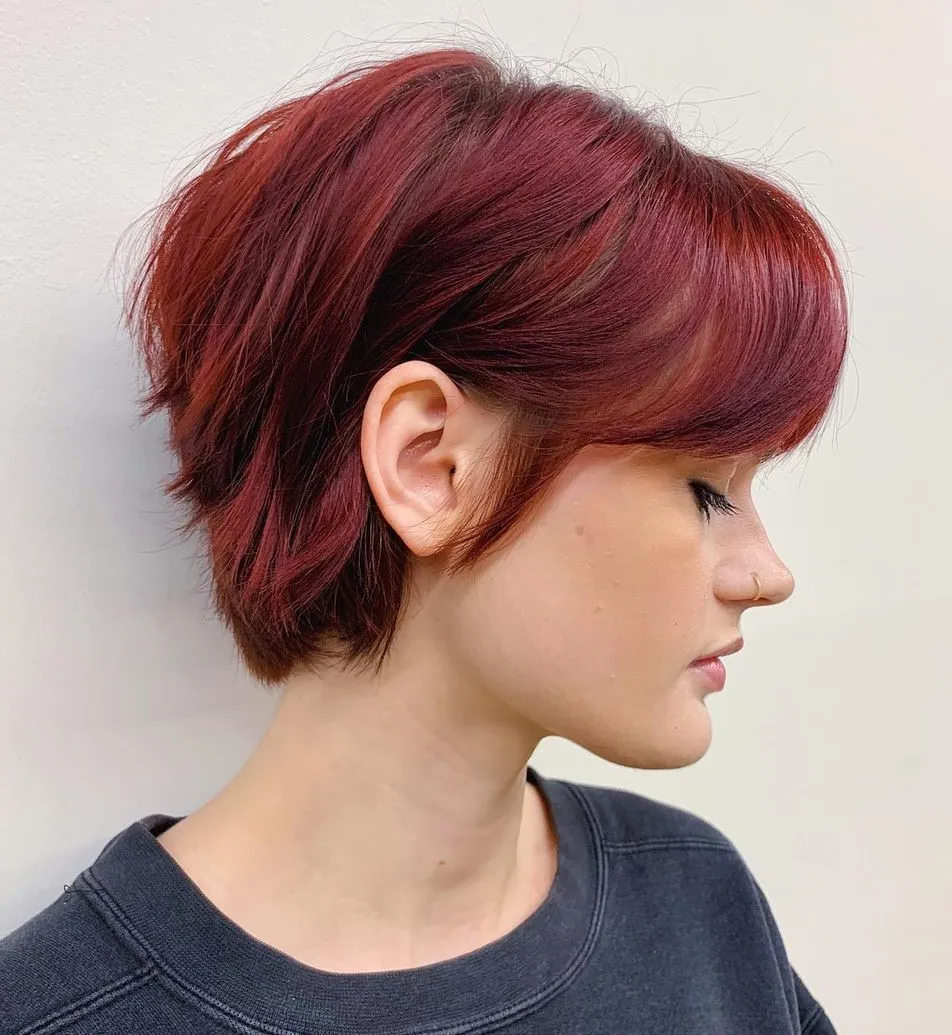 Who says redheads can't have all the fun? The Short Red Bixie Cut is an audacious choice that demands attention. With this cut, versatility is your middle name. The angled layers meld beautifully with your choice of sweeping fringe—be it curtain bangs, bottle bangs, or the sultry French fringe. This cut is so adaptable, it's like your hair can speak multiple languages.
9. Short bixie cut with baby bangs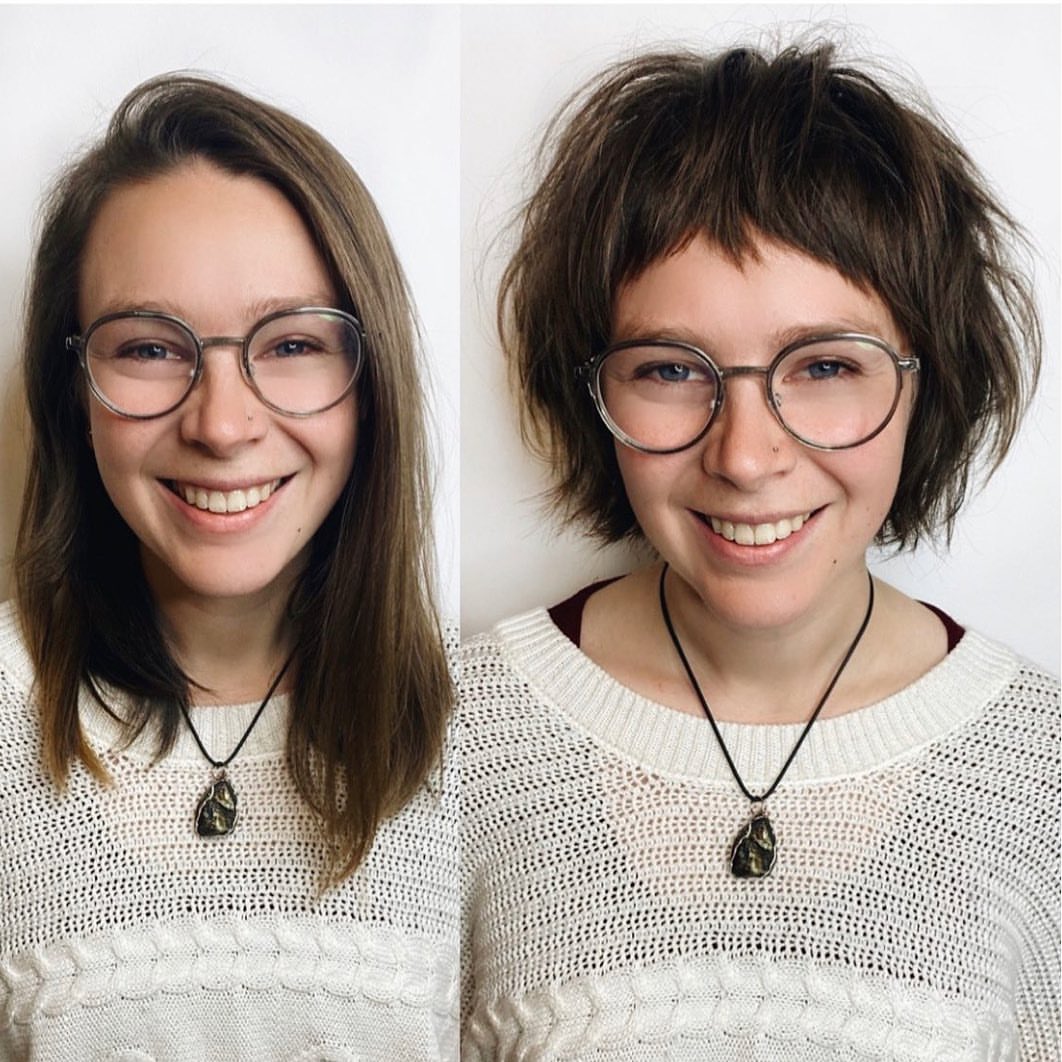 Ready for a drastic change? Going from shoulder-length to a Short Bixie Cut with Baby Bangs is like unleashing your inner rock star. This cut is perfect for those with thick hair. The length is kept at the back, gradually getting shorter and more fragmented toward the front. The baby bangs act like the cherry on top—framing your face and amplifying your look.
10. Choppy Bixie Cut with Wispy Bangs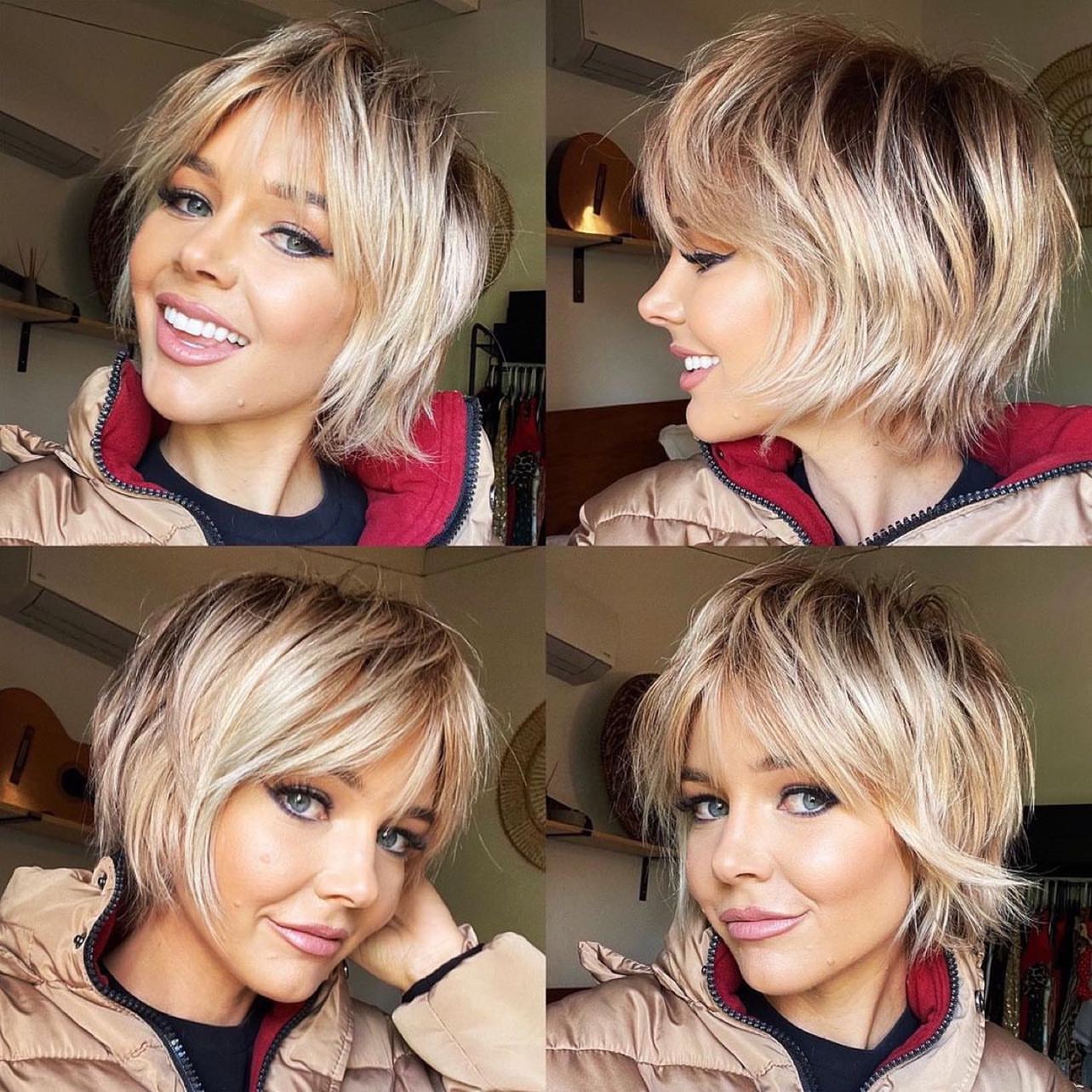 Last but not least, let's talk about the Choppy Bixie Cut with Wispy Bangs—a masterpiece in the world of layered textures. The transition from dark roots to blonde ends is as seamless as it gets, all while adding an artsy flair. The choppy, textured layers offer a myriad of styling possibilities, making you the canvas and the artist at the same time.
11. Highlighted Bixie Cut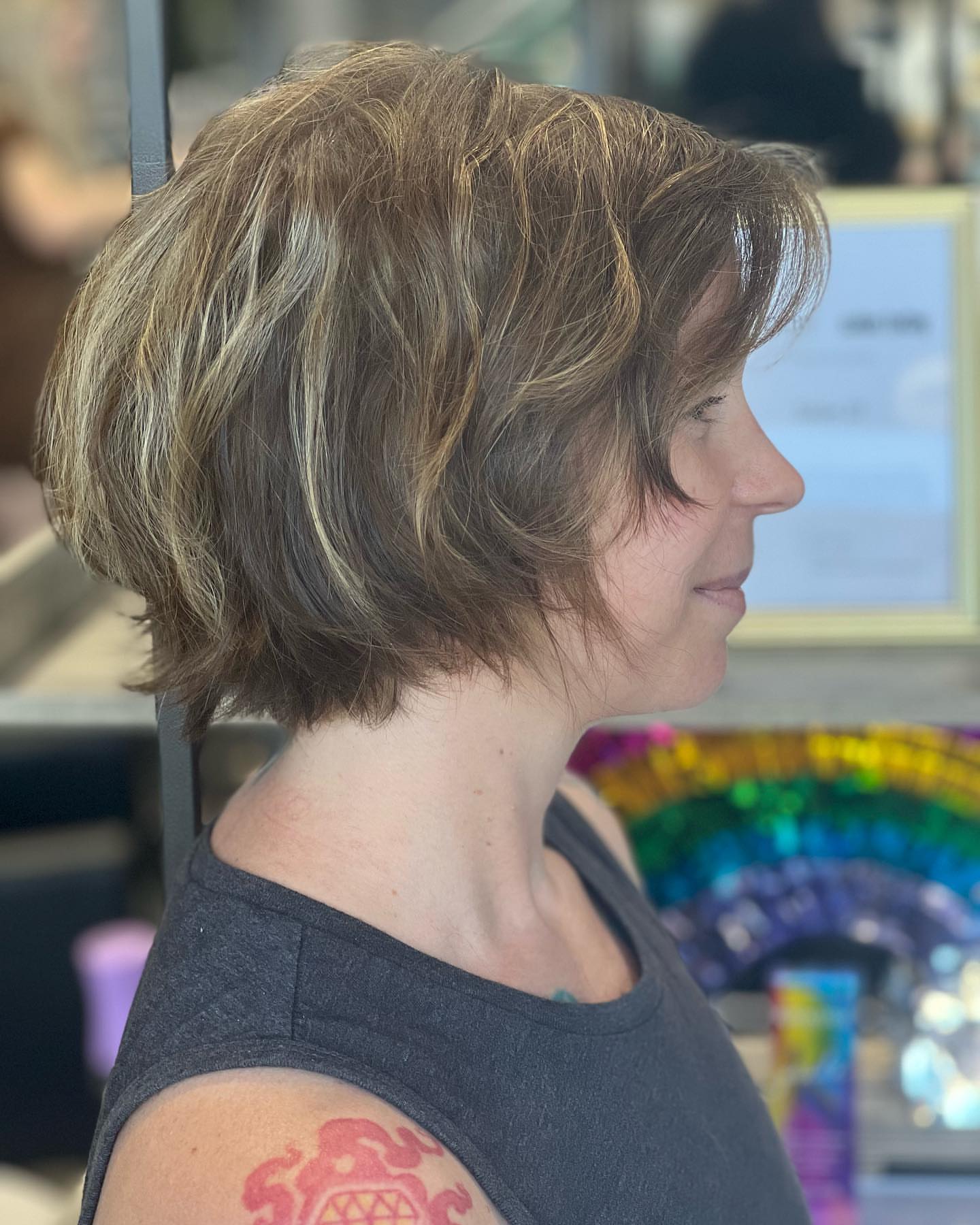 Ladies over 50, listen up! The Highlighted Bixie Cut is an age-defying game-changer. A practical daily haircut that requires minimal fuss, this bixie cut radiates sophistication. The layers are strategically cut to add volume to thick hair, while the multi-tonal highlights add dimension and youthfulness. Trust me, the texture and highlights in this cut make for an irresistible combo that will have heads turning.
12. Bold Cut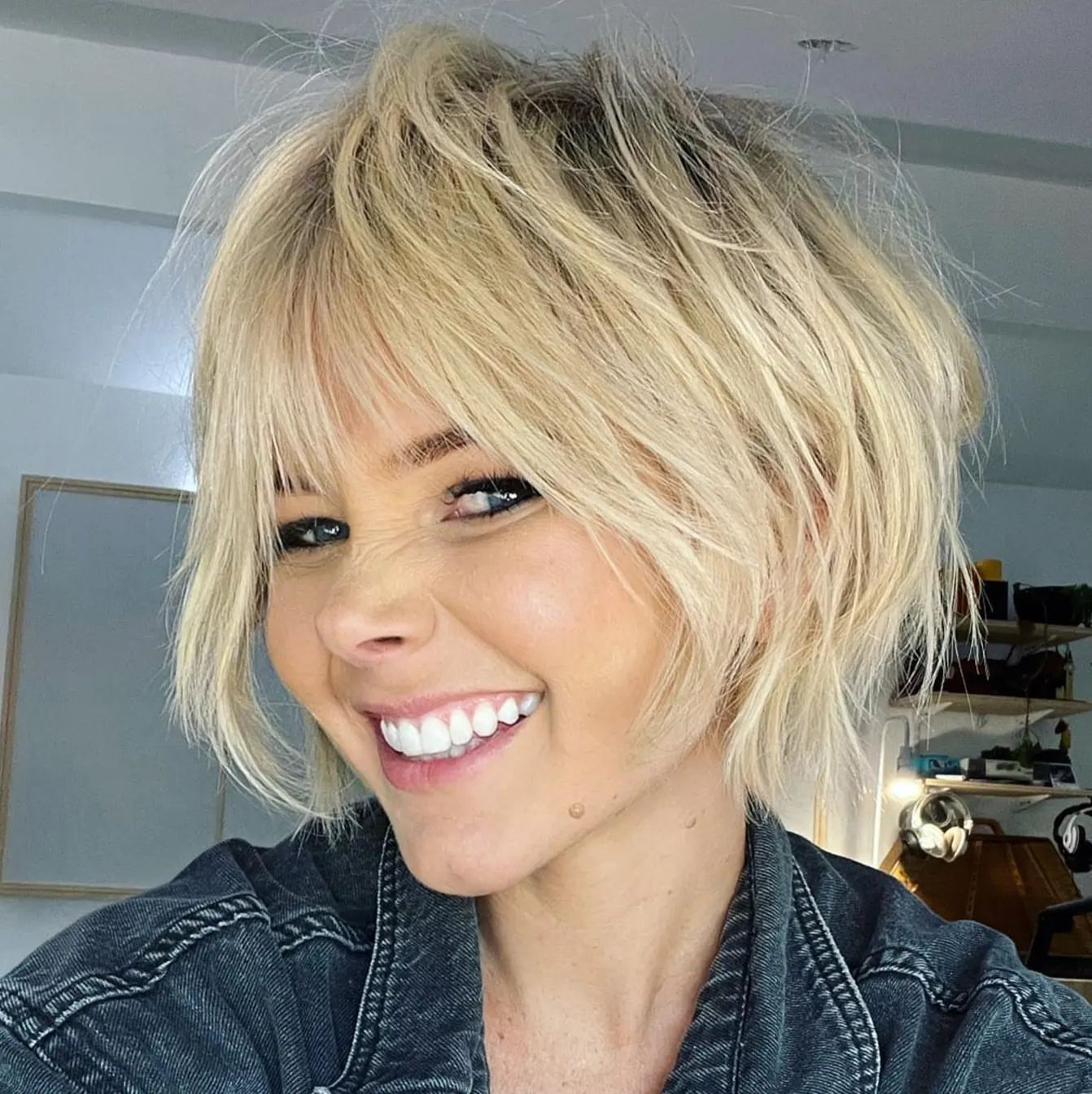 Who says you can't be bold and blonde at the same time? This chin-length Bold Cut screams confidence, and those wispy bangs bring a modern twist to a classic look. The black-to-blonde ombre transitions effortlessly, creating a mesmerizing contrast that sets off your smile. Don't miss out; this look is an invitation to break some hearts!
13. Bouncy Bixie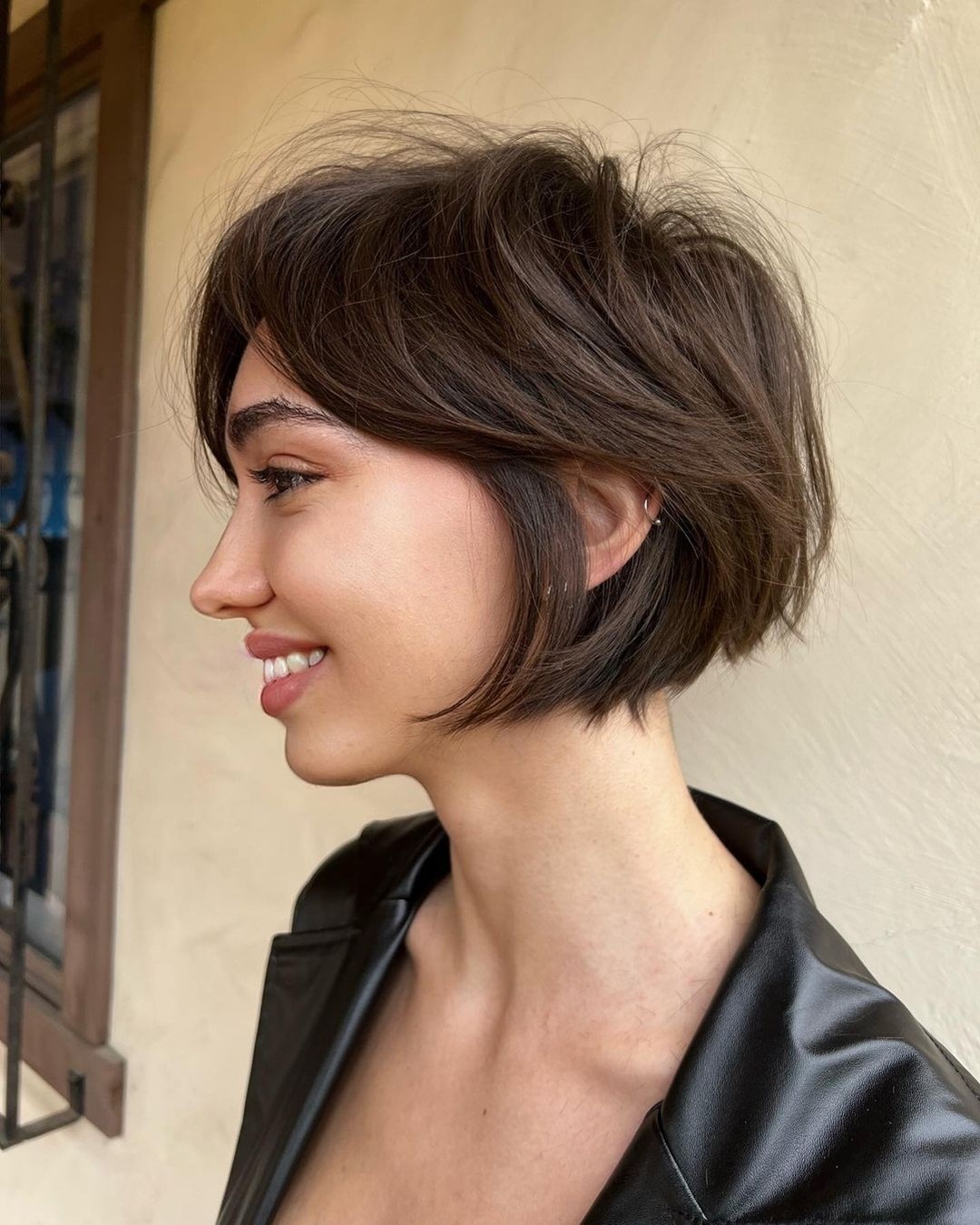 Think bouncy blowouts are exclusive to Rapunzel-length locks? Think again. The Bouncy Bixie cut is a textual wonder, a hairstyle that delivers the illusion of softness and volume in a short, manageable length. With the pixie cut showing its face in the front and the bob holding court in the back, it's a hybrid cut that offers the best of both worlds.
14. Curly Bixie Cut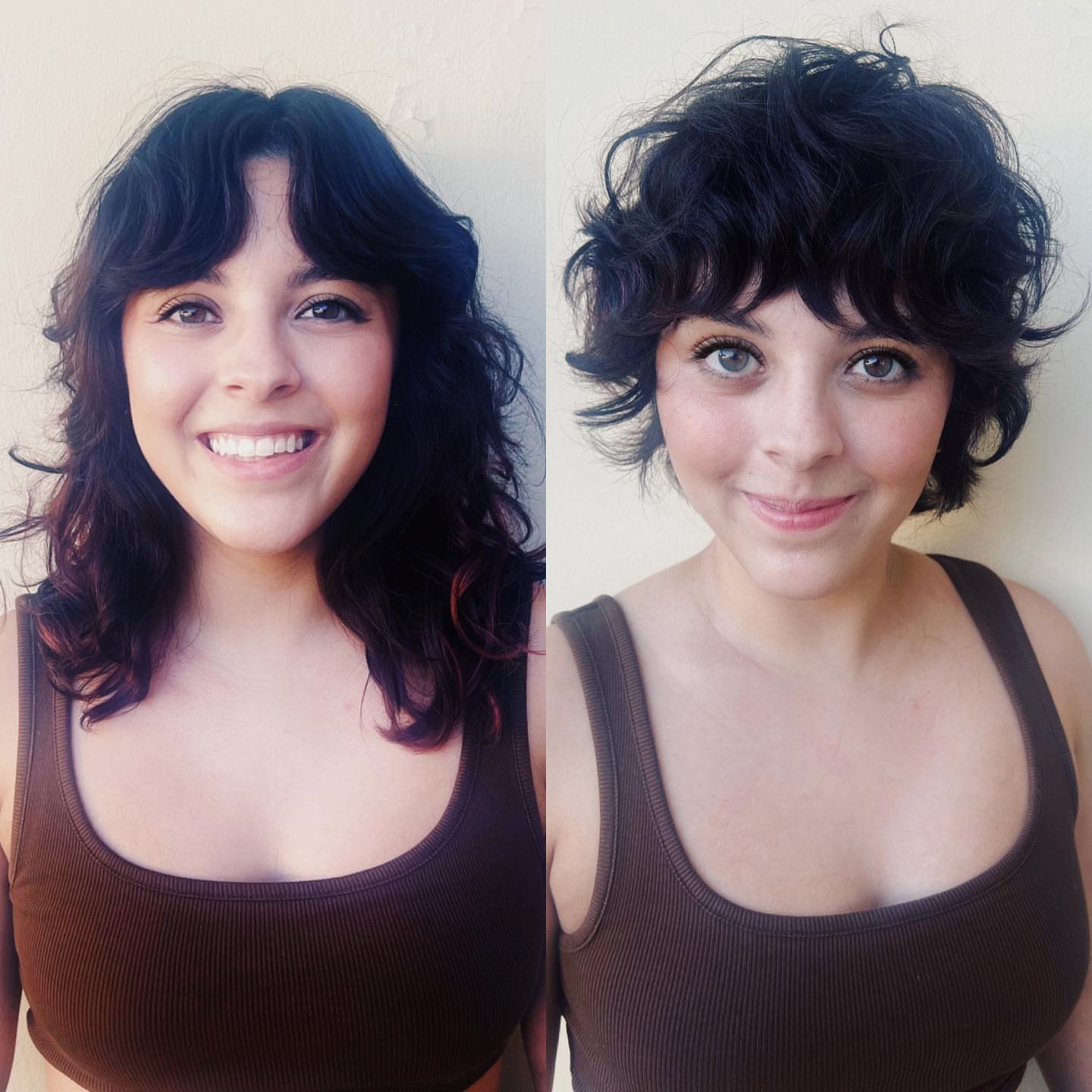 Ladies with curly hair, this one's specially crafted for you! The Curly Bixie is proof that curly hair can flawlessly pull off any trend. The addition of curly bangs modernizes the look, steering it clear from the dreaded "mullet" zone. If you're a curly-haired gal looking to redefine your look, you've found your match.
15. The Classic Bixie Cut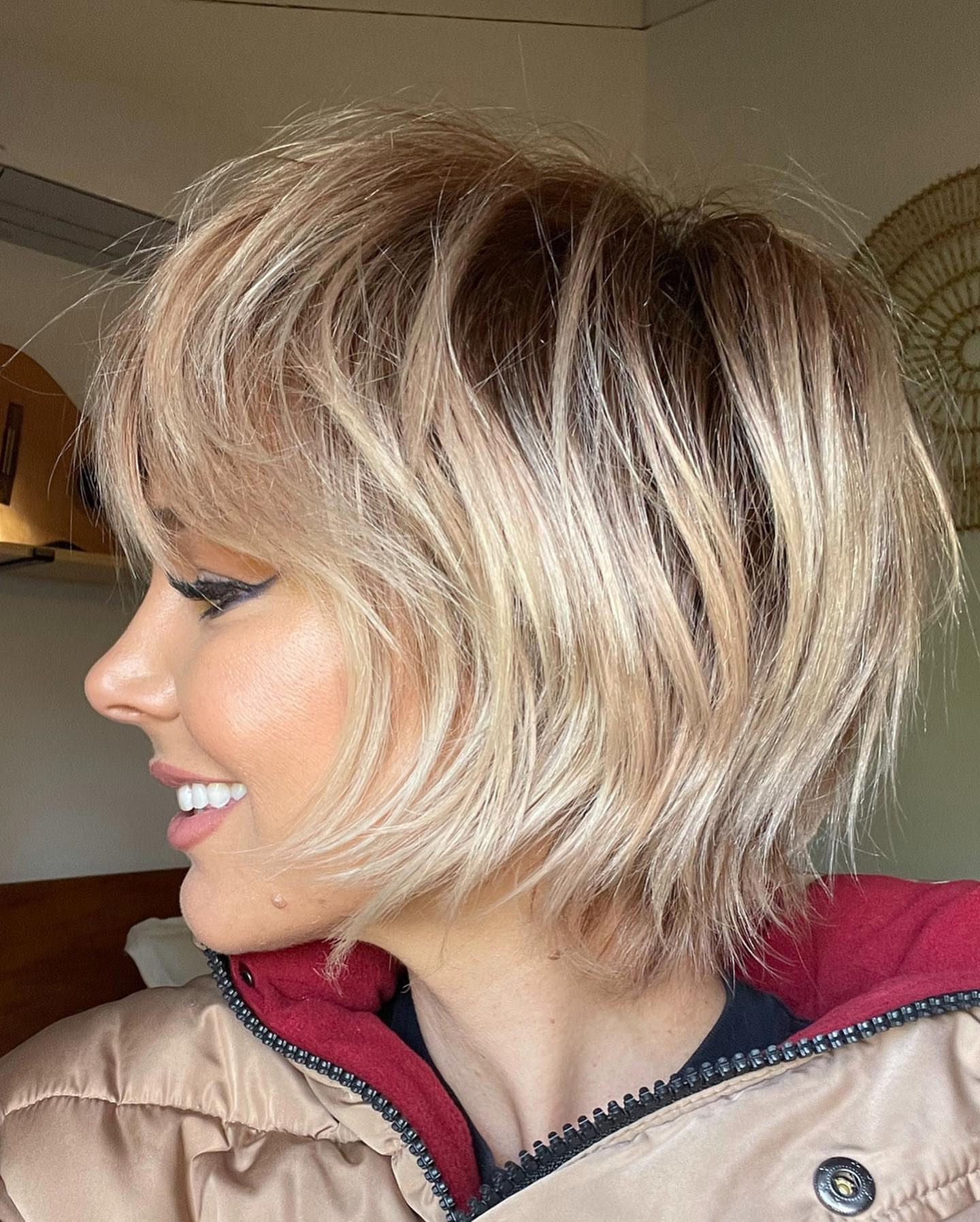 When classic meets modern, you get the Classic Bixie Cut. It's the perfect style for someone venturing into the world of short hair for the first time. This look is an ensemble of sleek, straight hair that pairs flawlessly with those rhinestone-bedecked winged eyes of yours. Every swoop, every wave, every angle is harmonized to perfection, making it less intimidating yet incredibly impactful.
16. Dark and Red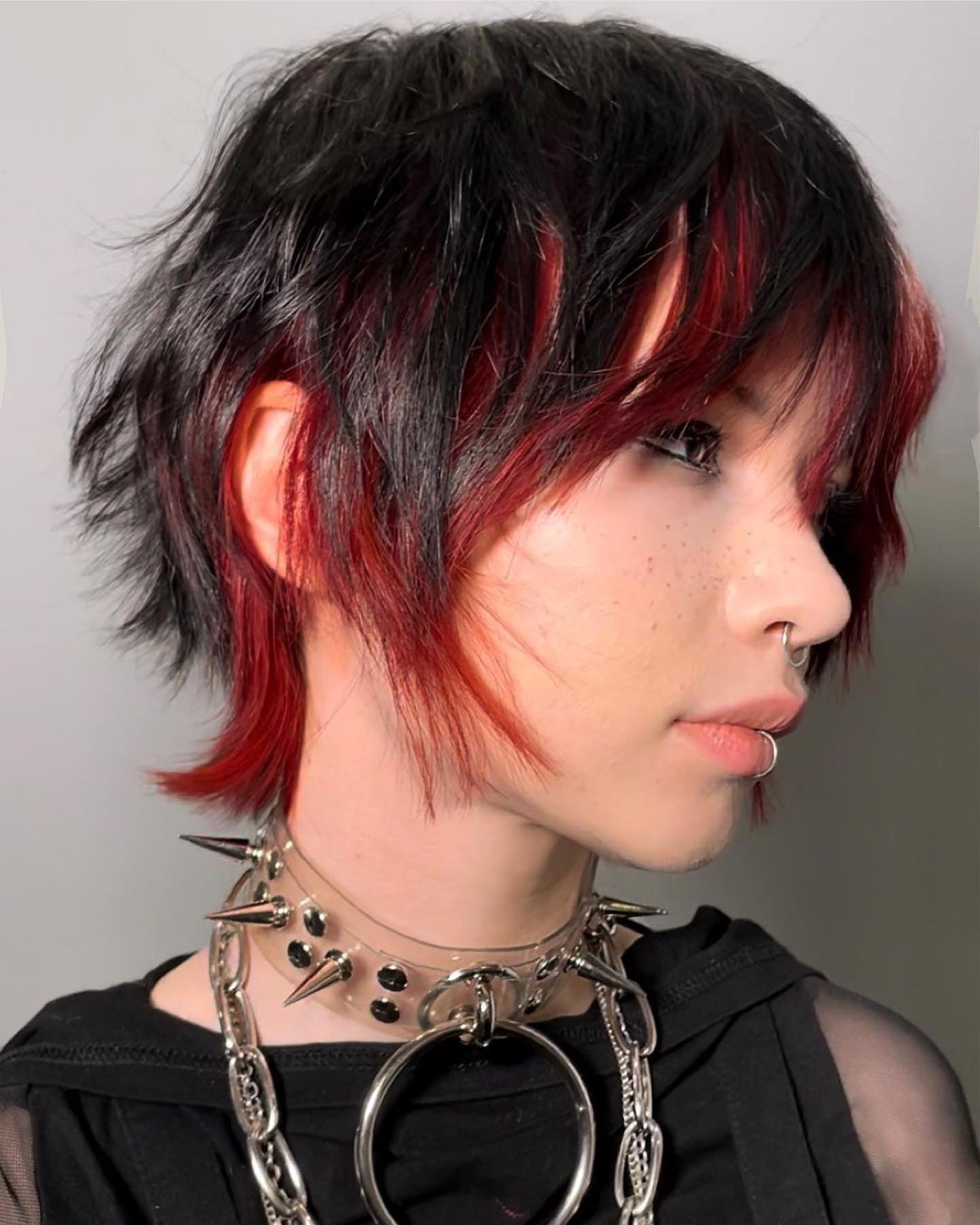 If you're a rebel at heart and looking for a hairstyle that captures that edgy spirit, look no further than the Dark and Red Bixie. With an unconventional yet captivating mix of black top layers and vibrant red undertones, this style is a bold fashion statement. Add in those long bangs and piercings on your nose and lip, and you're the epitome of urban chic. The bixie is perfect for those looking to make a drastic change without the commitment of ultra-short hair.
17. Bixie Cut for Fine Hair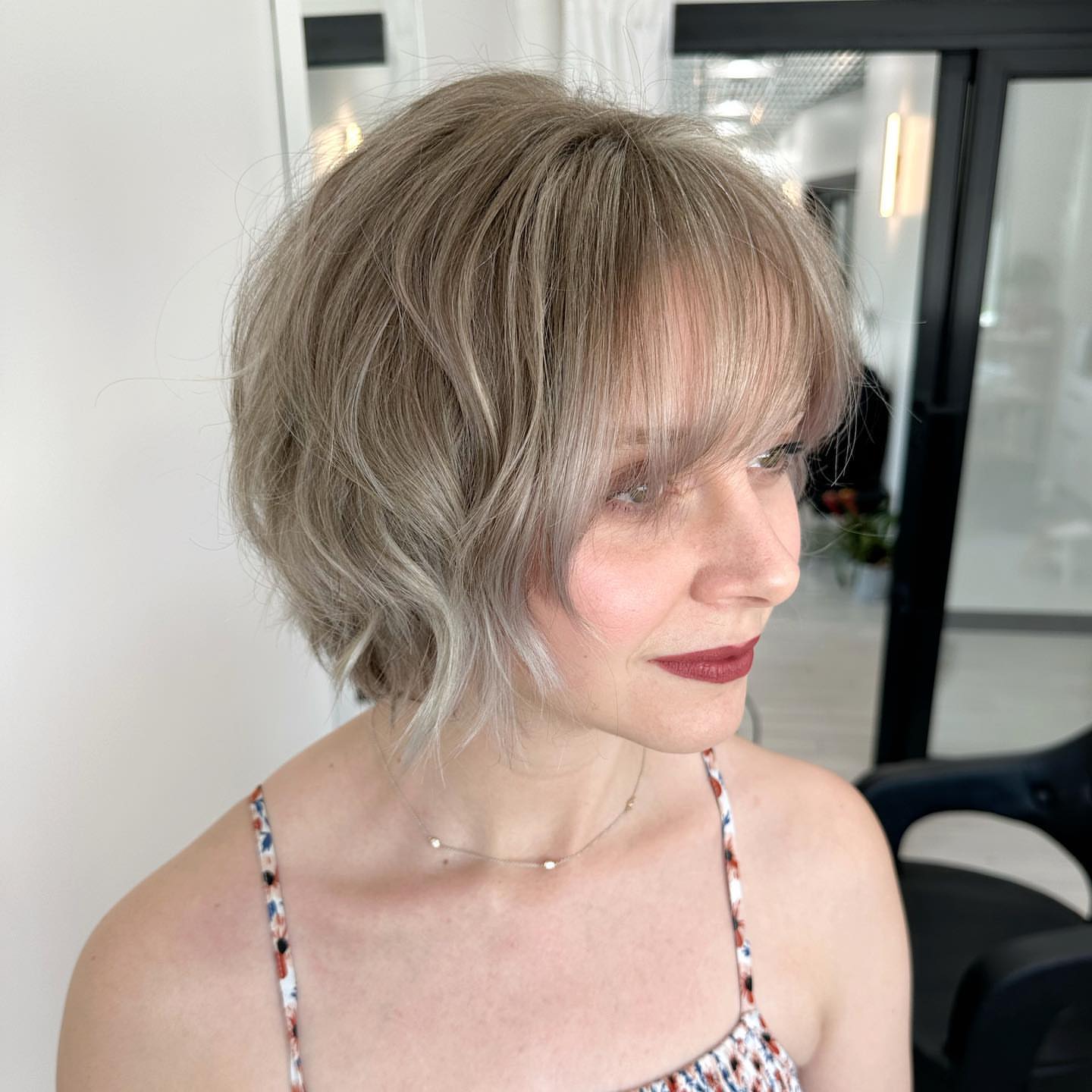 Who said fine hair can't sport a fabulous cut? With the Bixie for Fine Hair, less is truly more. Designed for women over 60 or those with thin hair, this cut gives you a fresh start and a stunning transformation. Short layers and bangs provide shape and volume, making it an effortless style for your morning routine. You'll feel renewed, with a look that says, "age is just a number."
18. Soft Waves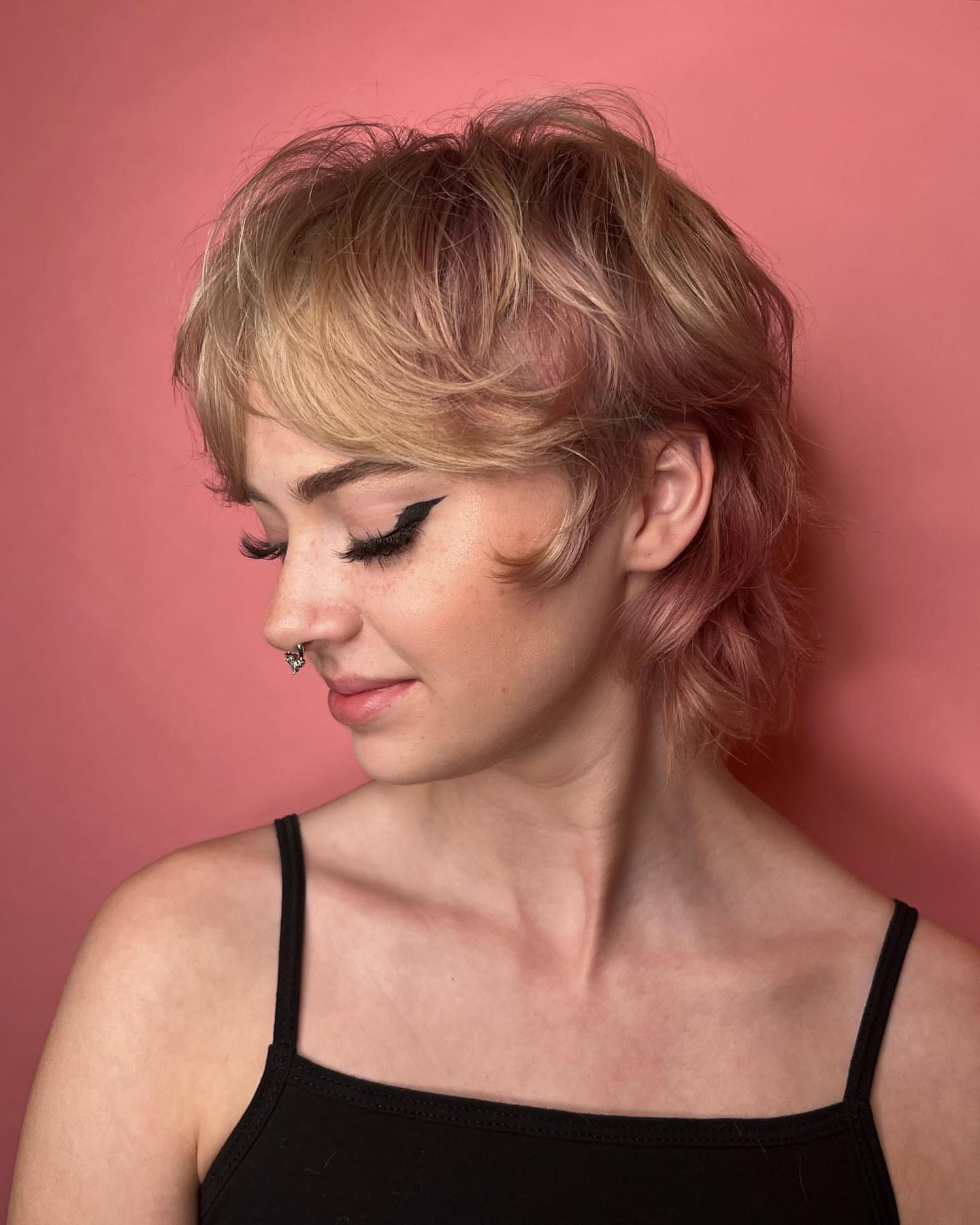 For those who like to mix it up, the Soft Waves Bixie is a chameleon of a cut. Sporting a tantalizing blonde top and pink underlayers, this look is as versatile as they come. You can go for a textured look or smooth it out depending on your mood. The front features longer hair, giving a flirty and sexy vibe that's endlessly adaptable to suit your personal style.
19. Bright Bixie Cut with Bottleneck Bangs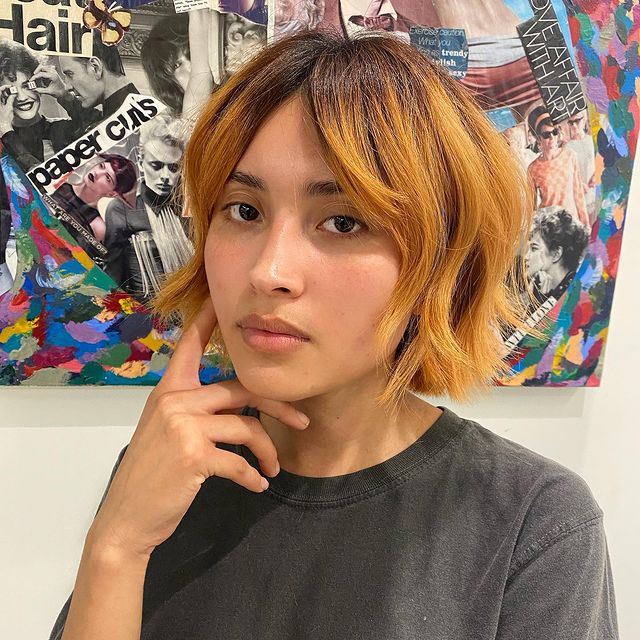 Life is too short for dull hair colors, and the Bright Bixie is a vibrant salute to that mantra. With bottleneck bangs and a dark-to-copper ombre, this cut is all about turning heads. The darker roots bring a grounded feel to the look, harmonizing effortlessly with your eyebrows. Let your color imagination run wild; the bixie is your playground.
20. Romantic Bixie Cut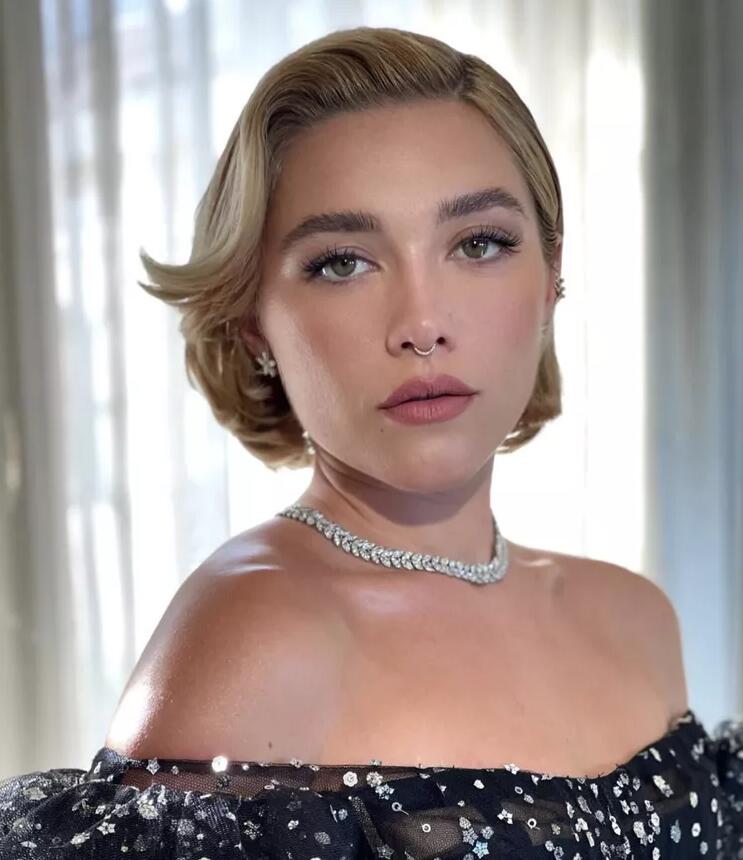 While bixies often exude a rocker chic vibe, they can also be transformed into something utterly romantic. Think of Florence Pugh's side-parted style that is straight out of a classic Hollywood film. Don't be fooled by the bixie's edgy reputation; it can be styled to channel the timeless glamour that's perfect for date nights or red-carpet affairs.
History of Bixie Cut
The Bixie Cut, although it feels fresh and innovative, has roots in the hairstyles of past decades. Its inspirations can be traced back to the flapper bobs of the 1920s and the pixie cuts popularized by celebrities like Audrey Hepburn and Mia Farrow in the 50s and 60s.
Over the years, the Bixie Cut has seen a surge in popularity as it's been sported and reinvented by numerous contemporary icons. These range from film stars like Charlize Theron and Jennifer Lawrence to music sensations like Rihanna and Katy Perry. The style's timeless allure paired with its modern edge has captivated a wide range of celebrities, showcasing the cut's ability to adapt to different fashion senses and personal styles.
The Bixie Cut is more than just a passing trend. Its roots in the history of fashion and its adaptability make it a hairstyle with lasting power. The cut continues to evolve, reflecting the changing times and tastes, all the while maintaining its classic charm. This blend of history and innovation is what makes the Bixie Cut a unique and significant part of the hairstyling universe.
As we move forward, we will explore in more detail the characteristics of the Bixie Cut, how to choose the right cut, and how to care for and maintain this delightful style.
Characteristics of Bixie Cut
What makes the Bixie Cut truly unique are its distinctive features. By combining elements of both bob and pixie hairstyles, the Bixie Cut offers a versatile, appealing look that fits a wide variety of personal styles.
Firstly, the length of a Bixie Cut is one of its most identifiable characteristics. It typically falls around the jawline, offering more length than a traditional pixie cut but less than a conventional bob. This intermediate length allows wearers to experiment with both short and long hairstyle trends, offering the best of both worlds.
Secondly, layering is a vital part of the Bixie Cut. The layers add depth and dimension to the hairstyle, preventing it from appearing flat or lackluster. Whether these layers are subtle or dramatic, they contribute to the overall movement and texture of the cut.
Lastly, the Bixie Cut often involves sharp, precise lines. These lines can vary depending on personal style – some might prefer a more angular approach, while others might lean towards softer, more rounded lines. Regardless, these lines bring structure and definition to the hairstyle, enhancing its overall appearance.
Suitable Face Shapes and Hair Textures for Bixie Cut
One of the many advantages of the Bixie Cut is its adaptability to a variety of face shapes and hair textures.
In terms of face shapes, the Bixie Cut flatters most types, including round, square, oval, and heart-shaped faces. The cut's versatility allows it to be tailored to accentuate your best features and balance your proportions. For instance, adding volume on top can elongate a round face, while softening the lines can complement a square face.
When it comes to hair textures, the Bixie Cut also offers significant flexibility. Whether your hair is straight, wavy, or curly, this hairstyle can work wonderfully. Straight hair can show off the sharp lines and precision of the cut, while wavy or curly hair can bring a playful, dynamic touch to the style.
How to Choose the Right Bixie Cut
Choosing the right Bixie Cut primarily depends on your personal style, lifestyle, and hair needs. It's important to consider these factors to ensure that your new hairstyle not only looks fantastic but also fits seamlessly into your daily life.
Consider your lifestyle: If you have a busy schedule with little time for hair maintenance, opt for a simpler Bixie Cut. On the other hand, if you enjoy spending time styling your hair and experimenting with different looks, a more complex cut with lots of layers might be right up your alley.
Keep in mind your face shape and hair texture: As mentioned earlier, different face shapes and hair textures can influence how a Bixie Cut looks on you. Make sure to discuss with your stylist the best Bixie Cut version that will accentuate your unique features and work well with your hair type.
Think about your personal style: Your hairstyle is an extension of your personality and style. Whether you prefer a classic, edgy, sophisticated, or playful look, ensure that your Bixie Cut aligns with your personal aesthetic.
Don't forget to bring reference images: To help your stylist understand what you're looking for, bring pictures of Bixie Cuts that you love. It can help facilitate a more productive conversation and ensure you walk out of the salon with a haircut you're delighted with.
The Bixie Cut is a versatile and adaptable hairstyle that can be tailored to suit any individual. By taking these factors into account, you can find the perfect Bixie Cut that complements your features, fits your lifestyle, and expresses your personal style.
Care and Maintenance of Bixie Cut
Although the short hairstyle – Bixie Cut is relatively easy to maintain, it still requires regular care and upkeep to keep it looking its best. This involves regular trims, proper washing and conditioning, and using the right styling products.
Regular trims are essential to maintain the shape and style of the Bixie Cut. Depending on how quickly your hair grows, you might need a trim every 4 to 6 weeks to keep your haircut looking fresh and sharp.
The right hair care routine can also make a significant difference in the health and appearance of your Bixie Cut. Using a quality shampoo and conditioner designed for your hair type will keep your locks healthy and manageable.
When it comes to styling, products like texturizing sprays, mousse, or pomades can help add volume, texture, and hold to your Bixie Cut. However, be careful not to use too much product, as it can weigh down your hair and make it look greasy.
Fashionable Styles of Bixie Cut
The Bixie Cut offers a myriad of fashionable styles, each with its unique appeal and charisma.
For a retro look, consider a Bixie with soft waves and a side part, reminiscent of the vintage glamour of the 1920s. A modern, edgy Bixie might feature asymmetric lines and bold, choppy layers, perfect for those with a more avant-garde aesthetic. If you prefer a more natural, relaxed style, consider a tousled Bixie with subtle layers and a casual, effortless vibe.
Whether you're attending a formal event or simply running errands, there's a Bixie Cut style that can be adapted for any occasion and activity. The versatility and range of the Bixie Cut make it an appealing choice for many, allowing you to express your unique style and personality.
Iconic Bixie Cut Looks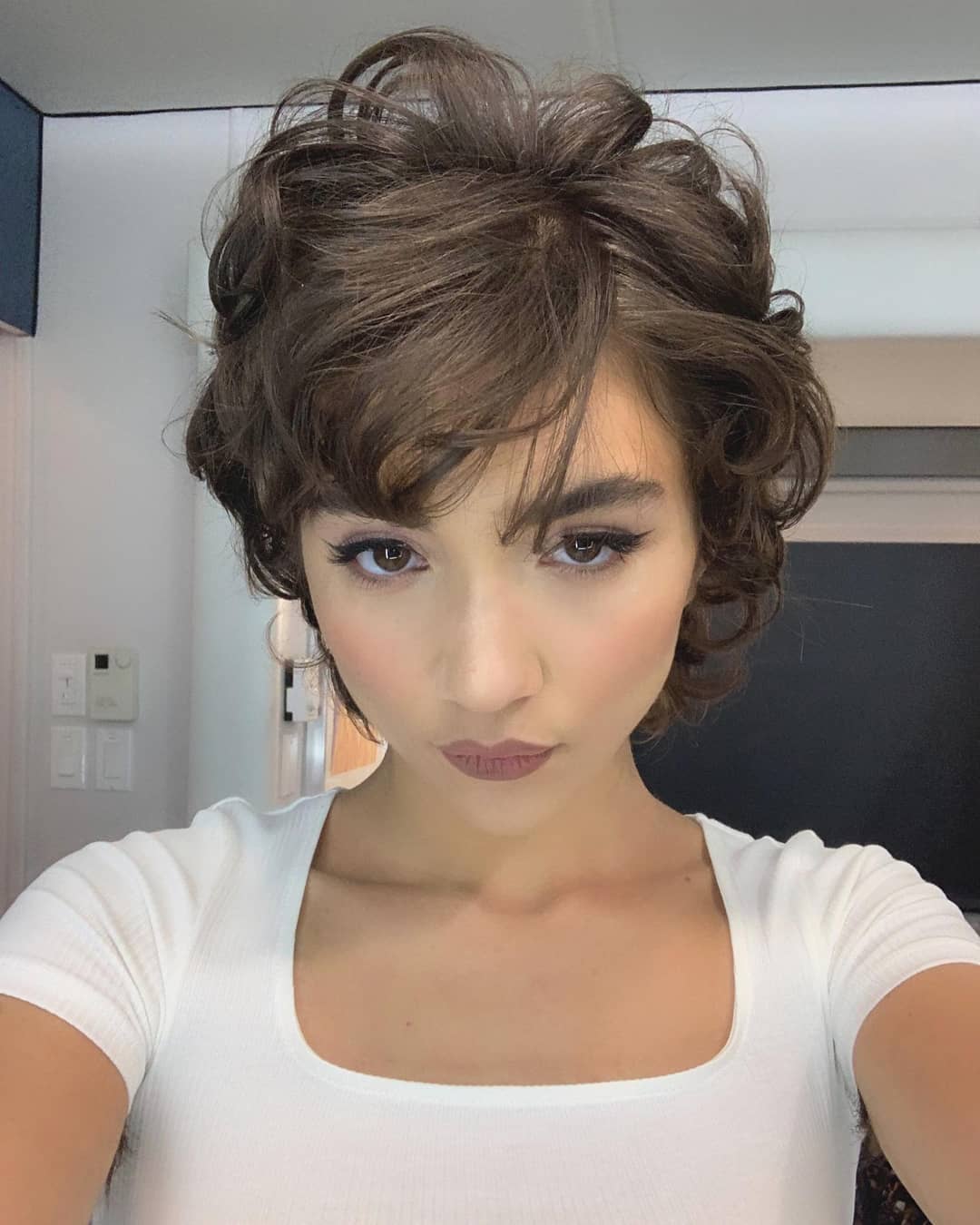 The Bixie Cut has been sported by several famous celebrities and fashion icons, each adding their unique twist to the style.
Emma Watson stunned the world when she traded her long locks for a chic Bixie Cut after wrapping up the Harry Potter series. Her look was praised for its modern simplicity and elegance.
Taylor Swift is another celebrity known for her Bixie Cut, which perfectly complemented her country-pop crossover image. Her soft, slightly tousled Bixie was the perfect blend of feminine and edgy, showing off the cut's versatility.
Each of these iconic looks shows off a different side of the Bixie Cut, demonstrating how it can be tailored to fit a wide variety of personal styles and aesthetics.
Conclusion
The Bixie Cut, with its blend of timeless elegance and modern charm, is a hairstyle that suits a wide range of people, regardless of their hair type, face shape, or personal style. Its distinctive characteristics and adaptable nature make it a unique and appealing choice for anyone looking to update their look.
From its history and evolution to its fashionable styles and iconic looks, the Bixie Cut offers a wealth of possibilities for anyone willing to explore. Whether you're considering a Bixie Cut for its chicness, ease of maintenance, or its versatility, one thing is clear – this stylish hybrid of the bob and pixie is here to stay, continuing to shape the landscape of fashionable hairstyles. So, why not embrace the trend and let the Bixie Cut bring out your unique personal style?