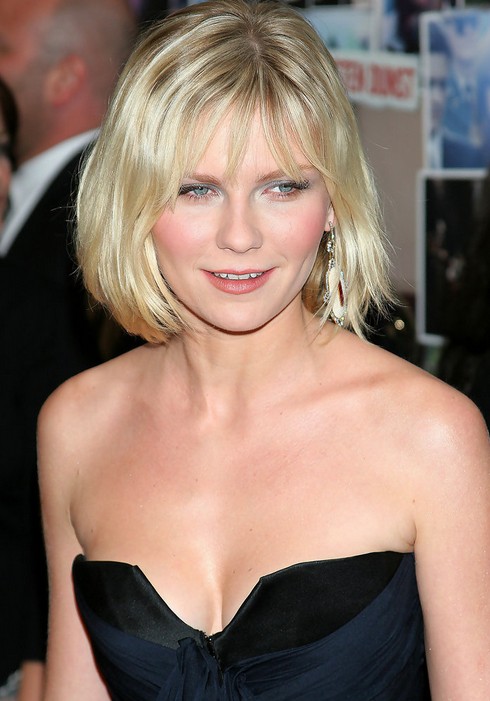 The hairstyle is just as important as your face! Before you choose a hairstyle, you need to know your face shape first, click here to view how to choose hairstyles for you face shape, today I'd like to show you some female celebrities with round shaped faces, if you really don't know what hair styles to wear, just read this post. It's always a good way to know what celebrities share your face shape and hairstyles because what looks good on them might also look good on you.
Again, before you choose the right hair style, please make sure you know your face shape. If you have a round face you are in great company, because so do these famous female celebrities.
Updo for Round faces – Mila Kunis' hairstyles
Need an updo for round faces, her is an elegant updo from Mila! She just paired her stunning lilac Elie Saab gown with soft pinned up ringlets, this style is perfect for homecoming, wedding, and prom!
Celebrity short curly bob hair style for round shaped faces – Charlize Theron's hairstyles
This is one of the most popular short hairstyle this year, yes! A sexy blonde curly bob cut! This short cut works well on Charlize. If you don't like Olivia Munn's short black straight bob cut, how about this sassy blonde curly bob? Both of these cuts work well on round shaped faces.
Emma's straight hairstyle for round shaped faces – lob
The key to straight hair is keeping it full, Emma explains. For this simple but pretty look, blow dry hair as straight as possible. This style is really popular in recent years.
 Kirsten Dunst's short haircut:  Tousled Curly Bob Cut for Round Face Shapes
Here is another short bob cut for round faces, if you don't like the straight bob cut, why not try the tousled curls?
Casual short hairstyle for round faces: Olivia Munn's short bob cut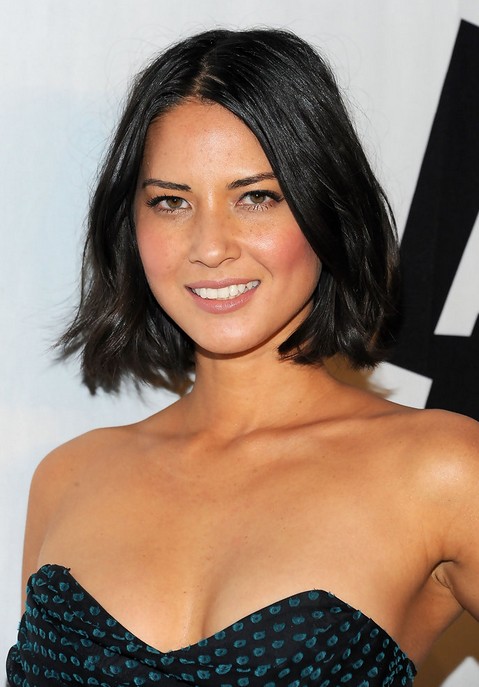 This is a great short hairstyle for round faces, if you're going to cut your hair shorter this time, why not consider this blunt bob cut? The pixie cut is hot in recent years, but too short for round faces.
Medium Wavy Hairstyle for Round Shaped Faces – Kate Bosworth's hairstyle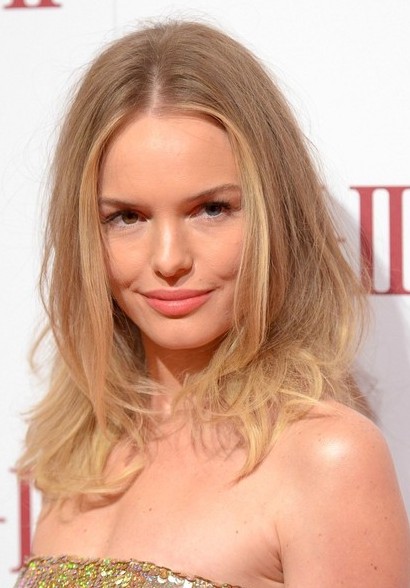 Here is a newly casual shoulder length hair style with curls from Kate, I love the curls very much.
Kelly Clarkson Shoulder Length Curly Hairstyle for Round Faces
Kelly knows what hairstyles look great on her! The layers of her hairstyle here add definition to a face that lacks angles. If you're looking for a simple easy daily hair style, then maybe a good one.
African Ameircan Hairstyles for Round Faces – Tatyana Ali's medium curly hairstyle
Tatyana Ali's casual medium curls showed off her hidden blond highlight. Adding oomph to hair balances the roundness of your face, says Palacios. Tatyana's collarbone-length hair is just short enough to keep cool in the sweltering summer months.
Queen Latifah's Hairstyles – African American Bun Updo for Round Faces
Short Haircut for Round Faces – Christina Ricci's short haircut
A chic short bob cut for summer! This short blunt bob hairstyle is simple and perfect for a round face shape. The side-swept bangs are gorgeous and I love the length.
Kelly Osbourne New Short Bob Haircut – Short cut for round shaped faces
Here is Kelly Osbourne's latest hairstyle, yes, a new stylish short bob cut!  She dyed her hair in purple, her favorite hair color is gray purple, no matter what hair she wears, medium curly, long wavy hair, or short cuts, she loves to dyed her in this color, it's her style!
Long ombre hair for round faces – Drew Barrymore's center parted long straight hair
Here is Drew's latest hairstyle, she wears a newly long straight dark to blonde ombre hair recently, this is a flattering look for someone with her face shape! If you don't like this straight ombre hair from Drew, how about her another loose wavy ombre hair? Check it out here.
Layered Hairstyle for Round Faces – Mariska Hargitay's Hairstyles
This is a quintessential great shoulder length hairstyle for a round face.  To get Mariska Hargitay 's gorgeous locks, use a large-barrel curling iron to create loose curls, then run fingers through hair. It's the perfect length and has enough layers to give the hair movement. If you're looking for hairstyles for women age over 50, why not consider this one? Simple easy but elegant!
Short boy cut with bangs for round faces – Renee Zellweger's hairstyles
Looking for chic short haircuts for round shaped faces? Here is a great one! A simple easy boy cut from Renee!  The short hair also works great on a round face as long as the hair is not cut too short, bangs is very important for short cut if your face shape is round, or square. Here is another short hairstyle from Renee, if you don't love to cut your hair too short like this buy cut.
Short Hair with Headband for Round Faces – Michelle Williams' Hairstyles
What a cute short haircut from Michelle! I love this short cut so much! This cute short haircut goes perfectly with a glittering headband. The key to making it sweet, not boyish, is to let a few strands at the front hang loose, ensuring the headband stays on the crown of your head. Do you love this short cut?