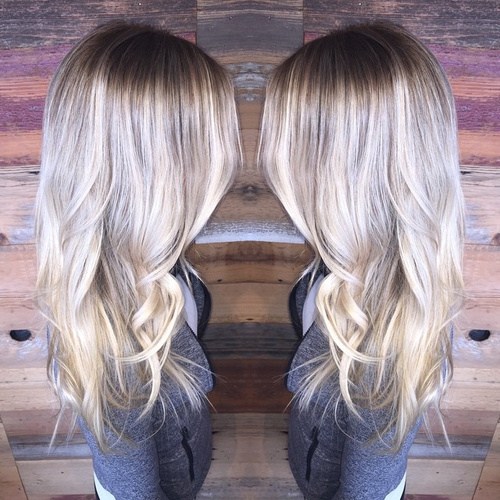 The new neutral brown and blonde shades come in a wide variety of tones ranging from ash-blonde and ash-brown to softer silvery versions with a hint of pink, lavender or green.  There are plenty of romantic looks that mix pale golden-blonde with fine silver highlights for a beautifully pearly finish.  And the new hair color trends also include some fantastic blonde ombre ideas for copper hair, or a stunning oat-blonde ombre on rich auburn.  The variety of fashion styles is wide and although many of these 40 gorgeous ways to rock blonde and silver hair are long styles, there are some very stylish medium and short to inspire you, too!  So let's get this party started!
Subtle silver highlights on long casual golden blonde hair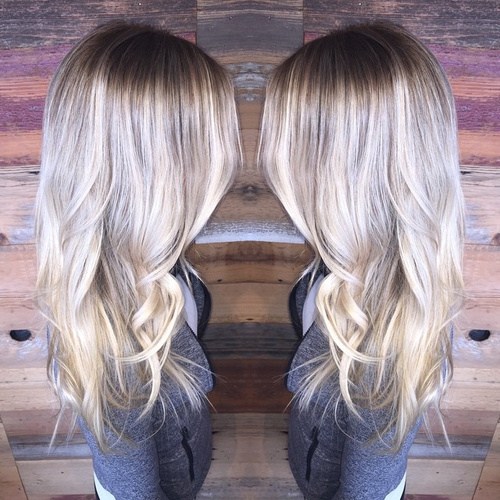 This is a 'starter' blonde and silver look for anyone who wants to join this exciting hair color trend . . . but doesn't want to go over-the-top just yet.  The look is casual and youthful, with a tousled finish and trendy heavily textured tips.  The full effect is a gorgeous blend of gold and silver with a low-key, natural vibe!
Break the rules with hot cocoa-brown hair & cool blonde balayage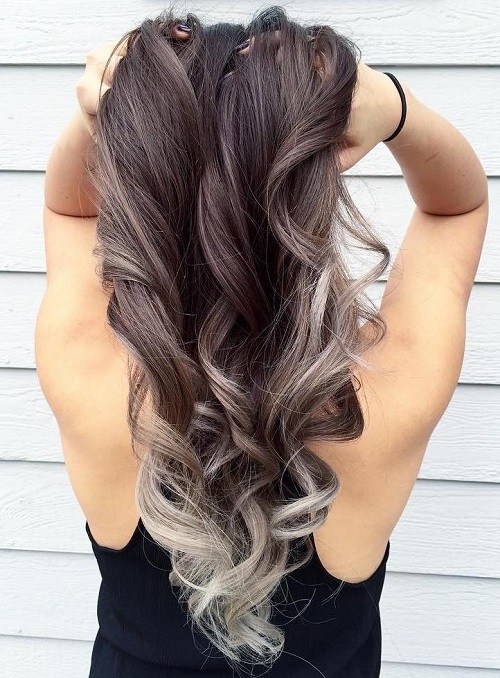 Break the rules with hot cocoa-brown hair & cool blonde balayage styled in a cascade of loose waves.  This is a great way to hide early gray hairs that may be starting in dark brunette hair.  The brown hair has lots of fine pink-blonde highlights that add depth and rich color to a gorgeously fashionable hairstyle!
Simply elegant honey-blonde waves with silver highlights & pale ombré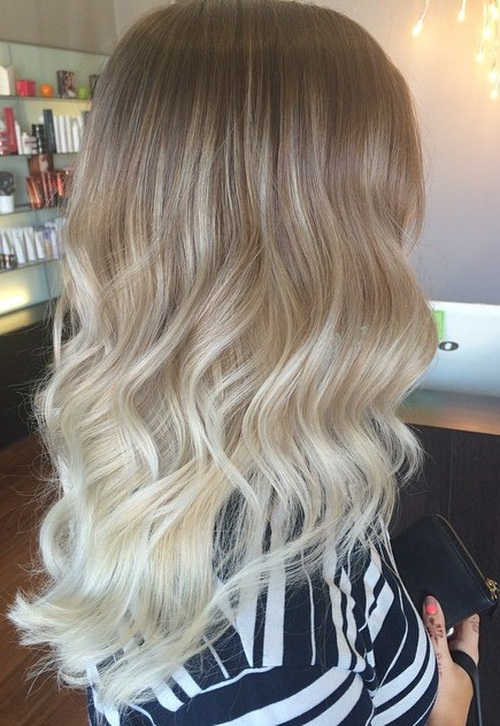 Here's a great way to wear silver and white-blonde to make long, fine hair look thicker. Trendy honey-blonde is a flattering blonde shade to wear around the face and cute, silver/gold ripple-waves soften the graduated line and add volume. Finally, delicate baby-blonde tips create the illusion of thicker hair at the V-shaped ends!
High fashion brunette rippling waves with soft-white ombre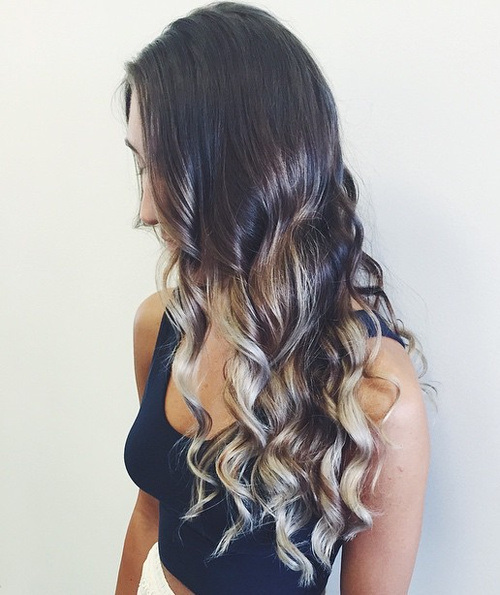 Blonde hair reflects light better than brunette hair colors, so accentuating these perfectly formed ripple-waves with a blonde ombre makes a lot of beauty sense.  Don't worry if your complexion isn't suitable for a cool-blonde look – just keep your rich warm-brown natural shade down to chin-level!
Combine beige-blonde shade with a metallic-silver ombré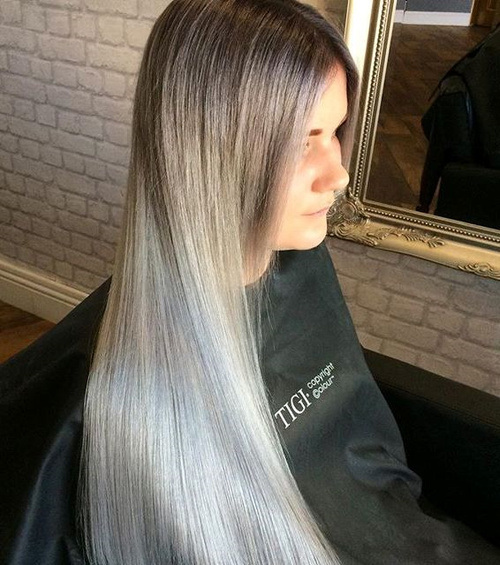 This model certainly puts us all to shame with her wonderfully long hair that's obviously been kept in perfect condition for years! The roots are a flattering beige-blonde down to chin-length, so the warm shade next to her face complements her skin-tone.  And then the magnificent silver-blonde ombré is just breath-taking! Checkout these 50 ombre hair styles!
Weather-proof long cut with trendy brown, beige & silver-blonde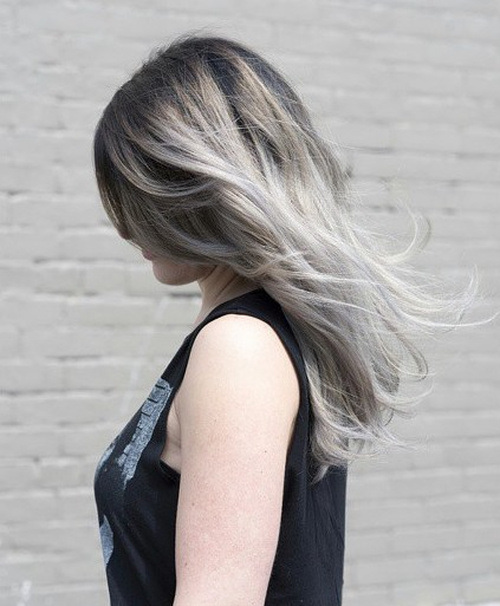 This easy-care, daily hairstyle idea doesn't need any styling to look good throughout a busy day.  It's a long layered look with long bangs creating a casual, youthful style that won't suffer by being blown about by the weather! Trendy brown roots, with a beige and silver ombre, look fantastic on tousled, thick straight hair.
Bardot waves in blue & silver blonde ombre on long hair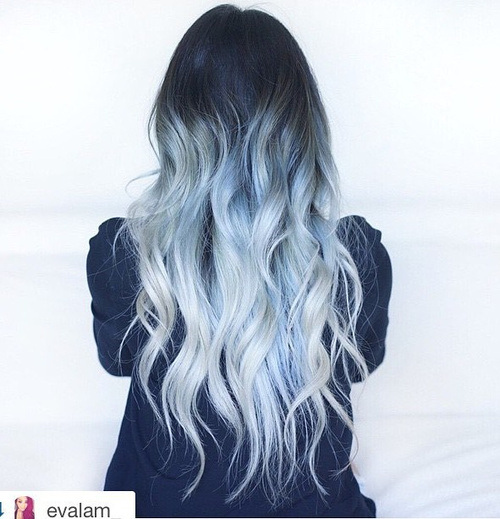 Long and loose is always a great way to show off long, healthy hair. But when that hair is also rockin' a blonde and silver vibe – with a hint of green and purple gloss highlighting the waves – that's definitely gorgeous!  The long, lazy waves look fantastic against a navy-blue jacket, too!
Spectacular smooth deep waves with gray roots & white ombre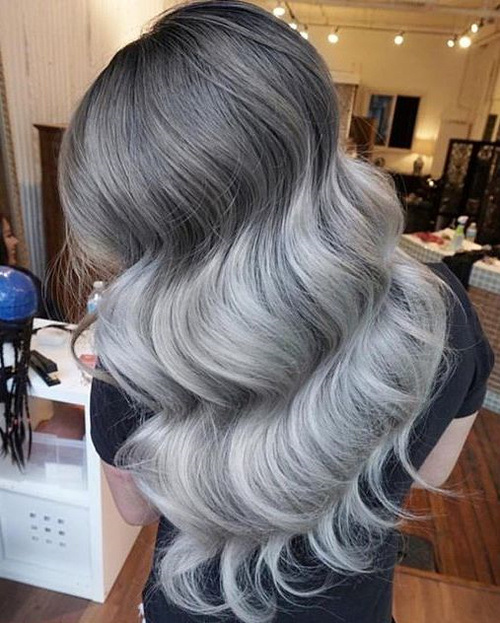 These are the deepest, widest waves I've ever seen this side of the Atlantic Ocean!  With a mid-gray top, shot-through with very fine neutral blonde highlights, these are seriously trendy roots. Quirky diagonal waves in silver-blonde, over light gray layers make this long hairstyle absolutely spectacular!
Extreme angled bob in silver-gray & purple balayage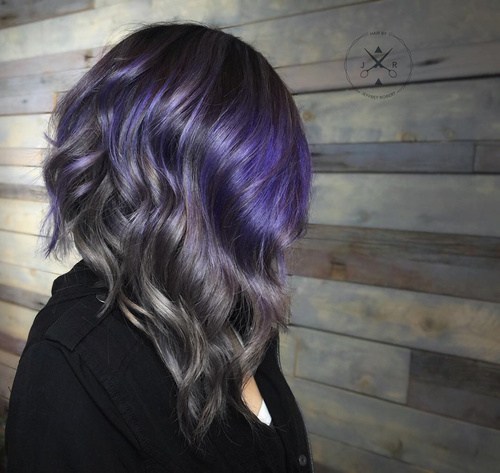 It's hard to see if this haircut suits the poor model's face!  However, it is an impressive, new twist on the popular angled bob.  Steep and edgy, with a trendy, silver-gray all-over hair color, the added impact of a vivid purple balayage makes this another gorgeous new idea!
Grungy neutral hair colors on dark-blonde hair with loose ringlets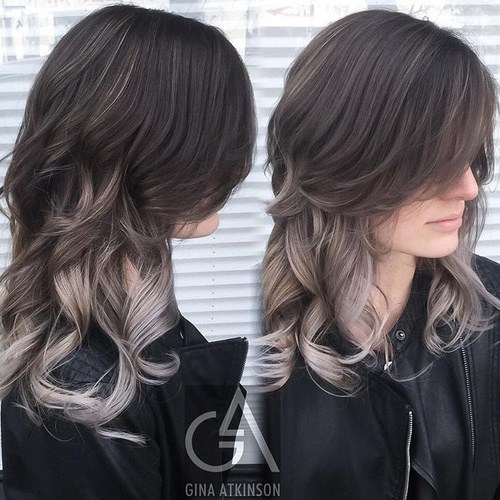 This is a 'grunge-lite' hair color idea, based on the popular fashion style favoring dull, neutral browns, grays and beige colors. This beautifully executed color design needs to be seen in normal daylight to appreciate the gradual dip-dye.  It moves through silver-beige-blonde to silver-gray highlights lighting up the gorgeous long curls!
Black roots on neutral blonde ombre -v- ash-blonde ombre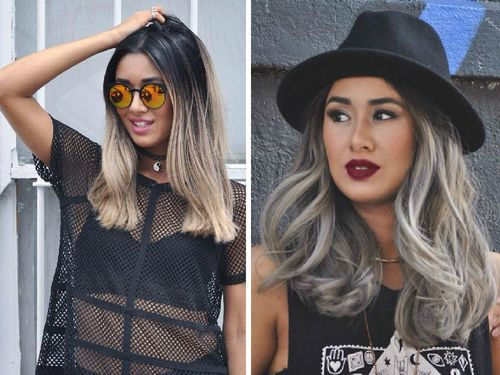 These images give a useful comparison of two trendy blonde and silver-gray hair color ideas.  The first image shows a simple, long blonde bob with sharply contrasting black on top.  Like it!  And next to it, the sophisticated ash-blonde/silver color blend with subtle green tones. Love it!
Simple long brunette haircut with bangs & silver ombre for fine hair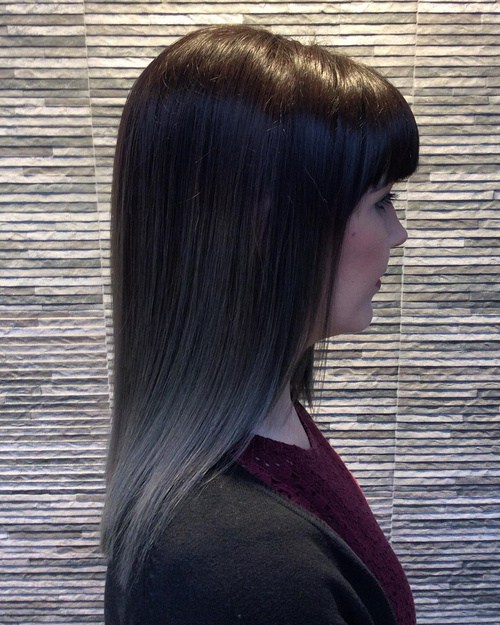 This long straight bob is just about the best length for fine hair, any longer and the hair starts to appear thinner.  With full bangs and flat sides, this haircut is just right for round faces and the silver ombre adds the perfect touch of modern style! You can find more lob hairstyles here.
Casual sophistication taupe roots & edgy ash-blonde ombre on tousled waves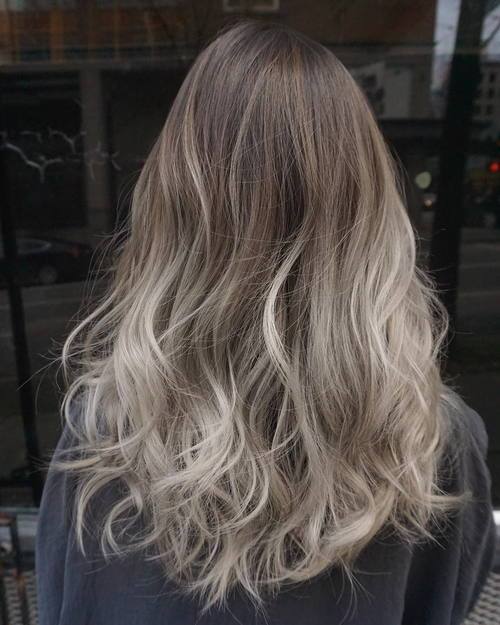 Ash-blonde and ash-brown hair color ideas have been bubbling under the world of hair-color fashion for a couple of years.  And this is their breakthrough year, as this chic long look shows!  Muted ash-shades are extremely chic and on a tousled, V-shaped long style with loose waves they create a highly contemporary look!
Romantic soft silvery-gold blonde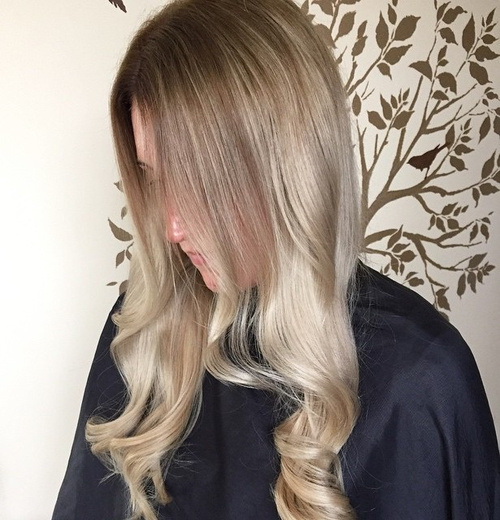 For a more feminine and romantic look, this soft silvery-gold blonde ombre is a fantastic choice!  It's such a great color for reflecting lots of light and makes fine hair shine like gossamer.  Silky-smooth with a slight wave creating movement and large barrel curls at the tips make long fine hair seem thicker, too.
Fabulously edgy faded denim/tattoo blue on long loose waves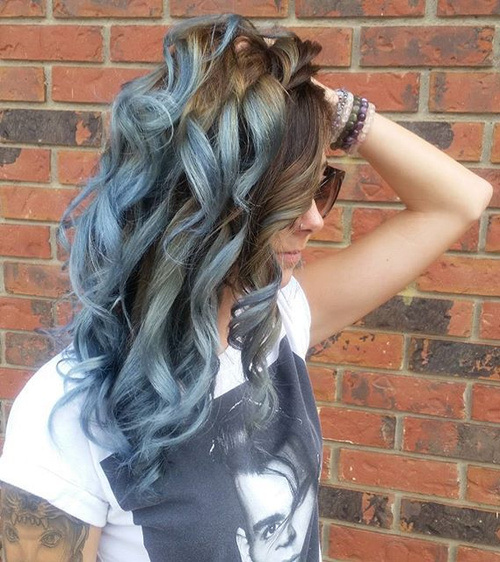 For an adventurous new look, this trendy style with faded denim blue hair over medium golden brown roots is a real knockout!  It's another 'fusion' look that matches the soft blue of tattoos and denim, with gorgeous cascade of cute loose ringlet-waves!
Trendy & professional taupe roots with open waves & blonde ombre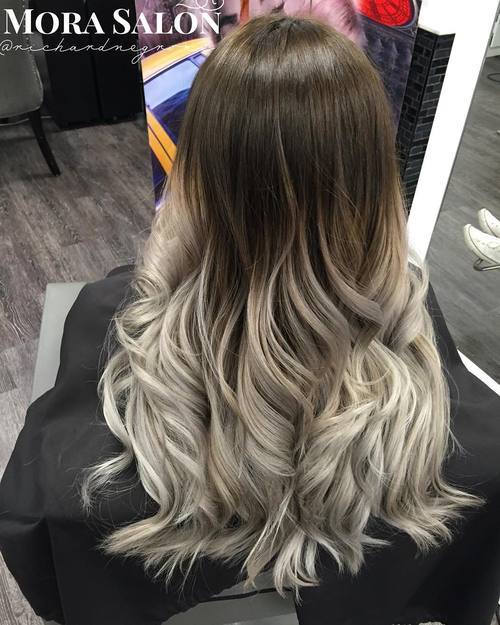 This contemporary hairstyle projects a modern, fashionable image that's also professional enough to wear at work.  The dark-blonde hair at the top is beautifully blended into a neutral pale blonde ombré, with fine silver highlights accentuating the fabulous texture in the open waves and spiky tips!
Cute copper balayage on 'bronde' ombre with tousled waves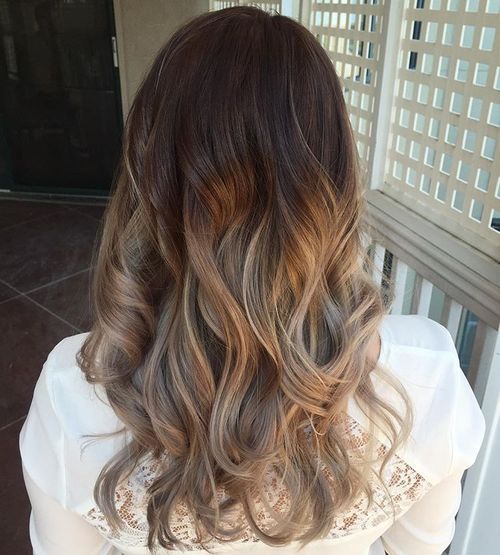 Depending on your skin-tone and favorite fashion colors, you can wear strong ash-blonde shades or something warmer, like this hair color design.  The tousled waves appear to be reflecting sunlight from a window, but what you're actually seeing is expertly applied copper balayage patches!
Striking silver ombré lights-up extra-long wavy black hair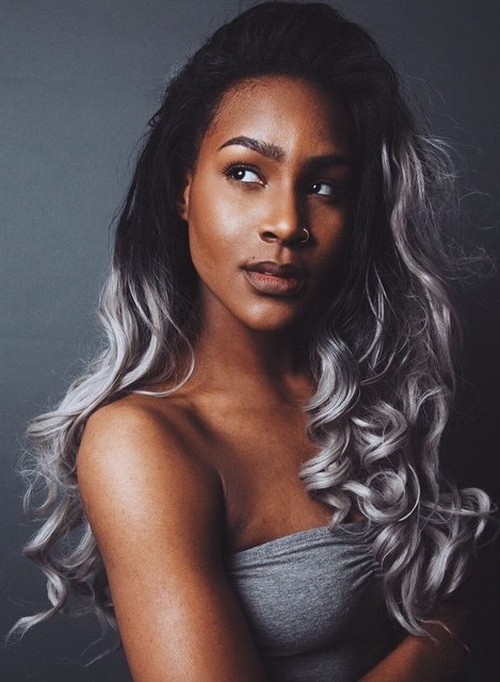 This sexy shot underlines how a radical, metallic silver ombré can transform you into an intriguing and desirable woman!  The silver-blonde curls and gorgeous rippling waves have just a touch of purple gloss, making this fabulous hairstyle a great way to show-off beautifully warm skin-tones!
Precision-cut layered long straight hair with center parting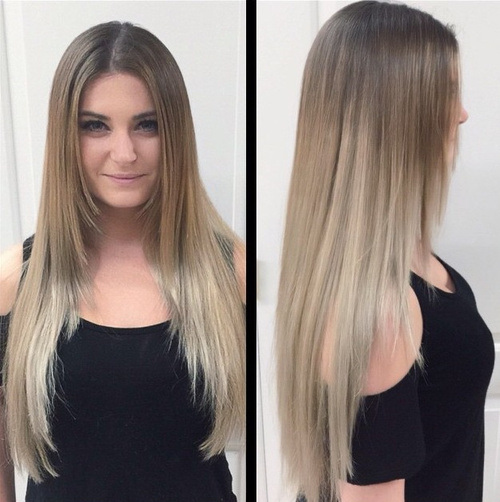 Here's a vintage layered edge hairstyle brought up-to-date with a soft beige blonde ombre with silver highlights.  Remember, center partings are best for oval faces, but you can adjust the part to suit a heart or angular face-shape.  The shorter strands framing the face are perfect for minimizing a strong jaw-line.
Glamorous large ripple-waves with taupe/wheat-blonde ombré on long hair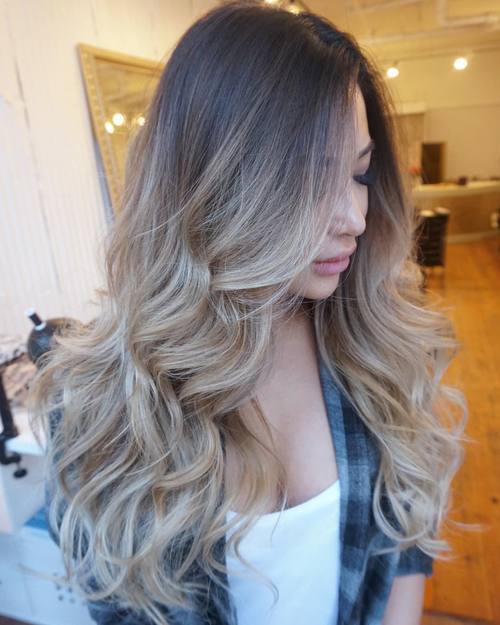 As a neutral brown, taupe is a softer root-contrast color when creating beautiful ombré blends like this glamorous gold blonde/wheat-blonde style.  The side-parting leaves a long section of flowing hair draped across the face and the length finishes at just the right place to draw attention to the decolletage!
Gleaming green gloss on dark A-line long bob & blonde ombre for fine hair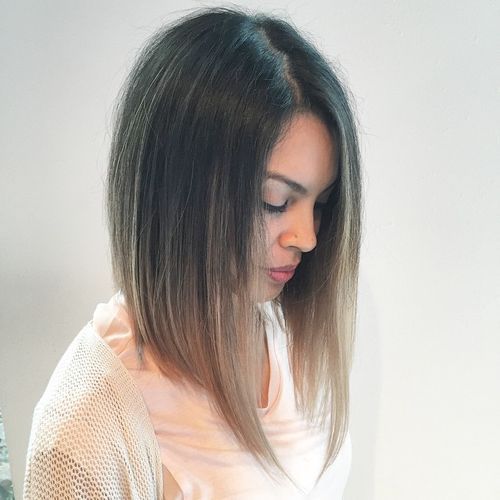 Coffee is another popular neutral-brown shade used on roots and you can create different areas of focus, by varying the length of the 'roots'.  This lovely A-line bob is a great long style for fine hair, as the blonde ombré makes the ends appear thicker.   And the subtle, bottle-green gloss adds an edgy vibe to this smooth style, too!
Choppy tips on edgy long bob with muted pinky-blonde ombré for thick hair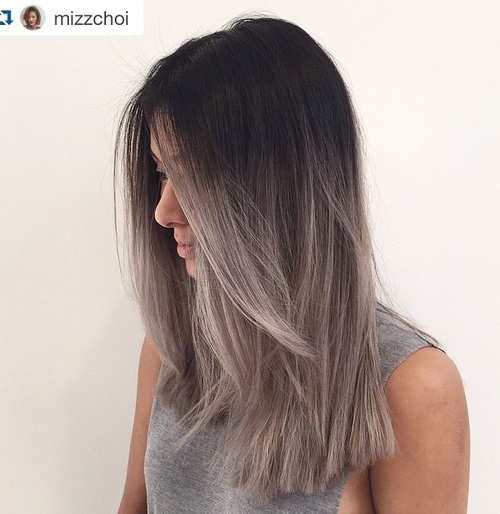 Normally, thick hair styles are tapered at the tips to avoid this chunky, chopped look at the tips!  But as we know, hair fashion is all about breaking the mold and on a grungy hair color design, of neutral brown and pinky-ash-blonde ombré, they finish off the contemporary look perfectly.
Ravishing long copper hair with edgy cut & silver-blonde ombré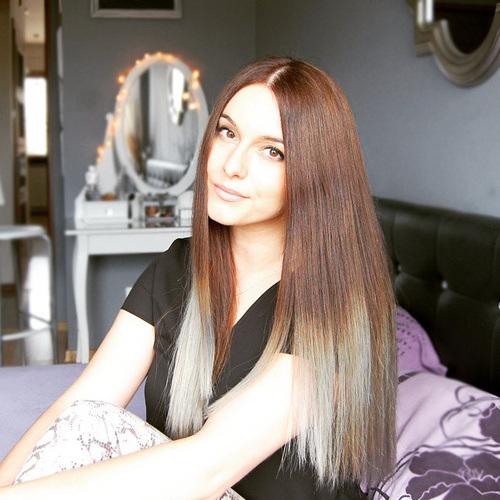 Here's another trendy example of broken rules leading on to fresh and exciting hairstyles.  The lovely, rich copper hair is beautiful, but with a silver-blonde ombré highlighting those ragged tips, the style becomes absolutely unforgettable!
Flattering warm brown roots & wiggly waves in pearly beige-blonde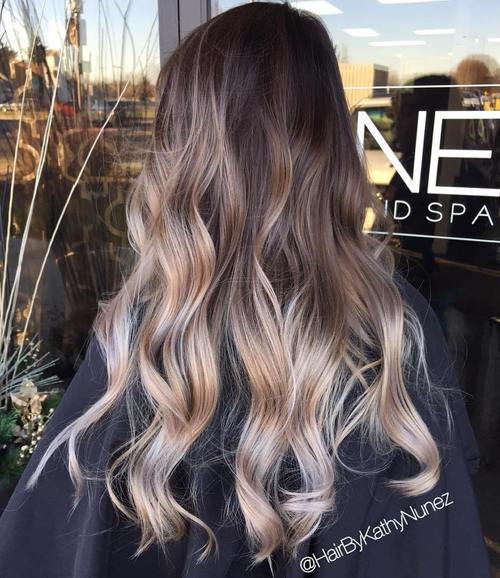 This is a great hair color scheme with contemporary neutral colors that still have face-flattering warmth for cool skin-tones.  This is a more natural-looking dual-color hairdo than the ash-blonde shades, and the silver-tones mixed with golden blonde look soft and feminine with the fluid, wiggly waves!
Subtle glamor on bold brown vertical highlighting & pale-gold ombré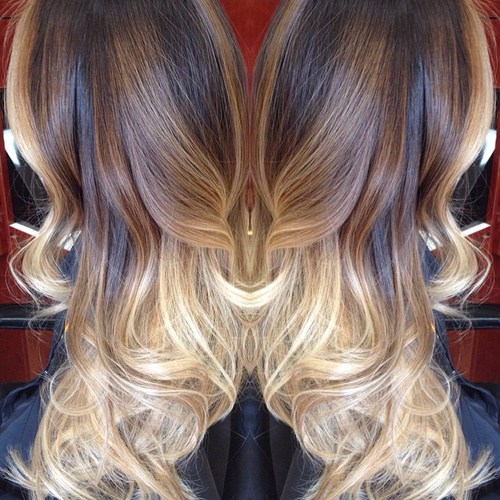 This is a very glamorous look that's just what you need for a special occasion!  The broad bands of medium-brown highlights look as beautiful as well-polished wood.  The face is softened with flowing waves highlighted in pale gold and the tousled wave pattern in the blonde ombre is perfect for adding volume to fine hair!
Blonde boy-cut with cute quiff and soft silver balayage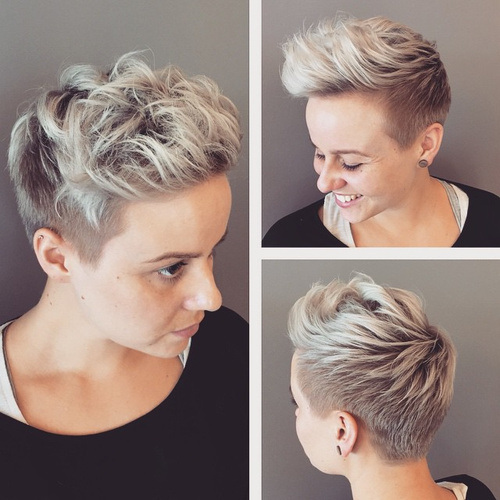 Here's an updated pixie-cut, cut very short and brushed forward to follow the trendy, smart look of male hairstyles.  The front quiff adds height to flatter a round or wide face and there's attractive texture in the top.  The final contemporary touch is a pinky-beige root color with cute silver blonde tips!
3-D color effects & waves for long, fine hair
This hair color idea has a stronger contrast between the dark coffee top and the white-blonde/silver highlights at the tips.  Whenever you have a strong contrast like this, you create a 3-D color effect that useful to make fine hair look thicker.
Gorgeous wide ripple-waves on long dark hair with subtle ombré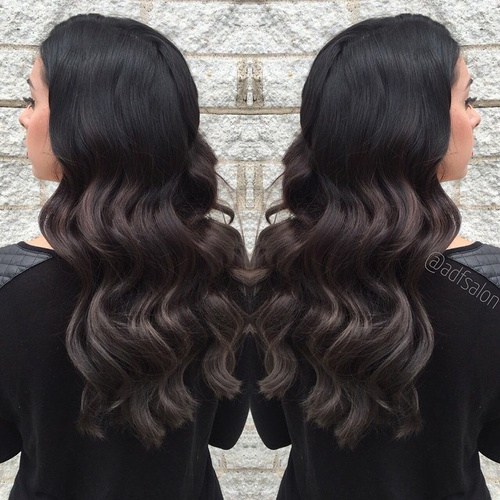 Strong, wavy hair can be coaxed into some amazing new wave-forms like this fresh style.  There's a natural wave in the smooth sides, which is copied on a larger scale down to deliberately chopped-off looking tips! Just add subtle balayage highlights as the ombré part for a stunning fashion look!
Young & edgy black/white-blonde short asymmetric cut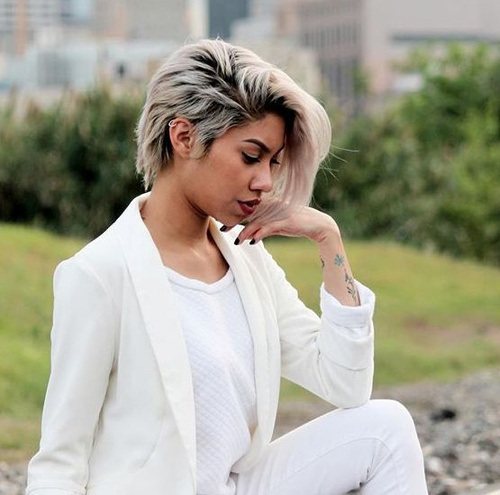 Here's another strong contrast from the urban-chic styles, which creates lots of reflected light onto the face.  Black roots and swept-back height around the forehead are a good way to make a low forehead seem higher, so this is also a good choice for a round or heart face.
Boho brunette color-fade with deep bangs on long large waves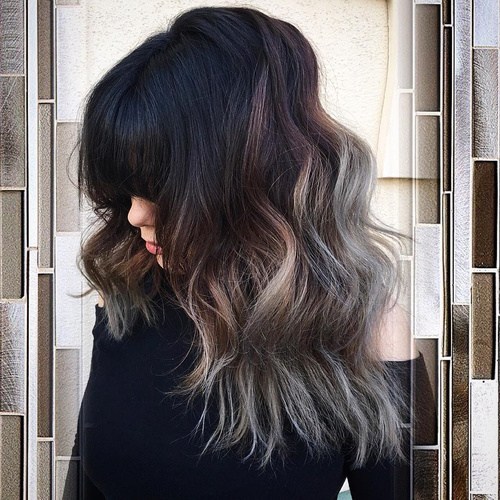 This boho look creates a relaxed, arty image through subtle color blending and the exaggerated waves and bangs. This cut has extra height at the crown and heavily textured tips for a feathered-effect.  This contrasts with the dark color-block and deep bangs on top, which gradually fade into pinky-beige and green-silver-blonde ombre.
Beauty queen glamor of beige-blonde hair with silver highlights on loose waves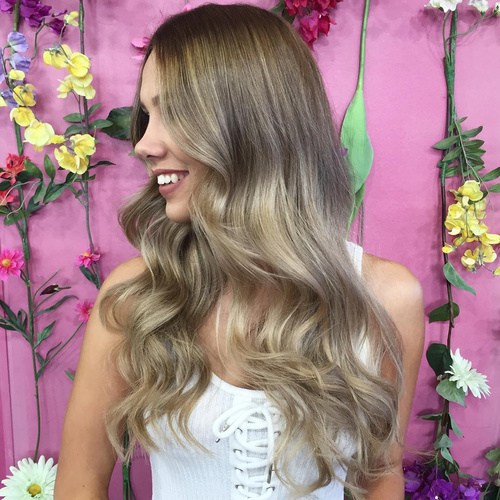 This is a classic pageant-winner hairstyle which is fashionable, without being extreme.  The lovely deep waves frame her face from a center parting, displaying the symmetry of a perfectly oval face.  And the medium blonde neutral shade blends seamlessly into delicate pale blonde ombre with fine silver highlights.
Gleaming soft pearl finish on pale-gold ombre with silver balayage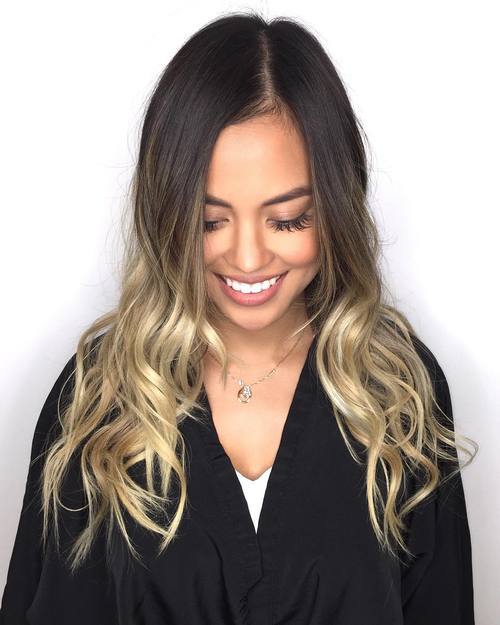 This off-center parting is suitable for wearing on a face shape between oval and round, and heart faces.  It's also the perfect way to cover up a strong jawline on an angular face.  The lower lengths in tousled, defined waves absolutely gleam with a golden blonde ombré.  The pearly effect comes from the delicate silver-blonde highlights!
Sexy Brigitte Bardot-style long wavy hair with blonde ombre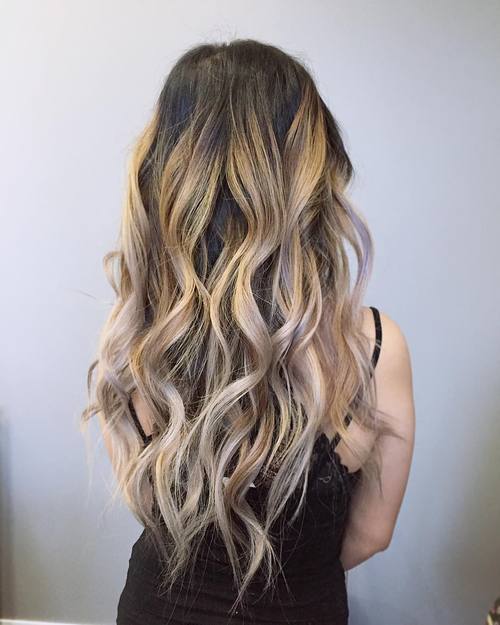 The carefree casual fashion and hair styles that Brigitte Bardot made famous in the 60's are back, because they're so feminine and sexy! Very long hair in untidy waves looks absolutely sensational with this contemporary hair color blend of warm blonde ombre with pink-silver-blonde highlights.
Easy-care modern bob for thick hair with ash-blonde balayage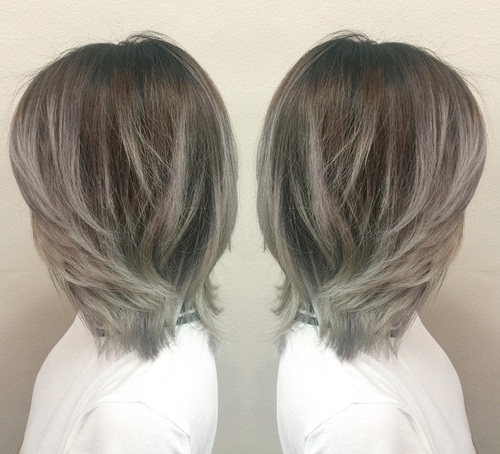 This easy-care haircut is expertly cut in long, sliced layers, which create lots of movement and texture in the tapered tips.  On a dark-blonde base, ash-blonde highlights around the front soften the face and accentuate the layered texture.  And if you're brave enough, add the hint of pink and green gloss to finish!
Avant-garde waved angled-bob with straight tips & silver balayage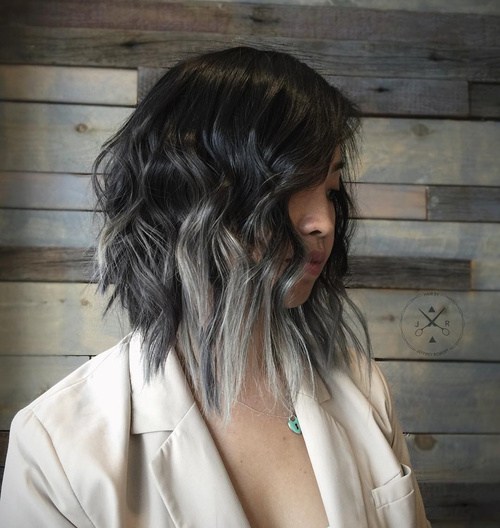 This is not a soft and girly look, but a creative and futuristic hairstyle that projects the image of a strong, confident woman.  The gleaming black top has a flowing head wave which makes a flattering wave framing the face.  The rest of the hair has a contrasting, straightened texture with ragged tips and striking silver-blonde highlights.
Pretty shell-pink/blonde highlights on short thick Asian hair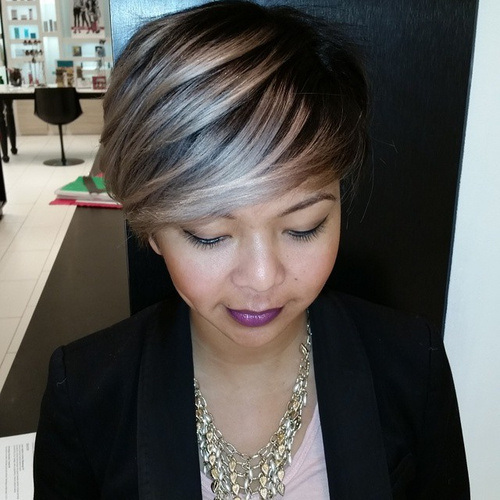 This cute pixie hairstyle with a long, side-swept fringe looks very flattering on round or heart faces.  To ensure your cut is completely up-to-date, why not try adding these silver-blonde highlights, with a faint pink tone.  It gives a more sophisticated finish, as it's a much softer shade than platinum blonde, and flattering for most skin-tones.
Smooth tapered long bob with white-blonde ombre on fine hair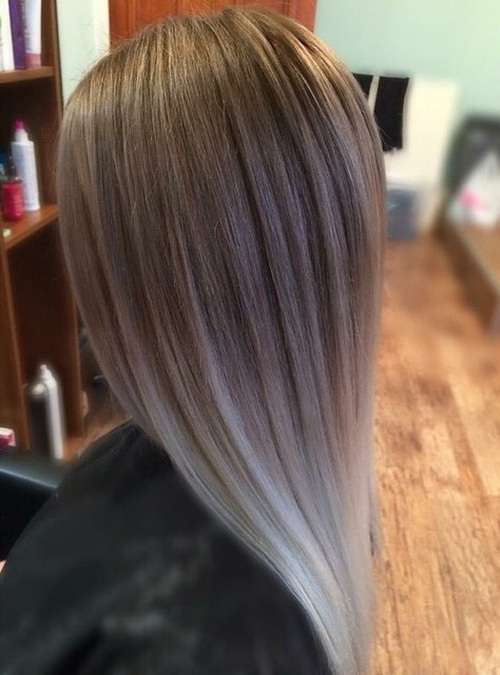 Here's a good way to add the illusion of thicker hair on long fine hair.  The light blonde highlights on darker hair create a 3-dimensional depth, before becoming a very subtle pink band that effortlessly blends into a strongly contrasting white-blonde ombre.  This color scheme works really well on smooth, straight hairstyles.
Quirky neutral blonde with soft copper ombre & silver highlights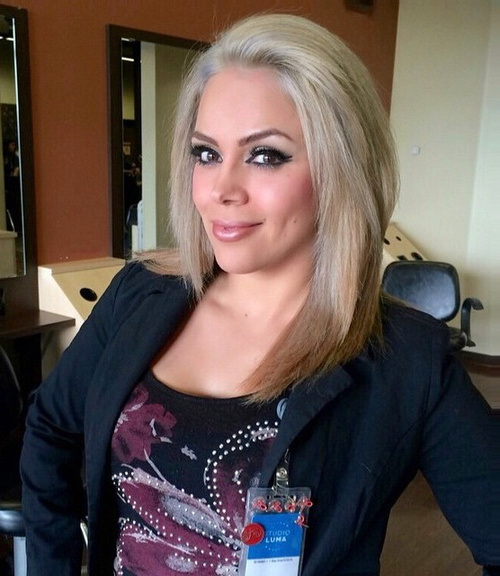 This confident, swept-back hairstyle shows off the model's lovely eyes and smooth forehead in a razor-cut for thick, coarse hair.  The colors are light, but muted to soften the overall effect with silver highlights around the forehead and soft, light copper ombre in the tips!
Striking pale blonde with bright copper ombre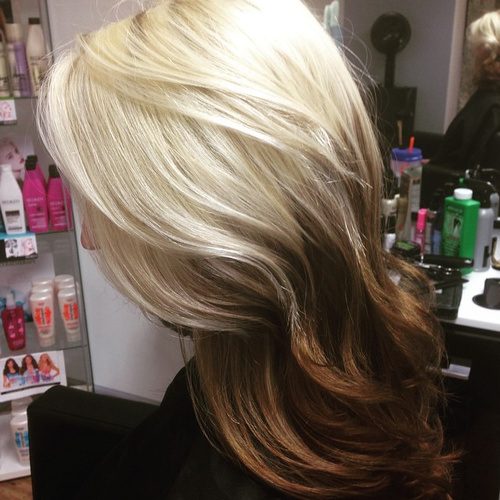 I love this gorgeous blonde and copper hair color design, which allows you to be a blonde and a red-head at the same time!  The hair is cut into long layers, which create gentle movement in the naturally wavy hair.  And the pale blonde top section contrasts playfully with the lovely copper ombré.
Brunette pop diva waves & white ombre with coral-pink & green gloss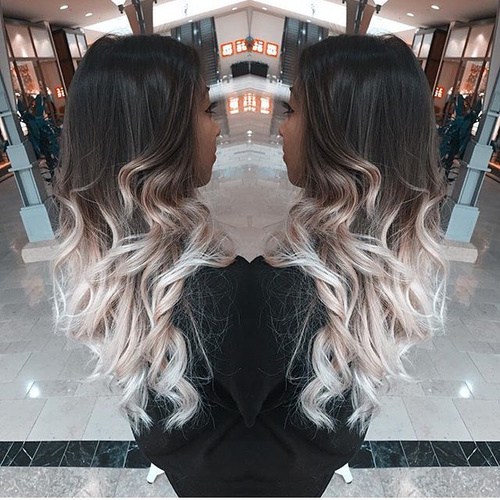 Look famous – even if you aren't! Wearing this absolutely fabulous long wavy style will make you look and feel like a real A-lister as you stride through the Shopping Mall! This extravagant hairstyle breaks the barrier between 'stage hairstyles' and 'everyday hairstyles' to create a very appealing look. Living the dream, girls!
I just know this edgy new gallery of the latest hair color trends is going to fill you with inspiration for your best hairstyles ever!  Remember to take a few copy-pics with you to show your hairstyles advisor/colorist, and don't be afraid to try something completely different from your usual look!