Trends in Long Hairstyles for 2014
Long hairstyles for 2014: The time is quickly approaching to begin to consider the Hair Style that you wish to wear confidently into the New Year. The word is already beginning to spread like wildfire all across the World Wide Web- "Vintage Hair is it for 2014." There are so many styles influenced by the trends of yesteryear, and yet there will be quite a lot that will be solely the creation of imaginative hairdressers around the country. This allows for a very artistic approach to style, giving us more artistic latitude than ever before. That is not to say that we will not draw inspiration from the many influences of past decades-however our visions may include ideas from two or more of these elements making your style truly unique. You and your Favorite Hairdresser are free to take as many elements available to you as you would like and mix and match only those elements that you love and that compliment your features the most and really create a Style that is yours and yours alone.
2014 long hair trends: Vintage Styles will Dominate 2014 are very wide in range. Beginning with the early to mid nineteenth centuries braids were worn very frequently. Often times a single or even double braids wrapped around the crown of the head for daily wear, while braids were seen in multiples and in varying lengths and widths when woven into an up do for evening. The 1940s brought us into The Golden Age of Hollywood-with such famous young Starlets or "Pin up Girls" as Jayne Russell, Ava Gardner, Veronica Lake and Betty Grabel. These and other famous ladies of the period introduced a much softer, more romantic look to the finger waves that had already been around for many decades. In previous years, the finger wave was tightly applied and worn close to the head and as a result, they were extremely well defined and even a bit severe in appearance. The 40s began to incorporate a much looser more relaxed finger wave, which flowed freely from the scalp, creating a softer look. Along with waving, that decade introduced "The Victory Roll" which was seen quite often in the up dos of the era. All in all, the Hollywood Starlet of the 40s was a very Beautiful Woman, and her style spoke of elegance, sophistication and grace. We want to capture these 40s elements as we design the New Style Trends of 2014.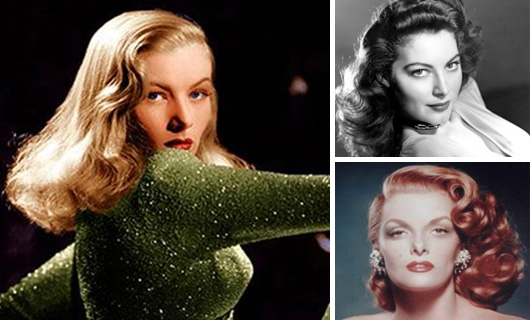 Elegant long hair styles for 2014: Gorgeous Women influencing our Style Choices definitely did not stop with the "Pin up" Girls of the 40 s – Brigitte Bardot and Barbara Eden of "I Dream of Jeannie" fame, came along in the 1960 s to turn our imaginations to the decade of "The Sex Kitten". While we still have our romantic, sophisticated days, we all have an inner desire to be very sexy and feminine at times. The 60 s brought us "The Bouffant", which was a very full often rigid "done" look; "The French Twist" had been around for many years and the 1960 s were no exception; however it became very popular during this decade. The styles we see in the New Year, which incorporate these elements of 60 s style choices, will have a much more relaxed, often times casual feeling. "The Bouffant" for 2014 will be in the form of a half up/half down style, which adds height in the crown area. It will also be seen in its traditional form, however it will not be as stiff and will be seen quite often coupled with a French Twist for a classy, chic look. Another couple of basic style choices that we will see a great deal in the new season are the Bang and the Side Part. "I Dream of Jeannie" featuring Barbara Eden made a full ponytail coupled with a very definite bang popular. Ponytails have returned along with Braids for 2014; however, they are much more creative and interesting than they once were. https://hairstylesweekly.com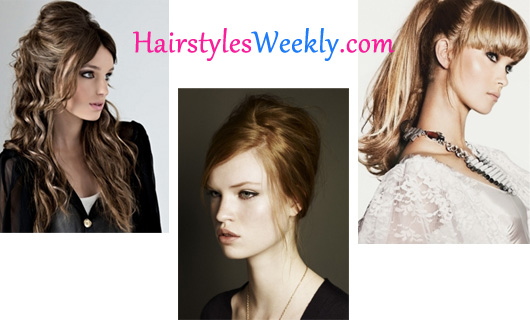 2014 hair styles: Women were very much coming into our own by the time the 1980 s rolled around, and we had such women as Cyndi Lauper, Madonna and Joan Jett to show us what self-confidence and being truly independent was all about. They were almost screaming individuality in their very appearances. Society and it's "just so" ideas of what a woman should look like changed, as it had not seen for several decades- as Cyndi Lauper hit the Pop scene with her wild persona, strange hairstyles and makeup and her rainbow hair color. One thing was for sure though, she had what it took to "pull off" being that bold and get away with it. Madonna also had a unique and confidant air about her both in personality and appearance, and soon it seemed her look was everywhere. Highly texturized cuts and styles came on the scene, which used a mixture of methods to achieve choppy, spiky- messy, and some might have said even downright defiant cuts and styles. Bright pastel and jewel colors were also popular and the whole thing we now know as "Punk".
Punk Styles for 2014 will not appear to be as disheveled as they did in the 80 s; there will be a lot of strategy in the cuts- where strands of hair are placed in varying lengths to achieve the most dramatic effect, as well as texturizing applied to add visual interest. Volume is heavy in the crown, which as a rule means very short layers to get the desired lift. Punk styles for 2013 may, may not have a bang, which when used will usually be very blunt, or may be asymmetrical. Many different techniques, such as razor cutting, thinning shears, texturizing shears, clippers and of course, standard shears to arrive at such intricate, imaginative hairstyles. Bright colors will still be very popular, with the addition of very pale pinks, blues etc. that do a wonderful job making the most architectural cuts and styles really stand out!
Braids make a showing in the Punk Trend for 2014 in many different ways, from Mohawks to a simple single herringbone braid woven in under the hair at the side or peeking around from the back.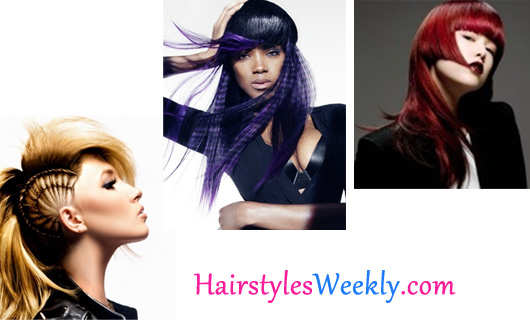 2014 hair trends for long hair: In addition to the historic style elements, there are many other styles to choose from that you might choose to include them in. Braids in many forms have been around for centuries and 2013 is going to see them utilized in many ways. Punk Mohawks will contain braids to create definite sections and draw attention where it is wanted. Up dos that need texture and interest can use braids in any number of ways and anyone of several types of braids from traditional to herringbone. One very popular style will be to apply lots of volume through backcombing (or teasing) then pull over one shoulder and adorn with ribbon. Consider wrapping lovely braids around the top of the head like a beautiful crown.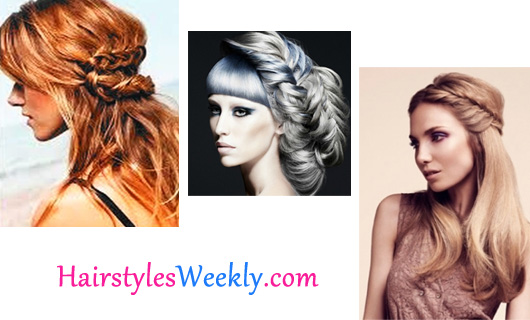 Half up/half down is a very versatile style that gives you the elegance and grace of an up do while allowing the casual feeling of letting your locks flow freely down your back. This is a good choice to show off some Old Hollywood Glamour with gently falling soft waves from a deep side part. Remaining hair would be very sophisticated and elegant caught up in a glittering comb or barrette. Up dos are everything from a Classic Chignon to Ultra Romantic Cascades of Curls falling over one shoulder and ringlets framing the face, top it off with a sparkling tiara or band of pearls and you will give any fairytale princess a run for her money ! Hair Jewelry is very hot in 2014 as well, so dress it up with anything that is sparkling and/or pretty. Barrettes, combs, bows, headbands or a flower – just about anything is game!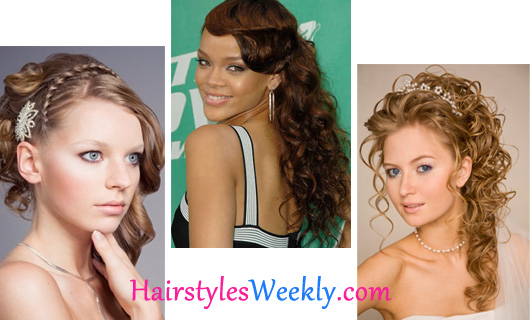 2014 hair styles for long hair: If it is Volume and/or Texture that you seek, then you should consider layering your long locks. Just understand that while layers do create volume, movement and versatility- all layers are not created equal! As the weight of the hair lessons when the layers are cut in, your hair will bounce or "jump" up due to the extra weight being gone thus creating the volume. If you have very thick hair, you should go with long, softly tapered layers. Women with very fragile, fine and/or thin hair should also approach layering very carefully, making sure to consult with your hairdresser about how to achieve the results you desire. Having said that, if you would like a Wispy, Soft look go with shorter layers-the shorter the layer the more texture and lift you will achieve. Hair Volume is best boosted by medium layers and long layers angled around the face work well for softening facial features.
You can achieve anything from a smooth, softly wispy look, to a choppy wildly mussed look by using layers. Just decide between you and your hairdresser the best plan of action depending on your plans for style. If your plans are to experiment with many different looks -then some well-placed layers in varying lengths may be just the ticket.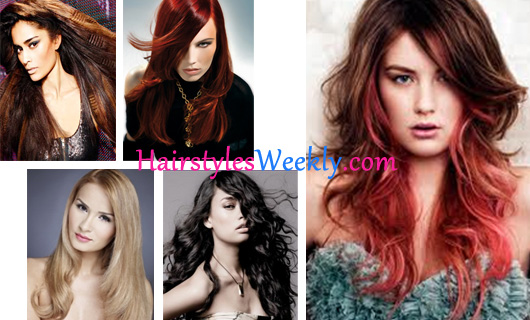 Next Season promises to be one of many choices, and a style for every mood a woman may find herself in. Not to mention different looks for all her many choices in fashion for 2014! Women are multi-faceted creatures and we definitely deserve to have that shine in as many ways as we are ever changing. We will most assuredly be able to show the world our romantic side or our sultry, mysterious side or anything in between. For we are the most fascinating, interesting beings on Earth, we are WOMEN!
Find more trendy and classic hair styles on our site https://hairstylesweekly.com
Wait!
Here are more latest popular hair styles for you to choose from! Enjoy!