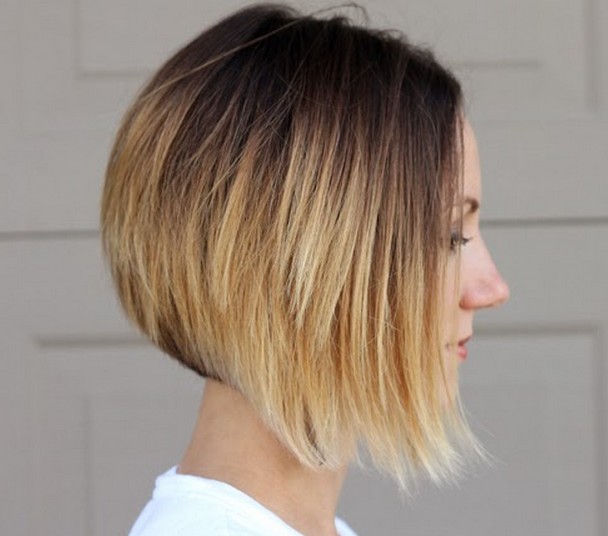 Bored with your hair? You won't be when you've chosen your next makeover from these fresh ombré bob hairstyles with amazing hair color ideas!  Step into the future with my gorgeous gallery of the most popular ombré bob hairstyles to discover spring and summer exciting hair color trends!
Daring disconnected layers on trend-setting ombré hairstyles
Disconnected layers give inverted bob hairstyles that extra touch of edge that's the hallmark of the contemporary trend-setter!  Stacked-back bob hairstyles can be achieved on thick hair, or medium-textured hair that's been lightened, as the lightening chemicals make individual hair-shafts thicker.  This short hairstyles' idea has lots of individuality, with the smooth outline at the back contrasting with the heavily-textured tips of the disconnected layers at the front.  The dual-blonde ombré harmonizes well with the soft brown sections on top and at the nape!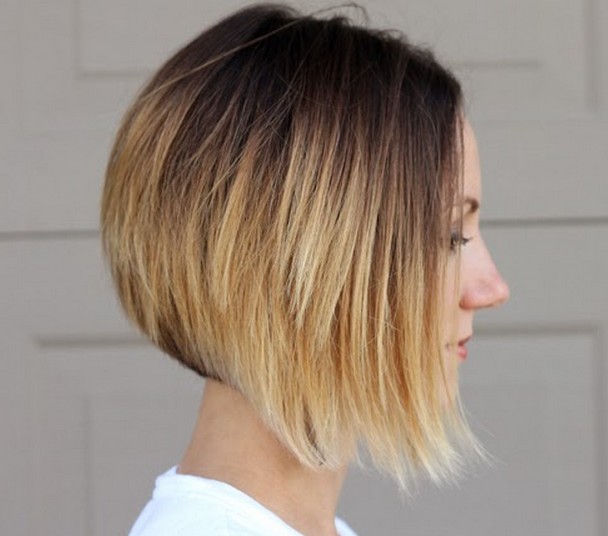 Racy red hair color ideas to rev up your love-life
We love subtle ombré hairdo's that use sexy, red-hair color ideas to rev up short bob hairstyles!  This ombré hair design creates a warm and seductive look, via the red ombré on a long fringe that curves under the chin – to accentuate red lips perfectly!  This is a super-trendy short hairstyles' option for thick and medium hair textures and suits heart, round, square and oval face shapes (who want a sexier image)!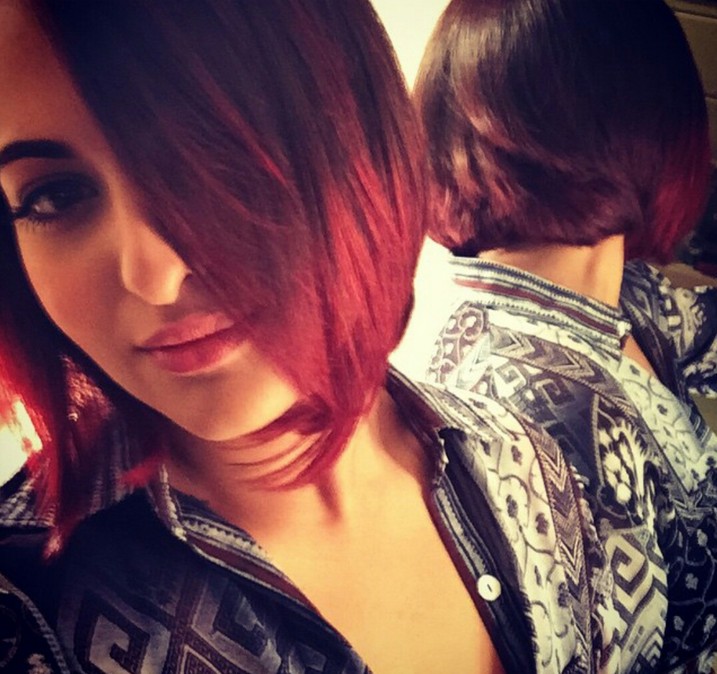 Best bob hairstyles for round faces and black-frame glasses
Ombre hairstyles for short hair: Dark-frames are very fashionable and this model has chosen a flattering, square-shaped frame to suit her round face.  Simple bob hairstyles match the sleek, streamlined look of these spectacle-frames best and you can pull the whole 'look' together by starting the blonde ombré hair section in-line with the top of the glasses.  This blonde ombré haircut has textured tips to soften the line and create a face-flattering, chin-length bob hairstyle for medium or fine hair. Blonde ombré hair around the chin helps disguise a narrow chin and for a face-shape between round and oval, you can wear an off-centre to deep side-parting. This is a great short haircut with glasses.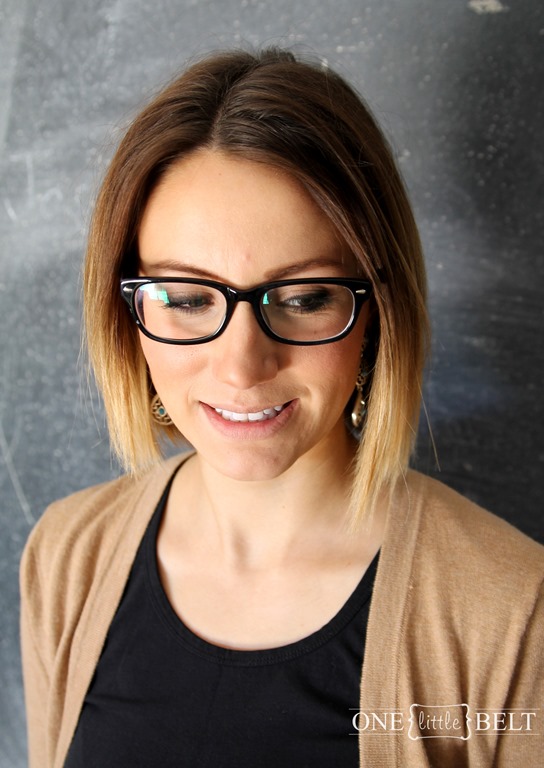 Rockin' razor-cut short hairstyles with extra oomph on ombré hair
Trendy short haircut for women: On thick hair, razor-cut inverted bobs are the most popular short hairstyles for spring and summer.  Dense and medium hair types look great with the exaggerated volume around the crown that's the mark of an authentic Swinging Sixties 'Mod' haircut!  The hair color ideas of today are more sophisticated than ever before, and this beautifully balanced ombré bob hairstyles' design has a dark-gold base, with ombré hair colors of medium-blonde to pale golden-blonde added in graduated balayage highlighting.  Worn here with a center-parting for an oval face, you can adjust the parting easily to suit a round or heart face shape.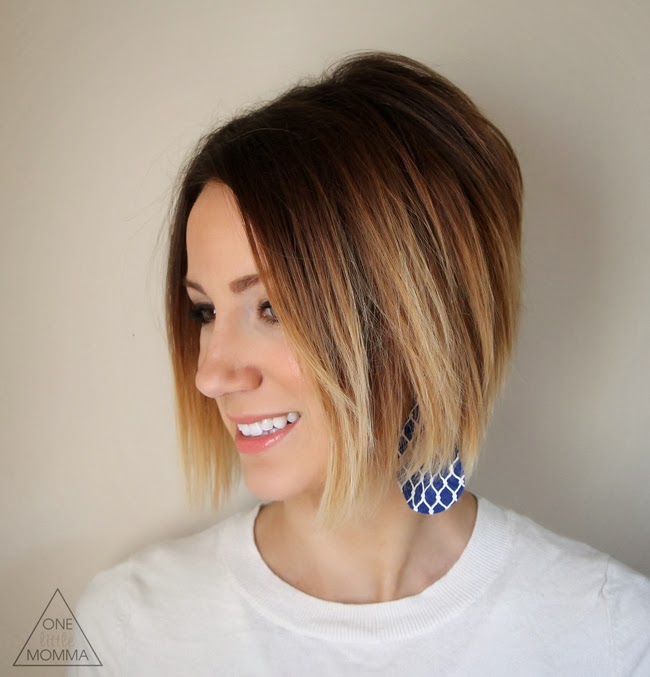 Playful multi-ombre bob hairstyles with wiggly waves
Medium red ombre hair for medium and thick hair. The contemporary idea of 'fusion' is constantly inspiring ombré hair designers to bring us fresh and appealing ombré hair color ideas!  This long, lightly-inverted bob hairstyles' option for fine hair, has added waves to create extra volume, texture and movement.  The light-brown base color has been imaginatively ombréed in an array of warm, trendy shades, including violet, russet, golden-blonde and pretty, shell-pink.  Light-blonde tips add the visual illusion of thicker hair at the ends and lightly textured tips create a blurred, uneven bottom line, which matches the beautifully blended shades above!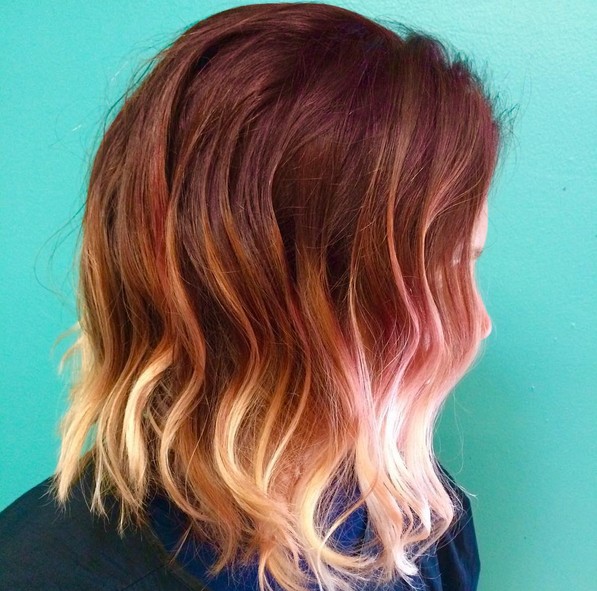 Deluxe hair color ideas dove ombré with blue streaks on black-coffee base
Ombre hair for black women: This is one of the season's most popular bob hairstyles, combined here with some very high-class hair color ideas.  For a prom, party or any special event, you'll be receiving compliments all evening with this cute dove-gray ombré.  The roots are left natural coffee-brown and then blended softly through medium-brown to become a feather-light shade of gray, curved over and around the face.  The lower layers have streaks of rich blue which harmonises with the blue tones in the ombré hair above for a real, red-carpet ombré hairdo!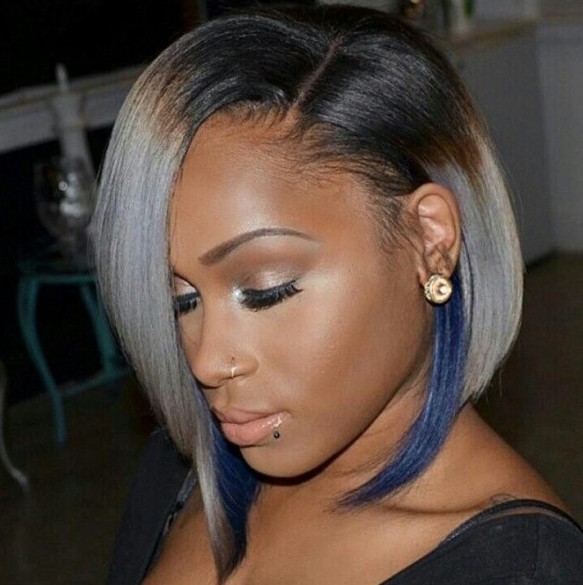 Trendy twisty ombré bob hairstyles for medium & fine hair
Soft wavy short hairstyle for spring: Show a carefree approach to life with trendy, twisty bob hairstyles for medium and fine hair and go blonde, in a high-fashion ombré hair design.  Contrasting brown hair with a blonde ombré is one of the hottest hair color trends for SS16! Chin-length, ombré bob hairstyles with wavy volume at the sides, add width to the lower face to balance heart and long/narrow face shapes.  And twisty, blonde waves are just what fine hair needs to give it added volume and lots of perky personality!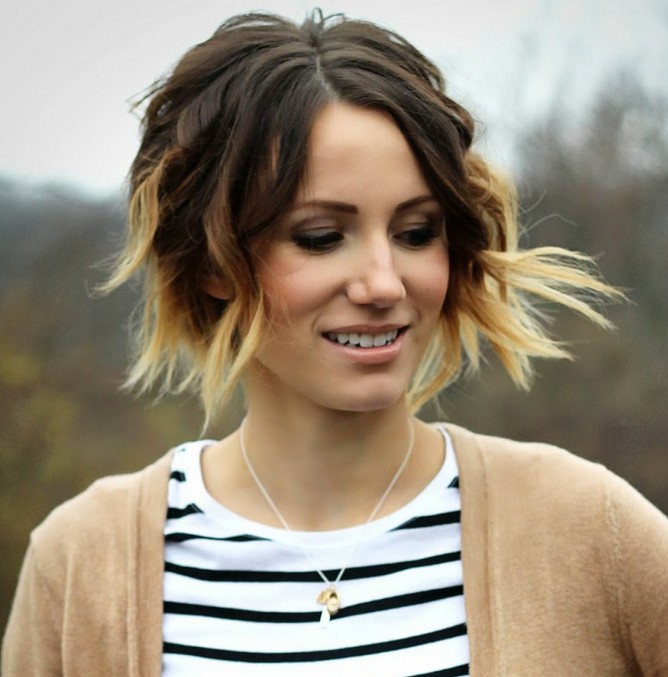 Groovy gray hair color trends on medium hairstyles
I know a lot of us are delighted to find we can be, 'Glad to be Gray!'  Hiding your gray hairs at any age can be a nuisance, but with the popularity of gray ombré hair designs on long and short hairstyles this season, all shades of gray have become high-fashion, attractive hair color ideas.    Pale shades of gray can be very flattering to a range of skin-tones and create a softer, more sophisticated look than, say, platinum blonde.  This lovely bob hairstyles' option combines a long bob hairstyle suitable for medium or fine hair, with a full straight fringe that dips slightly in the centre.  Suits oval, heart and round faces. Find more latest hair color ideas here.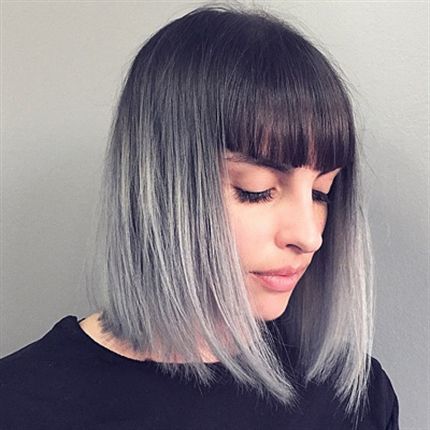 Smooth short hairstyles with cute hair color ideas for heart faces
This is one of the many chin-length bob hairstyles that minimises the look of a pointed chin.  Coffee-brown roots follow the 'neutral' hair color trends for this year and help make a wide forehead less noticeable.  The off-center parting and extra-long, side-swept fringe cover part of the forehead, too.  And another great tip to lengthen a round or heart face is to show the 'middle forehead' up to the hairline!  The smoothly curved sides are kept sleek to minimise facial width at cheekbone level and the big curve in the tips on either side of the chin adds the impression of width!  Just add this cute neutral blonde ombré and voila! – you're all ready for your 'close-up'!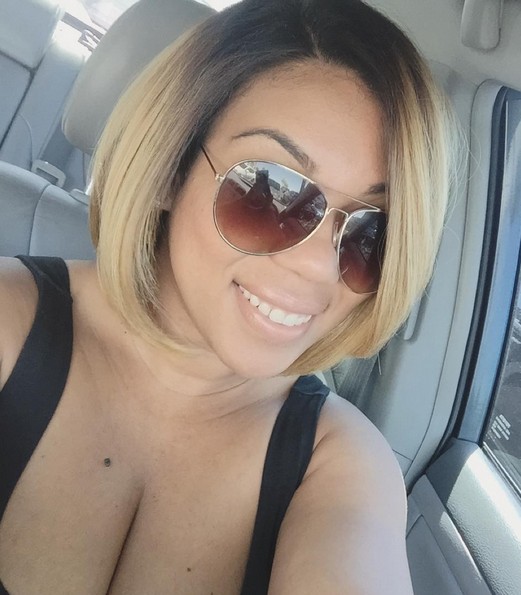 Red-carpet razored short hairstyles with blonde/shell-pink ombré on black hair
This trendy, high-fashion razor cut on black hair brings out the best features of thick, straight hair perfectly.  To suit a round or heart-shaped face, the cut is strongly asymmetrical.  The deep side-parting is combed over the top to give 'face-lengthening' height, before sweeping down in a thick, diagonal fringe that meets the side-section exactly in line with the model's matching pink lips!  Black-coffee roots with a light neutral blonde ombré is one of the major hair color trends on medium and short hairstyles. The delicate, shell-pink ombré hair at the ends completes the creative balance by softening the raggedy textured tips in one of the most polished ombré bob hairstyles around!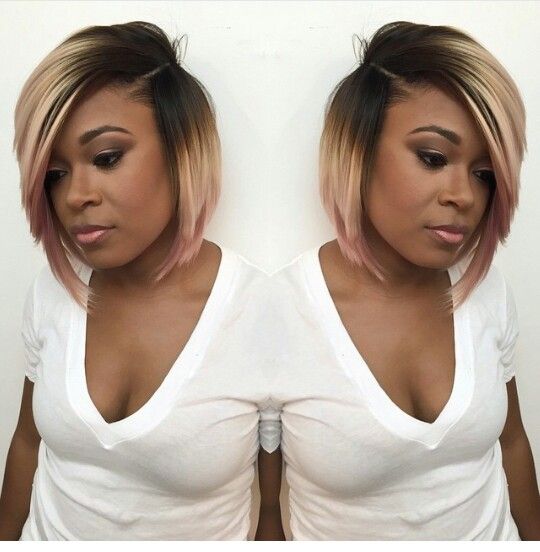 Playful peek-a-boo shaggy bob with fab blonde highlights
Medium-short shaggy bob hairstyles are another popular hairstyles' choice for summer, because they project a relaxed and playful personality, which people find very attractive!  Suitable for medium – thick hair, shaggy ombré bob hairstyles make a good makeover style from a long cut that's starting to look old-fashioned.  This pic shows a deep side-parting, with extra height on top from the comb-over, which then falls in alluring peek-a-boo bangs!  Soft light-brown roots are blended expertly into medium and pale blonde ombré hair with sharply textured tips adding to the casual, shaggy finish!  Suits round, oval and heart faces with a fun personality!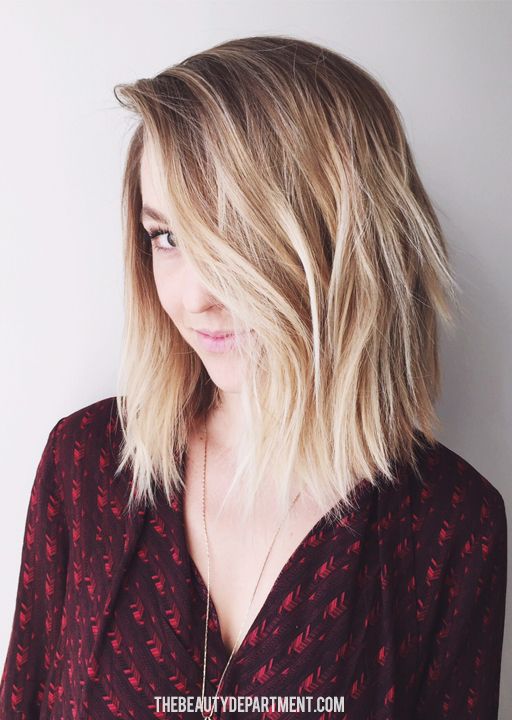 Sunset hair color trends red to orange ombré hair color ideas
Red to orange ombre hair for shoulder length hair: If you want a truly sensational hair color idea for a special occasion – from a prom or any type of party to a beautiful wedding hairdo that's perfect for a sunset beach wedding – I must recommend this mahogany-red to orange ombré bob hairstyles' design!  Long bob hairstyles are great for medium to fine hair and a smooth surface makes the perfect backdrop for truly creative hair color trends.  Medium red is the main base shade here, which gradually changes to orange and a lighter blonde shade in the lower lengths – with added dimension added by brown balayage color accents!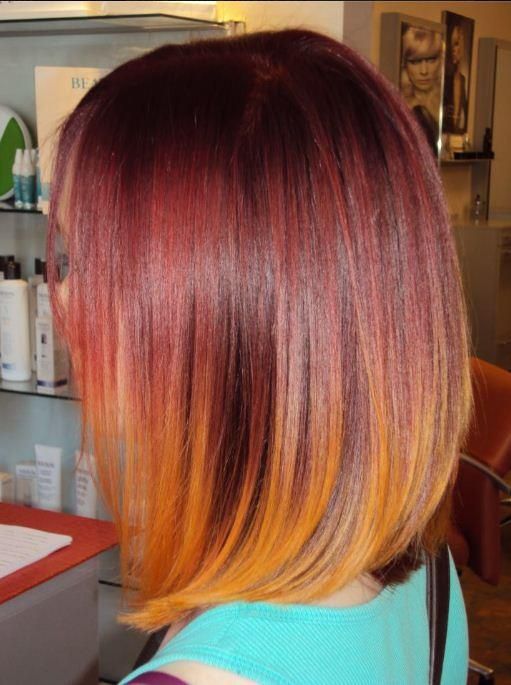 Show-stopping ombré hair color trends on shaggy bob hairstyles
Trendy punk bob haircut for women: The 'punk' look has had a tremendous effect on popular culture over the years, and now 'punk' has become a rather sophisticated look!  Ragged clothes with holes in them and skull rings have moved off the streets of 1970's east London, to become expensive middle-class accessories.  This magnificent punky, ombré bob hairstyles' idea is beautifully executed with gray, indigo, turqoise and palest shades of aqua combined in a shaggy, messy long bob.  Side volume flatters thin faces and this bob hairstyles' shape can also be useful to cover a strong jawline!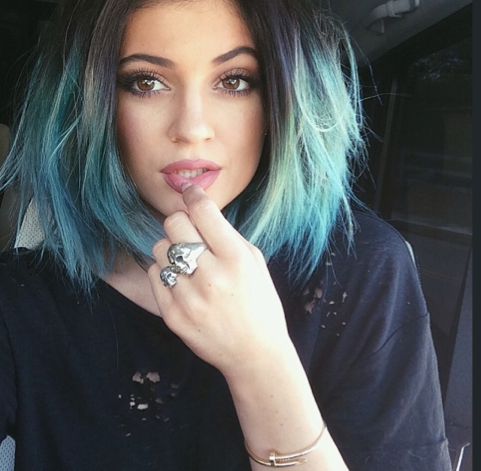 Vintage 50's look ombré bob hairstyles
The pretty polka-dot fabric of the model's dress suggest the sweet, summer dresses worn in the 50's and cute bob hairstyles' from that time are very popular hairstyles for spring and summer.  This bob for a round or heart face has a full, straight-across fringe and a modern twist in the cute medium-blonde ombré hair design in the lower lengths.  On fine hair tousled, broken waves add the side-volume needed to balance long bob hairstyles.  Easy-care, but featuring the latest hair color trends, this attractive, vintage style has a casual, youthful finish!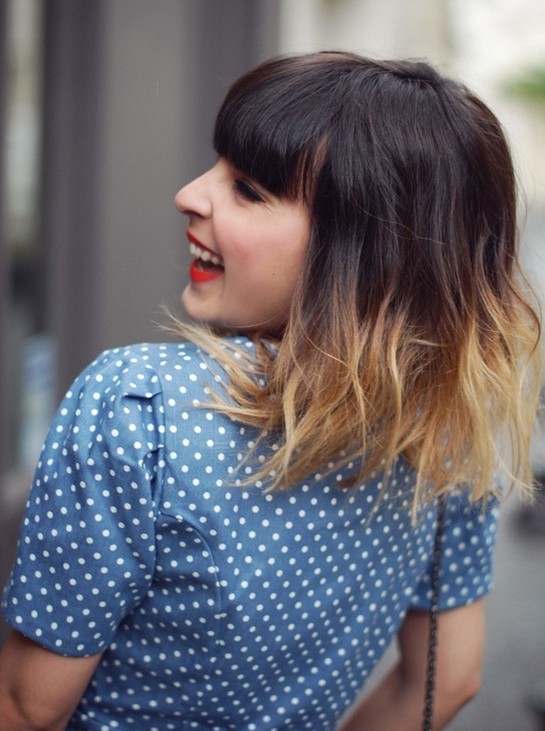 Sleek curves & subtle bronde ombré on chin-length short hairstyles
African American ombre hair ideas: This super-cool ombré hairdo qualifies as one of the latest bronde hair color trends that's totally new for SS16!  It's a carefully judged blend of neutral brown and pale golden blonde that's so subtle, it's impossible to decide if the main color is blonde or brunette!  With soft blonde at the ends of this elegantly curved bob and on either side of the face, lots of flattering light is reflected on to the model's face accentuating her dark eyes and cute red lips! Find more latest popular bob haircuts here.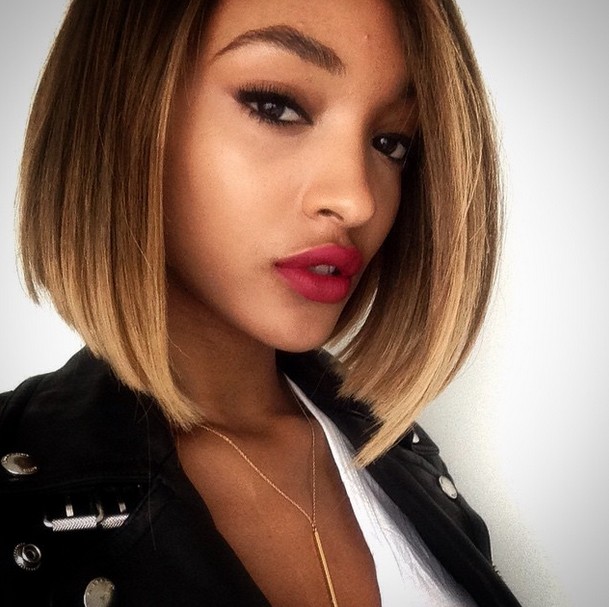 Sweetly natural girl-next-door ombré on mid-brown hair
Here's a great bob hairstyles' cut for medium to fine hair and an oval face.  It's a simple short hairstyles' option that has a subtle dual-color ombré to create a look that can be casual and relaxed or styled in lots of different ways!  This model has a perfect complexion and the amber and warm-honey ombré hair sections are all that's needed to enhance and frame her natural beauty.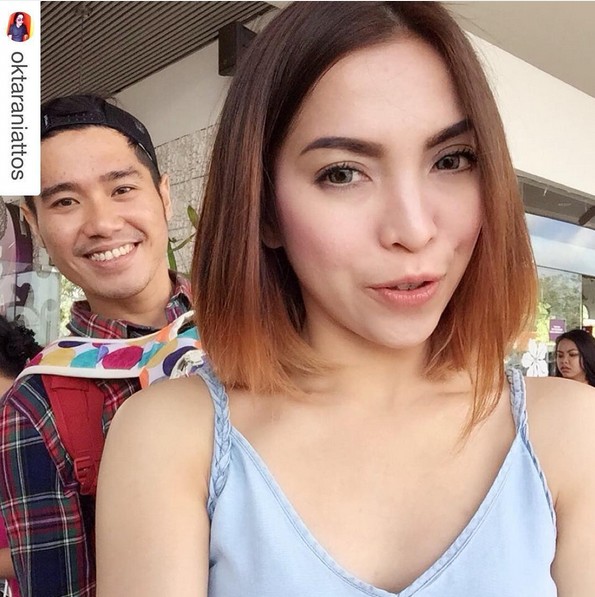 Natural-look long bob hairstyles with ombré lite for teens
Here's a great bob hairstyles' hair color idea for teens – that won't make your daughter look years older than her real age!  Long bob hairstyles like this are the perfect way for a teen-girl to tidy-up her younger, long hair look and add a little sophistication to her image.  And if your daughter is pestering you for an ombré hairstyle that you really don't want her to have, consider this compromise look of a subtle ombré hairdo, which is just one or two tones lighter!  It's really a copy of what happens naturally when sun-bleached hair grows out, so if you do have to defend it to your daughter's head-teacher, you can insist that it's totally natural!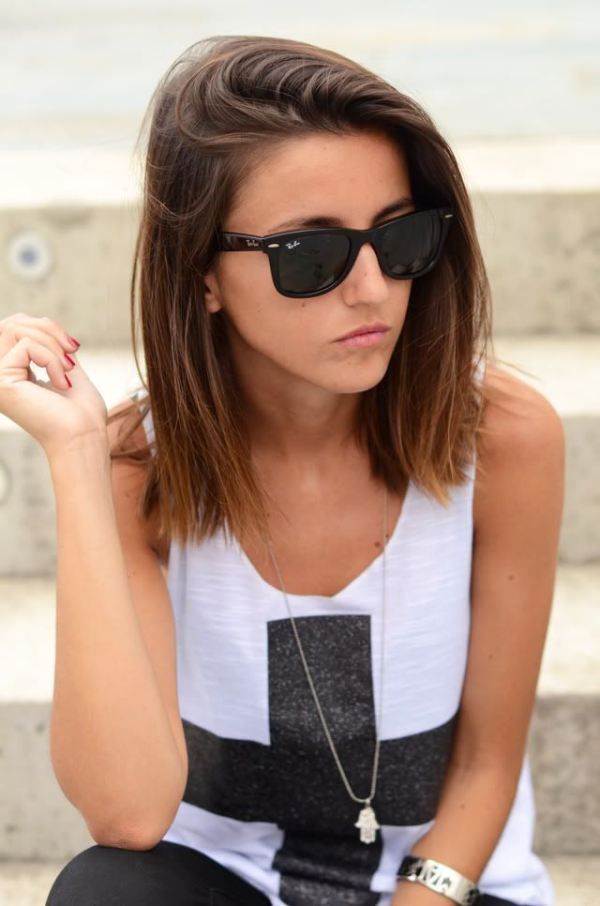 Edgy ash-brown with blonde ombré hair color trends on shaggy/wavy short hairstyles
This is a super-chic new look showcasing trendy ash-brown roots graduated to neutral-blonde ragged tips.  The basic bob hairstyles' shape is a gently inverted bob on fine hair, with tousled loose waves adding the volume that fine hair lacks.  This style is flattering for long, angular or narrow face shapes as the top is flat, with volume at the sides to add 'width'.  Soft waves ending a couple of inches below the chin, are a great way to soften an angular face and cover a strong jawline.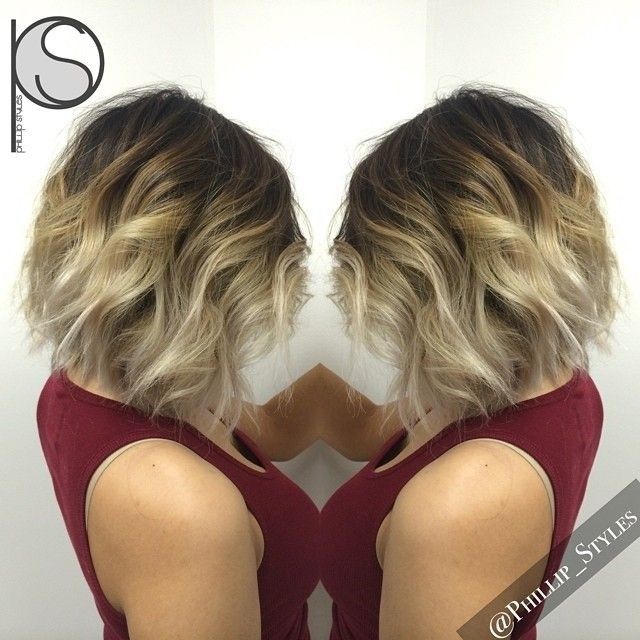 Super single-wave bob hairstyles with classy hair color ideas
Neither straight, nor curly, this unique, long, bob hairstyles' idea features an attractive deep wave on a bob that's shorter at the front!  Shorter-front-longer-back inverted bob hairstyles are an exciting new trend and this ombré bob hairstyles' design has a deep wave and a wheaty-blonde ombré hair section to accentuate the trendy new shape beautifully!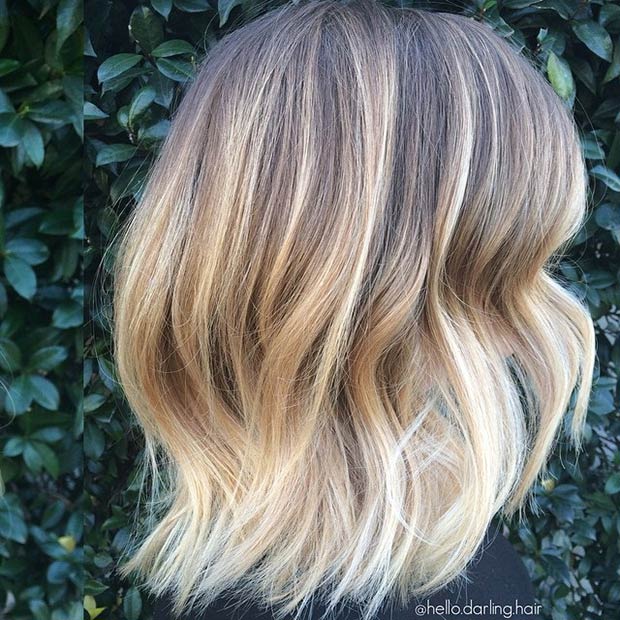 Chic new twist on long platinum-blonde hair
No woman can continue with unforgivingly bright, platinum-blonde hair for ever and it's a good idea to add softer shades gradually, to keep the look fresh and flattering.  This is the chic version of the WAG's (i.e. 'footballers' wives and girlfriends') favourite, long, blonde hair-extensions look.  The dark-blonde roots are a totally trendy neutral shade that's more flattering than black roots, and the addition of loose, defined waves gives 3-D color depth making fine hair look thicker.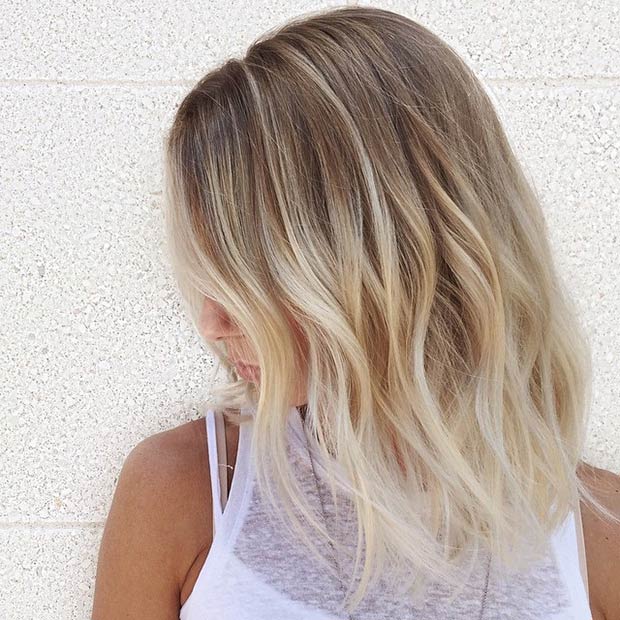 Unique hair color ideas blonde balayage-ombré twists on brunette bob hairstyles
I love this imaginative and cute ombré bob hairstyles idea.  It uses the popular hair color trend for contrasting colors in a very different, but well-judged ombré hair design.  The base shade is a warm brown and the defined twisty waves are ombréd in a blend of warm, medium blonde and light-brown shades that are really eye-catching and fresh!  This cute ombré hair design is very feminine and – with a tousled finish and heavily textured tips creating an uneven, messy look at the ends – projects a casually 'hip' image!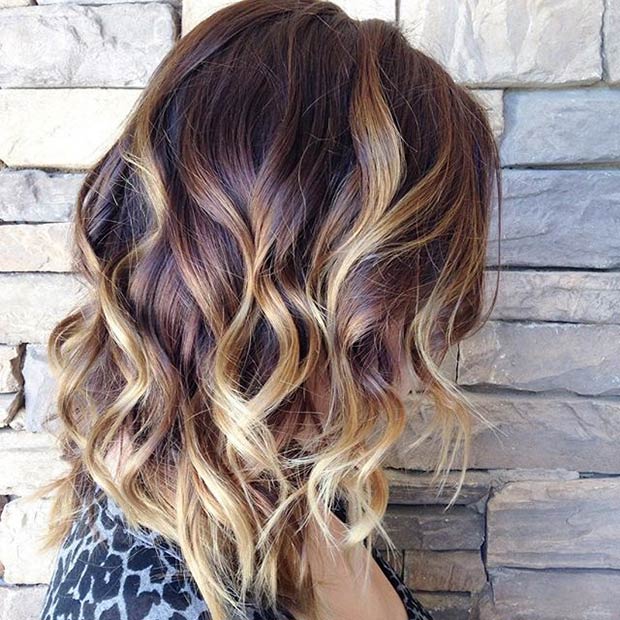 Eye-catching brown to burnt-orange ombré hair color trends
There may be a move towards ash-colors on the far horizon, but right now warm brunette and auburn shades are definitely having their moment in the fashion spotlight!  This ombré bob hairstyles' option takes the idea of red/auburn/strawberry-blonde/ginger hair and adds rich brown roots to create a whole new dimension of fashion appeal!  Or if your hair is naturally brown, you can just lighten the lower lengths to achieve this rich burnt-orange ombré hairstyle!  This long bob hairstyle's suitable for fine and medium hair textures and the cute, twist-waves and casually tousled finish create a relaxed, youthful and totally eye-catching image!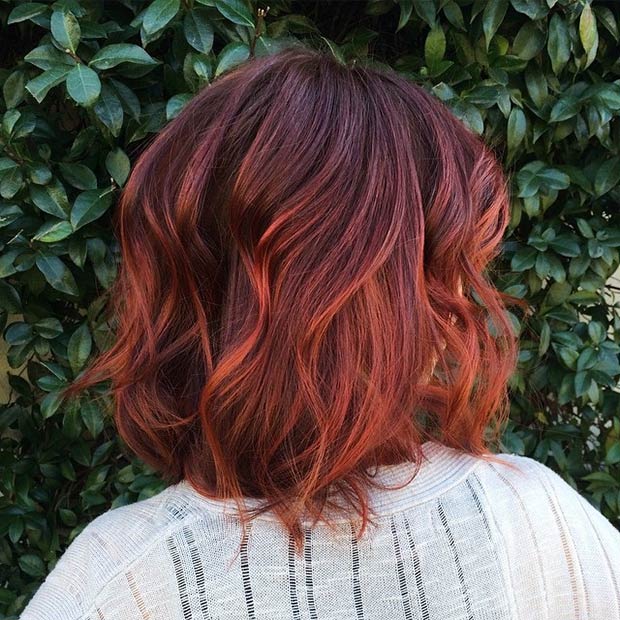 Super-chic long asymmetrical bob with blonde ombré on brunette base
This classy, straight, asymmetric bob hairstyle's one of the timeless short hairstyles that's never totally out of fashion.  All you need to do is choose one of the latest ombré hair color ideas to get this 'uptown girl' look!  Deep coffee-brown roots are lightened in a straightforward ombré hair design on the thicker side, but the other side has an ash-brown hair color with a coffee-brown band and then blonde right at the ends.  Horizontal bands of color are one of the hair color trends to watch, as I think we'll be seeing a lot more of this funky look in the next few years!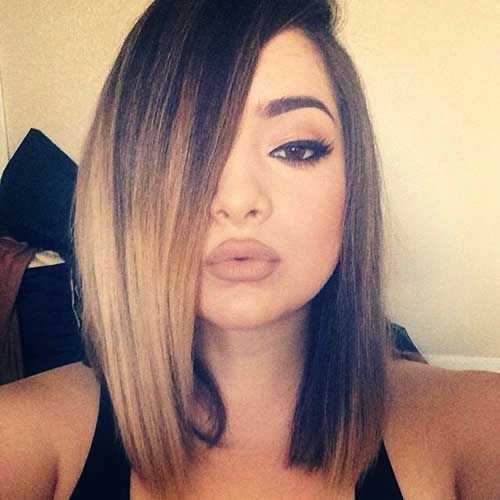 Hair color trends for SS16 on bobs and short hairstyles
Chic short haircut for women: This is a perfect example of how chin-length bob hairstyles flatter a wide range of face shapes and are suitable for all ages, too!  With an off-center, center or side-parting, you can adjust 'face-framing' ombré bob hairstyles to balance-out round and heart faces, or make a long, thin face appear shorter and wider.  The blonde ombré draws attention to the model's eyes and perfect teeth and the textured tips add a contrasting, uneven finish to balance out the smooth styling. You can find more ombre hairstyles and balayage hairstyles on hairstylesweekly.com!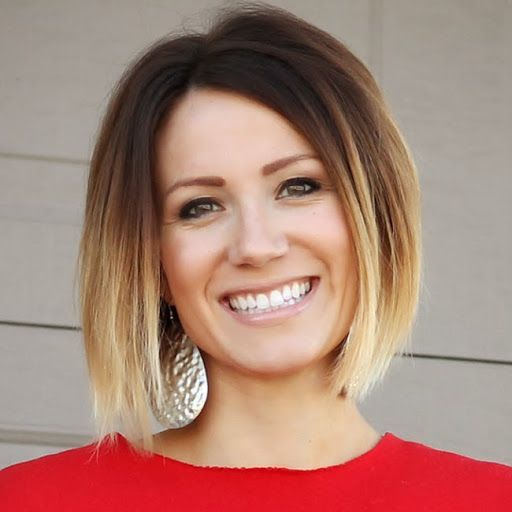 Cute contrast ombré hair color trends on medium & short hairstyles
Thick, straight hair can be difficult to manage, so this bob haircut shows a simple, but very chic, way to wear medium – thick hair!  The hair is cut to lightly brush the shoulders and has highly textured tips that produce a fine, curved edge along the bottom outline.  The outstanding feature is the clever choice of dark and light-blonde shades, which are daring, but beautifully-blended colors that flatter the model's skin-tone. This is one of the new hair color ideas that add lots of extra style, in what's sure to become a classic ombré bob hairstyle!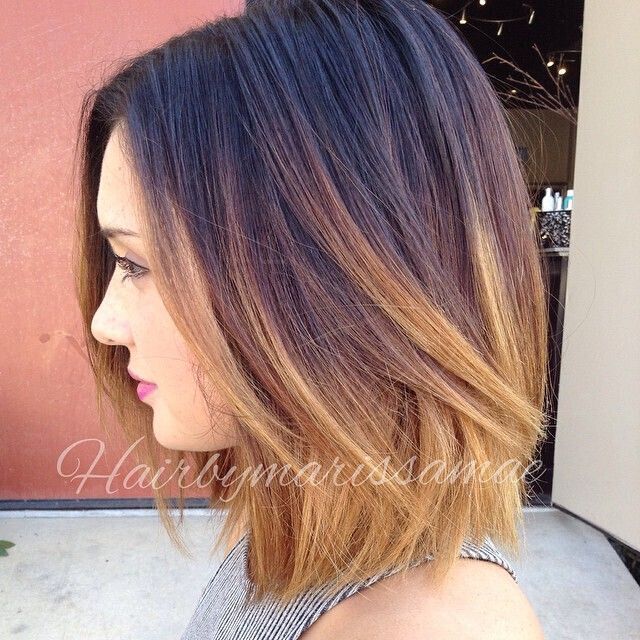 I hope you've found something suitably fabulous in this week's update of the best hair color ideas and ombré bob hairstyles for spring/summer!  Hairstyles are changing faster than ever this season, with ombré hair in all sorts of different patterns and a whole range of formal and informal hair color trends. So I'll keep you right up-to-the-minute with the best here and now bob hairstyles and ombré hair designs!