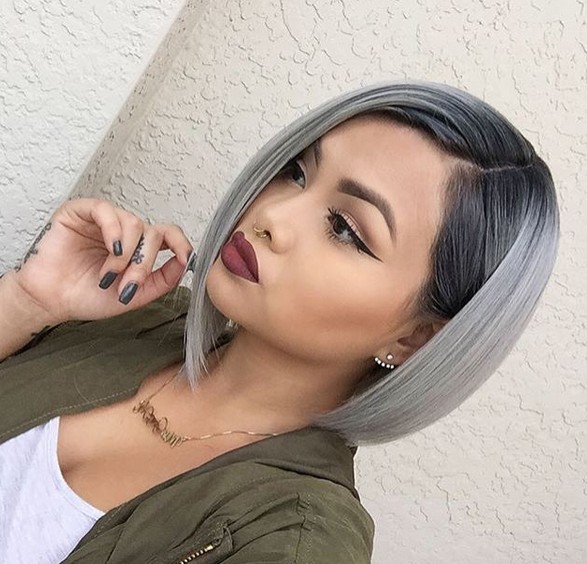 If you think the grey hair trend is just a fleeting fashion for young celebs or mature women's hairstyles, you must see today's fantastic gallery! Bob hairstyles/short haircuts/long hairstyles for this year are switching to the ultra-modern, grey hair trend plus beautiful, balayage designs.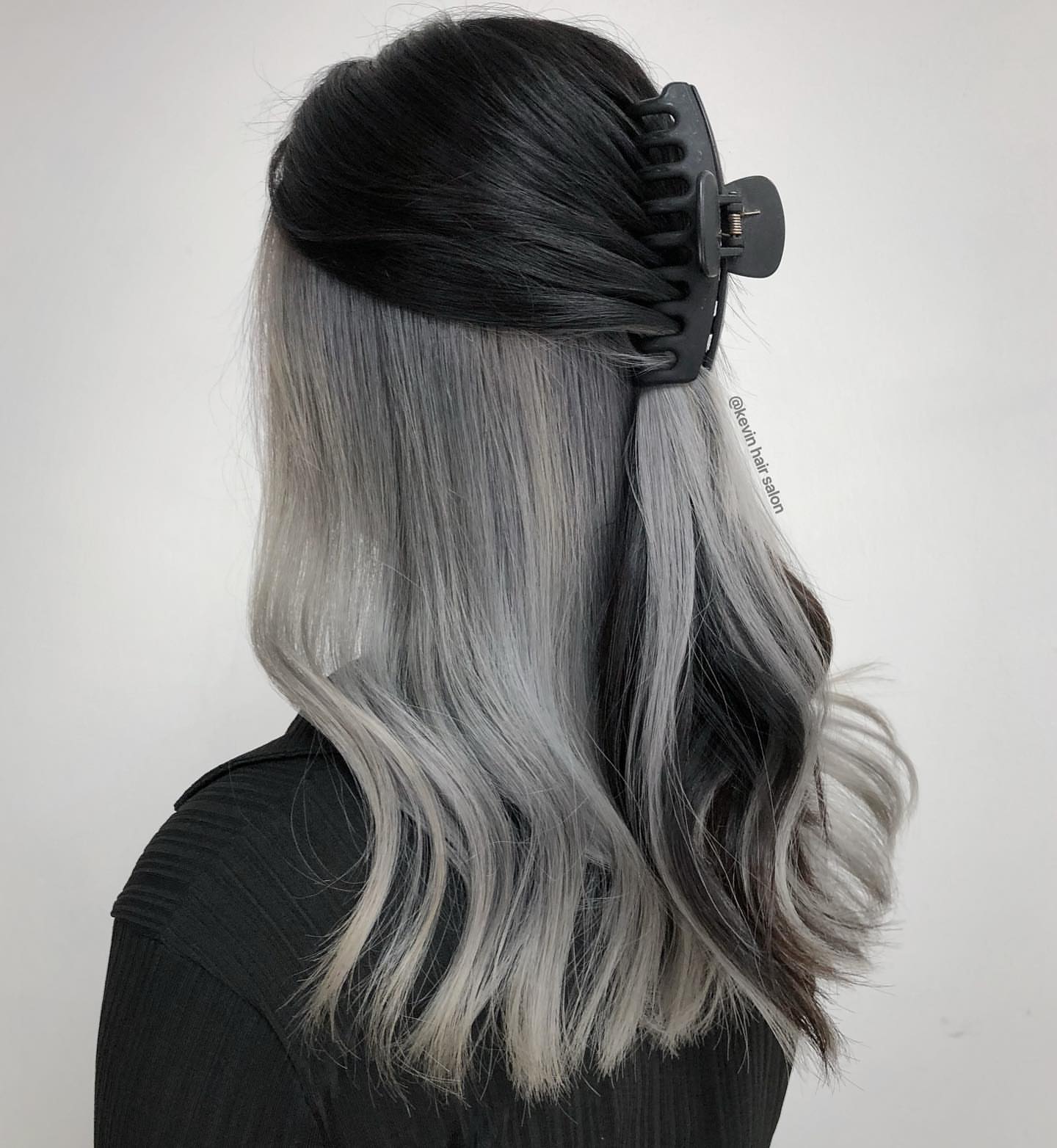 Discover which grey hair color's best for your skin-tone and find favorite every-day hairstyles and stunning summer makeovers here!
Best balayage hair designs & colors to highlight grey hair trendy looks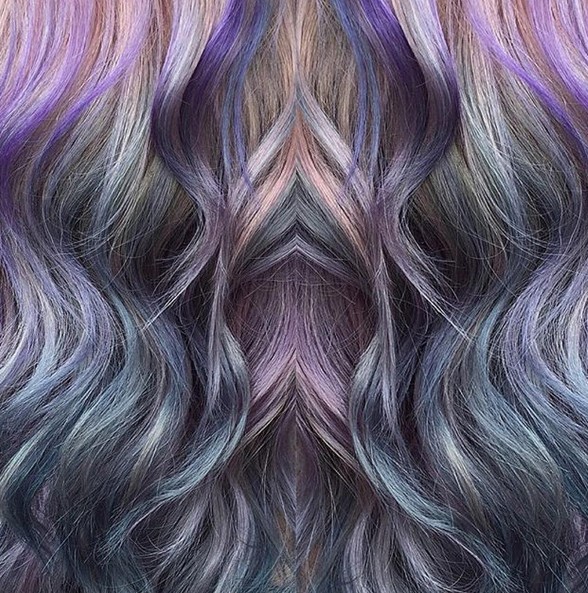 Creative hair color ideas are moving away from blonde, brown, black and auburn shades to embrace the equally flattering, grey hair trend. Amazing new balayage hair color ideas like purple, blue, plum- and coral-pink and sea-green will enhance the most popular hairstyles for super-stylish hair color trends !
Edgy grey hair trend for shaved, long straight hairstyles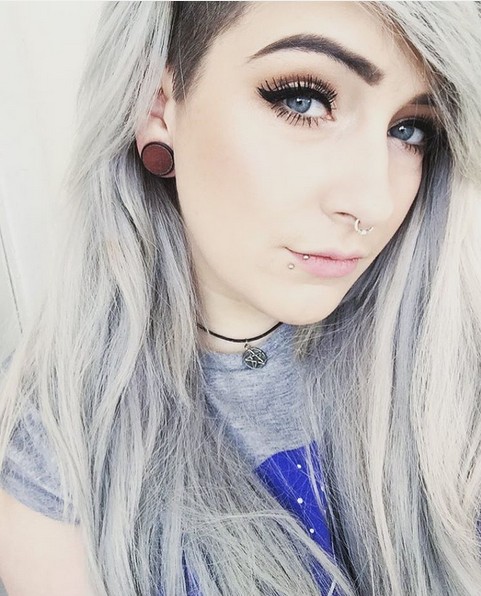 Medium grey haircolor suits paler skin-tones, but lighter grey shades like ash-blonde will make your face and hair look colorless. Light skin can be overwhelmed by charcoal-grey which looks harsh, so think about creamy pale yellow tones. This asymmetrical long shaved hairstyles' idea uses blue-toned lowlights to bring out the model's beautiful blue eyes!
Romantic long silvery-grey hair trends on long wavy hairstyles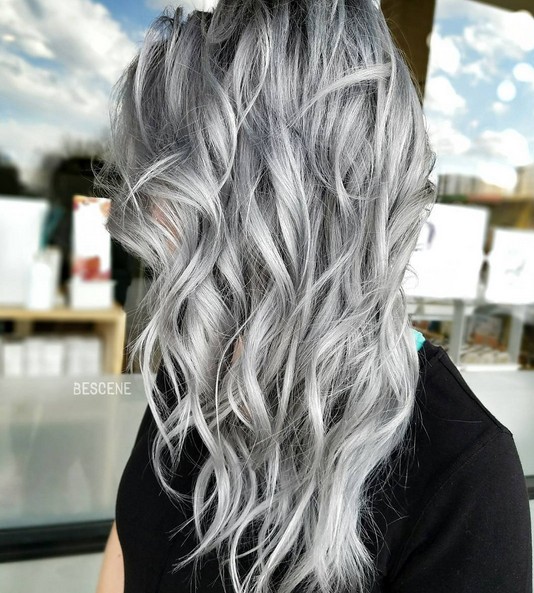 Grey hair for long hair – Women with cool-toned complexions can wear the silver-grey trendy hair color ideas, including dove-grey, pure silver and lilac-grey. This lovely, tousled, long wavy hairstyles' idea is a youthful, romantic look that combines loose spiral curls with silvery-grey. It's a stylish long hair color idea in an amazingly soft, new grey trend.
Chic short textured boy-cut with dual-grey hair trendy color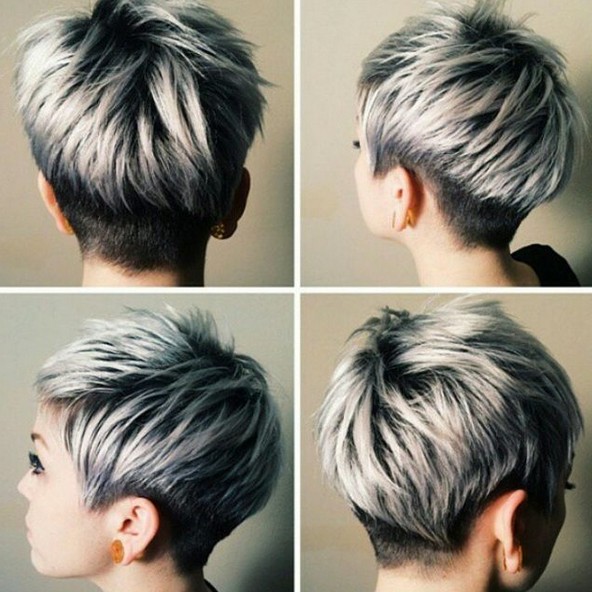 Grey haircuts for short hair. This silver and charcoal short layered pixie haircut for thick hair presents the grey hair trend as a great hair color idea for young and mature women! Hairstyles with clean lines like this short layered haircut suit all ages. The classic short pixie haircut radiates from the crown with blunt side-points and a clipped back. Forward styling creates amazing texture and 3D color depth.
Snazzy short pixie hairstyles for fine hair in grey with sea-green gloss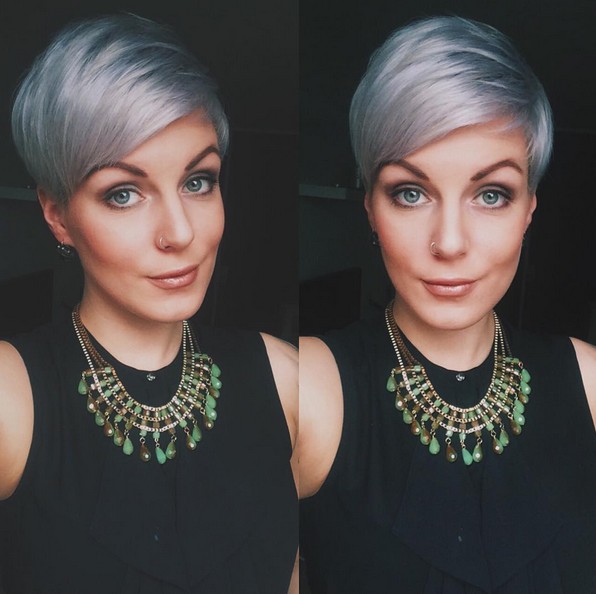 There are lots of fabulous short haircut ideas for fine hair this year and the swept-over the top, asymmetrical short haircuts add flattering volume to fine hair. The crown area has a hint of sea-green highlighting, which changes to lavender in the front section, bringing out the model's lovely green eyes. Suits oval and round faces. This is a great short pixie cut with bangs for summer!
Perfect asymmetric grey bob hairstyles in charcoal & dove-grey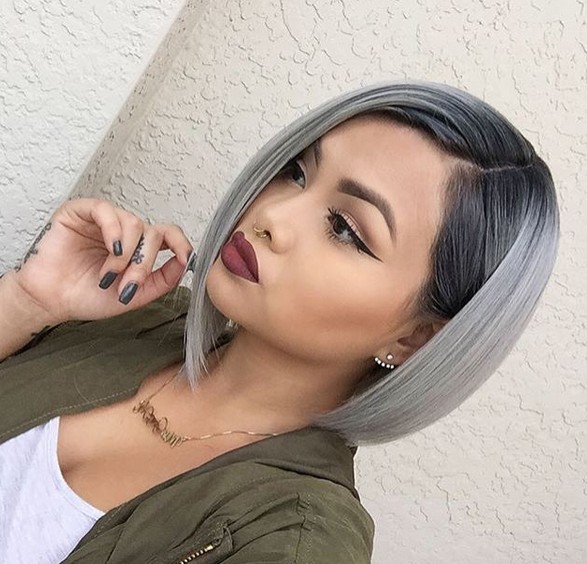 Gray bob cut for short hair. Hair trends like this perfect grey bob haircut for straight hair are some of the most exciting medium bob hairstyles. It's a youthful look, showing the grey hair trend is not just for women's over-50's hairstyles. With side-to-side asymmetry tinted medium-grey with blended charcoal roots, this medium inverted bob hairstyle's a perfect match for a warm skin-tone.
Elegant two-tone grey hair design on Cleopatra bob hairstyles with bangs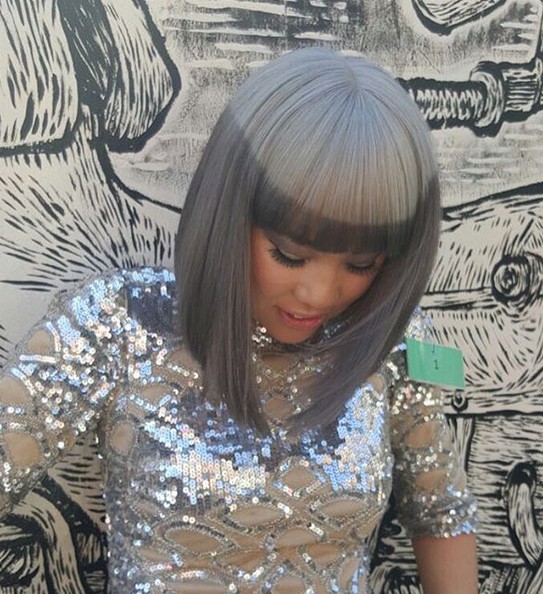 Here's another completely new look for the growing grey hair trend for young and mature women's hairstyles. The medium bob haircut with bangs is a good style for round, square, heart and oval faces. Adding pale-grey roots in a precise cap-shape is a completely new highlighting/balayage design that's very modern and attractive!
Glamorous long silver-grey hairstyles trend with purple gloss highlights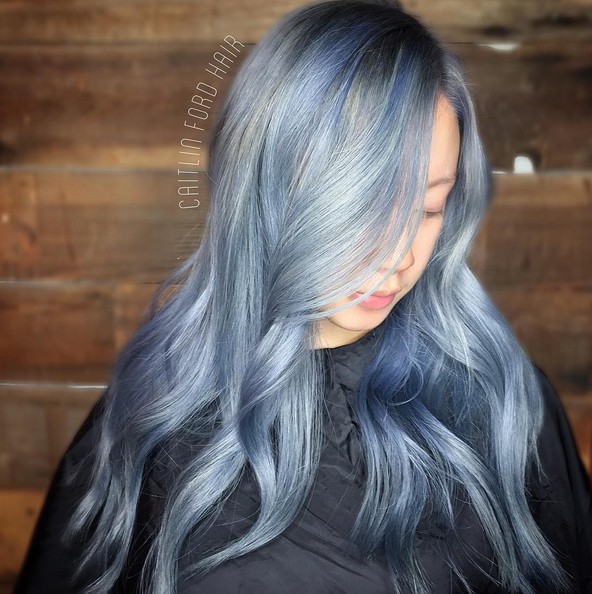 Balayage hairstyle ideas: Silver-grey hairstyles for long hair is a new grey hair trend, that's sweeping through the hair color ideas for young women and revolutionising the highlighting options for grey-hair in mature women's hairstyles! Silvers are taking over from blondes as cute hair color ideas, like this gorgeous lavender/grey hair trendy, long, wavy look!
Stunning silver-grey hair trends for straight & wavy long haircuts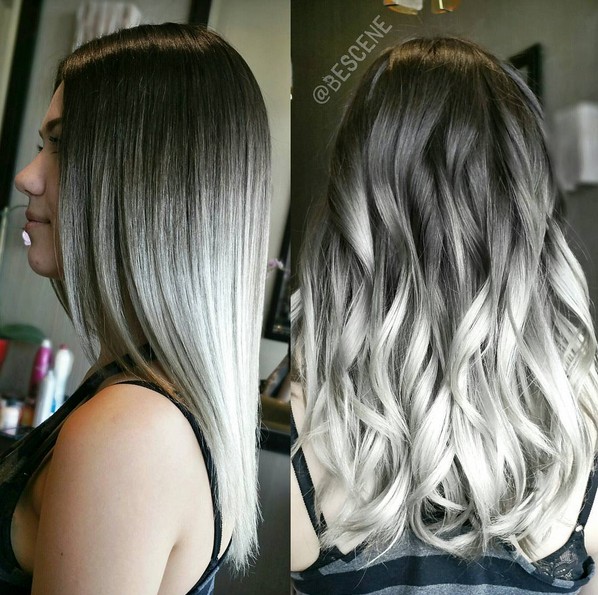 Try an exciting silver-grey hair trendy colour makeover and become a style-leader! Black roots have become charcoal roots, blended into a stunning silver ombré on long wavy hair. Styles like this are breaking down the barriers against mature women, and grey hair color trends are moving in a fantastic, futuristic direction!
4 grey hair trends/pink/aqua highlights medium angled bob hairstyles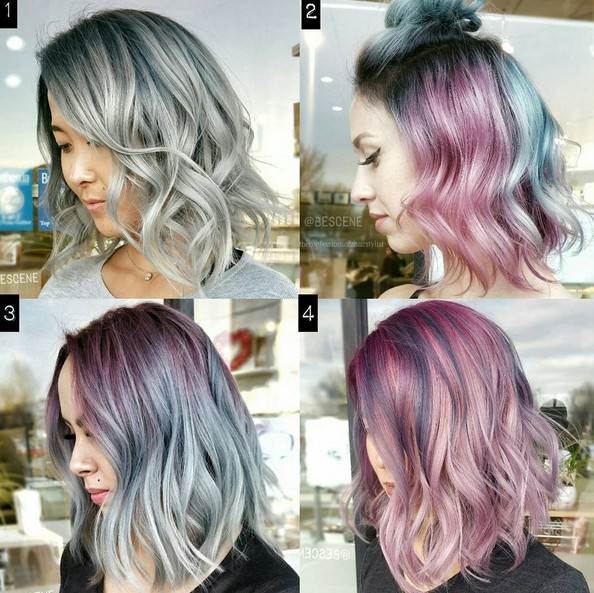 These great, new hair color ideas for medium inverted bob haircuts show cute twisty waves with 1) medium-grey with a hint of blue 2) Half-up, bun-on-top grey-blonde with pale plum-pink/aqua contrasting colors 3) Plum-pink top & dark-grey roots over amazing blue-green on ash-blonde 4) Pink fade with dark-grey lowlights!
Chic makeover orange to grey hair – trendy long angled bob hairstyles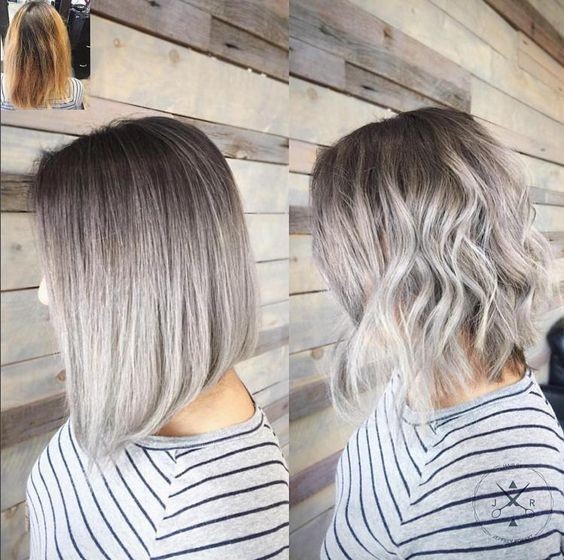 Remember to update wavy, shoulder-length hairstyles when the cut/color has lost its salon-fresh look! Chic medium-grey hair color ideas with light grey ombré are the perfect grey hair trend for this season's nautical look. The 'before' orange shoulder-length hairstyle looks classier in a grey color for young trendies and over-50's women's hairstyles!
Boho grey hair trend & subtle purple/sea-green balayage hairstyle designs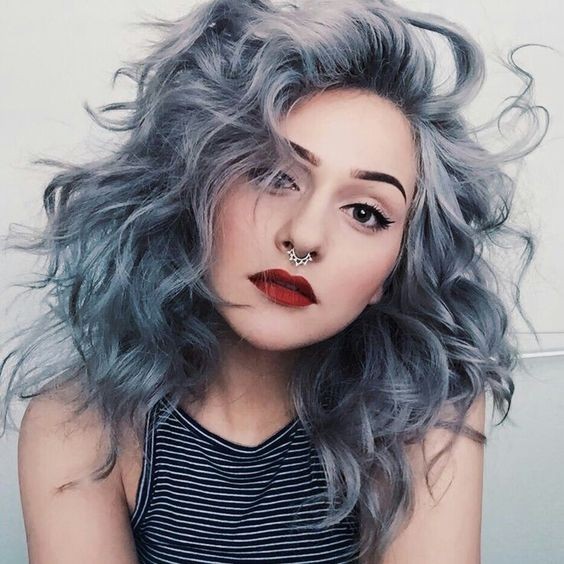 Cool complexions wearing silver-grey hair trends plus subtle purple and sea-green balayage designs look great. This boho balayage hairstyle flatters the model's oval face and brown eyes with windswept waves around the head. With subtle warm tones above and rich green highlighting below, this beautiful balayage hairstyle designs option is a stunning party look!
Terrific taupe-grey hair trend fade to white ombré on long straight hairstyles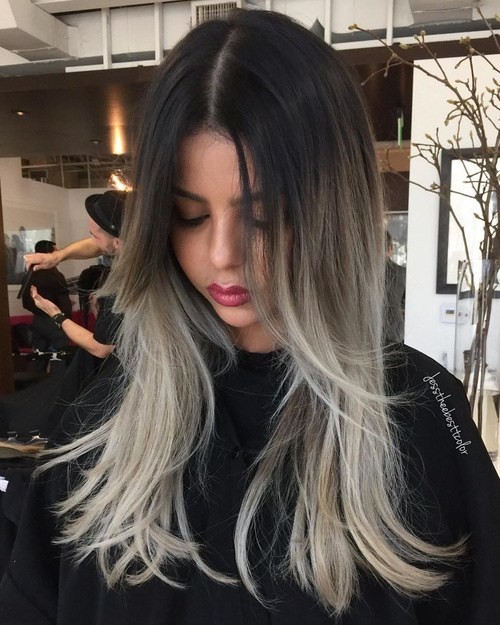 Medium complexions with a golden undertone look good in dark taupe grey hair color ideas, which is a mix of grey and brown. The dark top section fades to palest grey with warm golden tones in the last 6-inches. This highly fashionable, long straight hairstyle has long layers with wispy tips and a centre parting to suit an oval face. This cut is very popular in Asian.
Pretty plum-pink/grey hair trend 'fade' on wavy long angled-bob hairstyles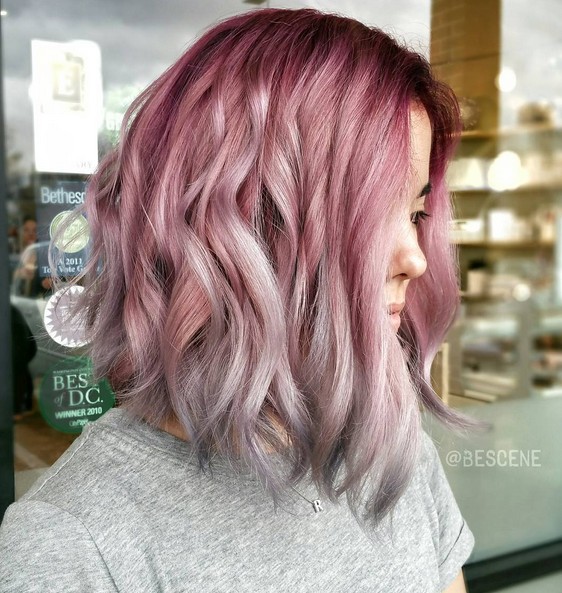 This warm plum-pink to grey hair color idea is suitable for richer, medium skin tones which can stand the stronger colors like pink and warm, deep grey at the tips. Shoulder-length haircuts for wavy hair are not just for the young, and many over-50's hairstyles incorporate defined waves and fashionable ombré hairstyle designs.
Edgy boho bob with plum-pink fade to grey hair trend & blurred tips!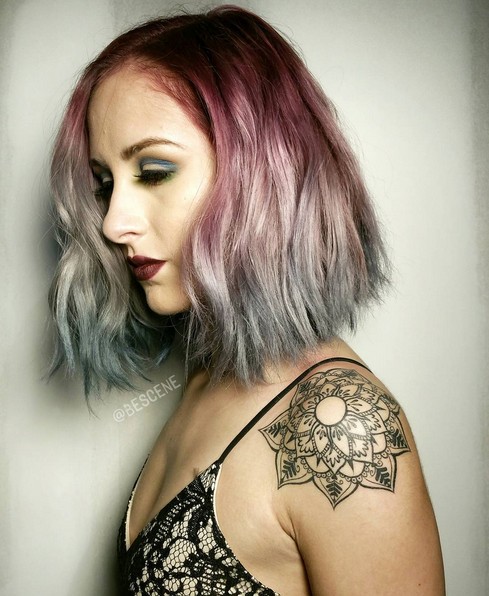 Gray hair color shades -Trendy shoulder-length hairstyles for women with medium to fine hair look best with blunt-cut tips or this snazzy new cutting-technique. This bob introduces new highly-textured tips creating a cleverly blurred edge that looks thicker! The ombre moves through 4 shades in an asymmetric bob haircuts' idea for round/heart faces.
Lovely long grey-hair trend hairstyles with pastel-blue balayage & bangs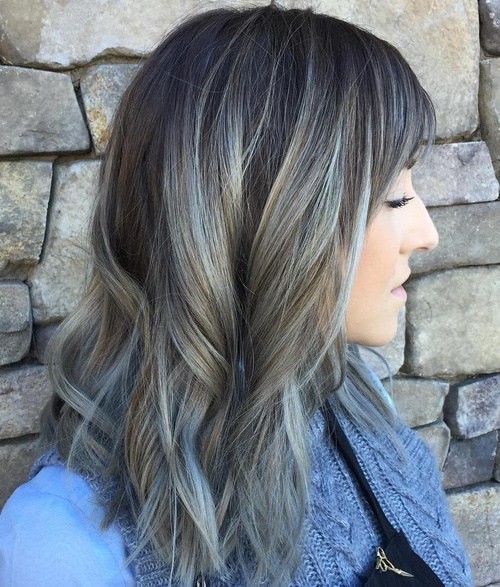 Gray hair for medium length hair. Deep-grey hair color ideas suit medium skin-tones and carefully selected yellow tones and pretty pastel-blue highlights add lovely, 3-D color dimension to casual waves in beautiful blue-grey balayage designs. Long hairstyles with bangs – straight-across or side-swept – and side-volume, suit square and narrow faces and accentuate the eyes!
Shiny two-tone grey hair trends on bob hairstyles + bangs for round/square/heart faces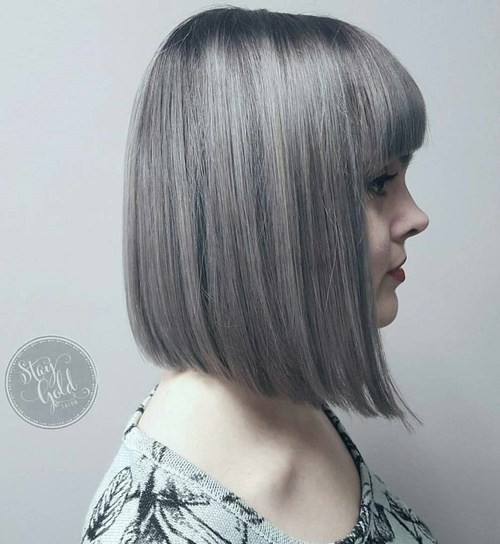 Grey hair trends go beautifully with straight bob haircuts with bangs, as you can see above! There are two shades of grey in this hairstyle, differing by about 3 tones, to create vertical texture highlighting the forward movement in this very elegant, straight bob haircut with bangs. We love this versatile and very stylish bob hairstyle
Chin-length steel-grey hair trends & pink balayage on wavy bob haircuts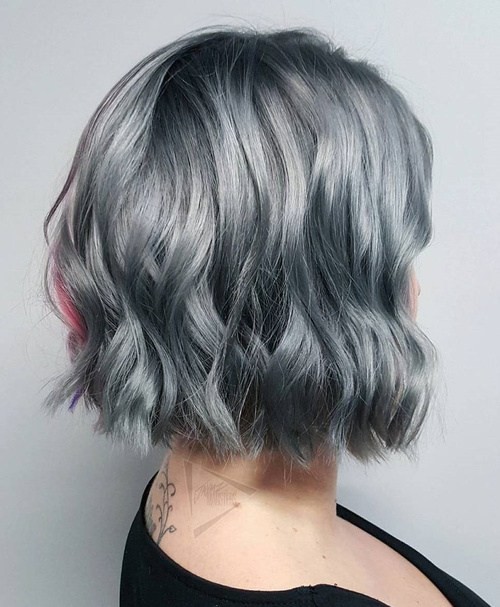 Here's an exciting new twist on the chin-length, wavy haircuts that are popular hairstyles for this summer! Deep-grey hair trends suit medium skin-tones and cute, coral-pink balayage adds a fun detail to a stylish short wavy bob haircuts' idea. Silver-grey hair color trends aren'tt only for mature women's hairstyles and we're seeing some fab new balayage designs!
Gorgeous bouffant grey hair trends & purple/sea-green balayage on boho waves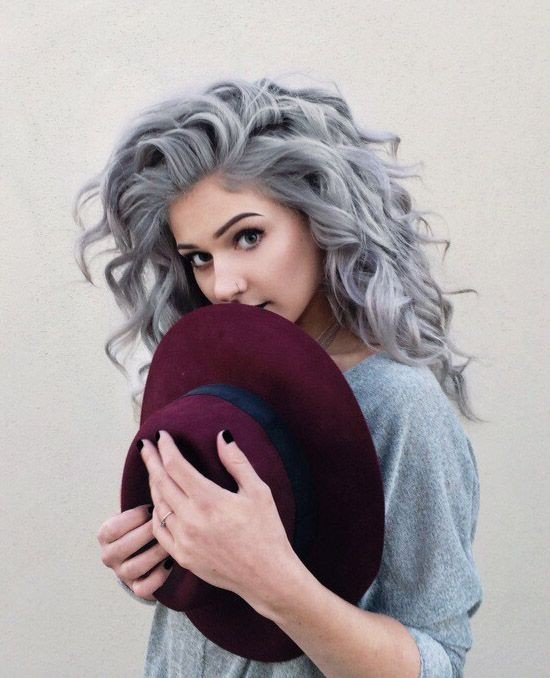 Gorgeous grey hairstyles on messy, curly long hair get even more of a boho twist with very subtle purple and green balayage designs done with transparent, colored hair-gloss. To copy this delicate color on grey messy, curly long hairstyles ask for two tones from the grey hair trend chart, 'touched-up' with purple and sea-green gloss!
Groovy grey hair trends in dark ash-blonde on long wavy hairstyles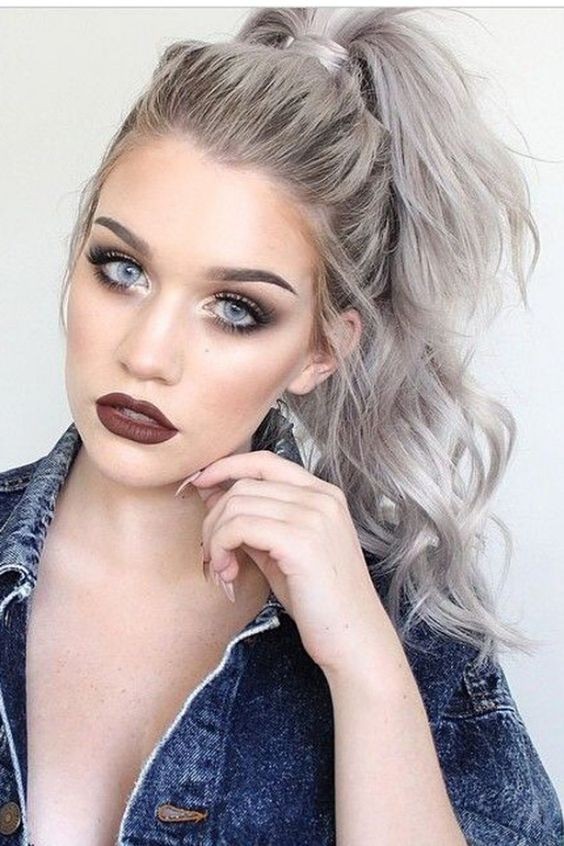 This half-up, high ponytail hairstyle/grey hair ideas is a classic look brought into the 21st century with a light grey hair-color makeover. The dark grey roots are softer than black/blonde high ponytail hairstyles, and grey hair ideas are subverting the 'Barbie-doll' blonde hair color trends. Pink, blue and gold undertones ensure grey hair trends match with different skin-tones!
Blue balayage & grey hair color trends for edgy wavy long angled-bob hairstyles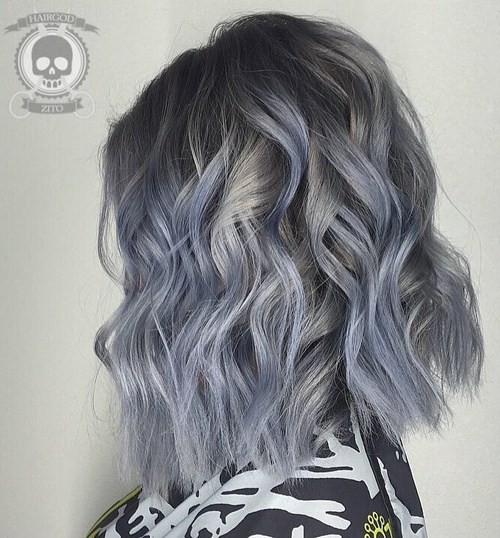 Wavy bob hairstyles' for fine hair become ultra-modern, super-stylish balayage hair designs, after a grey hair trend makeover! Amazing indigo-blue balayage on a medium-grey hair color adds lots of 3-D color depth and texture to fine hair and heavily textured tips create a blurred bottom edge that also adds density to bob hairstyles for fine hair.
Consult your colorist to find your own perfect grey hair color. Generally speaking, pale skin with cool undertones can wear purple, blue, pink and green. Complexions with red undertones should avoid pale grey and go for stronger grey hair colors to minimise the redness. Medium skin-tones can wear creamy-white and darker grey hair trends like steel-grey. Do you love these hairstyles? Find more on hairstylesweekly.com!