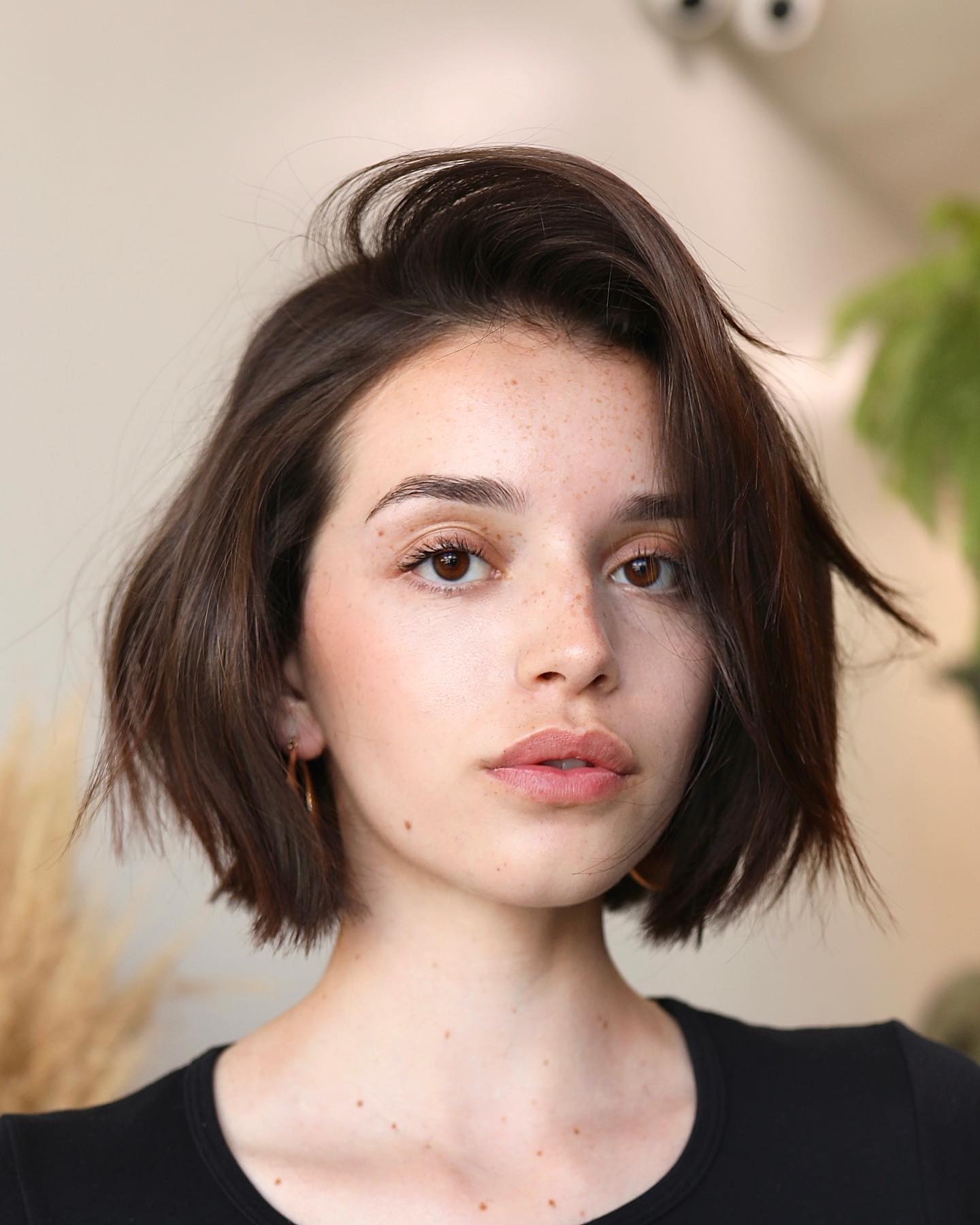 Who says short hair can't make a big statement? It's not just about chopping off those locks; it's about embracing a new world of fashion, style, and self-expression. Short hairstyles for women have surged from being just a trend to a symbol of freedom and individuality.
Are you enamored with the timeless grace of bobs but eager to add your flair? Or perhaps you're drawn to the audacity of a buzz cut, or the unassuming elegance of a shoulder-length bob? The beauty of short hairstyles lies in their versatility, adaptability, and the endless ways they allow you to express yourself.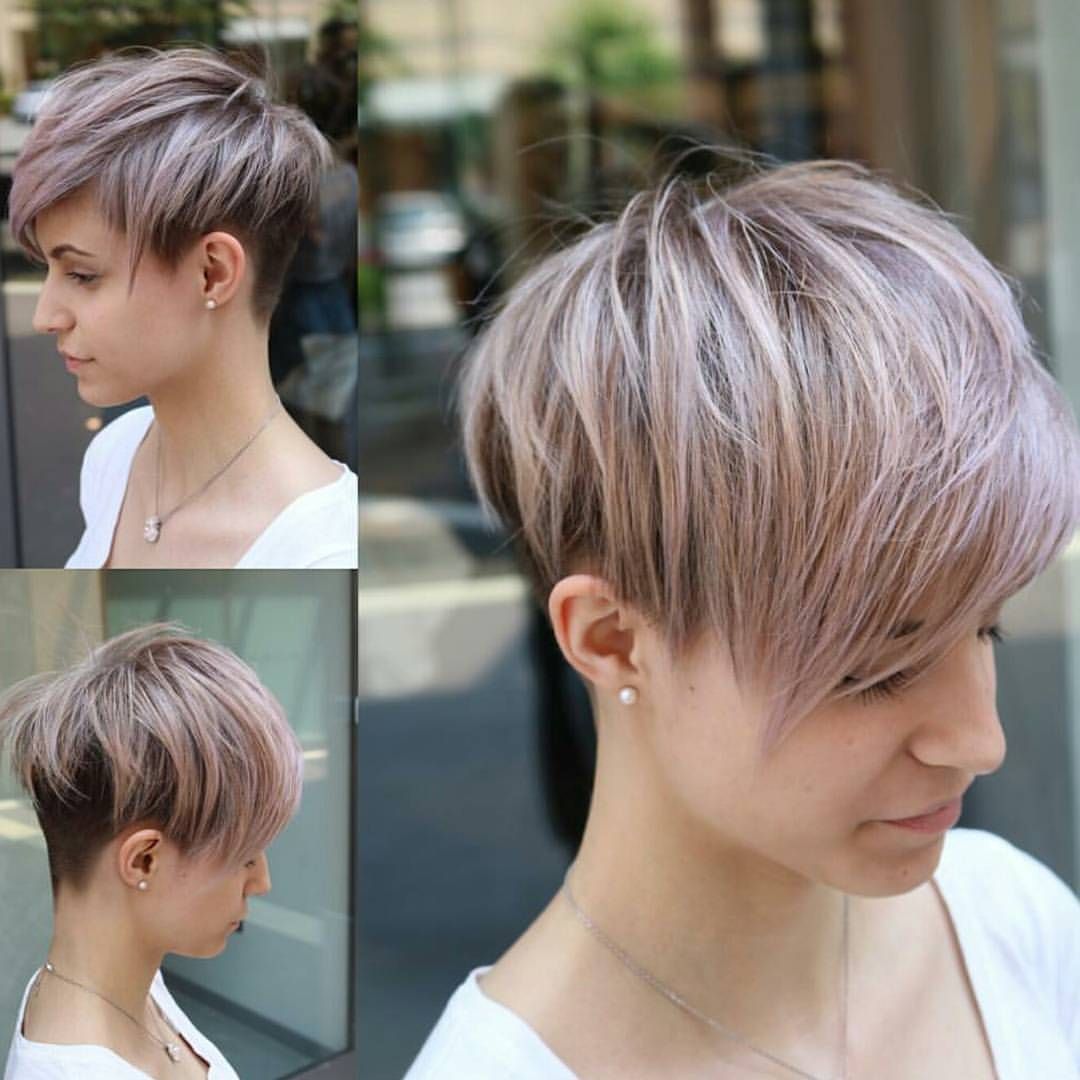 Let's delve into this vibrant universe where hair doesn't just frame your face; it speaks volumes about who you are. From the chic sophistication of the A-line bob to the playful allure of shingle bobs, the landscape of short hair is rich, diverse, and just waiting for you to explore.
There's a world of short hairstyles out there, each with its unique charm and personality, waiting to be discovered. Whether you're all about those sharp, angular cuts or the soft, flowing lines of an inverted bob, there's a style that's calling your name. Join us as we unravel the many dimensions of short hair, celebrating not just fashion, but identity, creativity, and the beautiful complexity that makes you, well, YOU! So, why wait? Your next hairstyle adventure begins here, and trust us, it's going to be fabulous!
A gallery of short haircuts 2024 (female):
1. Cub Cut
This short hairstyle is the epitome of crisp, clean lines. This shorter version of a pixie cut exudes a minimalist yet powerful vibe. It's like a well-crafted modern sculpture, creating a beautiful balance between boldness and sophistication. With a Cub Cut, less is indeed more, and the regular maintenance it demands ensures you always look sharp and well-groomed.
2. Easygoing Bob Cut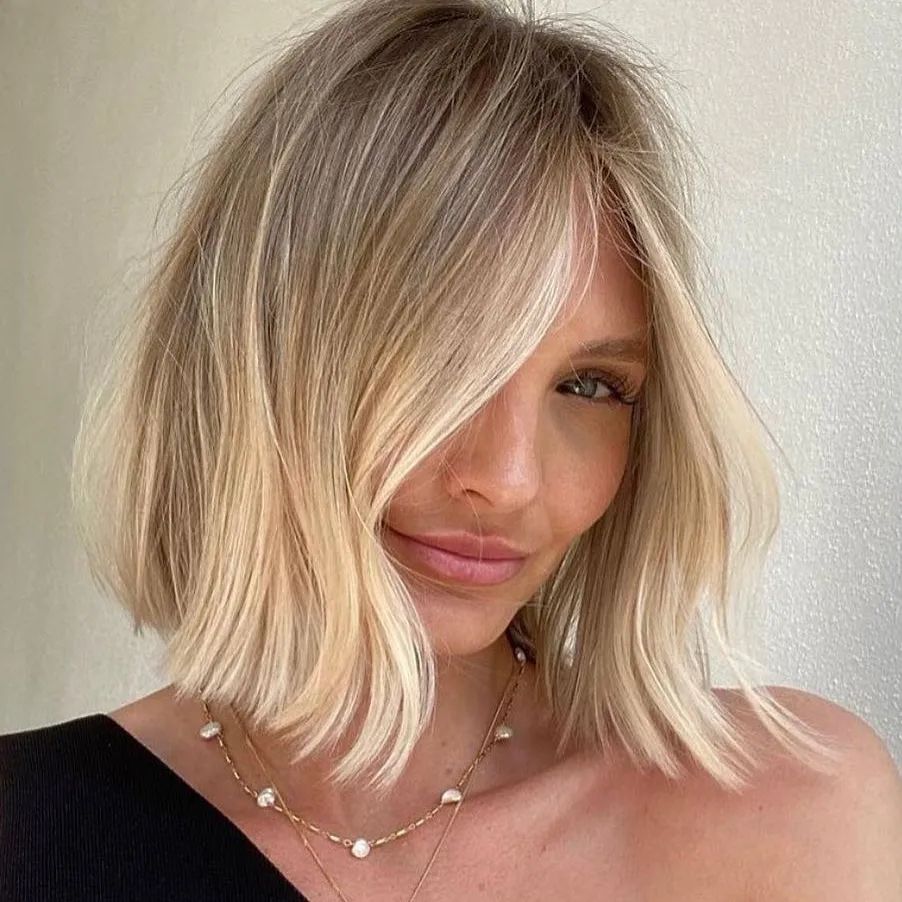 The Easygoing Bob Cut is the ultimate choice for those who value a laid-back, effortless look. This hairstyle whispers rather than shouts, offering a softer, more relaxed take on the traditional bob cut. Its gently tousled waves bring an appealing casualness, as if you've just stepped off a beach. With the Easygoing Bob, every day can feel like a holiday.
3. Copper Biexie Cut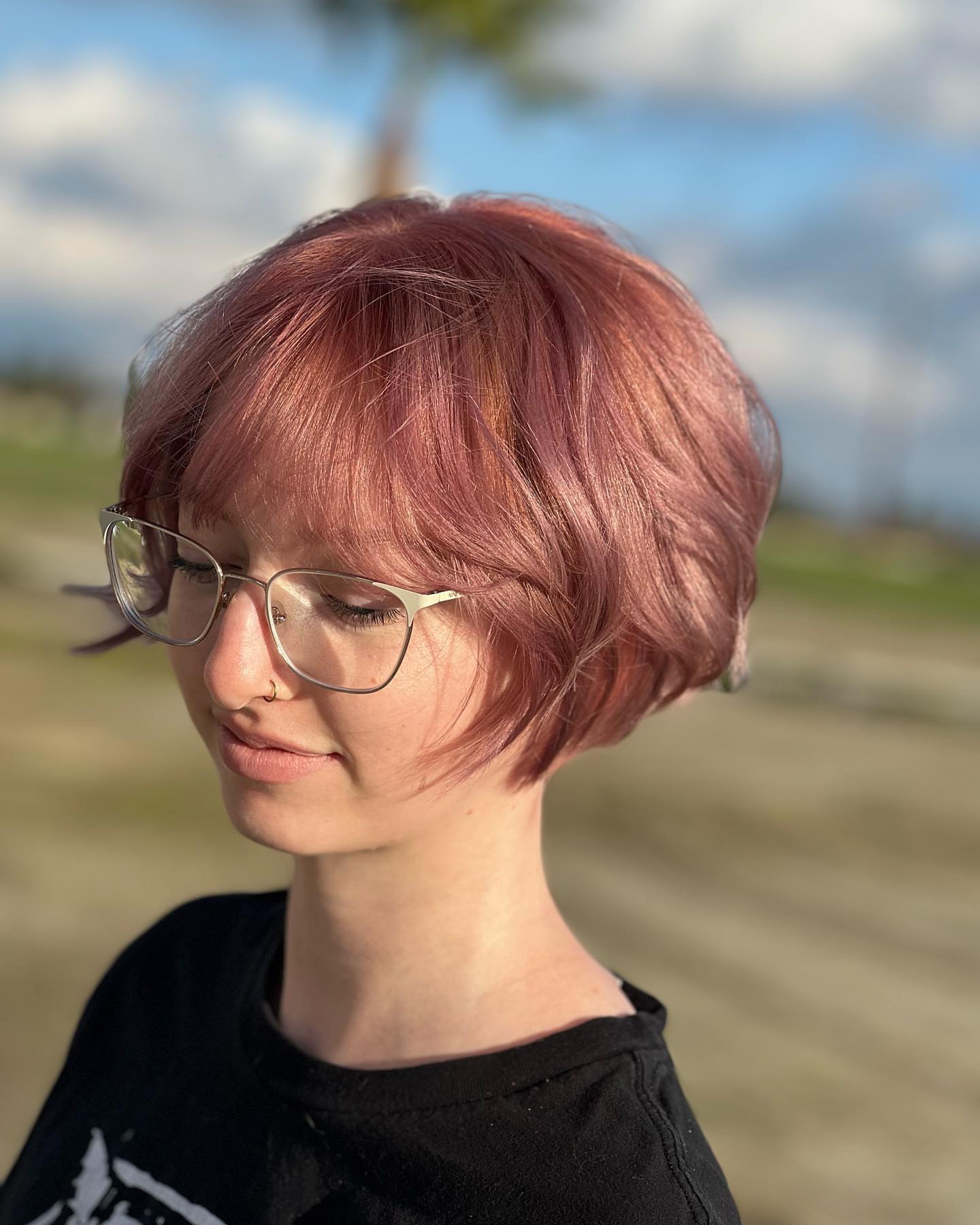 Radiating warmth and vivacity, the Copper Bixie Cut is a style that merges two iconic hairstyles: the bob and the pixie. This amalgamation results in a look that's chic and edgy, with the added attraction of the striking copper hue. The Copper Bixie Cut is for those who aren't afraid to be bold, to be different, and to let their hair reflect their spirited personality.
4. Edgy Bob Cut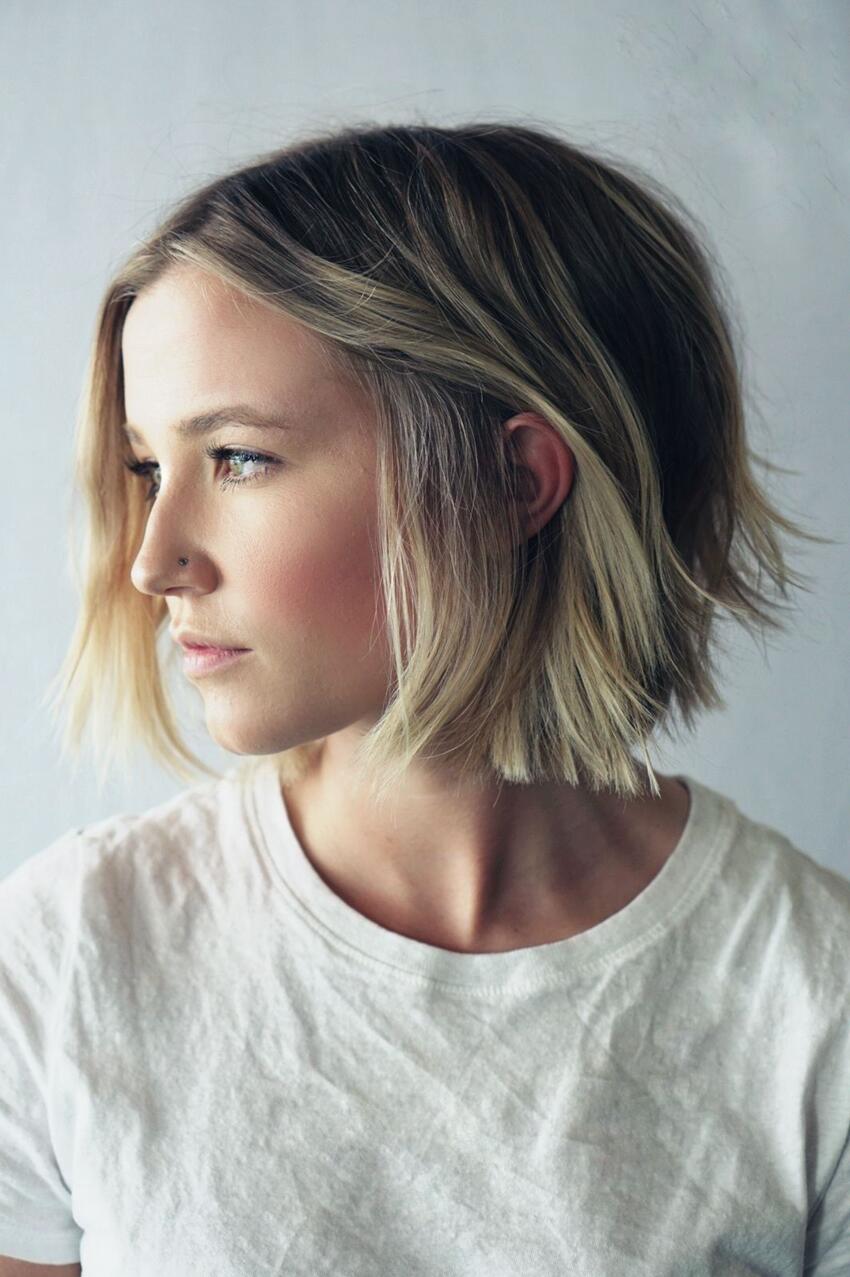 The Edgy Bob is a hairstyle that challenges conventions and defies expectations. It takes the familiar bob style and infuses it with an audacious, adventurous spirit. The choppy layers, the unexpected asymmetry, the defiantly tousled texture – all these elements contribute to a hairstyle that exudes confidence and dares to break the rules. The Edgy Bob is for the fearless, the trendsetters, the ones who make their own path.
5. Curly Bob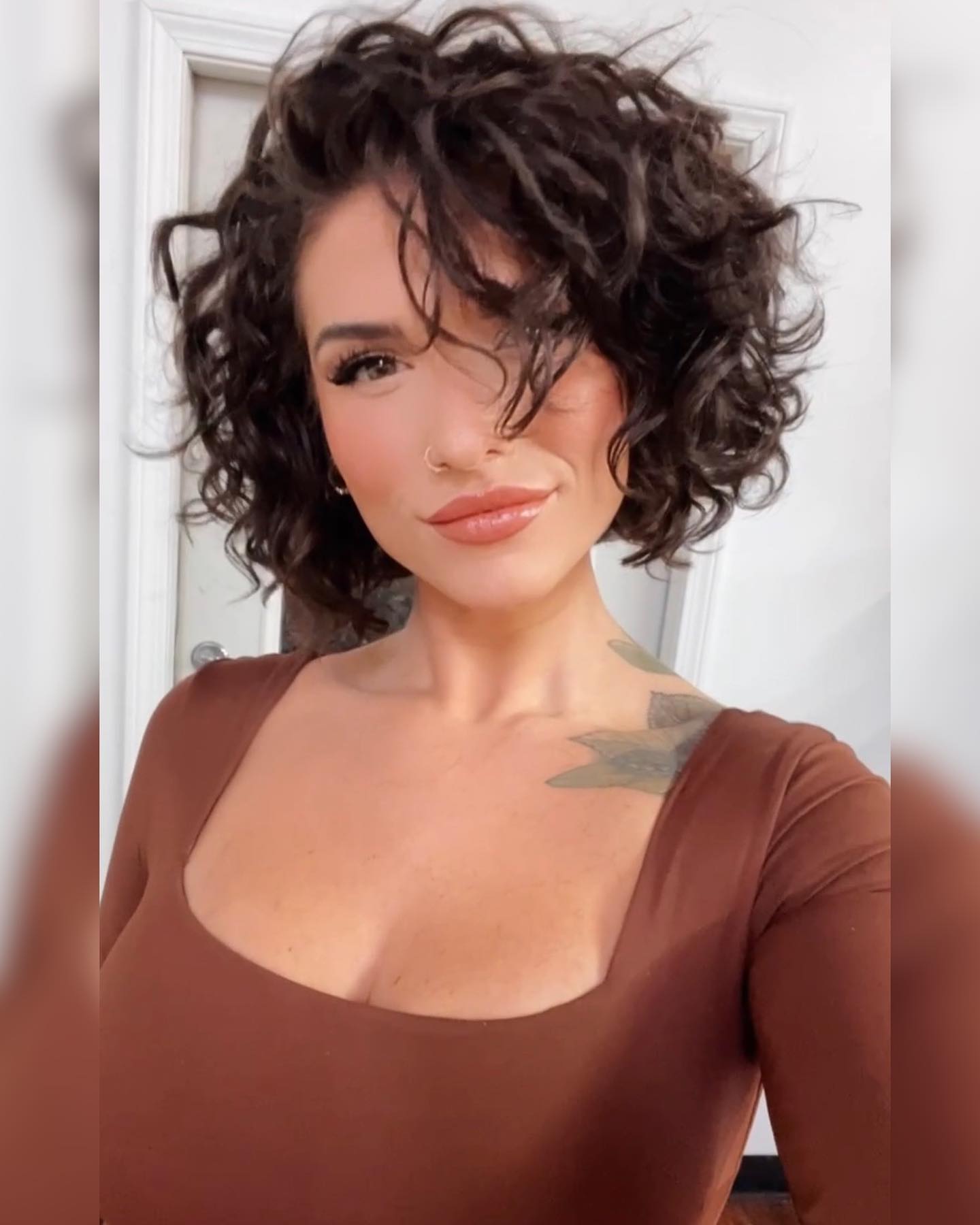 Bouncing with life and personality, the curly bob is the perfect way to frame and showcase your naturally curly or wavy hair. Regardless of face shape, this hairstyle adds a spirited and fun touch to your overall appearance. To maintain those frizz-free, bouncy curls, using a curl-defining cream or gel is the way to go.
6. Feminine Short Haircut: Polished Style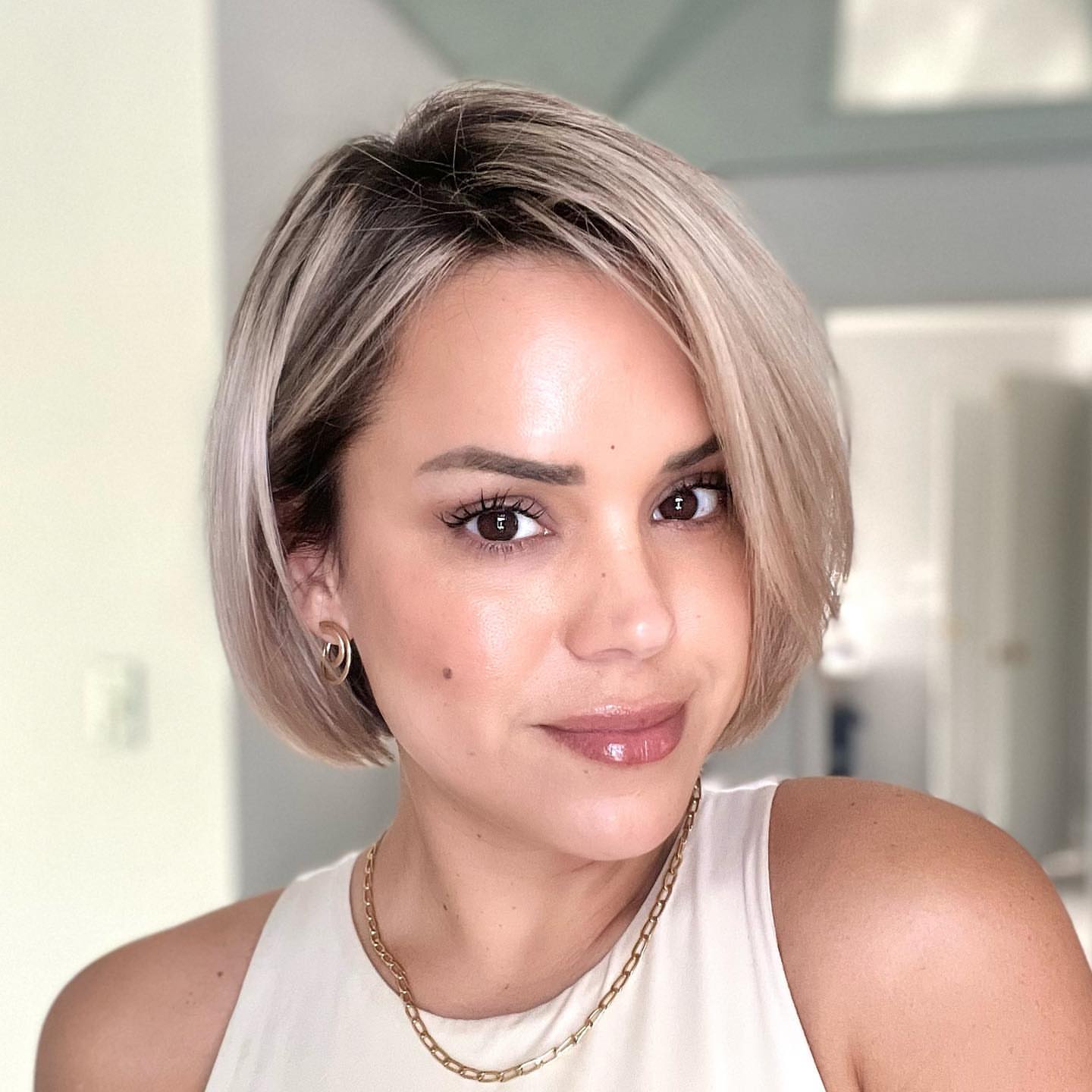 As quoted by Riawna Capri, co-owner of Nine Zero One in LA, the polished bob marks the return of sleek, structured cuts. This immaculate hairstyle features blunt, thick lines that swap out the messy textures of yesteryears. Ideal for women with a strong sense of style and a taste for precision. Styling tip: a smoothing serum or a glossing spray will be your go-to for maintaining this polished look.
7. Center-Parting Flapper Bob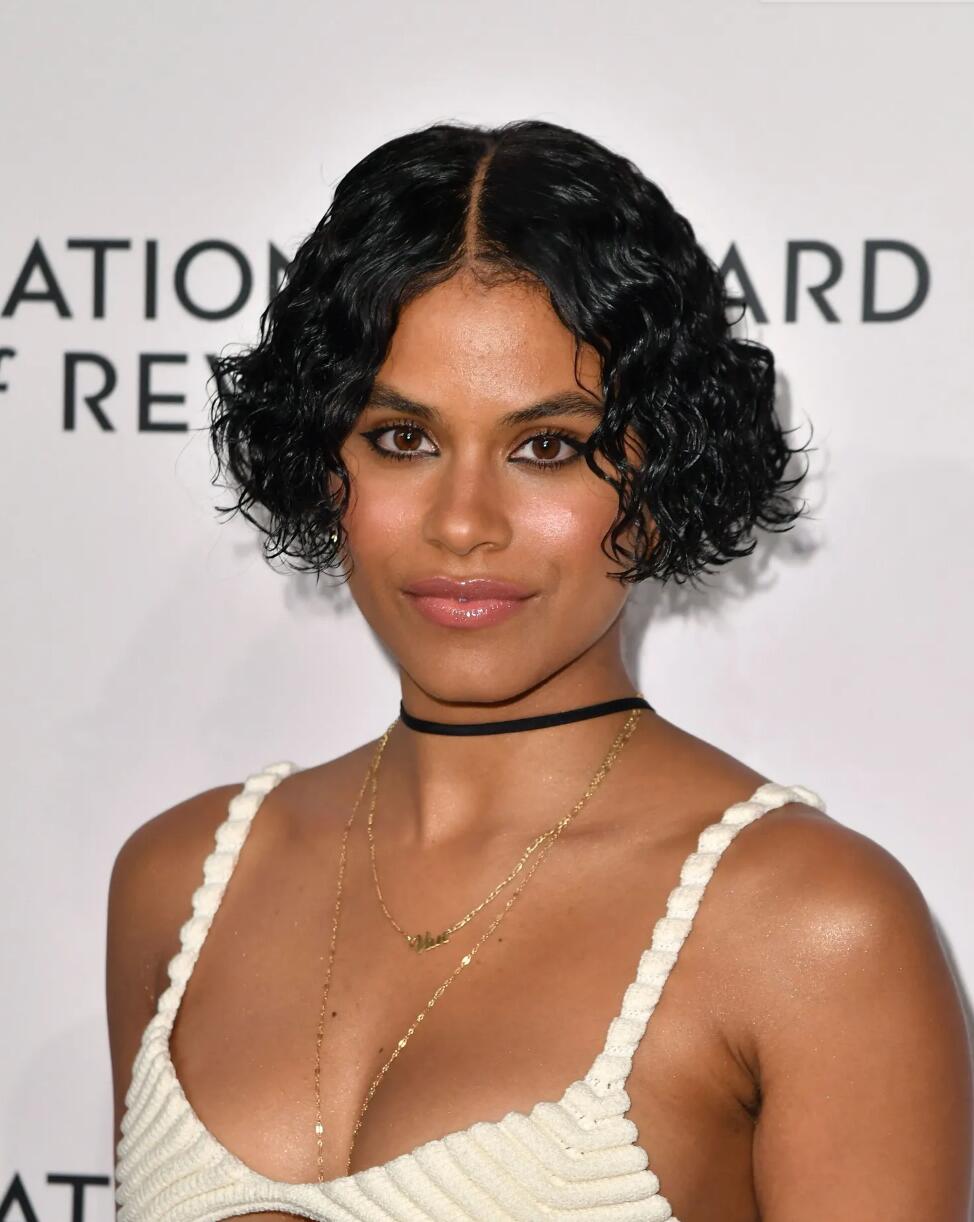 Resurrecting the audacious spirit of the 1920s, the flapper bob is a bold, super-cropped style that reaches no further than earlobe length. Think Zazie Beetz's iconic wet-slicked texture to give it an added dash of coolness. To achieve that desirable slicked-back effect, don't forget to arm yourself with a strong hold gel or mousse.
8. Buzz Cut for Women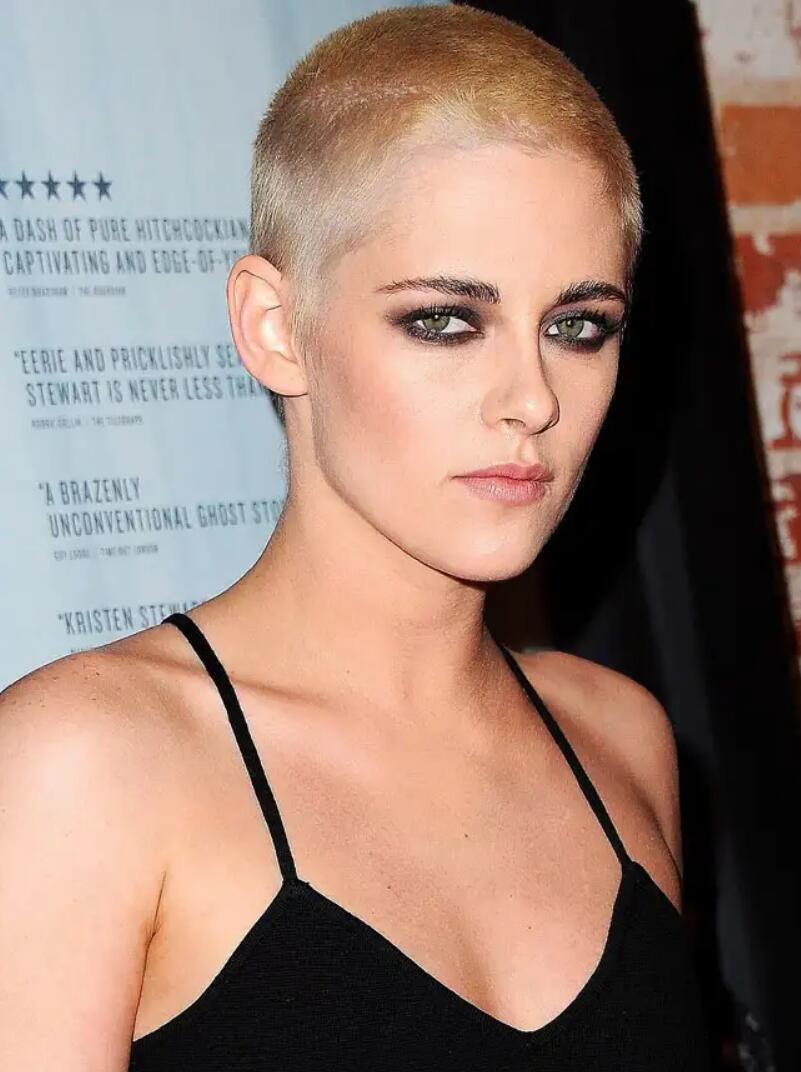 The Buzz Cut for Women is a potent statement of fearless individuality. This ultra-short, uniformly trimmed style is the epitome of sleek, no-nonsense chic. It emanates a sense of boldness, confidence, and liberated beauty. With its bare-minimum length, the Buzz Cut for Women is as much about freeing yourself from traditional femininity as it is about easy maintenance and ultimate convenience.
9. Angled Bob Cut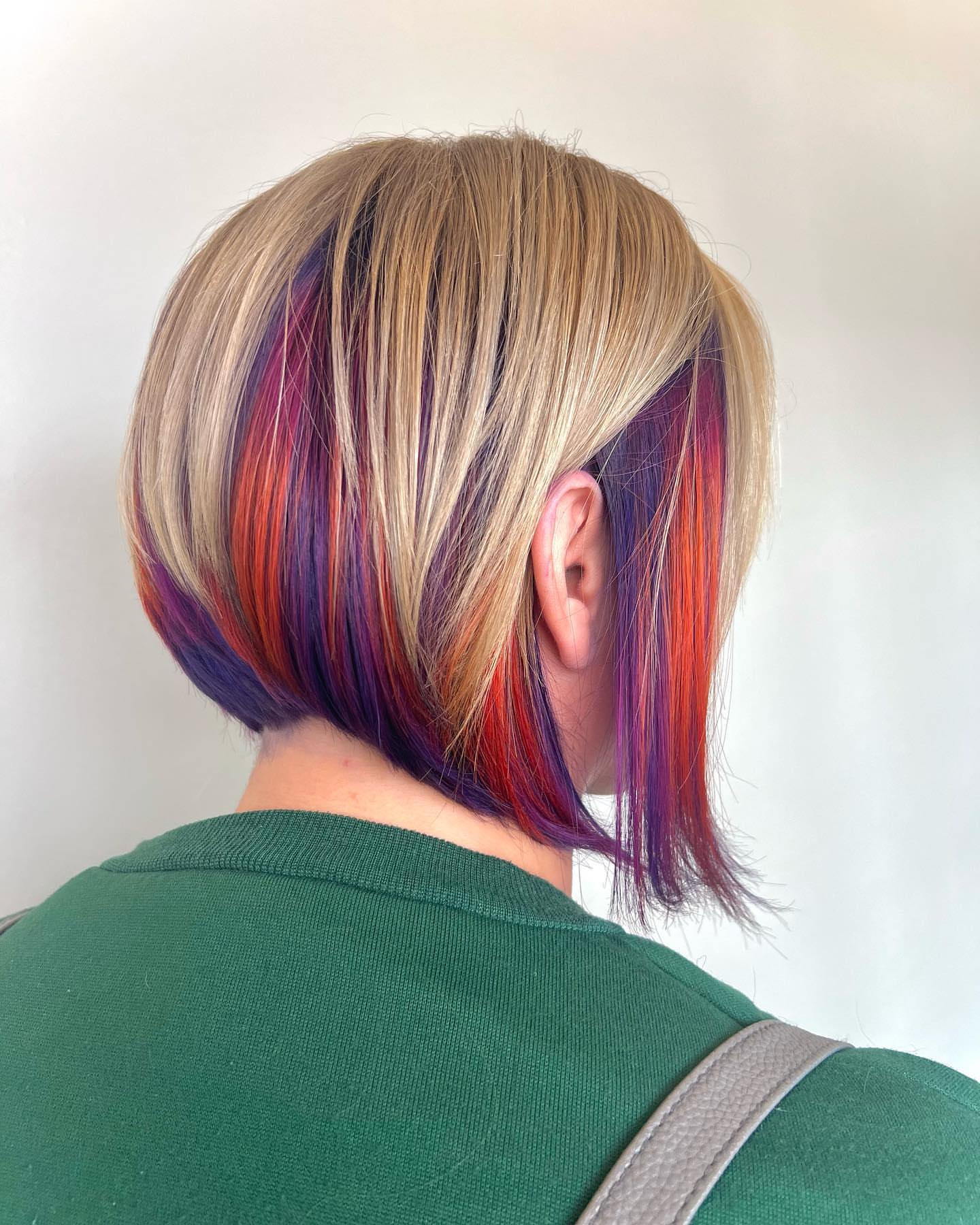 An Angled Bob Cut is a creative spin on the classic bob. Its distinguishing feature is the angular precision – hair is subtly shorter at the back, gradually getting longer towards the front. This unique structure adds a modern edge and a sculpted silhouette to your look. The Angled Bob is all about geometric drama, perfect for those who love a stylish haircut with a hint of intrigue.
10. Close Crop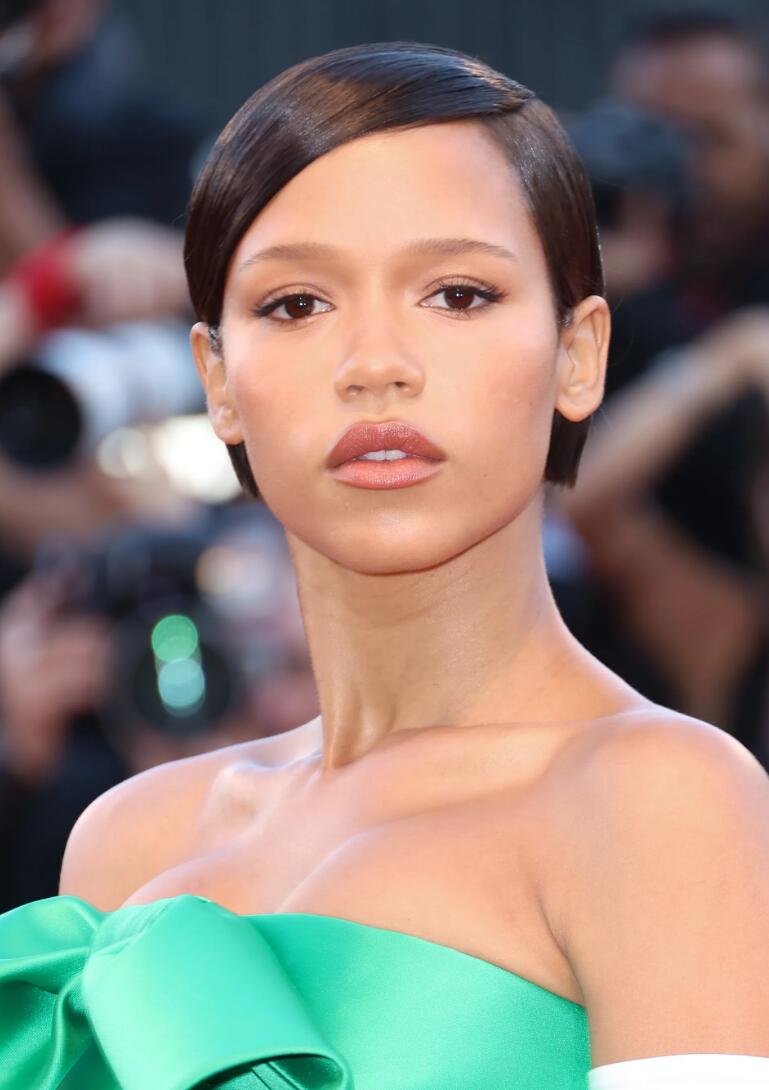 The Close Crop Haircut is all about embracing minimalism while exuding maximum style. The hair is trimmed short, hugging the contours of your head, highlighting the shape of your face. It's a cut that's both bold and chic, perfect for those who appreciate understated elegance. The Close Crop Haircut speaks volumes about the wearer's confidence and comfort in their skin.
11. The Fun and Flippy Cut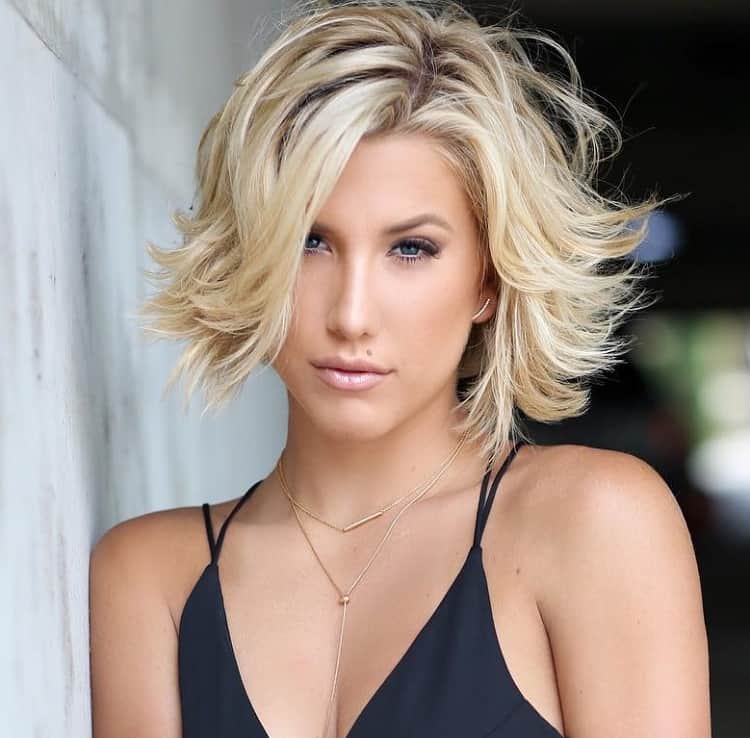 The Fun and Flippy Cut brings a playful energy to your hairstyle. It's all about movement and bounce, with the ends of the hair playfully flipping out. This cut adds a cheerful, youthful vibe to your look, making every head turn your way. The Fun and Flippy Cut is ideal for those seeking a blend of charm and vivacity in their hairstyle.
12. Short Hair with Curtain Bangs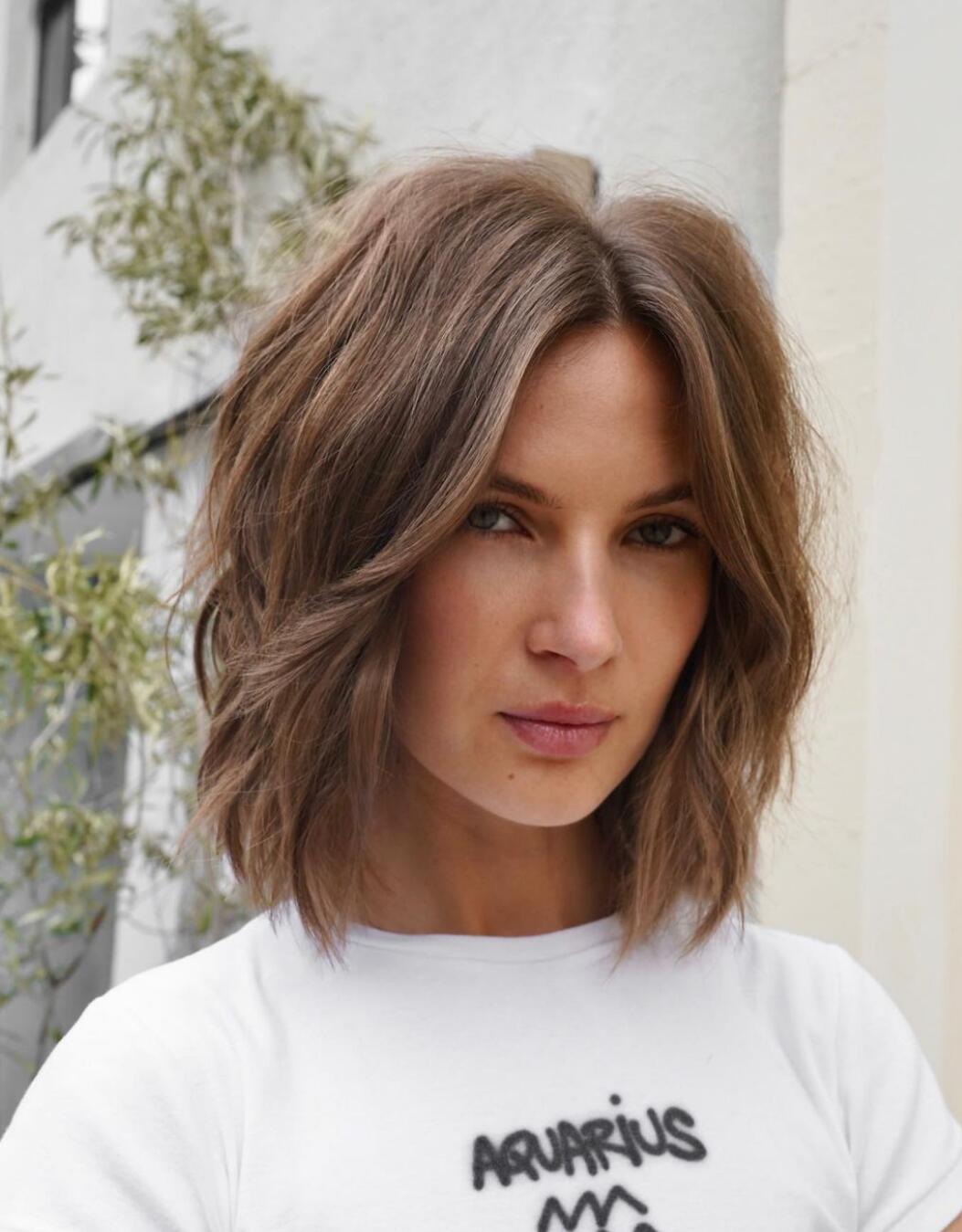 Curtain Bangs are the epitome of a vintage comeback with a modern twist. These long, sweeping bangs are parted in the middle, framing your face like a pair of soft, wispy curtains. They add a touch of glamour and sophistication, enhancing your facial features. Whether you're aiming for a laid-back boho vibe or a refined, elegant look, Curtain Bangs can beautifully complement any style.
13. Peakaboo Hair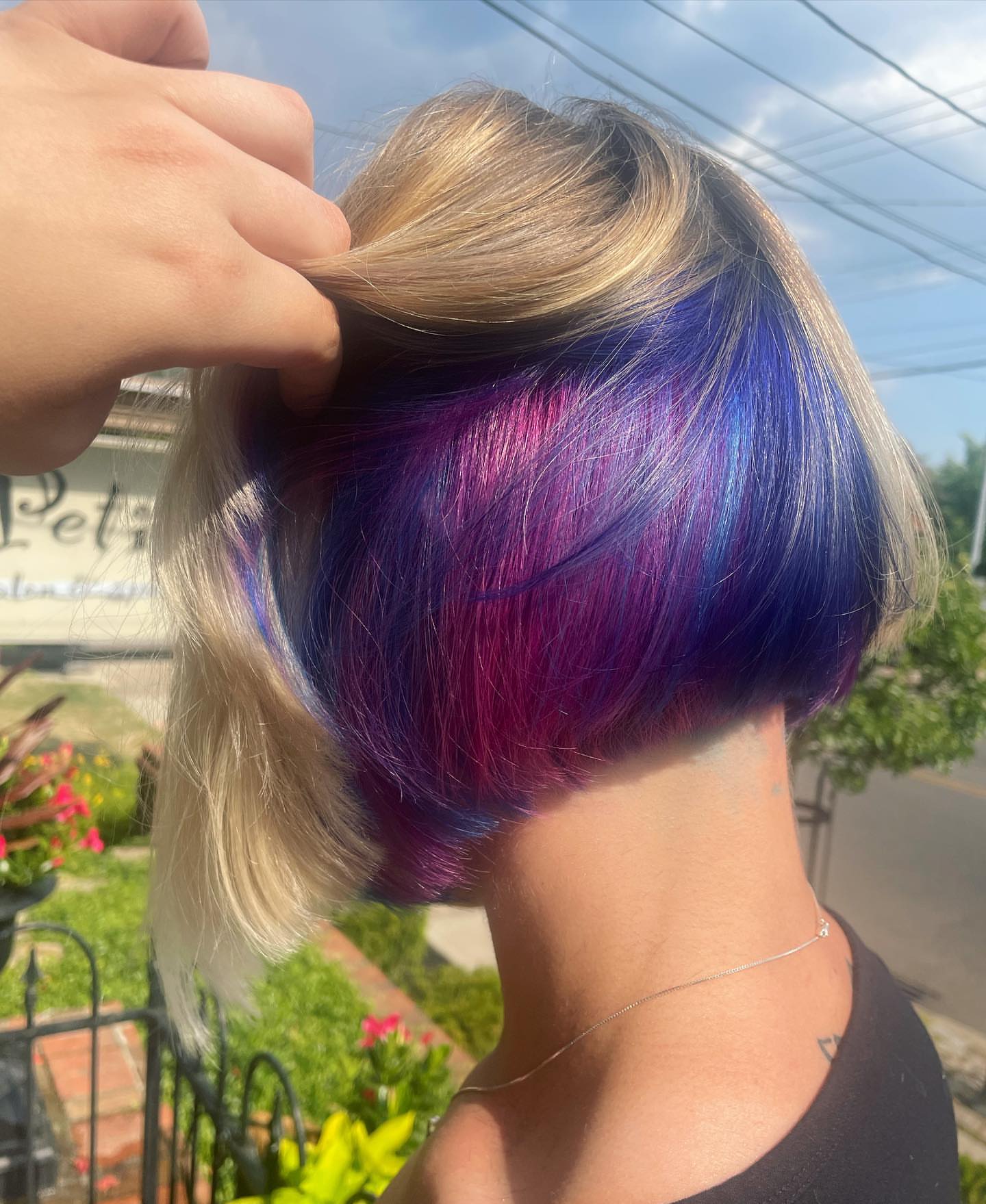 Peekaboo hair is the epitome of mystery and fun wrapped into one. With its blonde exterior and hidden layers of vibrant red, purple, blue, or dark shades inside, it's a style that turns heads. It's the style choice of celebrities like Nicki Minaj, who isn't afraid to play with trendy color and personality in her hair.
14. Copper Balayage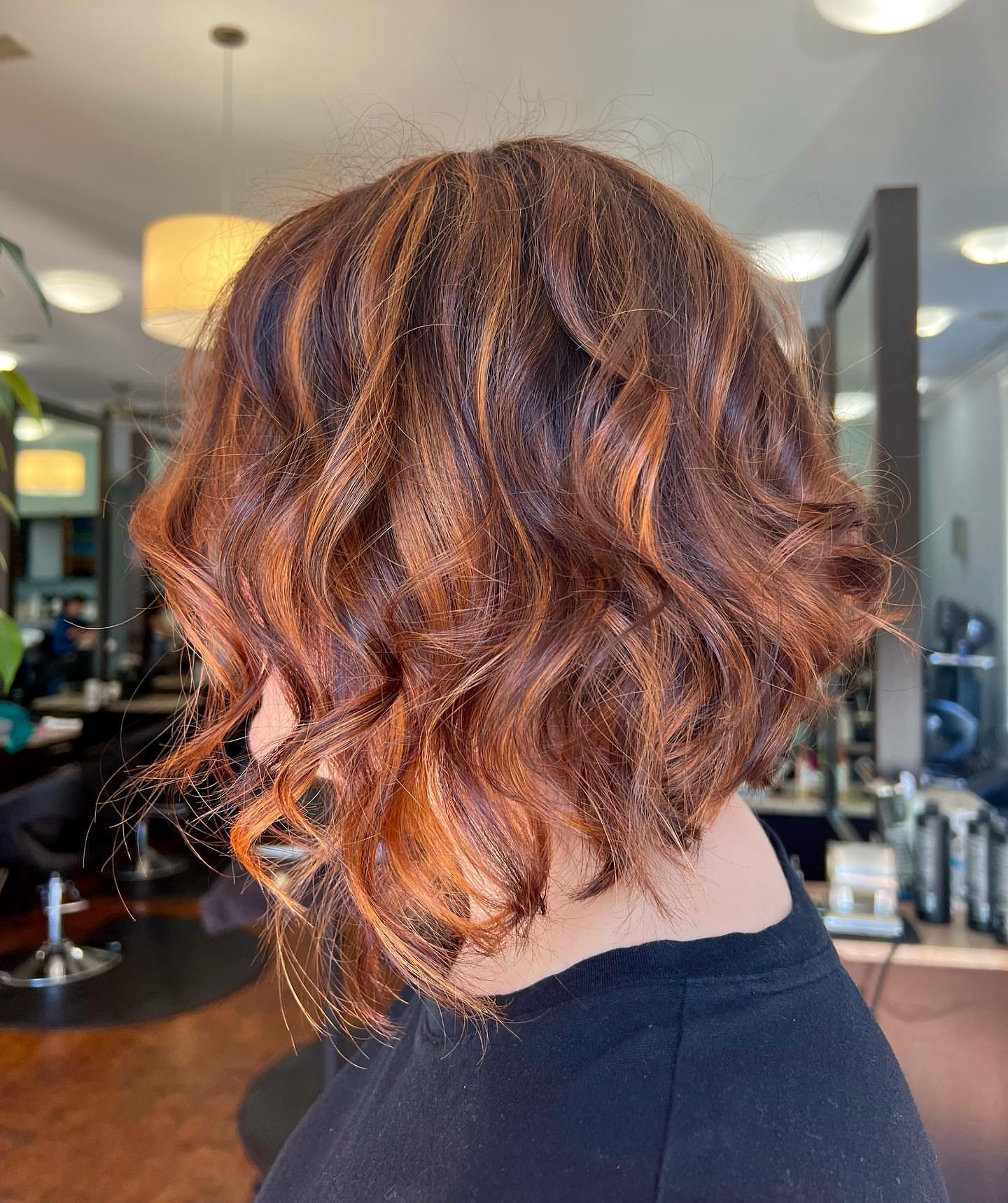 The copper balayage angled bob cut breathes new life into a classic cut with a blend of warm copper tones. This technique highlights the hair's movement and texture, making it a favorite among celebrities like Jessica Chastain, known for her iconic copper locks. It's a choice for those who want to make a subtle yet impactful statement.
15. Center Parting Straight Bob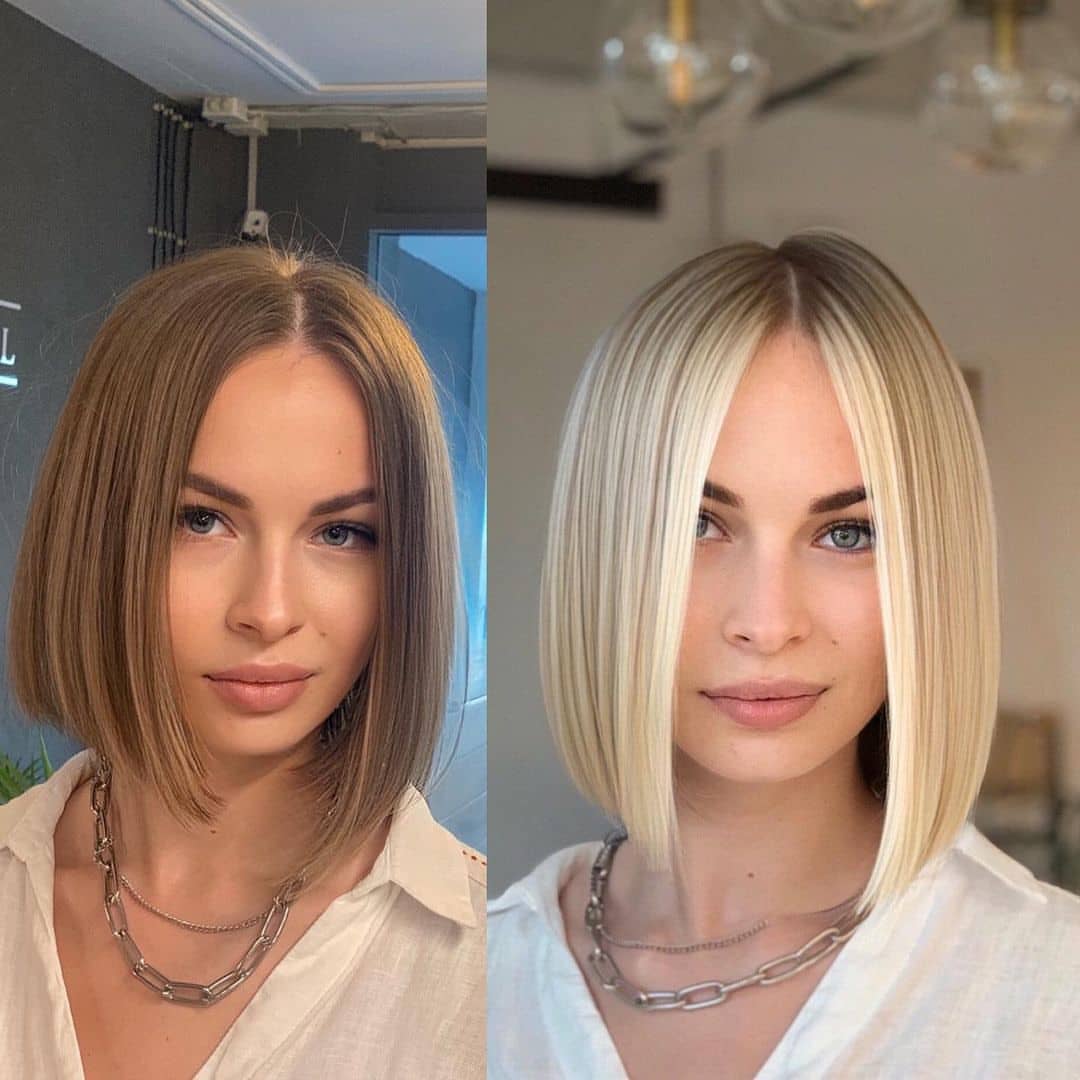 The Center Parting Straight Bob is a timeless, elegant style that brings a sense of balance and symmetry to your look. It's been seen on the likes of Margot Robbie, who shows how versatile and flattering it can be on different face shapes. It's a cut that's straightforward yet impactful, with the center parting adding a touch of poised perfection.
16. Chic Classic Pixie Cut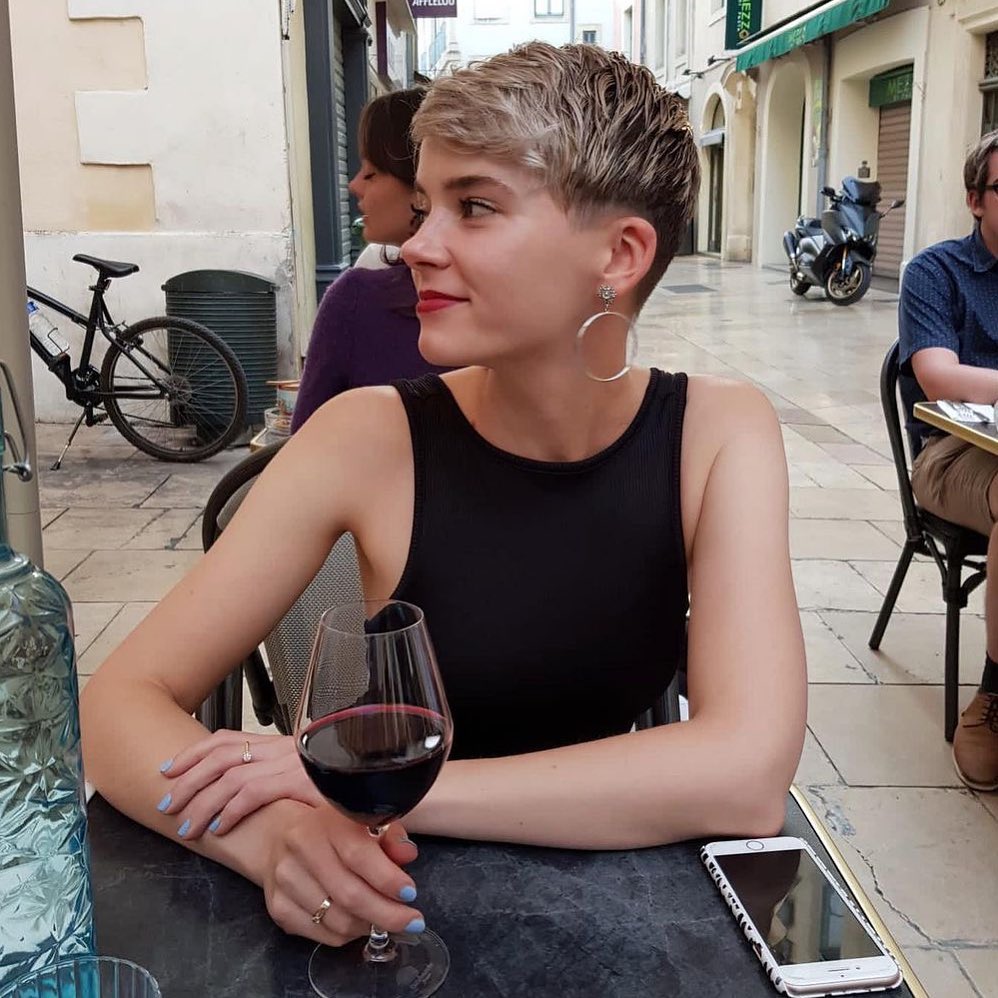 The Chic Classic Pixie Cut is all about understated elegance and playful sophistication. With its short layers and easy maintenance, this cut offers both convenience and style. The iconic actress Audrey Hepburn popularized this cut, and it still carries an element of classic Hollywood glamour.
17. Under Cut Pixie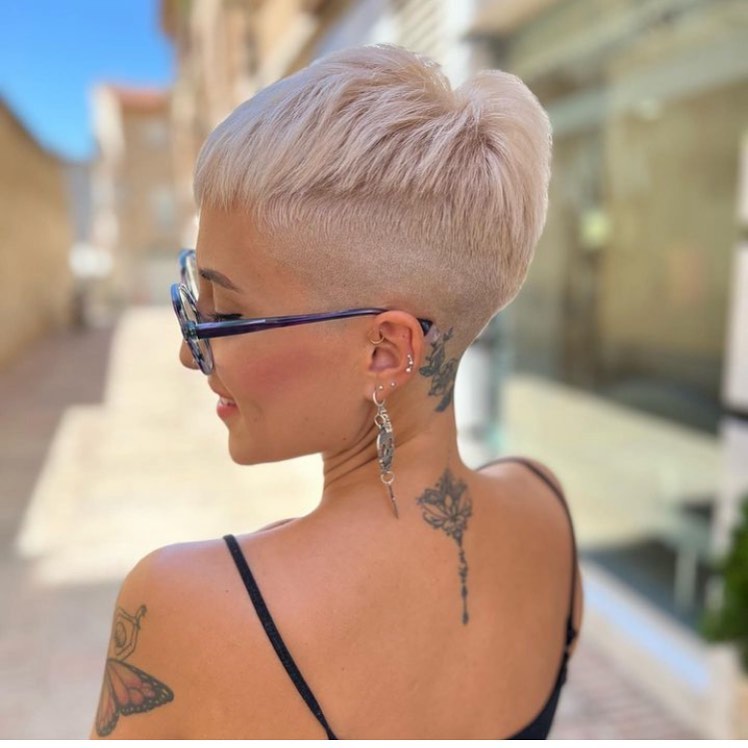 An Under Cut Pixie is for those who aren't afraid to embrace their edgy side. The contrasting lengths, short underneath and longer on top, add a daring and stylish twist to the classic pixie. Scarlett Johansson has been spotted rocking this audacious style, illustrating how it can be a showstopper on the red carpet.
18. Diana Bob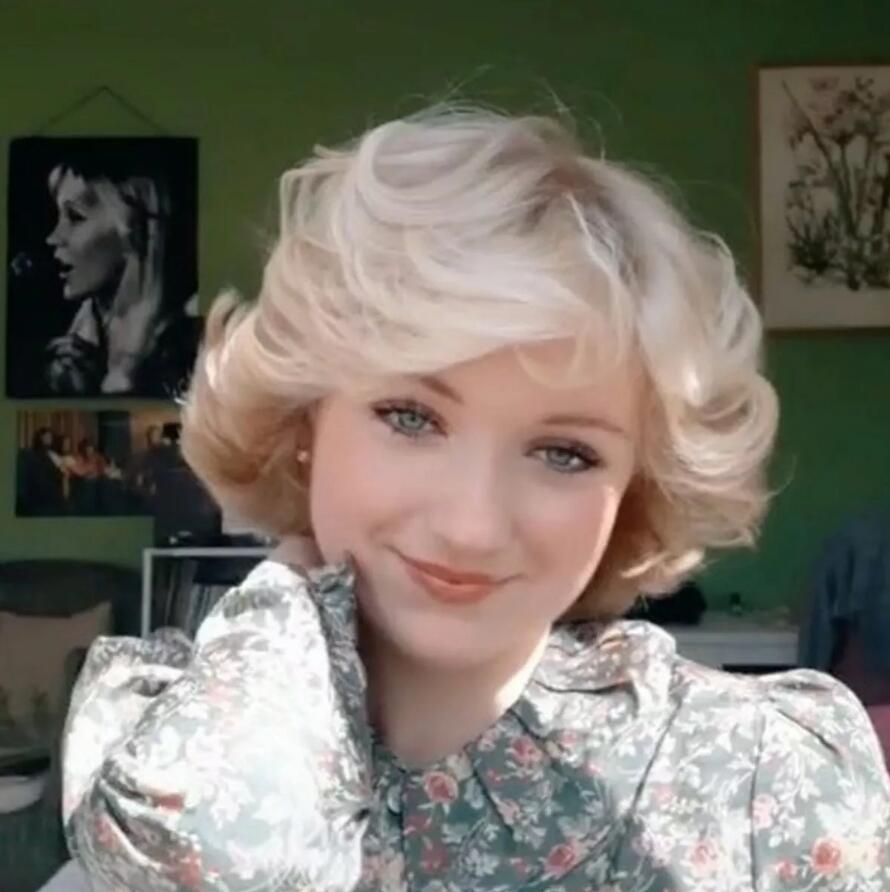 The Diana Bob, a tribute to the timeless style of Princess Diana, exudes class, elegance, and a hint of royal flair. With its soft layers and bouncy volume, it works wonders for medium to thick hair textures and suits round to oval face shapes the best. This chic haircut can be paired with sophisticated attire for a regal aura, or a casual ensemble for a more relaxed, everyday look. Styling tip: use a round brush and a blow-dryer to create that signature voluminous finish.
19. The Strong Bob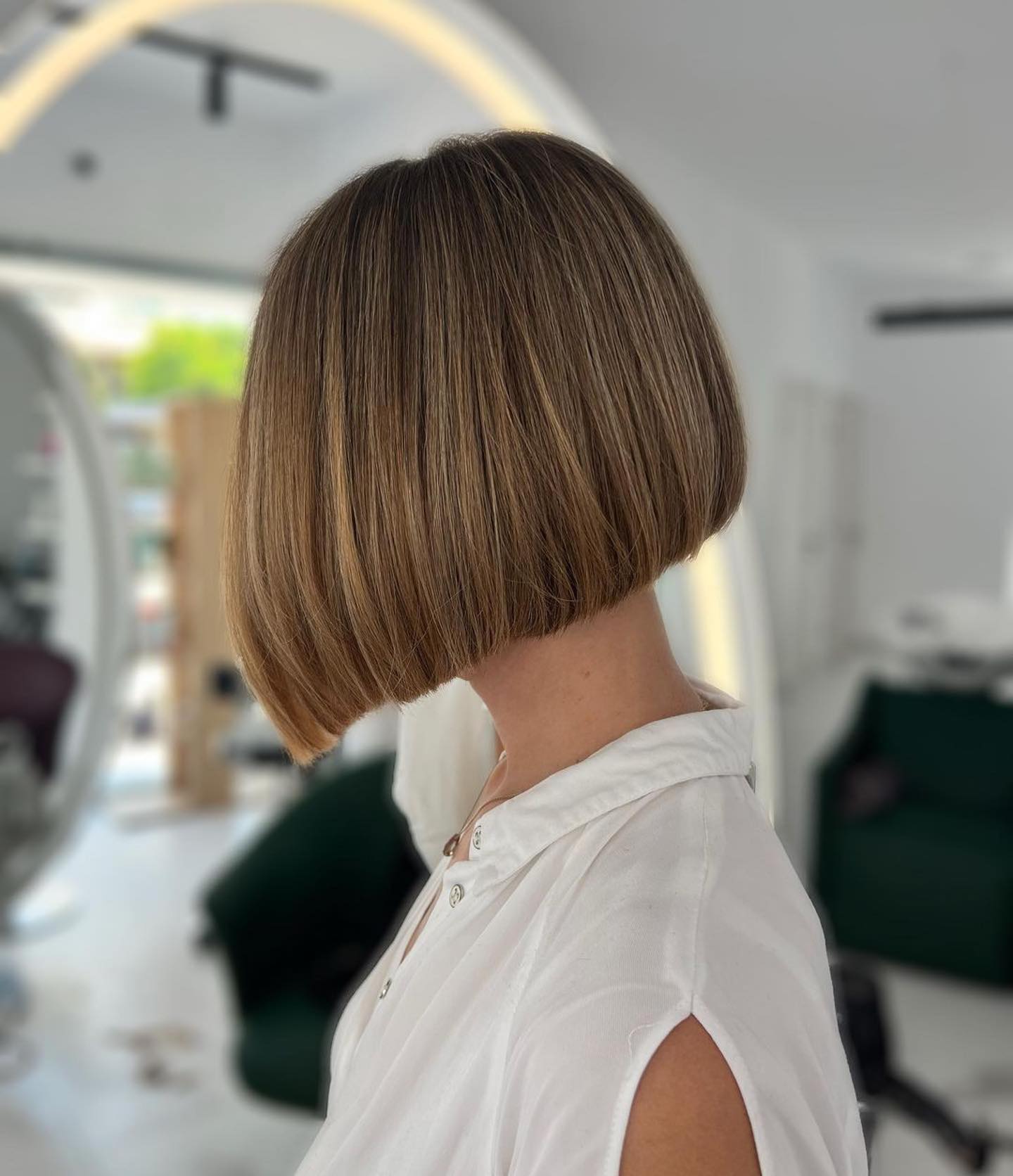 Also known as a blunt bob, the Strong Bob is a bold statement of confidence and power. Ideal for straight to wavy hair textures, this hairstyle gives off a clean, sleek, and modern vibe that's fitting for women with a strong personality. It suits square and heart face shapes the most, emphasizing their strong jawlines and cheekbones. Styling tip: keep the edges sharp with regular trims and maintain the shine with a smoothing serum.
20. The Modern Bob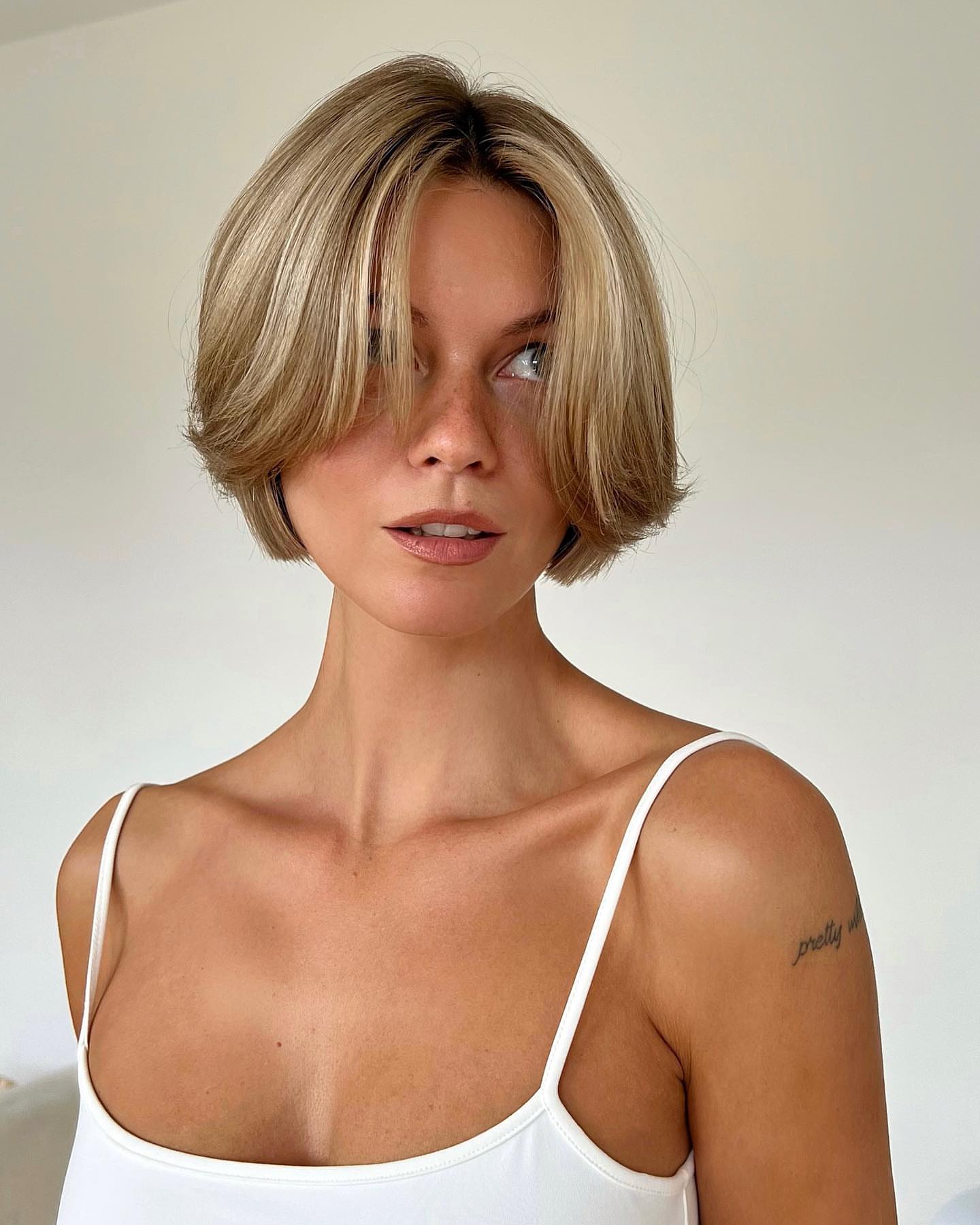 The Modern Bob, with its asymmetric lengths and disheveled layers, is the embodiment of contemporary style and easy-going charm. It works well with most hair types and face shapes, making it a versatile choice. Perfect for women who are always on-the-go but still want to maintain a stylish edge. Styling tip: work with texturizing spray or mousse to keep that tousled look intact throughout the day.
21. Boho Bob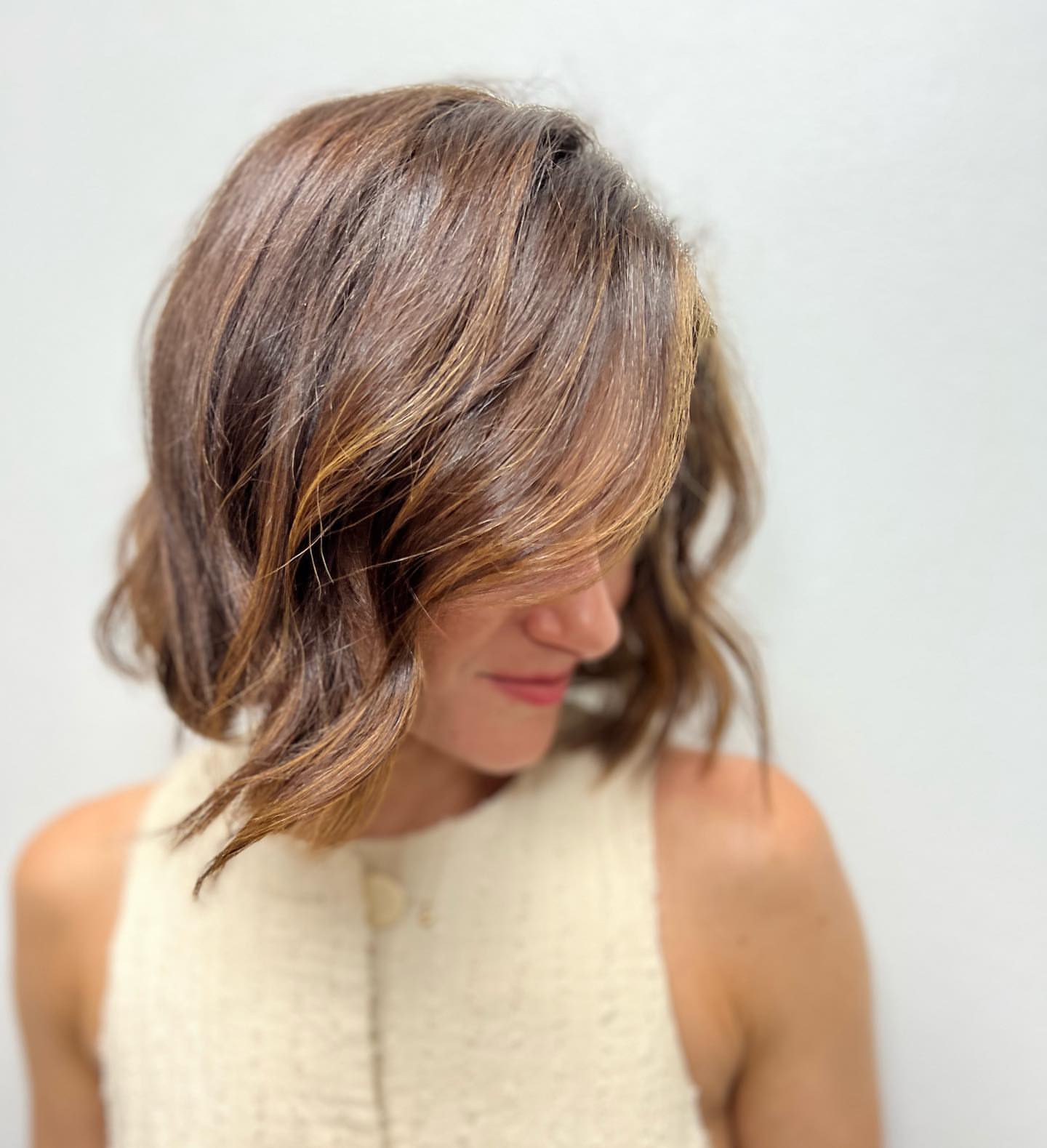 The Boho Bob combines the effortless charm of bohemian style with the classic shape of a bob. Bright blonde highlights and long, shaggy curtain bangs give this hairstyle a fresh and trendy twist. This style is a perfect fit for adventurous women with a free-spirited sense of fashion. Styling tip: a light-hold texturizing spray will keep those shaggy bangs in place while maintaining the carefree boho vibe.
22. Short Bob Cut with Bangs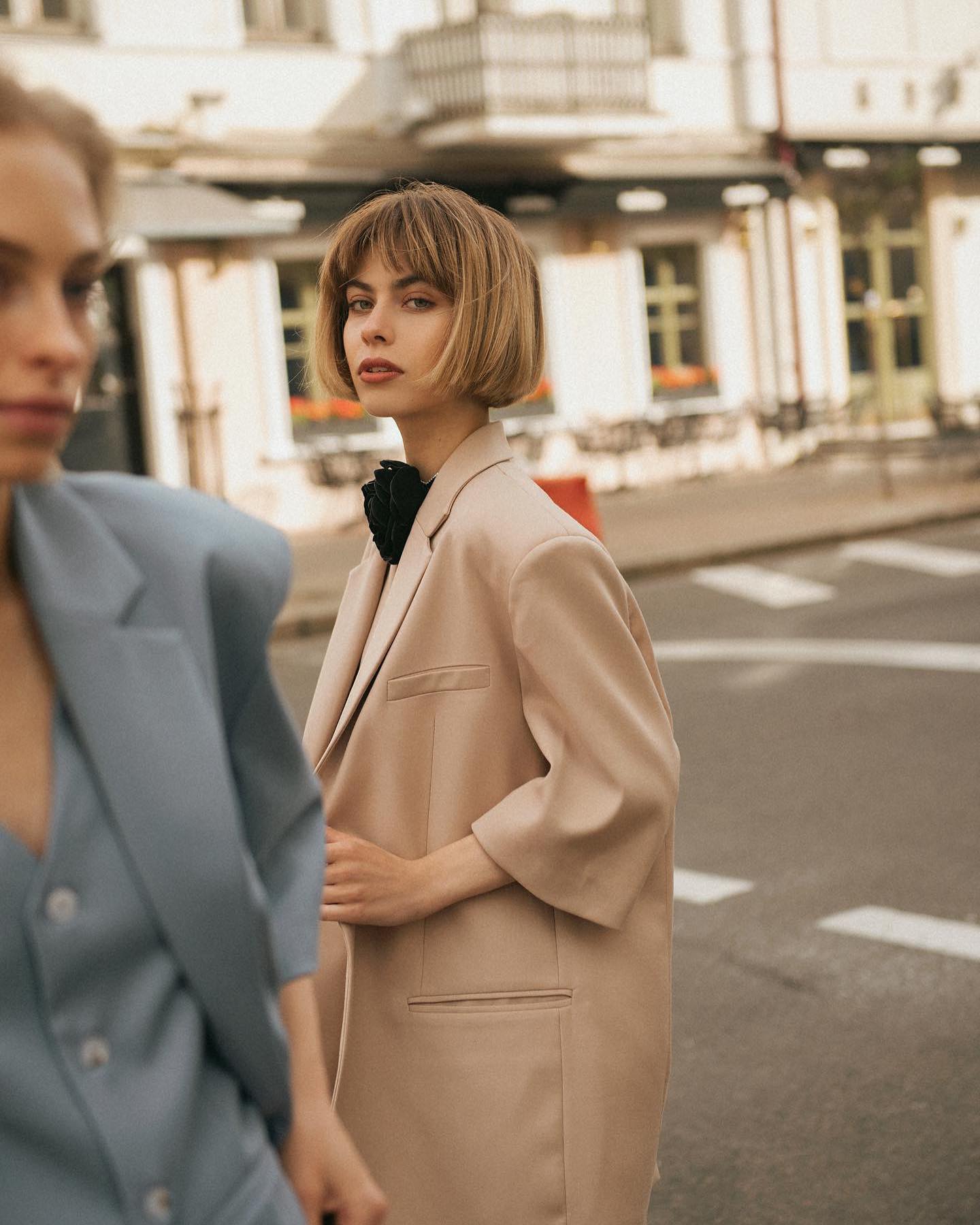 Combining a sense of chic contemporary style with an element of mystery, the short bob cut with bangs creates a captivating presence. This hairstyle is particularly flattering for straight to wavy hair textures and suits those with oval and heart-shaped faces best. Remember, regular trims will help maintain the length and shape of those captivating bangs.
23. Straight Chin-Length Bob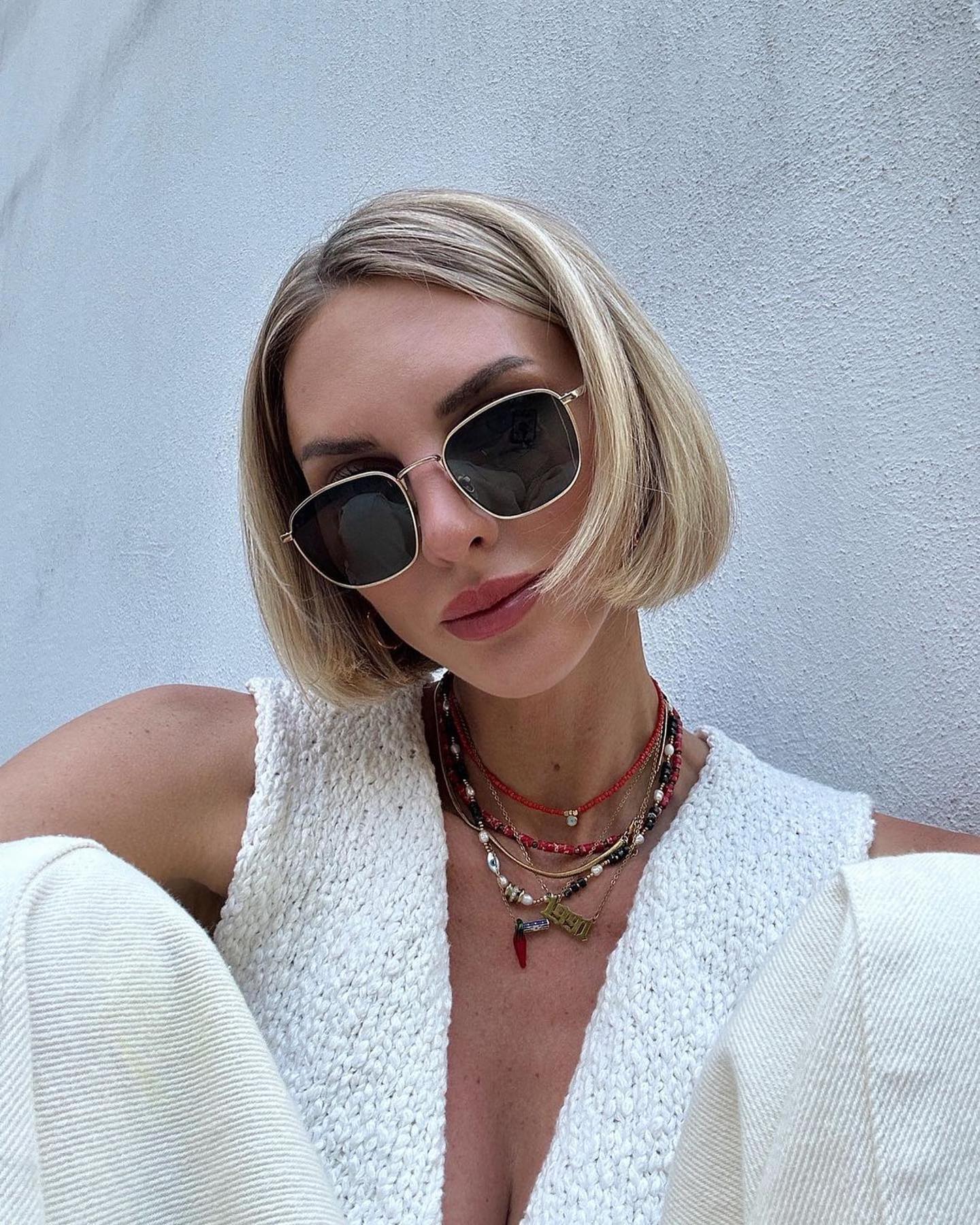 A Straight Chin-Length Bob is minimalist yet impactful. The simple lines and perfect length bring focus to your facial features. This hairstyle suits those with finer hair textures and long, oval, or heart-shaped faces. It's an excellent choice for women who value simplicity and sophistication in their style. Styling tip: a flat iron will be your best friend to maintain the smoothness and straightness of this bob.
24. Messy Bob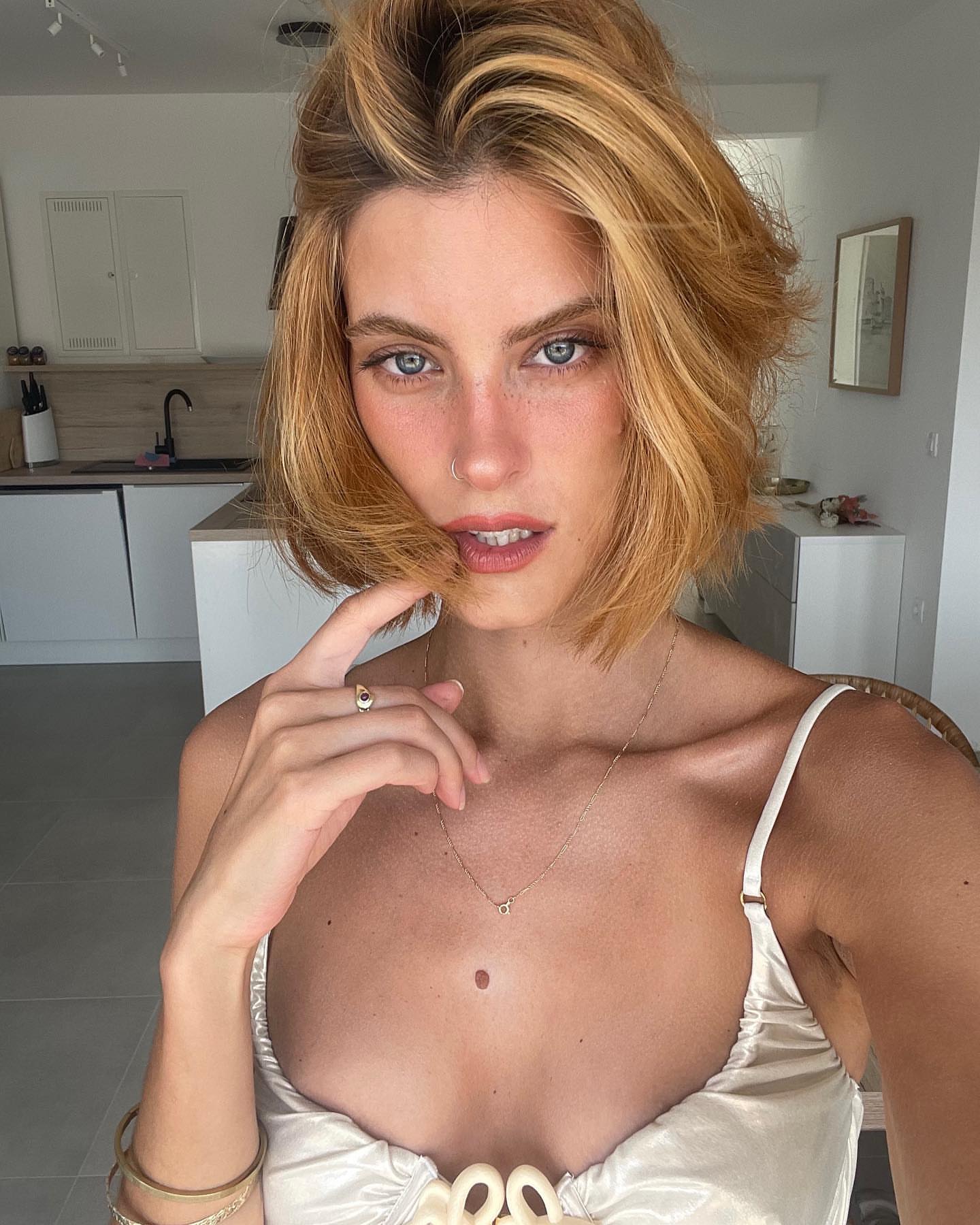 The messy bob, a laid-back and trendy hairstyle, perfectly embodies the "woke up like this" look. Its relaxed vibe suits those with a carefree spirit and adventurous heart. This hairstyle can work well with wavy and curly hair textures, and it complements round and square face shapes best. Styling tip: don't overdo it with the hair products – a dab of texturizing cream or sea salt spray is all you need to enhance the messy appeal.
25. Sexy Curls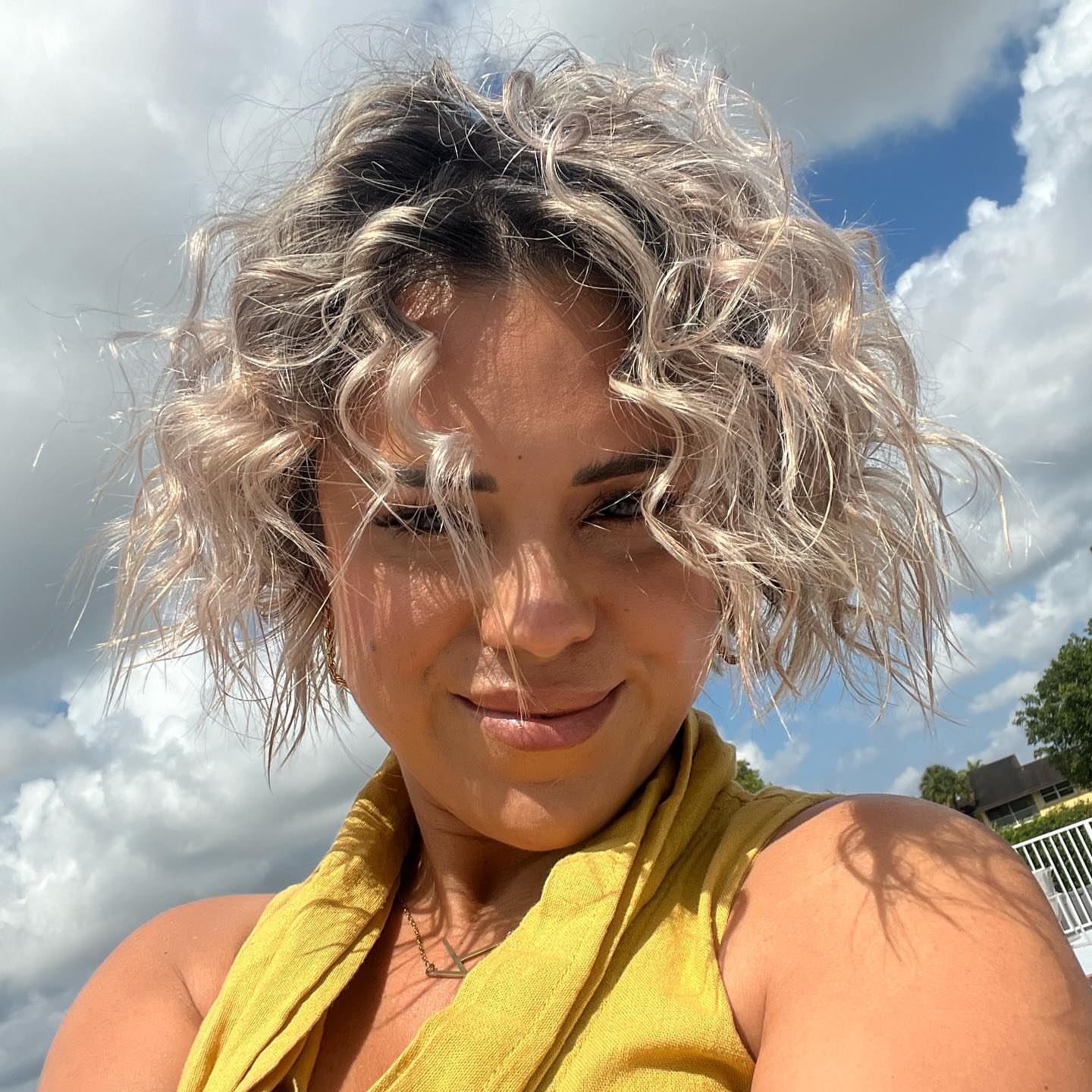 Channeling vivacity and allure, the short sexy curly hairstyle is all about embracing the wild and untamed nature of curls. It radiates confidence and charm, making it a suitable choice for bold women who love to flaunt their natural texture. For those with an oval or heart-shaped face, this hairstyle becomes an even more magnetic choice. A curl-enhancing serum can help maintain the bounce and reduce frizz.
26. Balayage with Waves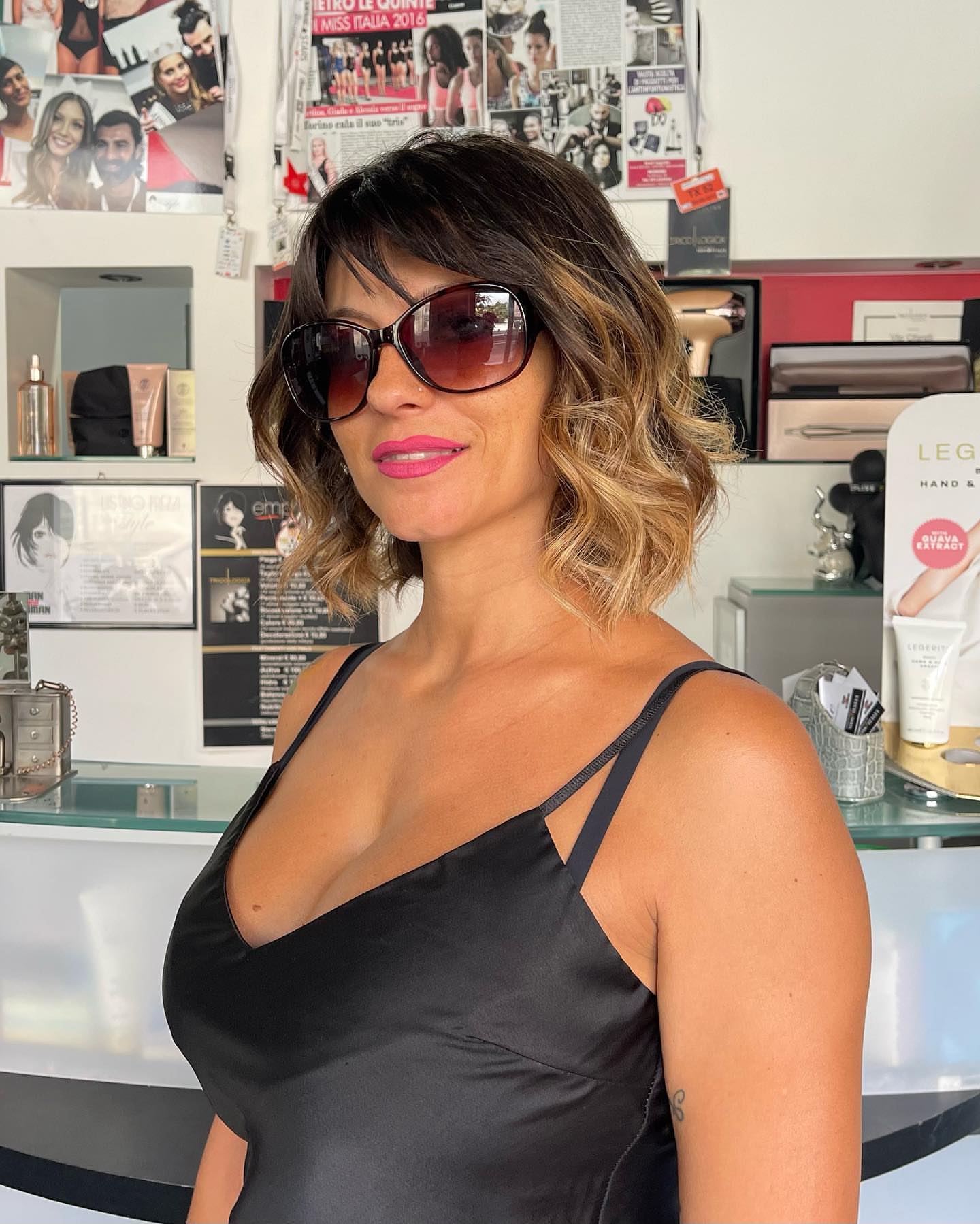 Offering a beautiful juxtaposition of color and texture, the balayage bob comes alive with gentle waves and side-swept bangs. A touch of sun-kissed highlights complements the depth of the waves, giving it a beachy, effortless vibe. Best suited for those with a square or oval face, it can be maintained with a light texturizing spray and the occasional touch-up to keep those highlights vibrant.
27. Rounded Bob Hairstyle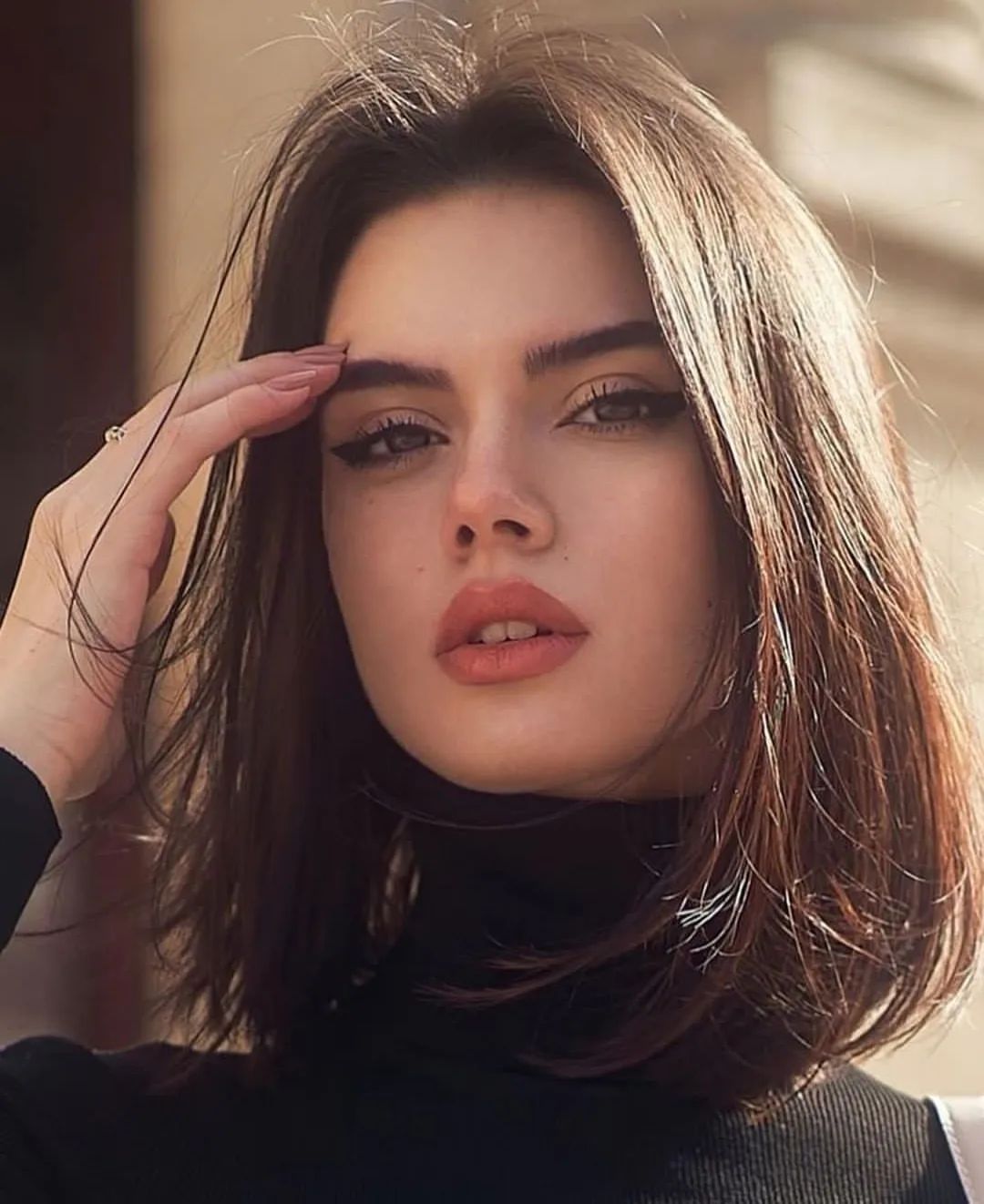 The rounded bob is certainly having a moment—Kim, Khloé, and Kylie have all been spotted in the style. "A rounded bob is fantastic because it flatters nearly every face shape," says Andrew Fitzsimons, celebrity hairstylist, who loves this cut for its retro look. The best length, he says, depends on which features you want to highlight. To maintain the sleekness of this cut, a smoothing serum is essential, and remember to flat iron for the best results.
28. Cute Short Cut with Bangs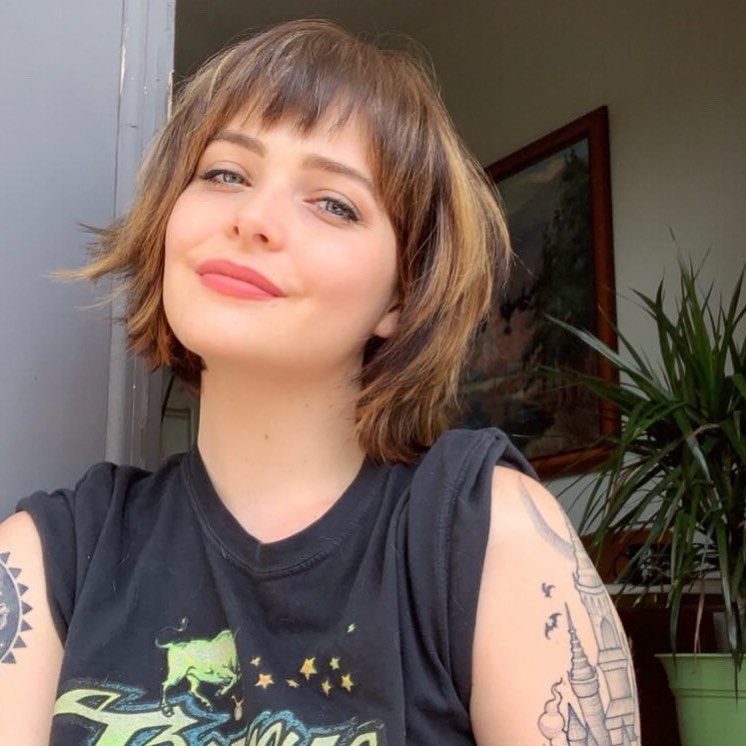 The cute French bob, encapsulating a timeless Parisian charm, exudes both simplicity and sophistication. It's short, chic, and effortlessly stylish, making it perfect for the woman on the go. This hairstyle flatters most face shapes and is especially striking on those with prominent jawlines. To keep it looking fresh, use a shine spray and get regular trims to maintain its distinct shape.
29. French Bob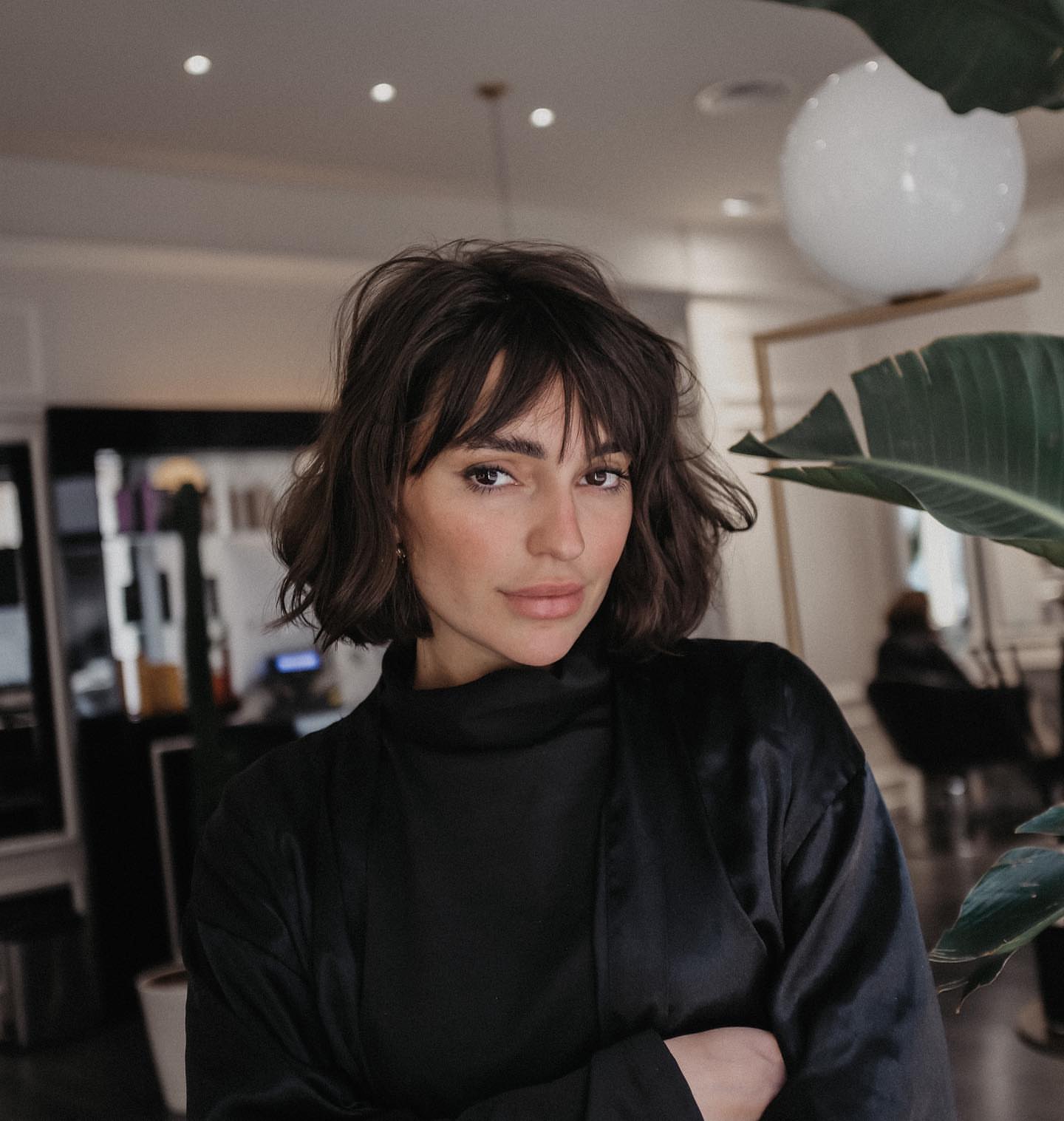 The French bob is characterized by its sharp, chin-length cut and often accompanied by a straight fringe. It's a bold statement of style and elegance, evoking images of vintage flapper girls mixed with modern sophistication. This hairstyle pairs well with round and square face shapes. Keep the edges sharp with regular salon visits, and a light mousse can help add some volume to the fringe.
30. Dinky Pixie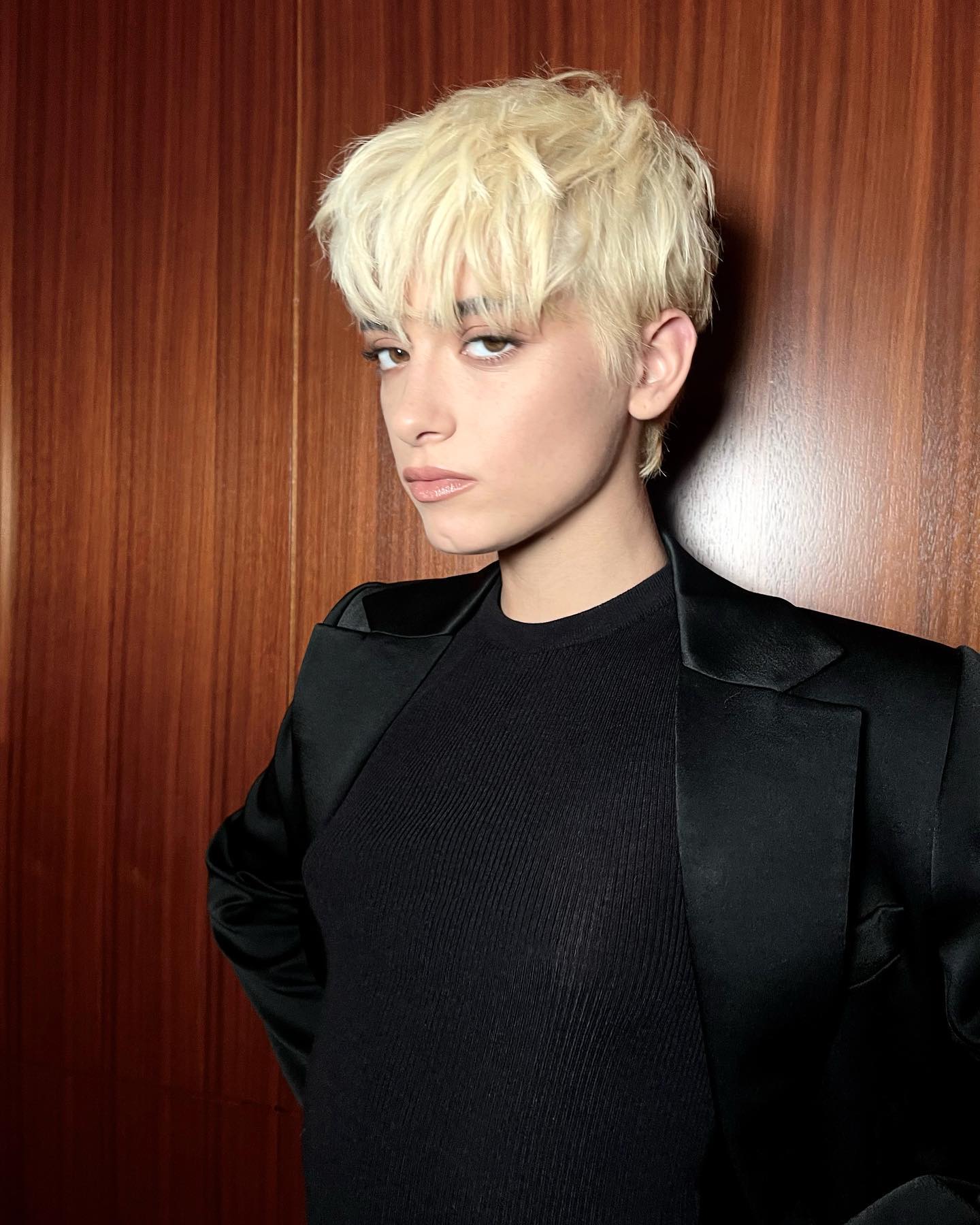 Elevated by influencers like Dixie D'Amelio, the dinky pixie is setting the stage for a major hair trend. Dixie, known for her penchant to mix things up, took this style to the next level by opting for a platinum blonde shade. What sets the dinky pixie apart is its effortlessly mussy style, giving it a lived-in, almost rebellious edge. The playful nature of this hairstyle allows it to suit a wide array of face shapes, especially those with defined jawlines. Maintenance is minimal, but to achieve that perfect 'mussy' look, a touch of texturizing spray or pomade goes a long way.
31. Sculptural Black Curly Crops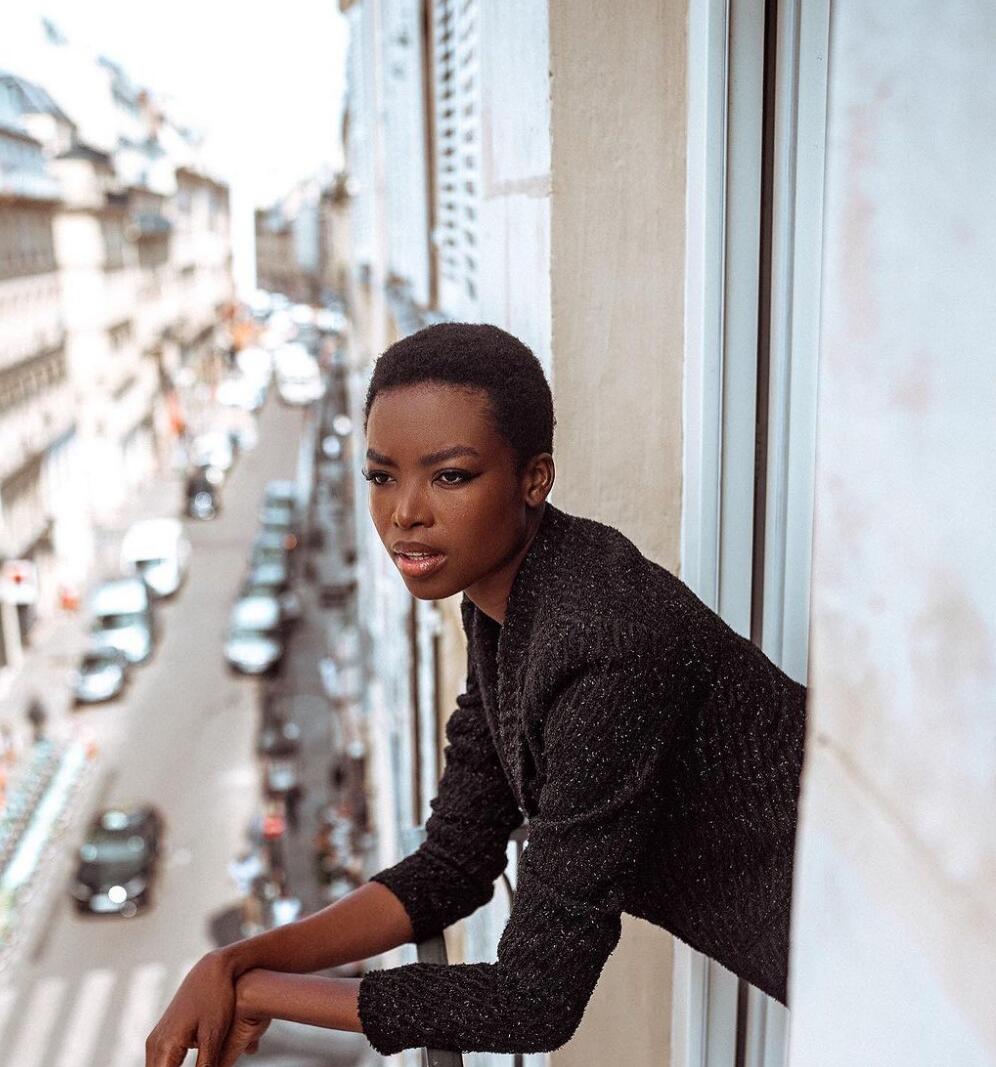 A testament to the timeless charm of curls, the sculptural curly crop, as showcased by the stunning Maria Borges, is a celebration of natural beauty and structure. This style not only accentuates the curls but also puts a spotlight on striking facial features like Maria's pronounced cheekbones. While it's a bold choice, the sculptural curly crop offers versatility in styling – from tightly coiled curls to a more relaxed wave. For those with curly hair, this hairstyle is a game-changer, requiring just a good curl cream and regular trims to maintain its shape.
32. Cute Short Messy Cut with Bangs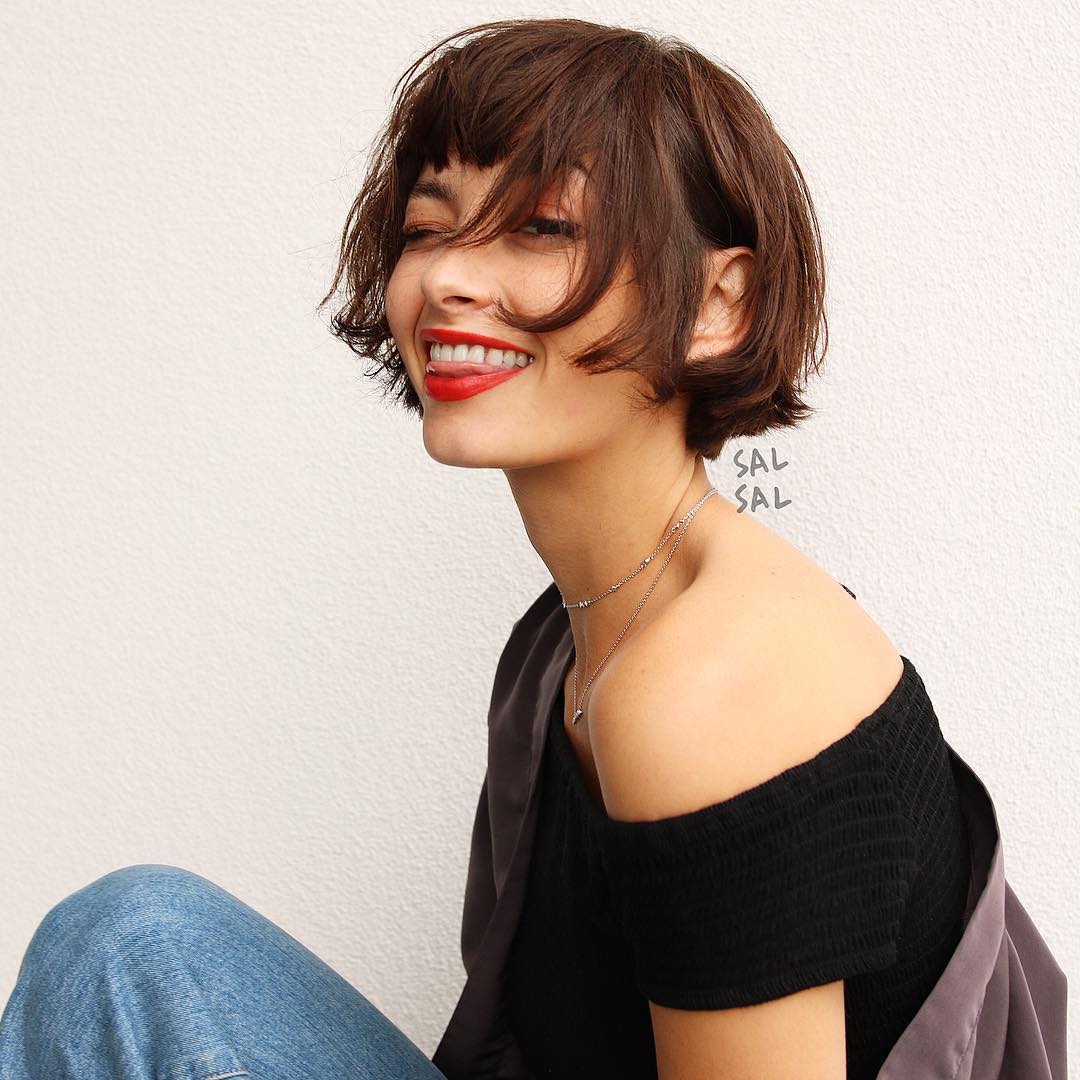 The French bob, a hairstyle that encapsulates chic simplicity, continues to be a favorite. While it's been a top choice for several years, its popularity in 2023 remains unshaken. The beauty of the French bob lies in its breezy and flirty nature, which screams both sophistication and ease. Ideal for those days when you want to look effortlessly put together, this bob is the epitome of low-maintenance glamour. It suits various face shapes and hair textures, but to maintain its classic look, regular trims and a smoothing serum are key.
33. Cropped Mullet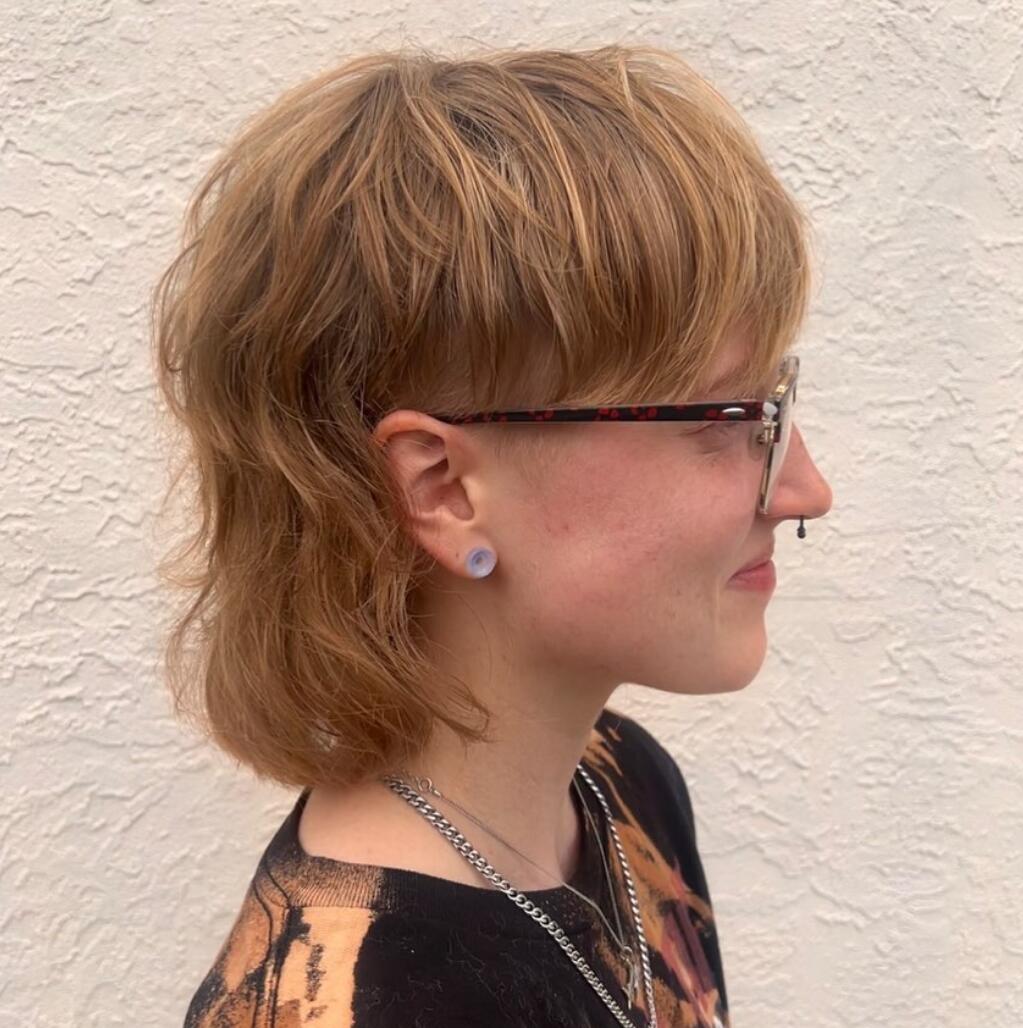 Cropped Mullet for Short Hair: Daring, distinctive, and undeniably edgy, the cropped mullet is for those who love to make a statement. While the traditional mullet was all about 'business in the front, party at the back,' the cropped version elevates this concept with its choppy, textured layers that add an element of fierceness, especially on shorter lengths. This hairstyle is a fusion of retro and modern aesthetics and is best suited for those unafraid to stand out. To rock the cropped mullet in all its glory, consider adding some highlights or an unconventional color, and always have a good hair wax or clay on hand to style and add texture.
34. Black Curly Pixie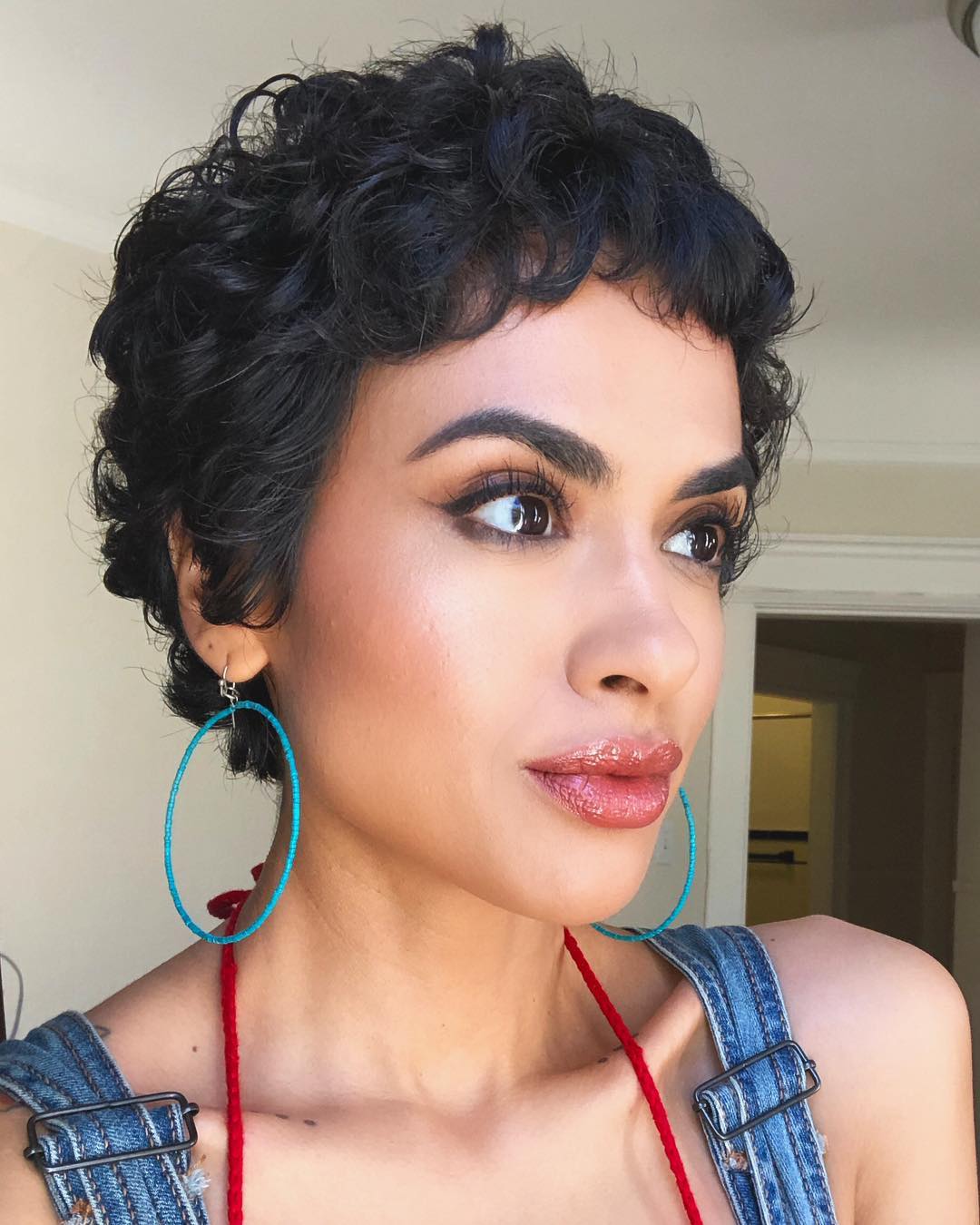 Venture into the realms of both bold and delicate with a black curly pixie. The soft, choppy layers exude an air of nonchalant charm, making it simultaneously fierce and feminine. Stylist Rachel Renae Paz, renowned for her eclectic hair journey, showcases just how versatile this cut can be, elegantly transitioning between ultra-short and collarbone lengths.
Meanwhile, Rowan Blanchard brings a vintage pageboy twist to this modern cut, dusting off its classic appeal and introducing it to contemporary glamour. If you're contemplating a change, consider this cut as a mirror to your personality – assertive yet subtle. To truly nail it, consult with your stylist, ensuring the chop complements your face shape and hair type.
35.Two-Tone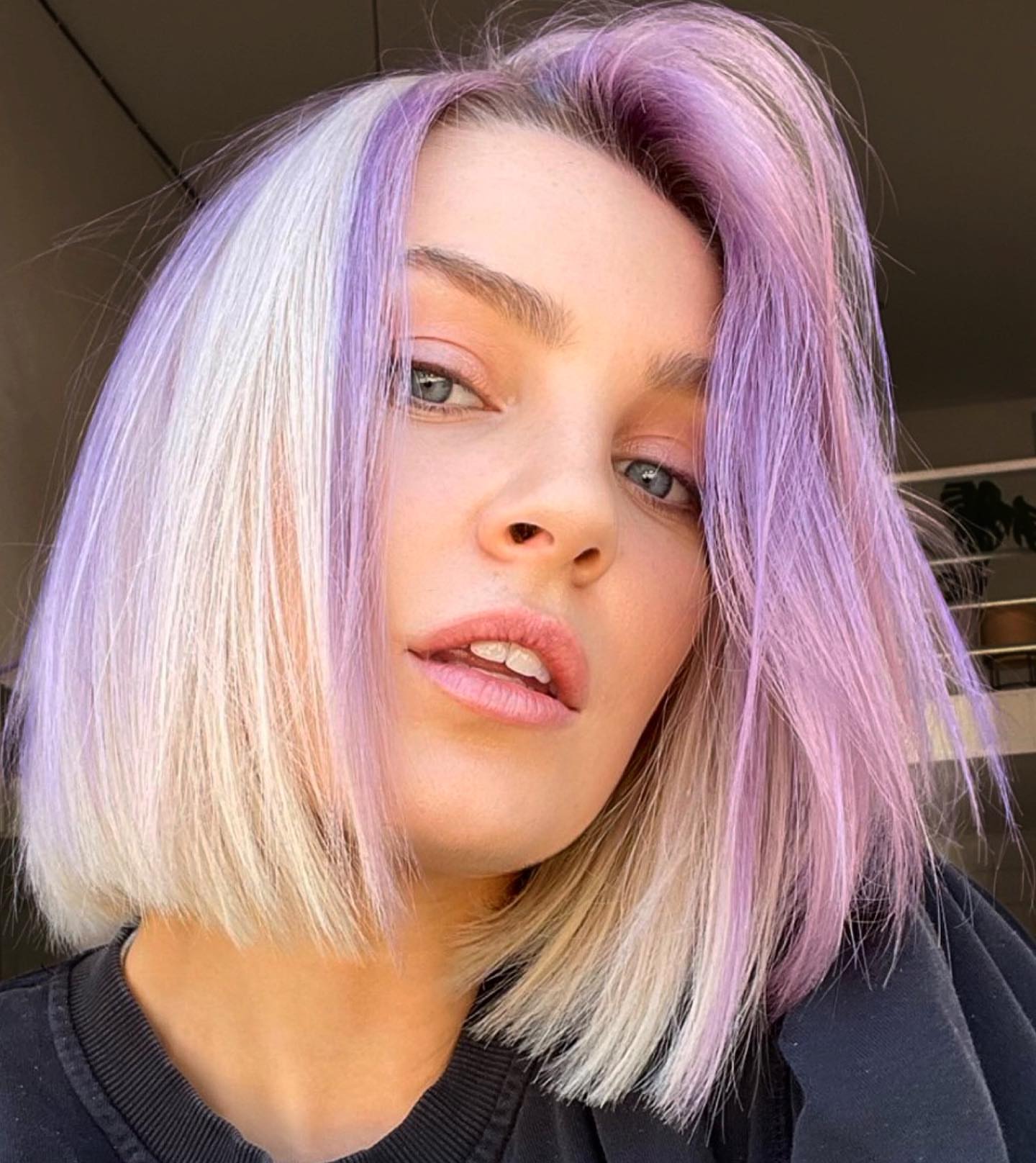 Imagine the stark contrast of blonde on one side and the serene lavender on the other. This two-tone bob is nothing short of a work of art. It beautifully juxtaposes two distinct shades, creating an intriguing visual story that holds your attention. While it maintains the disciplined structure of a straight bob, its dual shades infuse it with a playful spirit. Perfect for those who have a penchant for unique hair adventures and enjoy making heads turn.
36. Vintage Pixie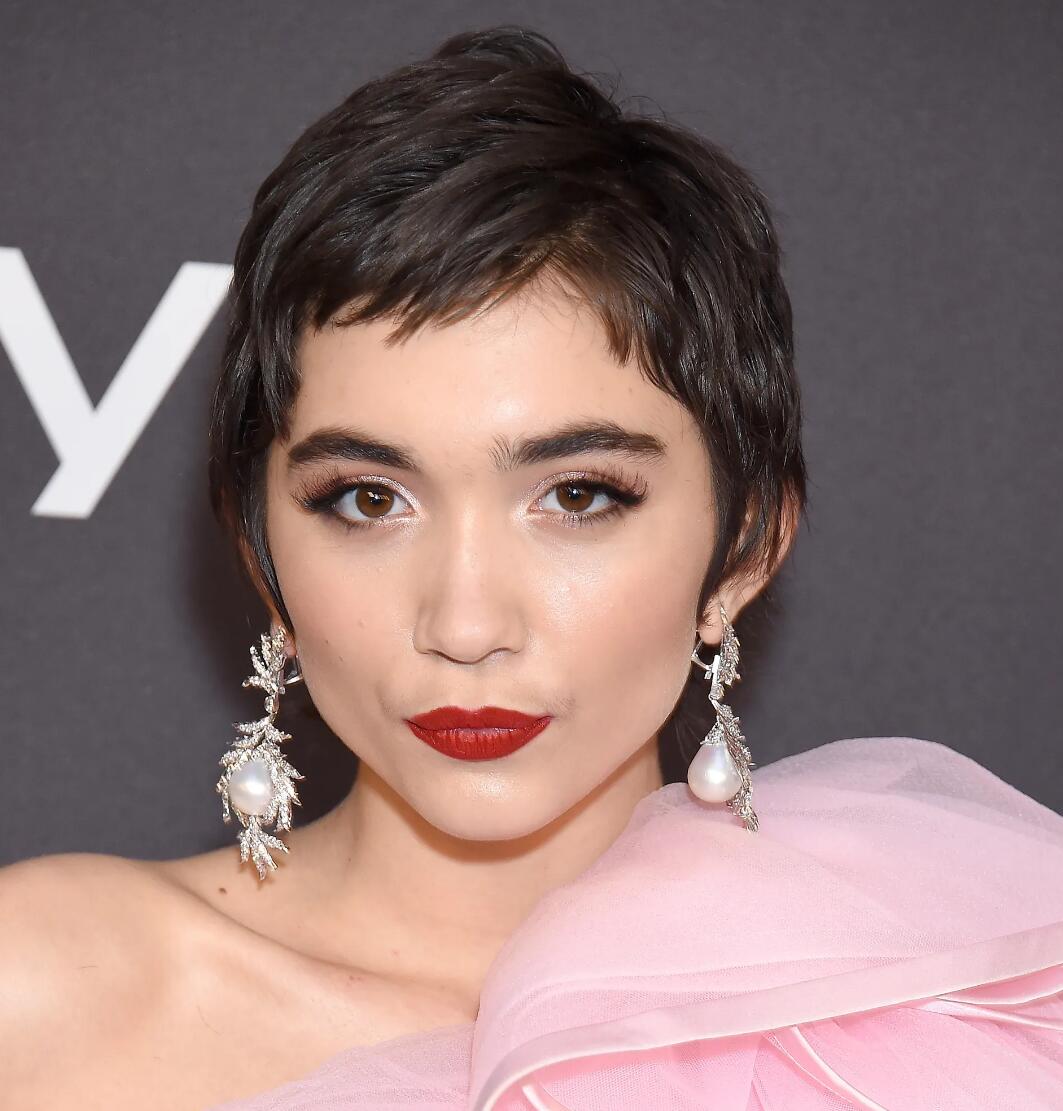 The vintage pixie is reminiscent of old Hollywood glamour, a hairstyle that transports you back to the golden age of cinema. It's a symphony of well-structured waves and artful tresses, with a touch of modern-day sass. The vintage pixie isn't just a hairstyle; it's an embodiment of timeless elegance, perfect for anyone looking to blend classic charm with contemporary audacity.
37. Braided Bob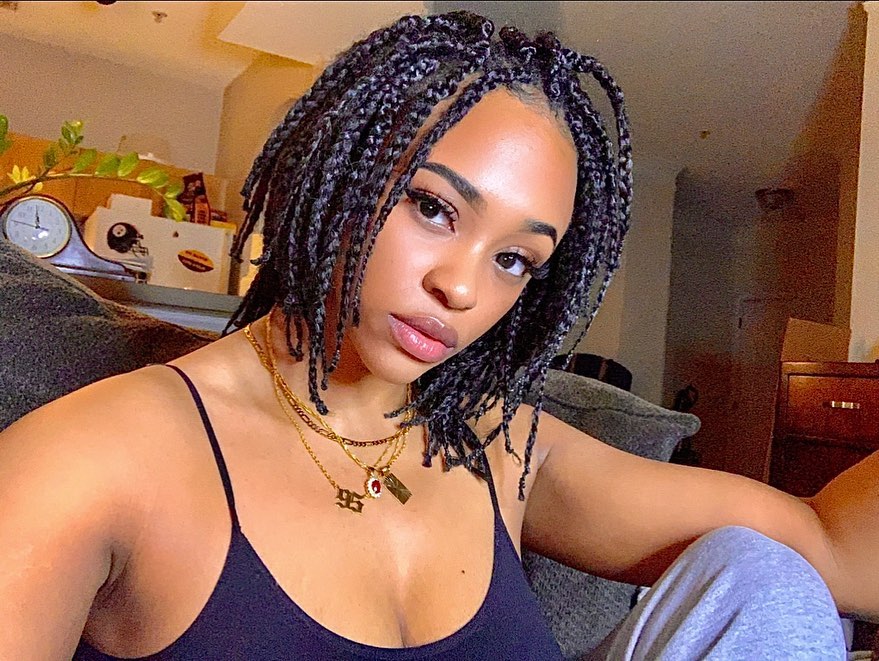 The braided bob beautifully marries the sophistication of a bob with the intricate art of braiding. This hairstyle, while maintaining the neatness and structure of a bob, adds a layer of complexity through its braids. Whether it's a single side braid or multiple micro-braids intertwined within the bob, this hairstyle is perfect for those who love a touch of boho-chic in their ensemble.
38. EMO Bob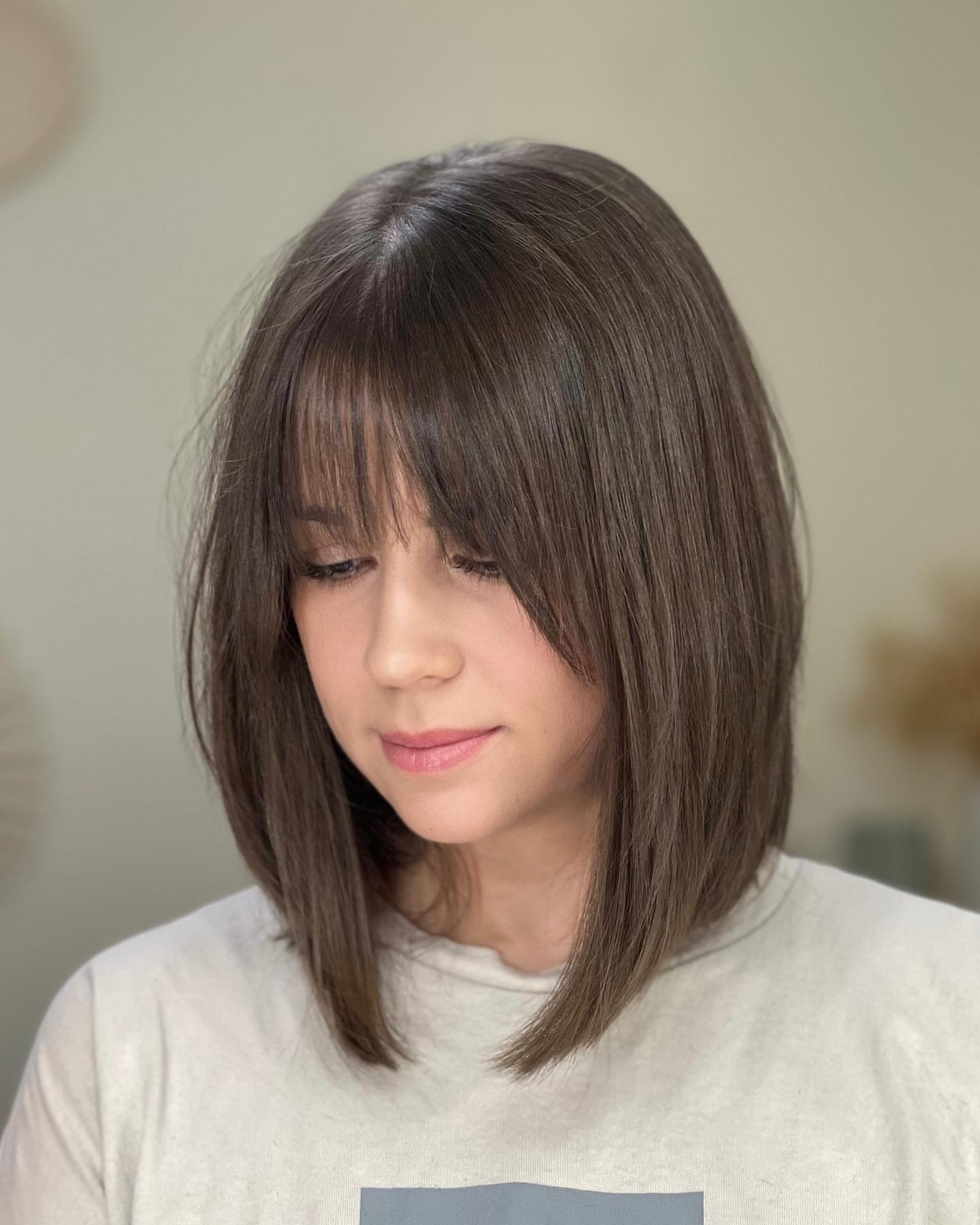 Dive deep into the world of emotions and self-expression with the EMO Bob. This hairstyle is characterized by its asymmetrical lengths, dark shades, and a certain rawness that sets it apart. Often paired with bold highlights or deep undercuts, the EMO Bob is a nod to the 2000s subculture, representing freedom, individuality, and a touch of rebellion. Perfect for those who aren't afraid to wear their heart on their sleeves – or in this case, their hair.
39. Short Spiky Cut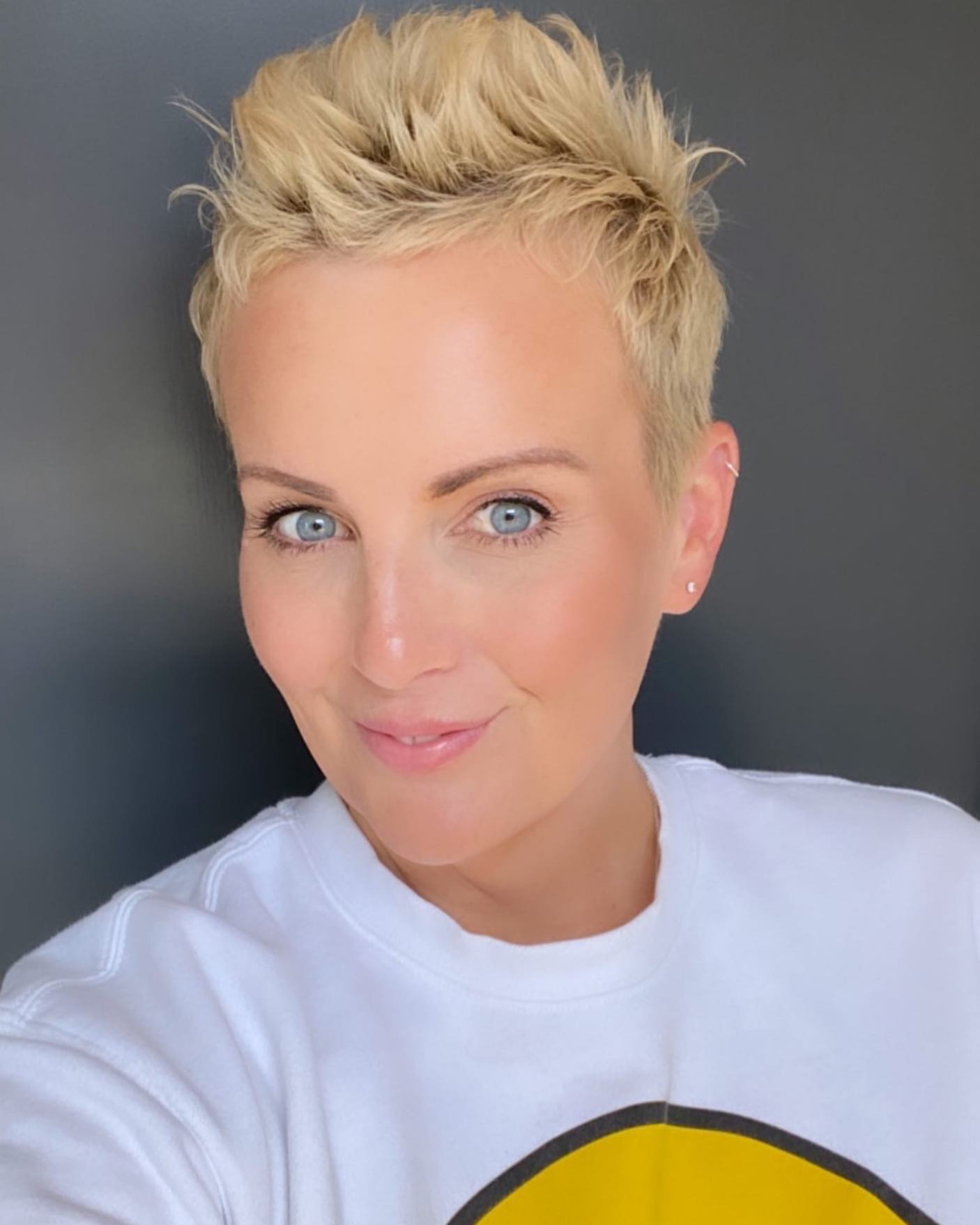 Embrace a punk-rock spirit with a touch of femininity in the short spiky cut. Its sharp, upward strands add an edge, while the blonde hue softens the look, ensuring it doesn't come off as too harsh. It's a cut that says confidence and exudes a cool, modern aura. Think Miley Cyrus in her more rebellious days, but with a softer, golden touch.
40. Ice Blonde Pixie Cut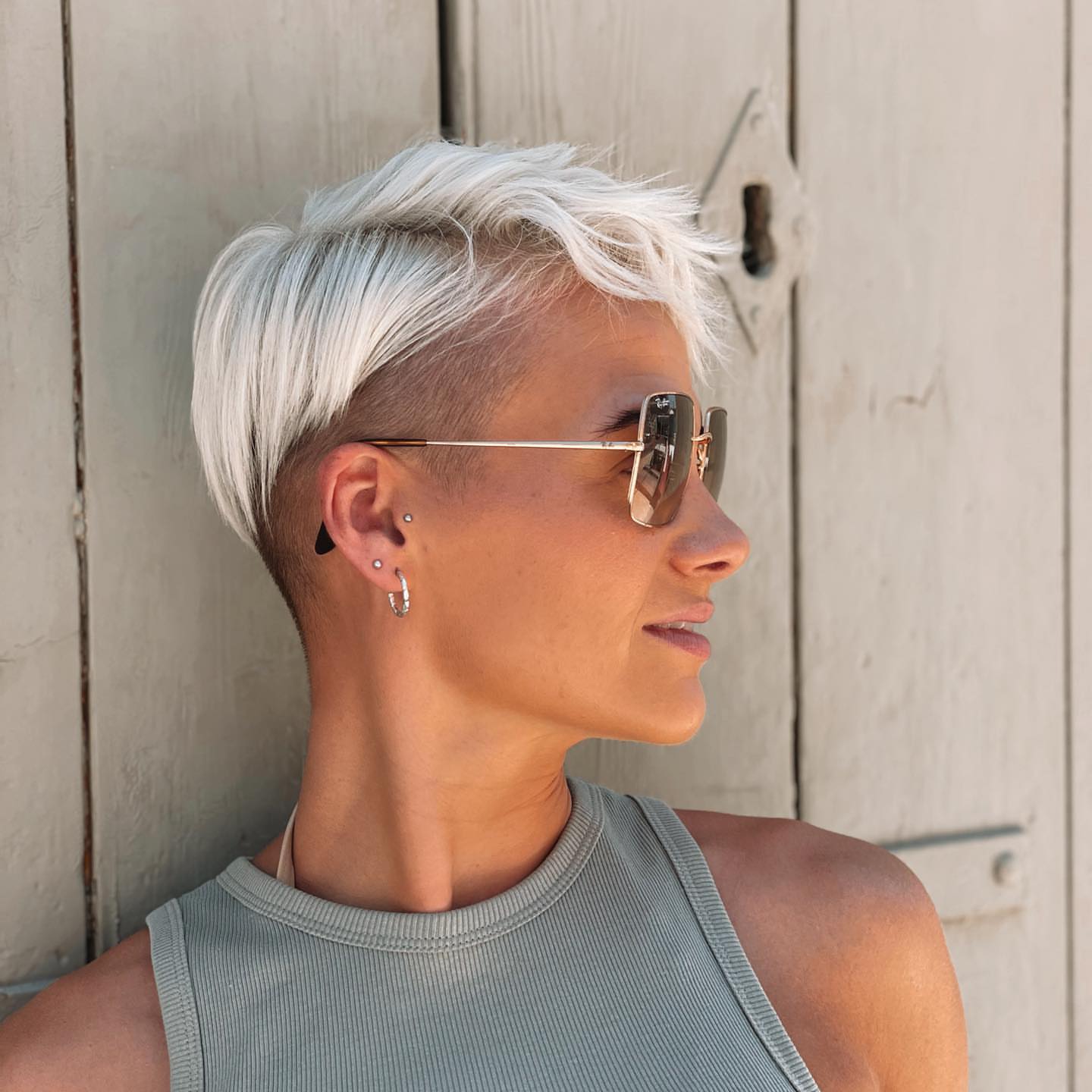 Radiating ethereal charm, the ice blonde pixie is an absolute showstopper. Especially suited for those with thin hair, this cut adds an illusion of volume. The pale, almost translucent shade of blonde complements the close-cut style, making it stand out. Celebrities like Michelle Williams have been seen donning this frosty hue, lending an air of delicate sophistication to their overall look.
41. One-Length Bob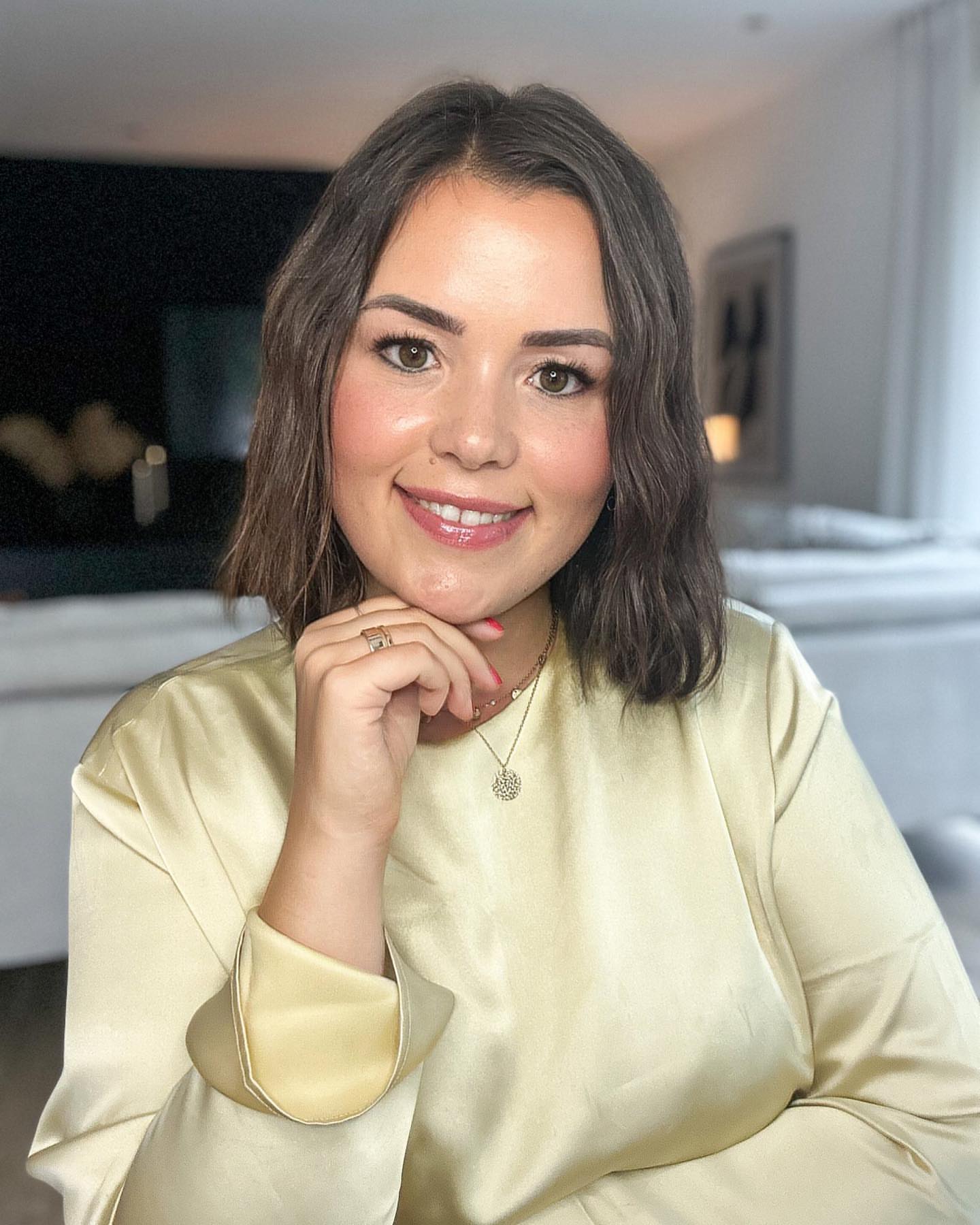 Margot Robbie's iconic cut stands as a testament to the effortless elegance of the one-length bob. According to Brown, if you're blessed with a certain hair texture, the cut does most of the styling heavy lifting. Falling just above the shoulders, its uniform length creates a silhouette that frames the face beautifully, letting your features do the talking.
42. Tousled Waves for Summer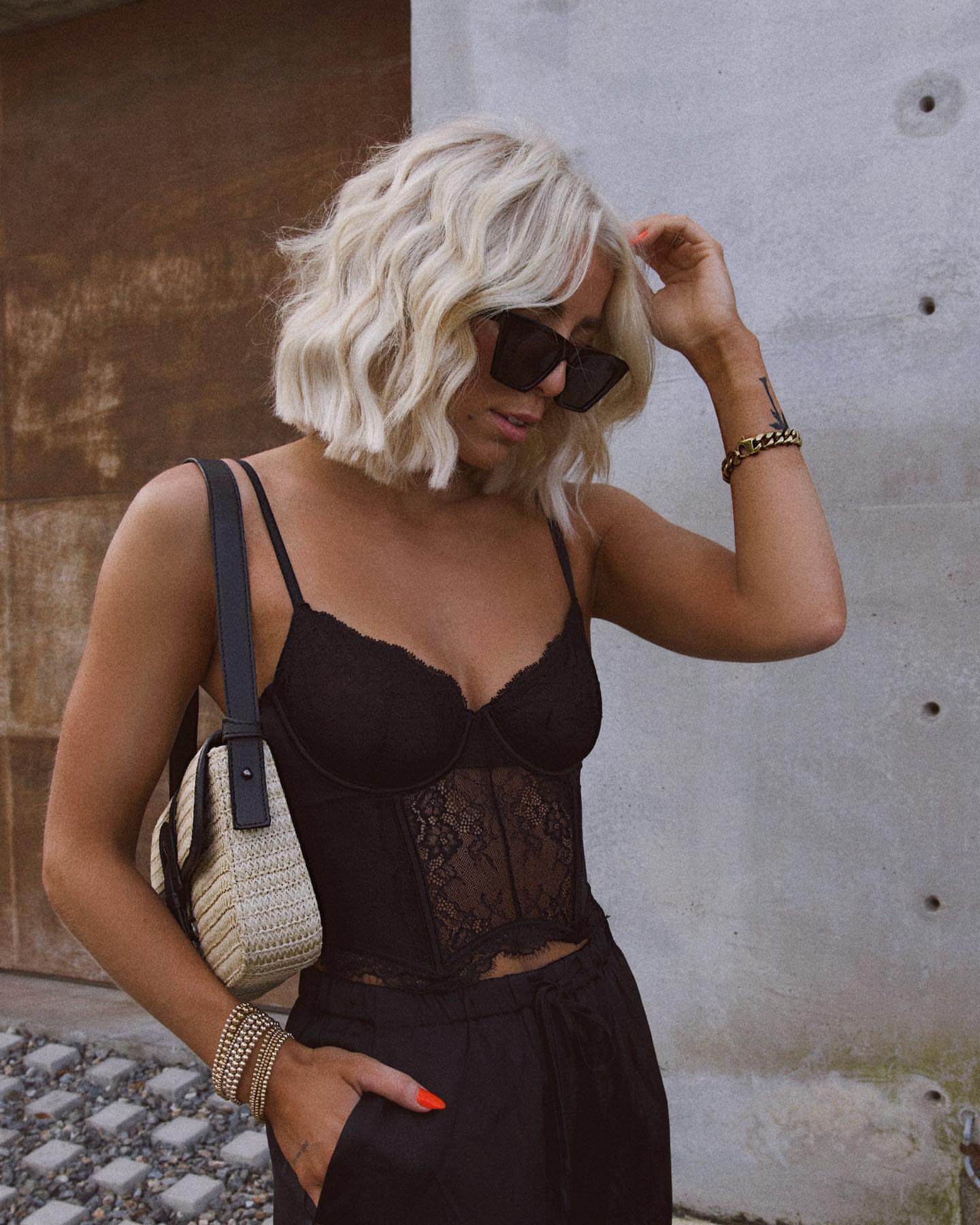 Evoking an air of effortless chic, the tousled bob is for those who love that 'just-woke-up-like-this' allure. Waves that dance in different directions give this bob its distinct playful yet polished vibe. Its carefree structure is often enhanced when sported by celebs like Jennifer Lawrence. Especially on mornings when you're pressed for time, a quick tousle, a spritz of sea salt spray, and you're ready to face the day looking utterly stylish.
43. Two Tone Pixie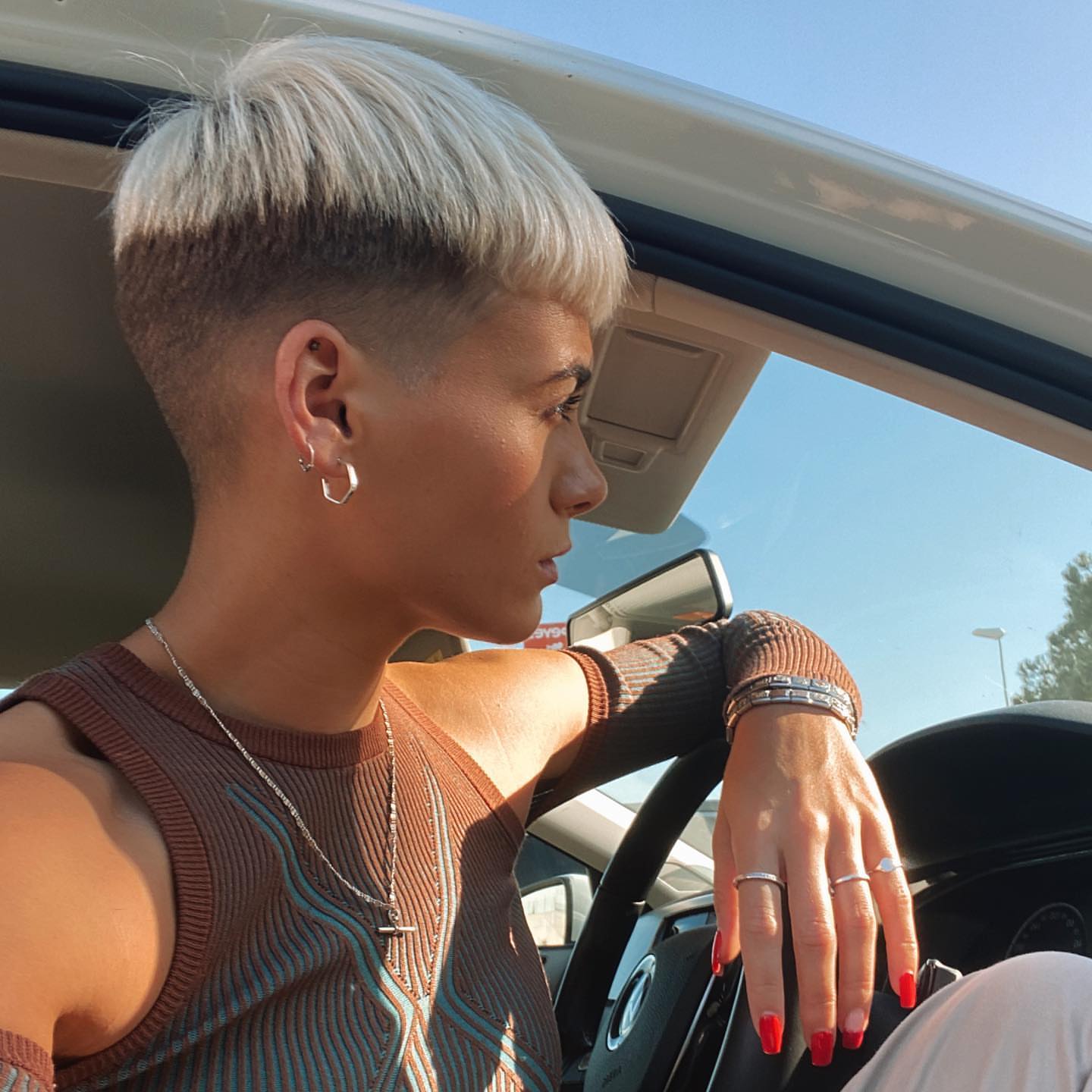 The two-tone pixie cut plays with contrasting shades to create a hairstyle that's nothing short of mesmerizing. With its silver-blond canopy cascading into deep black ends, it's a style that's both edgy and elegant. The interplay of light and dark gives a depth to the hair, making it look lush and full. Zoe Kravitz has sported variations of this style, proving its chic factor time and again. Ideal for those who are bold, and love to make a statement with their hair.
44. Long Side Swept Curly Bangs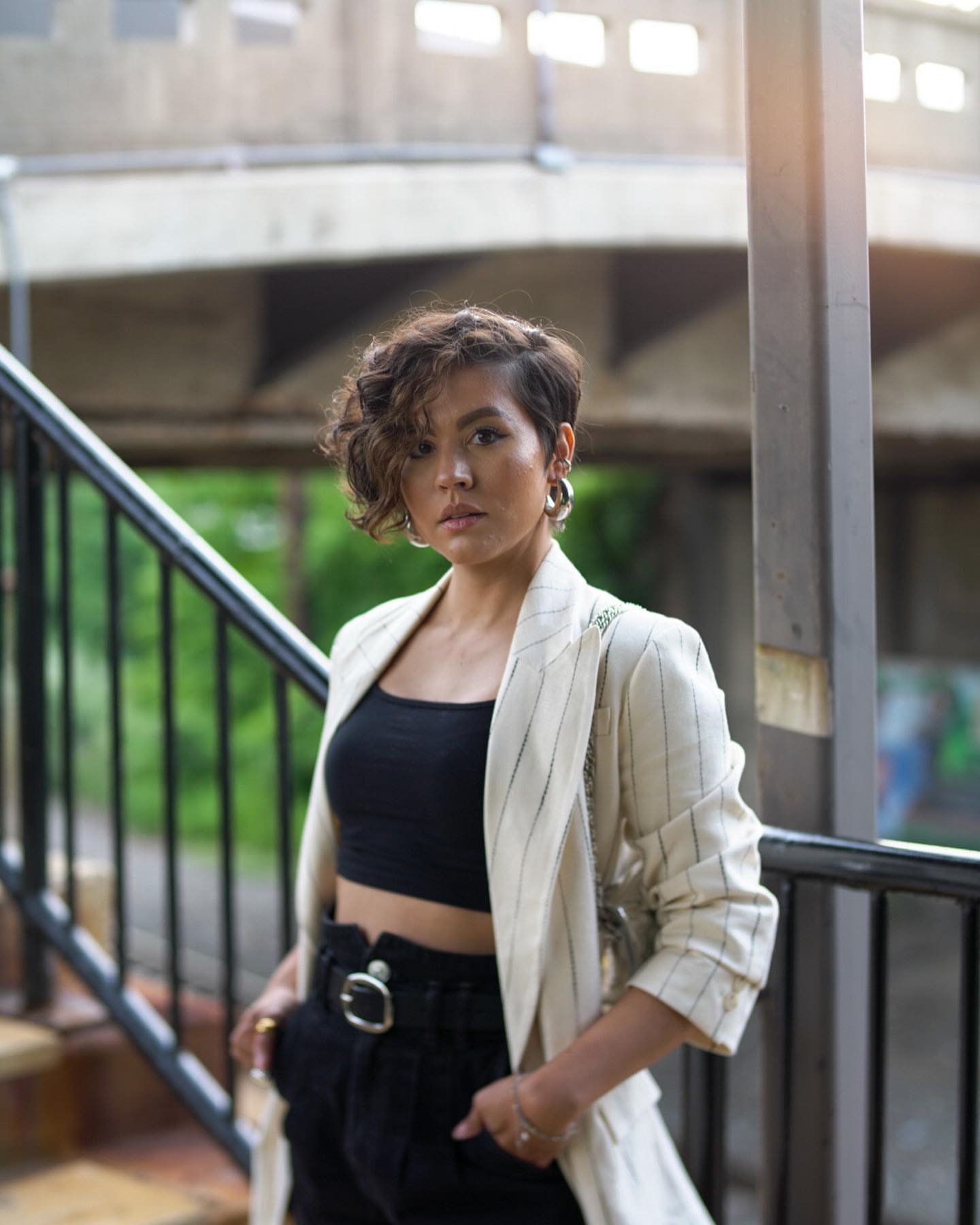 The epitome of asymmetry and grace, this hairstyle embodies a balance between two distinct lengths. On one side, hair cascades down in luxurious curls, while the other side is cropped short and neat. The star feature? Those long swept curly bangs that cascade effortlessly, adding drama and dimension. It's a look that evokes intrigue, making one wonder about the story behind the style. Celebs like Rosamund Pike have dabbled in similar avant-garde styles, making heads turn at red carpet events.
45. Platinum Pixie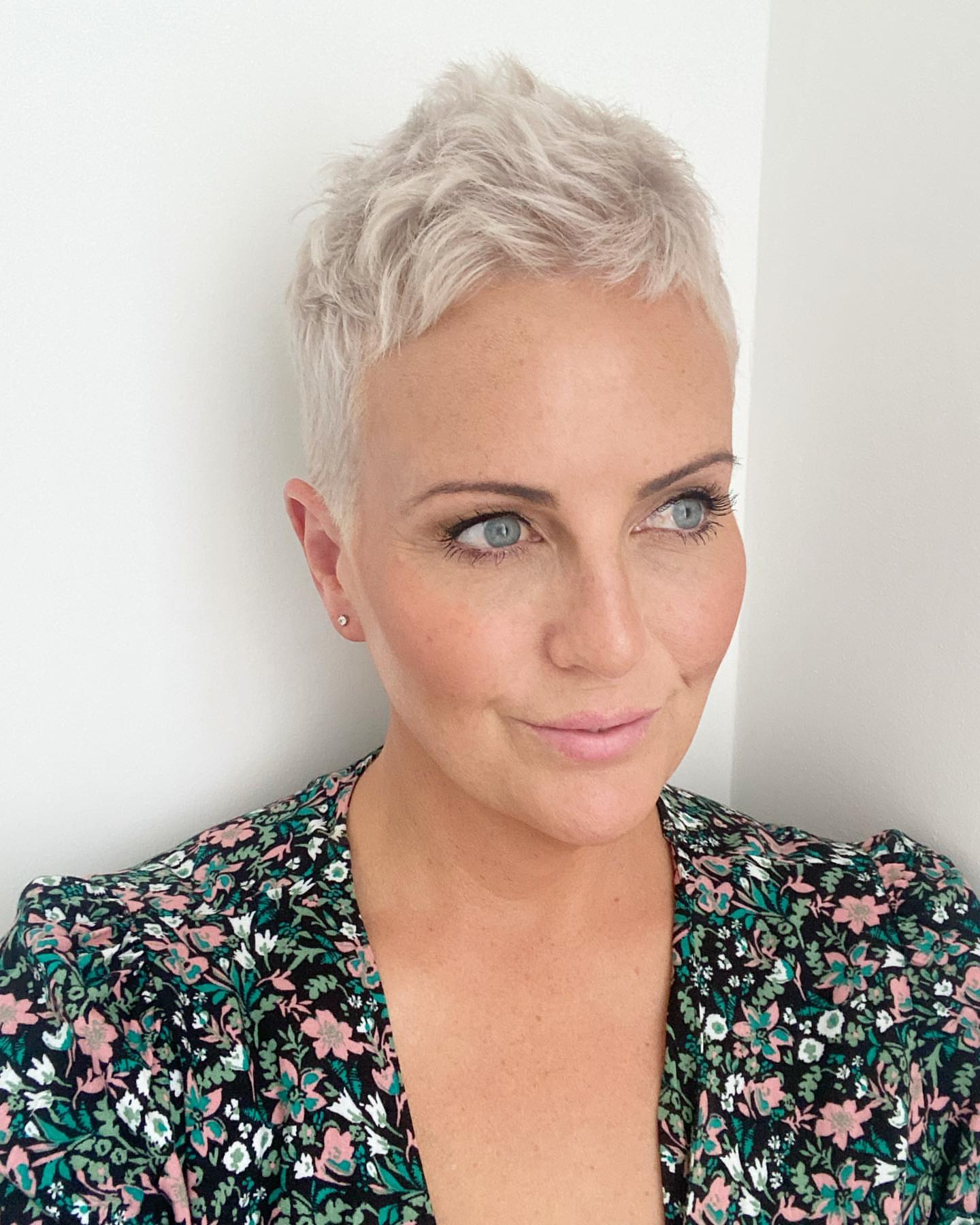 Short Pixie Cut for Women Over 50:
Sleek, silver-toned, and defiantly youthful – the platinum pixie is not just a haircut; it's an attitude. Spiky yet sophisticated, it defies age stereotypes and has become a top pick for women over 50. Actresses like Jamie Lee Curtis have proven that age is just a number, especially when sporting such a cutting-edge hairstyle. The silver sheen of the platinum only adds to its regal aura, making it a classic choice for the modern woman.
46. Thick Dramatic Style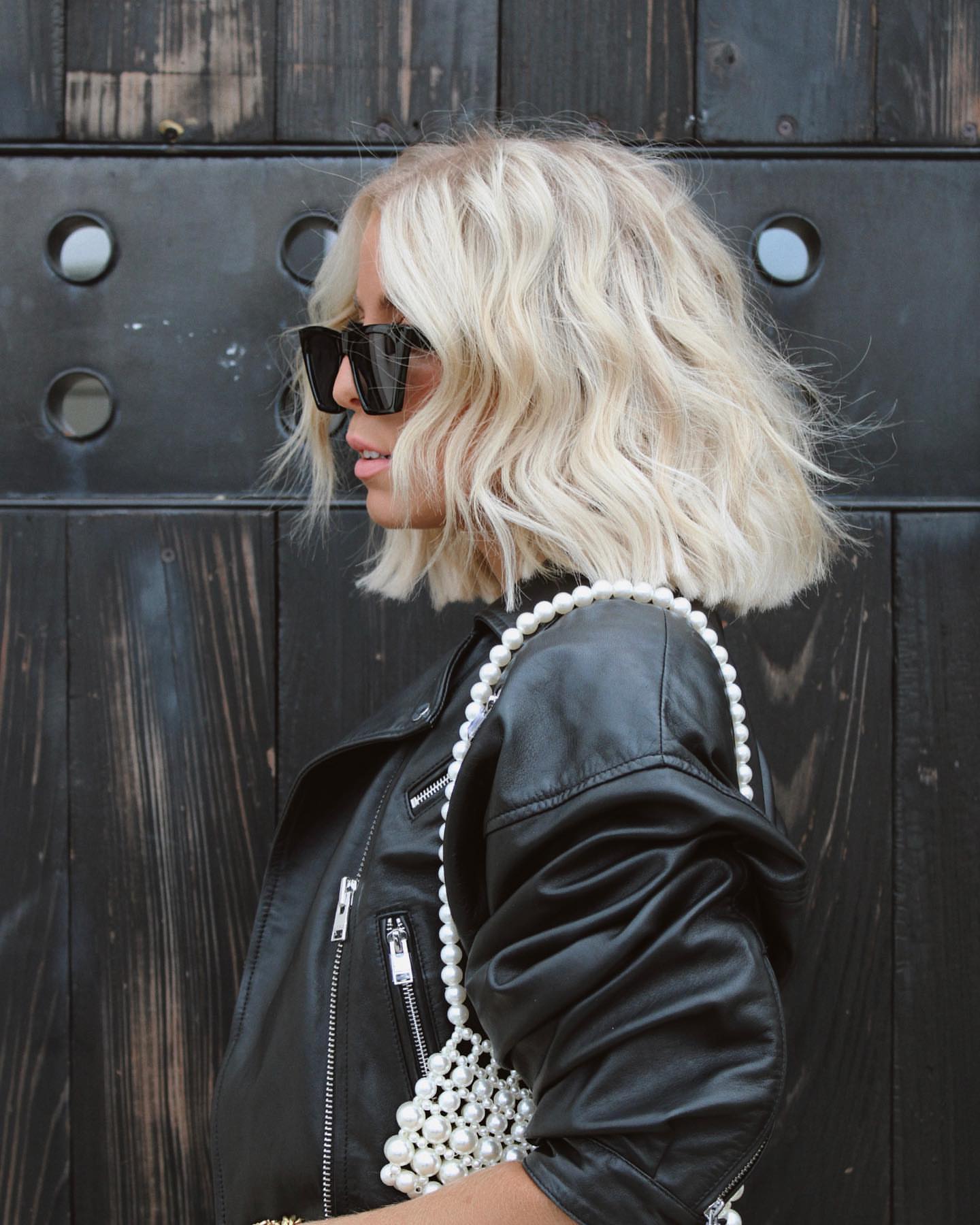 It's voluminous, it's bold, and it's unapologetically dramatic. This bob isn't just about the natural hair. By integrating hand-tied extensions, one achieves a bob that boasts an unparalleled thickness. The result? A silhouette that's both regal and commanding. Celebrities like Selena Gomez have occasionally chosen fuller bobs, leveraging extensions for that extra oomph. Perfect for those wanting to make a statement, this bob speaks louder than words.
47. Outgrown Bob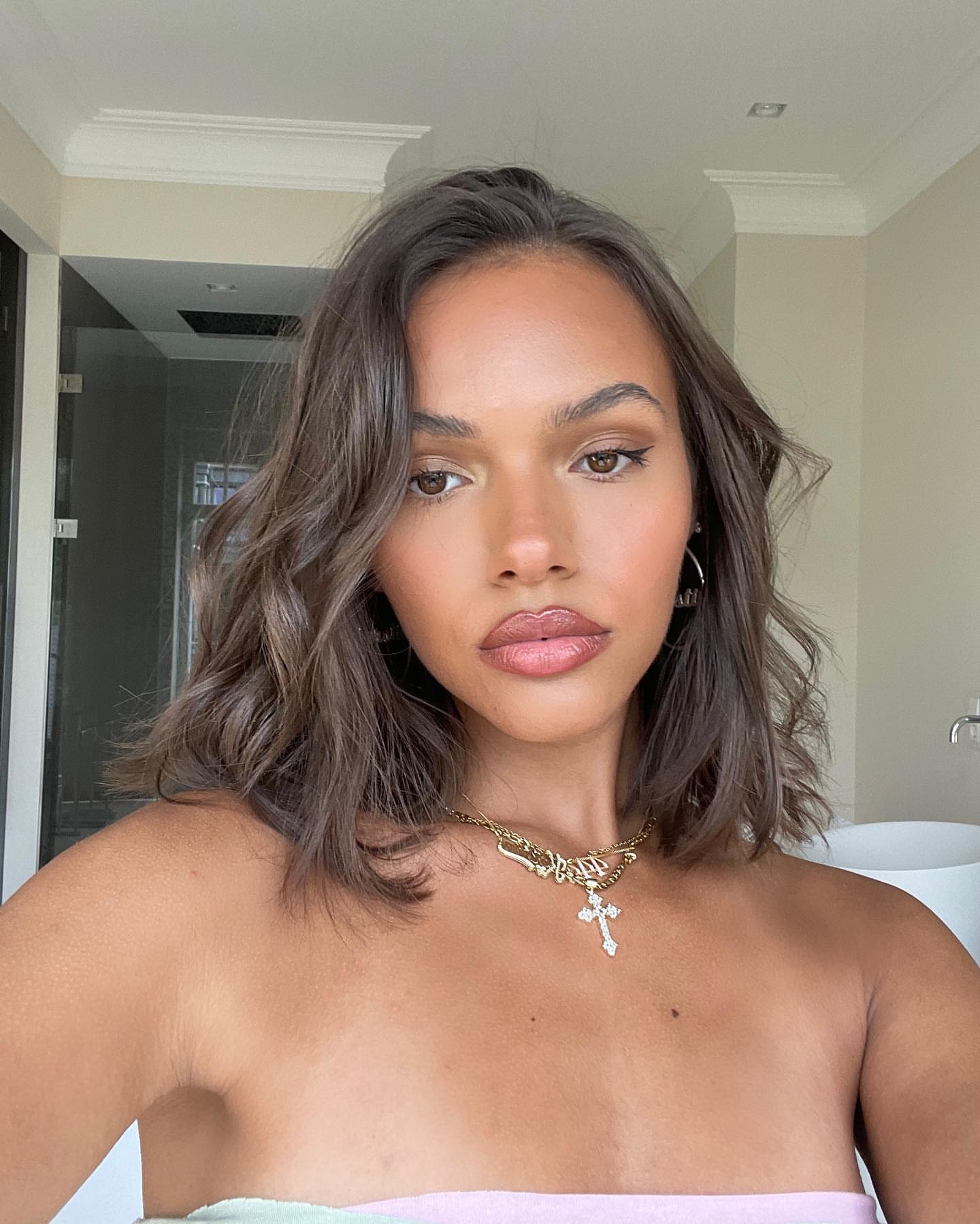 Caught between commitment and a longing for change, the outgrown bob captures a beautiful indecision. It's where precision meets relaxed, and the result is a hairstyle that offers the best of both worlds. With its length hovering in the liminal space between a bob and a lob, it exudes versatility. If you're someone who craves variation – say, a low ponytail one day and free-falling waves the next – this is your go-to style. Zoe Kravitz has beautifully embraced this duality, creating a style statement that's effortlessly chic.
48. Very Short Cut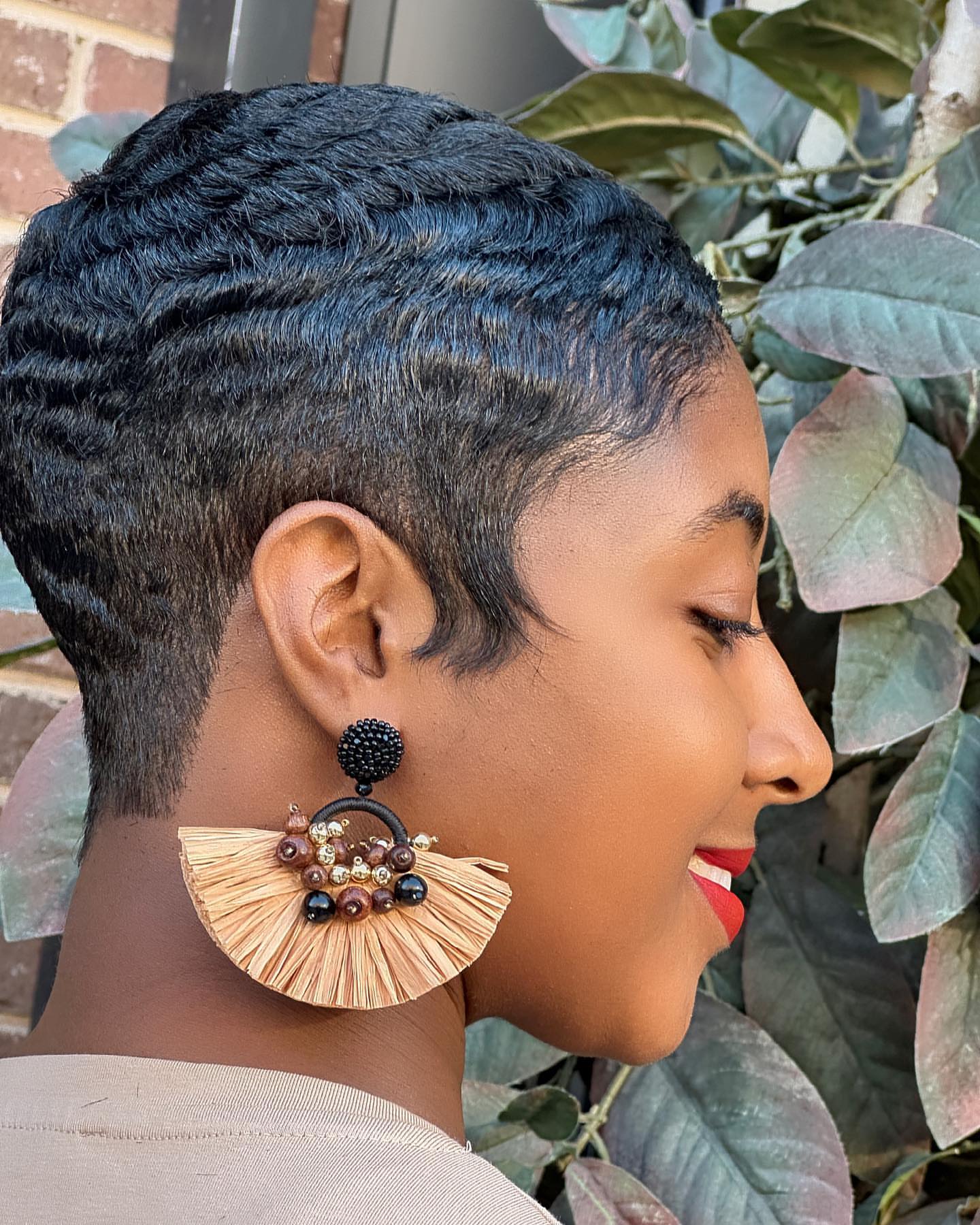 There's an undeniable power in a black woman rocking a super short black pixie. It's a bold assertion of confidence and heritage. The silhouette, closely hugging the scalp, highlights the contours of the face, making every feature pop. Icons like Lupita Nyong'o have showcased the undeniable beauty of this style, proving it to be both timeless and contemporary. It's a style statement that celebrates the beauty of black women in all their glory.
49. Saturday Mood: The Pixie Hair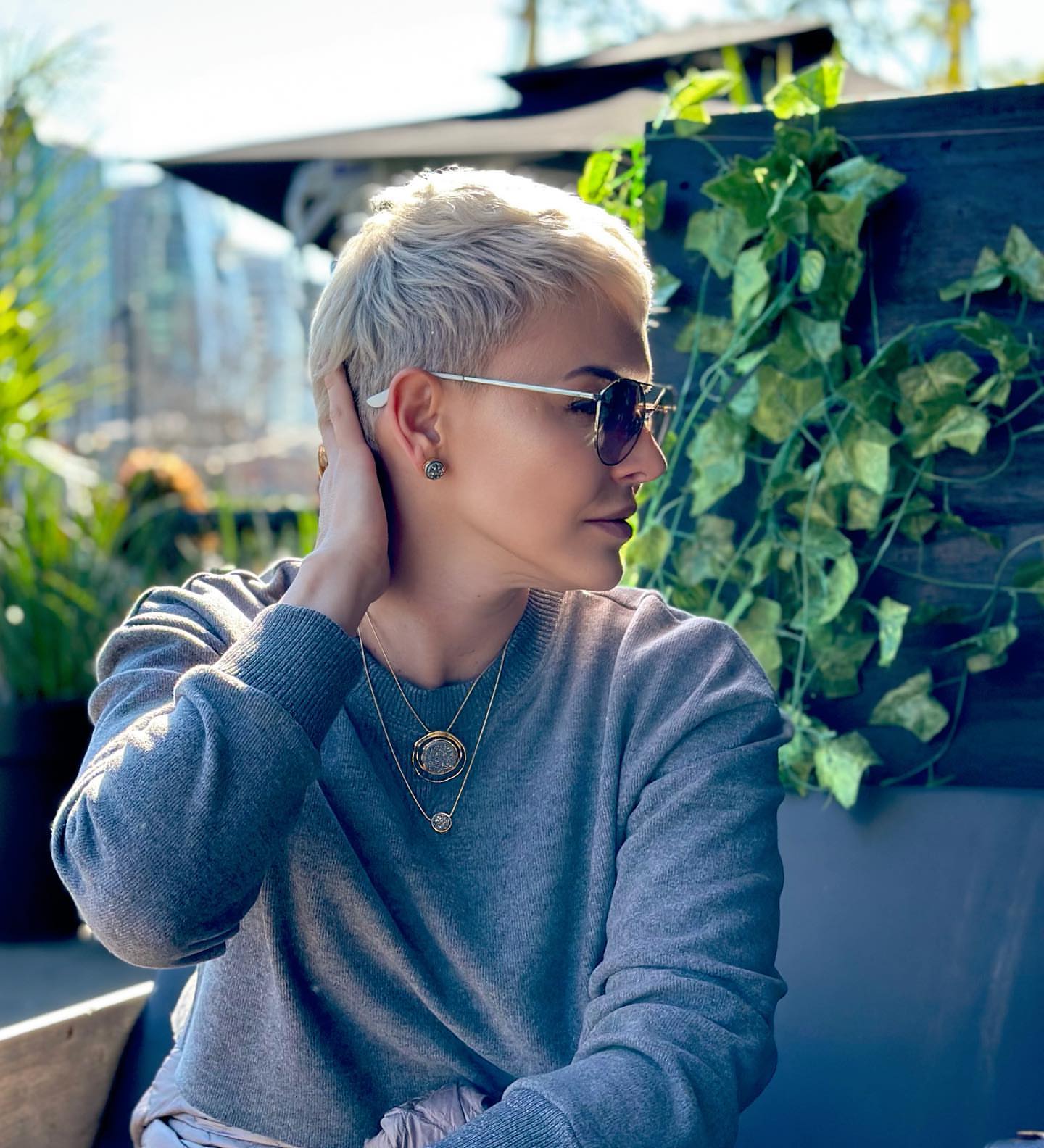 Imagine the sunlit streets of a European city. A girl with a short blonde pixie confidently struts, sunglasses on, catching the eye of every passerby. This hairstyle embodies the spirit of a modern-day adventurer – edgy, cool, and unapologetically herself. It's not just a hairstyle; it's an attitude. Stars like Kristen Stewart have dabbled in similar looks, marrying audacity with style.
50. Natural Gray Pixie Cut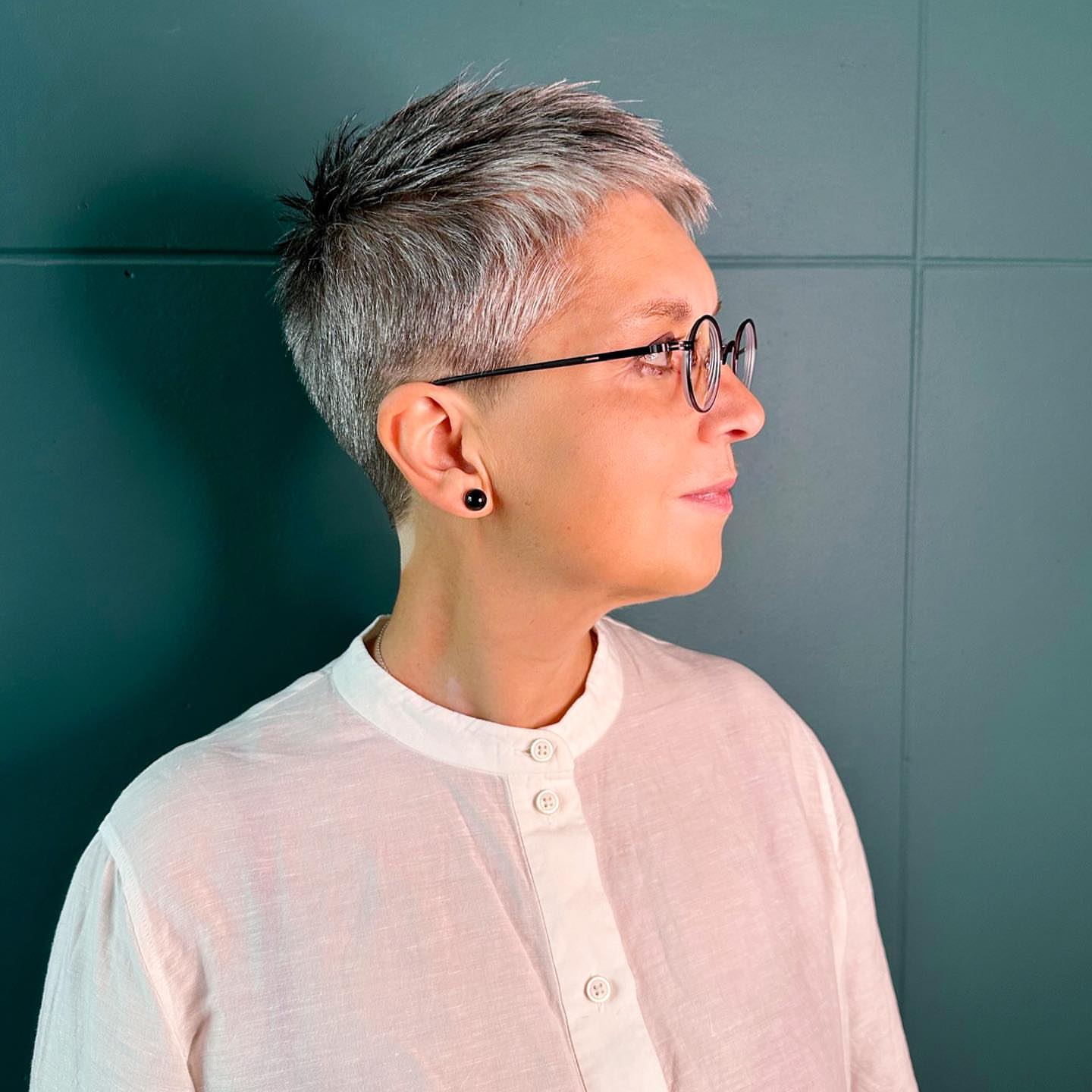 Gracefully embracing age has never looked so stylish. The natural gray short cut is a celebration of life's experiences, worn with dignity and pride. Best suited for fine straight hair, this short hairstyle is an epitome of class, especially for women over 60. It requires minimal upkeep, and the natural silver sheen adds an aura of wisdom. Stars like Helen Mirren have flawlessly championed this look, showing us that age is but a number when you wear your experiences with pride.
51. Highlighted Curls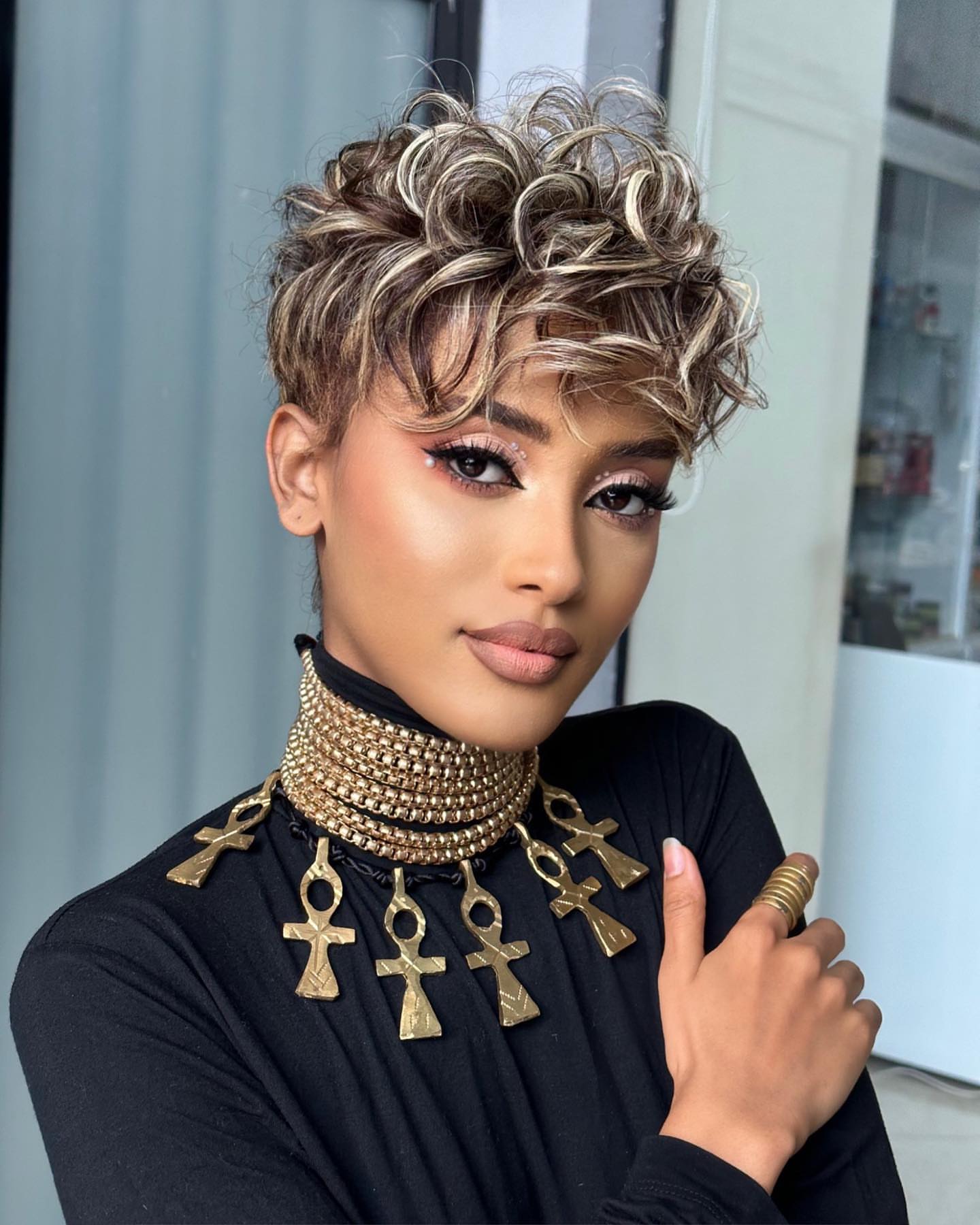 Imagine the rich hues of coffee swirled with milk. A playful dance of deep browns and soft whites, this short curly pixie is the epitome of chic. Each curl, voluminous and springy, paints a picture of unabashed confidence. It's a hairstyle for those unafraid to embrace their wild side while keeping it utterly stylish. The mixed tones not only add depth but also give a certain vibrancy to the look that's hard to miss.
52. Asian Bob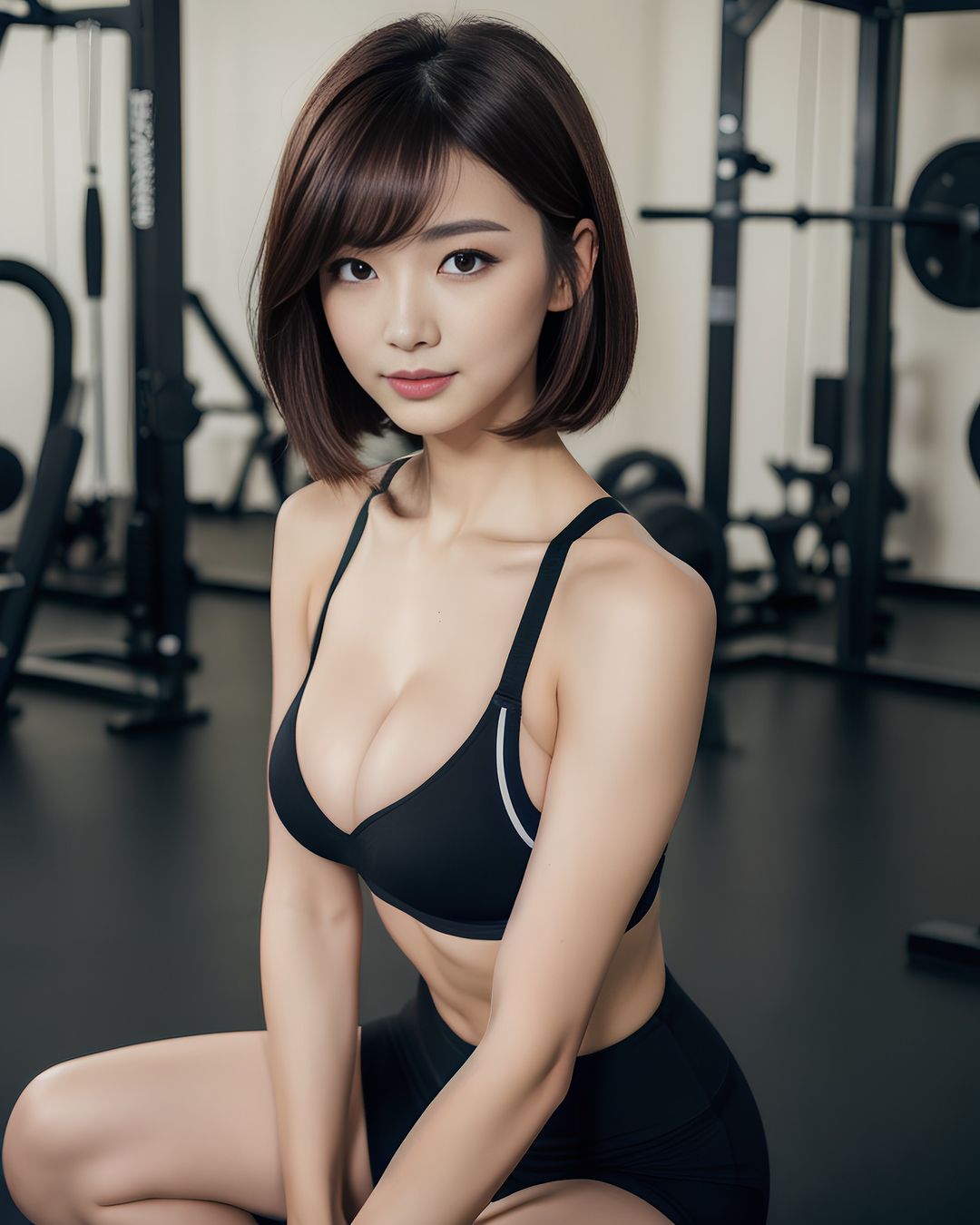 Drawing inspiration from the heart of Tokyo, the Asian bob epitomizes the balance between tradition and modernity. Often referred to as the 'pear blossom' hairstyle in Chinese, it showcases a Japanese girl's delicate features. With raven-black hair cascading down, the side-swept bangs add a hint of mystery. This look is a nod to classic Asian beauty standards while being perfectly in sync with contemporary trends.
53. Cute Curtain Bangs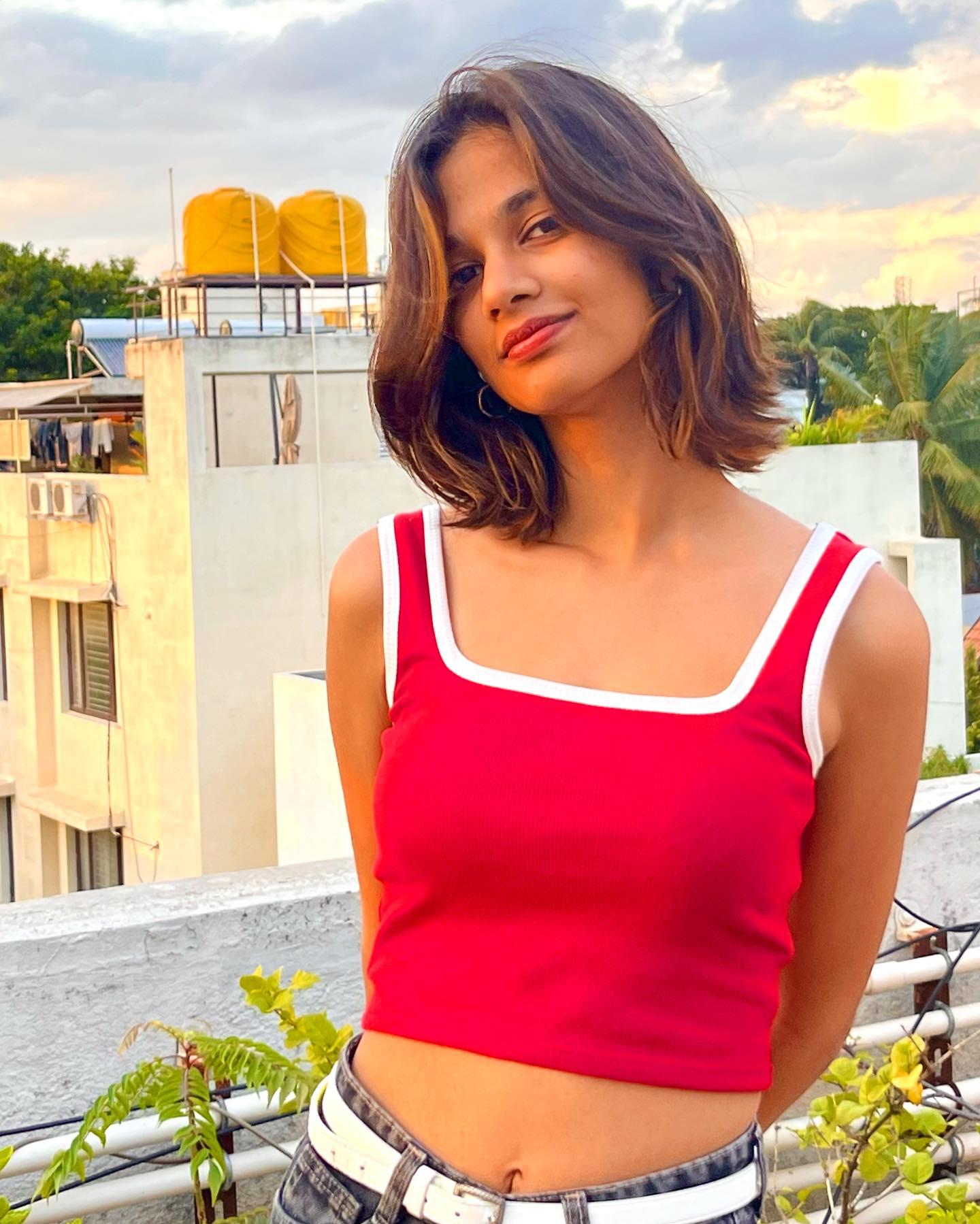 The scene is set with a shoulder-length bob, but the show-stealer here is undoubtedly the curtain bangs. Falling gracefully on either side of the face, these bangs frame the eyes and cheeks, drawing attention to one's features. It's a hairstyle that combines a touch of vintage with the freshness of youth, perfect for anyone looking to add a dash of playfulness to their style.
54. Side Swept Bangs
A cascade of rich brown hair flows down, the volume and texture hinting at its thickness. The long bob, or 'lob' as it's affectionately known, is complemented beautifully with side-swept bangs. The combination creates a silhouette that's both elegant and dynamic. Suited best for those with thick hair, this hairstyle adds a touch of sophistication without trying too hard.
55. Short Black Micro Curly Hairstyle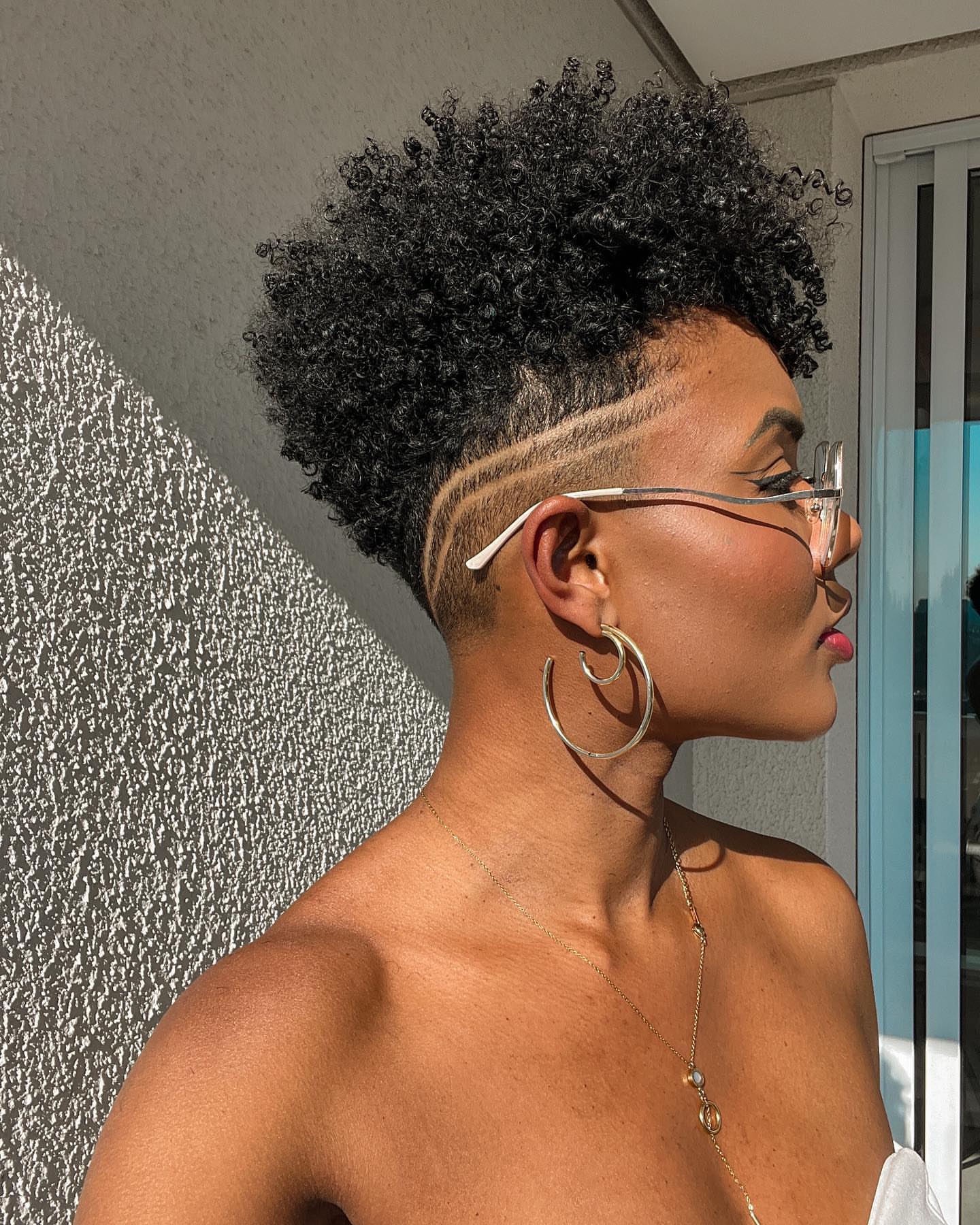 Bold, audacious, and unapologetically unique. This short, micro-curly look is a statement in itself. The deep black curls, tight and coiled, are complemented by an edgy undercut adorned with two sleek lines. It's a look that merges tradition with rebellion. Perfect for those who want their hairstyle to reflect their fierce spirit.
56. Bob Braids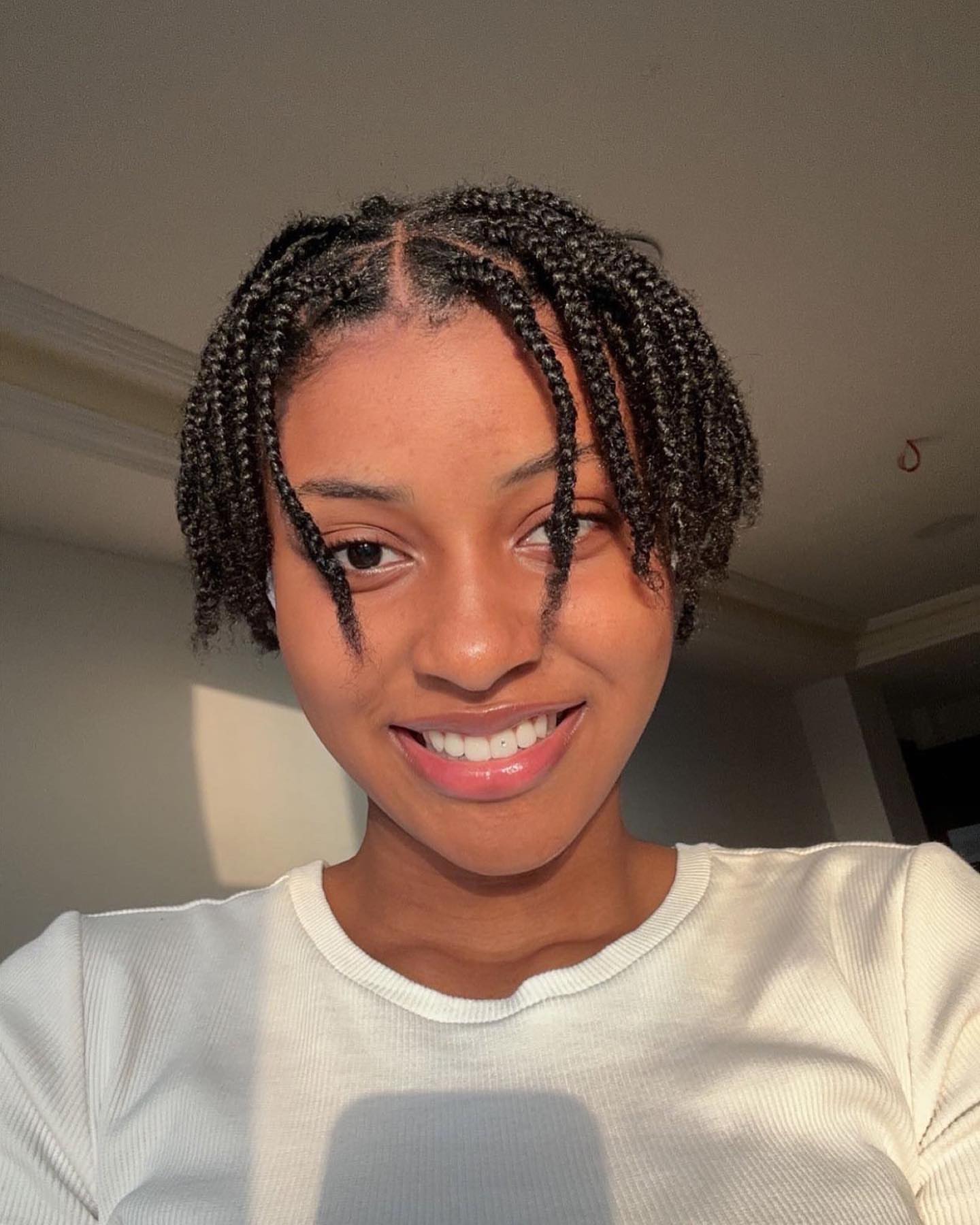 Picture a young woman, eyes full of dreams, and a smile that can light up a room. Now, frame that face with meticulously crafted bob braids. This hairstyle is a beautiful blend of tradition and contemporary chic. Every braid, neat and precise, offers an aura of freshness and cleanliness. It's the embodiment of youthful exuberance, ideal for anyone looking to add a touch of charm to their daily style.
57. Shaggy bob with baby bangs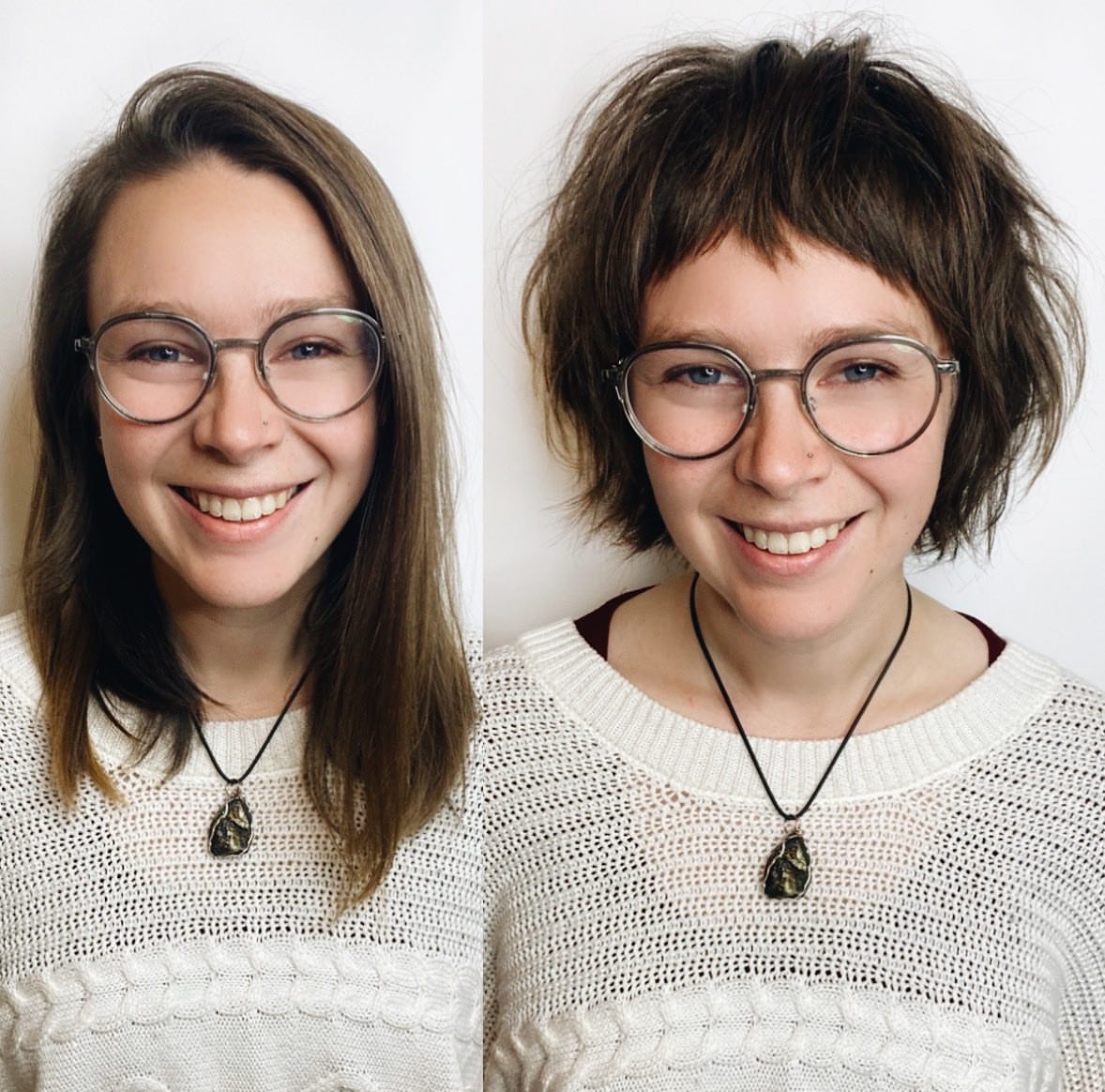 There's a certain rebellious streak to a shaggy bob, amplified by the audacity of baby bangs. The layers in the bob provide volume and movement, creating a wild yet refined aesthetic. The baby bangs, on the other hand, add a hint of drama and edginess. It's a style designed for those unafraid of a little attention, radiating confidence and fierce independence.
58. Textured lob with wispy bangs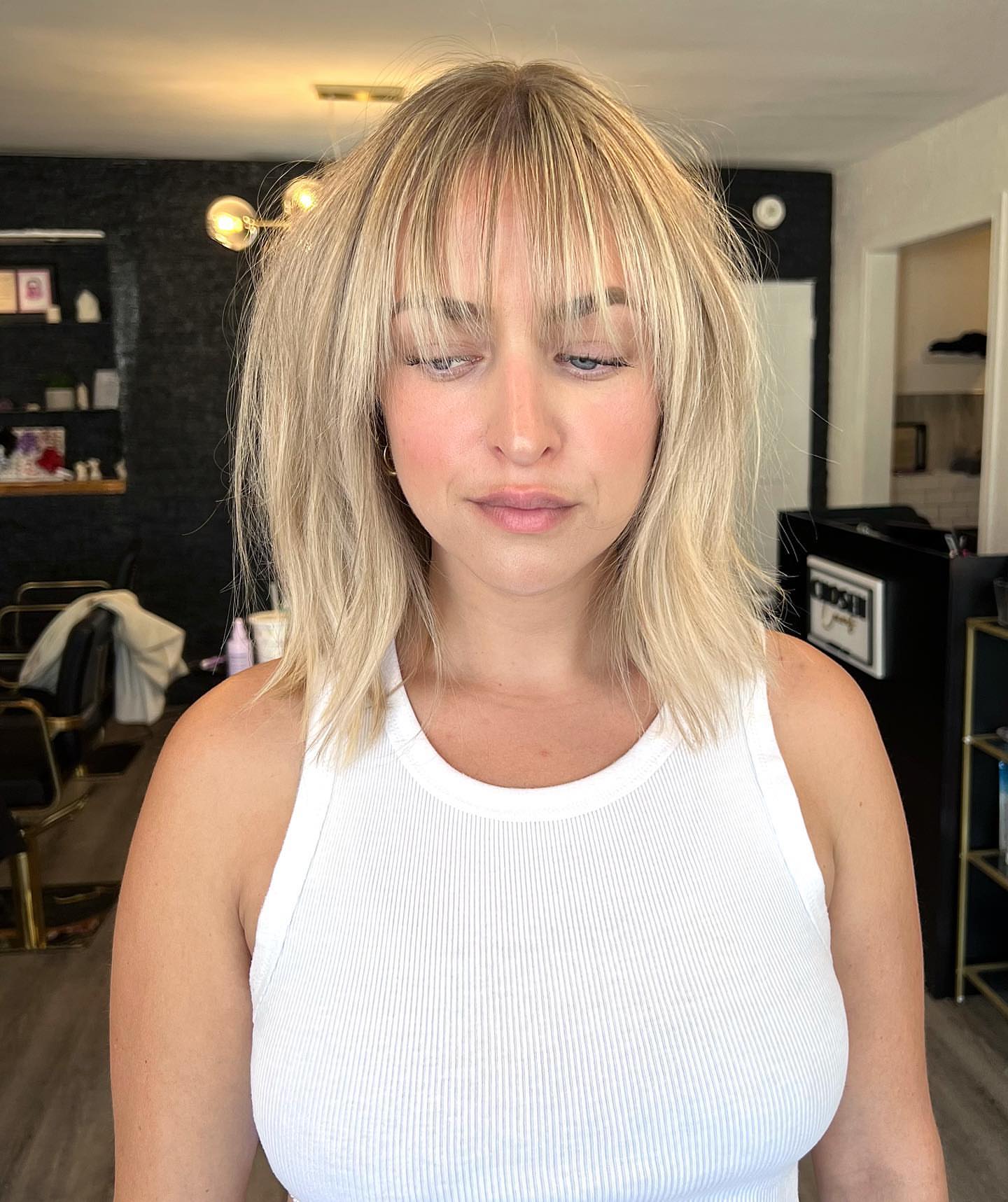 Elegance meets effortless with this textured lob. Every strand seems kissed by the wind, creating a beautifully chaotic symphony. The wispy bangs, soft and featherlight, playfully curtain the eyes, adding a hint of mystery. This hairstyle speaks of sun-drenched days and breezy evening walks, making it perfect for those seeking a balance between casual and sophisticated.
59. Messy Pixie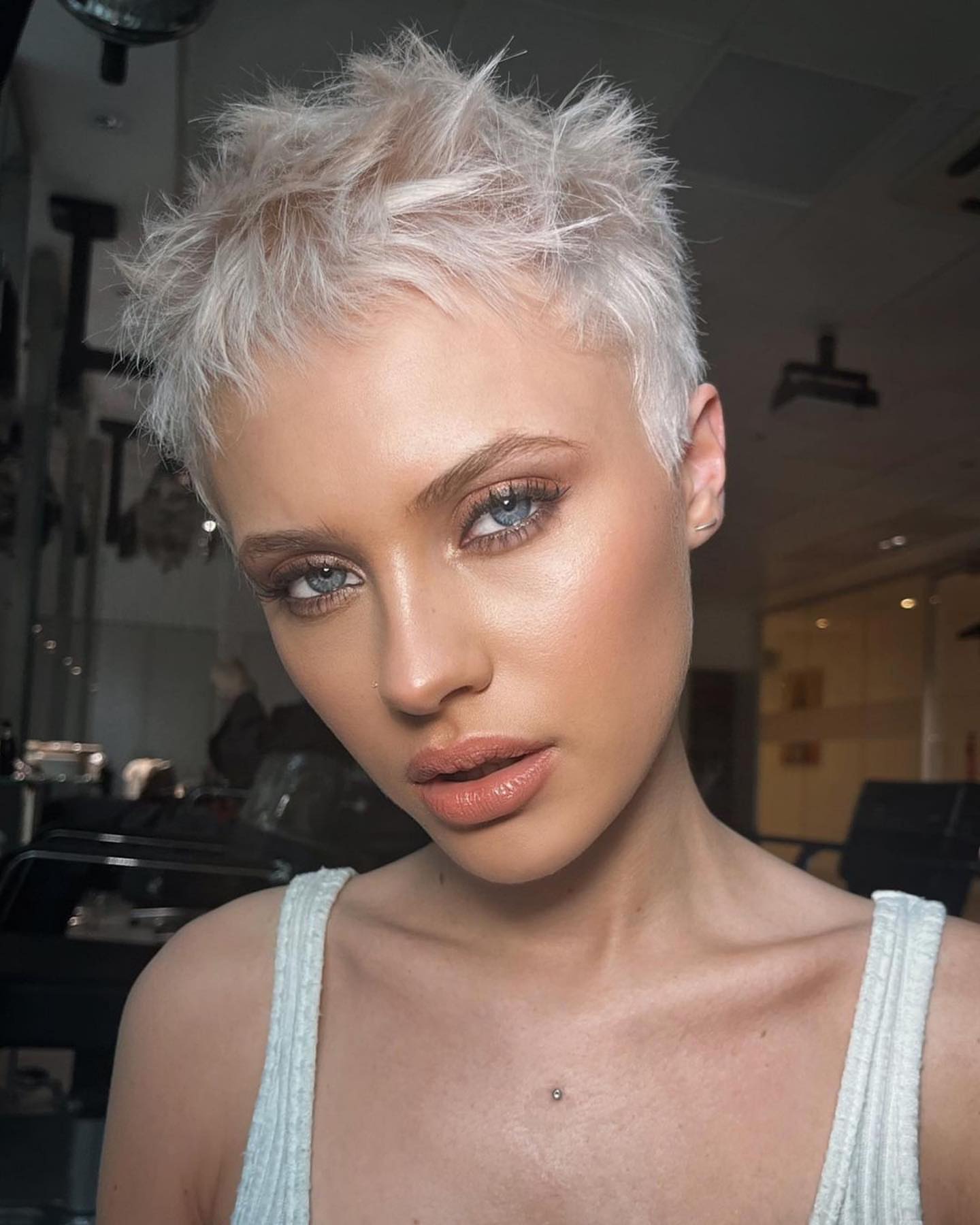 The allure of a tousled pixie cannot be understated, especially when it takes on the ethereal shades of ice blonde or a moonlit silver. This short, messy pixie isn't just a hairstyle; it's an attitude. Each strand seems to have its own story, leaning this way and that, teasing and playful. It's a cut that whispers of midnight adventures and dances under starlit skies. Perfect for those seeking an effortless look that still manages to turn heads wherever they go.
60. Chic Layered Short Bixie cut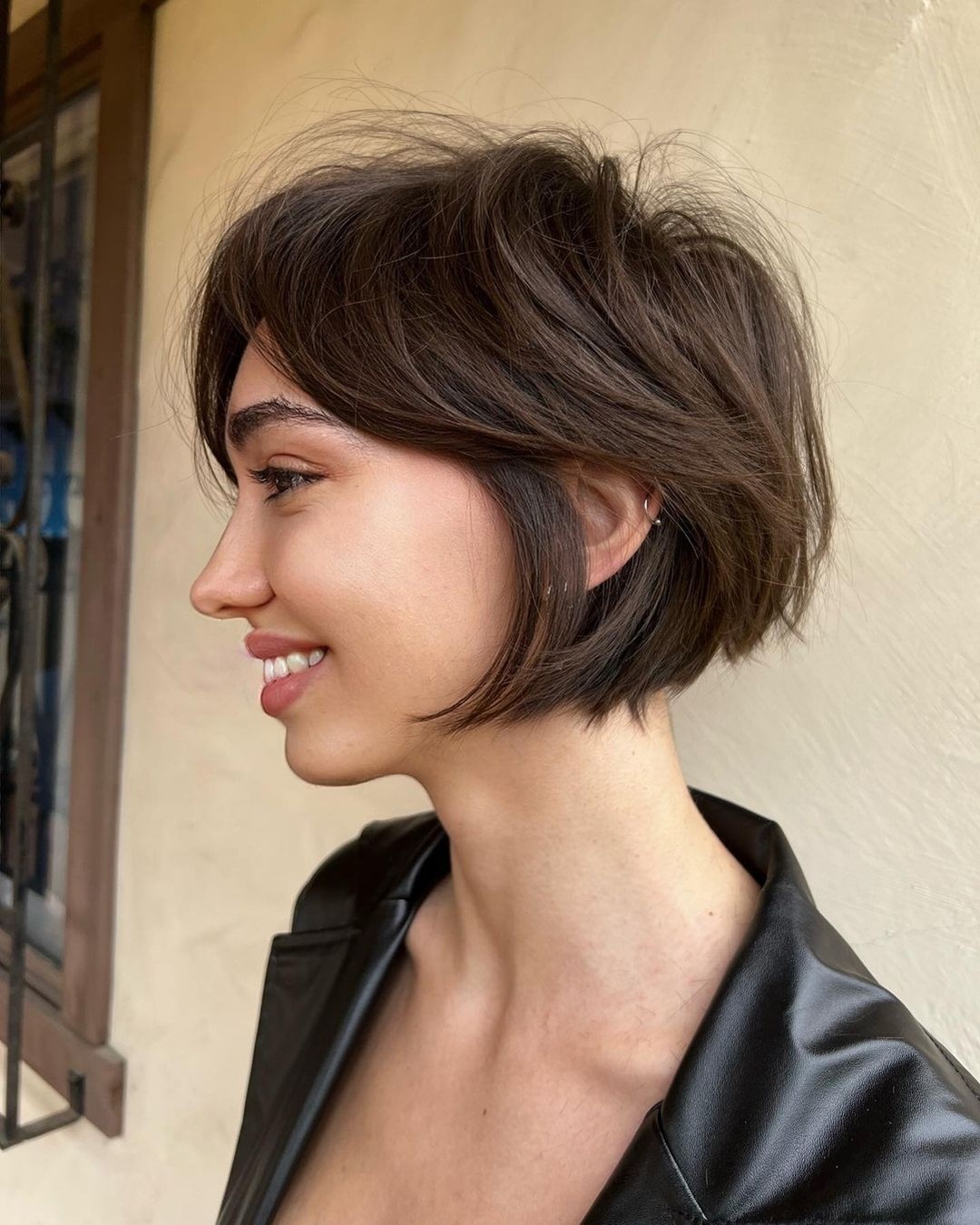 Captured from a side view, this charming bixie cut melds the best of both the bob and pixie worlds. Showcasing a contemporary twist that's undeniably in vogue this year, it accentuates the face's contours while offering a playful yet sophisticated aura. This hairstyle is really in! If you're seeking a refreshing transformation, why not embrace this trendsetting cut? Don't want to cut your hair this short? How about these medium-length hairstyles?